Barcelo Maya Caribe and Beach Resort Review
We'd go back to the Barceló Maya Grand All Inclusive Resort in Riviera Maya Mexico tomorrow if we could! About an hour south of Cancun's International Airport, The Barceló Maya Grand is actually like five resorts in one! And although we did not take our children with us on this particular trip, the resort is quite family friendly. We think the Barceló Maya Caribe & Beach Resort is the perfect all inclusive destination for multi-generational travel, a vacation with kids, as a couple, or even solo!
This Barcelo Maya Caribe and Beach Resort review contains affiliate links which means I could earn a small commission, if you make a purchase, at no additional cost to you. For more information, read my full Disclosure

HERE

. Thank you for supporting More than Main Street!
Here are my top five reasons why we loved the Barceló Maya Grand All Inclusive Resort:
The Marcelo Maya Caribe Beaches!
Have you ever dreamt of crystal clear water and white sandy beaches??
Well, I know I have! And the beaches here delivered!
The beaches are incredible! Very large with plenty of room for everyone and the water temperatures even in January were perfect! The have a pier in the center of the resort that you can see tons of fish from…several of our friends said they went snorkeling and saw a lot of fish and turtles too!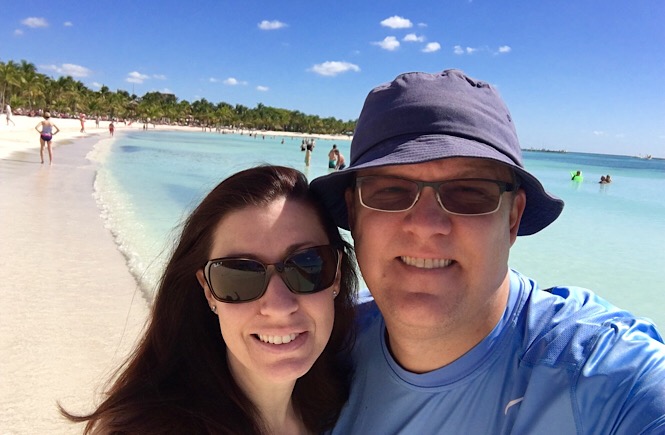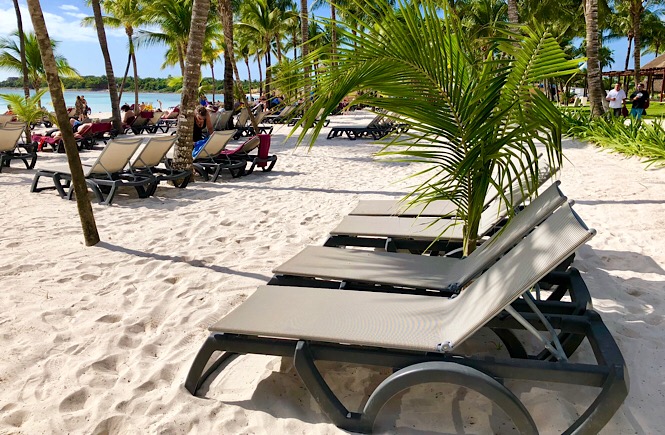 There are plenty of chairs and towels available, easily accessible restrooms, and food/ drink nearby. We've been two years in a row; one year they had servers that would bring you drinks on the beach and the second year they did not. So, that's up in the air!
The Marcelo Maya Caribe Resort!
The Barceló has five different sections or "resorts" if you will. In my opinion, this is really just a way to distinguish where you are in the resort, because it's massive. From talking with other guests, the only real different area/upgrade is The Palace.
The resort has too many pools to count (seven actually), swim up bars, an adults only pool, an Olympic pool with lanes for swimming laps, and a water park! Need I say more?
There are basketball courts, a mall, corn hole, a bowling alley, hammocks, beach volleyball, kayaking, sailboats…the list goes on and on. We never left the resort during both of our stays and never got bored!
(Side Note: there is a Dolphinarium. I'm not entirely sure how I feel about this anymore. Fifteen years ago, I would've thought it was really cool to get a chance to play with the dolphins…now, I kinda think it's cruel. But I'm going to let y'all decide how you feel about that on your own.)

The Barcelo Maya Caribe Spa
We were fortunate enough to get to experience the spa during our visit this year. And let me tell you…it was worth every single penny! We often don't go to the spa while on vacation because they tend to be more expensive than a massage at home, but I encourage you to take advantage of this amazing facility!
We booked an 80 minute couples massage. Included is use of their wellness and fitness center for one hour prior to your appointment. We took advantage of the hot and cold hydrotherapy pools, saunas, vicchy showers, and an outdoor private pool with jets. (Side Note: If you upgrade to the Palace I believe that use of this area is included in your package.) There are also relaxation rooms with drinks and snacks, a fitness center, and even the cutest children's spa!
I can't vouch for the fitness center though. Let's be honest, I can barely get myself to the gym at home, I'm not working out while I'm on vacation.

The Barcelo Maya Caribe is All Inclusive (Well…almost.)
Is anything really all-inclusive? I honestly don't know.
But, we were quite happy with what was included at the Barceló! We ate most every breakfast at the buffet…and it's huge! They had a ton of options and I believe even my picky son would be able to find something he would eat.
They have quite a few restaurants to choose from, but you have to make reservations AND men have to wear pants and close toed shoes. This tends to cause a bit of turmoil for some people who don't read the details ahead of time. No big deal, just follow the rules! We ate at the steakhouse, the Japanese steakhouse, and the Italian restaurant and thought all were fantastic! We really enjoyed our meals at these restaurants!
Some things that were included:
water, juice, soda, and beer in your room (replenished daily)
beer, basic liquor, and mixed drinks at restaurants and bars
food in the restaurants
towels
sports, activities, and entertainment
Some of the things we found to NOT be included were:
the bowling at the 24 hour buffet in the mall area
some of the kids activities
wine (at the restaurants)
some water activities
premium liquors
WiFi

It's a Versatile Vacation!
Whether you like to relax and unwind or get up and go every day, there is something for everyone at the Barceló! We tend to like to stay busy when we're on vacation, but this is a great mix of busy and relaxing. I even tried something new this year: fly boarding!
The Barcelo Riviera Maya is close to Tulum and Playa del Carmen if you are looking to explore more than just the resort! Check out these fun and cheap things to do in Tulum. There are also a variety of excursions and tours if you like something more organized.

The Rooms at the Barcelo Maya Caribe Resort
The rooms were pretty standard…but to us, they were completely satisfactory. We were barely in our room, so we weren't looking for luxury accommodations. It was spacious, we were able to keep the temperature controlled, was actually pretty quiet, comfortable, and had many toiletries included. There is also an easy to use in-room safe and they provide bathrobe and slippers to use! The water pressure was great…and we love big bath towels!
(Side Note: you have to leave a room key in a slot by the door to keep the electricity running…even when you leave the room, or else your refrigerator won't be ON all the time! Lesson learned.)
(One more Side Note: we chose to stay in the Caribe section of the resort due to it's location. Barceló Maya partners with CID Presents to put on different concert series on the beach such as Dave Matthews, Crash My Playa, and Dead & Company. More on our experience coming soon!)

The Down Sides of the Barcelo Maya Caribe Resort:
We really loved the Barceló… and I think the pros definitely outweigh the cons. But a few disappointments worth mentioning were:
the lunch buffets… we were never impressed and barely satisfied. We typically would eat a late breakfast and hold over until an early dinner
the wi-fi it's good in some spots and awful in others (and of course not free!)
in order to charge something to your room, you have to add money at the front desk. They release what you haven't spent when you check out. While this isn't a huge deal, it certainly isn't what we are used to.
Would we go back to the Barcelo Maya Caribe & Beach Resort?
HECK YEAH!! Actually, we're contemplating taking the kids next time. I really think they'd love it.
If you're planning a trip for the first time to the Barcelo Maya Caribe Resort, be sure to check out this awesome packing guide for Mexico– some seriously helpful tips in there!
Have you been to Mexico or an all-inclusive resort? Tell me all about it!
Save & Pin this Marcelo Maya Caribe Resort for Later: