BLD: Breakfast, Lunch, & Dinner in Mount Pleasant, SC
Looking for the best places to eat in Mount Pleasant, SC?
We recently spent a long weekend in Mount Pleasant, a suburb of Charleston, South Carolina. Charleston has an absolutely incredible food scene. We didn't want to fight the traffic or worry about parking downtown for every meal, so we chose to stay close to our hotel. Needless to say, we were not disappointed in the slightest! We found some of the best restaurants in Mount Pleasant, SC!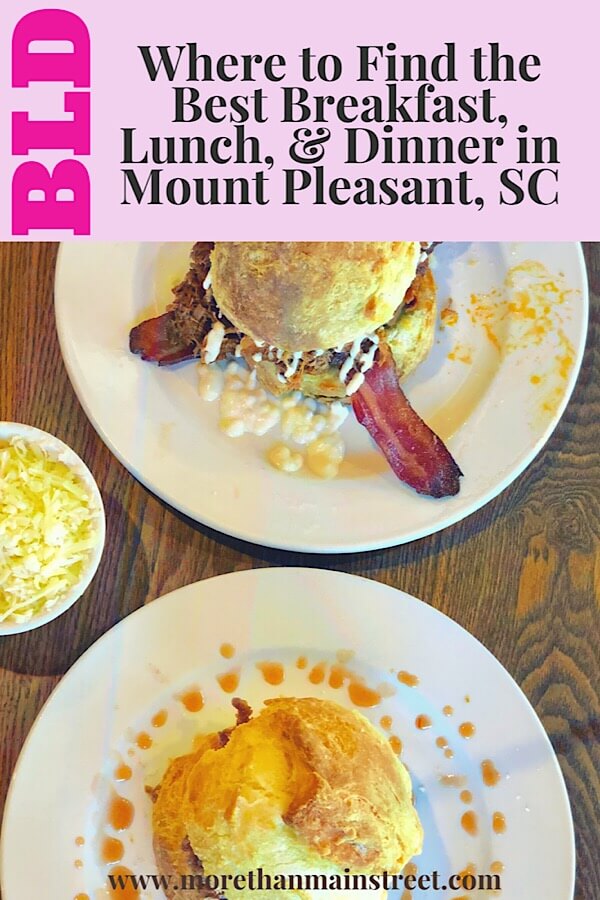 Breakfast/ Brunch in Mount Pleasant, SC
Our favorite brunch was Vicious Biscuit.
Oh my yum!
Seriously, y'all. I'd book another trip to Charleston just to eat at Vicious Biscuit again. This was, by far, my favorite meal of the entire trip. I ordered the The Fat Boy because well, Charleston is all about some pimento cheese. So… I needed to try their house made pimento cheese also topped with fried crispy chicken covered in house made honey drizzle. My husband ordered The Babe is a biscuit with bbq sauce, bacon, and pulled pork. Delish.
The grand prize winner (to me) was the biscuits and gravy my kids ordered. Biscuits and gravy are a comfort food that, in my humble opinion, rarely lives up to my step-mom's. But this was unbelievable! It's hard to impress me, and WOW, I kept going back for more.
They also have a really cool (and yummy) bar with complimentary flavored butters and house made jams.
So good, y'all.
Side Note: Page's Okra Grill was a close contender for best brunch in Mount Pleasant. My daughter and I both loved it, but my husband was the hold out. I had their amazing fried chicken and sweet potato pancakes and she had a perfect waffle! The did have about a thirty minute wait on a Saturday which I felt was pretty reasonable.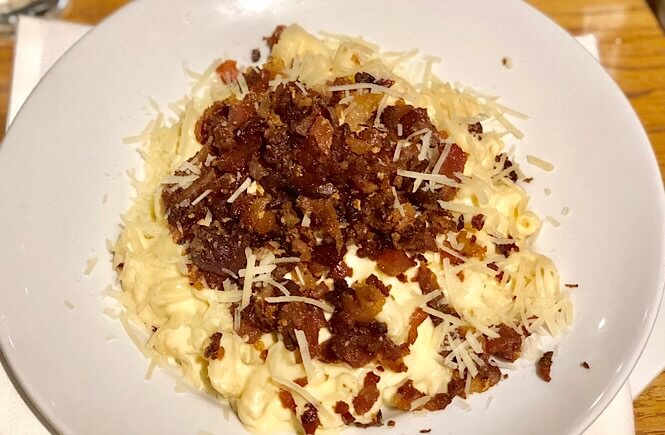 Best Lunch in Mount Pleasant, SC
Mac & Cheese is one of my love languages.
I freaking love it. So…when I come across mac & cheese that is touted as "The most award winning mac & cheese in America," "The most life changing Mac & Cheese in the nation," and has six consecutive Charleston MAC-OFF wins…
I. Am. Here. For. It!!!
And let's be honest, mac and cheese can be served for any meal. We chose to top ours with bacon, but you can also choose from toppings like scallops, short ribs, or pulled pork.
My husband had the gnocchi, my daughter and I split the mac & cheese and a salad, and my son had a steak! I do have to also sing their praises in the food allergy department. My son originally ordered something entirely different and the manager came over to our table suggesting he order another item to avoid cross contamination. This wins big points for this allergy mama!
We thought Crave Kitchen & Cocktails was the best lunch and the mac & cheese was amazing!
Final Note: Crave Kitchen & Cocktails also won our vote best cocktails of the entire vacation- they were amazing!!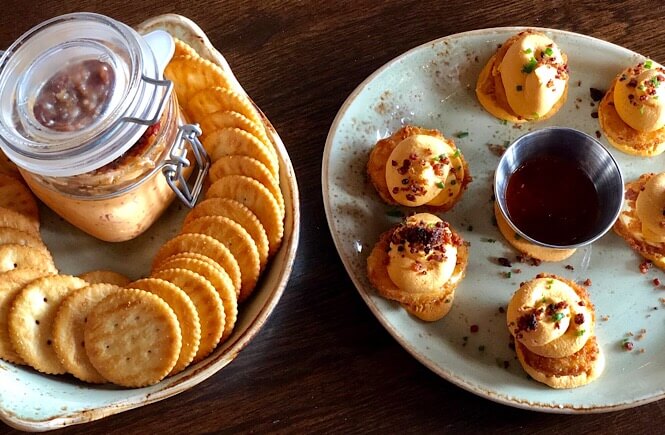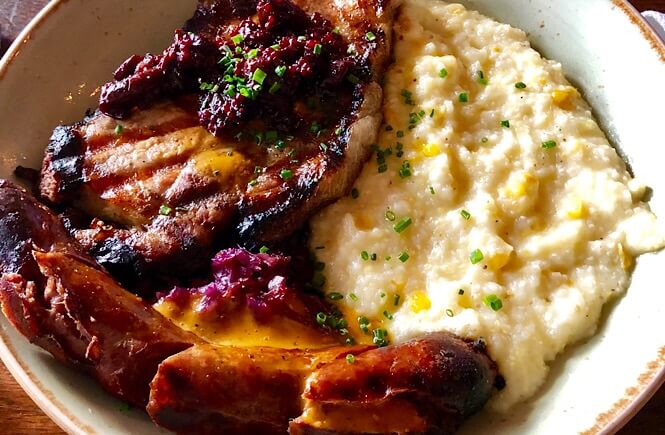 Best Dinner in Mount Pleasant SC
Best dinner in Mount Pleasant went to Tavern & Table on Shem Creek. I often like to order appetizers for my meal and then a salad because I rarely have room for an entire entree. So, after perusing the menu a bit, we went with the 'order a bunch of things and everyone share' mentality!
Let me tell you…the appetizers at Tavern & Table were outstanding!! We devoured every single bite! We ordered the deep fried deviled eggs, soft pretzel with port cherry and fondue dipping sauces, and pimento cheese and bacon jam with Ritz crackers.
Now…I know you're saying, how can any appetizer served with Ritz crackers be that amazing?
I really don't know.... All I know is we ate every single bit of it and wanted more!
Our entree choices of a caesar salad, pork duo with cheddar grits and cider braised cabbage, and one kids meal of chicken tenders and fries were all fantastic.
We loved it all!
Oh and I totally forgot to mention the lovely water views since you are right on Shem Creek. They do take reservations which is probably a good idea if you're able to plan ahead. We ate early (at like 4:30 pm) so we didn't have a problem getting a table but there were already quite a few people in the restaurant. They didn't have a ton of parking either but offered valet services.
Best Restaurants in Mount Pleasant, SC
So there you have our top three choices of best places to eat in Mount Pleasant, SC!
It is worth mentioning that if you're looking for the best restaurants near Patriot's Point, Tavern & Table and Vicious Biscuit are both less than ten minutes away.
We loved our visit to Charleston and were so glad to have found so many awesome food finds without having to go downtown (sometimes convenience is a major deciding factor for us!). Bonus: these restaurants were all family friendly!
Charleston is a must visit city for any foodie! For some more delicious options, check out this list of drool worthy places to eat in Charleston!
Have you been to Charleston, SC? Did you venture out of downtown or have you eaten in Mount Pleasant? Tell me your favorite restaurant in the comments below! And if you've been to any of these restaurants, do you love them as much as we do?
To get updates on our travels and other foodie finds, I would love it if you subscribed to the blog. I promise I won't be too annoying and only send you updates occasionally!