Visiting Wilmington NC
From the beaches to downtown, there's a ton of fun things to do in Wilmington, NC for kids, families, or just about anyone! Located in the southeastern corner of NC, this port city sits right in between the Cape Fear River and the Atlantic Ocean. Wilmington has amazing weather almost year round with a longer summer and cooler temperatures November through March. If Wilmington has never been on your vacation radar…it should be!
Wilmington holds a special place in my heart. This is my college town, where I got married, and where our family spends a lot of time vacationing each summer! In my opinion, it is the best vacation spot in North Carolina! As my kids have grown up, we've done almost everything Wilmington has to offer!
So…ready to find out the best and most fun things to do in Wilmington NC?? Let's go!!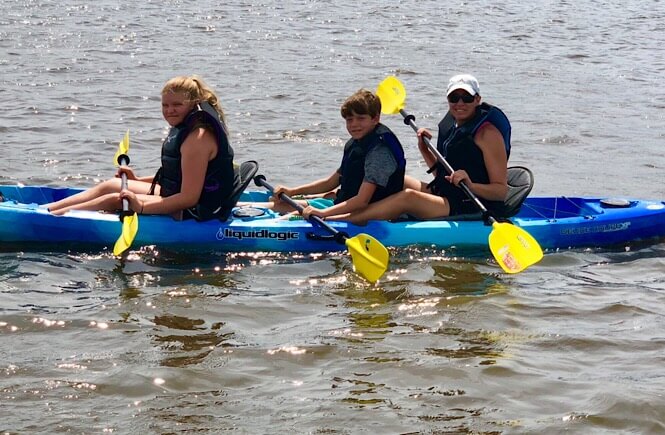 Fun Things to do in Wilmington NC for Anyone!
Get your history lesson on at the Battleship North Carolina! This is a Wilmington must-do!
Our family loves to enjoy the Intracoastal Waterway. Get out on the water and try kayaking or stand up paddle boarding. We've truly fallen in love with both of these water activities and think you might love them too!
If you're up for renting a boat (or even better have a friend with one!) make sure to visit Masonboro Island. Masonboro is popular destination for locals and is known for a huge party scene during summer holidays.
If you can't make it physically out onto the water, then grab lunch or dinner with water views at Dockside, Bluewater Grill, or The Bridge Tender.
Take a carriage, ghost, or even movie/ film location tour! Wilmington has had a huge number of television shows and movies filmed here. Some you might recognize are Dawson's Creek, One Tree Hill, Iron Man 3, and Nicholas Sparks' The Choice, along with many more. (Some people even refer to Wilmington as "Wilmingwood" or Hollywood of the East.)
Spend some time at Carolina Beach State Park. Carolina Beach State Park is home to some of the world's only venus flytraps found in the wild.
Visit the Cameron Art Museum. Another place close to my heart as this is where I had my wedding reception! It is such a beautiful venue!
Fishing is big time in Wilmington. Schedule a chartered fishing tour or bring your own equipment with you. Check out Gone Coastal Charters for tours, but full disclosure: I've never been out on a charter fishing trip (because I'm scared to death) but Jim's a great guy! If you like to fish from land, a very popular fishing spot is Johnnie Mercer's Pier at Wrightsville Beach, just make sure you have the proper licenses before you go!
Learn about the unique NC habitats and ecology at the NC Aquarium at Fort Fisher. We love to visit the albino alligator, watch the shark feedings at the aquarium, and see the new exhibits each year. They have a great outside play area for kids and a gift shop which always has my kids begging for more.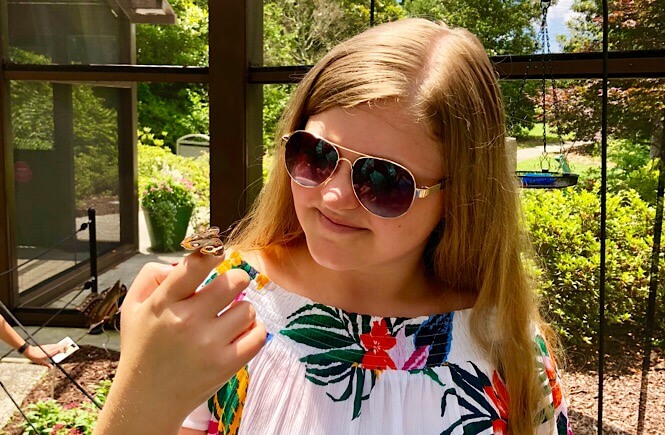 Airlie Gardens is one of my personal favorite because I got married here. They have the most stunning grounds along Bradley Creek, gorgeous gardens, a super cute little butterfly house, a sculpture garden with the piece de resistance: The Bottle Chapel.
Take the Fort Fisher Ferry down to Southport for a daytrip! My kids love a ferry ride and Southport, NC is the cutest little southern town you can spend the afternoon exploring.
Bellamy Mansion. This 10,000 square foot home, gardens, and restored slave quarters has been preserved to offer educational and cultural programs and daily tours.
Visit the Carolina Beach Boardwalk. There's a number of Carolina Beach attractions here: some very cute shops, carnival rides, a ferris wheel, and seasonal music and Thursday night fireworks. But, let's be honest about the number one reason people come here for: Britt's Donuts. Absolutely mouth-watering, melt-in -your mouth deliciousness drawing in a ton of visitors each summer. Well, it may not be everyone's number one reason, but it certainly is ours!
Visit a brewery. Breweries have popped up all over town, but my two favorite are: Front Street Brewery downtown where you can get a free tour and samples and Wrightsville Beach Brewery which has an awesome outdoor area for kids, dogs, and often have live music (oh and the food is delish!).
Get caffeinated. Check out these 15 best coffee shops in Wilmington!
Poplar Grove Plantation– open for daily tours, this is another great spot to learn about plantation life and the history of the area.
Shopping- if you're looking for shopping in Wilmington our favorite area is Mayfaire Towne Center followed by downtown or Independence Mall.
EAT! Wilmington has an amazing food scene…be sure to check out all our favorite restaurants in Wilmington!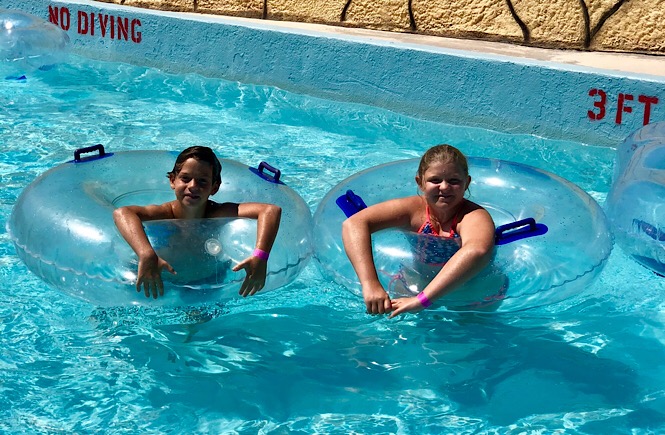 Kids Activities in Wilmington
Jungle Rapids Family Fun Park: Who doesn't love a water park? I personally love Jungle Rapids because it is not too big and it's easy to keep track of my kids! Visiting during the off season? Don't worry, they have mini golf, go-karts, laser tag, and an arcade.
The Wilmington Children's Museum: let your kids imaginations run wild at this is a fantastic interactive museum (best for kids ten years old and younger).
Need something to do on a rainy day in Wilmington? Try ice skating at the Ice House, jumping at Skyzone Trampoline Park, or check out The Power of Play for little ones.
Go to the park! Hugh MacRae Park is probably the busiest since it's smack dab in the middle of town. It does have a great play area, walking trails, dog park, and shelters available to rent. But if you're looking for a quieter option, check out Greenfield Park, Ogden Park, or Halyburton Park.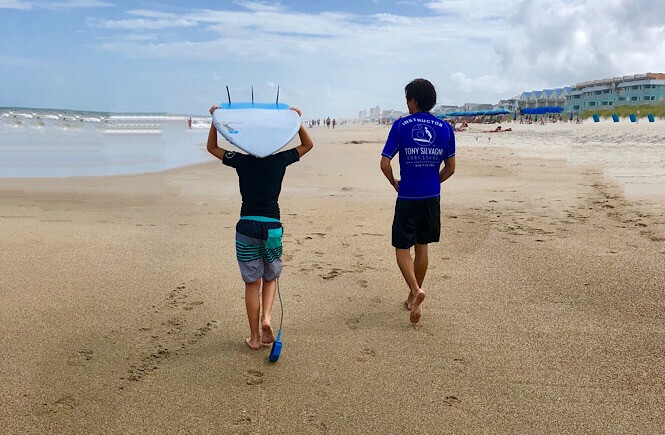 Free Things to Do in Wilmington NC
Get your beach on!! Soak up the sun, collect sea shells, or build a sandcastle at Wrightsville or Carolina Beach! For our ocean loving families…try surfing, skim boarding, or sea kayaking. The beaches aren't 100% free- you do often have to pay to park depeding on what time of year you visit. Pro-tip: Wrightsville Beach fills up fast- go early to get a parking spot.
Catch the sunrise or sunset! Find out our picks for the best places in Wilmington to watch the sunset.
Explore downtown Wilmington and the Riverwalk. Take in the scenic river views, do a little window shopping, or explore the weekend farmer's market in the picturesque downtown area. Make sure to take advantage of the many fantastic restaurants downtown followed by an ice cream from Kilwin's.
Visit the NC Arboretum. This is actually one of my favorite things to do in Wilmington with my family! We loved to meander through the gardens and take photos of what's blooming. They have an adorable kid's area and playhouse for little ones too!
Fort Fisher Historic Site– if you're into Civil War History, then this is for you! They have a ten minute video explaining the history of the site and they have scheduled costumed tours throughout the year. Then make sure to stroll by the ocean or pack a picnic to eat under the ghostly live oak trees.
Check out "The Loop" at Wrightsville Beach. The Loop has become an area attraction all on it's own! Both locals and tourists enjoy this 2.5 mile loop by walking, running, and even biking! This is also a popular spot for your four legged best friend!
Why we believe Wilmington, NC is one of the best vacation spots in NC!
As you can see there are so many fun things to do in Wilmington, NC. Even on a rainy day (which there are quite a few random summer storms that roll through) you can find something to occupy your days! You can play tourist, relax with a book on the beach, or dine waterfront. If you like a slow paced vacation, then Wilmington is the place for you! If you like an action packed adventurous vacation, yep…Wilmington's got that too!
PRO-TIP: Two things to know before you go to Wilmington: the humidity is killer and the traffic can be a beast.
Do I sound like an advertisement for this town? Well, I love it. It truly is my happy place and I can't get enough of it. So come share it with me!
North Carolina has an incredible coastline and amazing beaches. After you make it to Wilmington, you should definitely consider visiting the Outer Banks. It's a pretty great day vacation spot in NC too!
Have you ever been to Wilmington, NC? What did you do and did you love it as much as I do?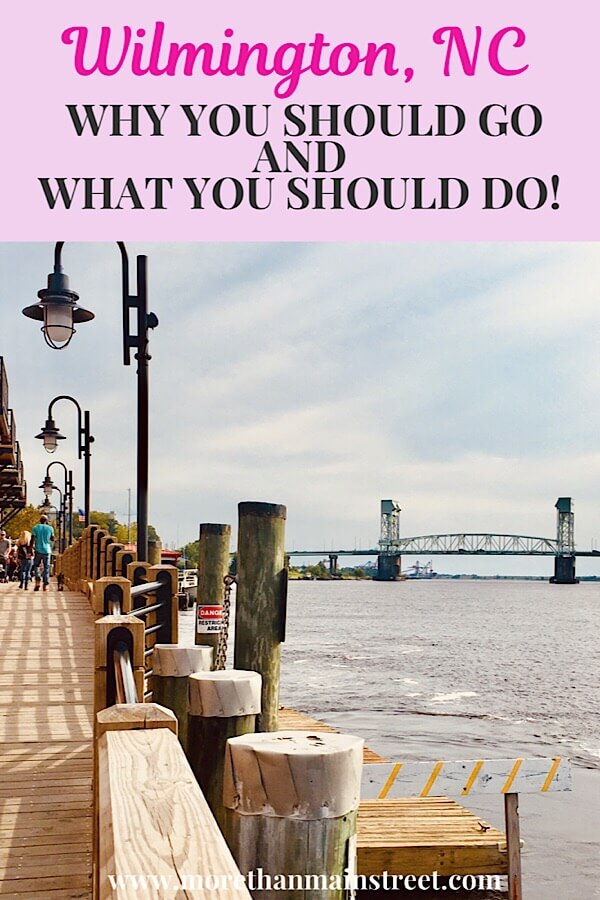 Planning more North Carolina travel? Read more about the best day trips in NC, weekend getaways in NC, and even a NC road trip!