Chasing Sunsets in Wilmington NC
Looking for the best places to watch the sunset in Wilmington NC? You should be!! Wilmington has some of the most epic sunsets and catching them is one of our favorite things to do when we are in town.
Every sunset brings the promise of a new dawn.

-Ralph Waldo Emerson
Wilmington, NC is a special place for our family and one of our favorite cities in North Carolina! It is where my husband and I met, where we went to college, and got married. We also spend a few weeks visiting each year. From a perfect NC weekend getaway to a week long vacation, we keep going back year after year.
Needless to say, we know Wilmington pretty well. And because I love chasing the perfect sunset, I thought I'd share our favorite places to see the sunset in Wilmington NC!
Where to Find the Best Sunset in Wilmington NC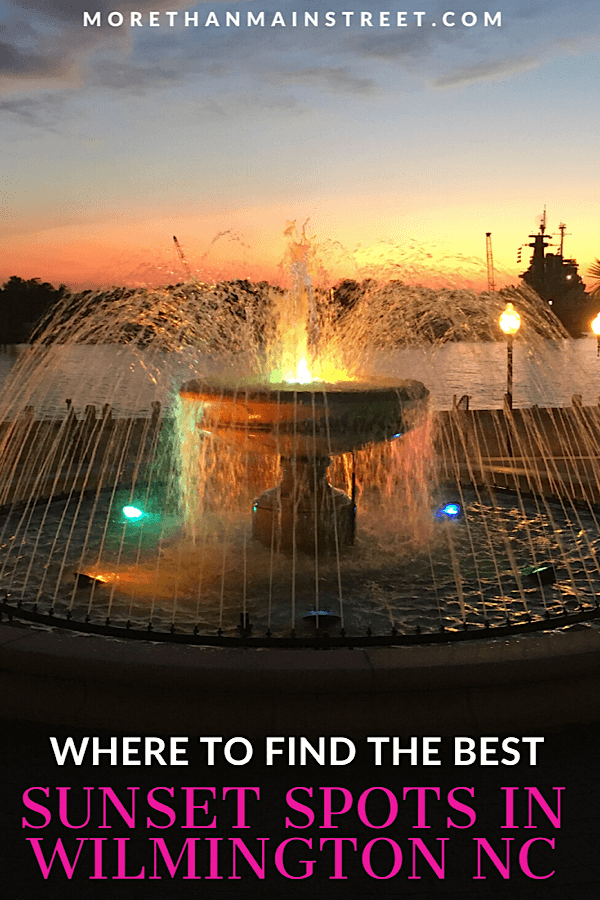 1. Downtown Wilmington
Downtown Wilmington is a classic spot to watch the sunset in Wilmington NC and one of our personal favorites. Downtown is a must for any visit to Wilmington. Stroll the Riverwalk, take a carriage tour, and grab dinner on a floating barge at Anne Bonny's Bar & Grill. Grab an ice cream cone from Kilwin's and watch the sun retire over the Cape Fear River and the Battleship North Carolina.
Pro Tip: This is also an epic spot to watch 4th of July fireworks too if you don't mind the crowds.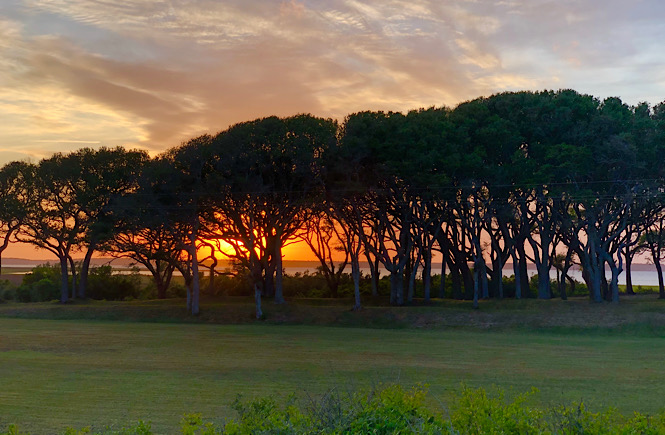 2. Historic Fort Fisher/ Kure Beach
The Fort Fisher State Recreation Area in Kure Beach has two different spots for serious sunset chasers. The gnarly oak trees are definitely a photographer favorite in general, but personally I think they're absolutely stunning at sunset. Park at the Visitor's Center or just pull over on the side of Fort Fisher Blvd. to find this scenic spot. If you have time, be sure to explore the historic area, marsh trail, and the beach at Fort Fisher too.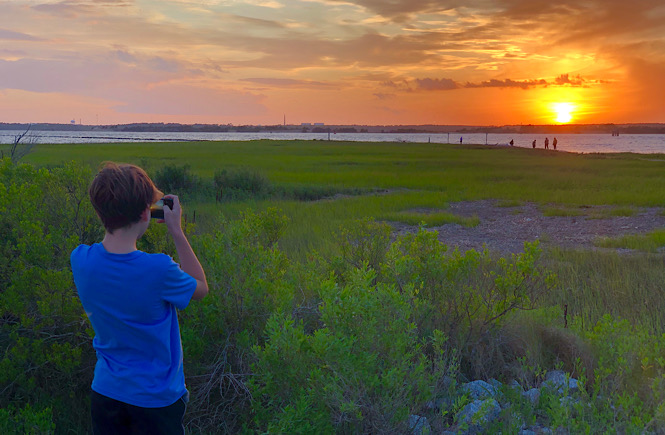 3. Historic Fort Fisher (Near the Ferry Terminal)
After you've passed the Visitor's Center at the Fort Fisher State Recreation Area, keep going down Fort Fisher Blvd. literally until you can't go any further. Here you will find both locals and tourists taking in what is bound to be one of the best sunsets in town. (This is the location of the ferry terminal to Southport.) You can watch the sunset from the parking lot or walk down to the sea wall, it's totally up to you.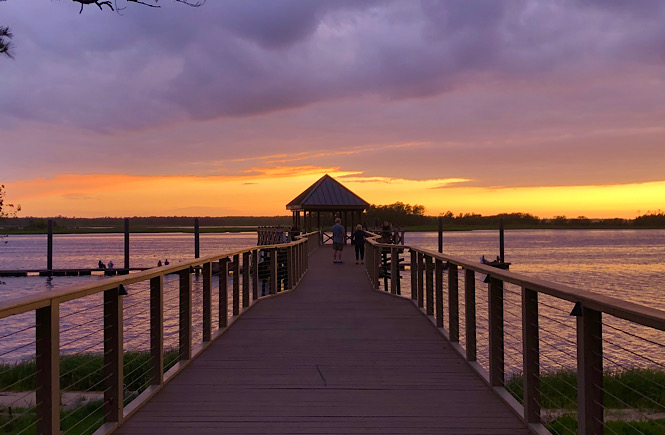 4. River Lights
River Lights is a new-ish neighborhood in Wilmington off of River Road and the self proclaimed "best place to see the sunset in Wilmington". We won't argue much about that title since it is a pretty perfect spot to watch the sunset. Check out the cute shops in their Village area, grab dinner at Smoke on the Water, and then stroll along the boardwalk and pier while the sun sets over the Cape Fear River.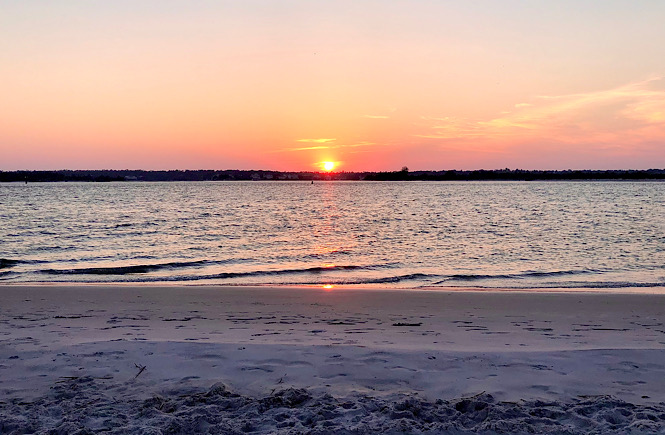 5. South End of Wrightsville Beach
You truly can't go wrong with a beach sunset. And the south end of Wrightsville Beach doesn't disappoint. Watching the sun sink beyond the horizon, over the water is one of the most magical experiences. But you likely won't be the only one waiting for that magical moment at the south end of Wrightsville Beach. This is a very popular location with limited parking spaces. Get there early if you want to ensure your spot!
Fun Fact: I had my wedding portrait taken here!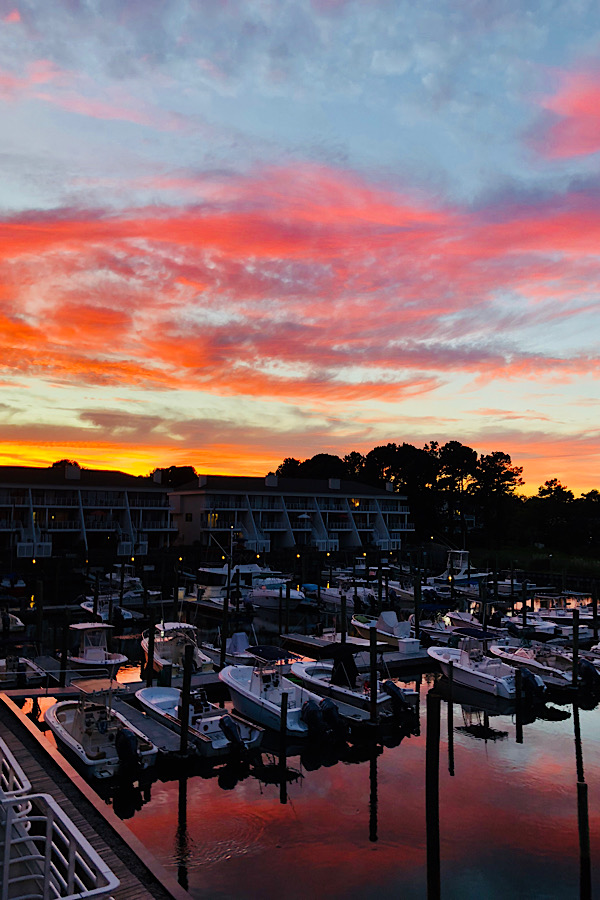 Visiting Wilmington NC
Truthfully every sunset in Wilmington is beautiful and worthwhile. If you've never been to Wilmington, you'll love the laid back vibe of this amazing coastal town. We highly recommend at least a day trip to the area or adding Wilmington on to your NC road trip!
A few of our other top recommendations for fun things to do are:
Have a beach day at Wrightsville Beach or Carolina Beach
Visit Airlie Gardens
Get outside- try kayaking, paddleboarding, or go hiking at Carolina Beach State Park
Visit Fort Fisher
For more ideas, read our family friendly guide to fun things to do in Wilmington NC and even the best FREE things to do in Wilmington!
What do you think? Have you had the chance to catch the sunset in Wilmington NC? Do you know of any other amazing places that I'm missing? Let me know in the comments below!