Wilmington NC Attractions
Everyone loves FREE right?? Well, I know we certainly do! So I thought I'd spill the beans this week on 15 fun and FREE things to do in Wilmington!
As you likely already know, we adore Wilmington. It is truly my happy place! There are seriously so many fun things to do in Wilmington and the surrounding area beaches.
Want to know ALL the best things to do in Wilmington? Check out my family friendly Wilmington guide! Hungry? Grab my guide on the best places to eat in Wilmington!
Where is Wilmington NC?
Situated in the southeastern corner of North Carolina, Wilmington sits on a peninsula in between the Cape Fear River and Atlantic Ocean. You can easily add Wilmington to a NC road trip or access the city through the Wilmington International Airport (ILM). You will likely need a car to get around the area although Uber and Lyft are available.
Wilmington is our favorite weekend trip! Find out what other destinations made the list by reading our guide to the best weekend getaways from NC!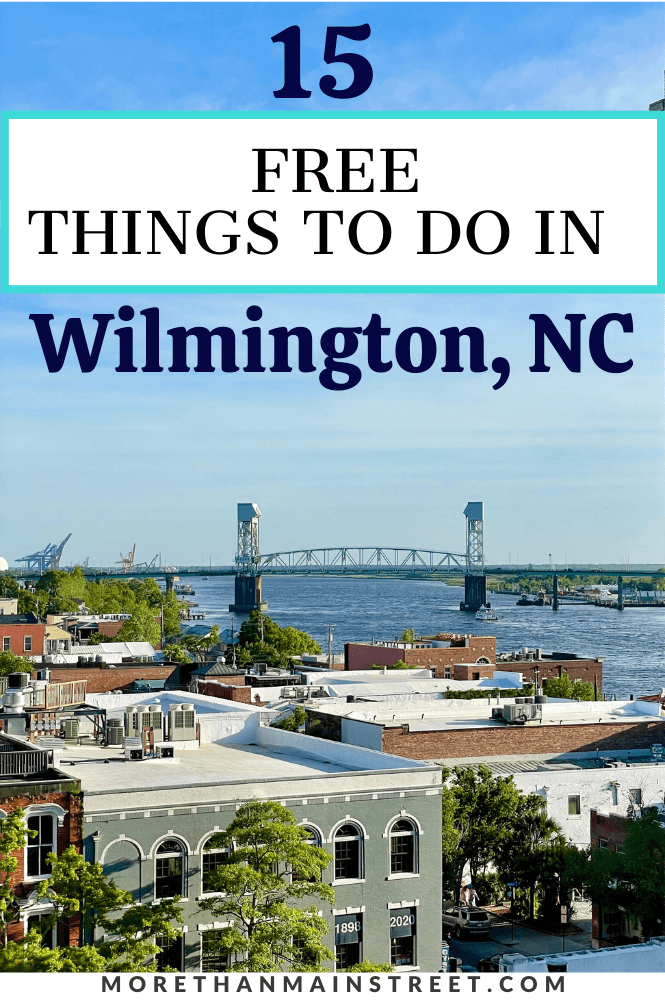 Free Activities in Wilmington NC
While there are plenty of cheap things to do in Wilmington, and tons of of paid activities, this post is going to focus on the best free things to do in the port city.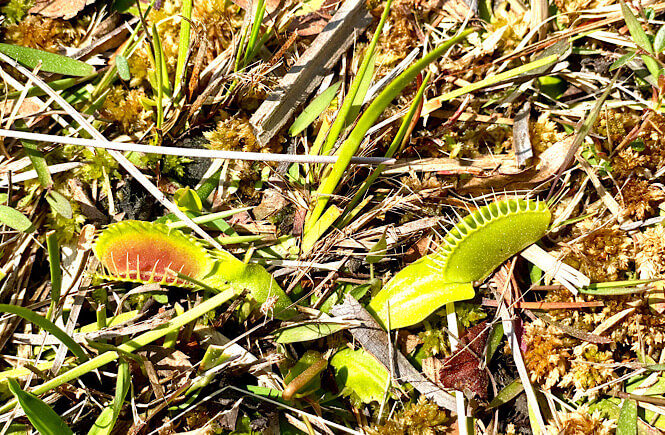 1. Stanley Rehder Carnivorous Gardens
A visit to the Stanley Rehder Carnivorous Gardens is not only free but also one of the most unique things to do in Wilmington NC!
Did you know that you can only find Venus flytraps in the wild within a 75-100 mile radius around Wilmington, NC? You literally cannot find them growing in the wild anywhere else in the world! I don't know about you, but I think that's pretty cool!!
To get to the garden, walk down the paved quarter mile pathway. Along the way you will find a few different pieces of information about the elusive Venus flytraps and local ecology. The walkway and viewing deck are stroller and wheelchair friendly, but to be honest, the Venus flytraps are so little you have to walk into the garden to see them. (This isn't the Venus flytrap you remember from Little Shop of Horrors! LOL.) There are individual stepping stones along the middle of the garden so that you may view these tiny plants. The larger pitcher plants and sundews, two other carnivorous plants, are also in the area and much easier to spot.
Location: 3800 Canterbury Road, Wilmington
(located behind Alderman Elementary School)
Insider Tip: The garden itself gets full sun. Prepare with a hat, sunscreen, and plenty of water or try to avoid visiting during the heat of the day!
You can also find Venus flytraps at Carolina Beach State Park but they are much harder to spot there versus at the Stanley Rehder Gardens.
Is one of your goals to travel more? Try using these powerful travel affirmations!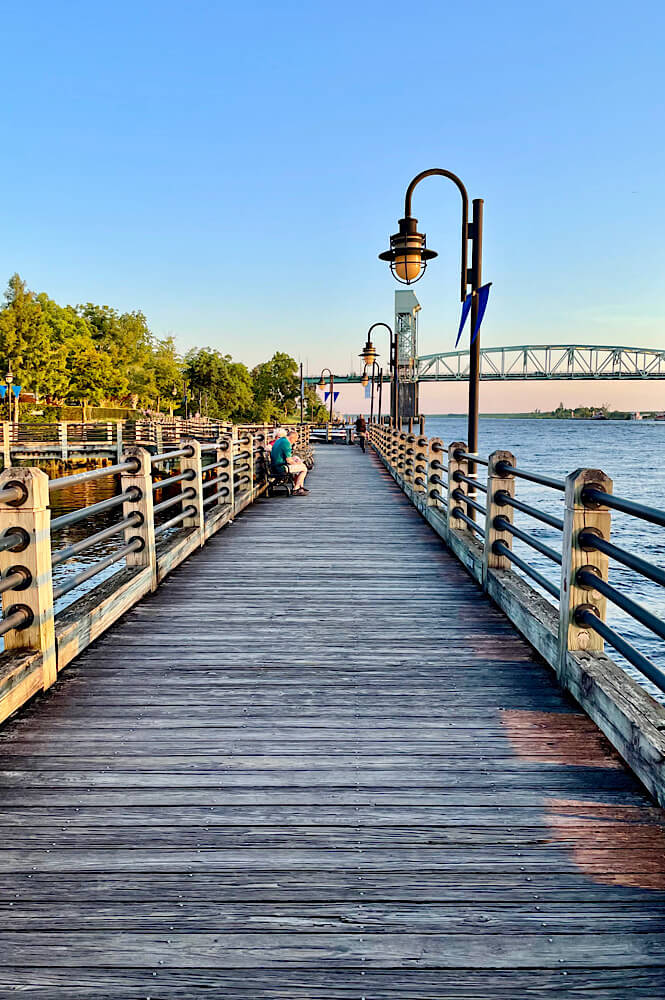 2. Explore Downtown Wilmington & The Riverwalk
There's nothing better than an afternoon exploring the scenic 2 mile Wilmington Riverwalk. Take in the beautiful Cape Fear River, watch the boats go by, and do a little window shopping. Check out the beautiful historic homes, different unique neighborhoods, and interesting architecture.
Insider Tip: If you're looking for great views of downtown Wilmington, take a look at the perspective from the top level of a parking garage…you might be surprised!
While you're in the area, indulge a little with some of our favorite ice cream spots in Wilmington!
3. Take a Self Guided Tour
Another one of the best free things to do in Wilmington is do a self guided tour. You can find an informational kiosk downtown at the end of Market Street along the waterfront with printed maps to help you decide where to wander. There is a free history app of Wilmington you can download on your iphone or you can download and print a self guided tours for Wilmington film and tv sites. There are of course plenty of paid tours available from ghost tours, to carriage tours, and more!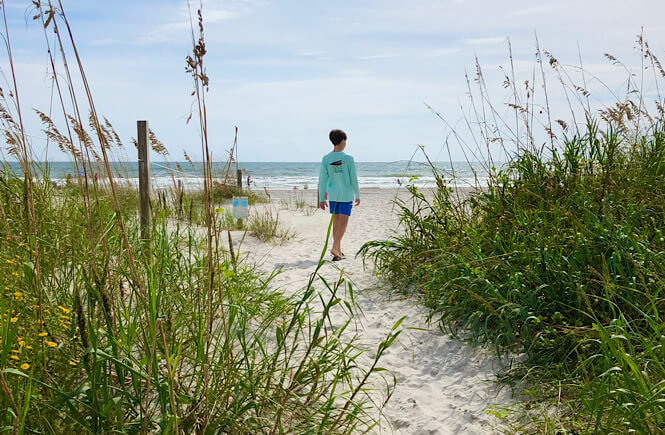 4. Visit the Wrightsville Beach Mailbox
A random mailbox. On the beach. Full of a beautiful stories.
You've probably seen or at least heard about these Kindred Spirit Mailboxes made famous in the Nicholas Sparks book. There are several along the Carolina Coast: several in Holden Beach, the most famous in Sunset Beach, and one in fact on Wrightsville Beach. I, alongside many other romantics at heart, cannot resist the stories in these mailboxes where people pour their hearts out sharing their most sacred secrets. The original Wrightsville Beach Mailbox is located in the The Wrightsville Beach Museum of History– which happens to be one of the cooler free things to do in Wrightsville Beach! But you can actually find two mailboxes, side by side, at the north end of Wrightsville Beach stuffed to the brim with notes and letters. The last beach access after Shell Island takes you straight to the mailboxes. Bring a towel and some sunscreen because time will certainly slip away from you.
Insider Tip: Make sure to wear shoes on your walk to the beach. The sand gets super hot in the summer and the sand spurs will get you year round- ask me how I know!
Wrightsville Beach has to be one of our favorite beaches. Love the beach too? Find out our top picks for best beaches on the east coast.
5. Catch the Sunrise or Sunset
I'm pretty much obsessed with the sunset. And to be honest, I love the sunrise too. I just happen to catch way more sunset than sunrises because, well…I'm just not a morning person.
But there's something about the sun rising and setting over the water. And in Wilmington, you can get both! So I make a habit of catching as many of both as possible! Read my guide on where to watch the sunset in Wilmington for all the details!
6. Explore Carolina Beach State Park
Carolina Beach State Park is truly one of the most unique state parks in North Carolina. Situated near the entrance to Pleasure Island, Carolina Beach State Park offers hiking, fishing, camping, and is home to several of the area's carnivorous plants. It is much more difficult to find the Venus flytraps here on your own though. I highly recommend signing up for one of their free guided tours with a park ranger unless you know what you are looking for. You might also like the free migratory bird walk tour too! Carolina Beach State Park also has a marina and boat ramp if you're looking to spend a day on the water.
Read my family friendly guide to Carolina Beach for all the best things to do in the area!
7. Visit Oakdale Cemetery
Ok, this isn't really my thing. But I know a lot of people enjoy exploring cemeteries. So, in Wilmington, the place to go is Oakdale Cemetery. NC's oldest rural cemetery is like walking through history. Prepare to be entranced by the monuments, sculptures, and gardens. Guided tours are available for a small fee or explore the grounds on your own. Download a free map and self guided tour HERE.
Location: 520 N. 15th Street Wilmington NC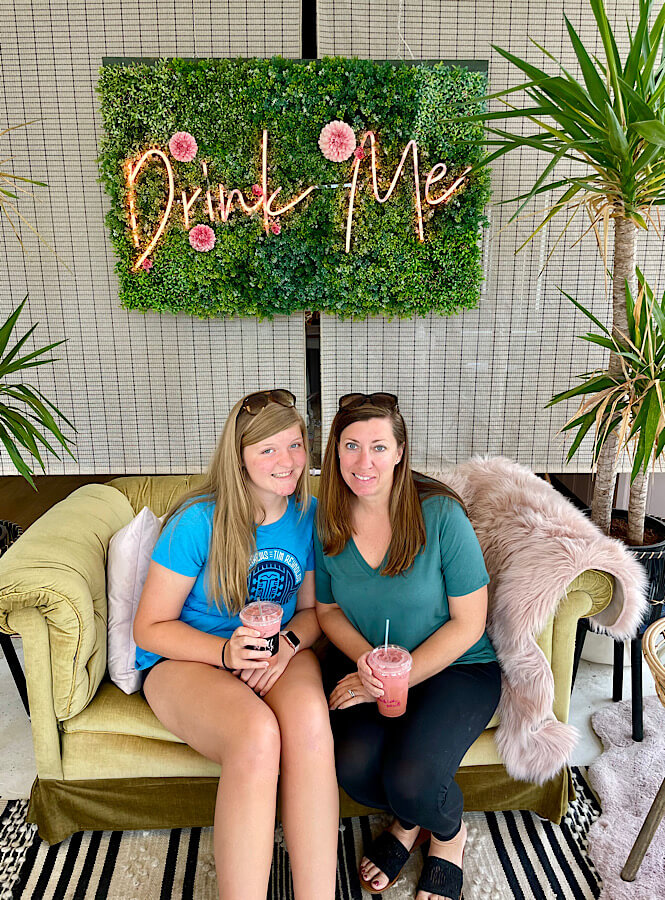 8. Up Your Instagram Game
Do it for the Gram!! Ok let's be honest. Everyone's looking for great places to take photos for Instagram these days. There are murals aplenty and a lot of great photo spots downtown. The beach, Wrightsville Beach Pier, Kure Pier, and Airlie Gardens are also great places for pictures. My daughter and I also loved the super insta-worthy Spill Coffee shop off of College Rd and Drift Coffee is practically made for IG!
Stay tuned for a street art/ Instagram guide to Wilmington soon!
9. Check out the New Hanover County Arboretum
This was the first place my wedding photographer mentioned when we were discussing locations for my wedding portrait. All the years I had lived in Wilmington, I had never been to the Arboretum. And boy, was I missing out! The New Hanover County Arboretum is by far one of the best free things to do in Wilmington. The gardens are just lovely. You can explore on your own but they do offer free tours with a reservation. There is a great area for kids, a Japanese garden, and more!
10. Get a History Lesson at Fort Fisher
Looking for free stuff in Wilmington for the history lovers? Well then you must plan a visit to Fort Fisher. Instrumental in the Civil War, you can visit the Fort Fisher site, watch a ten minute video on the specific history of the area, and explore the quarter mile trail encompassing the site. The gift shop, visitor's center, and restrooms are fully accessible, however are closed Sundays, Mondays, and most holidays.
Want more local history? For a small ticket price, you can check out the Cape Fear Museum, one of the best cheap things to do in Wilmington!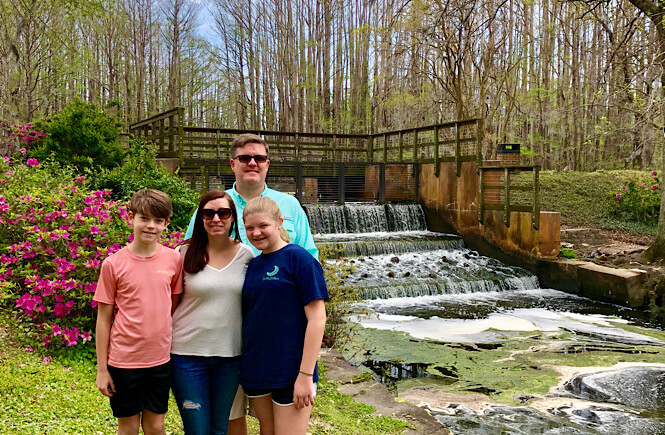 11. Explore Greenfield Lake Park
Greenfield Lake Park is one of the best parks in Wilmington. With a five mile trail perfect for walking, running, or biking plus tennis courts, playgrounds, a skate park, and picnic areas, you can easily spend a day exploring. The perfect spot to get outdoors with the family, bring your fishing gear or rent a canoe or paddle boat for a small fee. Just be sure to keep an eye out for the alligators!
Location: Greenfield Lake Park, 1739 Burnett Blvd, Wilmington
Insider Tip: Greenfield Lake Park is a must-see in the spring when the azaleas are blooming!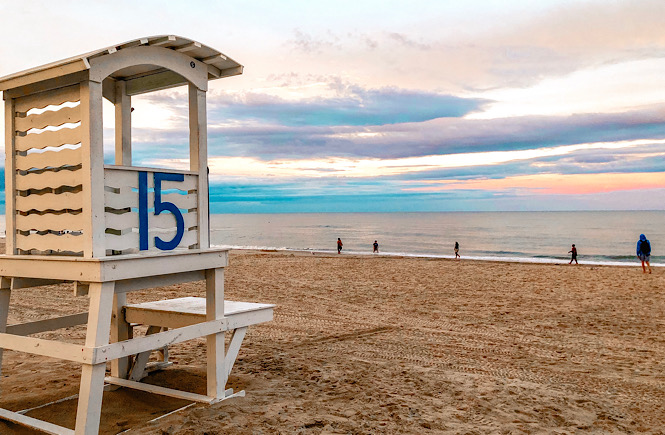 12. Go to the Beach!
Ok, so there are three area Wilmington NC beaches: Wrightsville Beach, Carolina Beach, and Kure Beach. And while they are all free to actually GO to the beach, you usually have to pay for parking. Womp womp womp. Anyhow it is what it is, but there here's what you need to know. There are a few free parking spaces at Kure Beach- get there early because they go fast! There are also a few free parking spots at Fort Fisher State Recreational Area – again, go early or late because these spots will be gone quick.
Parking Fees:
Wrightsville Beach $5 per hour/ $25 per day
Carolina Beach $5 per hour/ $20 per day
Kure Beach $5 per hour/ $20 per day
Update! Parking rates may be different depending on the lot location and season!
Freeman Park: You must buy a day use permit to drive out onto the beach. Day passes are $20- $40 per day depending on the season and can be purchased at the entrance to Freeman Park with a 24 hour pay station. You can also reserve a spot to camp on Freeman Park during the off season. Be sure to make a reservation online as spots fill up fast.I
Insider Tip: If you happen to have a friend with a boat, we highly recommend a trip to Masonboro Island Reserve. This pristine beach will have you wondering if you are still even in North Carolina! Another one of the most unique things to do in Wilmington!
We happen to think Wilmington belongs on every family bucket list! What's top of your list?
13. Get active outdoors
Whether you prefer hiking, biking, surfing, or just a walk on the beach, there are a ton of fun activities in Wilmington to get active outside! Obviously for many of these activities to be free you need to have your own equipment. Or hey, maybe you can borrow what you need from a friend!
Cycling/ Biking: There are many different options to explore Wilmington, Wrightsville Beach, and Carolina Beach by bicycle. If you're an avid cyclist, you may want to check out the scenic River to Sea Bikeway stretching 10 miles from the downtown Wilmington Riverwalk to Wrightsville Beach. You may also be interested in the Gary Shell Cross City Trail that takes you 15 miles from Wrightsville Beach through the University of North Carolina at Wilmington to The Cameron Art Museum. If you're more of a beginner, just opt for part of these routes or explore the five mile loop around Greenfield Lake.
If you're looking for mountain biking, there is only one trail open for bikes in Carolina Beach State Park. OR you can drive a little out of town to the Brunswick Nature Park which offers several biking and hiking trails.
14. Check out the Rich & Famous
Now, this may just be something my family enjoys, but I'll throw it out there for what it's worth! Cruise the area and check out the grandiose beach homes and insanely expensive boats and yachts. We love to pick out our dream houses and watch the big boats go up and down the Intracoastal Waterway. Plus, you never know, you may just see a celebrity. It's been known to happen on occasion!
15. Do "The Loop" at Wrightsville Beach
The Loop at Wrightsville Beach is a 2.5 mile loop for walking, running, or even biking. What used to be just a local for place exercise has become a Wilmington attraction all on it's own. Enjoy scenic views along the trail the whole family will love. (Four legged family members on leashes welcome too!) Need a break? Stop and rest at the Harbor Way Garden along the Loop.
Expect parking fees all over the island, but if you happen to park at the Municipal Complex, March 1- October 31 you can take advantage of your first two hours free if you choose to visit the FREE Wrightsville Beach Museum, Wrightsville Beach Park, or Visitor's Center. Come shop the seasonal Monday Farmer's Market here too.
Pro Tip: One of our favorite free things to do in Wilmington during November? Park here and walk over to watch the Holiday Flotilla.
The Best Free Stuff to Do in Wilmington
So…there you have it. My top picks for the best free things to do in Wilmington. There's actually quite a few options and attractions in Wilmington that don't cost a dime! Pretty cool, right?
What's on your to-do list first?
Share your adventures on Instagram!! Use one of my favorite adventure captions, nature captions, or motivational captions and make life simple. Come say Hi and tag me while you're at it!