DO NOT MISS THESE 2 STOPS ON YOUR CHATTANOOGA DAY TRIP!!
I'm not entirely sure why I haven't heard more about Chattanooga Tennessee all these years…but clearly, I've been missing out.
Living in a bubble I guess??
We only gave ourselves one day and one night on our recent southern road trip in Chattanooga and that was not even close to being enough time in this fabulous city! The city itself is much larger than I realized and located on the border of two time zones…can you say confusing?!? They have world class white water rafting on the Ocoee River and apparently an awesome aquarium too! Needless to say we are already planning a return trip to finish our Chattanooga to do list!
So…wondering what to do in Chattanooga in one day?
In my honest opinion, these two stops on a Chattanooga day trip CANNOT be missed!
LOOKOUT MOUNTAIN: RUBY FALLS AND ROCK CITY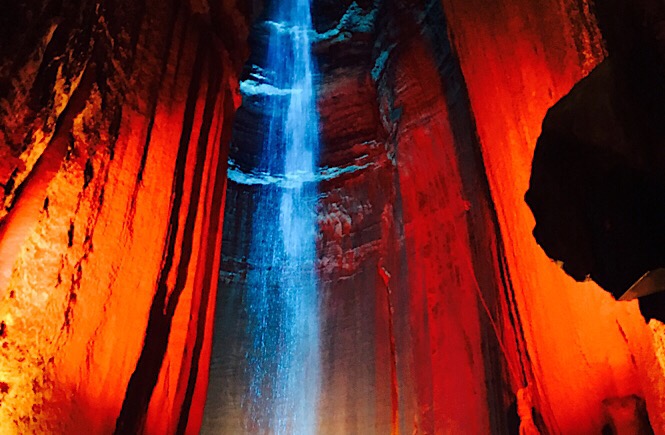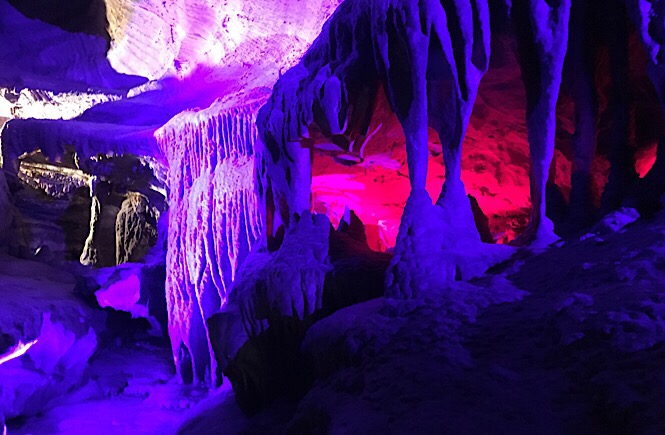 RUBY FALLS
Ruby Falls may have been our number one favorite thing we did on our southern road trip!! My kids, husband, and I all agree this was pretty amazing!! We've been to other caverns before…but an underground waterfall is not your average cavern experience. This was way more than just stalagmites and stalactites!
Tips for Visiting Ruby Falls:
GO EARLY! The line can get quite long in the summer, especially on the weekend.
Buy your tickets online in advance- you have to print the tickets (so no buying in line).
You can save money if you buy a package deal. So if you plan to do Rock City, the Incline Railway, and Ruby Falls buy them all at once.
Prepare to walk 4/5 of a mile…possibly closer to a mile if you include the to walk to your car. Wear comfortable shoes.
Anyone over the height of about 5 foot 5 inches may have to bend over while walking through the caverns. There are many areas with very low ceilings, aka caves. My husband is well over 6 feet tall and this was a major inconvenience (but well worth it in the end).
Getting to the falls takes way longer than getting out…you have to wait on the groups ahead of you several times during your walk there. Budget about two hours for this attraction.
They only give you about ten minutes in the room where you can see Ruby Falls…wasn't quite enough time for me! They usher you into a dark room, then turn on a light show with music for a fun and dramatic effect.
They also have a zip line and ropes course that you can add on if you have time.
There is a gift shop and small snack bar located at Ruby Falls.
ROCK CITY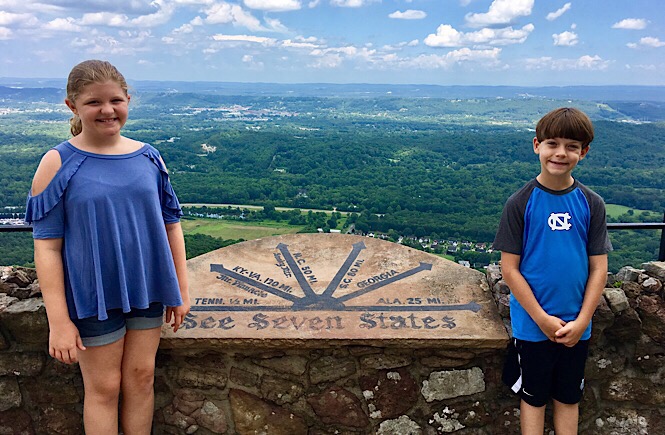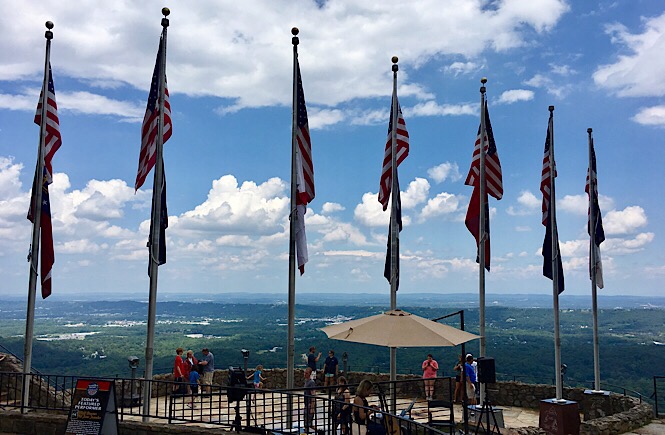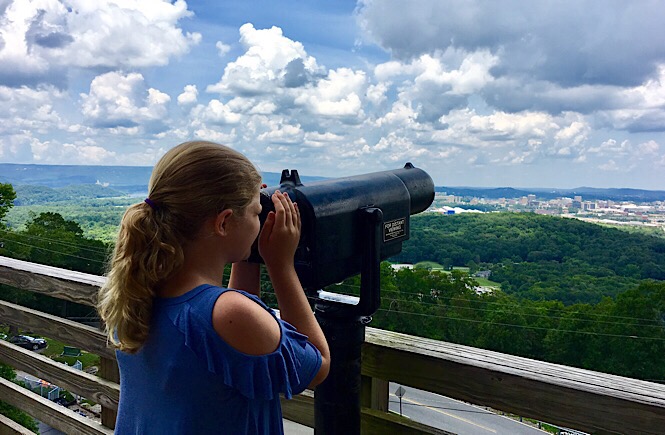 After you visit Ruby Falls, keep heading up the mountain to Rock City…you cannot miss this stop either! I'm talking breathtaking views and where else can you "See Seven States" while standing in one spot? Cool, right?
We were totally surprised at the ease of getting to the scenic viewpoints. I feel like you often see the advertisements of these amazing views but have to be an expert hiker to get those shots. This is not the case in Rock City…it is very commercialized and easy to access.
Visiting Rock City
Check out the map they give you at Rock City before just going for it…there are several different trails you can take to different scenic viewpoints. There is a main trail in and out or you can take less strenuous routes.
There are several different areas to eat here. Just outside Rock City is a Starbucks, and inside the gates there is a fast food type grill, a pizza place, and a full sit down restaurant with views galore!
There are other kid friendly things to do like a rock climbing wall inside and we had live music to entertain us too!
"Fat Man's Squeeze" is really a VERY narrow pathway to walk through. If you are claustrophobic or very overweight, you quite literally will not fit.
There is a little "fairyland village" at the end of one of the trails…in my opinion, this was just kind of odd. Maybe my kids were just too old, but they weren't interested at all.
Chattanooga Day Trip Tips:
A day trip to Chattanooga just would not be complete without visiting Ruby Falls and Rock City! We were completely blown away by how much we enjoyed our day here! If you love waterfalls, then this should be a bucket list destination for you!
I especially love stops like these that throw a little hidden education into the day (for kids and grownups)! We learned a little about geography, a little science, and a little history while having fun! I can not wait to go back!
If you're looking for a unique place to stay in Chattanooga, check out this review of the Moxy Hotel downtown.
I know there are so many fun things for a Chattanooga day trip! It can be hard to choose. So tell me in the comments below, what would you put on top of your Chattanooga must see attractions list? Let me know what y'all think!