Looking for Things to do in Corolla NC?
Wondering what to do in Corolla NC?
Why should you drive all they way to Corolla?
Well…
Corolla, North Carolina is one of the northern most towns that make up the Outer Banks. The Outer Banks are over 100 miles of North Carolina coastline freckled with beach towns that attract millions of visitors every summer.
It can take over two hours to drive from end the end of the Outer Banks. There's only one way into Corolla on Highway 12 and one way out…so traffic can be a beast! But, it's the cutest little beach town and definitely worth the visit!
We travel to North Carolina's Outer Banks almost every summer. While we typically stay in Duck, we always visit Corolla. There are plenty of fun things to do year round, but keep in mind this area does tend to really slow down during the off season, and several attractions even close a few months in the winter. Always check local websites before visiting to make sure they are open if you are visiting in the off season.
If the OBX is on your summer bucket list, then make sure to check out these 9 super fun things to do in Corolla, NC.
9 Super Fun Corolla NC Activities
1. Visit Historic Corolla Park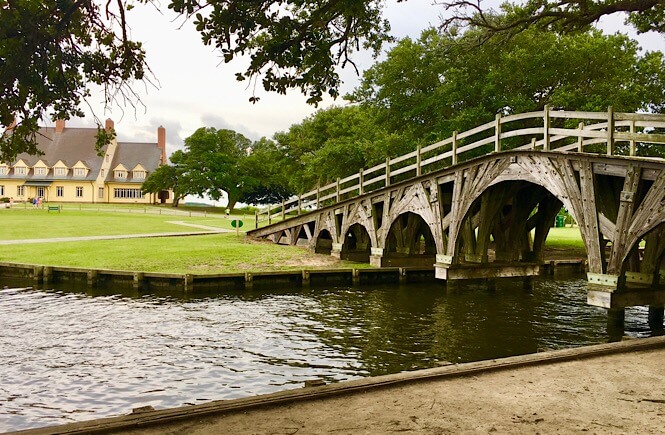 Historic Corolla Park has a variety of fun things to do. You can get your history fix touring the Whalehead Club. That big yellow house on the Currituck Sound was built in the 1920's and is over 21,000 square feet!
For a little science lesson, you can visit the Outer Banks Center for Wildlife Education which is also located within Historic Corolla Park. This is a relatively short stop where you can learn about the local wildlife and area, but it's free and a great thing to do on a rainy day in Corolla! But honestly, one of my kids favorite things to do is just explore the wide open spaces in the park and watch people fishing and kite-boarding in the sound.
We've also attended the incredible 4th of July celebration in Corolla, complete with food, entertainment, and fireworks. The fireworks show over the water was fantastic! Be sure to bring some lawn chairs, snacks, drinks, and your patience. Getting home after the fireworks can take quite awhile.
2. Visit the Currituck Beach Lighthouse
A short walk through Historic Corolla Park should also include a visit to the unique red brick Currituck Beach Lighthouse. Take a tour and climb it's 220 steps for an awesome view of the ocean and sound or just admire the lighthouse from the ground.
3. See the Wild Horses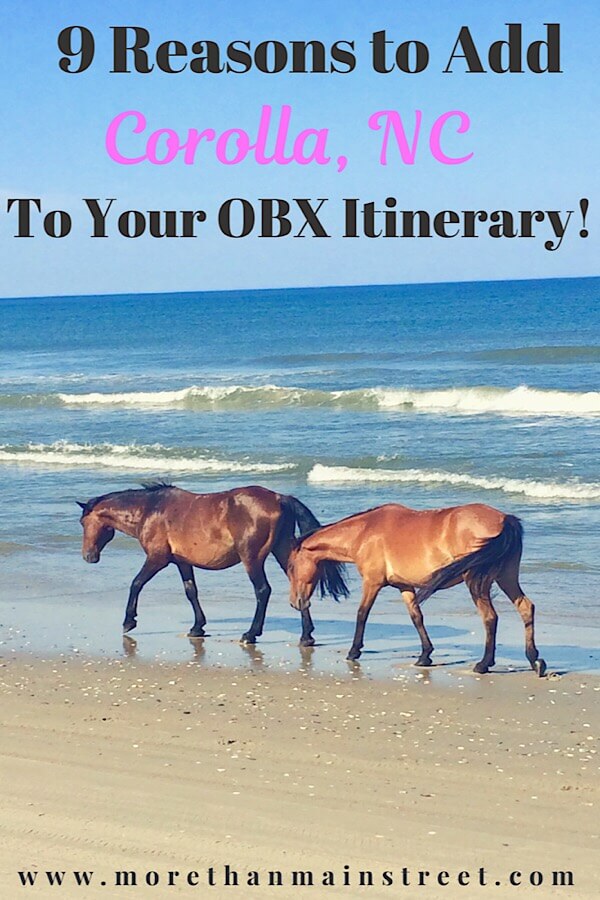 This one is my absolute favorite!!!
One of the most unique experiences in the Outer Banks has got to be seeing the Wild Spanish Mustangs. Technically once you are on the beach at some point you are in Carova, NC, but the access to the beach is basically the end of the road in Corolla. You can take a tour in an open air jeep OR if you have a 4 wheel drive vehicle then go for it on your own! The wild horses are typically out and about and easy to find but if you want someone to provide the history and more background on the horses, I'd recommend a tour. Beware: it's a bumpy ride!
Side Note: Please do not touch or pet the horses. They are wild! It is actually illegal to get within 50 feet of the horses. You can still get really fantastic pictures without getting too close.
4. Go to the Beach
This may seem like like a no brainer, but seriously go spend some time on the beautiful beaches here! Collecting seashells, playing peek-a-boo with the sand crabs, and boogie boarding are some of our family favorite things to do.
There are lifeguards patrolling the beaches by driving up and down the beach in trucks or 4x4s, but there aren't often lifeguards in stands. Pay attention to the flags posted at beach access points. Red flags mean do not go in the water!
If you have a 4×4 vehicle then you must take advantage and drive onto the beach, pack a cooler, and spend the day fishing or playing in the sand. But don't do it if you don't have a four wheel drive…trust me, that never ends well.
You MUST also catch one of the glorious sunrises over the ocean or the sunsets over the sound. This cannot be missed!
5. Get outside your Comfort Zone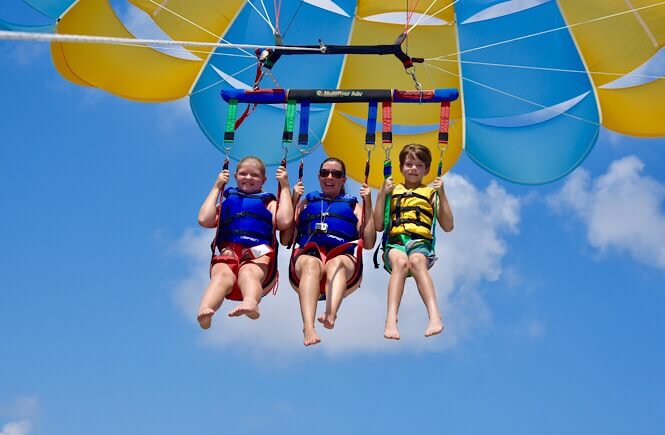 Corolla is the perfect place to chase a little adrenaline! Although parasailing is maybe on the more tame end of the spectrum, it's still a really fun activity for any age. Both my children and my 70+ year old mother in law loved it. Already tried parasailing? Learn to kite-board or rent a jet ski. There's something for everyone!
6. Corolla NC Shopping at Timbuk II
Timbuk II is a shopping center. So…when you need a break from the sun (and trust me that does happen) or a fun evening outing, check out Timbuk II. There are a variety of restaurants, over 60 shops, ice cream, and fun things to do for kids. My children love the bumper cars and go karts at Corolla Adventure Golf & Bumper Cars (it's in the very back of the shopping center if you're trying to find it).
Across the street from Timbuk II is another shopping center. One of my favorite memories from last summer on a rainy day was getting henna tattoos with my kids and catching a movie. Sometimes the simplest things have the most lasting effects.
7. Play Mini Putt Putt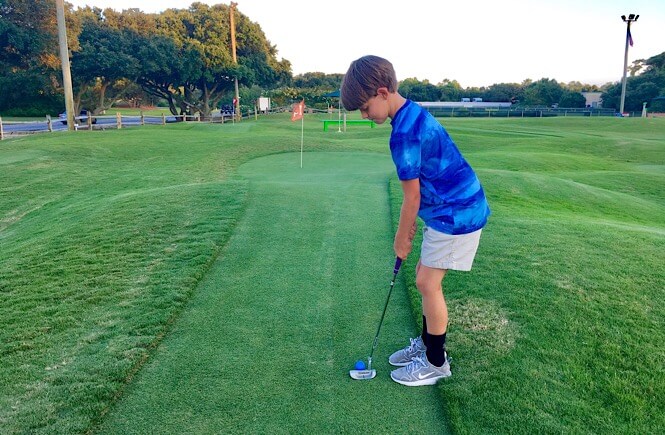 There are a couple of options to play mini putt putt in Corolla, but our favorite happens to be this very unique grass course. No fancy volcanoes or trains but these 18 holes might challenge even the adults on your vacation. Grab an ice cream and enjoy a round with your family!
You can also play a true round of golf at the Currituck Club- make sure to play early or late to beat the heat!
8. Try out an Outdoor Water Sport in Corolla!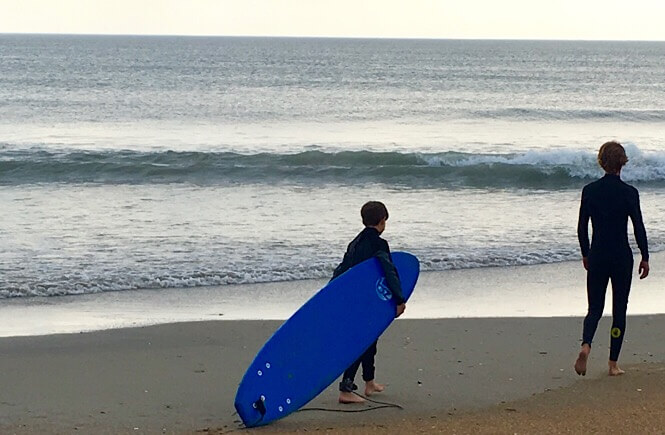 From surfing to kayaking to paddle boarding, there's a ton of outdoor water sports to try while you're in Corolla. As a matter of fact, my son took his very first surf lesson here. The instructors were so patient with him and they were super flexible when the weather was a little uncertain. (We get lots of random storms to pop up and pass through quickly here.)
9. Take a Segway Tour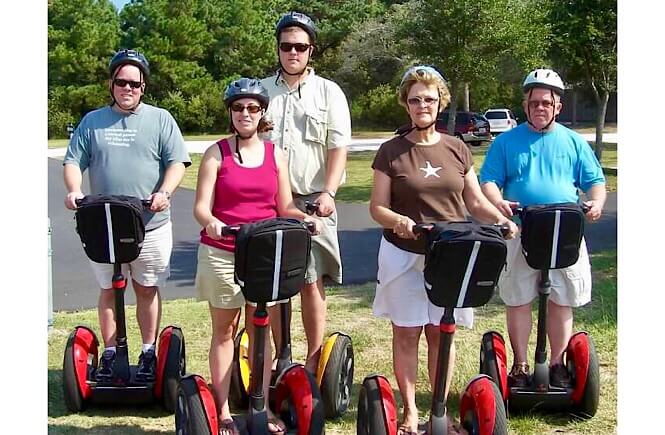 If you've never tried a segway, this is the perfect opportunity! You can choose to tour through Historic Corolla Park or go off road and onto the beach into the sand dunes. You can even see the wild horses and knock two things off your to do list at once! They provided great instruction and practice time in an empty parking lot (which is nice for nervous Nelly's like me). Our tour guide was super kind, knowledgeable and patient with our group. This was definitely one of my favorite Corolla NC activities!
Should you visit Corolla NC?
Heck yeah!
The Outer Banks is a must visit for anyone vacationing in North Carolina. You can read my family friendly guide to the Outer Banks for ideas on what to do in other areas during your visit.
But seriously, if you're a beach lover, you need to visit the Outer Banks!
Have you ever been to Corolla or the Outer Banks? Tell me about your visit in the comments below!
If you enjoyed this article, please consider sharing it on social media! And if you have time, check out another post…every little bit helps me keep my blog up and running. Thanks friends!
Save & Pin for Later!