Adventure Captions for Instagram
I just love an adventure!! And if you do too, you might find these fun adventure captions and quotes helpful when sharing on social media!
Whether you've just returned from an epic adventure or planning your next trip, these captions can fit perfectly with your next Insta post.
If you've been here before, you might know that I am a big believer that "Adventure is a mindset." I believe adventure can be found anywhere. I also believe that it's important to share the things you love with others. Sharing the places you been and fun adventures can be inspiring and helpful to others. So pick your favorite adventure caption and share with the world! You never know who might find joy in what you share!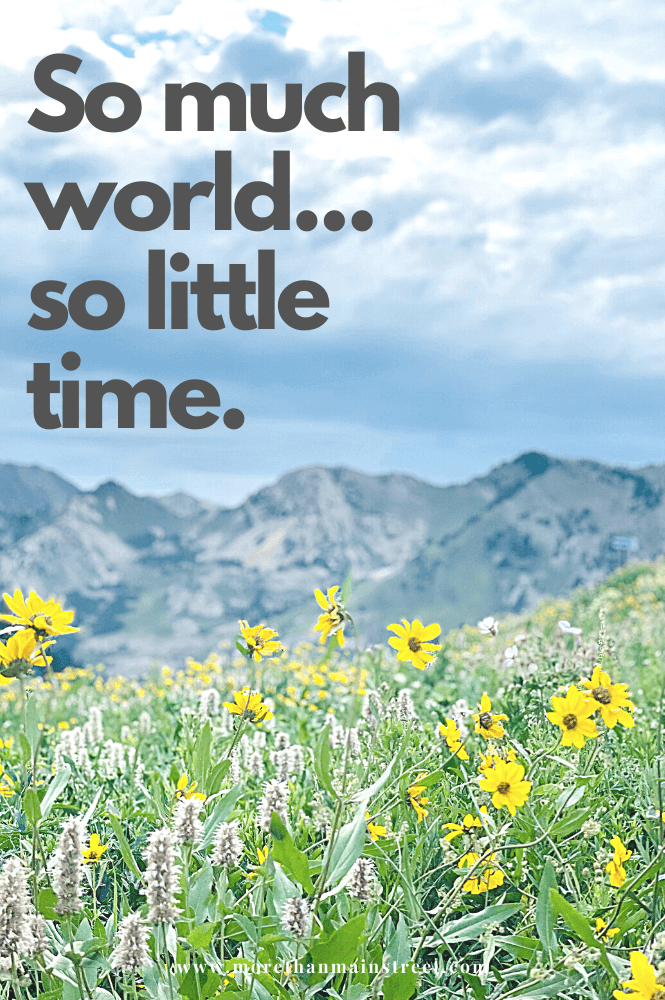 PIN THESE ADVENTURE CAPTIONS TO YOUR TRAVEL BOARD!
Adventurous Captions for Instagram
Have you been trying to figure out how to caption an adventure photo?
Try one of these adventure captions! You can use them by themselves or use them as the introduction to your adventurous captions for Instagram. I often put short captions like these in all capital letters as a title to my post followed by a longer story or helpful tips. Give these short adventure captions for Instagram a try:
Adventure awaits
So much world, so little time…
Cheers to our next adventure!
Happiest exploring
Adventure is a form of self care.
I do believe it is time for another adventure.
Time for some travel therapy
Let's be adventurers.
Where to next?
Adventure loading…
Less stuff, more life.
The look you get when it's time for a new adventure!
One word: adventure!
Escape the ordinary
Born to explore
Craving an adventure?
Another day, another adventure.
Travel never goes out of style.
Seek out adventure.
My most beautiful adventure yet
Adventure days are the best days!
I'd follow you anywhere.
To do list: Explore more.
Always take the scenic route.
I've never met an adventure I didn't like.
Wild and free
Adventure is a mindset.
Constantly searching for my next adventure
Life is not meant to be lived in just one place.
Spontaneity is the best kind of adventure.
Unplugged
The world is yours to explore
Adventure goals
Let the adventure begin.
Which of these adventurous captions for Instagram are your favorite? Which would you use first?
Travel Captions for Instagram
We all get stuck from time to time. And I find that reading lists of travel Instagram captions like this will often spark the perfect idea for my next post. Feel free to use any of the following travel captions for Instagram when you need a little boost!
Bucket list worthy
All I need is you, me, and an adventure.
Take more adventures.
You don't have to travel far and wide to find adventure.
More WOW moments
Adrenaline junkie
Nothing beats an adventure
Patiently waiting for my next adventure.
Adventure state of mind
Create your own adventure.
Adventure worthy
Best day ever
Adventure can be found anywhere
Life is better when we're exploring.
Adventure addict
Less dreaming, more doing
In my happy place.
Adventure alert
Travel vibes
It's never too late to live your dream life.
Oh happy day!
Adventure is calling.
What dreams are made of…
Is there anything better than an adventure?
Never stop exploring.
Happiest in nature.
Counting the days until my next adventure.
Are we there yet?
Find your bliss.
Go where you can breathe easy.
Be an experience collector
Roam, wander, explore
Need more ideas? Check out these super inspiring motivational captions for Instagram, nature captions, or my favorite self love Instagram captions!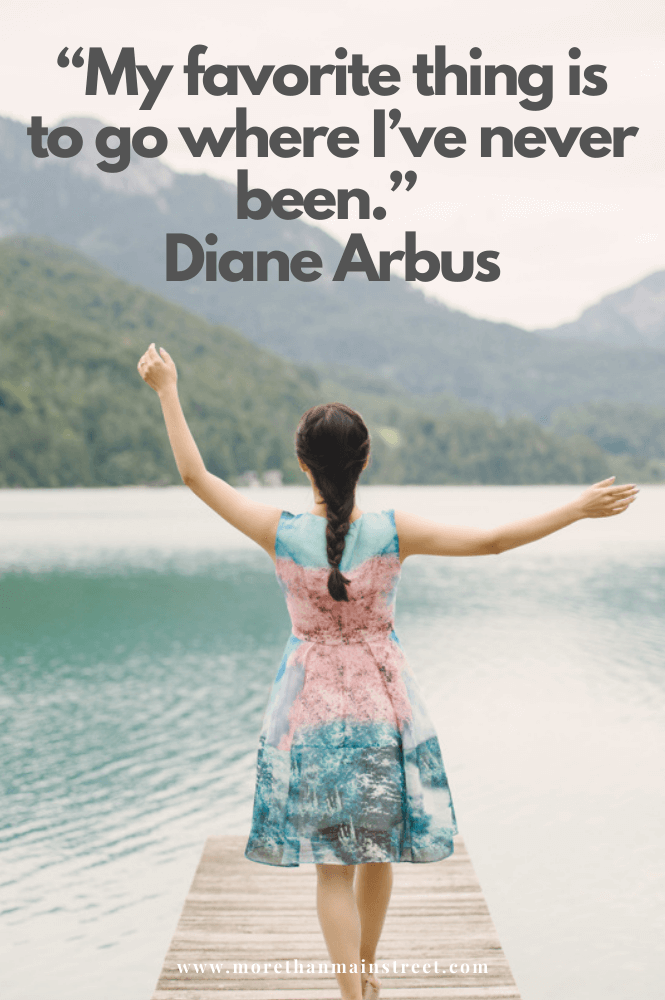 Adventure Quotes
Trying to figure out how to caption a trip? Quotes are my jam! I just love that feeling when a quote really resonates and motivates me. And I love using quotes as part of my Instagram captions. Here are some awesome adventure quotes for your travel photos:
 "My favorite thing is to go where I've never been." -Diane Arbus
"Life is either a daring adventure or nothing." -Helen Keller
"If happiness is the goal – and it should be, then adventure should be top priority." -Richard Branson
"If you think adventure is dangerous, try routine, it's lethal" ― Paulo Coelho
"The biggest adventure you can take is to live the life of your dreams." -Oprah Winfrey
"I haven't been everywhere, but it's on my list." -Susan Sontag
"Travel is about the gorgeous feeling of teetering in the unknown." –Anthony Bourdain
"Live, travel, adventure, bless, and don't be sorry." –Jack Kerouac
"We live in a wonderful world that is full of beauty, charm and adventure. There is no end to the adventures that we can have if only we seek them with our eyes open." -Jawaharial Nehru
"There's only one thing more precious than our time and that's what we spend it on." -Leo Christopher 
"Adventure is worthwhile in itself." -Amelia Earhart
"To move, to breathe, to fly, to float, To gain all while you give, To roam the roads of lands remote: To travel is to live." -Hans Christian Andersen
"Jobs fill your pockets, but adventures fill your soul." –Jaime Lyn Beatty
"The journey matters more than the destination." -Tony Fahkry
"To live would be an awfully big adventure" -Peter Pan
Are you a quote fanatic like me? Grab my favorite gratitude quotes and intentional living quotes too!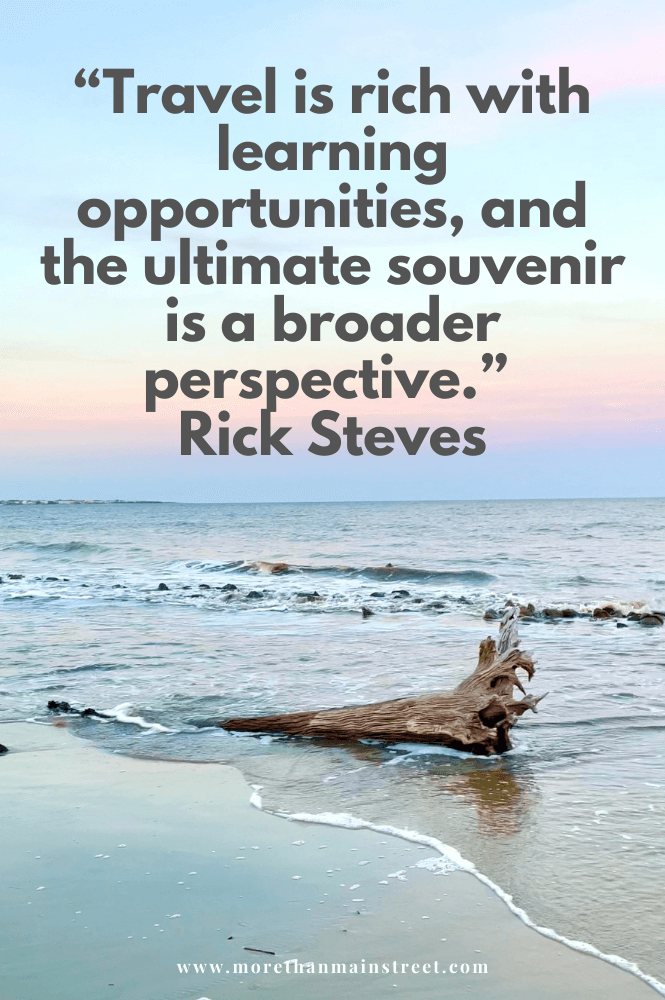 Travel Quotes for Instagram
Travel quotes always inspire me! I've included some more popular travel quotes and hopefully some you've never heard before. Hopefully these travel quotes for Instagram will inspire you to live your best life, and if nothing else, give you a great adventure caption for your photos on Insta. Feel free to check out my Instagram page for even more ideas.
"Travel is rich with learning opportunities, and the ultimate souvenir is a broader perspective." -Rick Steves
"Take only memories, leave only footprints." – Chief Seattle
"You only live once, but if you do it right, once is enough." -Mae West
"The pleasure we derive from journeys is perhaps dependent more on the mindset with which we travel than on the destination we travel to" -Alain de Botton
"If we were meant to stay in one place, we'd have roots instead of feet" -Rachel Wolchin
"Adventure is a path. Real adventure, self-determined, self-motivated, often risky, forces you to have firsthand encounters with the world" -Mark Jenkins
"Then one day, when you least expect it, the great adventure finds you." -Ewan Mcgregor
"I knew when I met you an adventure was going to happen." -AA Milne
"If happiness is the goal– and it should be, then adventures should be a priority." –Sir Richard Branson
"Stop worrying about the potholes in the road and celebrate the journey." –Barbara Hoffman
"Life is meant for good friends and great adventures." –Unknown
"Not all those who wander are lost." – J.R.R. Tolkien
"One way to get the most out of life is to look upon it as an adventure." -William Feather
"Travel doesn't become adventure until you leave yourself behind" –Marty Rubin
"Do not stop thinking of life as an adventure. You have no security unless you can live bravely, excitingly, imaginatively, unless you can choose a challenge instead of a competence." –Eleanor Roosevelt
"Live your life by a compass, not a clock." -Stephen Covey
"Better to see something once than to hear about it a thousand times." -Asian Proverb
"Instead of trying to make your life perfect, give yourself the freedom to make it an adventure." -Drew Houston
"Catch the trade winds in your sails. Explore. Dream. Discover." -Mark Twain
"Find me where the wild things are." -Alessia Cara
Need more? Check out these wanderlust inducing travel quotes!
I hope you've find these lists of adventure captions and travel quotes to be helpful. I love to hang out on Instagram so feel free to follow me and send me DM to say Hi!
Feeling inspired to plan your next adventure?? Start planning an epic USA road trip or check some amazing destinations in my USA bucket list. Not quite able to travel far and wide yet? No worries. Check out these fun everyday adventure ideas or even these simple at home adventures.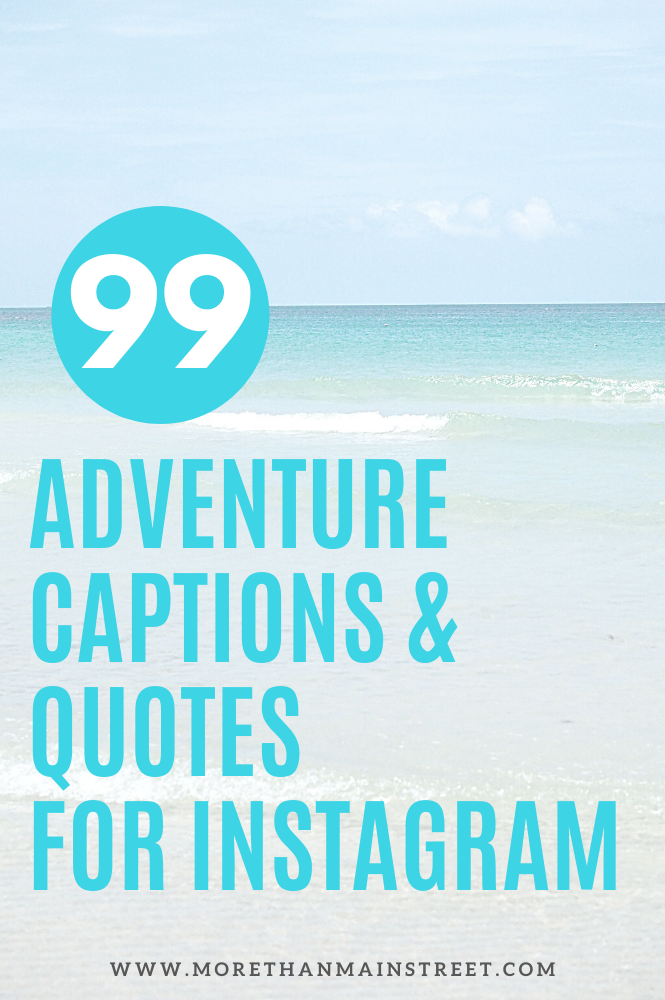 PIN THESE ADVENTURE CAPTIONS AND QUOTES FOR WHEN YOU NEED A LITTLE EXTRA INSPO!