Intentional Living Quotes
Quotes are my jam. And I find living intentionally quotes to be super inspirational. Words have power! An important piece of intentionally living is our mindset. When we are able to maintain a positive growth mindset and remember our WHY, it becomes easier to live each day with intention. And reading daily quotes is a simple way to get into the right mindset!
"Our words have power. They impact others, but they also impact us." – Michael Hyatt
What is intentional living?
Simply put, intentional living is a lifestyle based on one's values and priorities. Being intentional is about motivation. It's about your WHY. It's about clarity on who you are and what you want in life. Is it easy? No…not right away. Is it doable? Yes, absolutely!! Just practice making thoughtful choices and decide how you want to show up in the world today!
50 Living Intentionally Quotes
If you're anything like me, words inspire and motivate me daily. Reading quotes can both soothe my soul and help get me into a positive, growth mindset. Here are some of my favorite intentional living quotes: Feel free to copy, pin, or share on social media! I'd love for you to tag me too!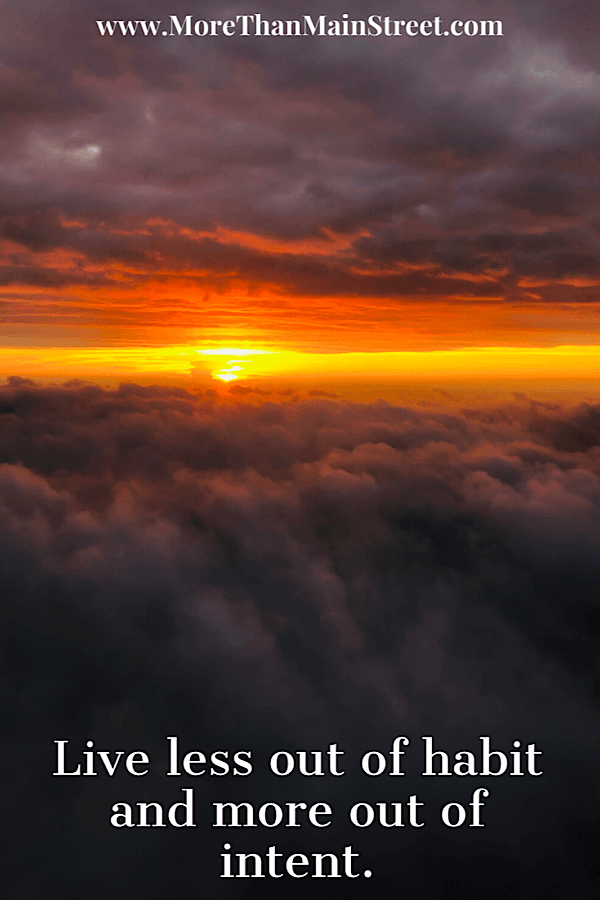 I don't know about you but these Be Intentional Quotes motivate the heck out of me! I hope they do for you too!
Quotes About Being Intentional
"Live less out of habit and more out of intent." Anonymous
"Intentional living is the art of making our own choices before others' choices make us." -Richie Norton
"Above all, try something". -Franklin D Roosevelt
"What we know matters, but who we are matters more." -Brene Brown
"Nobody finishes well by accident." -John C. Maxwell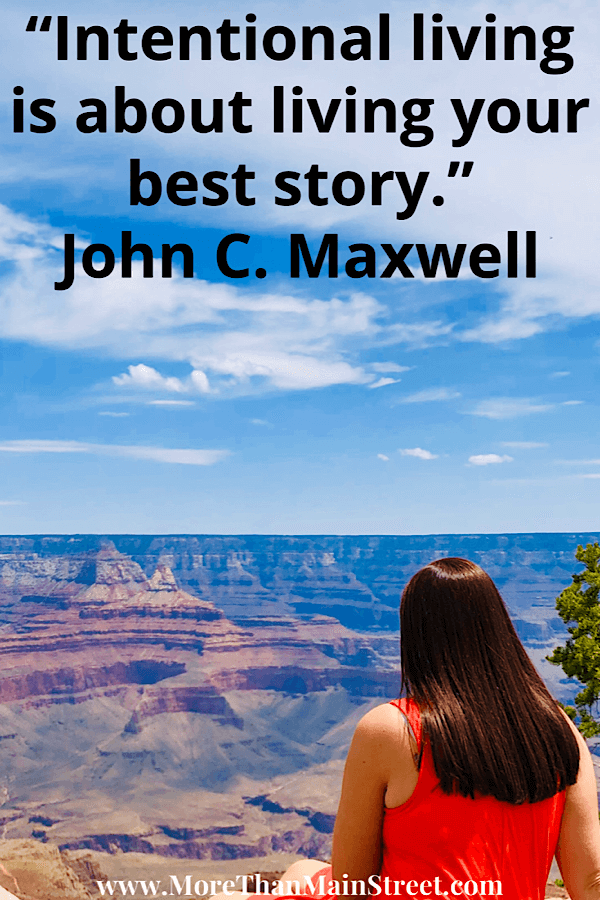 Be sure to Save these Be Intentional Quotes on Pinterest!
Quotes on How to Live Intentionally
"Intentional living is about living your best story." -John C. Maxwell
"If you're going to grow, you have to be intentional." -Curt Kampmeier
"Courage starts with showing up and letting ourselves be seen." -Brene Brown
"When your intentions are pure, so too will be your success." -Charles F. Glassman MD
"When we start replacing distractions with the things we love, that's when we start living with intention." Simply Fiercely blog
Being thankful is another key to cultivating a more grateful heart! Grab my best gratitude quotes too!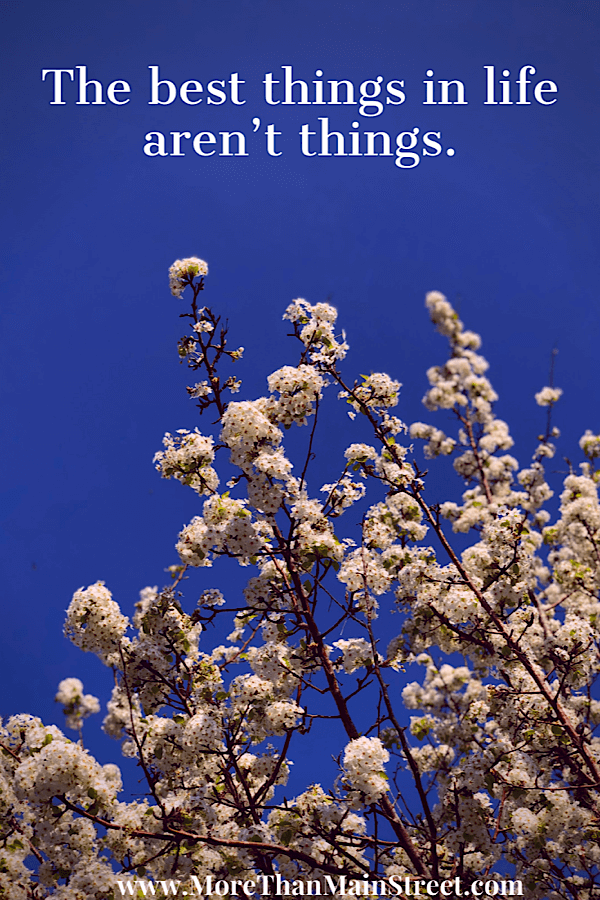 Living a Purposeful Life Quotes
"The best things in life aren't things." Anonymous
"Wherever you are, be all there." -Jim Elliot
"Authenticity is a collection of choices that we have to make every day." -Brene Brown
"You can't do anything about the length of your life, but you can do something about its width and depth." -Evan Esar
"It's not enough to have lived. We should be determined to live for something." -Winston S. Churchill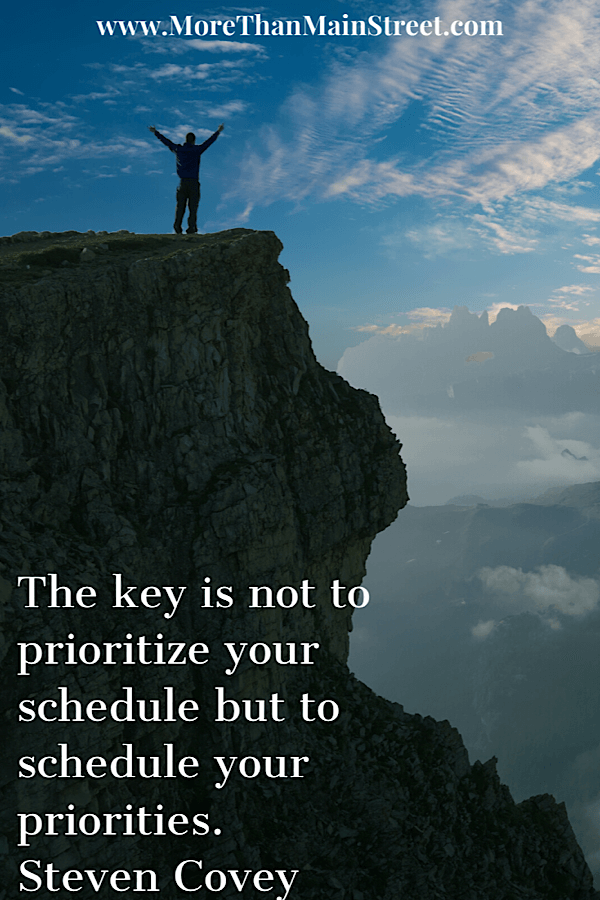 Be Intentional Quotes About Priorities
"The key is not to prioritize your schedule but to schedule your priorities." -Steven Covey
"To change your life, you need to change your priorities." -Mark Twain
"Time has a wonderful way of showing us what really matters." Margaret Peters
"If it's a priority, you'll find a way. If it isn't, you'll find an excuse." -Jim Rohn
"Make yourself a priority." Anonymous
Making yourself a priority is also about self care. Learn how to create a self care routine that works for you!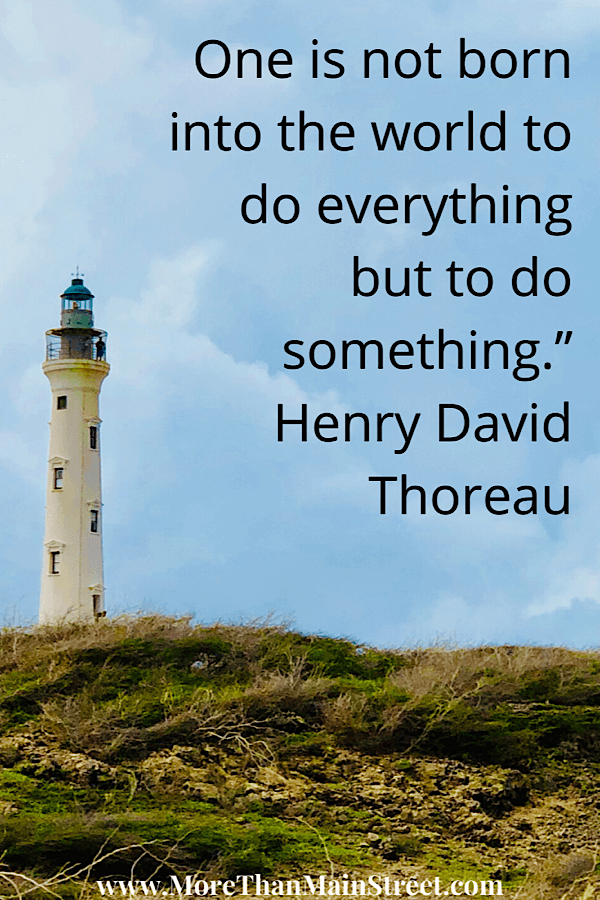 Be Intentional Quotes & Living a Meaningful Life
"One is not born into the world to do everything but to do something." -Henry David Thoreau
"Listen- are you breathing just a little, and calling it a life?" -Mary Oliver
"Just don't give up on what you really want to do. Where there is love and inspiration, I don't think you can go wrong." -Ella Fitzgerald
"Make your life a meaningful one" Sunday Adelaja
"I did then what I knew how to do. Now that I know better, I do better." -Maya Angelou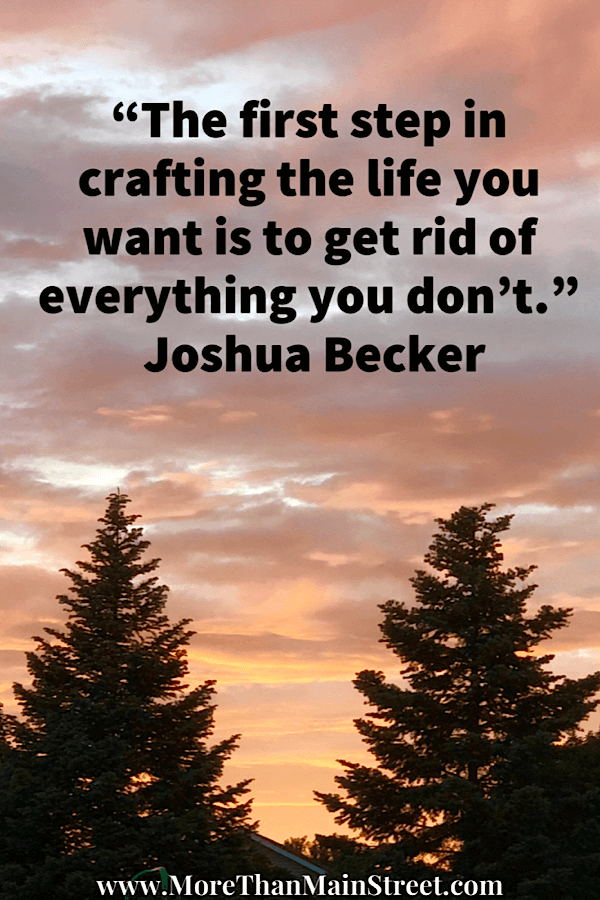 Quotes About Simplicity & Minimalism
"The first step in crafting the life you want is to get rid of everything you don't." –Joshua Becker
"I have three things to teach: simplicity, patience, compassion. These three are your greatest treasures." -Lao Tzu
"The purpose of life is not to be happy. It is to be useful, to be honorable, to be compassionate, to have it make some difference that you have lived and lived well." -Ralph Waldo Emerson
"There is beauty in simplicity." Anonymous
"The secret of happiness is not found in seeking more, but in developing the capacity to enjoy less." Socrates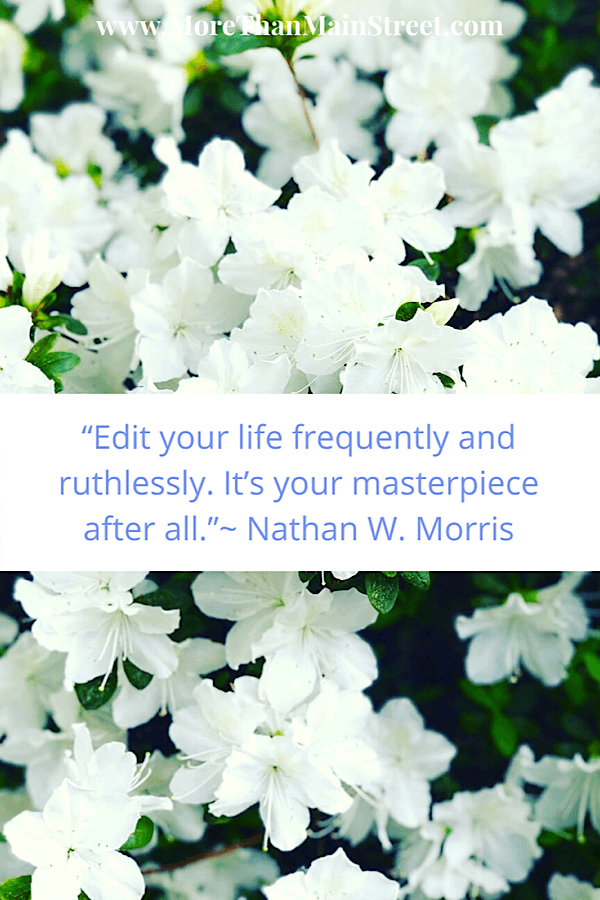 Quotes About Personal Growth
"Edit your life frequently and ruthlessly. It's your masterpiece after all." -Nathan W. Morris
"Be the change you want to see in this world." -Gandhi
"We cannot choose our external circumstances, but we can choose how we respond to them." -Epictetus
"You, and only you, are ultimately responsible for who you become and how happy you are." -Rachel Hollis
"If you do what you've always done, you'll get what you've always gotten." -Tony Robbins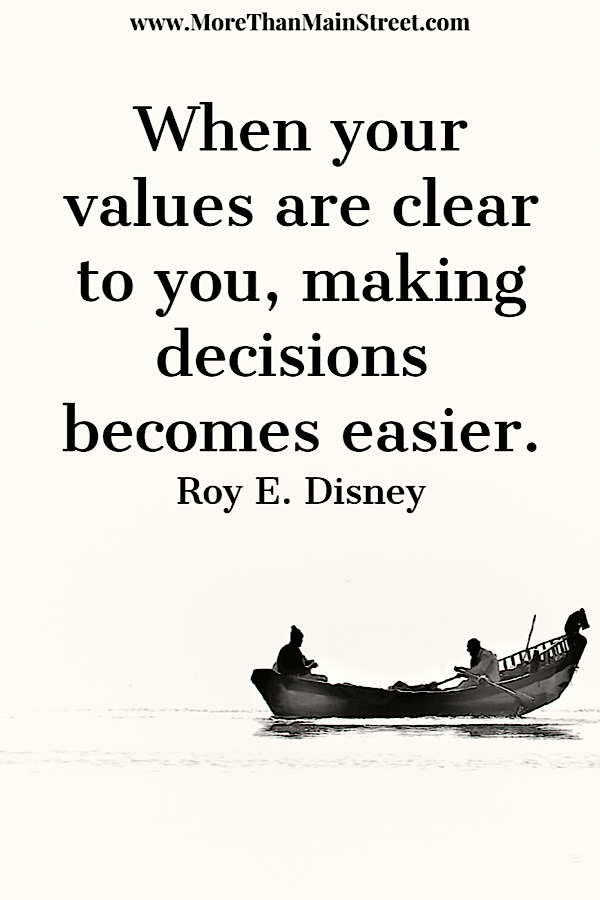 Quotes About Values
"When your values are clear, making decisions becomes easier." -Roy E. Disney
"If you don't stick to your values when they are being tested, they're not values, they're hobbies." -Jon Stewart
"Open your arms to change but don't let go of your values." Dalai Lama
"Your core values are the deeply held beliefs that authentically describe your soul." -John C. Maxwell
"My definition of success: When your core values and self-concept are in harmony with your daily actions and behaviors." -John Spence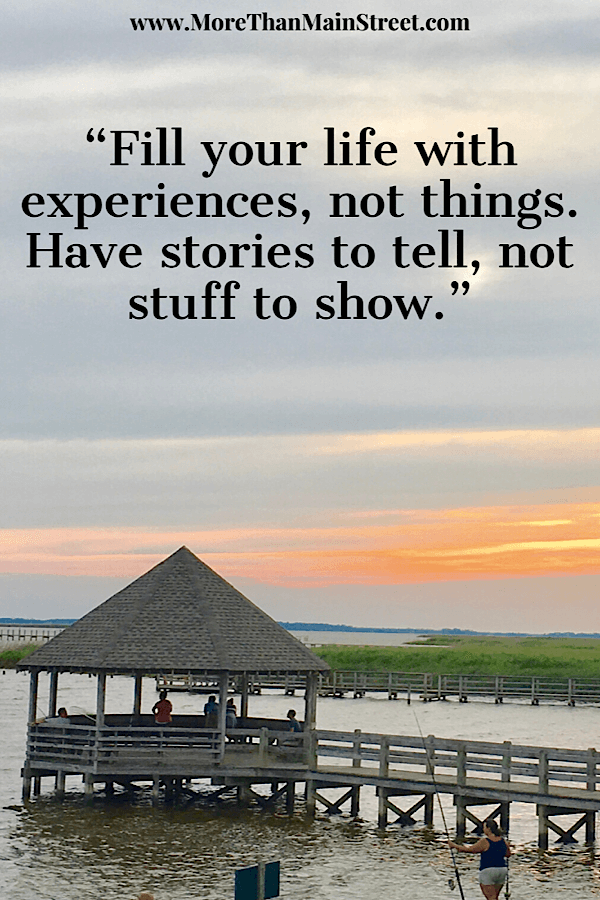 Experiences Over Things Quotes
"Fill your life with experiences, not things. Have stories to tell not stuff to show."
"Experience is the teacher of all things." -Julius Caesar
"Learn from every mistake, because every experience particularly your mistakes, are there to teach you and force you into being more of who you are." -Oprah Winfrey
"The value of experience is not in seeing much, but in seeing wisely." William Osler
"Twenty years from now you will be more disappointed by the things you didn't do than by the ones you did do." -H. Jackson Brown Jr.
Travel and quotes are two of my favorite things! Read more travel quotes now!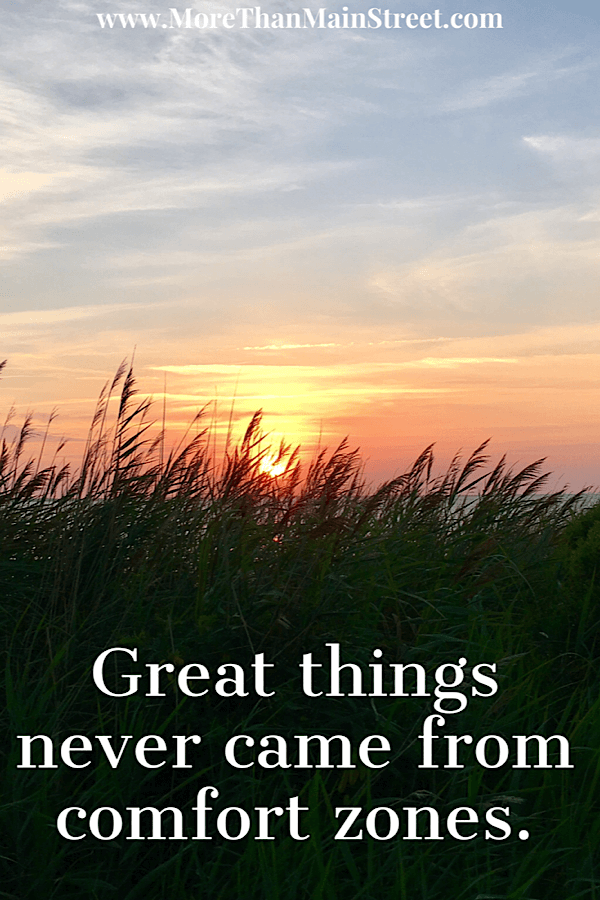 Inspirational & Motivational Quotes
"Great things never come from comfort zones." -Anonymous
"The pessimist sees difficulty in every opportunity. The optimist sees opportunity in every difficulty." -Winston Churchill
"It's not whether you get knocked down, it's whether you get up." -Vince Lombardi
"You are braver than you believe, stronger than you seem and smarter than you think." -Christopher Robin (Winnie the Pooh)
"You are confined only by the walls you build yourself." Anonymous
Inspirational & Motivational Words
We all can use a little inspiration and motivation these days, right? I love these living intentionally quotes to help encourage others but also I find they encourage me too! Win-win! And I don't know about you, but I can always use a reminder to check in with my priorities, get into the right mindset, and focus on living each day with intention.
Intentional living is about aligning your actions with your values. It's about turning off auto pilot and living life on purpose!
Want a little more than just living intentionally quotes? Read my top 10 simple living tips to live more intentionally today!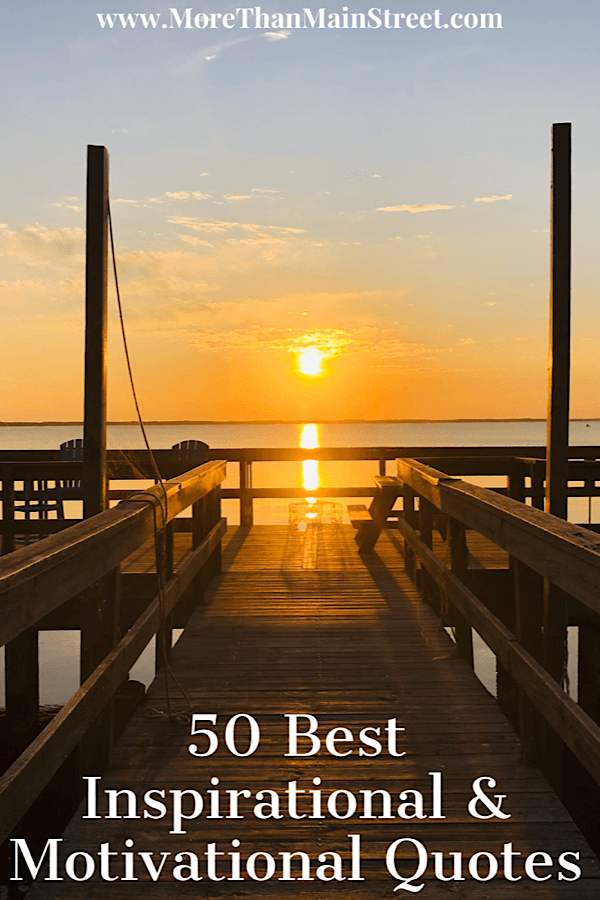 Save these 50 Be Intentional Quotes for when you need a little reminder on why you choose to live more intentionally!