25 Inspiring & Motivational Quotes about Gratitude
Do you love quotes? Well, you're in luck! Because not only am I crazy about quotes but gratitude is kinda my jam too. Which is why I wanted to share these 25 gratitude quotes with y'all today.
Whether you're doing a 30 day gratitude challenge, Thankful Thursday, a Thanksgiving gratitude check, or looking to be more grateful because of you keep hearing about it everywhere…I've curated a list of gratitude quotes to inspire and motivate you.
Interested in doing a 30 day challenge? Grab my gratitude journal prompts to get started! You might also find inspiration in my list of 100 things I'm thankful for and how to cultivate a more grateful heart. (See…I told you I'm kinda crazy about gratitude.)
A Daily Gratitude Practice
It's no secret that a daily gratitude practice is a major part of my life. It truly has a made a difference in my shift in mindset and being more intentional. There's literally scientific research that shows that practicing gratitude helps you with everything from sleep to confidence to happiness. Seriously? Who doesn't want those things??
Consistency is key to developing a beneficial gratitude practice. Try incorporating it into your daily self care routine in order to create a new habit! Even just a simple quote is a great trigger to remind yourself to shift to a gratitude mindset.
I would love for you to screenshot, share, or save any of these gratitude quotes below. Use them to spread joy and gratitude or just as a simple reminder for yourself. Feel free to copy and paste these thankful quotes too!
Not quite ready to commit to a daily gratitude practice? Try starting small with by making a list of simple pleasure in life or a once a week, Thankful Thursdays!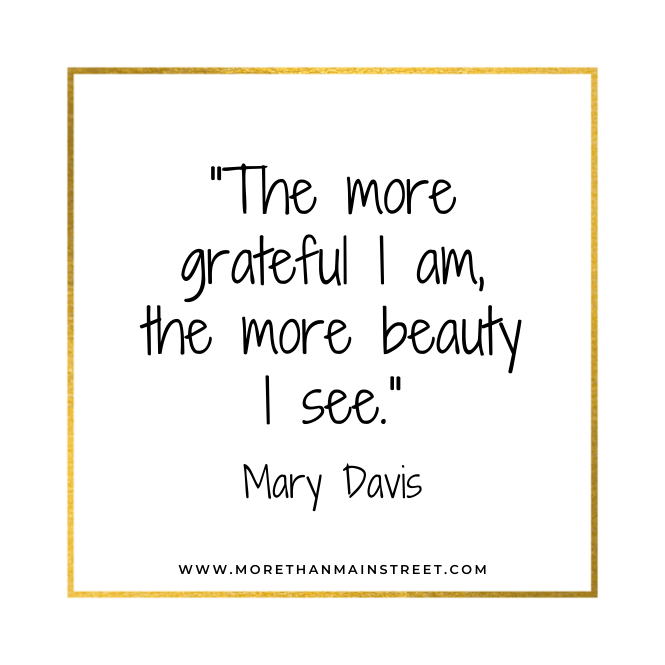 Inspirational Thank You Quotes
"The more grateful I am, the more beauty I see." -Mary Davis
"Make it a habit to tell people thank you. To express your appreciation, sincerely and without the expectation of anything in return. Truly appreciate those around you, and you'll soon find many others around you. Truly appreciate life, and you'll find that you have more of it." -Ralph Marston
"Thank you" is the best prayer that anyone could say." -Alice Walker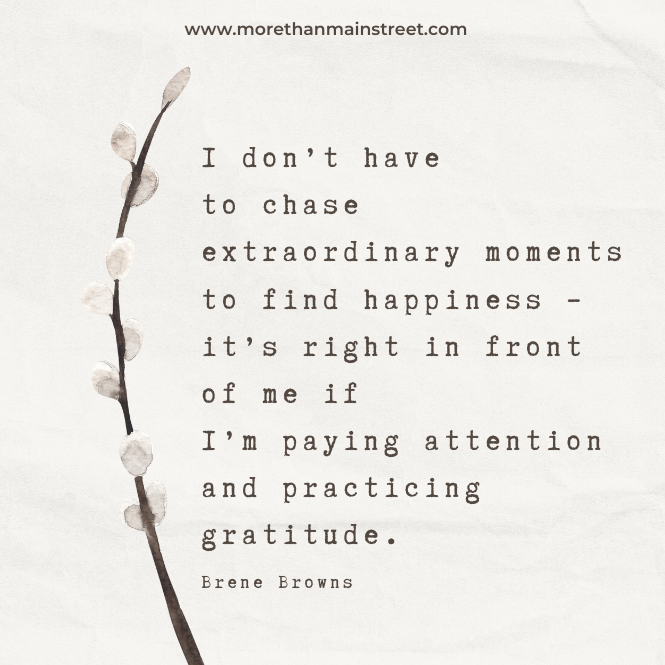 Gratitude and Happiness
"I don't have to chase extraordinary moments to find happiness – it's right in front of me if I'm paying attention and practicing gratitude." -Brene Brown
"Happiness cannot be traveled to, owned, earned, worn or consumed. Happiness is the spiritual experience of living every minute with love, grace, and gratitude." -Denis Waitley
"Gratitude is a powerful catalyst for happiness. It's the spark that lights a fire of joy in your soul. " -Amy Collette
Want to dig a little deeper? Learn more about who you are and what you want in life with these self love journal prompts.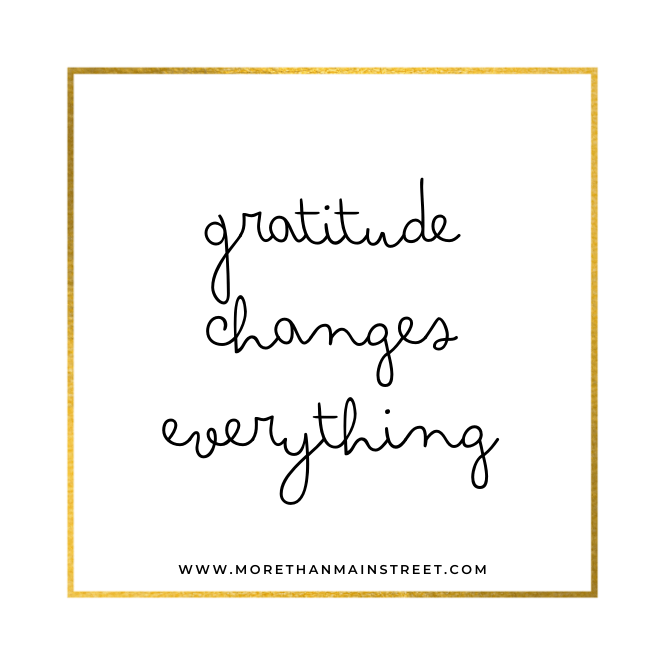 Short Gratitude Quotes
"Gratitude changes everything." -Anonymous
"Gratitude helps us see what is there instead of what isn't." -Annette Bridges
"It is not joy that makes us grateful, it is gratitude that makes us joyful." -Unknown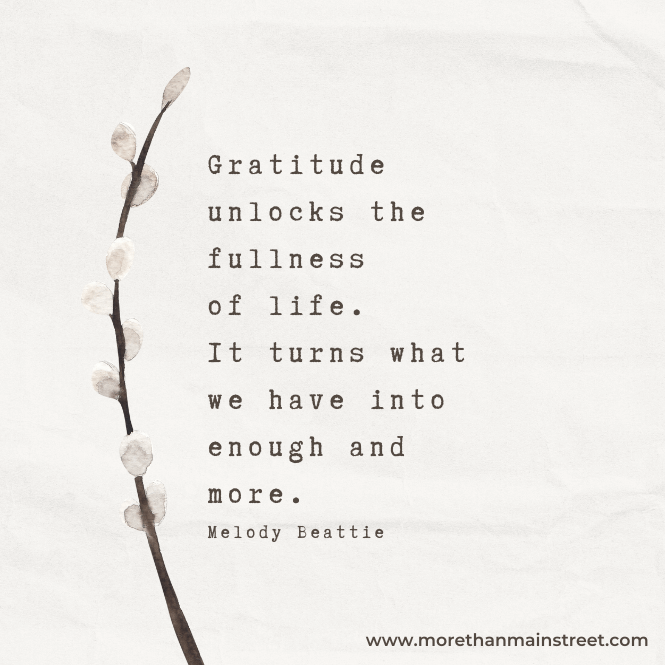 Maintaining a Grateful Mindset
"Gratitude unlocks the fullness of life. It turns what we have into enough and more." -Melody Beattie
"Live each moment in a rampage of appreciation." -Wayne Dyer
"Showing gratitude is one of the simplest yet most powerful things humans can do for each other." -Randy Rausch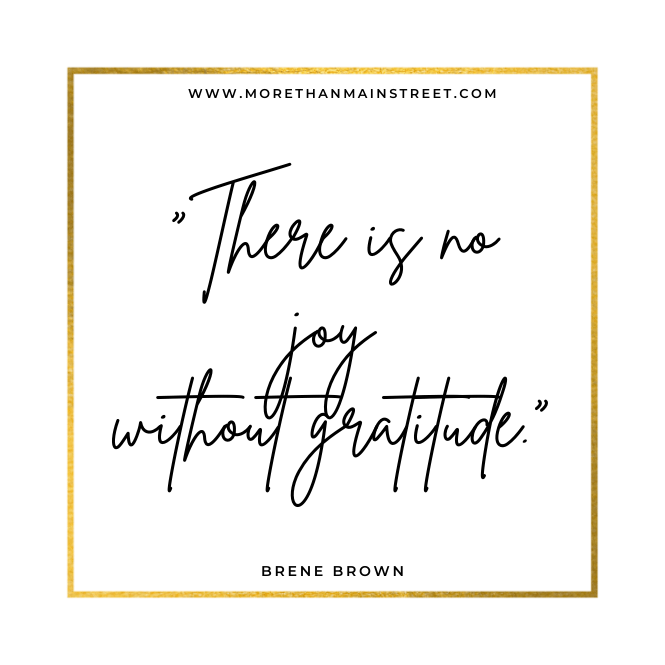 Joy and Gratitude
"There is no joy without gratitude." -Brene Brown
"Step number one for changing the entire world is falling in love with it as it already is. The same is true for changing yourself." -Mike Dooley
"When you arise in the morning, think of what a precious privilege it is to be alive – to breathe, to think, to enjoy, to love." -Marcus Aurelius
Want more motivational quotes? Check out these motivational captions and quotes or these inspiring intentional living quotes.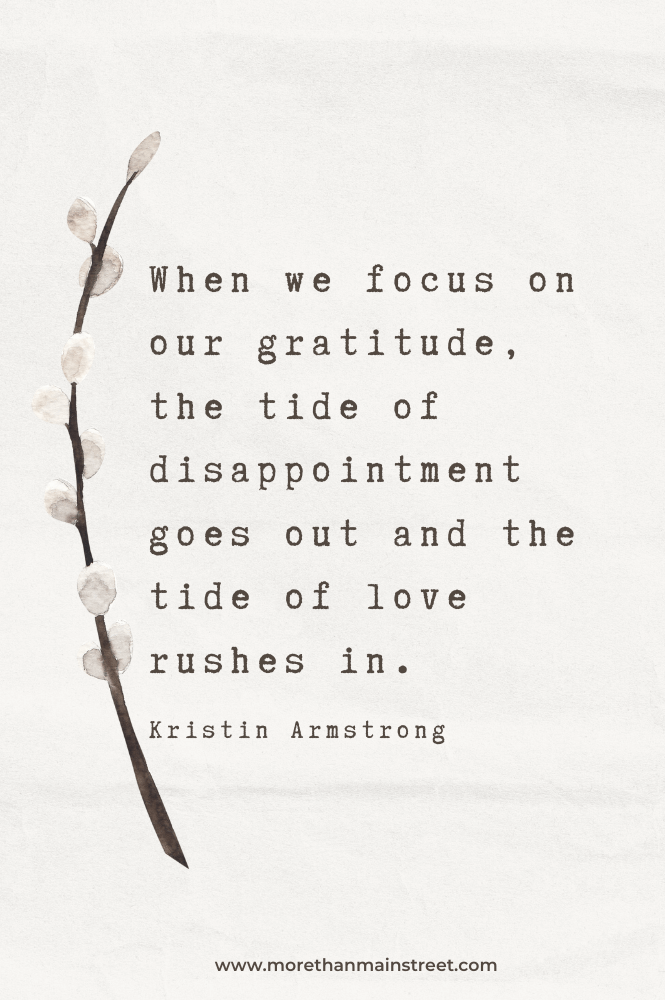 Gratitude Attitude Quotes
"When we focus on our gratitude, the tide of disappointment goes out and the tide of love rushes in." -Kristin Armstrong
"If you want to find happiness, find gratitude". -Steve Maraboli
"Gratitude, like faith, is a muscle. The more you use it, the stronger it grows, and the more power you have to use it on your behalf. If you do not practice gratefulness, its benefaction will go unnoticed, and your capacity to draw on its gifts will be diminished. To be grateful is to find blessings in everything. This is the most powerful attitude to adopt, for there are blessings in everything." -Alan Cohen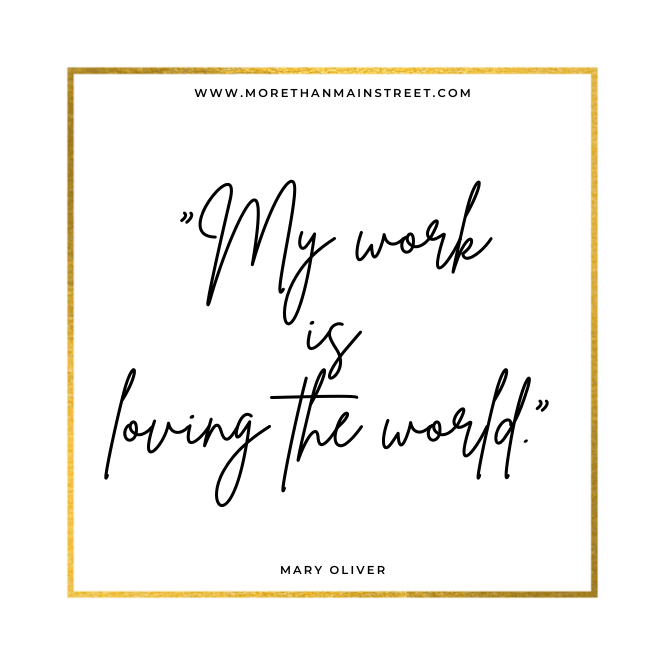 Humble & Grateful Quotes
"My work is loving the world." -Mary Oliver
"The best way to show my gratitude is to accept everything, even my problems, with joy." -Mother Teresa
"When you are grateful, fear disappears and abundance appears." -Tony Robbins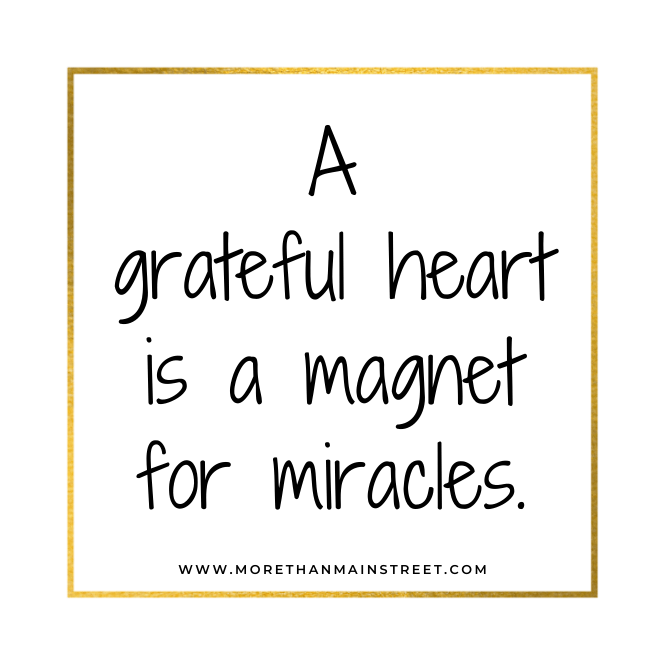 Being Thankful Quotes and Sayings
"A grateful heart is a magnet for miracles." -Anonymous
"No duty is more urgent than that of returning thanks." -James Allen
"We are all more blind to what we have than to what we have not." -Audre Lorde
"Gratitude is not only the greatest of virtues but the parent of all others." -Cicero
Spread the Love! Share these Gratitude Quotes with everyone!
I know you might be a little confused about why a travel blog is sharing gratitude quotes. You see, More than Main Street is more than just a travel blog. It's also about living life intentionally. Travel is just something we prioritize in our lives. Same goes for gratitude and mindfulness.
Want to know more? Check out my story and my best tips on living more intentionally!
And if you're into travel quotes…I have a bunch of quotes to inspire wanderlust too!