Journaling for Self Love
Why is it that loving others can be so easy yet loving ourselves can be so hard??
We've all been there. If you've struggled with negative self talk, low self esteem, or find yourself on a personal growth journey, give these self love journal prompts a try!
Can journaling help with self esteem?
Journaling is a great way to gain self awareness, increase your self esteem, and start loving yourself well! Getting your thoughts and feelings out onto paper can often be an eye opening experience. Journaling can be very therapeutic. It can help you develop a growth mindset, track progress and growth, change habits, and achieve goals.
What should I journal about in my self love journey?
If you find yourself stuck and looking at the blank pages of your journal wondering "what the heck should I write about?"…you're not alone. Even those of us who have been journaling for years get stuck.
Which is why journal prompts are so helpful!!
Below you will find over 100 self love journal prompts to get you started, but I'd encourage you to journal about these questions first:
What does self love mean to me?
What does my perfect day look life?
Who am I and what are the MOST important things in my life?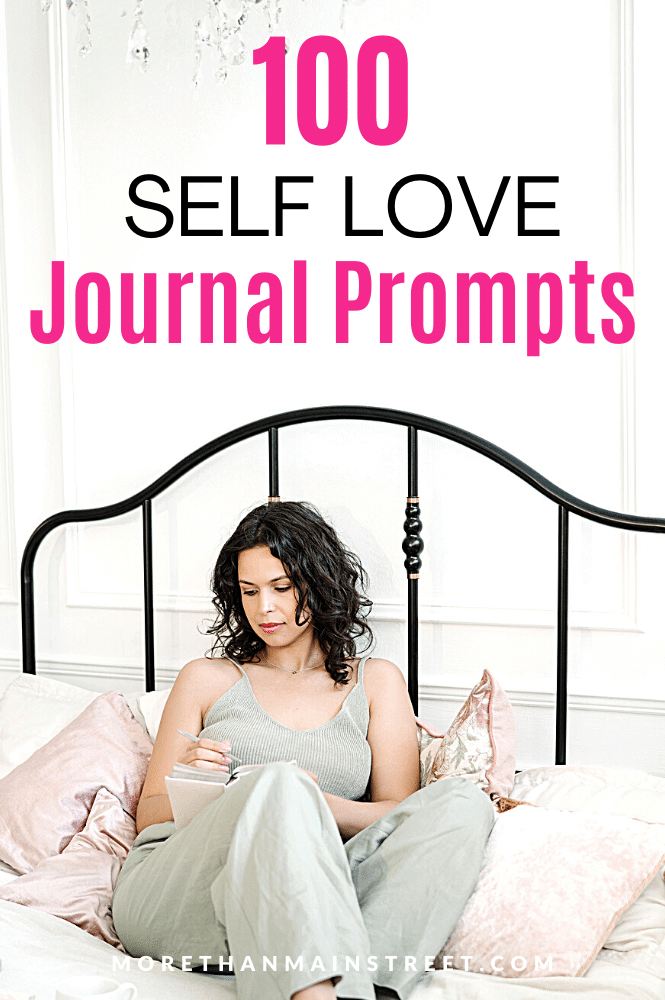 BE SURE TO SAVE THESE SELF LOVE JOURNAL PROMPTS FOR LATER!
Self Love Journal Prompts
Get started on your self love journey with my "3 Things" self love journal prompts. What's so special about three things?
Often times when people set off on a personal growth journey, they can get overwhelmed very easily. Writing down just three things for each self love journal prompt is achievable. Small consistent steps can lead to big success!
Do what works for you. Tackle each of these journaling prompts for self love in your own time. Whether you do one a day or ten, go at your own pace. Skip around. Go through the list and then go through it all over again. Self love is a lifelong journey.
3 of my very favorite things
3 of my least favorite things
3 of my favorite people
3 people I admire
3 things I am grateful for today
3 things that always bring me joy
3 big goals
3 things I would do over and over again if I had the chance
3 things I am proud of
3 things that drain my energy
3 things I am excited about
3 things about myself that I'd like to change
3 things that make me smile
3 things I love about myself
3 things on my bucket list
3 things I'd like more of in my life
3 things I'd like less of in my life
3 ways I could help somebody else today
3 things I am looking forward to
3 things I am really good at
3 things I can't stop thinking about lately
3 things I can let go of
3 things that are unique about me
3 things I can forgive myself for
3 things I wish someone else would say to me
Want to hear more about my own personal story? Read more about my intentional living journey.
Journaling Prompts for Self Love
Here are 25 more self love journal prompts to help increase your self awareness. Don't get discourages if you have a hard time answering some of these journalling prompts for self love. They area meant to make you dig deep. Come back to a question another day if you're feeling stuck.
3 challenges I have overcome
3 bad habits I'd like to eliminate
3 instances when I feel truly content
3 times when I continually compare myself to others
3 hobbies I've always wanted to try
3 lies I keep telling myself
3 of my biggest struggles
3 things I need to accept about myself
3 instances when I've felt unworthy
3 of my biggest dreams
3 things that inspire me
3 routines I'd like to adopt
3 compliments I can give myself today
3 of my best memories
3 little things that make a big difference in my days
3 things I am able to control
3 things out of my control
3 things I am insanely passionate about
3 people I'd like to spend more time with
3 of my biggest priorities in life
3 things I am curious about
3 things that nourish my soul
3 characteristics others would describe me as being
3 of my biggest challenges
3 things I would buy if money were no object
Want more tips on self care? Learn how to create your own daily self care routine!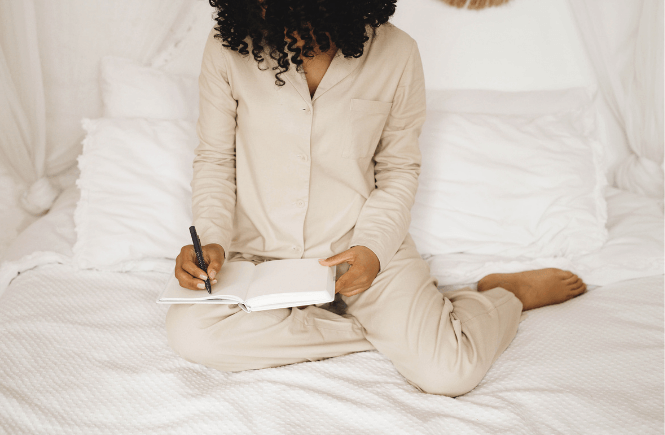 Self-Love Journal Prompts for Adults
Self reflection helps to shape our values, beliefs, and habits. These self love journal prompts will help you to recognize the areas where you are excelling and where you need improvement. Decision making become much easier when you learn who you are and what you want in life.
3 ways I like to treat myself
3 things I could use help with
3 of my darkest moments
3 times when I've truly felt at peace
3 of my biggest fears
3 of my best qualities
3 things I'd like to tell my younger self
3 times when I've had to be brave
3 ways I love people
3 things I can't live without
3 of my biggest insecurities
3 things that make me angry
3 things that always cheer me up
3 things I want to be remembered as
3 ways I stay focused
3 ways I advocate for myself
3 ways I can pick myself up when I am down
3 things I'd like to tell my future self
3 times when I feel powerful
3 ways I can remind myself that I am enough
3 ways I can be more intentional with my days
3 ways I can cope with the bad days
3 ways I can be more true to myself
3 boundaries I have set in my life
3 of my favorite affirmations
Self love affirmations are also a great addition to your journey to self awareness. Also consider adding a gratitude or mindfulness practice.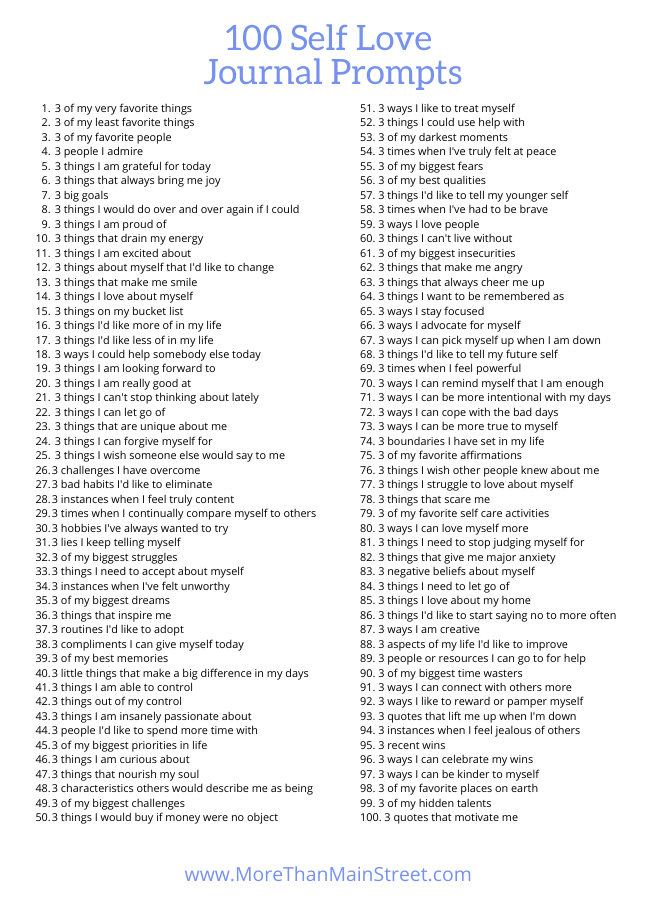 Journal Prompts for Self Awareness
Intentional living is all about self awareness. In order to live life on purpose, we need to figure out two things: "Who am I?" and "What matters most to me?"
According to Harvard Business Review, people who are self aware are more confident, creative, make better decisions, build stronger relationships, and communicate better.
Self awareness isn't a one and done thing. You can't just check it off your to do list.
We are constantly changing and growing. Our thoughts, feelings, and habits change over time. Self awareness can be quite a challenging journey. However, if we are honest with ourselves, we are sure to reap the rewards.
Here are 25 more self love journal prompts to keep working towards becoming more self aware:
3 things I wish other people knew about me
3 things I struggle to love about myself
3 things that scare me
3 of my favorite self care activities
3 ways I can love myself more
3 things I need to stop judging myself for
3 things that give me major anxiety
3 negative beliefs about myself
3 things I need to let go of
3 things I love about my home
3 things I'd like to start saying no to more often
3 ways I am creative
3 aspects of my life I'd like to improve
3 people or resources I can go to for help
3 of my biggest time wasters
3 ways I can connect with others more
3 ways I like to reward or pamper myself
3 quotes that lift me up when I'm down
3 instances when I feel jealous of others
3 recent wins
3 ways I can celebrate my wins
3 ways I can be kinder to myself
3 of my favorite places on earth
3 of my hidden talents
3 quotes that motivate me
Your Self Love Journey
Do you feel ready to start your self love journey?
I hope these self love journal prompts give you inspiration on how to begin. Remember there is no right or wrong way to journal. Take these journaling prompts and use them however they work for you!
You know how much I love Instagram! Join me in sharing the love! Try some of my favorite self love captions or inspiring captions for your next post!