Self Love Captions for Instagram
I'm all about spreading the love!! So, if you're in search of some inspiring self love Instagram captions or quotes, you're in the right place!
One of the easiest ways to practice self love is to share it over social media. And we all get in that funk sometimes when you literally cannot come up with a good Instagram caption. So…if you're looking for some inspiration for your next self love captions or love yourself quotes for Instagram, read on for some great ideas and inspo!
I don't think you can ever go wrong spreading positivity, light, and love over social media. Whether you're sharing for business or a personal Instagram account, there is always room to encourage others.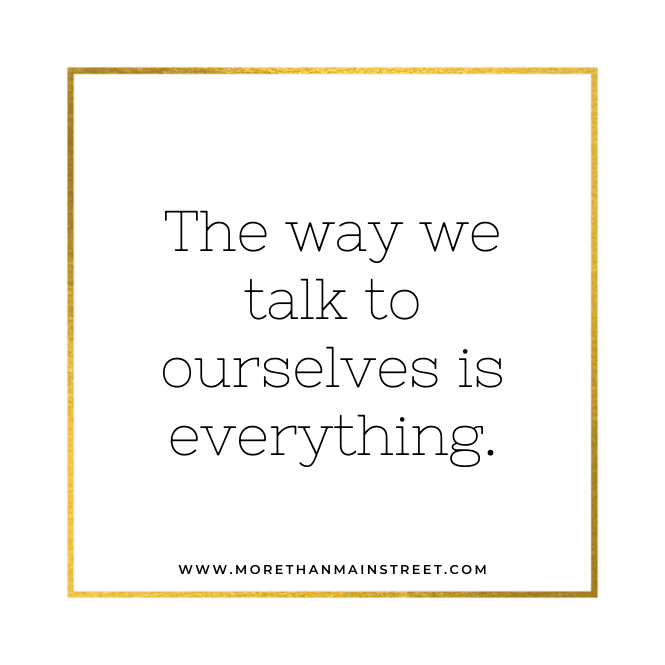 PIN THESE SELF LOVE CAPTIONS FOR INSTAGRAM WHEN YOU NEED SOME INSTA INSPO!
Self Love Instagram Captions
Learning to love myself has been a huge part of my intentional living journey. Learning to accept yourself just as you are, changing your inner dialogue, and practicing gratitude and daily self care is literally life changing.
What is the best self love caption for Instagram?
Simply put, the best self love captions for Instagram are the ones that resonate with you!
But if you're looking for a little inspiration, here are some of my favorite self love Instagram captions:
Captions on Self Love
Show up for yourself.
Take care of you first.
You alone are enough.
Never underestimate yourself.
Put yourself first.
Your mental health should be a priority.
Be you, for you.
Love yourself first and foremost.
Make peace with your younger self.
Stop waiting for someday…
You do you.
Remember to give yourself grace.
Speak to yourself like you would a best friend.
Make you a priority.
Stand up for yourself.
It's ok to say no.
You're worth it.
It's ok to rest.
In a stage of growing…
You can start over.
Just breathe.
Keep going.
Life doesn't have to be perfect to be beautiful.
Be your own best friend.
Need a little more inspiration? Check out my favorite motivational captions for Instagram.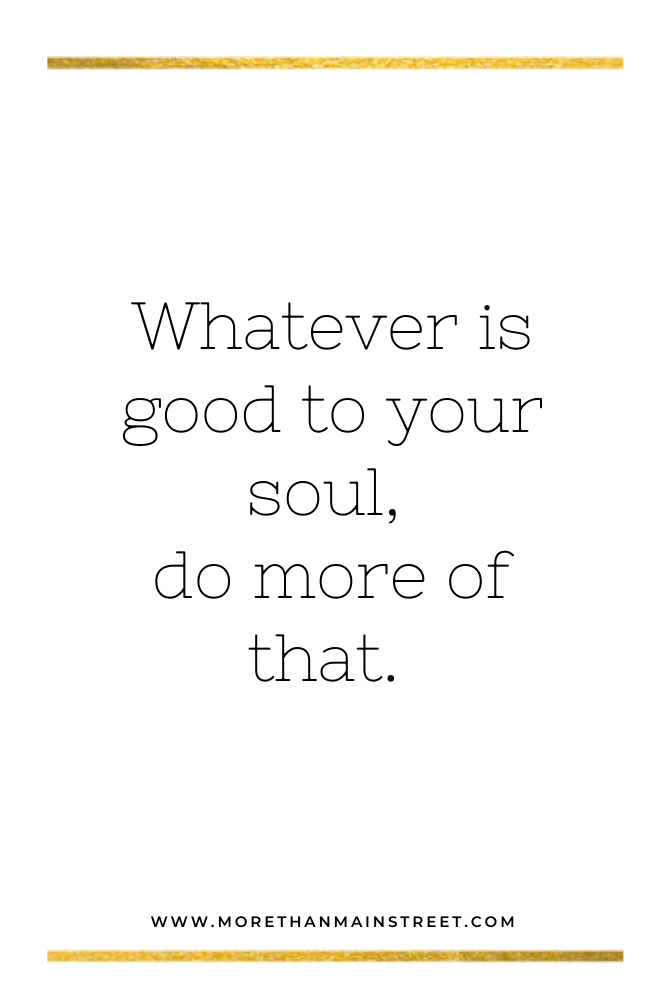 Self Captions for Instagram
Step into your true self.
Live life on purpose!
So proud of you!
You cannot fail at being you.
Love yourself deeply.
It's ok to take things slow.
Be kind to your mind.
Know yourself best.
You are worthy of your dreams.
The way we talk to ourselves is everything.
Believe in yourself.
Authenticity first.
Own your story.
You are special, in every way, shape, and form.
Make happiness a priority.
Invest in people who invest in you.
There's only one you.
What's your superpower?
Stop being so hard on yourself.
Choose where your energy goes.
Listen to your intuition.
Get out of your own way.
Let your choices reflect your hopes, not your fears.
Cute, happy captions for Instagram
Be brave, be you.
Put yourself at the top of your to-do list.
It's ok to let go of what no longer serves you.
Be your own hero.
Grounded, peaceful, and grateful.
Dare to love yourself the most.
Keep shining.
There is always a silver lining.
My potential is limitless.
Protect your peace.
Bet on yourself.
No more self sabotage.
Be gentle with yourself.
Trust the process.
Where fear is absent, joy is abundant.
One self loving step at a time…
Self love goals!
Letting go of self doubt
Happiness flows from me
Being intentionally me.
Blooming…
Stronger each day.
Don't compare your story to someone else's.
Short Self Love Captions for Instagram
If you're looking for short self love Instagram captions- try affirmations! They are a simple yet powerful way to go.
I am worthy of love.
I am beautiful inside and out.
I am in control of my own happiness.
I nourish my mind, body, and soul.
I am capable.
I accept myself unconditionally.
I will follow my heart.
I accept every single part of me.
I believe in myself.
I am a work in progress.
I deserve good things in life.
The only approval I need is my own.
I choose to think positively.
I am brave and courageous.
Everything I need is within me.
Affirmations are a game changer! Want more? Read more of my favorite self love affirmations now!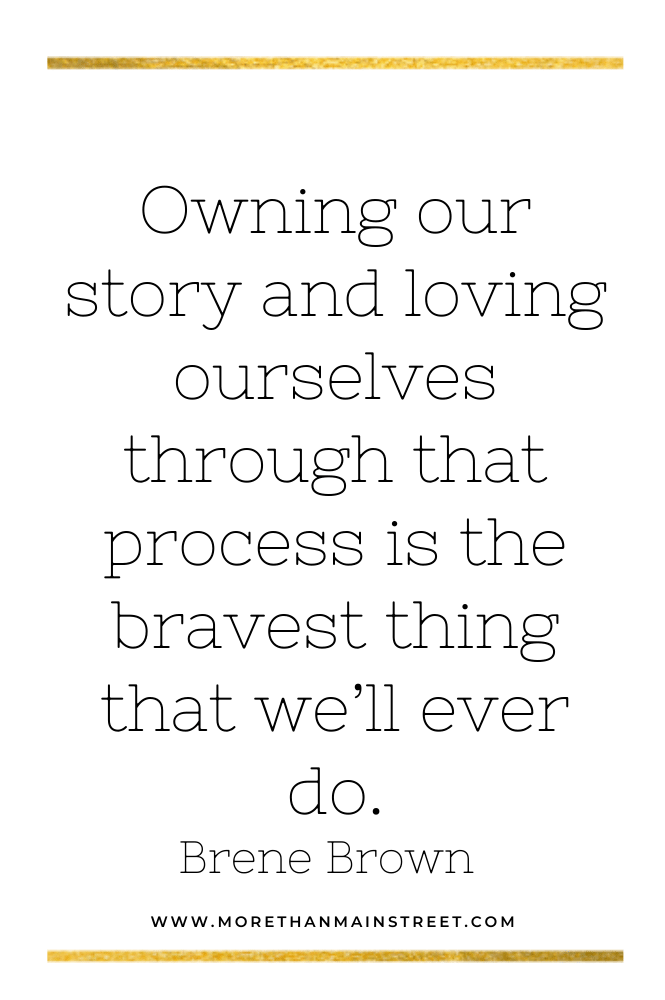 Self Love Quotes for Instagram
What is the best quote for self love?
"Owning our story and loving ourselves through that process is the bravest thing that we'll ever do." Brené Brown
"What you think, you become. What you feel, you attract. What you imagine, you create." Buddha
"Love yourself. Be clear on how you want to be treated. Know your worth. Always." Maryam Hasnaa
"I can't be everything to everyone else if I am nothing to myself." Alex Elle
"So plant your own gardens and decorate your own soul, instead of waiting for someone to bring your flowers." Jorge Luis Borges
"The peace you deserve is a peace you can't find anywhere else but inside yourself." Malanda Jean-Claude
"Everyone of us needs to show how much we care for each other and, in the process, care for ourselves." Princess Diana
"You have to fall in love with yourself first and stay true to yourself always." Debbie Gibson
"Breathe darling, this is just a chapter. It's not your whole story." S.C. Laurie
Short Self Love Quotes
"Accept who you are and revel in it." Mitch Albom
"You are your best thing." Toni Morrison
"Only your opinion of yourself matters." Gala Darling
"Seek to be whole, not perfect."  Oprah Winfrey
"Embrace the glorious mess that you are." Elizabeth Gilbert
"Beauty begins the moment you decide to be yourself." Coco Chanel
"If you have the ability to love, love yourself first." Charles Bukowski
"You alone are enough, you have nothing to prove to anybody." Maya Angelou
"How you love yourself is how you teach others to love you." Rupi Kaur
"To love oneself is the beginning of a life long romance." Oscar Wilde
It's no secret I'm obsessed with quotes!! If you love them too, check out my favorite gratitude quotes, quotes on intentional living, and travel quotes too!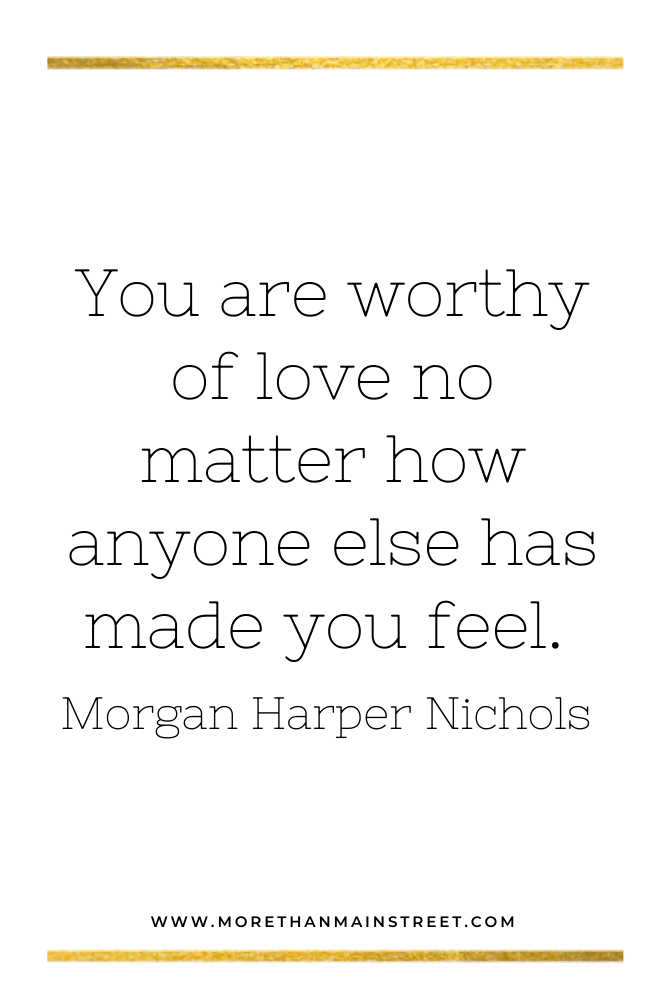 Love Yourself Quotes for Instagram
"You are worthy of love no matter how anyone else has made you feel." Morgan Harper Nichols
"You have to choose self-love, no one is going to give it to you." Shannon Kaiser
"There will be moments in life when showing up for yourself will mean leaving behind the people who don't." Alex Elle
"Make happiness your priority and be gentle with yourself in the process." Bronnie Ware
You yourself, as much as anybody in the entire universe, deserve your love and affection." Buddha
"This life is mine alone. So I have stopped asking people for directions to places they've never been." Glennon Doyle
"Tell yourself how wonderful you are, how great you are. Tell yourself how much you love yourself." Don Miguel Ruiz
"We just need to be kinder to ourselves. If we treated ourselves the way we treated our best friend, can you imagine how much better off we would be?" Megan Markle
"It all begins with you. If you do not care for yourself, you will not be strong enough to take care of anything in life." Leon Brown
RELATED: Need more insta captions? Grab my favorite adventure captions for Instagram and Instagram captions about nature too!
More Loving Self Quotes
"Let today be the day you are kind to yourself and focus on believing what is beautiful and true. And this does not mean you ignore your imperfections. It means, in spite of them, you believe there is beauty to you." Morgan Harper Nichols
"Even if the world is breaking apart do not abandon yourself. Even if you are sad, crying, breaking down, or lonely do not leave your side, stand by yourself." Shannon Kaiser
"Love yourself first and everything else falls into line. You really have to love yourself to get anything done in this world."  Lucille Ball
"Love yourself unconditionally, just as you love those closest to you despite their faults." Les Brown
"You need to fall in love with yourself first before anyone else can fall in love with you." Tyra Banks
"Do things that make you feel good: mind, body, and soul." Robyn Conley Downs
"To fall in love with yourself is the first secret to happiness." Robert Morely
"I can't think of any better representation of beauty than someone who is unafraid to be herself." Emma Stone
I love hanging out on Instagram! Come by and say Hi or tag me if you use any of these fun self love Instagram captions!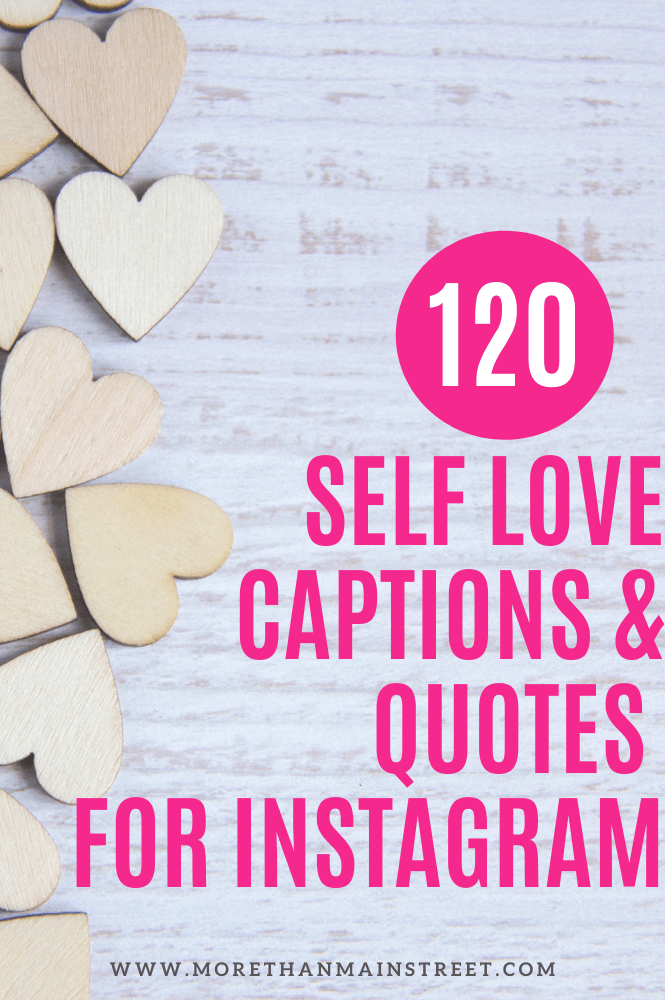 Save these self love captions for instagram and quotes for when you need a little extra inspiration!