Crafting a Life You Love
How Do You Travel So Much?
The most common question I get asked is "How do you travel so much?" I also hear…gosh "I want to be part of your family" and "Can you take me with you?"
To be honest, the answer to that question is this: I simply make experiences, like travel, a priority. I prioritize the things in life that nourish my soul and focus on creating epic and meaningful memories with my family. I also prioritize learning, gratitude, growth, kindess, and community (along with a few other things).
My family is my WHY.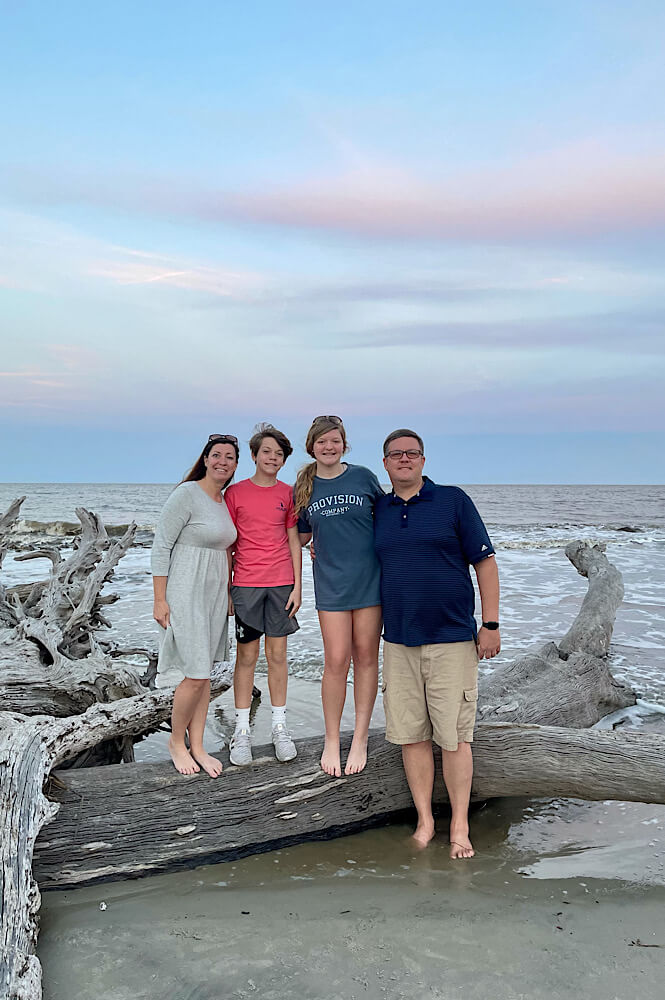 We're not always traveling. We are a very normal family. My husband has a full time job and we have children in school, extracurricular activities, and they have social lives of their own. We are limited by time and money just like everyone else.
We often find that we can't travel across the country or world for a million different reasons. But, I think it's important to remember that you can do really cool stuff in your own state, city, or even neighborhood. I truly believe it's all about the experience, not the destination.
With a shift in mindset, you will see that adventures can be found anywhere!!
IT IS SIMPLY A CHOICE!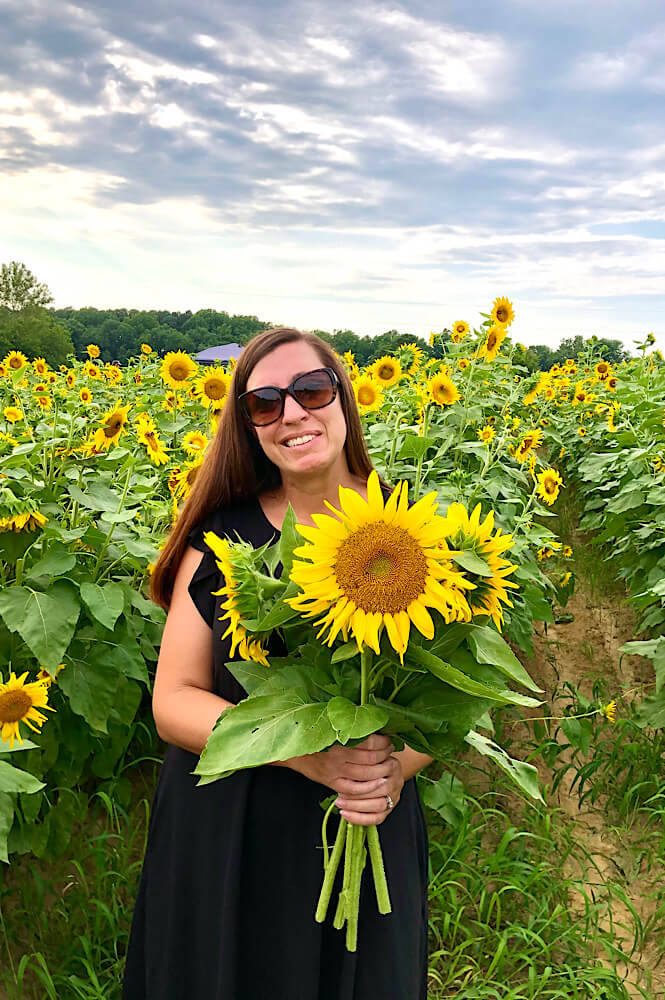 My Story
Hey friend!! I'm Julie, the author behind More than Main Street. I started this site as a hobby blog to share our travels and other bits of our life. Over time it evolved into more when I realized I could help encourage other women and families craft a life they love by living more intentionally.
During my first pregnancy, I developed Bells Palsy. I was a hot mess. My doctors all told me, "Don't worry, it will go away". But it didn't. A new mom with a half paralyzed face, I vividly remember thinking…I just want to smile at my baby. I had to become an advocate for myself, figure things out, and quickly learned what mattered to me most. It could've been so much worse. With a lot of physical therapy and support from my amazing family, I'm happy to say I've made a lot of progress. Not perfect, but better.
During my second pregnancy, my husband had a freak accident. He was rushed to the hospital after being hit in the eye with a golf ball…his own golf ball. He lost all vision in his left eye. We didn't know if he would ever be able to work again. But again, with a little patience and a lot of support from our amazing family, he was able to return to a normal lifestyle. Apparently you only need "one good eye" (at least that's what the head eye dude at Duke University told us). Again, we learned what our priorities were and made things work. We were reminded what we valued most and honestly were thankful things weren't worse.
I have been so very fortunate to be a stay at home mom for years and have loved every second of it. When my kids began school full time, I was forced to take a deeper look at myself. As I'm sure many can relate, I felt as though I had lost myself somewhere along the way. I had a part time job working from home that I hated. I was saying YES to things I didn't even like doing. And even though we had all the things, and I found myself wanting more from life.
I realized I wanted more…but also less.
By matching up my values to my experiences, I have been able to gain so much more fulfillment in life. Is it always sunshine and rainbows? No, of course not. But, by choosing more experiences and less things, practicing daily gratitude, and maintaining a growth mindset, I am now living my best life!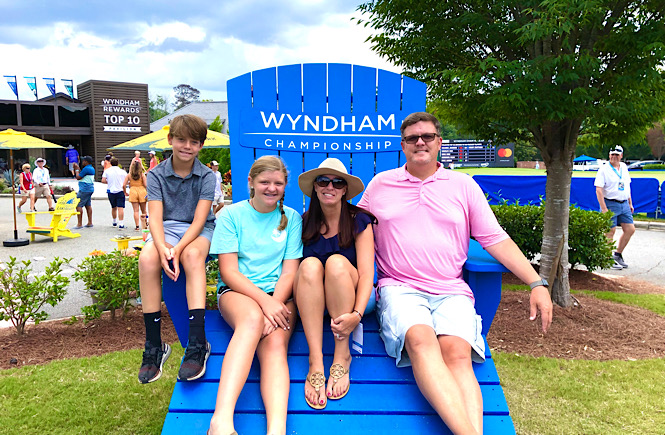 Do you find yourself wanting more from life?
Do you ever find yourself feeling restless or bored?
Do you find yourself scrolling other people's social media thinking "Geez, they're always doing cool stuff!!"?
Do you find that you have so many successes and #allthethings, yet something is still missing?
Well…you're not alone!
In my opinion, the best way to be true to who you are and start getting more out of life is through intentional, simpler living.
Life is short friends!! Let's get out there and live life like you mean it!
Become an Experience Collector!
My goal for this community is simple:
to explore the world and our passions!
to nourish our body and souls!
to inspire each other to choose our day to day experiences intentionally!
to show up in the world, take advantage of every single day, and create MORE epic and meaningful memories!
I believe we should always strive for progress over perfection and never stop learning. One way to do that is through our experiences! Let's create MORE meaningful moments and strive for a life of happiness, inspiration, and fulfillment!
Start creating a life with more experiences and less things! Choose MORE and subscribe below for monthly inspo!
What you'll get FREE when you subscribe:
Your Experience Collector Kit
Beginner's Guide to Intentional Living
Self Care Template
Bucket List Template
Travel Boredom Busters
Vacation Planning Tips & Worksheet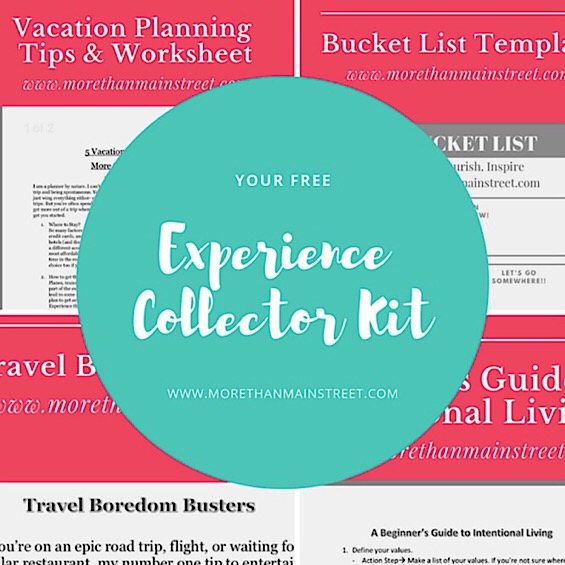 So stop wasting time and start living life on purpose!
Have you found yourself wanting more from life? If so, I'd encourage you to join me and:
Get out and explore!
Figure out your values and priorities!
Nurture your relationships with friends and family!
Nourish your body and soul!
Choose more experiences and less things!
Live without regret!
I hope you find some inspiration on my site whether you're looking for everyday adventures or looking to travel the world. I hope you find ways to nourish your body and soul! And I hope you are always encouraged in your personal growth journey.
Thanks friends!! Hope to see you here a lot MORE!