Family Mindfulness & Intentional Living
Mindfulness activities for kids and families? I know, I know…it's hard enough to work on mindfulness as an adult, right? But getting kids to do it? With a little patience and practice, you can teach your children to become more mindful! It is possible!
A big part of our intentional living journey has been to incorporate mindfulness into our daily lives. And since I'm far from an expert, this week's post is from someone who is far more knowledgeable on the topic than me!
Big shoutout to Lucile from lucilehr.com who has graciously shared her insights on mindfulness for families and how to incorporate it into our lives in simple and easy ways!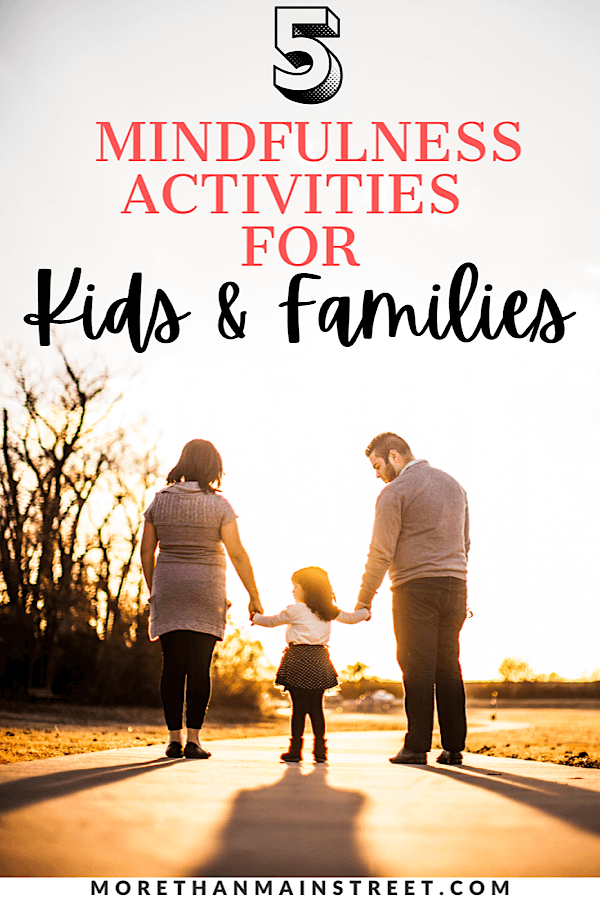 Mindfulness For Families
Children who live a mindful life can be one of the best achievements of a parent. A child who is mindful will turn out to be well-equipped to face the challenges in life. They will also learn how to control themselves, regulate their thoughts and feelings, and become less judgmental and overreactive. Fortunately, there are several mindfulness activities for kids that are fun and can easily be taught.
But first, what is mindfulness really?
If you're new to the concept, mindfulness is the state of being fully present and aware of our actions, thoughts, words, emotions, and bodily sensations. It is the complete opposite of being mindless.
When you think about it, teaching kids how to be mindful and fully aware of the present may not be an easy task. After all, it's only natural for the little ones to be unable to sit still for more than a few minutes or pay attention. It may take some work to teach mindfulness, but in the end, the benefits will be worth it.
Benefits of Teaching Mindfulness To Children
Mindfulness has been proven by scientific studies to be beneficial to adults. Although the effects of mindfulness on kids may not have been extensively studied, the studies have shown positive results all pointing to mindful living as beneficial for a child's emotional and mental wellbeing.
Some of the important benefits of teaching mindfulness to kids:
Improved attention
Better focus and an improved attention span are among the best benefits of mindfulness activities for kids. When we focus on a particular thing, our mind tends to be calmer. In turn, a focused mind will perform a lot better. In kids, this translates to a better ability to pay attention, organize information, remember details, and sometimes better overall performance in school.
Better self-control
As children tend to be more focused, they are aware of what's happening to them, whether they're feeling a positive or negative emotion. They become less impulsive, which will let them respond to situations in a thoughtful way. 
That way, kids, especially the younger ones, can better handle their emotions and won't let a bad situation result in a full-blown tantrum or meltdown.
Better equipped with life skills
Since mindfulness can be good for the emotional and mental wellbeing of an individual, it can be used as a tool to improve in all aspects of life. Not only do young minds become more focused so they can perform better in school – and ultimately in their jobs, but they also develop positive qualities resulting from a mindful way of living. These positive qualities help them become better people of society who can practice empathy, kindness, compassion, and respect.
Gratitude is one of our family's core values. Learn 3 ways to cultivate a more grateful heart or take our 30 day gratitude challenge together!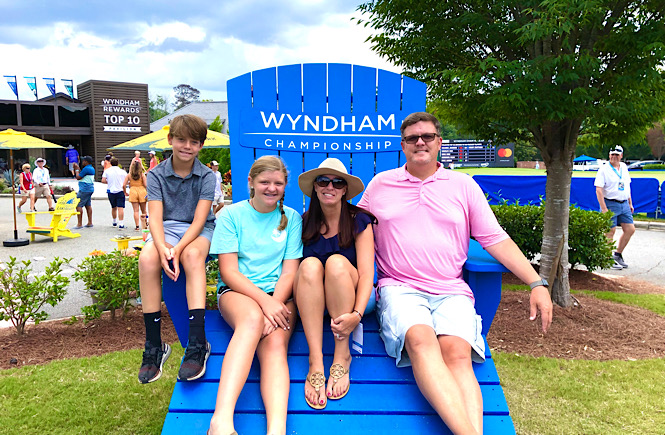 How Mindfulness Benefits The Family
With the abovementioned benefits of mindfulness for children, you can only imagine how it would be like if the whole house would practice living mindfully. When you model mindfulness to kids, they can pick it up much quicker. When you feel relaxed and calm, children will feel the same way, too. As a result, there will be less stress for everybody, better relationships, and ultimately, more peace and happiness.
You can of course pick up a meditation routine as a family to be more mindful together. There are simple and easy techniques that can be done by the whole family. My recommendation is for you to learn them and then teach them to your kids in a way that resonates with them.
Click here to learn three easy meditations techniques you can do together as a family with my free three-day mini-course.
5 Mindful Activities For Kids and Families
Want to incorporate more family mindfulness activities into your life?
While there are many simple mindful activities for children, teaching them in a fun way that's appealing to young minds can be part of the challenge. Mindfulness is mostly associated with meditation but this doesn't have to be the case and all of these are complementary to a family meditation practice.
Kids don't have to meditate to practice being mindful. They don't have to stay totally still just to be in the state of mindfulness. Check out below for ideas on easy mindfulness exercises for kids.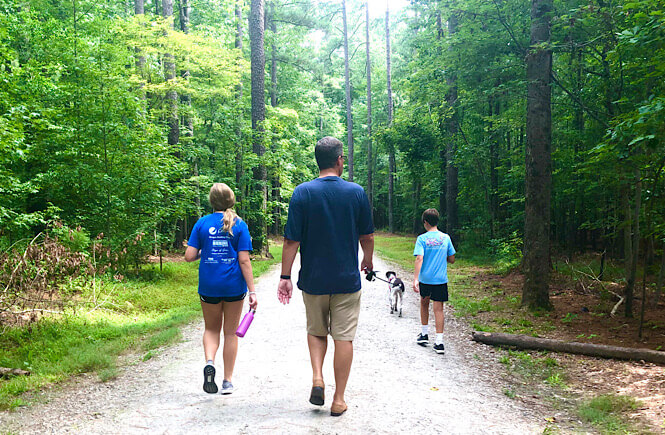 1. Going on a mindful nature walk
Going for a walk may be a simple activity but it's one of the best ways to introduce mindfulness to kids. Not only that, but this can also be the quality time you need with your kids. In addition, this activity helps you exercise and breathe some fresh air.
A nature walk can also be soothing; it's the perfect opportunity to pay attention to what's around you. You can also use this as a quiet time for the kids as you let them identify sights, sounds, and smells around them.  After this nature walk, you can talk to your child about how this activity made them feel.
Getting out into nature is one of the best family mindfulness activities. This is a big reason why we place such a huge priority on exploring the world around us!
2. Mindful Breathing
Mindful breathing is paying attention to your breath, which then makes you become aware in the present moment. And there are several breathing exercises that can be a whole lot of fun for kids. One of them is the bumblebee breathing technique.
This can be used as part of a bedtime routine, taking a break during school works, or for relaxing. The bumblebee breathing technique can also be one of the effective mindfulness activities for teens who may be anxious about an upcoming exam or those who need to take a break from all the studying.
The technique usually involves being in a comfortable position, taking big deep breaths, and exhaling through the nose, making a buzzing or humming sound with the lips closed. Gradually, the length of exhales will increase. When doing this activity, let your child pay attention to the sensations of the breaths.
Kids can benefit from learning self love early! Implement these affirmations of self love into your daily routines!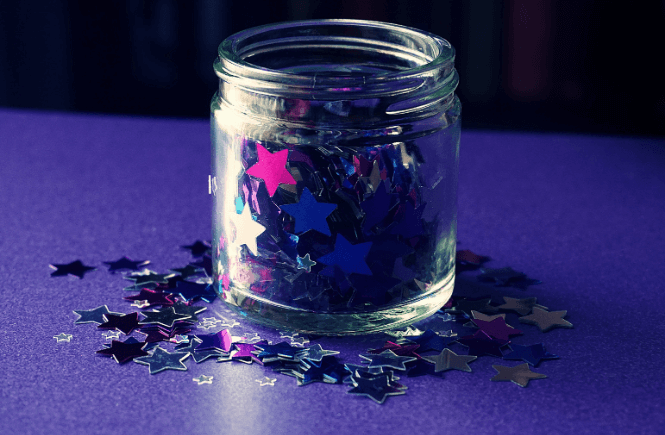 3. Mindful Jar
Do you find your kid having trouble dealing with their emotions, particularly their frustrations? A kid's ability to control themselves is not well-developed just yet and it can be overwhelming when they feel strong emotions.
The mindful jar may just be the tool to bring them peace. Get a clear mason jar and fill it with water and glitter. Explain to your child how this jar represents the mind settling down after being overwhelmed with strong emotions. You can better explain this when you prepare a script like this one.
We also like to post gratitude quotes on a chalkboard in our kitchen. The visual reminder to be thankful and present is helpful to everyone in our family!
4. Mindful Eating
Who knew eating can also be done mindfully? Teaching mindful eating to children is teaching them how to enjoy and appreciate their senses and use them to investigate. When eating a snack or a meal, let your child describe the shape, texture, and smell of the food, as well as the way it sounds when they're eating it.
It is also important for this activity to be done without any distractions. This means turning off the television or eating away from the computer.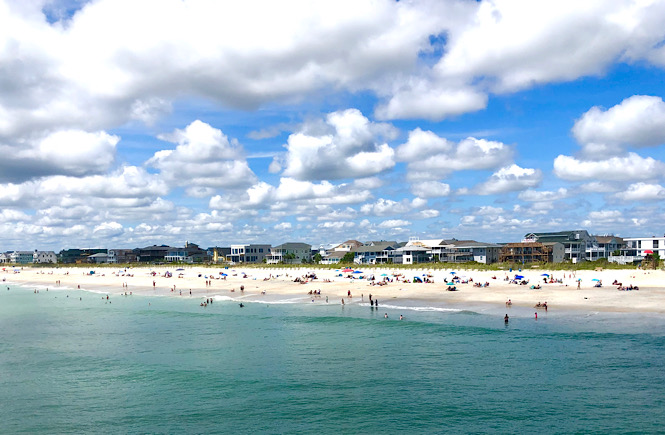 5. Cloud Watching
Cloud watching can be a super fun family mindfulness activity – whether you have preschoolers or teenagers. Watching the clouds form into different shapes can be entertaining and relaxing as well. You can either let your kid identify the shapes they see or maybe pick the shape or object that they need to search for up in the sky.
You might also like: Top 10 tips on how to lean in to a simpler lifestyle?
Have Fun With Mindfulness 
How can you incorporate family mindfulness activities into your daily life?
The thought of teaching mindfulness to active and busy young minds may seem daunting. But I'd encourage you to try these activities to make it fun for the kids and the whole family. The most important thing here is to not force the practice on your children. Let it be and let your child learn at their own pace. In the end, you and your family will be reaping the benefits of mindfulness, such as inner peace and genuine happiness.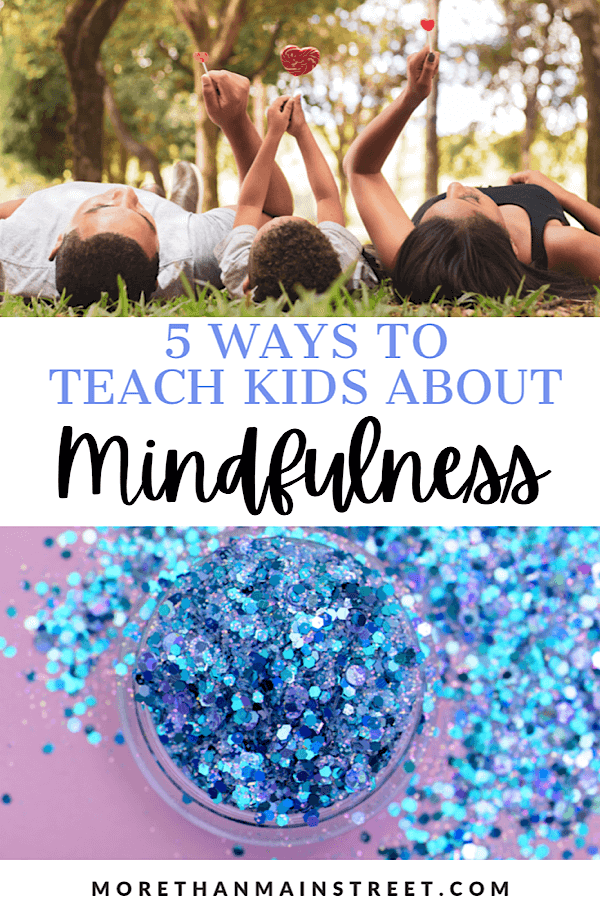 Have more ideas on mindfulness activities for kids and families? Share them in the comments below!
Lucile Hernandez Rodriguez is a Registered Yoga Teacher, Blogger and Mindful Business Advisor. She shares actionable advice on mindfulness, yoga and travel on her blog, lucilehr.com. Get in touch with her on Instagram, Facebook or Pinterest!