Best Winter Family Vacations in the Southeast USA
Winter blues got you down? Looking for the best winter vacations for families in the southeast USA? We've got you covered!! This week, fellow travel bloggers and I have gotten together to inspire your trip planning with these epic places to visit in December in the USA.
Since we love a road trip, we're always looking for the best winter vacation spots in the south. Sometimes we want warm places to visit in December to escape the cold weather and sometimes we're looking for some fun cold weather adventures! So whichever weather you're looking for this year, consider these fun southern winter destinations for your next vacay.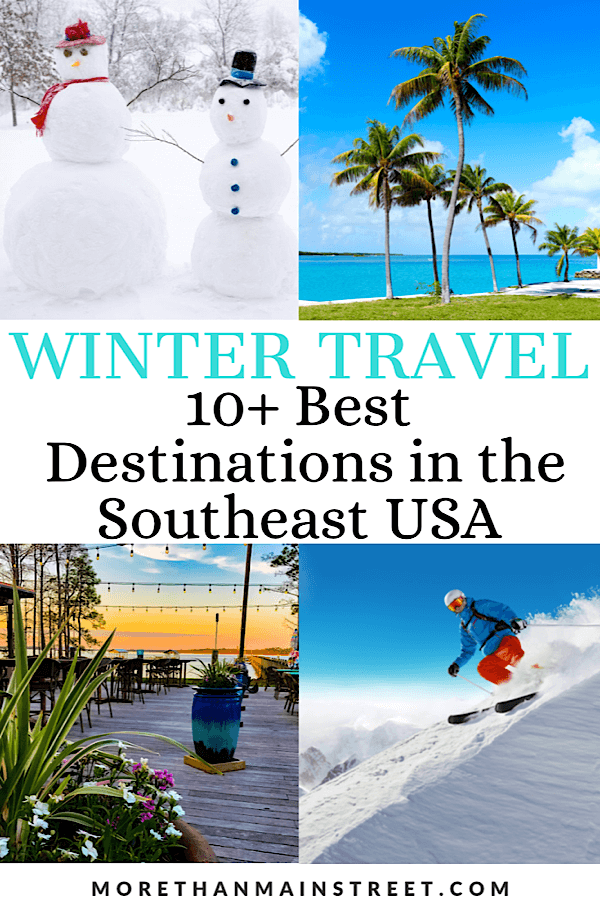 No time to read everything now? No problem! Just PIN this post on the best winter getaways USA and save for later!
Best Southeastern USA Winter Getaways
Where are your favorite winter vacations in the US? Find out why we consider these cities some of the best places to visit in December in the USA:
Wilmington, North Carolina
Gulf Shores, Alabama
Asheville, North Carolina
Myrtle Beach, South Carolina
Williamsburg, Virginia
Sanibel Island, Florida
The North Georgia Mountains
Massanutten, Virginia
Charleston, South Carolina
Snowshoe, West Virginia
Destin, Florida
Savannah, Georgia
New Orleans, Louisiana
Beaufort, North Carolina
Amelia Island, Florida
UPDATE: This post started out as a top 10 places to visit in winter in the southeast USA but as we continue to travel and discover new places I've added to the list! Now we're able to share with you 15 of the best places to visit during winter in USA!
Truthfully, these destinations are some of the best southeast vacation spots any time of the year! Our kids attend a traditional school so we are always on the hunt for great weekend winter getaways in the USA and particularly Christmas destinations in the south so we can drive. Since flights are always more expensive during the winter holidays, we often find ourselves road tripping to take advantage of the time when our kids are out of school.
Our favorite way to travel in December is to road trip!! If you're like us, don't forget these road trip essentials plus free printable checklist!
This post contains affiliate links which means I could earn a small commission, if you make a purchase, at no additional cost to you. As an Amazon Associate, I earn from qualifying purchases. For more information, read my full Disclosure HERE.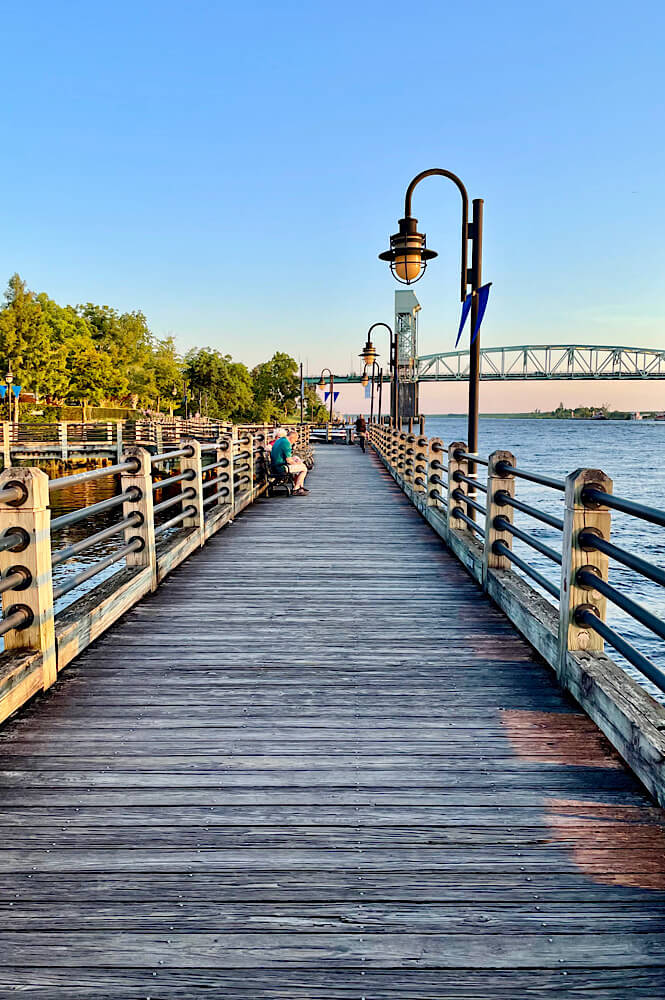 Wilmington, North Carolina
Wilmington has quickly become one of our absolute favorite weekend trips in December. While the beaches are too cold for swimming, there are still a ton of fun things to do in Wilmington, NC! We highly recommend spending a day wandering the downtown Riverwalk area. Make sure to check out the local shops, take a local tour, or head across the Cape Fear River and explore the USS North Carolina Battleship.
Next up, head over to Carolina Beach to explore the boardwalk, Carolina Beach State Park, and the NC Aquarium. And don't forget just because the water is cold doesn't mean you can't hang out at the beach!! Take a sunset stroll, build a sandcastle, or search for seashells or shark's teeth. The temperatures are typically mild even in the winter months so you may be able to enjoy a lot of outdoor activities without the unbearable summer humidity!
Pro Tip: Do not miss out on the incredible Wilmington foodie scene! Check out these drool worthy Wilmington restaurants.
Have a little extra time? Take the ferry to Southport or take a day trip to Bald Head Island.
Short on time? Wilmington is the perfect NC weekend trip!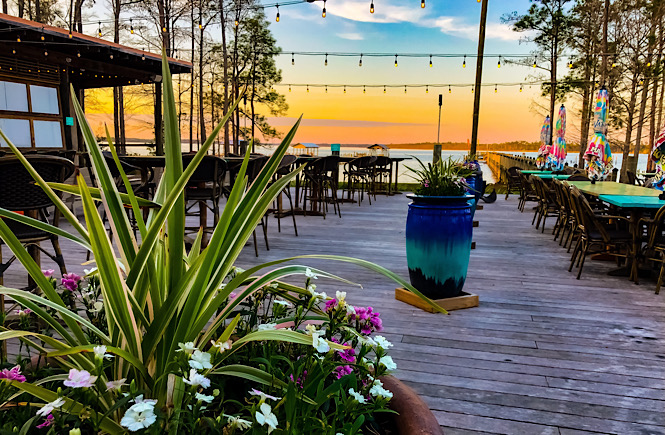 Gulf Shores, Alabama
Escape this winter to the sugar-white sandy beaches of Gulf Shores, Alabama. As a popular tourist destination throughout the summer, wintertime offers visitors all the fun of Gulf Shores, without the crowds. 
Mild temperatures, gulf breezes paired with sparkling turquoise waters make winter the ideal time to visit. Take advantage of the lower rental costs by renting a beachfront condo or snag beautiful accommodations at Turquoise Place during the winter off-season months. 
In addition, to the cost-saving benefits of visiting during the off-season, many attractions and restaurants have little to no wait times. Grab a delicious seafood dinner at the Original Oyster House or let the kids experience all the fun at the popular beachside restaurant, The Hangout. Another spot perfect for the entire family is Lulu's, featuring live music, an arcade, sandpit, and plenty of tasty entrees. 
Explore the great outdoors in Gulf Shores by kayaking through the quiet backwaters, bike along the Hugh Branyon Backcountry Trail, or greet the day with a hike at Gulf State Park. Kids of all ages will enjoy a visit to Alabama Gulf Coast Zoo or step back in time with a visit to historic Fort Morgan. Don't forget to cap off any visit to Gulf Shores with a milkshake from The Yard Milk Shake Bar.
Gulf Shores should absolutely top your list of beautiful places to visit in winter in the USA.
Contributed by Stephanie from Consistently Curious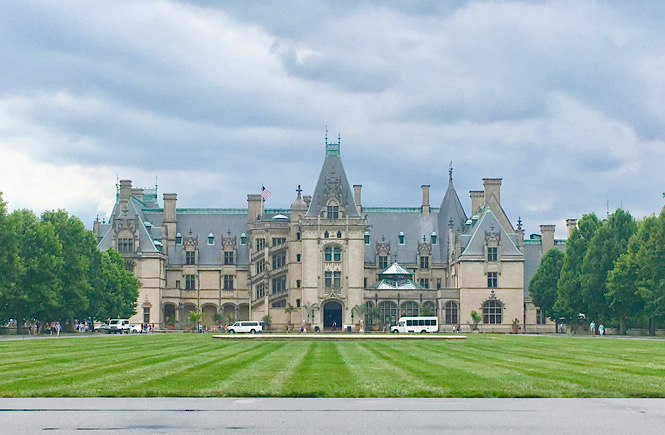 Asheville, North Carolina
We may be partial, but we think Asheville is not only one of the best places to visit in December in the USA, but any time of year. Yet Asheville during winter is truly magic!
The Biltmore Estate at Christmas is definitely a highlight you cannot miss. Hundreds of sparkling lights, over 100 decorated trees, and more decorations than you can imagine will ignite your holiday spirit in a flash. Open during the day as usual, but consider taking a candlelight tour for a unique winter experience.
The town of Asheville also comes alive during the holiday season. Check out the famous gingerbread competition at the luxurious Omni Grove Park Inn, the incredible lights display at the North Carolina Arboretum's Winter Lights, and visit a nearby tree farm to bring home your own fresh Christmas tree.
Asheville in December is pretty special…we think you'll agree it's one of the best places to visit in winter in the USA.
Need more ideas of fun things to do while you're in town? Check out our family friendly guide to Asheville and tips on visiting the Biltmore with kids! We think Asheville is the perfect weekend getaway for families…find out which other North Carolina cities we love too!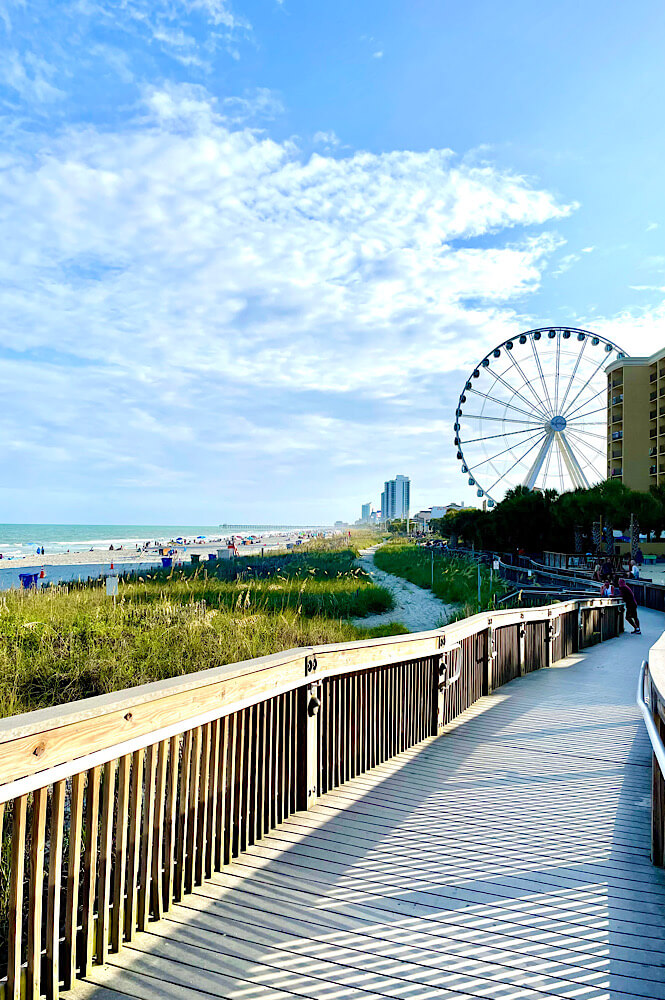 Myrtle Beach, South Carolina
We personally might argue that Myrtle Beach, SC in winter might be better than Myrtle Beach in the summer! Controversial, maybe? But there are so many fun things to do in Myrtle Beach during the off season…and without the crowds or humidity! Win- win!
And if you're looking for one of the best Christmas destinations in the South, this might be it too! Myrtle Beach is known for it's entertainment and they go all out for the holidays! What better way to get in the holiday spirit than with one of the fun shows? You can also get all your holiday shopping done in one fell swoop with all the awesome shopping options.
Of course you can still visit the beach! Savor those ocean sunrises and soak up that Vitamin D because the rest of your days will be full! Check out the Myrtle Beach Boardwalk, get your fill of miniature golf, and get the best views from inside the climate controlled SkyWheel!
Myrtle Beach is one of those places people either love or hate. But I truly think if you're on the fence whether or not you would enjoy Myrtle Beach, then opt for this US getaway during winter to test the waters!
Myrtle Beach is one of those places everyone should visit at least once in their lives! Be sure to add it to your family bucket list!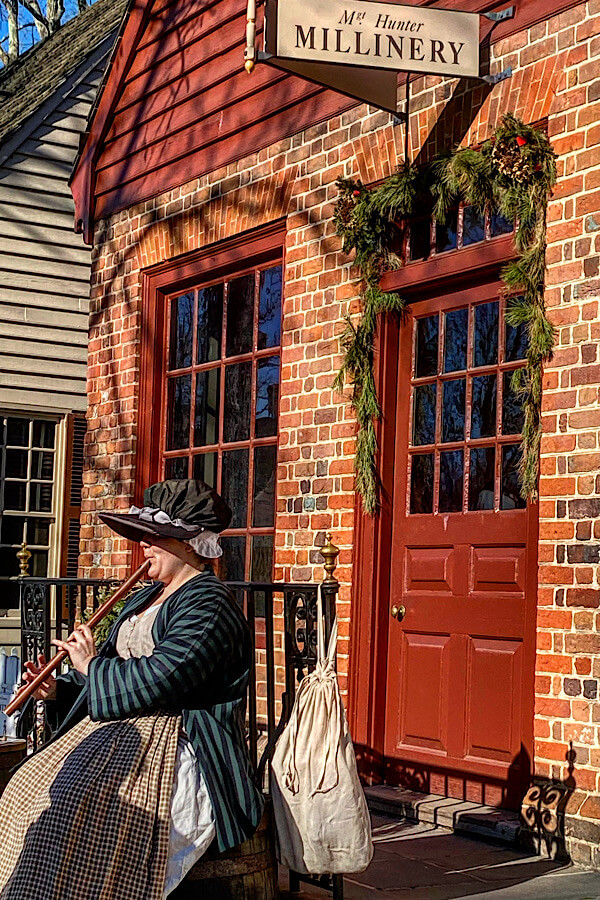 Williamsburg, Virginia
Williamsburg, Virginia is a great place to visit in the wintertime, especially during the holiday season. Temperatures are usually mild to moderate, although snow is possible. The Historic Triangle area of Jamestown, Yorktown, and Williamsburg hold various events in the month of December to celebrate Christmas as well as other winter events in January and February. Some of the events beginning in December include a tree lighting ceremony, a lighted boat parade, a Christmas market, an ice skating rink, holiday decorations all around, and even special presentations at Colonial Williamsburg, the American Revolution Museum at Yorktown, and the Jamestown Settlement showcasing colonial winter traditions that families will love. However, all year long, history comes alive in the Historic Triangle area, which makes it the perfect place for kids to experience life in the colonies firsthand.
Williamsburg has plenty of delicious places to eat. Some recommendations are Food for Thought, Amber Ox Public House, and DoG Street Pub. In Colonial Williamsburg proper, consider visiting traditional pubs like Josiah Chowning's Tavern or King's Arms Tavern. In terms of where to stay, the Williamsburg Inn or Williamsburg Lodge are two popular options. 
While the water parks and other theme parks aren't open, Busch Gardens Williamsburg also has a special ticketed event from Mid November to early January called Busch Gardens Christmas Town. It is considered one of the largest light displays in the world. In addition to the ten million lights, Busch Gardens offers most of its rides, special holiday shows, activities, and food. 
Visiting Williamsburg with kids is a great destination year-round, yet during the winter season, it has a little bit of extra magic. From the historic areas to the modern sections, the entire Williamsburg area comes alive with winter decor and colonial charm. 
Contributed by Margie from DQ Family Travel
Can't make it this winter? Williamsburg is also a great weekend getaway from NC or family spring break destination!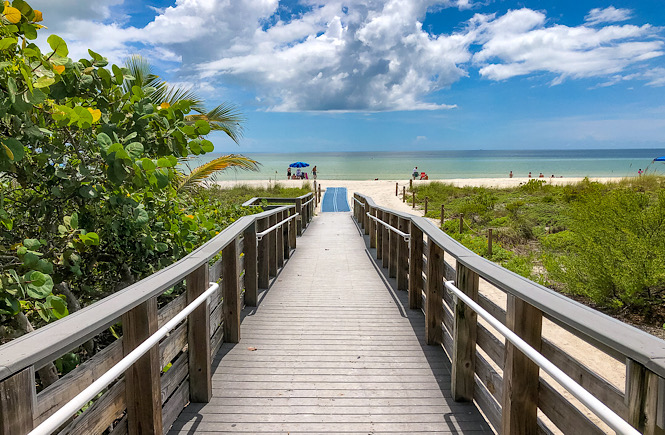 Sanibel Island, Florida
When the holidays have come and gone and winter tightens its grip, we long for some place warm — with a beach. And there's no place that fills the bill quite like Sanibel Island, Florida. This barrier island off the coast of southwest Florida near Ft. Myers has a laid-back vibe that's perfect for a family winter getaway. Much of the island is preserved natural habitat and nature lovers flock to Sanibel to hike the J.N. Ding Darling National Park or kayak the island's backwaters to see the wading and shore birds, not to mention the occasional alligator.
But without question, it's Sanibel's beautiful beaches and calm warm water that attract winter's escapees. The beaches here are a shell collector's paradise.
Getting around on Sanibel is easy with or without a car. There are plenty of places to eat and shop within easy walking distance of most accommodations, or rent a bike to venture out farther. Dedicated bike trails stretch from one end of the island to the other, and make the perfect family activity.
Sanibel has a number of fine hotels and beach cottages. The Sanibel Inn is a great option for families and is right on the beach.  For breakfast and lunch, The Island Cow is beach casual and family friendly with excellent food. For a more formal dinner, The Mad Hatter can't be beat. Reserve accommodations well in advance. Yes, Sanibel is that popular in winter.
If you're looking for warm places to visit in December in the USA, think Sanibel Island!
Contributed by Lori from TravelinMad.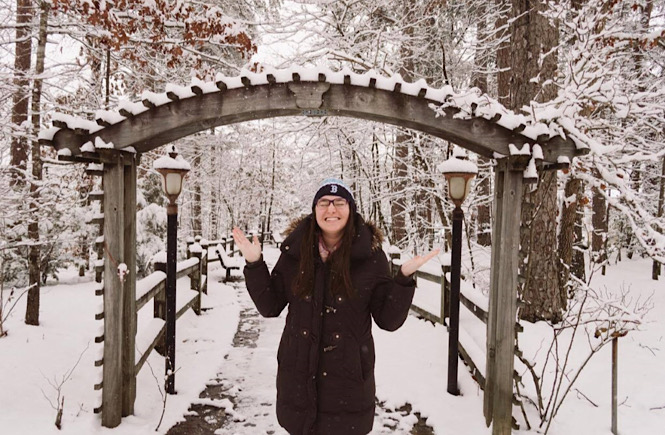 The North Georgia Mountains
With so many incredible things to do in Georgia year round, it's no wonder that in the winter, the North Georgia mountains shine! On the border of the Appalachian Mountains, North Georgia is made up of many cities including Blue Ridge, Cartersville, Dahlonega, Ellijay, Helen, Hiawassee, and Rome, to name a few.
In the winter, these mountain towns have great hiking, camping, ice skating rinks, and hot tubbing. Relax at a mountain cabin and cozy up by a fireplace for the perfect winter vacation in the south.
Winter in Georgia is mild with little snow averaging only 3 inches per year, and temperatures ranging from the 30s to 50s (degrees F) in the North. However, occasionally it can snow in a bigger storm and if this is the case, go to the mountains! Nothing like seeing rushing waterfalls blanketed in fresh snow (plus it will be gone quickly). I recommend Tallulah Gorge, Minnehaha Falls, or Amicalola Falls.
If I had to choose one city to visit in the winter, it would be Helen, Georgia. This Bavarian village is so unique with authentic German food, architecture, and lovely holiday celebrations. Stay in the Bear Creek Lodge and Cabins for the cozy, mountain cabin feel or the Heidi Motel for a European feel. Be sure to grab a bite to eat from Bodensee for authentic German cuisine like brats!
North Georgia is the perfect winter vacation in the south if you're looking to escape intense cold and snow, or if you want great hiking without the snowshoes!
Contributed by Alanna from Periodic Adventures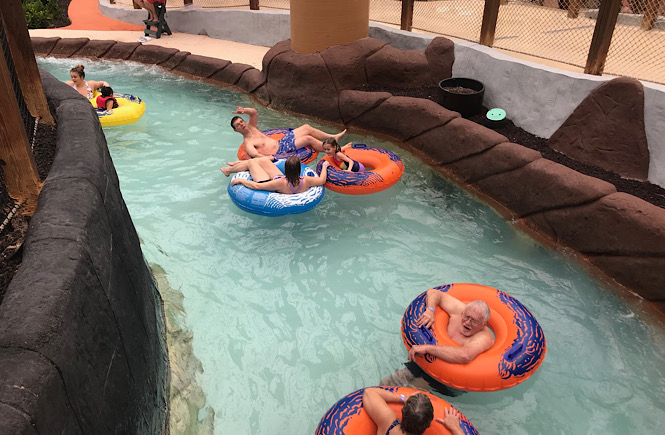 Massanutten, Virginia
There's plenty of snow fun for families in Virginia, particularly if you make a beeline for Massanutten in Virginia's Shenandoah Valley. At Massanutten Resort, you'll find skiing, snowboarding and snow tubing, as well as three escape rooms and a huge indoor water park with a dumping bucket, water cannons, a lazy river and water slides.  
At the water park, there's a walk-up snack bar called The Snack Shack that sells all kinds of kid-friendly basics, like chips, pizza and ice cream. The Campfire Grill is also a must-go for more upscale offerings, like grilled salmon, pan-fried trout and sirloin steak. Do not leave without devouring a dessert like the skillet s'mores or campground cookie skillet.
There's plenty to do on-property, but when you want to get back to nature for a few hours, you'll find nearby hiking trails for all levels. A favorite is the 3.5-mile Kaylor's Knob Trail, which wows with wide-reaching views across the Shenandoah Valley. Another popular hike is the 1-mile Story Book Trail. This paved, easy trail is just right for small children.
At the end of the day, settle into a room with a view. As in, expansive views of the Blue Ridge Mountains. There are nine different accommodation options at Massanutten Resort, including traditional hotel rooms, two-bedroom duplexes and four-bedroom condos. This is a winter family vacation your kids will surely remember!
Contributed by Erin from Kidventurous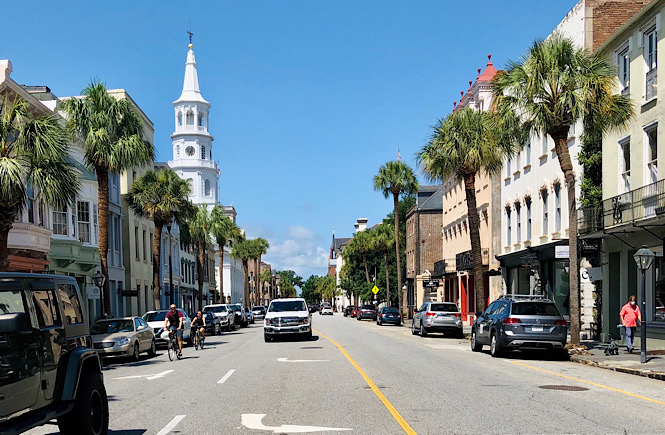 Charleston, South Carolina
The U.S. is brimming with so many family-friendly winter destinations and Charleston, South Carolina is one of them.
One of the best reasons to visit Charleston during the winter is because of the weather. The average temperatures hover around 60 degrees Fahrenheit during the days making it quite comfortable to walk around and explore the city. Plus, visitors are able to escape the summer crowds and have more of the city to themselves.
Charleston is especially beautiful during Christmas time and visitors can indulge in the Holiday Market at Middleton Place and look at the Christmas lights at James Island County Park where kids can meet Santa!
Another fun thing to do with kids in Charleston is to hang out with the sea turtles at the South Carolina Aquarium. After that, take a guided tour of the city and experience the sweet Southern sunshine. Tour guides are very knowledgable about the culture and history of Charleston and it's a fun family-friendly activity. Lastly, take a day to enjoy one of the many beautiful beaches in Charleston. Sure, the water won't be warm enough to swim in, but it's still fun to walk along the shore. Folly Beach, Sullivan's Island, Kiawah Island, and Isle of Palms are just a handful of stunning beaches in Charleston.
Be sure to visit Charleston on an empty stomach! Charleston is a foodie's heaven with so many culinary indulgences. Make sure you try a bowl of She-crab soup, shrimp and grits, fried chicken, and a Lowcountry boil. One of the best restaurants in Charleston is Poogan's Porch. They serve traditional Southern cooking and several of Charleston's iconic dishes can be found there. Trying to get away from the crowds? Try these amazing family friendly restaurants in Mount Pleasant.
The best area to stay in Charleston is the Historic District. The Hyatt Place Charleston/Historic District is the perfect hotel in the area for families.
Contributed by Disha from Disha Discovers
Need more ideas on how to entertain the kids? Read our family friendly guide for more fun things to do in Charleston with kids!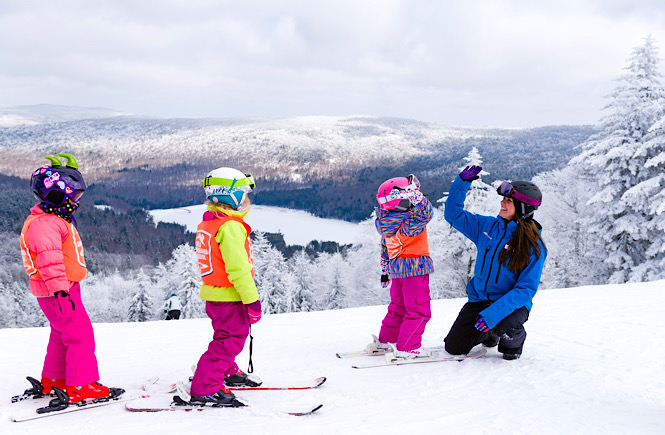 Snowshoe Mountain, West Virginia
If you're looking for a cold weather, snowy winter adventure on the east coast…then Snowshoe is the answer. Snowshoe Mountain is of the best places to visit in winter in the USA in our humble opinions.
Family friendly, adventures aplenty, good food, and still time for a little rest and relaxation is what you will find in Snowshoe, West Virigina. Get your snow gear ready for days full of skiing, snowboarding, snowshoeing, and even snowmobiling! And don't forget to head over to the snow tubing park to round out your visit.
Snowshoe offers a variety of family friendly places to stay and eat. The Village transports you to a little European ski town and is the perfect place to grab a bite to eat or shop.
Need more details? Read our family friendly guide to Snowshoe Mountain!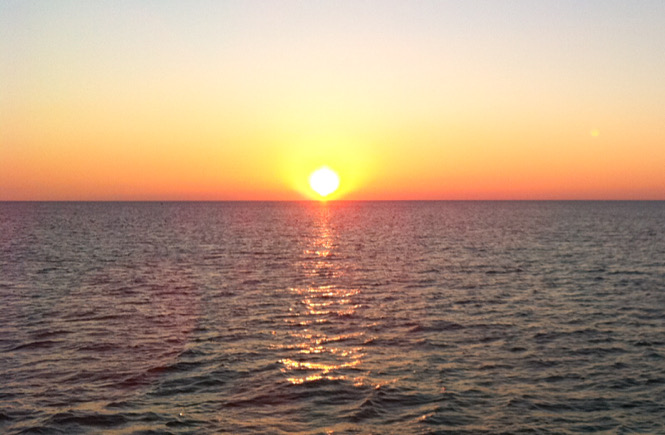 Destin, Florida
Destin is a wonderful beach destination in the winter, when you need a place to relax in the sun. Located on the sparkling blue-green waters of the Emerald Coast of Florida, Destin's sugar sand beaches, numerous attractions, and fun vibe make it the perfect family friendly southern winter getaway.
Winter daytime temperatures are in the 60s, making it perfect weather to enjoy the outdoors. Among the many things to do in Destin, an evening cruise of the harbor is a must-experience activity. Look for dolphins frolicking in the water, and enjoy a Gulf Coast sunset on the water.
During the day, hang out at Crab Island for a few hours. Inflatable water parks allow you to have lots of fun in the water, and you can also go snorkeling, paddleboarding, or kayaking. Get ice cream from one of the vendors on the water and enjoy it as you float in the sun. There are lots of public beaches in the area if you want to picnic, or walk on the sand. Build a sandcastle: you can even take lessons and build a fancy creation as a family! Hike on the sand dunes, and look for water birds.
The Destin Harbor Boardwalk is a fun place to stroll in the evenings. There are lots of shops, restaurants, and food trucks by the water. Watch the fishing boats come in, have a bite to eat, and shop for souvenirs.
The Henderson Beach Resort & Spa is a great place to stay. It is close to the Big Kahuna Water Park if you have kids, and you have access to one of the prettiest beaches in the area. The Beach Walk Cafe nearby is a highly rated place to eat. For seafood with a Creole twist, head to Lousiana Langniappe, where you can have a meal with a view!
Contributed by Dhara from It's Not About the Miles
Love the beach too? Read our guide to the best family beaches all up and down the East Coast!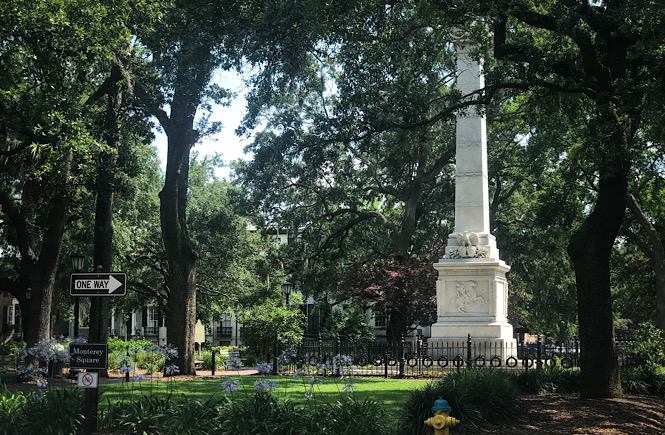 Savannah, Georgia
For the perfect winter escape in the southeast USA, consider spending a long weekend in Savannah, Georgia. With comfortable temperatures in the 60s (much more tolerable than the humid summer heat), Savannah is the perfect east coast winter getaway to enjoy a bit of warmth.
Savannah is a gorgeous city full of history, sights, and delicious foods – you'll find plenty to keep you busy during your trip. Spend a day wandering through the Historic District, admiring the architecture, exploring the 22 unique historic squares, and roaming through beautiful Forsyth Park. The district is dotted with fascinating museums and historic houses where you can learn a bit more about the city's past. At night, one of the best things to do in Savannah is to take a ghost tour of the city. Savannah is said to be one of the most haunted cities in the country, so join a tour to see if you can spot some ghosts for yourself! There are family-friendly tour options that both kids and adults will love.
Make sure to sample some of Savannah's delicious southern cuisine. Kids will love dining at the Pirates House, a fun pirate-themed restaurant where you can enjoy a buffet-style meal with fried chicken, mac and cheese, and all the other classic Southern dishes. 
When picking the perfect hotel in Savannah, you'll want to find something in the heart of the Historic District so that you can easily walk around town. The Hyatt Regency is perfectly located right on the riverfront, and the Thunderbird Inn is a classic roadside motel that's fun, affordable, and perfectly located.
Contributed by Sydney from A World in Reach
Have more time? Consider adding Savannah onto your southern USA road trip itinerary!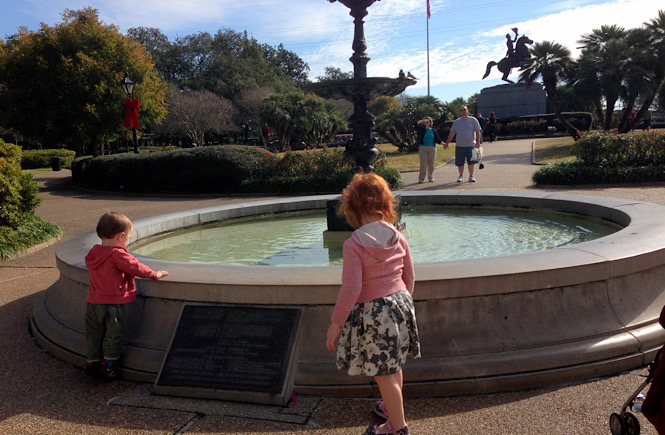 New Orleans, Louisiana
A fantastic family friendly winter destination in southeast USA is New Orleans. The largest city in Louisiana, there are many things to do here and, of course, there is always the famous Mardi Gras festival towards the end of winter.
The highlight is wandering the French Quarter, taking in the stunning architecture and beautiful streets. It's worth wandering through the nearby Treme too and checking out Congo Square and St Louis Cemetery. There are many attractions beyond this though. Families will enjoy the Louisiana Children's Museum and City Park, a huge park with playground and sculpture park. There is also the Audubon Aquarium of the Americas and Audubon Zoo.
Its location on the Gulf of Mexico means winters are mild and it's completely possible to have some warm weather during your stay. This makes New Orleans a particularly good choice if you are looking for warm places to visit in December in the USA.
For a great stay in the French Quarter at a great price, try the Hotel Provincial. The two double bed rooms suit smaller families and there is also a great pool and garden area. For a great place to eat, try Johnny Po-Boys for a famous po-boy then finish off your meal with a beignet at Cafe du Monde. 
Contributed by Sharon from Tasmania Explorer.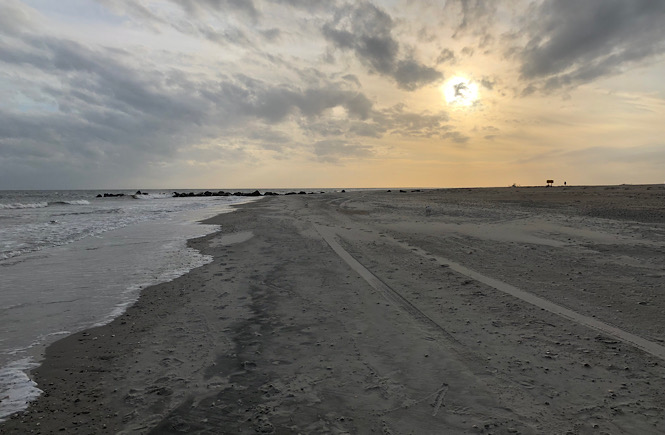 Beaufort, North Carolina
The North Carolina coast may not be the first place you think of visiting in winter, but it's a wonderful vacation destination in any season, not just during the summer. There will be fewer crowds with just as much outdoor fun to enjoy.
During the winter, mild temperatures make for perfect hiking or biking weather and you can flatwater or sea kayak well into the season. Beaufort is surrounded by the Rachel Carson Reserve, Croatan National Forest, Fort Macon, and Cape Lookout National Seashore, so there are tons of options for outdoor adventure.
The little town of Beaufort is also neat to explore on foot with boutique shops, waterfront dining, and the NC Maritime Museum. At the Harvey W. Smith Watercraft Center, you can even take classes like Introduction to Wooden Boat Building, Build a Boat-In-A-Day, or Build Your Own Stand-Up Paddleboard. For a great food tour check out Hungry Town Tours where you can go on foot or by bike.
If you're looking for the top places to eat, then don't miss Beaufort Grocery, City Kitchen, or Front Street Grill. For a unique Bed & Breakfast, you shouldn't miss the Inn on Turner where they make sure every detail of your stay is taken care of. If you prefer a hotel then check out the Inlet Inn located downtown. They provide a continental breakfast and you can choose a room with a deck overlooking the waterway.  
Contributed by Anna from PaddlingSpace
Have more time to visit NC? Add Beaufort onto your North Carolina road trip itinerary!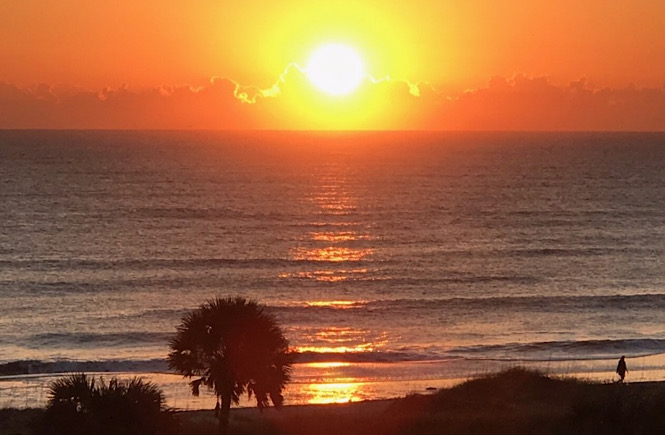 Amelia Island, Florida
Amelia Island is the perfect winter retreat with balmy temperatures and calm weather almost all year round. Named after Princess Amelia, the daughter of King George II, there are 13 miles of beautiful beaches on this Floridian island and it is part of the Sea Islands chain of barrier islands.
There's plenty to do here in winter and it's a great time of year to go biking or hiking around as there's much to explore. You can visit Florida's oldest lighthouse here (built in 1838) or visit Fort Clinch State Park which contains 1400 acres of parkland and beaches. The downtown area is well worth exploring as the island changed hands so many times there are lots of influences to be spotted in the architecture and buildings.
There's a great farmer's market here in the historic downtown area for picking up supplies or if you want to eat out then head out to Timoti's Seafood Shack for some of the best seafood around. For an evening drink visit the Palace Saloon, Florida's oldest bar which pre dates Prohibition.
Some of the best family resorts in Florida can be found on Amelia Island, including the Omni Amelia Island Resort and The Ritz-Carlton, Amelia Island. If you're looking for somewhere that is good for the soul and will lift any winter blues…consider Amelia Island one of the best warm weather winter getaways in the south!
Contributed by Nichola of Family Hotel Expert
Best Southern Winter Vacations for Families
So…do you have enough choices to get you started planning your next winter adventure? Which of these southern vacations tops your list? While we have personally been to many of these vacations spots, I love hearing from fellow travelers too. Tell me in the comments below where your favorite places to visit in winter in the USA are?
Save these places to visit in December in the USA for your future winter travel planning!