Myrtle Beach in Winter
Planning a trip to Myrtle Beach in winter? YAY!! Don't worry one bit because there are a ton of fun things to do in Myrtle Beach in winter!
Our family has been visiting Myrtle Beach for over twenty years. We've visited in every season and today we are going to share some of our top picks for what to do in Myrtle Beach during the off season.
You're going to have so much fun visiting The Grand Strand and I would even argue that you might love Myrtle Beach in winter more than the rest of the year! Why? Prices are cheap, crowds are lower, temperatures are mild, and there is no snow! You may get lucky and experience temperatures in the 70's, you just never know!
Where is Myrtle Beach, South Carolina?
Located in the northeast corner of South Carolina, Myrtle Beach is best known for its beautiful beaches, world class golf, and larger than life tourist attractions. You can fly into Myrtle Beach International Airport (MYR) or arrive via major interstates in South Carolina. You will likely want to rent a car to get around, however Uber and Lyft are widely available. Myrtle Beach is also any easy weekend getaway from our home state of NC!
Looking for more family friendly winter vacations ideas? Check out our picks for the best winter getaways in the Southeast USA!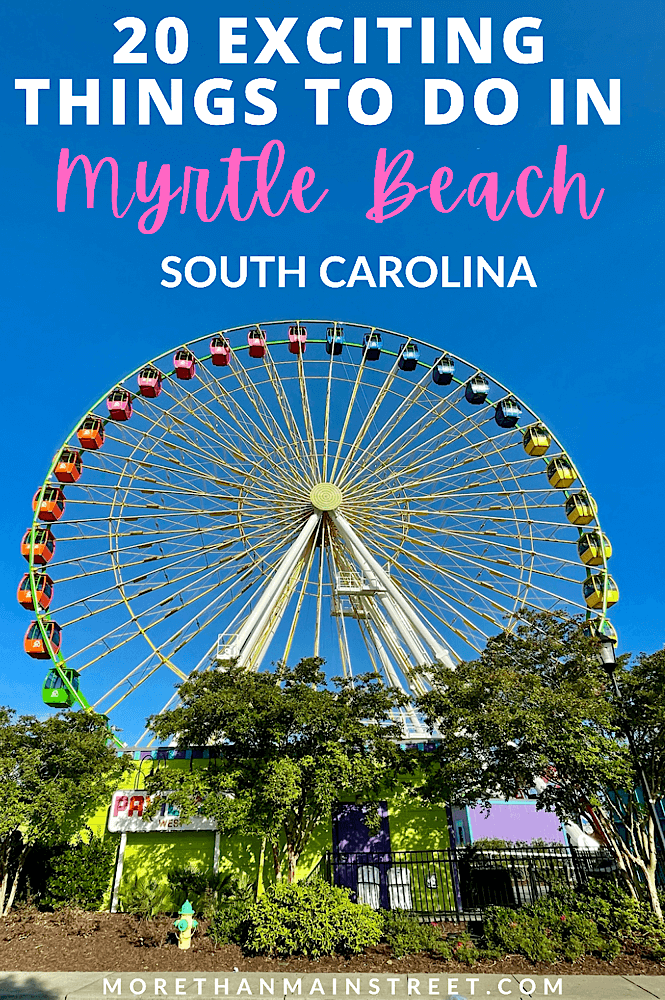 This post contains affiliate links which means I could earn a small commission, if you make a purchase, at no additional cost to you. As an Amazon Associate, I earn from qualifying purchases. For more information, read my full Disclosure HERE.
What are the best things to do in Myrtle Beach in winter?
Myrtle Beach is actually a great year round destination. With average monthly temperatures ranging from 40 – 60 degrees Fahrenheit in December, January, and February you are easily able to do a lot of indoor and outdoor activities during a Myrtle Beach winter getaway. Myrtle Beach averages over 200 days of sunshine each year, so even if you have cooler temperatures, you are likely to see the sun shining!
So let's get to it! Here are our picks for the best things to do in Myrtle Beach in the winter!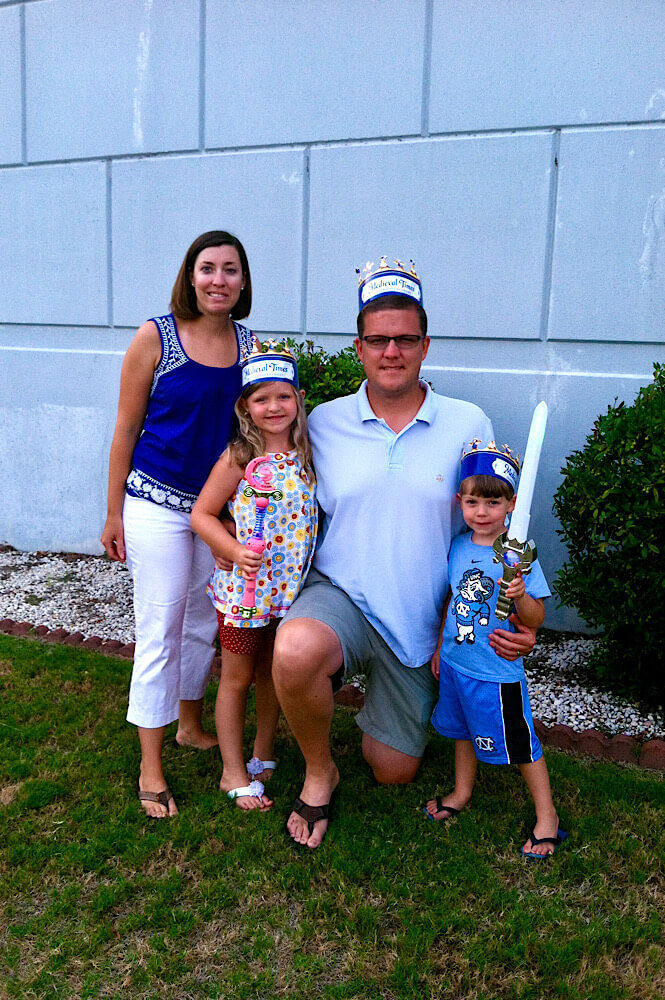 Catch one of Myrtle Beach's fabulous shows!
Myrtle Beach is known for entertainment. Make reservations for one of the famous Myrtle Beach shows. Here are a few of your options:
Looking for one of the best things to do in Myrtle Beach in December? Check out the holiday shows! They are guaranteed to get you in the holiday spirit!
Insider Tip: Don't judge a book by its cover. My husband and I never thought we'd actually like the Medieval Times or Pirates Voyage shows. We thought they were really for the kids and "too touristy". We were wrong. We loved them. These shows have been successful for years and are popular for a reason! They're actually really fun. Give them a chance! Also read reviews- not every show will be your thing- and that's ok! (For instance, I personally did not love the Carolina Opry.)
Golf in Myrtle Beach
Golfers come from far and wide to check out the world class golf in Myrtle Beach. Pick from over 90 professionally designed golf courses in the self proclaimed "Gold Capital of the World".
There's likely a lot of discussion on the best golf courses in Myrtle Beach. The golfers in my family recommend The Dunes Golf and Beach Club. You will also find no shortage of golf super stores in Myrtle Beach! It's a golfers paradise for sure!
Want more travel inspiration? Find out our top picks for destinations to add to your USA bucket list!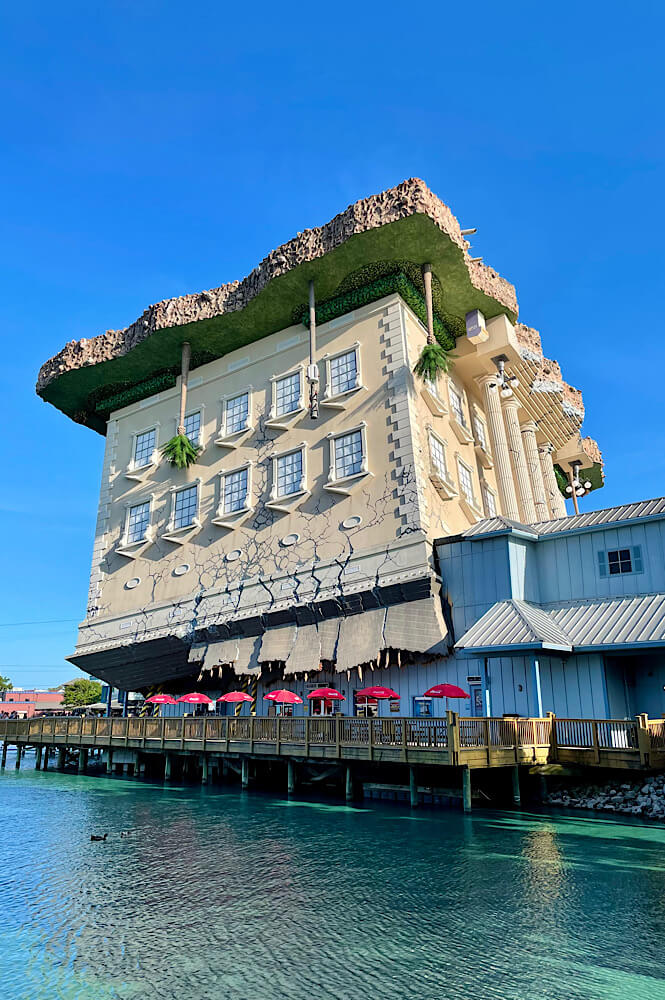 Broadway at the Beach
Broadway at the Beach in Myrtle Beach is open year round. With tons of restaurants, shopping, entertainment, and attractions, you can easily spend an entire day wandering around Broadway at the Beach. Here you will also find WonderWorks and Ripley's Aquarium, two of the best indoor things to do in Myrtle Beach. Our family loves both of these Myrtle Beach attractions for kids! (I mean I personally still love an Aquarium…maybe even more than my kids! LOL.)
Although you won't be able to do the waterpark in the winter, there are still plenty of amusements that stay open in the winter! Escape rooms, Top Golf, Backstage Mirror Maze, and the wax museum are all great Myrtle Beach winter activities.
Insider Tip: Don't miss the fireworks! Check out their schedule HERE.
More Shopping in Myrtle Beach
One of the best things to do in Myrtle Beach in December? Shopping!! So many of us want to vacation and need to get our holiday shopping done at the same time. There are a ton of shopping options, but we recommend checking out:
Insider Tip: Love the color purple? At Barefoot Landing there is an entire store dedicated to the color! Literally everything inside in the color purple! Check out the Purpleologist if you're curious!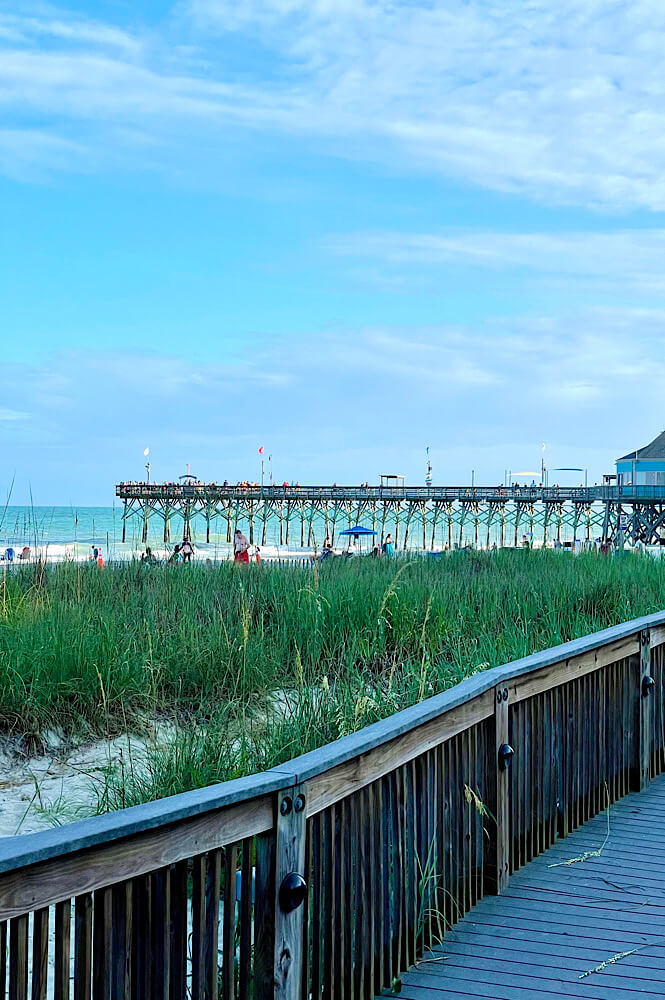 Go to the BEACH!!
YES, going to the beach is still one of my favorite things to do in Myrtle Beach in winter!! With over 60 miles of coastline, the beach is amazing in Myrtle year round! Can you go swimming in the ocean in Myrtle Beach in December, January, or February? Well, no. Unless you're wearing a wetsuit you're gonna be pretty cold. But, you can still watch the sunrise over the ocean, take a long walk on the beach, collect seashells, and soak up some vitamin D.
You can also go fishing!! One of the more popular things to do in Myrtle Beach in winter (well, year round really) is go fishing. Don't have your own fishing gear? No worries…most of the piers offer rentals, bait, everything you need to get started!
Not sold on Myrtle Beach? We LOVE the beach! Find out our other picks for the best family friendly beaches on the east coast!
Brookgreen Gardens
Brookgreen Gardens is one of the most beautiful gardens in the Southeast USA and is lovely even during the winter months. Home to botanical gardens, a sculpture garden, galleries, Lowcountry History Center, and even a zoo, a visit to Brookgreen Gardens is a must when visiting Myrtle Beach. Get away from the crowds and into nature!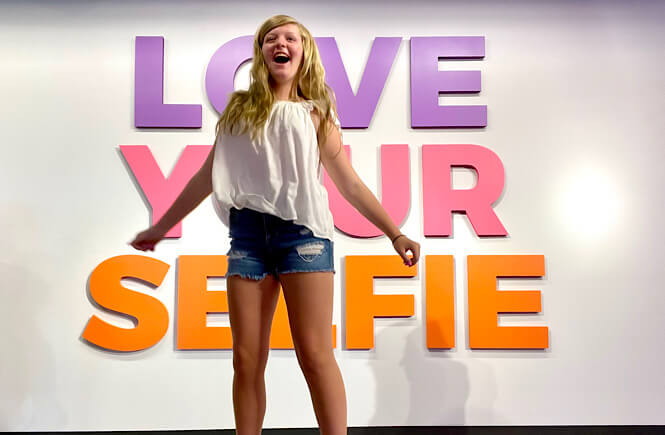 Selfie WRLD in Myrtle Beach
Would you believe me if I told you that our visit to Selfie WRLD in Myrtle Beach might have been our fave thing we did during our last visit? #truestory
Years ago, I would have walked right past a place like this. Totally gimmicky. Totally not worth the money. Totally Not my thing. And I would've been totally wrong!! Y'all this place was the MOST fun!! If you're looking for a place to smile and laugh and make memories with your family- check this place out!
Selfie WRLD is one of the best things to do in Myrtle Beach with teens, tweens, kids, or grandkids! It is also a perfect solution for what to do in Myrtle Beach on a rainy day!
Insider Tip: Not able to go while you are in Myrtle Beach? No worries…there are locations all over the USA from Miami to Boston to LA!
Have a teenager in your life? Tickets here would be an awesome (and inexpensive) experience gift for a teenager!!
Sweeten up Your Vacation
The saying "like a kid in a candy store" had to come from these candy superstores! Giant gummy bears, classic candies, hard to find candies, and even vegan candy are just a few of the sugary delights available. We know many families who have a tradition to make a stop every single visit to Myrtle Beach.
BUT…our family, goes for the outrageous milkshakes at The Crazy Mason's Milkshake Bar located at the Market Common. Don't know what I'm talking about? Take a look at these larger than life milkshakes on Instagram and you'll see why there's often an hour wait for these epic treats!
So which would you choose? Candy heaven or insane milkshakes?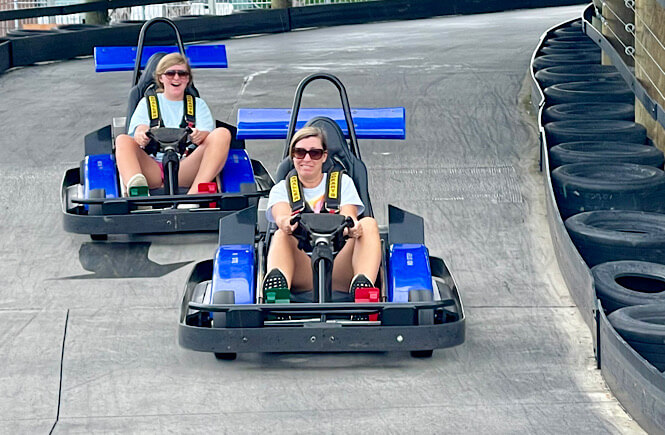 Fun for all ages!
There are so many Myrtle Beach winter activities beyond the beach. Here's what else we love:
Need more ideas for things to do in Myrtle Beach in winter? Check out an escape room, laser tag, or a trampoline park!
Full Disclosure: There are several animal experiences in Myrtle Beach. I'm not listing them here because I'm really not sure how ethical they are. But just FYI, they are there and people love them.
Day Trips from Myrtle Beach
There are so many great day trips from Myrtle Beach! Hop in the car and see somewhere new while you are on vacation! Here are some of our favorite Myrtle Beach day trips and approximate drive times:
**All drive times for these Myrtle Beach day trips are approximate as drive times will vary depending on where you are staying in Myrtle Beach and traffic.**
Where to Eat in Myrtle Beach
Finding a good quality restaurant can be challenging in Myrtle Beach. One of the best reasons to visit Myrtle Beach in the winter is because there are fewer crowds so you will be able to get into restaurants a little easier. Still, restaurant here can be hit or miss. Here are a few of our favorite places to eat in Myrtle Beach during our most recent visit:
Insider Tip: What can I say…we love to sample local drinks! Visit Duplin Winery for a wine tasting or New South Brewery for some local craft beer!
Where to stay in Myrtle Beach
Research where you are going to stay thoroughly! Do you want to be in the middle of the action? Do you want to be oceanfront? We have always stayed with family at their timeshare properties, however here are a few hotels I've heard from friends are great options:
I would also recommend looking into rental vacation condos or houses if you're looking for a little more space- we have had great experiences with VRBO! One of the best reasons to visit Myrtle Beach in December, January, or February is you should have a lot easier time booking a place to stay and more reasonable rates!
Tips on Visiting Myrtle Beach
In full transparency, Myrtle Beach is one of those places you either love or hate. Mainly I think this is because it is heavily commercialized and there are often a lot of people. Honestly, one of the best reasons to visit Myrtle Beach in winter is because there will be a lot less people. But, I'm a firm believer that a vacation is what YOU make it. So…here are some of my best tips to help you enjoy your Myrtle Beach vacation:
So what do you think? Ready to plan your next beach vacation? Feel like you have a good idea of the best things to do in Myrtle Beach? Honestly we really love Myrtle Beach in winter. There are still so many fun things to do, we've never felt like we were missing out due to the season.
Like I said before, a Myrtle Beach vacation is truly what you make it. It surely has created lots of wonderful memories for our family!! Add Myrtle Beach to your family bucket list– it's a destination you should experience at least once in your life!!
PIN THIS POST ON THE BEST THINGS TO DO IN MYRTLE BEACH IN WINTER FOR YOUR NEXT VACATION!