The Ultimate US Bucket List
I love a bucket list.
So, it shouldn't be much of a surprise to y'all that I've created the ultimate US bucket list full of epic adventures around the country!! Bucket lists are just so much fun and always fill me with hope and inspiration. I hope this list inspires you and your USA adventures too!
25 Epic Adventures to Experience in the USA
The United States has some of the best vacation destinations in the world! I feel like we sometimes get a little FOMO of traveling far and wide and forget about all the amazing places to visit right in our own backyards. From exciting cities to jaw dropping national parks to gorgeous beaches, the USA offers some amazing bucket list travel destinations.
I feel so fortunate to have checked off so many epic adventures in the United States, but I still have more to see and do!
Looking to create your own USA bucket list? Get inspired with my family bucket list: ideas for all ages and stages from adventures at home to big adventure vacations in the USA.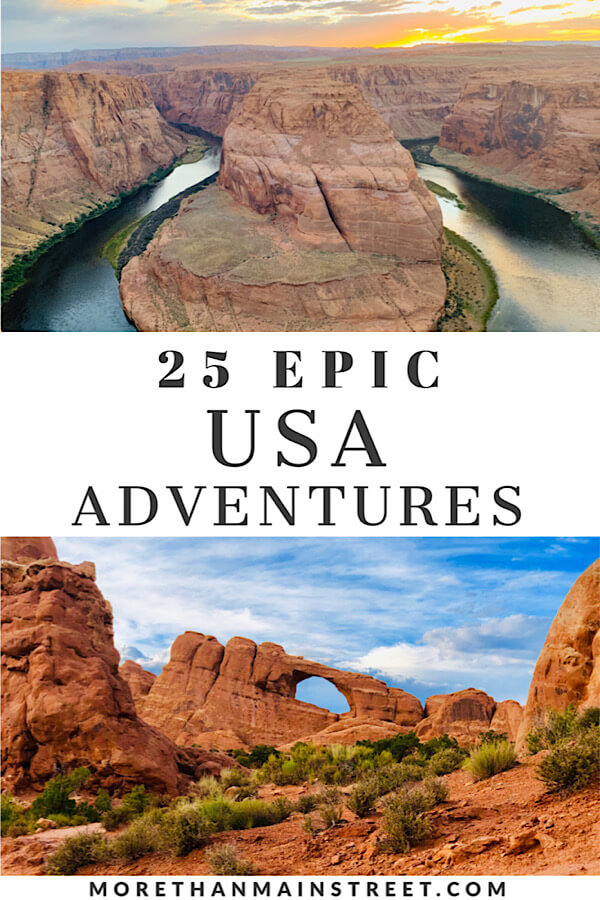 PIN THIS POST ON THE BEST ADVENTURES IN THE US TO YOUR BUCKET LIST BOARD!!
This post contains affiliate links which means I could earn a small commission, if you make a purchase, at no additional cost to you. As an Amazon Associate, I earn from qualifying purchases. For more information, read my full Disclosure HERE.
Here are my top 25 adventures in the US for you to put on your bucket list ASAP!
1. Opt Outside at Utah's Mighty Five
One of the best states for adventures in the US has got to be Utah. I honestly had no idea that Utah was so incredible. Seriously, no clue. But now I know better and after road tripping through Utah this past summer, I recommend it to pretty much everyone I know! Including you!
What is the Utah Mighty 5? The Utah Mighty 5 is the five major National Parks throughout southern Utah: Arches National Park, Canyonlands National Park, Bryce Canyon National Park, Capitol Reef National Park, and Zion National Park. While each park is unique and amazing in it's own way, my personal two favorites are Zion and Arches. So completely different and awe inspiring at the same time, you must add these two national parks, if not all five to your US bucket list!
Insider Tip: For a once in a lifetime experience, try hiking The Narrows or Angel's Landing at Zion National park. I promise you these are bucket list adventures in the US you won't want to miss!
2. Get an Adrenaline Rush in Jackson Hole, Wyoming
We actually stayed in Jackson Hole Wyoming because of its proximity to Yellowstone National Park. But in my opinion, it deserves its very own spot on this US bucket list! There are so many incredible opportunities to get outside and experience an epic adrenaline rush! From white water rafting the Snake River to hiking in Grand Tetons National Park to getting in all your winter sports action, Jackson Hole is an outdoor lover's playground!
Insider Tip: You don't have to be an expert to participate in any of these activities. There are options for every ability level. True story: I was scared to death to try white water rafting…but they assured me the tour was appropriate for beginners and children. And it was. Or entire family loved it and we would go again tomorrow if we could!
If you are looking for adventure vacations in the USA, then you should definitely consider booking a trip to Jackson Hole!
Are you a thrill seeker looking for more adventures in the US? Get inspired to try something new with these exciting adrenaline pumping activities!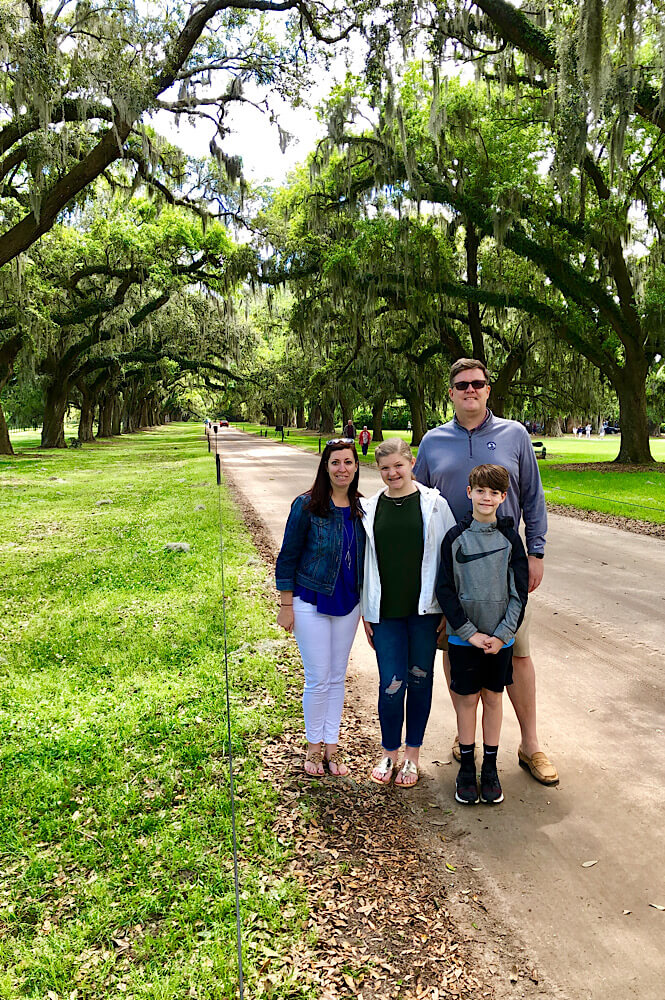 3. Experience True Southern Charm in Charleston, South Carolina
Be forewarned: Charleston will charm you! I've never met a soul who didn't love Charleston, South Carolina. The cobblestone streets, being immersed in US history, and the food. OMG the food. Not only is it a dream foodie destination but really a great family friendly vacation too! From Patriot's Point to Fort Sumter to the plantations, Charleston is the perfect vacation for any history aficionado.
You won't want to miss Rainbow Row, the Pineapple Fountain, the sweetgrass baskets, and the moss covered trees. And don't forget the amazing area beaches too!!
All bucket list adventures require some planning. Grab our FREE travel planning worksheet (plus some other cool goodies) in our "Experience Collector Kit" below!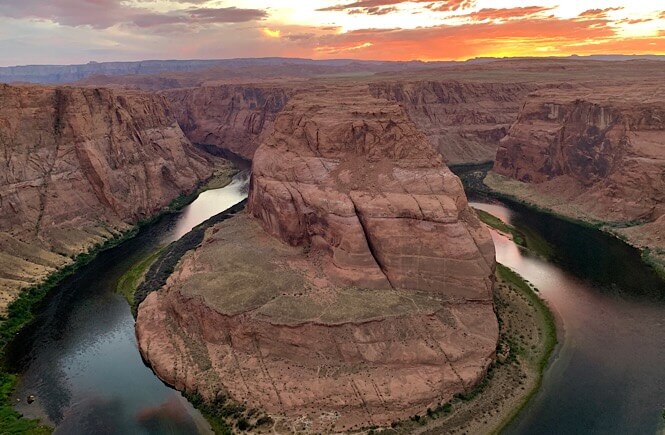 4. USA Adventures: Visit Page, Arizona
Have you ever even heard of Page, Arizona? Well, now you have, and it belongs on your bucket list! One of the most memorable things we did this past summer was visit Horseshoe Bend and Antelope Canyon in Page, Arizona. While admittedly I found these destinations on Instagram, I don't regret going for one single second. Are they super popular? Yes. Are there crowds? Yes. But I promise you the natural beauty you'll discover in Page, Arizona is totally worth it!
Oh, and if you're looking for a unique place to stay…consider renting a houseboat on Lake Powell. It's what all the cool kids do!
Planning a visit? Everything you need to know before you visit Horseshoe Bend and Antelope Canyon.
5. Get a Little Country in Nashville, Tennessee
There's so much more to Nashville than country music! Enjoy the electric energy of the downtown area which is bursting with music of all genres, explore the incredible street art scene, and give into your foodie desires in Nashville! And… since this is the epicenter of country music, you definitely should try to see a show at the Grand Ole Opry or the Ryman Theatre and visit the Country Music Hall of Fame. Even if you're not a huge country music fan, you can still appreciate greatness!
Insider Tip: Add the 12 South neighborhood to your Nashville itinerary, it's worth the visit!
The USA is practically made for road tripping!! And if you've been here awhile, you know I think a good road trip is one of the most fun adventures in the US! And Nashville is the perfect city to add onto any Southeast USA road trip!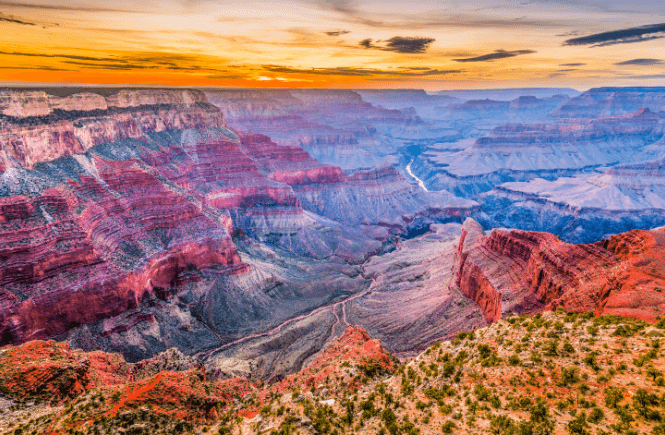 6. Bucket list adventures at Grand Canyon National Park
The Grand Canyon is certainly an iconic destination in the USA. And for good reason. It's simply breath taking. Whether you decided to just take in the phenomenal views or hike down into the Canyon, everyone should visit at least once in their lifetime. To get the most out of your visit, consider doing a guided tour, hike into the canyon, taking a helicopter tour over the canyon, or a boat tour through the canyon. Just taking photos from around the Visitor's Center will likely leave you a bit underwhelmed.
Insider Tip: Grab up one of the hardest hiking/ camping permits in the world and visit Havasu Falls. The Havasupai Tribe puts permits on sale each year in February and they sell out for the season that same day! Without a doubt this is one of the most adventurous vacations in the USA!
7. Explore Every Nook & Cranny of Colorado
If I had to pick just one bucket list item from Colorado, it would hands down be to see a concert at Red Rocks Amphitheater in Morrison, Colorado. But we are huge music lovers! There are so many more bucket list adventures in Colorado all worth mentioning: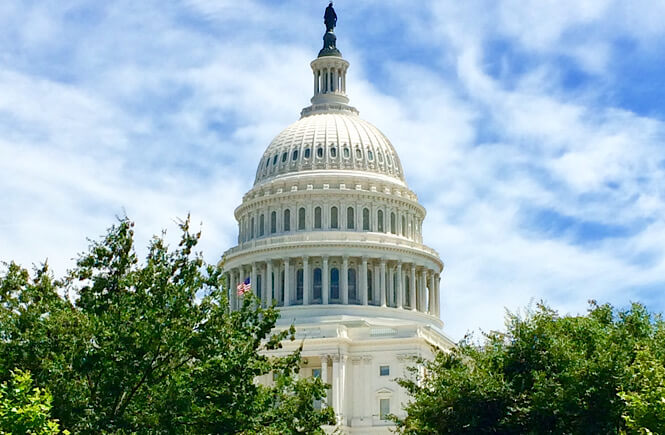 8. Appreciate our Country's History in Washington, DC
Growing up in the DC area, I never really appreciated all that Washington DC has to offer. However, now as an adult, showing my children around our nation's capitol has new meaning. Washington DC is full of bucket list adventures:
Visit the National Zoo
See all the National Monuments & Memorials
Visit the White House
Visit our nation's Capitol
Celebrate at the Cherry Blossom Festival each spring (There are fun things to do year round, but this is the best time to visit Washington DC in my opinion!)
All the National Museums (many of them are free and they're just incredible!)
Arlington National Cemetery (Make sure to catch the changing of the guard at the Tomb of the Unknown Soldier- a moving experience for anyone!)
The Library of Congress
Enjoy the diverse foodie scene (although our personal fave is Founding Farmers!)
If you've been around awhile, you know I believe adventure is a mindset! Adventures don't have to be crazy adrenaline pumping experiences; they can simply be a NEW experience. That being said, I feel confident you will find tons of bucket list adventures in Washington DC! But if you need that adrenaline hit, there are tons of opportunities for that here too.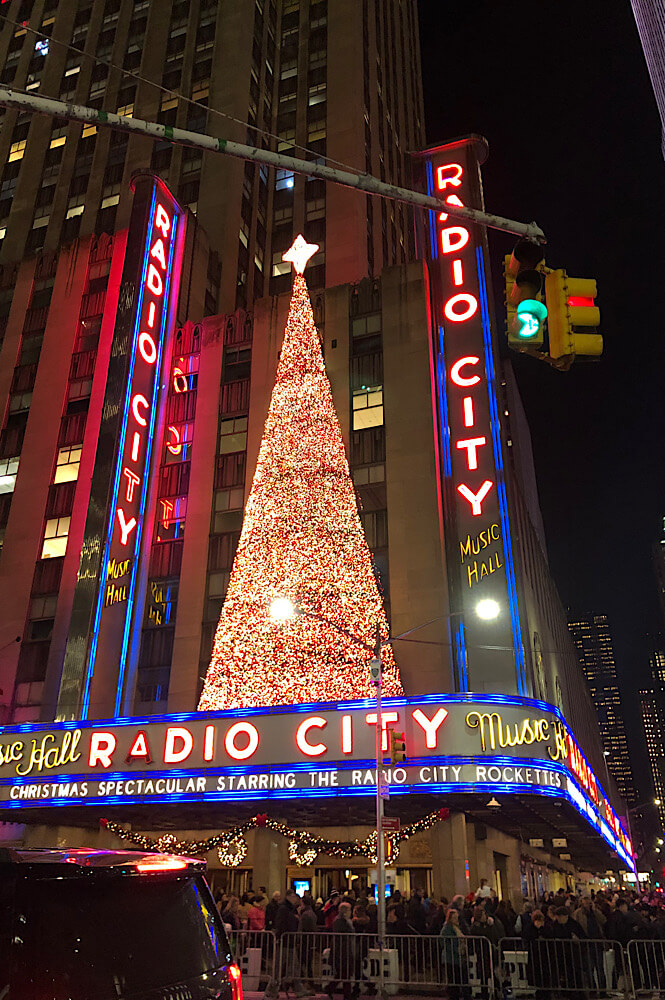 9. Experience the Big Apple: New York City, New York
It's hard not to fall in love with New York City! It's a city like no other.
Start our your trip with a visit to Central Park, Times Square, the Statue of Liberty, and the 9/11 Museum and World Trade Center Memorial. Experience a more local vibe of NYC and visit neighborhoods like SoHo, Tribeca, or the West Village. See a Broadway show and try not to spend too much money shopping on 5th Avenue! Eat your way through the city by trying New York style pizza, cheesecake, bagels, and visit a real NYC deli. Round out your trip by catching a Yankee's game or one of their other 25 professional sports teams!
Insider Tip: Visit New York City during the holidays. It's truly a special experience! See the world famous rockets at Radio City Music Hall, go ice skating at Rockefeller Plaza, and take in all the stunning holiday light displays all over the city!
Real Talk: New York City can be very overwhelming. If you've never been to a big city, my best advice is to prepare for huge crowds and plan as much as possible. Talk to friends who have been before or read as much as you can before you go. Learn about getting around NYC and decide if you're going to tackle the subway, take taxis, Ubers, or mostly walk. (FYI: You don't need to be scared in NYC but always be smart. During my girls getaway to NYC, our taxi driver tried taking us in circles to charge us more. I had turned on my Google maps and realized what he was doing and confronted him. Needless to say, he took us right to our destination and ended up giving us the ride for free.)
Love it or hate it, New York City belongs on every USA bucket list!
10. Road Trip from Miami to Key West, Florida
Rent a convertible and put the top down. There is no better place to have some fun in the sun that south Florida. There are a ton of fun stops on a Miami to Key West road trip. Start out your road trip soaking up the excitement of Miami and South Beach. Fit in a tour of Everglades National Park before heading south to Key West. Must do's along the way include hand feeding wild tarpon off Islamorada, snorkeling in Key Largo, and a visit to the sea turtle hospital in Marathon. Once you arrive in Key West, make sure to try some famous key lime pie, check out Hemingway's House, and visit the southern most point of the continental US for a fun photo opp!
Insider Tip: One of my all time favorite memories from this trip was renting scooters in Key West and exploring the area and beaches.
Florida has some of the best beaches on the east coast– and don't forget a thing with our ultimate beach packing guide!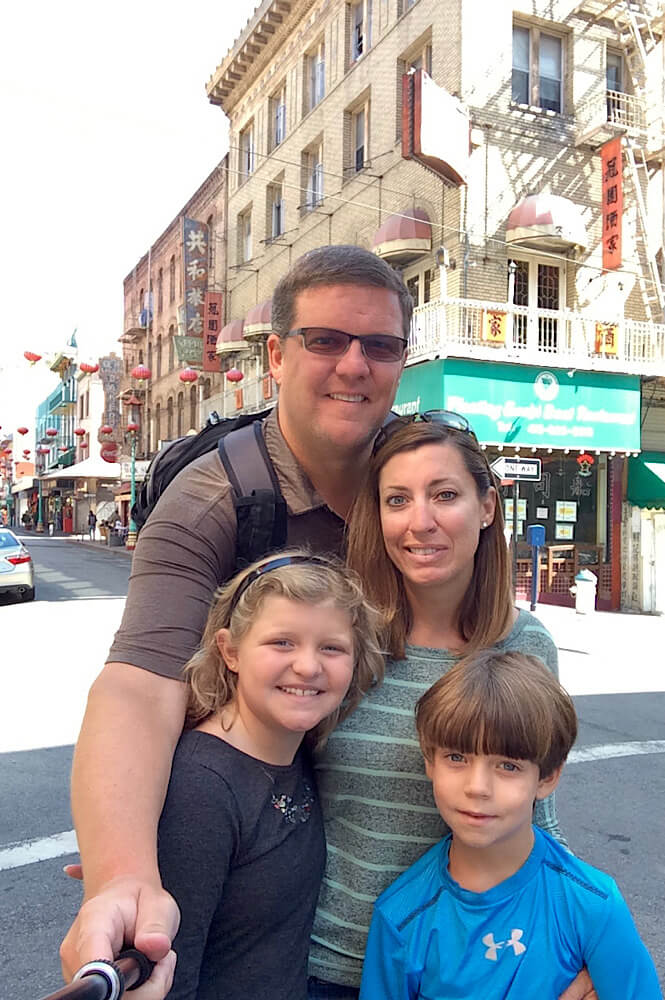 San Francisco is just one of those cities we keep going back to time and time again…which is why it's an absolute USA bucket list travel destination! Some of our favorite recommendations include:
Alcatraz
The Golden Gate Bridge
China Town – make sure to visit the Fortune Cookie Factory!
Ride on a cable car
Union Square
Golden Gate Park
12. Embrace the Excitement of Las Vegas, Nevada
Spoiler Alert: You don't have to gamble to enjoy Las Vegas. Vegas is one of the most exciting cities we've ever been to. Prepare yourself for stimulation overload. Of course you can bet big in the famous casinos, but you can also enjoy world class shows and concerts, lavish shopping, incredible food, and the best people watching ever!
Bonus! There are a ton of fun things to do in Las Vegas with kids too!
Insider Tip: Vegas is also the perfect home base for some of the best adventures in the US- it's true! Fly into Las Vegas, play a few days, then rent a car and head out to Zion, the Grand Canyon, Lake Powell and more!
Half way through the list!! How many of these adventurous vacations in the USA have you been on? Where would you choose to go first?
13. Road Trip Down California's Highway 1
One of the most romantic things my husband and I have ever done together was a road trip down California's Pacific Coast Highway. We traveled slowly enjoying each other's company, the adorable little towns, and the epic views. Starting your road trip in San Francisco, some of our favorite stops are Big Basin Redwoods State Park, Monterey, Carmel-by-the-Sea, Big Sur, the Hearst Castle, Santa Barbara, and Pismo Beach before ending your trip in Los Angeles.
Insider Tip: Try to fit in a meal at Nepenthe, a gorgeous restaurant overlooking the Pacific Ocean. They may have a wait but the views are worth it!
Looking for a little more excitement? This road trip is also perfect if you're looking for an adventure vacation in the USA! There are tons of opportunities for hiking, kayaking, surfing, biking, fishing, and more!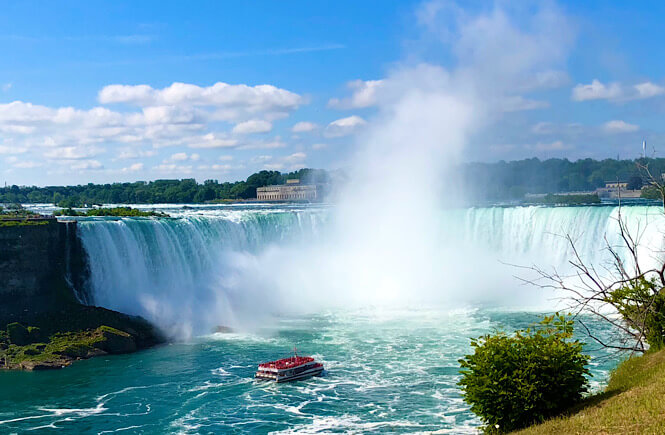 14. USA Adventures: Stand in Awe of Niagara Falls
You can visit Niagara Falls from both the United States and Canada. My advice: do both! The views are incredible and worthwhile from both sides and my kids loved standing on the bridge with one foot in each country! I literally could not stop taking photos from every view point.
Insider Tip: You will need a passport if you plan on visiting Canada!
The three things I'd recommend are absolute must do's are: the Maid of the Mist boat cruise, taking in the views from the observation tower, and getting wet at Cave of the Winds. My kids said Cave of the Winds is the coolest thing they've ever done. That's pretty high praise if I don't say so myself. Just prepare to get soaking wet!
Insider Tip: Is a falls view room worth it? In my opinion: YES 100%. We absolutely loved our stay at the Niagara Falls Marriott (on the Canadian side). I normally don't go for spending the extra money on views. After all we spend most of our time outside of the hotel and actually doing things. But, this time it's definitely worth it since you can watch fireworks and light show on the falls throughout the summer months. Not to mention watching the sunrise or sunset over the falls is pretty dang cool too.
Short on vacation days? In our opinion, Niagara Falls is one of the best adventures in the US that can be done in just a long weekend! We felt like two days was plenty to see and do everything!
15. Do a Fall Foliage Tour
I know, I know…that sounds vague. But seriously, there are several options of amazing fall foliage tours all along the east coast of the United States. I personally think a road trip through North Carolina or Virginia are amazing although it's hard to rival a New England road trip.
Insider Tip: Fall foliage can be finicky. Weather influences peak season so timing is everything! Do your research ahead of time depending on your destination. There are plenty of peak foliage websites with maps and predictions but rooms book up fast for prime locations. For something a little different, consider renting a RV and road trip!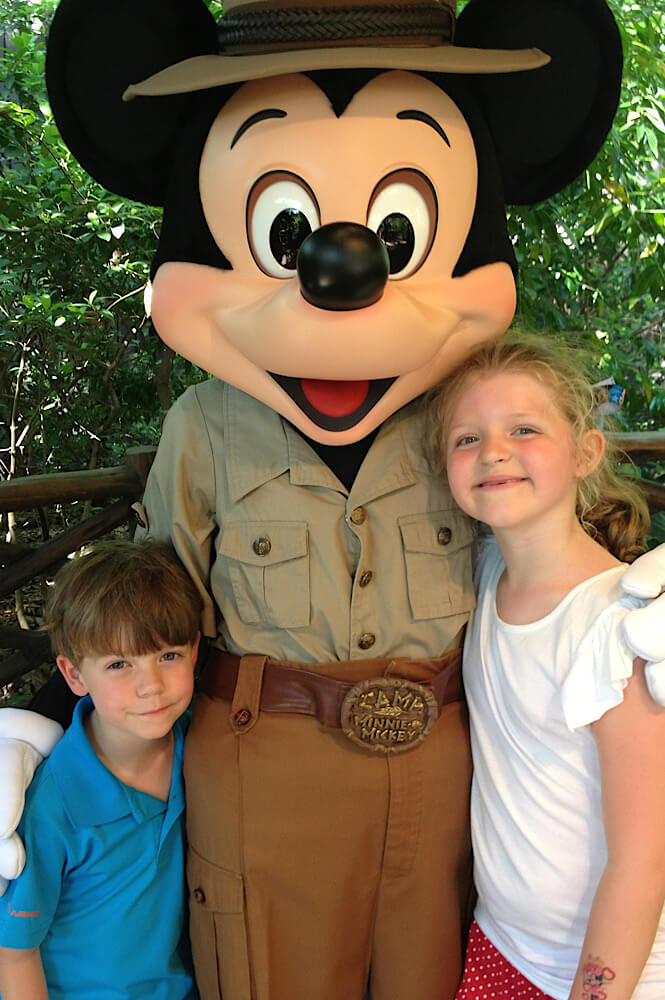 16. Do Disney!
I'm of the opinion that everyone should go to Disney at least once in their lives! Whether it's just for one day or for an entire week, Disney is the gold standard when it comes to amusement parks. They do it head and shoulders above the rest. Say "Hello" to Mickey Mouse, ride all the rides, and see shows that blow your mind during your visit to a Disney theme park! While I personally think Magic Kingdom in Disney World (Florida) is the best place to start your Disney trip, all the parks deliver a fun filled vacation for all ages!
If you're planning a trip, read all my recommendations, Disney tips for first-timers, and other fun things to do in Orlando too!
Awe-inspiring. If you asked me to describe Yellowstone National Park in one word, I'd have to say awe-inspiring! Is that one word or two? LOL.
Seriously though, a trip to Yellowstone National Park is a must! Prior to our visit, I really didn't have high expectations of Yellowstone National Park, but I was honestly blown away by it. I'd go back tomorrow if I had the chance. Grand Prismatic Springs, Old Faithful, visiting the Grand Canyon of Yellowstone, and Hayden Valley are just a few of the highlights. But getting up close and personal with wildlife like bison, elk, and bears will blow your mind!
Have a long list of bucket list adventures you want to experience? This is the destination for you! Hiking, whitewater rafting, stand up paddle boarding, kayaking, fishing, zip lining, horseback riding, rock climbing and more at Yellowstone!
My advice: Just book the trip. You won't regret it.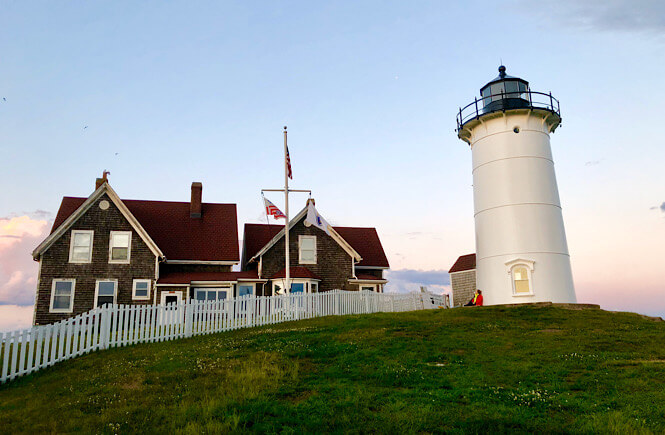 18. Go Lighthouse Hunting in Massachusetts
With over 150 miles of coastline, Massachusetts has dozens of lighthouses. If you like a road trip and "go at your own pace" type of travel, then this is the adventure for you! Not all lighthouses offer tours, so make sure to check their websites before you go. Our top recommendations are Nobska Lighthouse, Gay Head Lighthouse, Race Point Lighthouse, or Nauset Light. In between visiting lighthouses, make sure to grab some fresh seafood, experience world class whale watching, and visit their beautiful beaches.
Insider Tip: We stayed in Falmouth during our trip to the Cape which provided the perfect home-base for our tour of the area. Our favorite activity during our trip to the Cape was renting bicycles on Martha's Vineyard. Exploring the island via bike was a unique way to see the sites and be active together as a family!
Want more details? Read all about our day trip to Martha's Vineyard and our Massachusetts to Niagara Falls road trip.
19. Take in the Stunning City of Chicago
Chicago has big city excitement to keep you busy for days! There are so many fun things to do in Chicago. Step out onto The Skydeck Ledge at Willis Tower, take a selfie in The Bean (AKA Cloudgate), or catch a Cubs game at Wrigley Field. I personally never thought I'd love the famous architectural river cruise, but it was so interesting! Lesson learned: try something new! Indulge in their incredible foodie scene but don't forget to try a classic Chicago style hot dog and deep dish pizza! Finally you can't forget a stroll down the Magnificent Mile, a visit to the Art Institute, and some good old fashioned fun at the Navy Pier.
Insider Tip: If you have time for a road trip, rent a car and drive up to Wisconsin. Cheer on the Green Bay Packers, eat cheese curds, and visit the exciting college town of Madison!
Planning a visit to Chicago? Make sure to read my Chicago guide before you go!
20. Yosemite National Park: Adventures in the US that cannot be skipped!
If you're looking for an outdoor adventure vacation in the USA…then you should consider a road trip to Yosemite National Park. You'll feel like you've stepped into a postcard with the amazing scenery around you. Between the epic rock climbing, hiking, camping, and wandering you won't want to go home!
During your trip to Yosemite National Park, do not miss:
El Capitan
Half Dome
Yosemite Falls
Bridalveil Falls
Tioga Road
Tuolumne Meadows
The Yosemite Museum and Indian Village
Mariposa Grove
If you're looking for USA adventures where you can immerse yourself in the outdoors, then you simply must visit Yosemite National Park!
Adventurous Vacations in the USA
So what do you think so far? Are you overwhelmed or inspired? I just get so excited talking about these destinations, I can't help myself!
So which USA adventure trip sounds the most exciting to you? Any destinations that have surprised you? Any you want to know more about? You can always drop me a comment or connect with me on social media as I am always happy to help out!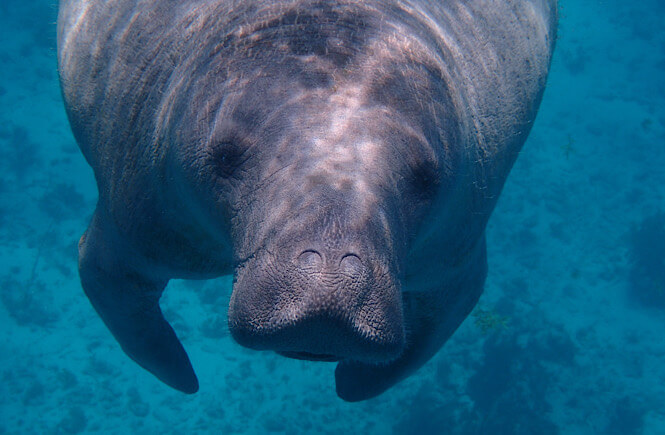 While I personally haven't been to these last five destinations, no US bucket list would be complete without them. So, I've included a few adventures in the US I'm dying to check off my bucket list too!
21. Swim with the Manatees in Crystal River, Florida
I think swimming with the manatees in Crystal River, Florida would pretty much be the coolest thing ever!! I don't know many places where interacting with animals in the wild is this easy! And ethical! This would be a major bucket list check for me and I imagine a lot of people!
Seriously, could they be any cuter??
Ever since I attended a small local balloon festival I've been dreaming of attending the famous Albuquerque International Balloon Festival. Each year in October, massive amounts of people flock to Albuquerque, New Mexico for balloon competitions, music concerts, and the highly anticipated mass ascension of balloons. I can just image the goosebumps as the balloons lift into the air to the Star Spangled Banner…I mean seriously, how could this not belong on a USA travel bucket list?
Update!! Although I still have not made it to New Mexico, I did ride in a hot air balloon right here in good old North Carolina!! Read all about my exciting trip to Statesville, NC and one of my most favorite adventures in the US last year!
Alaska is a total dream destination full of bucket list experiences!
Take in all the scenic landscapes of the Alaskan National Parks: Denali National Park, Glacier Bay National Park, Kenai Fjords National Park, Katmai National Park
Hang out in Anchorage, Fairbanks, or Juneau.
Ride the famous White Pass and Yukon Train.
Check a major bucket list item by seeing the Northern Lights.
From bears to whales…check out the wildlife!
Take a dog sledding tour.
24. Live it Up in New Orleans
I've not yet made it to New Orleans, but a trip to the Big Easy is definitely on the agenda! I know there are so many fun things to do in New Orleans but here are a few things that are definitely on my list:
Explore the French Quarter, Bourbon Street, and eat beignets at Cafe Du Monde in New Orleans.
Attend Jazz Fest!
Cheer on the Saints at the Superdome!
Get wild and crazy at Mardi Gras.
25. Experience True Paradise in Hawaii
Seriously, isn't Hawaii on everyone's US bucket list? Well, it's pretty much at the top of mine! While my husband has already been to Hawaii, I cannot wait to check these items off one by one!
Explore the famous Road to Hana in Maui.
Watch the surfers hang ten at Waikiki Beach or the North Shore of Oahu. (This is number 1 on my son's bucket list!)
Take a helicopter tour over the volcano on the Big Island!
Devour all the fresh pineapple I can find!
Pay our respects at the Pearl Harbor National Memorial.
Catch the sunrise at Haleakala.
Swim with the sea turtles.
Discover the Na Pali Coast and go hiking in Kauai.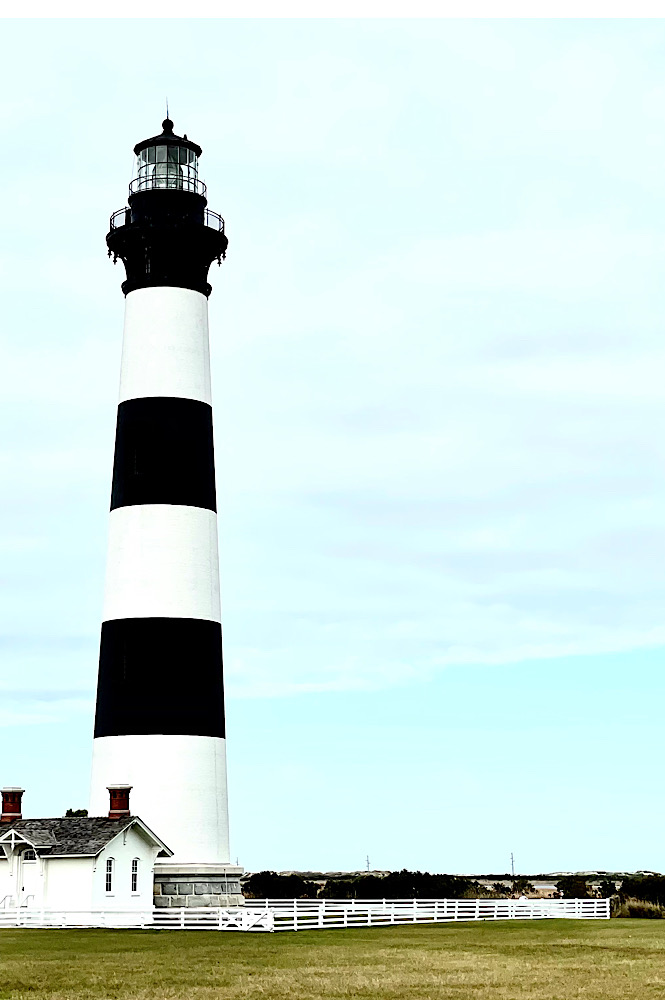 Runner Up US Bucket List Destinations
It's so hard to choose only 25 US bucket list destinations. The USA truly has so many incredible cities and experiences!! Maybe I'm just being indecisive. LOL. Anyhow, here are some of our runner up choices for bucket list experiences and destinations in the United States:
Sedona, Arizona
Austin, Texas
Acadia National Park
Makinac Island, Michigan
Where Should I Travel to Next?
So many epic USA adventures, so little time! So how exactly do you choose where to start?
Consider your WHY.
One of the major shifts in the way our family travels now is by choosing our destinations intentionally. I truly believe that you will create epic memories and have more meaningful experiences when you choose intentional travel.
How does one travel intentionally?
Consider your why and your values when you are choosing your destination. What do you enjoy doing most on vacation? In the limited amount of time you have each year for vacation, how do you want to spend your time off?
What are your travel goals?
relaxation?
education?
adventure?
being in nature?
experiencing new cultures?
food?
history?
Try taking your values into account when choosing your next adventure! When traveling as a family, I try very hard to find a vacation that meets everyone's goals at some point during the trip. If I plan one day specifically for the kids, then next day might be for the adults.
USA Bucket List Travel Adventures
Wherever you choose to go first, the USA truly does offer some of the most epic things to do before you die.
Too Dramatic?
Maybe…but don't wait! Start checking off these bucket list places to visit while you still can- life is short friends. Begin building those epic experiences and meaningful memories NOW!
Thinking of creating your own bucket list? Read on for even more inspo and grab a free bucket list template too!
Which US bucket list experience will you check off first? Tell me in the comments below!
Pin these images for when you need some ideas or inspiration for your next adventurous vacation in the USA!