Visiting Martha's Vineyard
So you've decided on a day trip to Martha's Vineyard from Falmouth MA?
You're going to have the best time!!!
While you can do a day trip to Martha's Vineyard from Boston, Rhode Island, or even New York, I think the best destination to depart from is Falmouth on Cape Cod. This way you'll be able to maximize your time on the island! Of course you can certainly leave from the other cities, just make sure to factor in your drive time, ferry time, and the dreaded traffic!!
Where is Martha's Vineyard?
Martha's Vineyard is a tiny little island about seven miles off the southern coast of Cape Cod, Massachusetts.
How to Get to Martha's Vineyard from Falmouth?
You can take the ferry to Martha's Vineyard from several locations: Woods Hole, Falmouth, and New Bedford, Nantucket, and Hyannis in Massachusetts. In addition there are ferries from Rhode Island, New Jersey, and New York. Some of these ferries are seasonal so your best bet is to check the most current ferry information before planning your day trip to Martha's Vineyard. Your Martha's Vineyard itinerary will be affected by the ferry schedule, so be sure to plan accordingly!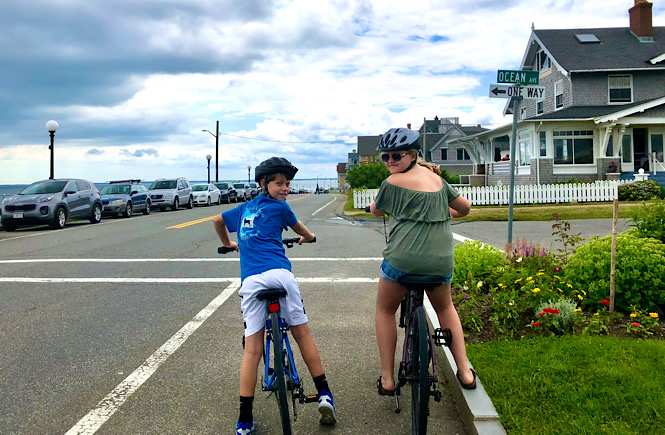 Martha's Vineyard Day Trip Itinerary
Take the ferry for your day trip to Martha's Vineyard from Falmouth.
Rent bikes for the day.
Stop by the famous Jaws Bridge.
Check out the kite surfers.
Visit Edgartown.
Go shopping!
Go to the beach.
See the Martha's Vineyard Gingerbread Houses.
See the Flying Horses- America's oldest carousel!
Check out downtown Oak Bluffs.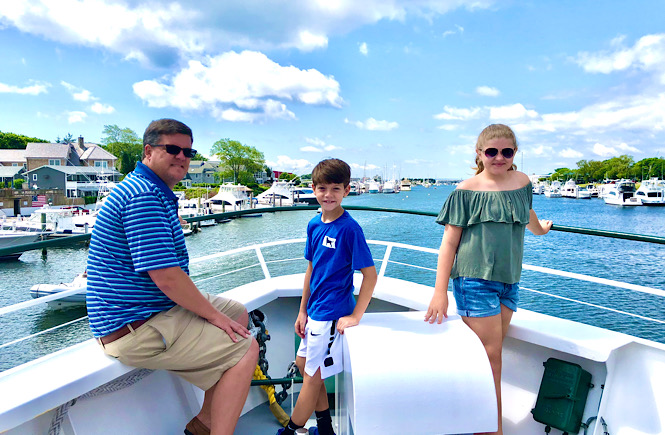 10 Fun Things to Do on a Day Trip to Martha's Vineyard from Falmouth
My first piece of advice when planning your day trip to Martha's Vineyard is to set your expectations accordingly. I've read some reviews where people felt slightly disappointed by Martha's Vineyard because they are used to beaches elsewhere around the country. Coming from North Carolina where we have large sandy beaches and warmer waters, you might be disappointed by the beaches in the Cape Cod area. The summers are cooler in New England…which is a good thing! But it also makes your beach experience different.
Is Martha's Vineyard worth visiting?
In my opinion, HECK YEAH!! We personally loved our day trip to Martha's Vineyard!! We found the slower paced island life to be quite charming and biking around the island was one of the best memories of our summer. Visiting Martha's Vineyard was one of the highlights of our recent Boston to Niagara Falls road trip.
Love a road trip too? Grab our road trip essentials checklist and add Martha's Vineyard to your New England road trip!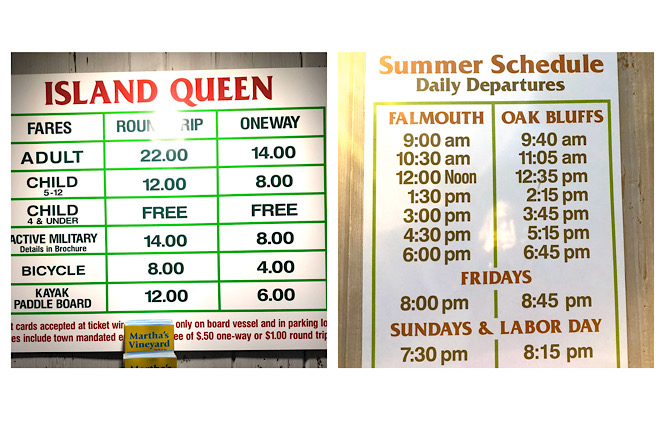 Seeing a lot of Martha's Vineyard in one day is totally doable. Can you see the entire island…doubtful. But you can see a lot! So without further ado…here are our suggestions for the top 10 things to do our your day trip to Martha's Vineyard!
1. Take the Ferry from Falmouth!
For those of us who don't ride a ferry on a regular basis, part of the fun is the experience of taking the ferry to Martha's Vineyard! We had a beautiful day for our boat ride on the Island Queen. Our kids absolutely love being out on the water. We purchased our tickets the night before our day trip since we were staying in the little town of Falmouth. The ferry ride took about thirty minutes and was a super smooth ride.
2. Rent Bikes for the Day!
When we got off the ferry in Oak Bluffs on Martha's Vineyard we walked right across the street to the bike rental shop. We did not have prior reservations although you should probably consider making them if you're visiting during the high season (July/ August).
I already said it above, but I'll say it again! Renting bikes and riding around the island was one of the highlights of our day trip to Martha's Vineyard!
Anderson Bike Rentals were so friendly and helpful in getting our family set for the day. They had bikes of all sizes, provided helmets for our whole family, and bike locks for around $25 USD per day. They do have baby/toddler trailers and carriers for rent as well. My bike also had a basket for my day bag and purchases too! They also were super helpful in suggesting our touring route of Martha's Vineyard for the day, gave us a map, and phone numbers to call in case of emergency. We chose to follow their suggested Martha's Vineyard itinerary by heading first to Edgartown and then returning to Oak Bluffs which is approximately twelve miles round trip.
KNOW BEFORE YOU GO: I'm not super in shape or athletic. The bike ride to Edgartown was very flat and easy. The bike ride back to Oak Bluffs was much harder because we were riding into a headwind. However, it was also totally doable by taking a few breaks during our trek back. If you do not feel up to exploring Martha's Vineyard by bicycle, there is a very easy, affordable public bus system that runs all over the island. In addition, you can rent a jeep or vehicle for your day trip to Martha's Vineyard right near the ferry terminal as well.
3. Stop by the Jaws Bridge.
Martha's Vineyard is very well known for a few things, one of which is being the filming location for the movie Jaws. On your way to Edgartown, you will pass over the American Legion Memorial Bridge, AKA The Jaws Bridge.
PRO TIP: Even if you are not a Jaws fan or your kids have never even heard of the movie (ours had not), this bridge is a popular place for people to jump into the water. We didn't allow our kids to do it…but of course we had to have our fair share of begging. It was however a perfect place for a break and watching other people jump off the bridge. Also, it's a great spot for some photos! Be sure to add this to your Martha's Vineyard itinerary.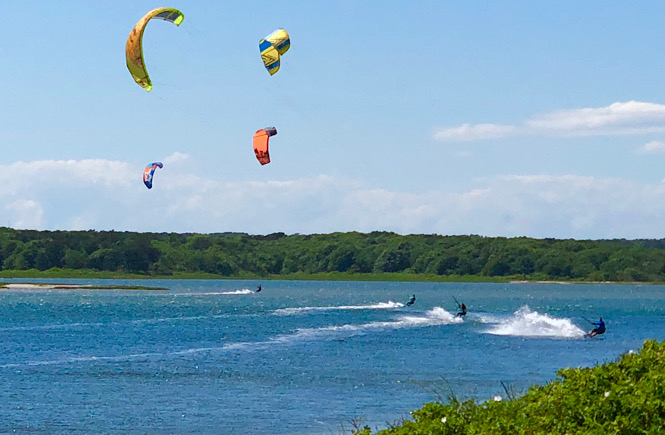 4. Kite Surfing
Ok…so you might not be up for kite surfing yourself, but it's at least worth a few minutes to stop and watch. Our kids were fascinated by watching the kite surfers during our visit to Martha's Vineyard! Plus, it's another reason for a bicycle break if you need one! Some other fun outdoor activities on Martha's Vineyard include: kayaking, hiking, stand up paddle boarding, and fishing.
5. Visit Edgartown
Once you've arrived in Edgartown, you should check out the absolutely adorable shops, the beautiful waterfront, and harbor area. We definitely had worked up an appetite biking to Edgartown from Oak Bluffs so brunch was first on our agenda! Lucky Hank's was the perfect stop as we're always fans of local, fresh, and homemade food! (Bonus: they had bike racks in the parking lot!)
6. Shopping in Martha's Vineyard.
Martha's Vineyard is known for a couple of very famous brands…stopping into shop at Vineyard Vines and the Black Dog were two must do's on our Martha's Vineyard day trip itinerary! We loved wandering around the little town of Edgartown popping in and out of shops before heading back to explore Oak Bluffs.
Fun Fact: Martha's Vineyard town by-laws don't allow chain retailers. You won't find any Starbucks, McDonald's, or other popular chains on the island. There is a locally owned Dairy Queen that snuck in before the laws were made, but overall you're going to find unique and locally owned businesses on Martha's Vineyard. As independent business owners, we LOVE shopping local whenever and where ever possible!!
7. Go to the Beach.
As I mentioned earlier, not all beaches are created equal. But the beaches on Martha's Vineyard were still beautiful. Joseph Sylvia State Beach was the perfect stop for a break on our return bicycle ride from Edgartown to Oak Bluffs. While the water was way too cold in June for us, my motto is: Any beach day is a good day!
KNOW BEFORE YOU GO: Not all beaches on Martha's Vineyard are public and many require resident passes. Check before you go!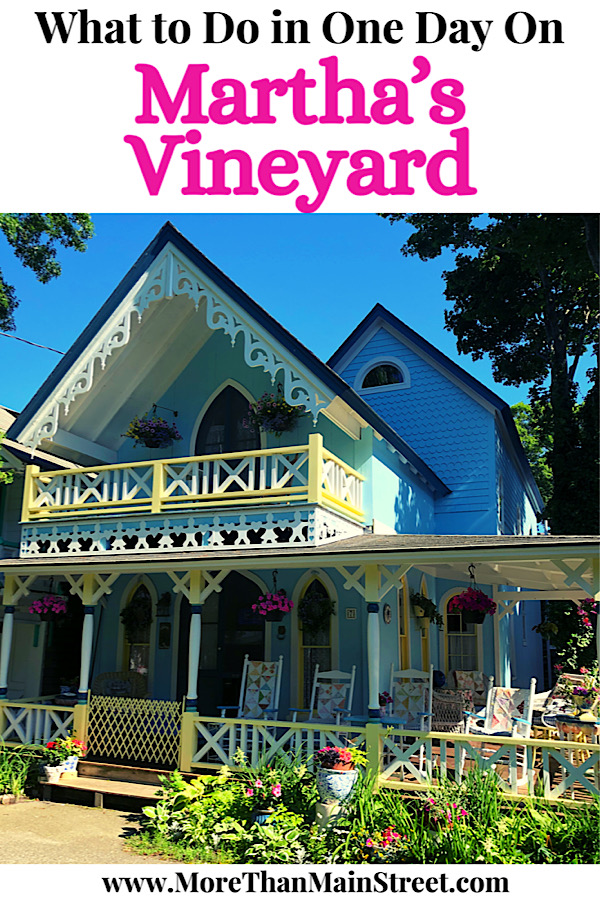 PIN THIS FOR YOUR FUTURE DAY TRIP TO MARTHA'S VINEYARD!
8. Martha's Vineyard Gingerbread Houses
Your one day trip to Martha's Vineyard will not be complete without seeing the famous gingerbread cottages. If you are a little confused, don't worry, I was too. The gingerbread cottages are officially called the Martha's Vineyard Camp Meeting Association. Over 300 privately owned homes that are seriously CUTE AS CAN BE!! Dating back to the early 1800's, the Methodist Church used to gather during the summer on Martha's Vineyard. Some participants decided to stay, tents became cottages, and residents became competitive in trying to outdo each other by creating the elaborate cottages you see today. There is a small museum and shop open seasonally. You can check current prices and hours HERE.
9. Check out America's Oldest Carousel.
After you've gotten your fill of the adorable gingerbread houses, you must also add the Flying Horses, America's oldest working carousel to your Martha's Vineyard itinerary. People of all ages will love the nostalgic feel of this official historic landmark. And don't forget to try your luck at winning a free ride by catching a brass ring!
10. Visit Downtown Oak Bluffs
Our final stop was downtown Oak Bluffs for a little more window shopping and an ice cream cone from Mad Martha's. It's an adorable little downtown area that is very walk-able. With tired legs we returned our bikes and walked back over to board the ferry back to Falmouth. Our day trip to Martha's Vineyard from Falmouth was an adventure we will always remember.
What to Take to Martha's Vineyard
What do you need to bring with for your Martha's Vineyard one day trip? I'd suggest the following:
Sunscreen or a hat
Good walking shoes
Cash! (Not every establishment on the island took credit cards.)
Beach bag (Towel, swim suit, etc if you plan to get in the water!)
Camera
An extra phone charger
Light jacket or sweater (Check the weather before you go!)
More Fun Things to Do When You Visit Martha's Vineyard from Falmouth in One Day
We couldn't do everything in just one day, but here are some more options of fun things to do on Martha's Vineyard:
Aquinnah Cliffs
Menemsha Hills
Gay Head Cliffs
Go lighthouse hunting! There are five lighthouses on Martha's Vineyard: The West Chop Lighthouse, The East Chop Lighthouse, The Edgartown Lighthouse, The Gay Head Lighthouse, and The Cape Poge Lighthouse.
Ride the Chappy Ferry (Only 547 feet across, the area is another important scene from the movie Jaws and the site of the tragic Kennedy car accident.)
Chappaquiddick Japanese Gardens
Visit the Alpaca Farm
Learn about the Wampanog Indians
Visit the town of Vineyard Haven
We had the perfect day trip to Martha's Vineyard from Falmouth! Have you visited Martha's Vineyard? What were your favorite activities? Do you think one day is enough time on Martha's Vineyard? Tell me in the comments below! I think maybe on our next trip, I'd love to spend an entire weekend slowing down and soaking in the island a little more!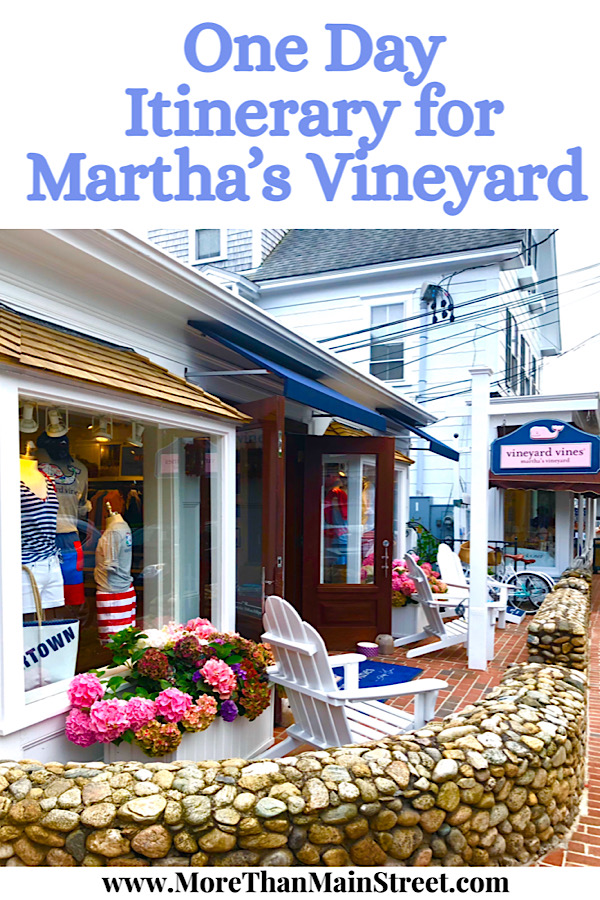 PIN THIS FOR YOUR FUTURE DAY TRIP TO MARTHA'S VINEYARD!