Family Road Trip from Boston to Niagara Falls
Planning a family road trip from Boston to Niagara Falls? YAY!! The Northeast USA has so many beautiful and fun destinations you and your family will love! Follow our epic New England road trip itinerary to find out our best tips, fun things to do with kids, and exciting places to stop on the way to Niagara Falls.
New England is probably most well known for it's fall foliage road trips and THAT should definitely be on your bucket list. But, this summer Northeast road trip itinerary gives you a little something different to see and do. And truly, Niagara Falls is one of the most iconic landmarks in the USA and should not be missed!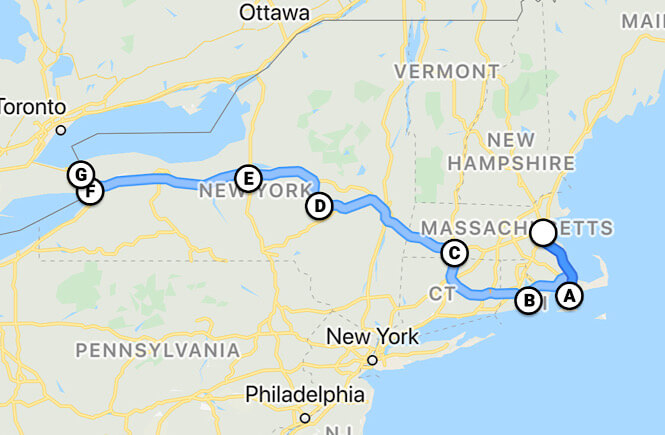 Boston to Niagara Falls Road Trip Itinerary
Because we don't live in New England, we wanted to get the most out of our summer family vacation. Our 10 day New England road trip itinerary really packed a punch covering several family friendly destinations in Massachusetts, Rhode Island, and New York! We had the best time and I really think your family might love it too!
For this road trip we chose to fly into Boston, Massachusetts, (Boston Logan International, BOS), get a one way car rental*, and fly home from Buffalo, New York (Buffalo Niagara International Airport, BUF).
Love a road trip too? Don't forget these road trip essentials (Plus FREE checklist).
*KNOW BEFORE YOU GO ON YOUR BOSTON TO NIAGARA FALLS ROAD TRIP
We don't always recommend one way car rentals as they can be more than double the normal price to rent a car. However, this particular road trip from Boston to Niagara Falls had similar rates as a round trip car rental.
Moral of the story: always check the rental car rates before setting your itinerary!
This post contains affiliate links which means I could earn a small commission, if you make a purchase, at no additional cost to you. As an Amazon Associate, I earn from qualifying purchases. For more information, read my full Disclosure HERE.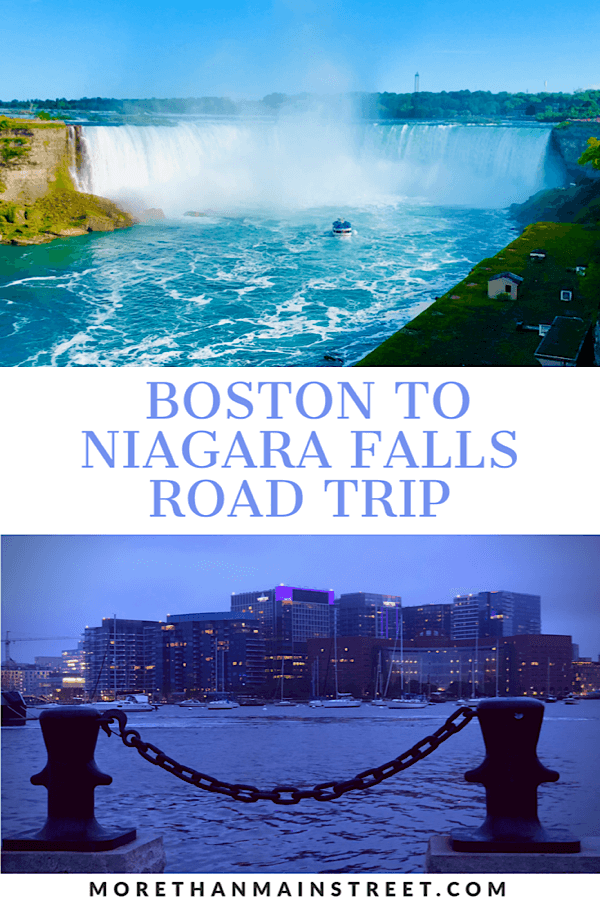 10 day New England Road Trip Itinerary:
Day 1: Arrive Boston, Massachusetts
Day 2: Boston
Day 3: Cape Cod (Falmouth)
Day 4: Martha's Vineyard
Day 5: Newport, Rhode Island
Day 6: Springfield, Massachusetts
Day 7: Albany, Cooperstown, Syracuse
Day 8: Niagara Falls
Day 9: Niagara Falls
Day 10: Depart Buffalo, New York
How far is the drive from Boston to Niagara Falls?
The drive from Boston to Niagara Falls is about seven hours if you drive direct. You could easily make Niagara Falls a long weekend getaway. But…in our opinion, this is one of the best New England road trips if you have the time!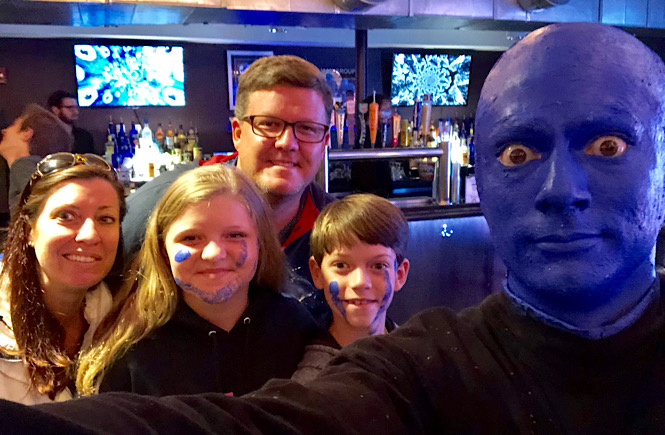 Road Trip to Niagara Falls! (Plus a lot of fun along the way!)
Days 1 and 2: Boston, Massachusetts
You don't necessarily need a car in Boston, parking can be a bit difficult, and Uber and Lyft are readily available. However, we went ahead and picked up our rental car from the airport to save us time since we would need it for the rest of our Boston to Niagara Falls road trip.
There are so many fun things to do in Boston. Truthfully you could probably spend an entire week there, but we were going to make the most of just two days in the city!
Our original Boston itinerary was to catch a baseball game at Fenway Park, explore the Freedom Trail and Boston Common, and explore the Harvard University area. Unfortunately, the weather didn't cooperate during our stay, so instead we had to look for some fun things to do in Boston when it rains. We saw the Blue Man Group at the Charles Playhouse, found a fun playground in the Theater District in between rain showers, and explored Faneuil Hall and Quincy Market.
Some other ideas of fun things to do in Boston are:
Boston Tea Party Ships and Museum
USS Constitution
New England Aquarium
Paul Revere House
Museum of Science
Boston Harbor Islands National & State Park
Visit the Boston Public Library
Isabella Stewart Gardner Museum
John F. Kennedy Presidential Museum & Library
Looking for a fun place to stay? Check out these awesome Boston hotels with rooftop pools!
Day 3: Cape Cod (Falmouth)
Today we drove about an hour and a half to Cape Cod- be aware drive times can be drastically different depending on time of day and traffic!
Detour: We were able to fit in a quick detour through Plymouth, Massachusetts to see Plymouth Rock. To be honest, we had heard Plymouth Rock was a dud. I had read reviews that it was pretty much just a rock and pretty boring.
BUT…we really enjoyed this stop! We timed it perfectly and were able to catch the 10 minute historical talk they do each hour and were able to ask the park guide questions. The park guide did a great job making "just a rock" really interesting!
Once we arrived in Falmouth on Cape Cod, we checked into this cutest little house we rented through VRBO. Since we were within walking distance of the beach we checked that out first. It was way too cold for swimming in June though! I was wearing a jacket- FYI! We did thoroughly enjoy the little downtown area of Falmouth and watching the sunset by the Nobska Lighthouse. Grab a great meal at the British Beer Company or Anejo Mexican Bistro!
Check rental home availability in Falmouth HERE!
Day 4: Martha's Vineyard
Our day trip to Martha's Vineyard was truly a highlight of our entire 10 day New England road trip!
We bought tickets for the Island Queen ferry the night before and headed over to Martha's Vineyard bright and early on day four! We explored the adorable island by bicycle, took in the beautiful sites, and even saw some of the famous Jaws filming sites. I highly recommend a trip to Martha's Vineyard…you won't regret it!
Get all our best tips, tricks, and more in our comprehensive guide for your day trip to Martha's Vineyard!
Day 5: Newport, Rhode Island
Next up on our family road trip was a stop in Newport, Rhode Island. We got up bright and early for the one and half hour drive. There are a ton of fun things to do in Newport…but since we were only in town for about half a day, here's what we checked out:
Check out the mega mansions on the famous Newport Cliff Walk
Climb the Forty Steps
Newport Car Museum
International Tennis Hall of Fame
We chose to go ahead and drive to Springfield, Massachusetts that evening (about a 2 hour drive). However, another option would be to stop and explore Providence, Rhode Island (which is only about a 40 minute drive from Newport) or spend the night in Newport.
Check hotel availability for Springfield HERE or Newport HERE.
Day 6: Springfield, Massachusetts
Springfield, Massachusetts was an unexpected surprise. Why?? Well…between the Naismith Memorial Basketball Hall of Fame and the Dr. Seuss Museum we had so much fun!!
As a sports loving family, we were super excited to go to the Basketball Hall of Fame. It's extremely well done with so many interactive exhibits. Between playing in a virtual game, playing on their real courts, measuring our wing spans, comparing our feet to many famous NBA stars, and recreating our own ESPN Sportscenter broadcast, this museum got an A+ from our entire family!
The Dr. Seuss Museum is actually part of a set of five world class museums in Springfield, Massachusetts. In addition to the Amazing World of Dr. Seuss Museum, you can visit the Springfield Science Museum, the Michele and Donald D'Amour Museum of Fine Arts, the Lyman and Merrie Wood Museum of Springfield History, the George Walter Vincent Smith Art Museum, and the Dr. Seuss National Memorial Sculpture Garden.
Know Before You Go: One ticket gets you into ALL 5 museums! Just make sure to save enough time to visit as many as you can! Ticket prices are:
Adult – $25
Seniors – $16.50
College Students with ID – $16.50
Children 3-17 – $13
Children 2 and Under – Free
History Library & Archives Only – $9
After a day full of museum touring, we drove one more hour to Albany, New York to spend the night. We did this to lessen the driving for the next day.
Check hotel availability in Albany HERE.
Day 7: Albany, Cooperstown, Syracuse, New York
Today will be your longest driving day. (Albany to Cooperstown is approximately an hour and a half followed by a four hour drive to Niagara Falls.) We chose to stop through Cooperstown, New York and pop in the Baseball Hall of Fame. I would actually advise skipping this stop unless you are a die hard baseball fan.
The town of Cooperstown is very cute but we were a bit disappointed in the museum. There weren't very many interactive exhibits. Most of the museum was historical and honestly just a lot of reading. We were underwhelmed.
We did love Dinosaur BBQ in Syracuse for dinner though!
Pro Tip: We also considered staying overnight in Cooperstown during our original planning process, however there aren't many big hotel chains. There are mostly smaller independent hotels, bed and breakfasts, or private rentals through AirBnb or VRBO. We were very happy we decided to make Cooperstown a quick stop rather than an entire day on our road trip to Niagara Falls. That being said, if you chose to stay here it would lessen your driving for this particular day of your New England road trip.
Alternate Places to Stop on your Boston to Niagara Falls Road Trip:
The really cool thing about this 10 day New England road trip itinerary is there are really a ton of options. If any of these attractions on the way to Niagara Falls don't interest you or you've already checked them off your list, consider stopping at some of these cool family friendly destinations instead: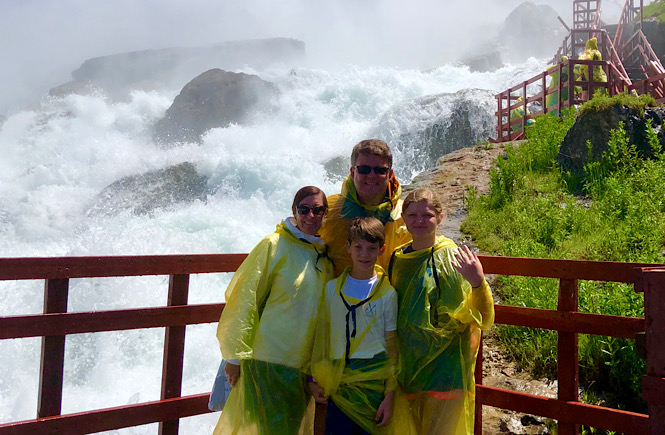 Days 8 and 9: Niagara Falls
YAY!! We finally arrived! We chose to explore both the US side of Niagara Falls and the Canadian side. I almost never splurge on a room with a view…for some reason this time I went for it. And let me tell you…it is 100% worth it! You should definitely consider getting a falls view room at Niagara Falls.
We highly recommend the Niagara Falls Marriott Fallsview Hotel and Spa. We LOVED our stay there!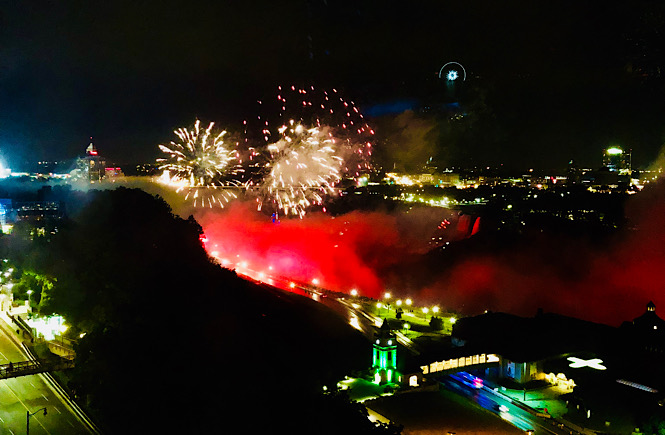 Tips for Visiting Niagara Falls:
Give yourself enough time to explore Niagara from both sides. The views are amazing from both the US side and from the Canadian side. Worth it!
Must do's: Maid of the Mist boat tour, Cave of the Winds, and take in the views from the Observation Tower in Niagara Falls State Park. (All three of these activities are on the US side of Niagara Falls, but there are comparable activities on the Canadian side.)
My kids said Cave of the Winds is the coolest thing they have ever done. The short walk to get there smells awful (because of the birds nearby) and you will get wet, but it's not everyday you can stand in a waterfall safely and experience it's mighty power.
Prepare to get wet and pack accordingly. Several activities like Maid of the Mist and Cave of the Winds will provide ponchos (and even shoes are provided for Cave of the Winds) but there is a persistent mist everywhere you go.
Walk over the Rainbow Bridge- you can literally stand with one foot in the USA and one foot in Canada- pretty cool! The official name of the Rainbow Bridge is the Niagara Falls International Rainbow Bridge.
Do you need your passport for Canada while visiting Niagara Falls? YES! Whether you walk or drive into Canada, you need your passport to enter/ exit the country.
Get the falls view room at Niagara- during the summer months they light up the falls with an awesome light show and do fireworks each night! The sunrise over the falls is also pretty epic!
Consider a day trip to the town of Niagara on the Lake.
Need more hotel options? Check out availability HERE.
Day 10: Depart Buffalo, New York
Again we chose to do a one way car rental and fly home from Buffalo, New York. Of course, if you are returning to Boston, you could certainly change up this Northeast road trip itinerary if you don't want to have an entire day of driving back to Boston.
What do you think of this Niagara Falls road trip itinerary? Think you have enough options and places to stop on the way to Niagara Falls? What would you do differently? Let me know in the comments below!