Road Trip Packing List & Essentials- All You Need for a Stress Free Road Tripping!
I love a road trip!
Seriously, it's one of my favorite ways to travel. But if you don't have all the necessary road trip essentials, things can go very very wrong, very very quickly. This ultimate family road trip packing list will cover all the road trip essentials including some random things you may not have thought of before. Learn from all of my silly mistakes and make this your best road trip yet!
So, are you ready to take the scenic route? Ready to be inspired? Ready for all that fun quality family time??
Then Let's Get Packing!!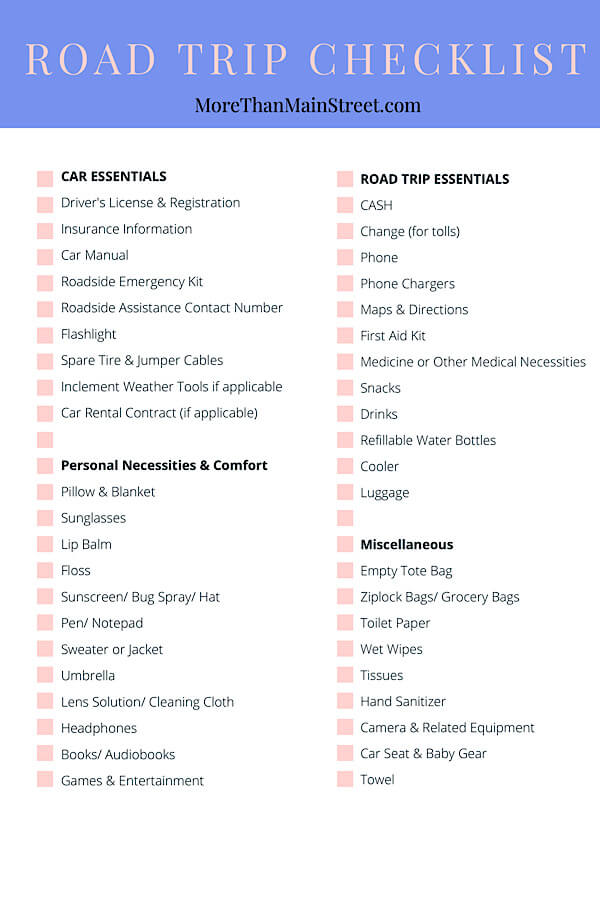 No time to write these road trip essentials down? Grab your free printable version of my road trip essentials checklist now!
Road Trip Essentials: The Ultimate Family Road Trip Packing List
We've road tripped around the country from California to Utah to Tennessee and much more! We've taken both road trips from our home state of North Carolina as well as flown to other cities, rented a car, and road tripped through states too! Some of my absolute favorite vacation memories have been random stops we've made along the way and unexpected hidden gems we have discovered like Bear Lake (home of the raspberry milkshake) and Driftwood Beach in Jekyll Island, Georgia at sunset.
Some of the benefits to road tripping are the ability to plan activities that you and your family will love, be spontaneous, and the ability to go at your own pace. A road trip isn't always about the destination…it's about the experience.
But, regardless of where you're going, you need to make sure you are prepared and have all the necessary road trip essentials. So if you've found yourself asking "What should I bring on a long road car trip?" this resource should help you make packing easier!
This post contains affiliate links which means I could earn a small commission, if you make a purchase, at no additional cost to you. As an Amazon Associate, I earn from qualifying purchases. For more information, read my full Disclosure HERE.
Y'all know how much I love quotes!! Here are some awesome road trip quotes to inspire you to hit the road!
Car Essentials: Road Trip Checklist for the Car
Whether you're taking your personal car or renting a car, always make sure to have the following items:
Driver's license & registration – Duh. Don't leave home without them!
Your insurance information
Car manual – we keep ours in our car anyhow, doesn't everyone?
Roadside emergency kit (We personally are AAA members- that gives us some peace of mind when driving!)
Roadside Assistance contact information – don't rely solely on your phone and the internet. At least screenshot your contact information in case you need it where there is poor cell service.
Spare tire & jumper cables – we had to jump some stranded family in the Grand Canyon…no fun!
Inclement weather tools (If you'll be road tripping through potential snowy conditions, make sure you have things like an ice scraper, ice melt, and tire chains.)
Car rental contract (if applicable)
Traveling in an RV? Read this guide for everything you need to know to plan an RV road trip!
Pro Tip: Whenever we rent a car, we take photos of the entire car before leaving the pick up location documenting any scratches or chips, etc. I also snap a photo of the rental car confirmation number and contact number for the rental car company.
Road Trip Essentials: The Basics
Each and every road trip has a set of basic road trip essentials. These are the things you'll need regardless of the location, length of trip, or who you're traveling with:
Cash! (I hardly ever carry much cash on me anymore, but we always do try to take some with us when we're on a road trip.)
Change! (Trust me on this one. Take at least a dollar or two in change for toll roads. A $.60 toll in Wisconsin cost us over $20 because we didn't have any change on us!!)
Phone – I mean, seriously, does anyone go anywhere without their phones anymore? LOL.
Phone chargers – we generally take a car charger, our normal wall chargers, AND a portable charger. We like to stay connected! Ha!
Maps and directions – We all rely on our phones so much now for directions, hardly anyone uses a paper map. But if you're planning to be on the road especially in areas where you may not have cell service, a paper map is a good idea. I also tend to screen shot directions on my phone ahead of time just in case I accidentally close out my Google maps. (Also have make this mistake.)
First Aid Kit – I carried a lot more first aid type items on me when my children were younger, now I typically carry band aids, Advil, and Benadryl in my purse and other essentials in my luggage. We don't travel to super remote locations, so we can usually find a store for any other needs that may arise.
Medicine & Other Medical Necessities – Don't forget any prescribed medication or medical equipment you might need . We have a food allergy in the family so we have to carry Epi pens on us at all times. This is my favorite carrier to maintain temperature!
Road Trip Snacks – Road trip snacks are very important!! Snacks have saved the day for us on many occasion! Whether you prefer healthy treats or junk food heaven (we like a good mix of both!), make sure snacks are on your road trip packing list!
Drinks – This is a no brainer- stay hydrated people!
Cooler – this can be tricky if you aren't leaving from home. There are two options if you are flying to your road trip destination: bring a collapsible cooler with you in your luggage or buy one when you get to your starting point. On our last road trip through Utah and Arizona we grabbed a cooler from Walmart for less than $15 and gave it to the housekeeper at our hotel on our last day.
Refillable water bottles – we really love our hydroflasks and have carried them all over the USA.
Luggage – Another duh. But seriously, don't over pack. Consider how much luggage space you have, especially if you are flying, and pack accordingly. You don't want to have to pay for a larger rental car because your luggage doesn't fit.
Everyone knows a road trip isn't complete without the perfect play list- get inspired with this list of over 100 best road trip songs!
Personal Necessities & Comfort Items
You know everyone has a set of personal comfort items that are MUST HAVE items on their road trip packing lists. Here are some things we don't leave home without:
Pillows and/ or blankets – For us, this all depends on if we're leaving from home or flying to our road trip destination. But doesn't everyone loves to have "their" pillow if possible?
Sunglasses – I don't leave home without mine! Period.
Lip balm – Another one of my must have items! (I'm a Burt's Bees fan personally!)
Floss – My husband, without fail, will ask me for floss..every. single. time. I like to throw all these small personal items in my KAVU bag!
Sunscreen and insect repellent – sunburn and bug bites are no fun! If your destination involves being outside, especially in the southern US states, I'd highly recommend bringing some!
Pen and notepad – I typically take notes in the Notes section of my Iphone, but there are still times when we need pen and paper.
Sweater/ jacket – I'm always freezing, so I always carry one…just in case!
Umbrella – personal preference on this one, but you never know when there might be an unexpected downpour. (We typically like to carry a raincoat, but I do like these mini travel umbrellas.)
Lens solution/ cleaning cloths – for those who use contact lens or wear glasses, this is a must have!
Headphones – we have a car full of VERY unhappy road trippers without our headphones. We're all in the Airpods fan club but Bose also makes some great noise cancelling headphones we've loved as well.
Books/ Audiobooks – I've recently become quite obsessed with Audible. It's my favorite way to read these days!
Road Trip Games/ Entertainment – Entertainment for adults and children should probably be number one on your family road trip packing list. We would all be miserable without some sort of entertainment! We like to listen to music and podcasts, read books, and watch movies on our phones. BUT, once you and your kids get tired of those standard options, you might need to get a little creative. I've even gotten little prizes from the Dollar Store to dole out throughout long car rides.
Miscellaneous Road Trip Essentials
Every road trip essentials checklist has some random things on it, right?? These are the things we have found to be VERY helpful on long family road trips!
Empty tote bag – I like to always have an extra bag with me. It never fails that I need something to carry the things we accumulate on our trips, food or supplies if we're buying groceries, or simply all the "kid stuff"…you know what I mean, right??
Ziplock bags/ Grocery bags – Not to be confused with a tote bag, I always have a grocery bag to use for trash. Mini travel trashcans take up too much space and I'm sorry but I just don't love to use a reusable trashcan in the car. (I mean we're throwing away gum, candy, tissues, banana peels, apple cores…stuff that is gross and sticky!) I feel OK with recycling a plastic grocery bag for trash. A ziplock bag is perfect for when you have something stinky or need to keep track of something. For instance, when your kid loses a tooth in the middle of your road trip, or no longer wants to wear their earrings, or wants to collect rocks! YES…these things happen!
Toilet paper – not all rest stops are created equal. I don't find this to be a need on every road trip, but there are some that are not maintained well at all…ahem, Utah, I'm looking at you!
Wet wipes – I've said this before. Wet wipes are like my number one must travel item. I use them to disinfect germy surfaces, we also have to be careful and clean due to my son's food allergy. Also, I hate sticky fingers. I just can't deal.
Tissues – I simply cannot stand listening to sniffles…at least not when they can be helped!
Hand sanitizer – germs. Ughhh. No one wants to be sick on vacation, if you can't use soap and water to wash your hands, then use hand sanitizer. I keep some in my car at all times…this is our family favorite!
Camera & related camera equipment – we use our phones as cameras now, but if like a traditional camera…don't forget your camera and gear at home!!
Car seat & necessary baby gear – obviously depending on the age of your children, you'll have different needs. I remember thinking I was packing the entire house for our road trips when my children were babies. We always packed the pack n play, stroller, bumbo, along with a zillion other items. But, hey…that's another perk of a road trip with young kids. You can bring all the things!
Towel – a random but very useful item. Whether you've gotten stuck in the rain, have a muddy kid, or want to have a spontaneous picnic, a towel just comes in super handy. Grab one of those cool trunk organizers to keep up with all these things!!
Pro Tip: If you plan on visiting any National Parks on your road trip, don't forget your membership card! If you don't already have one, you can usually purchase at the entrance to the park…just make sure to keep track of it!
Where to Next?
Need some road trip Inspo? We have over 50 road trip itineraries around the USA here on More than Main Street to get your travel planning juices flowing! Here are just a few of our favorite road trip ideas:
Road tripping to the beach? Grab out handy dandy beach day packing list too!!
Time to Hit the Open Road!
So…there you have it!
Your complete road trip essentials packing list!
Do you feel ready like you know what to pack for a road trip now? I know I feel way less stress and anxiety when I'm prepared! I hope this checklist has you feeling ready to tackle the road!
Happy Travels Friends!