Fun Ideas for Long Road Trips
Looking for things to do on a road trip for tweens and teens?
Need to occupy those tweens and teens when they finally get bored of their phones/ ipods/ tablets or GASP there is no cell phone service??
Because it does actually happen.
We love a road trip. We've driven from Salt Lake City, Utah to Yellowstone National Park, San Francisco to Yosemite National Park, and Raleigh, NC to Chattanooga, Tennessee just to name a few of our favorite road trips! We have tons road trip ideas for tween and teens based on experience!
My number one tip for occupying kids, tweens, teens, or even adults while traveling is to ENGAGE with them!
No matter how long you will be on the road, engaging with one another is key to keeping the boredom factor at bay. Trust me, I love to curl up with my book and zone out for an hour or two, but after awhile everyone can use a little conversation!
This post contains affiliate links which means I could earn a small commission, if you make a purchase, at no additional cost to you. As an Amazon Associate, I earn from qualifying purchases. For more information, read my full Disclosure HERE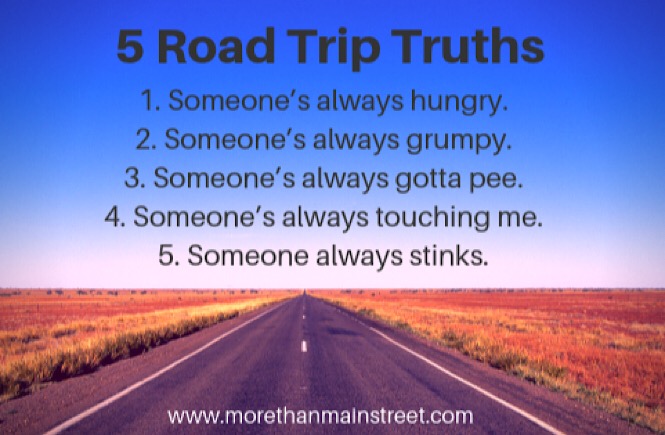 7 Best Things to Do on a Road Trip for Tweens & Teens
A road trip with tweens and teens does not have to be miserable. There are so many travel activities for teens and tweens beyond their cell phones!
Almost all of the following road trip activities will take a little advance planning. If you don't have time to prepare, just grab my Travel Boredom Busters cheat sheet so you can print, screen shot, or copy and paste into the notes section of your phone.
It's completely FREE– just subscribe below!
If you do subscribe, you'll have to confirm your subscription. And make sure to check your junk email folder if you don't see my email in your inbox!
Listen to Podcasts/ Audio Books with your Tweens & Teens
Recently we've discovered podcasts and it's safe to say I'm semi-obsessed. But, it takes a little effort to find something your whole family is into. What type of podcasts you like is a very personal thing in my opinion. My husband and son love something sports related. My daughter likes teen girl podcasts and I love personal growth. Your choices really depend a lot on the maturity of your children. We often let ours listen to adult podcasts especially if there's some good life lessons hidden in them. Some podcasts for tweens and teens that also make the adults happy are How I Built This, TED Talks, and Family Travel Radio. 
There's also audio books if your family is able to agree (this is a harder one for my family since we have pretty diverse taste). You can always download individual audio books to tween/ teen devices and bring some headphones (this works much better for us).
Dollar Tree/ Amazon Surprises
I don't like to go overboard at the Dollar Tree because I don't want to be wasteful. I also love to find inexpensive fun little things on Amazon. But I've found stick on mustaches, fake buck teeth, and fidget toys that can create a ton of silliness and laughter no matter what your age! Oh and if you're like our family and like some immature humor, don't forget to pick up a good old fashioned whoopie cushion.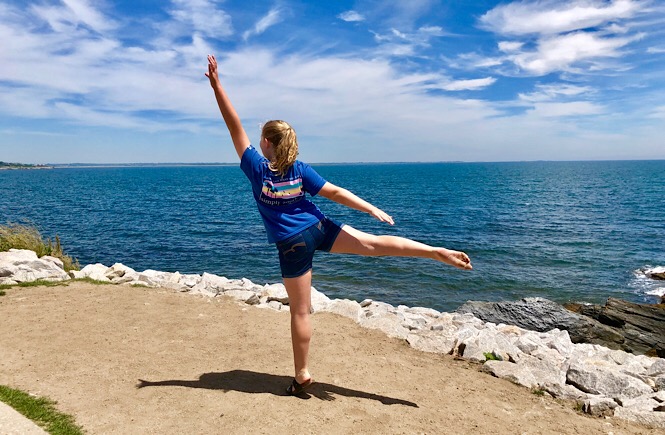 Road Trip Breaks
Taking breaks along the way is essential. Let the kids (and you!) get out and stretch, dance, or throw a football to break things up a bit. Everyone tends to be much happier when they get a minute to stretch and get some energy out. Last year my son decided he wanted to shoot basketball in everyway state we visited. So, we looked up parks with basketball courts along the way. He has now played basketball in New York, Massachusetts, Rhode Island and Canada!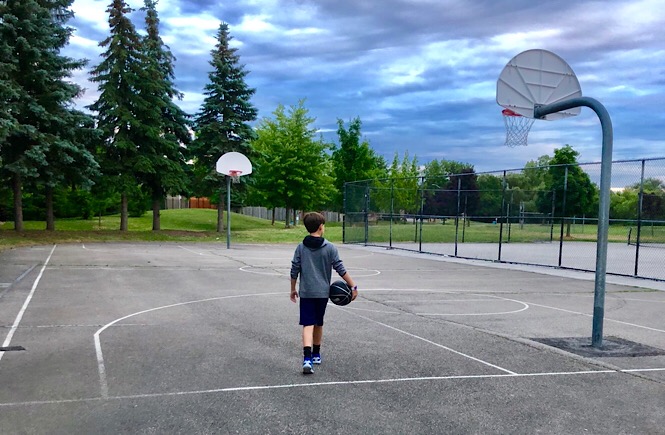 Drawing/ Coloring
You can pick up some very cool inexpensive coloring books, colored pencils, or gel pens at stores like TJ Maxx, Target, or good ole Amazon. My daughter loves the books with inspirational sayings. My son on the other hand loves a blank notebook he can doodle as he chooses. Coloring isn't just for little ones anymore!
Snacks for your Tweens and Teens
Another road trip essential is plenty of snacks! We usually stop to eat meals out on our road trips but always find we needs some snacks in between. We like to carry a small cooler with us for waters and drinks and fresh fruit like berries or grapes. I'm also a fan of lollipops for a treats…because they last longer than other candy! Pop Rocks are also a fun and entertaining sweet treat.
PROTIP: Bring a Ziploc or grocery bag for trash and wet wipes for cleaning up- these are so helpful for ALL ages!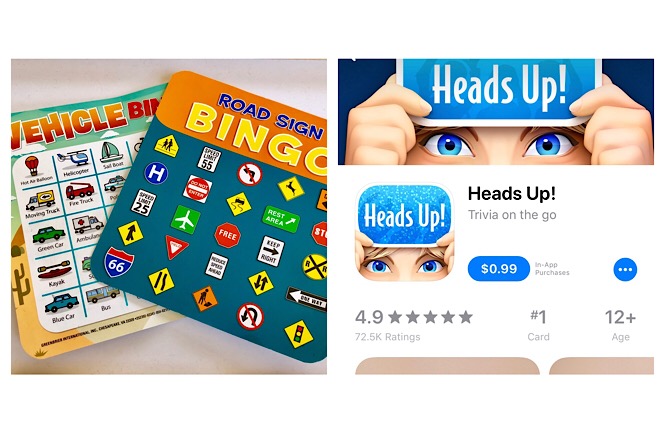 Road Trip Games for Teens and Tweens
Games are the most fun when everybody in the car participates (of course only when it is safe for the driver). Two simple options are Heads Up for $.99 in the App Store and Travel Bingo. We love playing Head Bandz at home and this is a travel version. It is hilarious and even though it says 12+ we've played with children as young as eight. Also I picked up this Travel Bingo at the Dollar Store and it has lasted years. It came with a dry erase marker so you can mark things off and then play again.
Some other fun games that we like to play are:
20 Questions: When one person in the car think of an person, place, or animal and everyone else can only ask yes or no questions to figure out what they are thinking of. We never actually limit anyone to 20 questions…that should probably depend on the age of your car trippers.
Categories: This is a game our family made up…seriously. But it stuck and we play it all the time. You decide on a category, for example: sports or transportation types. Then each person takes a turn naming something in that category until you can't think of anymore. The last person to name something wins.
3 Truths and a Lie: Simply take turns naming 3 truths and a lie. The rest of the players have to figure out which statement is the lie.
Boredom Busters: Grab some of our family favorites above. Then you can just print ahead of time, screen shot, or copy and paste into the notes section of your phone. Just subscribe and you'll get them and some other really cool free stuff too.
Challenges
Parents, if you don't know by now…"challenges" are all the rage. My kids are obsessed with watching and doing them. Now many challenges can't be done in the car. BUT if you're a little creative, challenges can be part of your road trip activities for tweens and teens plan!
So…if you're a little daring, maybe a bit crazy, and can tolerate a bit of chaos…let your tweens and teens do a challenge in the car. We took a group of girls for my daughters birthday to the beach about 2 1/2 hours away from our home. They did the Pringles Challenge on our road trip (the Pringles were on sale, haha!). I bought 7 different flavors of Pringles, one person chooses the flavor, everybody tries them, then each person tried to guess which flavor it is. Keep track of points if you wish!
My kids are also fans of the "Try not to laugh" or "Try not to sing" challenges. Guaranteed laughter will ensue. Bean Boozled is a fun game that can be played in the car too- just don't let them melt!
Make Your Road Trip with Tweens and Teens More Enjoyable!
There you have it…a few new and fun road trip activities for tweens and teens which will hopefully make your road trip more enjoyable for the entire family.
Do you have a road trip planned? What are your best teenage road trip ideas? Let me know in the comments below!
SAVE & PIN THE BEST THINGS TO DO ON A ROAD TRIP FOR TWEENS AND TEENS FOR LATER!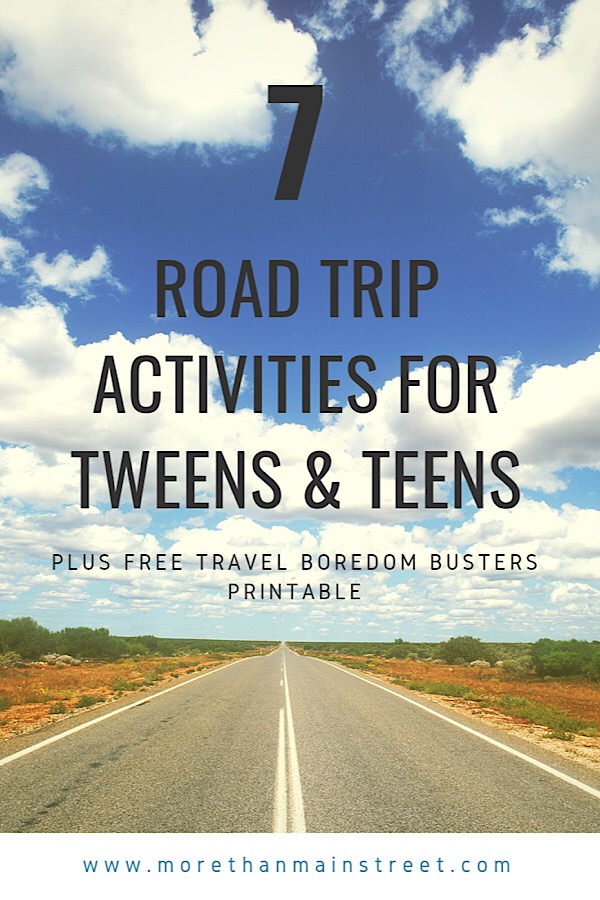 Share the Love!
If you liked this post and have the time, it would be a huge help if you'd share this post with your friends, leave a comment, or even hop on over to another post. All of these things help keep my little blog running.
I'll be oh so appreciative! Thanks for the support friends!