Paradise Island! Or not?
Planning to Visit The Atlantis with Kids?
A trip to the Atlantis with kids was a bucket list trip for our family. And don't get me wrong, we had an amazing time. But, we could've done it better.
I'm' a planner. I thought I did plenty of research. But… there were still quite a few things I wish I would've known beforehand!
Getting to the Atlantis Bahamas
The best way to get to the Atlantis is to fly into Nassau, (LPIA, formerly Nassau International Airport). We prearranged shuttle service from the airport to Atlantis through the resort but there appeared to be plenty of taxis available. It is about a 30 minute ride from the airport to the Atlantis resort.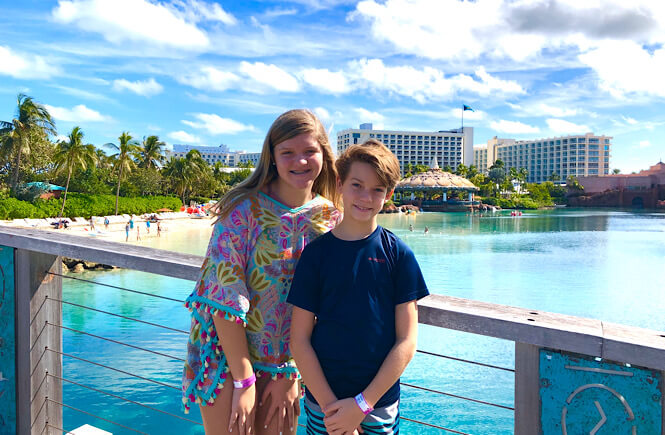 Top 10 Tips for Visiting Atlantis with Kids!
I've compiled a list of my best tips, tricks, and things to know before you go to help make your Bahamas family vacation at the Atlantis resort a success! We definitely think the Bahamas is one of the best islands to visit with kids, but hopefully this will help you determine if the Atlantis Resort is the best tropical destination for your family vacation!
1. Cost!
Is Atlantis Bahamas all inclusive? No! Unfortunately, it is not.
And…the Atlantis is very expensive! So just go ahead and prepare yourself for sticker shock. If you're looking for a budget vacation, then the Atlantis resort is probably not for you. Even with all the "how to save money at the Atlantis" and "budget" tips out there, in the end it is still an expensive vacation. Yes, you can use your Marriott Bonvoy rewards for your room and airfare and that is a huge savings, but for the average family who are paying out of pocket, there aren't a lot of ways to avoid the cost of getting there, staying, and food prices.
Know Before You Go: In addition to the cost of an item, a 15% gratuity and a 12% VAT (value added tax) will be added onto every purchase you make at the Atlantis.
Considering booking an Atlantis vacation? Check current rates and specials HERE!
Watch some of the highlights from our trip to the Atlantis:
2. Familiarize yourself with the Atlantis Resort BEFORE YOU GO with kids!
The Atlantis resort is HUGE! Try to familiarize yourself with the Atlantis property map ahead of time. Bring comfortable walking shoes, a stroller for little ones, and factor in walk time to get to your activity or destination. We wasted so much time just trying to figure out where things were.
Know Before You Go: After you familiarize yourself with the map, understand that the resort map is not very well done. We often found ourselves having to ask staff where things were located and some things aren't on the map at all.
3. Accommodations: Where to Stay at Atlantis with Kids?
There are five different hotel towers at the Atlantis: The Reef, Cove, Royal, Beach, and Coral. There are also apartment style villas at the Harborside Resort. While there are pros and cons to each of the different places to stay at the Atlantis, your budget and how much space you need may be the deciding factors. Some rooms have kitchenettes while others do not.
Know Before You Go: We stayed at the Royal and while it was probably the most central location on the resort, the room fell short of our expectations. My in-laws stayed in the Coral tower and had a recently renovated room with an amazing view of the marina. Our friends stayed in the Reef and while it was more expensive, they were very happy with their accommodations. The Cove and Reef have a dedicated pool for their guests which also helps with the cruise crowds. While I normally book most reservations online, my best recommendation would be to call the resort to book and find out if the tower you are planning to stay in has been recently renovated.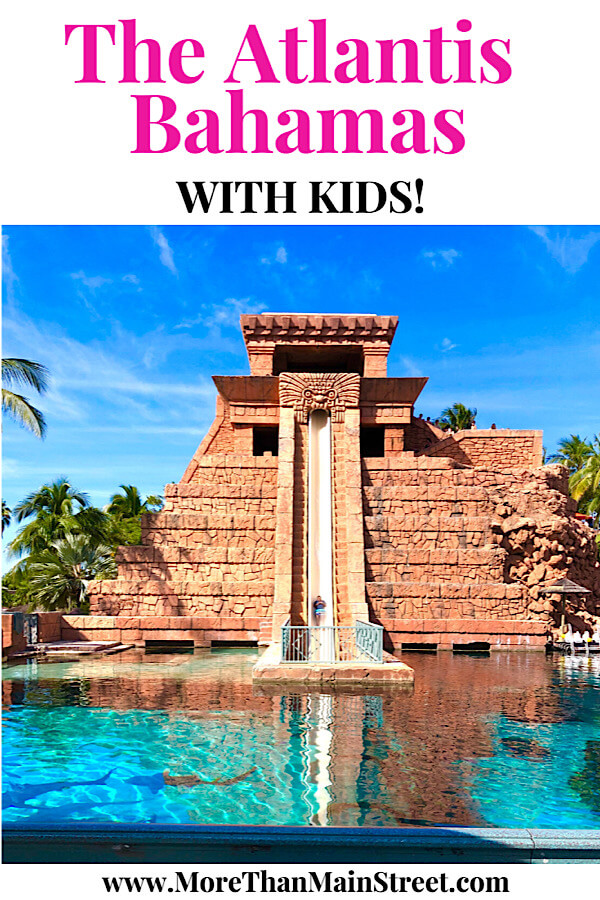 4. Aquaventure: The Atlantis Waterpark
Aquaventure, the Atlantis waterpark, is a huge draw for most families traveling to the Atlantis with kids. With 11 pools, a lazy river, a rapids river, eight water slides, and a fantastic kids splash and play area, kids will be entertained all day long. Adults too for that matter!
You must be 48″ tall to ride the water slides…and trust me, they were sticklers for this rule! Wristbands are required and can be picked up daily at the towel huts with your room key or day pass (where you can get towels too!).
Know Before You Go: The rapids river was definitely a favorite with our family, but just a heads up it takes 20-30 minutes from start to finish! There are no descriptions of the rides out on the property and you can not see the entire slide in some cases. This was a bummer for my non thrill seeking child in the fact that he wasn't sure what he was signing up for. He stuck to the serpent slide, rapids river, and the jungle slide mostly for a milder experience.
5. What is the Best Time of Year to Visit Atlantis with Kids?
I always recommend checking the average monthly temperatures in a location prior to making travel plans. We went to the Atlantis in November over Thanksgiving week because we went for a very specific event (the Battle 4 Atlantis basketball tournament which I highly recommend). The high was around 80 degrees Fahrenheit each day. This was almost too cold for me to be in the pools and oceans. While my family did ride most of the water slides, got in the pool and ocean, we were all shivering when we got out.
I'd definitely recommend going when the weather was a bit warmer than November. Remember to consider hurricane season and if you choose to go during fall then consider getting trip insurance.
Pro Tip: Consider what time the sun sets. If you go during the winter (the sunset was around 5 pm each day during our stay), you will be limited to what outdoor activities you can do each day.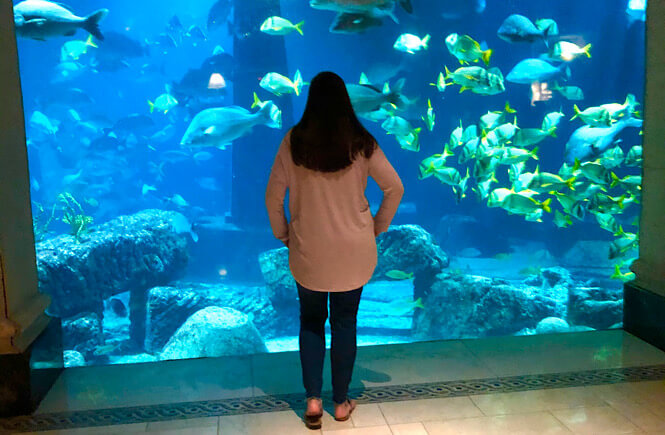 6. What to Do at Atlantis for Kids that's Included?
What's included at the Atlantis for kids:
The Atlantis water park: Aquaventure
11 pools & 5 miles of beaches
Rapids River ride and lazy river (life jackets available for free)
Viewing the marine habitats, aquariums, and some feedings
Basketball
The Atlantis Theater
The Atlantis Library
You can also spend quite a bit of time just exploring the resort. There is a cool rope bridge, an underwater tunnel, and other fun things to see around the resort.
There are three beaches at the Atlantis- two of which you can go snorkeling at while the other beach the waves are much bigger. There is also a lagoon where you can rent theses giant paddle bicycle boat things, swim, or snorkel. You have to rent snorkel equipment if you don't bring your own. If you choose to do the dolphin experience a snorkel and mask are included.
Pro-Tip: Check the daily sheet- if you don't have one for each day of your stay, make sure to pick one up at the front desk. The shark feeding was a surprise favorite for us- free and very cool.
7. Extras & Excursions at the Atlantis for Kids
There are a ton of choices when it comes to extras at the Atlantis. You and your kids can swim with the pigs, do the dolphin experience, make your own pottery, race RC cars at the Atlantis speedway, hang out at the kids club, and more!
There are also quite a few things that your kids cannot do: the spa, comedy club, casino, golf, fitness facility, tennis, and more.
Know Before You Go: Full disclosure – we did the swim with the dolphins experience. I've recently been learning about ethical vs non ethical animal encounters. I was conflicted about the issue when we booked the experience, but went ahead with it because it was something my daughter had "dreamed of".
The Atlantis touts their dolphin experience as dedicated to conservation, rehabilitation, and education. But I really didn't feel like much education was being offered around the experience. They also make a pretty big deal about rescuing their first 17 dolphins from Hurricane Katrina. But the truth is they were already building a dolphin enclosure when those dolphins ended up in the wild and they now have over 40 dolphins. Like I said, I'm conflicted. It was a very cool experience. One my children absolutely loved every second of. In the end, it's up to each individual to decide if they agree with this type of experience and wish to participate.
Going forward, I think we're going to try to be more animal friendly travelers. Not so sure we'll be doing anything like that again.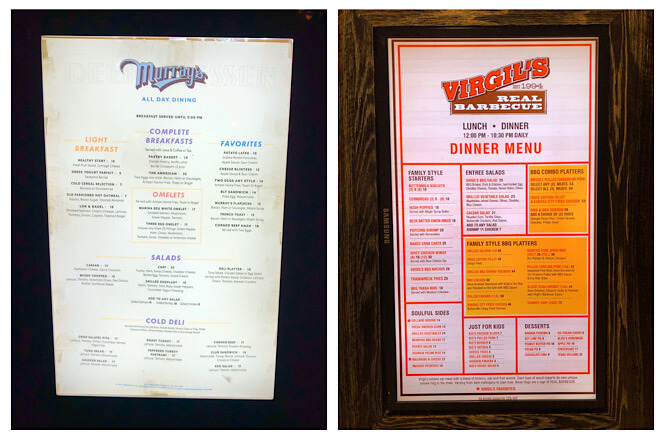 8. Food: Should you Buy the Atlantis Meal Plan?
The Atlantis Bahamas food was actually pretty good. I feel like that is one area where a lot of resorts fall short and overall we were very happy with the quality of food. The food prices at the Atlantis Bahamas on the other hand were out of control. We had friends to go a few months before us and they even warned us about the food costs and we were still shocked.
As you can see in some of the menu's above, prices are very high. Murray's is just a deli but Virgil's is a family style restaurant. The buffet, Poseidon's Table, was $133 for our family of four for breakfast and $230 for dinner (my daughter did count as an adult since she was 13 years old.) We got pizza, two salads, four drinks, and a dessert one night which was around $100. All I can say is food costs at the Atlantis really added up quickly.
We purchased the Aqua dining plan for our family. This is the basic plan and includes two meals a day from ten different restaurants. The cost is $85 per adult (ages 12 and older), $20 per child (ages 7-11), and free for children under the age of six. Again remember you have to add on the 12% VAT and $15 mandatory gratuity. We typically would eat a late breakfast around 10:30 am and dinner around 6 pm with our own snacks in between meals. We were relatively happy with the Atlantis dining plan but felt as though we were too limited within the ten restaurants.
I would recommend the dining plan if you have children who'd eat free, if you're only there a couple of days and you're not looking for fine dining, and if you don't mind eating two main meals per day.
BONUS! The Atlantis was actually quite allergy friendly and the staff were knowledge and helpful concerning my son's food allergy!!
9. Tips on Saving Money at the Atlantis
We're big points people. We are loyal Marriott Bonvoy members and use points from our Capitol One Visa to cover a lot of our travel. Even if you can't cover your stay or airfare with points, make sure to give the front desk your Bonvoy number and get credit for your stay!
Great ways to save money at the Atlantis:
Do the free daily activities- the animal feedings were surprisingly cool.
Make sure to leave time at checkout to go over your bill thoroughly- we caught several errors and they removed them without question.
If you're hoping to have a few drinks, buy alcohol at the duty free shop in the airport and make your own beverage. Don't forget to bring an insulated cup too! For reference a virgin daiquiri cost around $9, a mojito by the pool cost around $15 but a glass of wine and a mixed drink at the hotel lobby bar cost us $40.
Bring snacks with you!! We brought an entire backpack of snacks with us even though we still packed with just carry on only luggage!
Get a room with a kitchenette, grab some groceries, and fix food in your room.
Try a meal or two off property.
There is free WiFi in the rooms and pool areas. Three out of four of us only used WiFi, so we only had one phone with international phone fees.
Another way to save money at the Atlantis is to be prepared! Find out everything you need to bring in my Atlantis packing list post!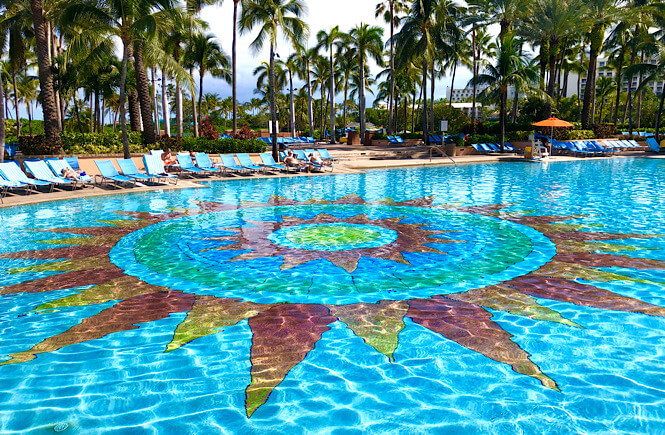 10. The Stuff No One Tells you About Going to the Atlantis.
Ok, here's where my honest (and probably unpopular) opinion comes out. I feel like I've only heard people rave about the Atlantis. But, I truly think, for the money, there are better places to go than the Atlantis. I personally wouldn't go back unless we were going for a special event. So many other resorts now have water parks, marine habitats, tropical excursions, etc. for less money. Nothing in particular stood out to me about the Atlantis that made it worth the price.
Here are some other drawbacks:
The cost of the food is outrageous.
The cruise ships, and other "established partners" sell day passes to the water park. The days the cruise ships are in port you may be fighting for a chair at the pool and waiting in much longer lines for rides and food than normal.
The beaches were fine, but to be honest, I've been to much nicer, more pristine beaches in the Caribbean.
My kids were bored in the evenings. For reference sake, we were there for a week. (I wouldn't recommend going for that long.) They loved the water park during the day, but it closed each day at 5 pm. And after dinner there really wasn't much for kids (ages 11 and 13) to do. My kids aren't the type to go to the tween/teen "club". And a free movie is fine but not every night. Mama wasn't going to pay for the arcade every night and the aquarium is good once, maybe twice.
I don't mean to come across negative. I just fully believe when you're going to spend that much money on a vacation, you should know what you're getting into!
Should you Go to the Atlantis with Kids?
If you're looking for a budget vacation, then NO.
If large numbers of people and cruise ship crowds bother you, then NO.
If you and your family LOVE a water park, then YES.
If you are going for a special event (like we did), then YES.
If you like a vacation where you don't have to leave the resort but you have to pay for most activities, then YES.
If you just want to see what the hype is about and check the Atlantis off your bucket list, then YES.
Ready to book your Atlantis vacation? Check out current rates and availability HERE!
In the end, there are a lot of pros and cons to going to the Atlantis with kids. With what seems like an incredibly family friendly vacation, there are a lot of adult only activities. If you LOVE a casino, the Atlantis has a very large and nice facility. We had a great trip and I can't recommend it more if you're going for the basketball tournament we went for. But…if you're just looking for a great kid friendly tropical destination, I might recommend Aruba or an all inclusive in Mexico over the Atlantis, especially if you are budget conscious.
What do you think? Have you been to the Atlantis with kids? Would you recommend going? Let me know in a comment below!