What to Bring to Atlantis for your Family Vacation
So…you have your Atlantis vacation booked! YAY!!
And…now you need to figure out what to bring to Atlantis.
No worries!
We've put together a complete packing essentials list to help make sure you bring everything you need to make your Atlantis Bahamas vacation a success!
This post on what to bring to Atlantis contains affiliate links which means I could earn a small commission, if you make a purchase, at no additional cost to you. As an Amazon Associate, I earn from qualifying purchases. For more info, read my full Disclosure HERE.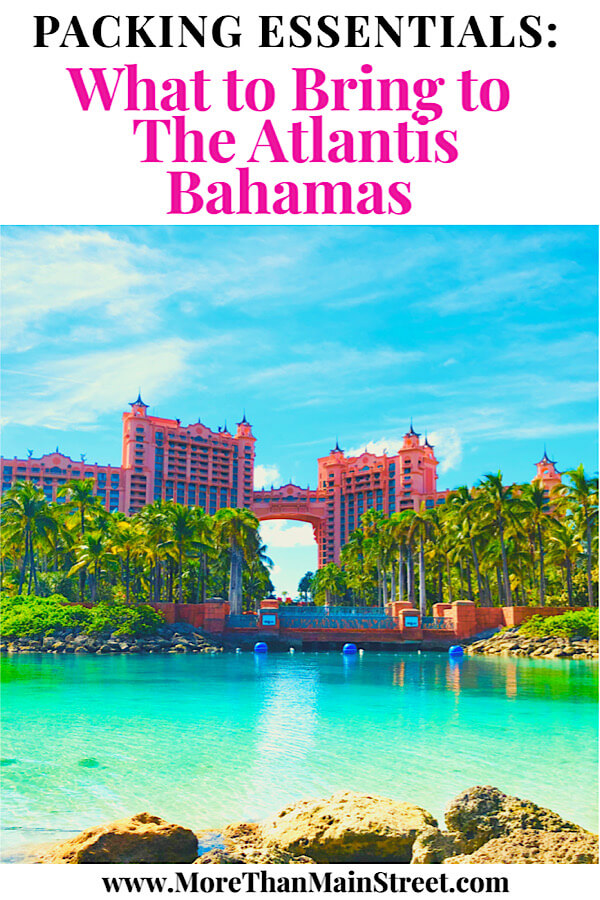 Haven't booked your Atlantis vacation yet? Check current rates and specials HERE!
Atlantis Packing Essentials
One of the best ways to ensure you have the best vacation ever is to be prepared! It also happens to be a great way to save money at the Atlantis. The Atlantis can be a very pricey vacation, so bringing a few items from home can really make a difference!
The weather averages around 80 degrees Fahrenheit during the daytime year round, so pack accordingly. We visited the Atlantis is November and it was around 65 -70 degrees each evening.
Packing Basics:
Shorts
Shirts
Bathing suits (I pack at least 2)
Underwear and bras
Dress/ Dinner attire (Most the Atlantis restaurants were very casual but a few have specific dress codes.)
Shoes and socks
Workout attire if needed
Hat
Sunglasses
Flip flops/ water shoes
Beach cover-up
Toiletries (the hotel did provide some basics but I like to bring my own shampoo/ conditioner, deodorant, toothpaste, toothbrush, floss, hairspray, lotion, etc.)
Pro Tip: I would also recommend bringing a sweater or sweatshirt as it was freezing inside the lobby, common areas, and restaurants. We visited the Atlantis is November and outside temperatures were around 65 -70 degrees in the evenings.
Atlantis Packing List for Nassau Bahamas
This "packing essentials list" are all the rest of the things you may not have thought of but will come in super handy during your Atlantis trip.
1. Lots of sunscreen!
However much sunscreen you think you will need. Double it. Seriously, the last thing you want is to end up with a sunburn…right? Sunscreen at home starts at around $8 per bottle. Sunscreen in the Atlantis convenience store started at $23. Throw in some after sun care items just in case too. If you plan to travel with only carry on luggage…just buy travel size. You'll still end up saving money.
2. Snacks
Food costs are extremely high at the Atlantis as you might expect. We did the meal plan which provides you with two meals a day. We brought a backpack full of snacks to tide us over in between meals. You can certainly buy lunch or snacks poolside, but if you're trying to be budget conscious, bringing snacks from home is an easy way to save money at the Atlantis.
3. Flip Flops & Water Shoes for the Atlantis
We wore flip flops around the resort and water park during our stay. But in the hotter summer months, consider bringing a pair of water shoes. Walkways can get very hot and burnt feet are really no fun!! Make sure your shoes are comfy as you'll likely do a lot of walking!
4. Swim Shirts or Rash Guards
My kids are pretty finicky about wearing swim shirts or rash guards. But if you can get your kids to wear them, then do! You will cut down on the amount of sunscreen AND I can't tell you how many people complained about their backs getting scrapes and scratches on several of the water slides. Swim shirts provide a great extra layer of protection.
PRO TIP: Use the laundry bag the hotel provides to put any wet bathing suits or clothing in when traveling home. Just make sure to unpack and wash them as soon as possible or they will stink!
5. Swim Cover Up
The Atlantis resort is HUGE! Swim cover ups were required in the restaurants and lobby areas of each of the hotels.
6. Snorkeling Gear & Goggles
If you already own snorkeling gear and goggles, bring them from home. If you choose to do the "swim with the dolphins" experience, a snorkeling mask and mouthpiece are included. Do it towards the beginning of your trip and you can use it the rest of your vacation. You can rent snorkeling gear but it seems more economical to me to just buy your own. They did sell snorkels and face masks in the Atlantis convenience store for around $25. We didn't find the need for fins anywhere.
7. Pool & Sand Toys
If you plan to spend any time on the beach with kids, consider bringing a few sand toys from home. These collapsable sand buckets are a great travel item for kids. My boys (that would be my son AND husband) also always love to throw a ball of some sort at the pool. And I love it so I can do a little reading or napping poolside!
8. Waterproof Phone Case
This is the exact waterproof phone case we have. It's such a great price AND has literally provided our family tons of entertainment. From snorkeling with it to taking it in the pool and down water slides, we have definitely gotten our money's worth out of this purchase!
9. Insulated Travel Cups & Collapsible Cooler
Did I mention how expensive food and drinks are at the Atlantis? Easy money saving solution…bring your own snacks and drinks to the beach or pool in this cool travel friendly collapsable cooler. We picked up some alcohol at the duty free shop in the airport and mixed a few drinks ahead of time which we just carried down to the pool in an insulated travel tumbler.
10. Beach Bag
Don't forget a beach bag to carry all your items around the Atlantis water park. I like to just use one bag as my purse and beach bag and then I carry a small handheld bag like this with my phone, room key, and other essentials. This way I can carry the small wristlet when I only need those items or throw it into my beach bag.
11. Lanyard for Hotel Key
Your hotel room key is basically cash at the Atlantis. You use it to charge everything. Carrying a lanyard for your hotel key is a great way to keep track of it.
12. Stroller for babies or kids
Again, the Atlantis is HUGE! Little feet may get tired easily. Bring a small lightweight travel stroller, baby wear, or whatever works for you. Just be prepared. There are free shuttles between the different hotel buildings at the Atlantis, but you may end up waiting depending on how busy the resort it during your visit.
13. Portable Speaker & Chargers
My husband loves to have music playing at all times. So we like to travel with a small portable speaker. And, if you plan to spend the day at the water park or on the beach, you may want to consider an extra charger. We typically like to set up a "home base" for the day, but the Atlantis was so big that we would sometimes set up in one area in the morning and a different area in the afternoon.
14. Mini Travel Medical Kit
Carrying essential medical items like waterproof band-aids, tylenol or advil, cotton swabs, travel size alcohol, etc always comes in helpful for our family. It never fails, someone needs something out of it!
15. Wet Wipes
Wet wipes are pretty much one of my packing essentials for every vacation. Germs are everywhere. Getting sick on vacation sucks. Wipe stuff down!
More Atlantis Tips & Tricks
Now that we've covered what to bring to Atlantis, here are a few other tips and tricks for your trip.
Towels were readily available at each towel hut around the property.
Wristbands must be worn around the property. They will give you a new wristband each day at the towel huts.
You'll get water coupons for each day of your stay- we received 4 per day (one bottle of water per person per day).
If you choose not to do a meal plan, make dinner reservations before you even arrive at the Atlantis!
Consider eating off site- not only can you save money but you'll get a more authentic Bahamas experience.
So… now that we've shared what to bring to Atlantis with you, do you feel ready for your vacation??
For more details on traveling to the Atlantis plus video highlights, be sure to check out my Atlantis Bahamas guide.