Looking for super fun spring break destinations for families?
Well…you're in luck! Because today, we have put together an amazing list of the unique spring break destinations for families in the US that you may have never considered before!
When you think of spring break spots in the US, you might think of Myrtle Beach, or Disney World, or Florida…
Am I right?
Well…I'm a big believer that it's not the destination that makes a vacation memorable, but rather the experience! You can have an amazing spring break vacation with family almost anywhere! Some of these ideas are more off the beaten path spring break destinations while some of them are tried and true vacations spots that you should consider. Either way, all these spring break trips for families are sure to deliver maximum fun and epic memories!
SAVE THESE 20 EPIC SPRING BREAK DESTINATIONS FOR FAMILIES FOR WHEN YOU'RE READY TO START PLANNING!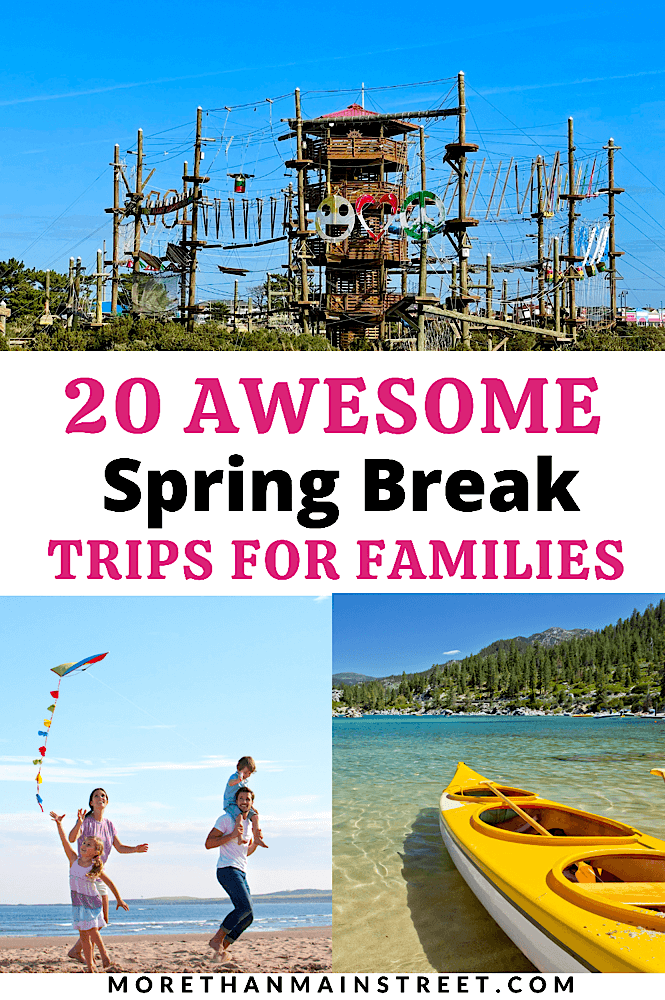 20 Best Spring Break Destinations for Families in the US
So…fellow travel bloggers and I have compiled a list of unique spring break destinations for families just for YOU!
Whether your family loves history, outdoor adventures, budget travel, or a more relaxed, low key vacation, we have spring break ideas to cover every experience imaginable. If the thought of another spring break at the same old places just doesn't get you excited, consider one of these fun filled, family friendly, spring break destinations in the US!
UPDATE! What started out as a list of 15 spring break destinations for families has now become 20! There are so many unique, off the beaten path destinations in the US to take your family – we wanted to share even more ideas with you!!
So which of these spring break destinations for families will you start planning next?
Outer Banks, North Carolina
Chicago, Illinois
Bald Head Island, North Carolina
Palm Springs, California
Asheville, North Carolina
Helen, Georgia
Kauai, Hawaii
Big Bend National Park, Texas
Lancaster, Pennsylvania
St. George, Utah
Boulder, Colorado
Albuquerque, New Mexico
Sedona, Arizona
Redwood National Park, California
Lake Tahoe, California
Sarasota, Florida
Boston, Massachusetts
Aspen, Colorado
Indianapolis, Indiana
Williamsburg, Virginia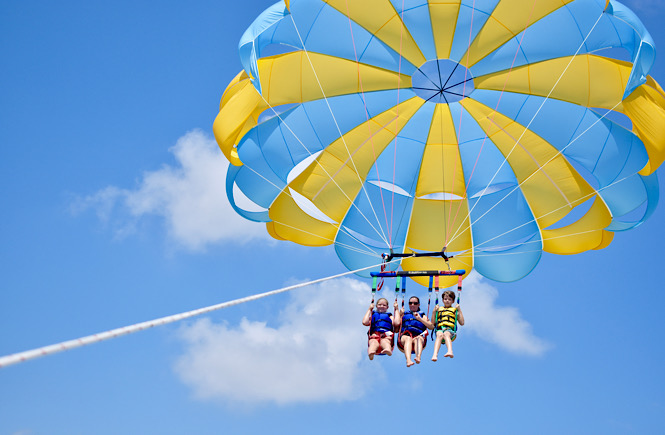 Outer Banks, North Carolina
The water may not quite be warm enough to go swimming in the spring, but don't worry one bit because there is more than enough fun things to do in the Outer Banks to keep your family smiling the entire time! The barrier islands of NC are an easy trip from Raleigh and a very popular summer destination.
Some of the best activities in spring in the Outer Banks:
Visit Jockey's Ridge State Park: explore the east coast's tallest living sand dune system, fly a kite, learn to hang glide, and catch the sunset!
Get your history lesson on at The Wright Brother's National Memorial
Go lighthouse hunting (there are five different lighthouses to discover on the Outer Banks!)
Visit the NC Aquarium
Go fishing
Go to the beach- if you want to go in the water, get a wet suit! Or just enjoy the sunshine, take a walk, collect seashells, or build sandcastles.
Get active! There's plenty of options for hiking, biking, paddle boarding, kayaking, and more in the Outer Banks.
Try a fun new adventure! Go parasailing, go tandem hang gliding, try kite surfing, or learn to surf.
Take a tour to see the wild horses of Corolla! This is a MUST DO activity in the Outer Banks!
The Outer Banks is one of the best spring break destinations for families, and I venture to say it's a destination you might decide to come back to again and again!
We've been to the Outer Banks almost every year for the last 15 years! We think it's one of the best beaches on the east coast and have been during every season and always find something fun to do! Read our family friendly guides to Nags Head and Corolla for more details!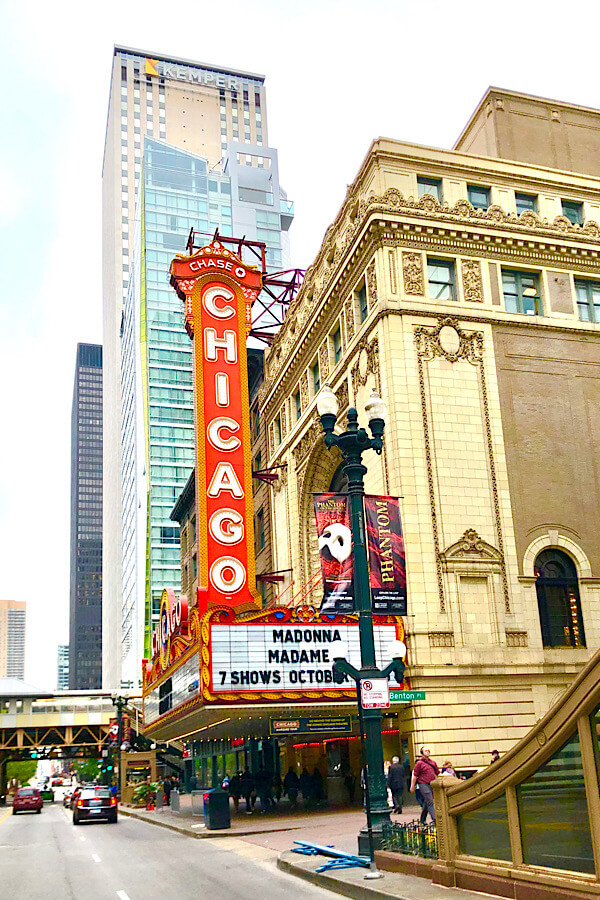 Chicago, Illinois
I'm not exactly anyone thinks of Chicago as a spring break destination for families…but I'd challenge you to reconsider! There are so many fun things to do in Chicago!! Some of our family favorites include:
Explore the Magnificent Mile
Catch a game at Wrigley Field or see an NBA game!
Visit the Navy Pier
Try a Chicago style hot dog and of course deep dish pizza
The Chicago Architecture Foundation Center River Cruise- believe it or not this is fun for the whole family!
Cloudgate (The Bean) & Millennium Park
Chicago is super easy to fly into and you don't even need a rental car! Uber and Lyft are readily available or stay downtown where you can walk to most Chicago attractions. Weather can be a bit unpredictable so make sure to check the forecast before you go and plan accordingly!
For all the details on what to do in Chicago, check out my family friendly Chicago itinerary!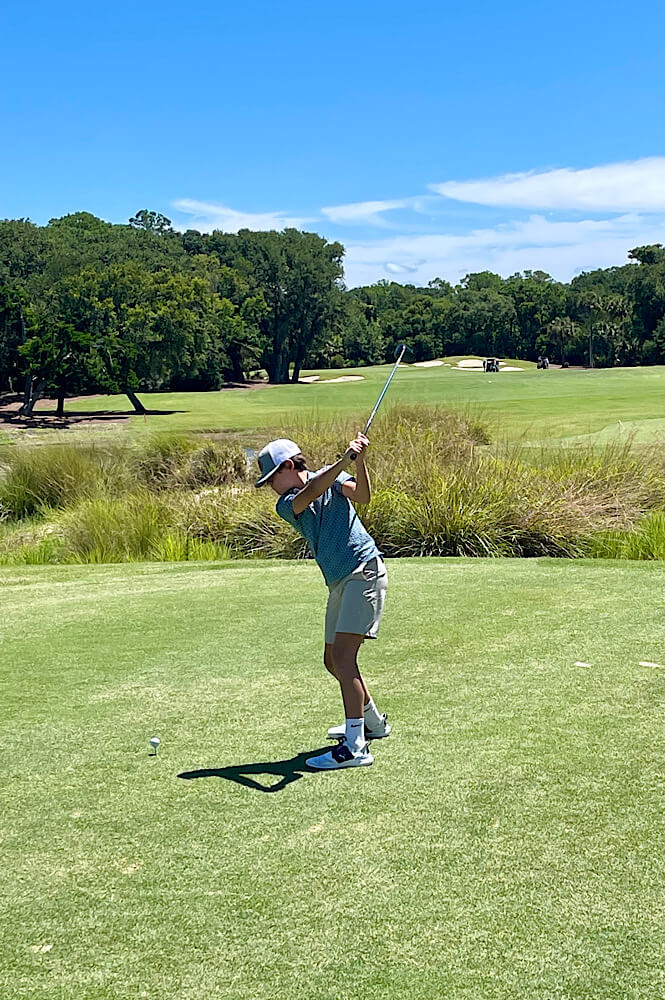 Bald Head Island, North Carolina
If you're looking for a spring break destination where your family can truly slow down and relax, then Bald Head Island might be just the place for you!
Bald Head Island is a tiny little North Carolina cape island located in the southeastern corner of the state. Only accessible from a ferry from Southport, Bald Head Island is a true hidden gem. Get ready for some of the most beautiful beaches in the state, world class golf, and some amazing food too!
Oh and did I mention there are no cars on the island? That's right! You'll need to rent a golf cart to get around, although they are often included with many vacation rentals. You'll have to spend a little extra time packing since you might want to carry most everything you need over on the ferry.
Looking for a little adventure during your spring break too? Not to worry, there are still tons of fun activities to do on the island. Kayaking, paddle boarding, and fishing tours are all popular things to do on Bald Head. Our personal favorite though is to explore the island by bicycle. The water temperatures may still be a bit chilly for swimming in the ocean, but Bald Head Island has to be one of the most beautiful beaches in NC! Spend time walking the beaches, building sand castles, collecting seashells, and watching the surfers.
Bald Head Island is a truly one of a kind, off the beaten path spring break destination. For all the details, read our complete guide to Bald Head Island, NC!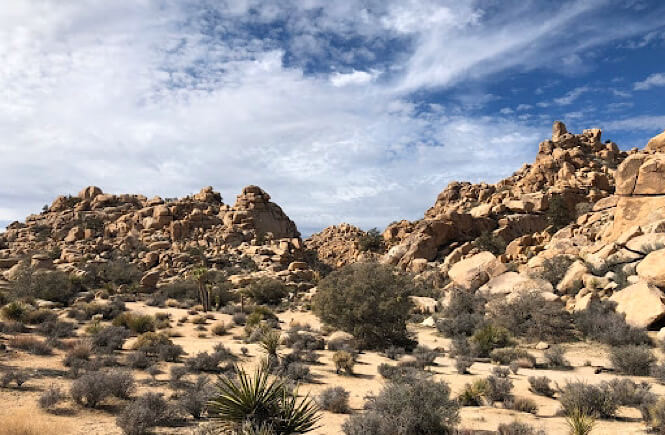 Palm Springs, California 
Palm Springs is located in southeast California, sort of between LA and San Diego. While it is a popular area to visit for people attending Coachella or well-known as a common retirement city, it is often overlooked as a top destination in California for family trips. This area is full of great things to do – which makes it one of the most wonderful (less crowded) spring break destinations in the US for families. There are also lots of options for how to get here, including the Palm Springs airport, but flying into LA or San Diego also would only yield a short drive to the area.
Palm Springs is all about outdoor activities with its amazing weather. The area is home to a very unique and also beautiful National Park: Joshua Tree. This National Park is a great one to visit for families because it is full of some shorter and easier hikes. Not only is the hiking great in Joshua Tree, but all around Palm Springs, there are some awesome parks to visit including Indian Canyons, Tahquitz Canyons, and Thousand Palms Oasis Preserve.
In addition to hiking, there are two other excellent family-friendly attractions that are not to be missed. The Cabazon Dinosaurs, which are life-like dinosaurs to see up close and climb through is located right outside of Palm Springs. Also, The Living Desert and Zoo is a perfect place to spend the day in Palm Springs with kids. Lastly, an attraction not to be missed is the Palm Springs Aerial Tramway. This gondola ride will whisk you up to the top of a huge mountain, and if you are lucky it will be snowing at the top!
Palm Springs is also well known for its impressive hotels and resorts making it a great place to visit for families of all ages. If you are looking to spend your Spring Break in the sun and want to spend maximum time outdoors then Palm Springs is absolutely perfect!
Contributed by Amanda from Patsey Family Travels
Palm Springs is an easy day trip from San Diego. Consider doing both locations for a truly epic spring break trip for your family!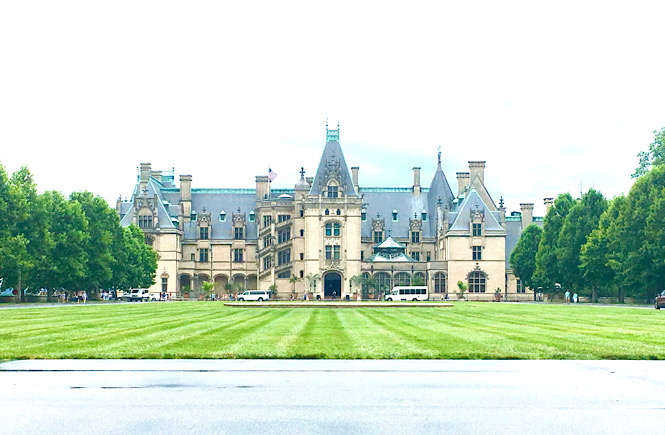 Asheville, North Carolina
Asheville, NC is most well known as a popular fall destination. And while it is truly epic during autumn, there are so many fun things to do in Asheville year round. Asheville is definitely one of the most unique and fun spring break destinations for families in the USA!
The Biltmore Estate is an absolute must during your visit to Asheville. You will be amazed at the grandeur of the house and grounds. The gardens are simply amazing during spring and can't be missed. And of course, don't forget to stop by the Biltmore Winery while you are there!
Asheville is also an outdoor lover's paradise. Visit the Western NC Nature Center, check out some viewpoints off the Blue Ridge Parkway, and definitely do some hiking. There are trails nearby for every skill level and ability. Some of our favorites are:
Catawba Falls
Craggy Pinacle
Hooker Falls, High Falls, & Triple Falls in Dupont Forest State
During your week in Asheville, you should also check out nearby Chimney Rock State Park, Grandfather Mountain, and Linville Falls. Your family will also enjoy a stop at the French Broad Chocolate Lounge, the Pinball Museum, and the Rocket Fizz candy store. There are a ton of great foodie finds in Asheville including several family friendly breweries.
You simply cannot go wrong with choosing Asheville as we think it's one of the best spring break destinations for families, hands down!
Before you go…make sure to read our complete family friendly guide to Asheville and how to best do the Biltmore Estate with kids!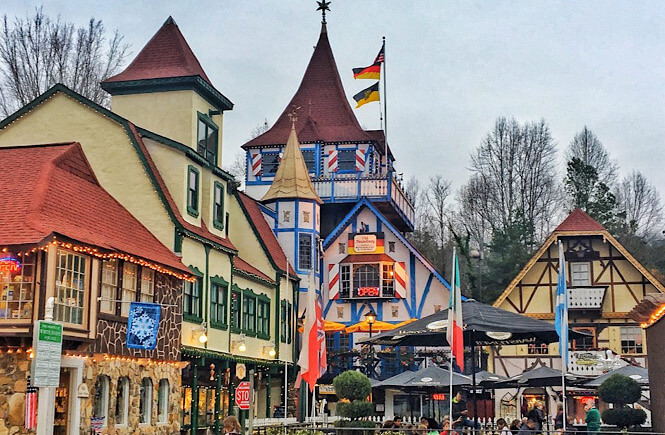 Helen, Georgia
Helen is a small town located about 85 miles north of Atlanta and is the third most visited city in Georgia. It has become a popular tourist destination because Helen is a small Bavarian village nestled in the Blue Ridge mountains. It is a great place for families to visit on Spring Break because there's plenty to do for varying ages and styles. Among the best things to do in Helen GA are stroll the quaint downtown streets, go shopping for unique crafts and local goods, grab some delicious German food and a pint, go hiking nearby, play mini-golf, visit a granary, learn about glassblowing, and take some unique pictures of the German architecture.  
Helen has many local shops that sell unique crafts and Bavarian goods. Families would likely enjoy wandering these shops and snacking on some local chocolate, peanuts, and other sweet treats. For outdoor-loving families, Helen has several waterfall hiking trails just minutes away, which are open year-round. Families could stay downtown and immerse themselves in Helen's charm and architecture or rent one of the many cabins available around the Chattahoochee River amidst the Blue Ridge Mountains. Overall, Helen is one of the most unique towns in the country and worthy of a spot on the list of best spring break destinations for families!
Contributed by Margie from DQ Family Travel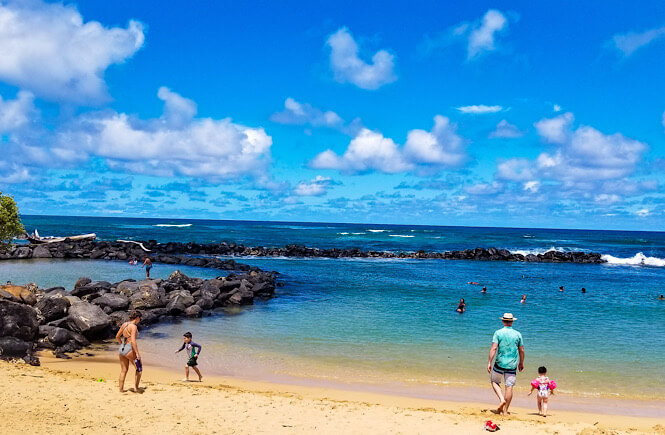 Kauai, Hawaii
Many families dream of spending Spring Break lazing on the beautiful beaches of Hawaii, but almost all of those families end up on the same few beaches on Oahu and Maui.
The northernmost Hawaiian island, Kauai, is a fantastic alternative for a less crowded Spring break destination for families. While it doesn't have the big cities and nightlife that it's more popular sister islands do, Kauai more than makes up for this in natural beauty and family-friendly amenities.
On Kauai, life moves at a slower pace. The beaches are plentiful and natural, and you won't compete with seas of resort umbrellas to find a perfect place to splash around. For the adventurous family, there are lots of adrenaline-junkie sports and some of the world's most stunning hikes.
Kauai does have a few resorts in the northern part of the island, but it also has the relaxed beach-town of Kapaa for families looking for something a little more chill. Poipu, in the south, is a perfect blend of the two vibes. And if you're traveling to Kauai with a toddler or baby, the beach at Poipu has a picture-perfect toddler swimming area, complete with resident giant tortoises and seals that like to hang around.
If you're looking for a slower-paced, less-touristed beach destination for Spring break, Kauai is the place for you.
Contributed by Dani from Diapers in Paradise
Grab out ultimate beach day packing list before you go so you don't forget a thing!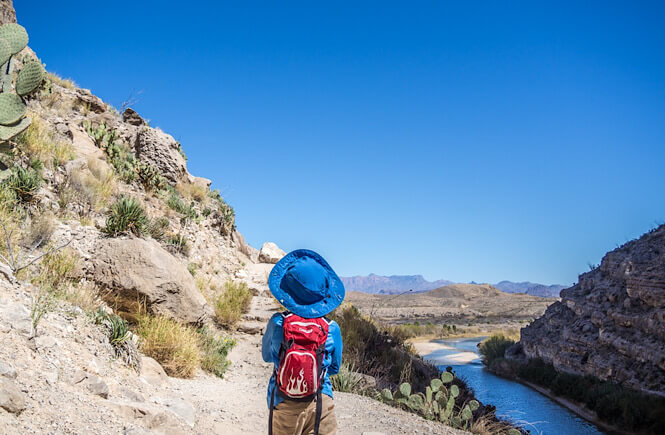 Big Bend National Park, Texas
Located deep in west Texas, Big Bend National Park is an incredible spring break destination even though most Americans have never heard of it! It's perfect for families who love getting outside and disconnecting from the distractions of everyday life. The weather in March and April is warm but manageable, and you'll catch the Big Bend bluebells and many succulents in bloom.
There are amazing Big Bend hikes for visitors of all ages – from short flat nature trails with some of the best views in the park to all-day treks for adventurous teens. There's also a full calendar of fascinating ranger programs, a new Fossil Discovery Center and a really engaging Junior Ranger program. Our family spent three full days in the park, but you could easily stay for four days exploring the diverse ecosystems (desert, mountain and river all within one park).
Though Big Bend is one of the largest National Parks in America, it's been rapidly growing in popularity. The park's lodging options aren't sufficient to meet the demand in peak season (March-April), so make sure you book far ahead unless you're flexible with your dates. We managed to go at the last minute on a road trip, but had to stay in three different places on our four day visit! Due to the remote nature of the park, there are a lot more logistical details to consider as your plan your visit to Big Bend.
One thing's for sure: You'll never regret a trip to Big Bend National Park. Everyone we know who has visited has felt touched by its magic. It's a place you'll vow to return the minute you leave!
Definitely consider Big Bend National Park as it is truly one of the best spring break destinations for families!
Contributed by Melissa from The Family Voyage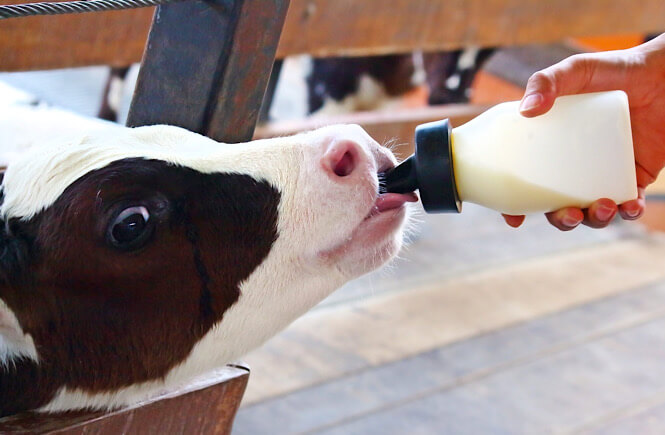 Lancaster, Pennsylvania
Lancaster, Pennsylvania is the perfect family vacation destination particularly for toddlers and preschoolers, but even teens will find fun theme parks and eateries to spark their interest. Families can stay on a working farm to start their day with farm chores. Can you imagine a spring break with kids feeding baby calves, milking a cow, collecting the eggs and feeding goats? Then you can sit down for a homemade breakfast with fluffy pancakes, scrambled eggs, and delicious pie.
After breakfast, explore the multitude of area attractions including train museums with interactive displays, the popular Cherry Crest Adventure Farm with a huge corn maze, apple shooters, a mini village and typical fall fun. Learn about the Amish by visiting the Amish House or talking to a local during a horse and buggy ride. Don't miss all the homemade breads, jellies and pretzels. 
Venture into the historic town of Lancaster to walk through the market and sample the multitude of offerings provided in various food/craft and spice stalls. Finally, take the kids to one of the many theme parks in the area. Smaller children will enjoy Dutch Wonderland, while older kids will delight with Hershey Park.
Lancaster is truly one of the most unique spring break destinations for families in the US!
Contributed by Chelsea from Pack More Into Life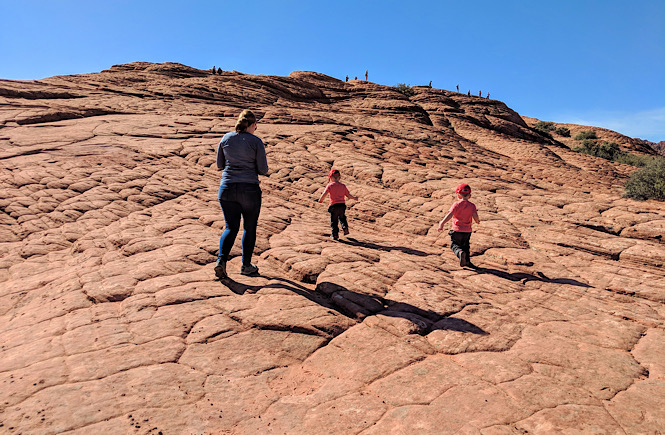 St. George, Utah
St. George, Utah certainly isn't your stereotypical spring break destination.  But with perfect weather and endless outdoor experiences, it'll certainly make a memorable spring break for your active family.  With easy access to the Dixie Sugarloaf area, Snow Canyon State Park, Sand Hollow Reservoir and State Park, plus everything at Zion National Park, the area is prime for hiking, biking, motor sports, and water sports of all kinds.  My kids are still talking about our amazing UTV ride at Sand Hollow and hiking on the red rocks at Dixie Sugarloaf.  Many of the most memorable hikes are short, and accessible for everyone in your family.
Families with younger children will love the Upper Galloot Hike in Snow Canyon State Park because it's less of a hike, and more of an opportunity to explore a really neat geological area, or make a quick getaway to the car if you need to.  If your family can handle a longer hike, you'll definitely want to check the Subway Hike in Zion National Park. It's perhaps my favorite hike … ever!  
St. George has a surprisingly varied food scene, with some excellent options, like the Hawaiian Poke Bowl or Kneaders for a great lunch, or Iceberg for the delicious, and MASSIVE Utah-style (read extremely thick) milkshakes.  However, with so many great vacation homes available for rent, you'll be able to skip the restaurant drama and cook at home. Many St. George area vacation rentals even have access to a pool. Paradise Village has tons of spacious homes available, plus access to its pools, lazy river, and waterpark!  And if your family loves water, jet skis, kayaks, paddleboards, and even boats are available for rent at Sand Hollow Reservoir.
Contributed by Amy from Two Little Pandas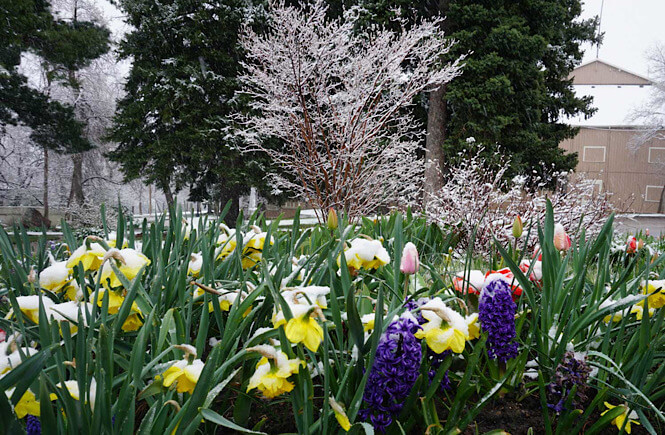 Boulder, Colorado
Boulder, Colorado is a unique cross of college and mountain town that has been dubbed "the city nestled between the mountains and reality." It has all the outdoor adventures of a Colorado mountain town, but with an urban vibe. There's history, outdoors activities, art and character making it one of the best spring break destinations in the US.
This is a fantastic spring break destination for families who love the outdoors and adventure. In the winter there's snowshoeing, hiking and even skiing just a half hour away at Eldora. If you've thought about a ski vacation, but don't want to commit you entire vacation to the ski slopes, this is the place to go. You can work a couple of days on the slopes into your plans.
Even those who aren't shoppers will enjoy browsing the art, history and unique shops on Pearl Street Mall. Rocket Fizz Candy Store is a favorite. It will bring back nostalgic memories for the parents while exciting the kids. 
Chautauqua Park is a fun place to hike or snowshoe with the kids. Be sure to also stop at the Chautauqua Ranger Cottage to learn about the animals and history of the area. During the winter you can even skate here at Boulder's only outdoor ice-skating rink.
Contributed by Liana from Insider Families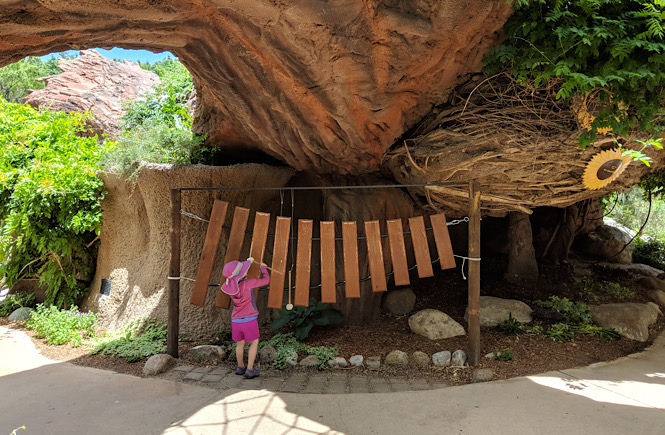 Albuquerque, New Mexico
Another great spring break destination in the US that's perfect for outdoorsy families on a budget who also want to squeeze in some museum visits is Albuquerque, New Mexico ! Temperatures in Albuquerque during spring usually stay between 60-80 degrees, making it easy to stay outside all day exploring the city with lots of picturesque, short hiking options and parks aplenty. You can easily spend a full week there between the city itself and nearby day trips, soaking up Southwestern sun and eating inexpensive, delicious food – Frontier Restaurant was one of our favorites for its cheap, tasty options.
Explora, Petroglyph National Monument and Indian Pueblo Cultural Center are top picks for fun learning opportunities to practice STEAM skills, engage with Southwestern culture and learn more about the area. The BioPark houses a fun little zoo, pretty botanic gardens with an amazing children's garden and unique bug exhibit, aquarium, and a pond full of ducks all surrounded by a train to transport you to and fro, making it a hit with little ones. During summer, stroll the Old Town area for free music and dancing while you pop in for ice cream and dinner. If you'd like more ideas including some fun, short day trips from the area, check out this list of over 12 things to do in Albuquerque with kids!
Contributed by Stephanie from Explore More, Clean Less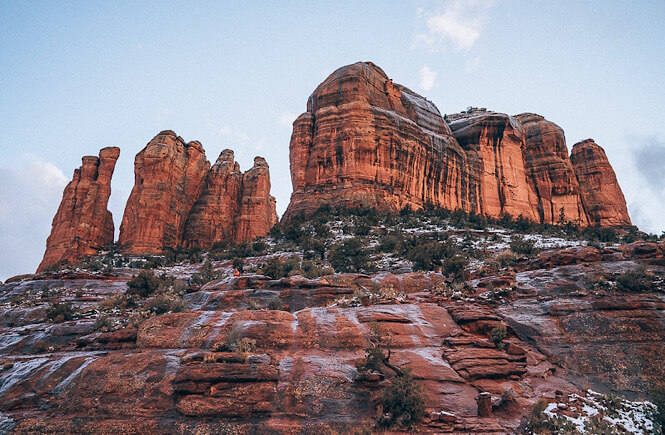 Sedona, Arizona
One of the best places to visit during Spring Break is Sedona, Arizona. This city is filled with so many family-friendly activities. Sedona is the perfect place for the adventurous, outdoorsy family. There are hikes, pink jeep off-road tours, outstanding restaurants, and so much more!

Some of the most popular hikes in Sedona include Cathedral Rock Trail, Soldier Pass Trail, Devil's Bridge Trail, and Bear Mountain Trail. The trails are filled with so many outstanding views of the orange/red, colorful buttes and canyons. You will love exploring these trails! The trails are labeled from easy to difficult so you can pick any trails to fit your hiking level.

One of the most popular activities to do with the family is the pink jeep tours. They offer scenic, off-road fun in red rock country as well as other areas like the Grand Canyon. You can also pick to visit archaeological, historical ruins, or you can explore the local Sedona's backcountry canyons. There are so many options when it comes to the Pink Jeep Tours.

Eating, drinking, and shopping is excellent at Sedona. There are so many options for restaurants! Some of the best restaurants include Elote, Mariposa Latin Inspired Grill, and the Hudson. The atmosphere and beauty of this city will want you coming back for more. It truly is a fantastic place to visit all year round.
Contributed by Michelle from The Wandering Queen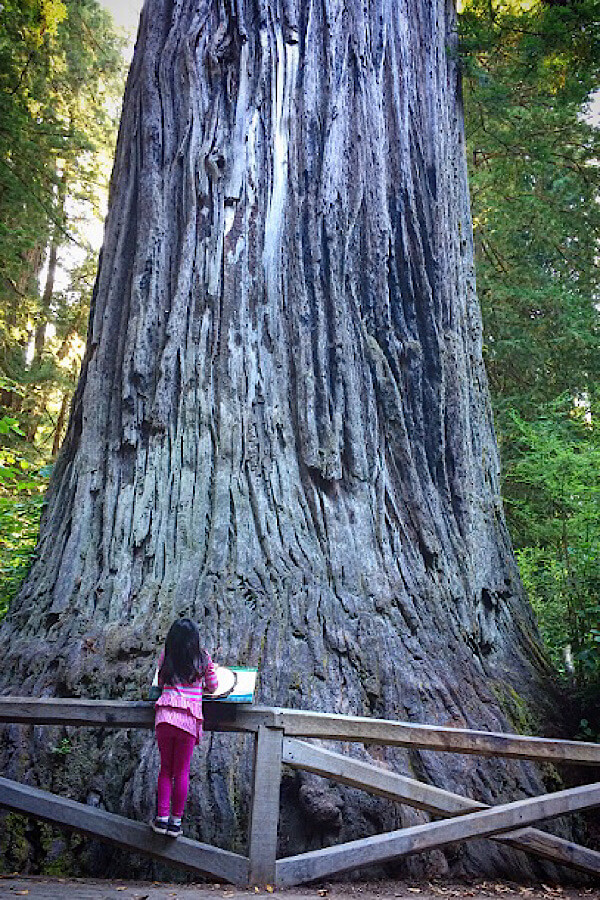 Redwood National Park, California
For families looking for outdoor-oriented USA spring break destinations, head to Redwood National Park in California. This national park is home to some of the country's oldest and largest trees, many of them thousands of years old and spanning 20 to 30 feet across. Redwood National Park is open all year round, but spring is a great time to visit as the weather won't be too cold. The park spans over 131,000 acres, so there are plenty of places to explore and activities to do during your visit to the Redwoods.
Entrance to the park is free. There are two lodges and four developed campgrounds throughout the national park. There are also lodges and campgrounds located outside of the national park in the nearby towns of Orick, Klamath, and Crescent City. Family-friendly restaurant and dining options can also be found in these towns.
The best activities to do for families at Redwood National Park include visiting the Trees of Mystery, located just outside the national park, and driving along the Newton B. Drury Scenic Parkway. Dotted throughout the park are also several drive-thru trees, vestiges of a past era of travel in the Redwoods, where visitors can drive their car through a giant Redwood tree. Also not to be missed are the Big Tree and Lady Bird Johnson Grove, both kid-friendly hikes at the national park.
Contributed by Astrid from The Wandering Daughter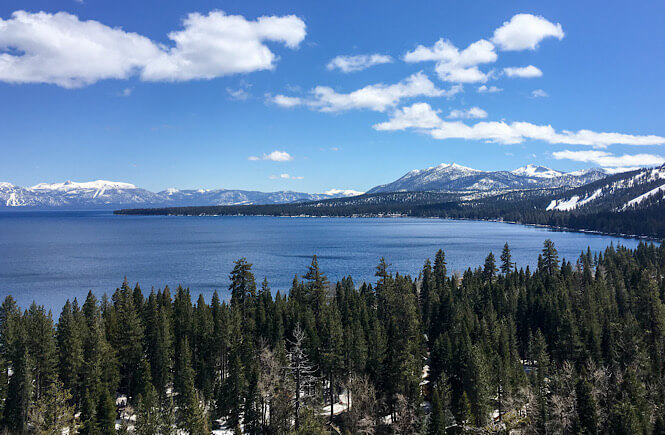 Lake Tahoe, California
A great place for families to go for Spring Break is Lake Tahoe in California. Tahoe is one of the most scenic places in the US, the beautiful large blue lake stays unfrozen all year and is surrounded by lush green forests and ski resorts. During the spring vacation period, the mountains are still open for skiing and are a top choice for active families. This is when you will find the weather starts warming up and you get to ski under clear blue skies.

Choosing a ski resort in Tahoe is the hard part – there are over 13 resorts situated around the lake! If you are new to the area, my top pick for families is Squaw Valley, Northstar and Sierra-at-Tahoe. These resorts have a great ski school, they offer family-friendly activities and have other non-ski fun like tubing and sledding hills.

The best thing to do in Tahoe would be to go skiing and snowboarding everyday. Although, if you are looking for other things nearby, the town of Truckee has a historic downtown area worth exploring, there are indoor rock climbing gyms, a bowling alley and cinemas. It's also worth checking each resorts upcoming events page to see if there are any concerts or performances happening.

There's no shortage of places to eat but you will find some great lakeside dining options and delicious Mexican food. If you want something more budget-friendly try eating outside of the resort owned venues.
If you're not quite ready for winter to be over or live somewhere that doesn't really experience a snowy winter, add Lake Tahoe to your choices for fun spring break destinations in the US!
Contributed by Erin from Curiously Erin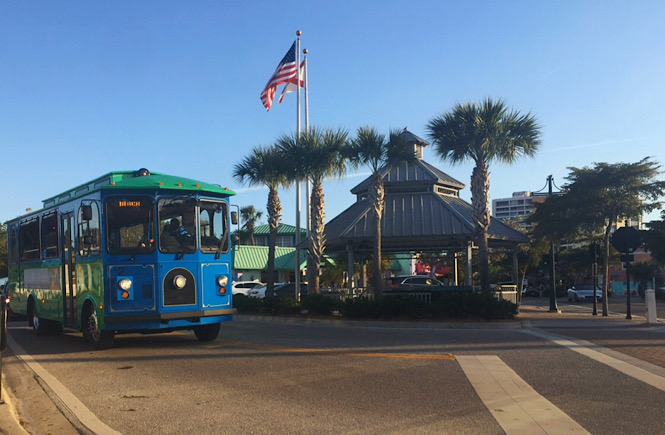 Sarasota, Florida
Siesta Key and the surrounding area of Sarasota, Florida is the perfect spring break destination for families.  Siesta Key, with its white sand beach and walkable village, is the perfect place to stay as a base for exploring Sarasota. Siesta Key Village offers a free trolley to take you between the plentiful restaurants, shops and the beach. With everything from fresh seafood and wood fired pizza to freshly made donuts and ice cream, there are so many great dining options in Siesta Key. 
In addition to Siesta Key, there are several fun things to do throughout Sarasota as well. At the heart of Sarasota's cultural hub is its prominence as the former home of the Ringling Circus. Between the Ringling Museum, Circus Sarasota and the Circus Arts Conservatory, you can find many opportunities to learn about the circus of the past and the area's efforts to maintain its presence today.  If you're looking to experience the outdoors in a tranquil setting that also includes fun areas for the kids, the Marie Selby Botanical Gardens is a great place to visit. Another family favorite in Sarasota is the Mote Aquarium. This unique aquarium doubles as a research center and lab, and it provides several opportunities to see a variety of water life up close. Sarasota also offers several opportunities to explore the outdoors, from exploring Myakka State Park to kayaking through the mangrove forests. 
The combination of outdoor activities and culture makes Sarasota the perfect destination if you're looking for more than the typical family spring break. 
Contributed by Amanda from Toddling Traveler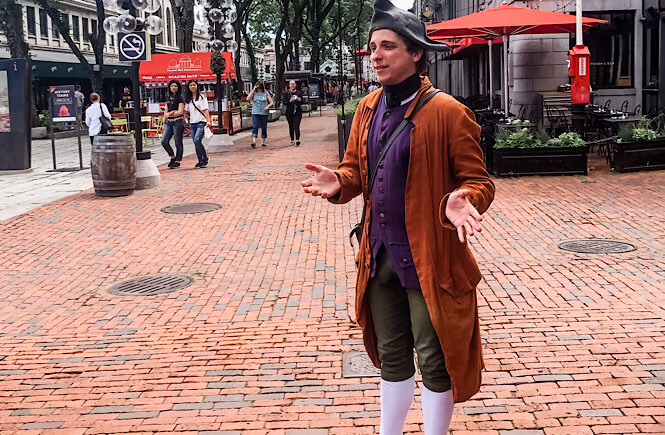 Boston, Massachusetts
For history-loving families, Boston, Massachusetts is an ideal spot to spend spring break and enjoy an experiential vacation. As the place where the American Revolution began, there is so much to see and do for a fun and educational experience. Some of my favorite activities include The Freedom Trail walking tour by The Freedom Trail Foundation, where a character from history comes to life to detail the events leading up to the American Revolution. Kids will love the guide in costume, and his or her storytelling will for sure make it interesting and educational.
From there, head over to the Boston Tea Party Museum and discover what led to the "tea party" that wasn't a party at all. Kids will love climbing on the ship – which is the museum – to learn about this moment in history. Fans of the American Revolution can also visit the site of the first shot in Lexington, MA, where you can ride the "battle road" on the Liberty Trolley Tour, another event that brings history to life with a guide is in costume. If you are visiting in April over Patriot's Day, you will see a reenactment of the Battle of Lexington in the town green (but FYI: this is also the day of the Boston Marathon each year). For literary fans, the next town over is Concord, MA, where the home of Louisa May Alcott (author of Little Women), Ralph Waldo Emerson, and Nathaniel Hawthorne can be visited. 
Going south of Boston about 45 minutes is where history lovers can visit Plymouth Plantation. In addition to seeing the actual Plymouth Rock, where the pilgrims landed, you can also visit an interactive, experiential village at Plymouth Plantation. You will learn about and visit the site of one America's most important holidays – Thanksgiving.  Descendants of the Wampanoags are there to discuss and teach families about ways of the Wampanoags. You can also step back in time to a Plymouth colony, with actors playing the roles of Pilgrims to discuss what life was like. 
Fans of the Salem Witch Trials can also head north of Boston, about an hour drive, to Salem, MA, where there is a museum and much to see to learn about this event in American history.
All of this can be enjoyed along with taking in the vibrant, but manageable, city of Boston. Be sure to grab a cup of clam chowder at Legal Seafoods! If you are looking for a historic accommodation in the heart of it all, the Inn at Hastings Park in Lexington, MA is a gorgeous, historic inn right near some of the signature landmarks of the American Revolution.
Contributed by Keri from Bon Voyage with Kids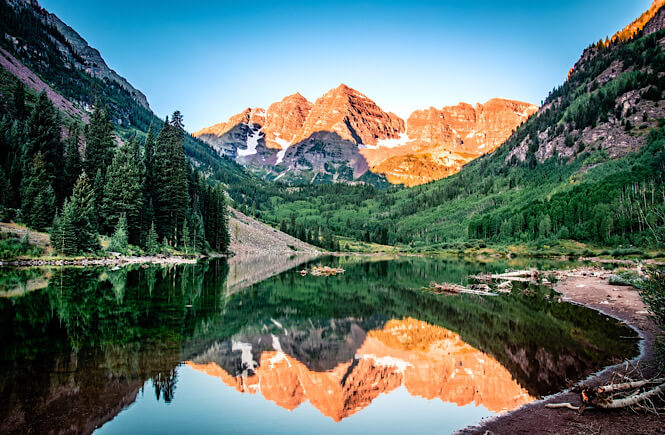 Aspen, Colorado
A beautiful family destination year-round, Aspen, Colorado offers incredible sight-seeing, hiking, and world class skiing in the winter. This is a great vacation for adventurous families who love to get outdoors and enjoy being in the mountains. There is an active downtown, complete with a wide variety of restaurants, bars and cafes, a gondola that takes you up to the top of Aspen Mountain and – our personal favorite – a large central park and playground. When you're strolling around downtown Aspen, make sure to grab a pastry and coffee from Paradise cafe, and check out Big Wrap for lunch. Just 15 minutes outside of Aspen is a little town called Snowmass Village. This is a great budget location to stay if you're looking to get in on all the Aspen fun but keep your accommodation costs low.

Aspen is the gateway to lots of biking, hiking, skiing in the winter and water activities in the summer. There is a wide network of bike paths that connect Snowmass Village to Aspen and to various mountain biking trails. You could visit the famous Maroon Bells, and if weather permits, hike up to Crater Lake. Another great hike is the Grottos, where you could see a cascading waterfall and and climb down into an ice cave.
Contributed by Dalya from Sweet Little Journey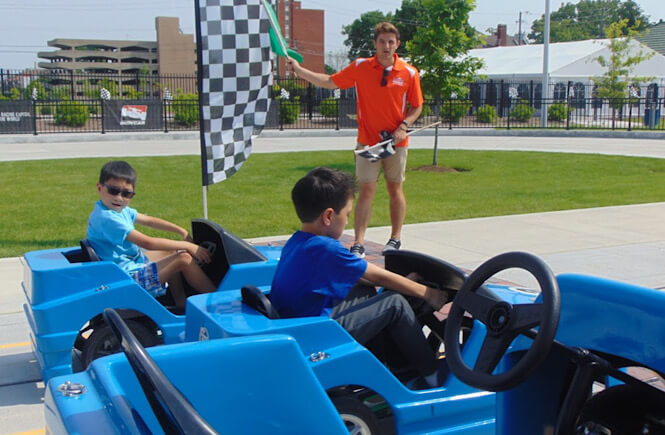 Indianapolis, Indiana
Indianapolis is a family spring break trifecta: reasonably priced hotels and restaurants (even downtown), easy to get around and navigate, and tons of unique and fun activities that kids of all ages will love.
First and foremost is the Children's Museum of Indianapolis, the biggest kids' museum in the world. Worth an entire day devoted to exploring its five floors and outdoor Sports Legends Experience, it has exhibits and interactive activities from Ancient Greece to life-sized dinosaurs to driving in the Indy 500 to learning about the International Space Station. 
Staying in downtown Indy is a great option. It's very walkable, with several activities along a canal at the White River State Park, depending on your family's interests: Indianapolis Zoo, Indiana State Museum, NCAA Hall of Champions, and the Eiteljorg Museum of American Indians and Western Art are all within a half-mile. Several kid-friendly restaurants are just a stone's throw of downtown hotels. Recommended: Shapiro's Deli, Punch Burger, Nada, and Napolese. Cafe Patachou is a favorite – do not miss the cinnamon toast.
Downtown Indy also has several war memorials within a few blocks of each other. The Soldiers and Sailors Memorial is the marker for the center of Indianapolis on its famous Circle. You can walk or ride up to the top of the 230-foot monument for a one-of-a-kind view of the city. The Indiana War Memorial's grand limestone structure includes a huge military museum within its walls. 
And, no trip to Indy would be complete without a visit to the Indianapolis Motor Speedway, home to the 500-mile race. There's a museum where you can see several Indy cars, learn about the history of the race, and kiss the bricks like dozens of winning drivers. You can even take a ride on a bus around the 2.5 mile track.
Contributed by Lori from Maps Memories and Motherhood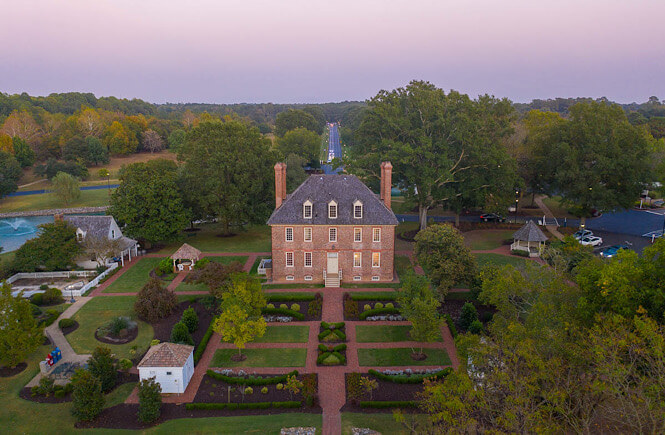 Williamsburg, Virginia
If you're looking for a new place to take your family vacation this year, we recommend heading to Williamsburg, Virginia for a trip full of history and adventure. There are some amazing Williamsburg attractions that everyone in the family will love.
Williamsburg played a big part in the American Revolution, so the city is busting with tons of historical things to do. Colonial Williamsburg is an interactive living history museum, where you can wander the streets and enter historic houses and buildings from back in time. Another great museum is the Jamestown Settlement, named after the first English settlement in America. Similarly, you can walk through the town and ships, as well as experience military reenactments. 
For the adventure side of things, head to the Busch Gardens theme park for a thrilling day riding roller coasters. There are also live performances, an animal reserve and a European village section where you can experience different countries. 
If roller coasters aren't a family favorite, consider heading out on the York River via a Yorktown Sailing Charter. This cruise takes you to some of the most iconic destinations in the city. Another option is to see the city via a Segway tour. 
And when looking for where to stay, check out Wedmore Place or the Williamsburg Inn. Both are great options!
Contributed by Hannah from Getting Stamped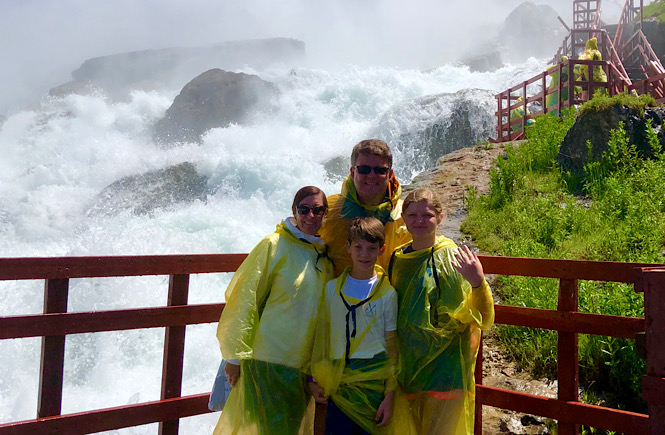 Spring Break Road Trip
If you're like us, we like to make the most of our time off from school. And we happen to think road trips are the perfect spring break trips for families! Sometimes we leave from home, while other times we fly to our destination and rent a car. If you can get affordable one way car rentals and flights, then do a one way trip like we did on our road trip from Boston to Niagara Falls or our road trip from Salt Lake City Utah to Phoenix, Arizona.
(Side note: My kids said standing with one foot in the USA and one foot in Canada AND standing in the waterfall at Cave of the Winds at Niagara Falls were some of the coolest things they have ever done.)
Road trips are one of the best ways to see and do a lot during a limited amount of time. They're a great opportunity for bonding and making memories together as a family!
Need more inspo on where to go? We have over 45 different USA road trip itineraries from Washington's Olympic National Park to a North Carolina road trip here on More than Main Street. Get started road tripping the USA now!
Make sure to grab our road trip essentials checklist before you go so you don't forget a thing!
Bonus! 5 More Spring Break Vacations for Families
Ok…so if these 20 ideas aren't enough, here are a few more spring break destinations for families in the USA that you might not think of right away but would be totally awesome family vacations!!
Have we inspired you yet to go somewhere different on your next Spring Break with kids? I sure hope so! If you have any more off the beaten path spring break destinations in the US ideas, please share them in the comments below!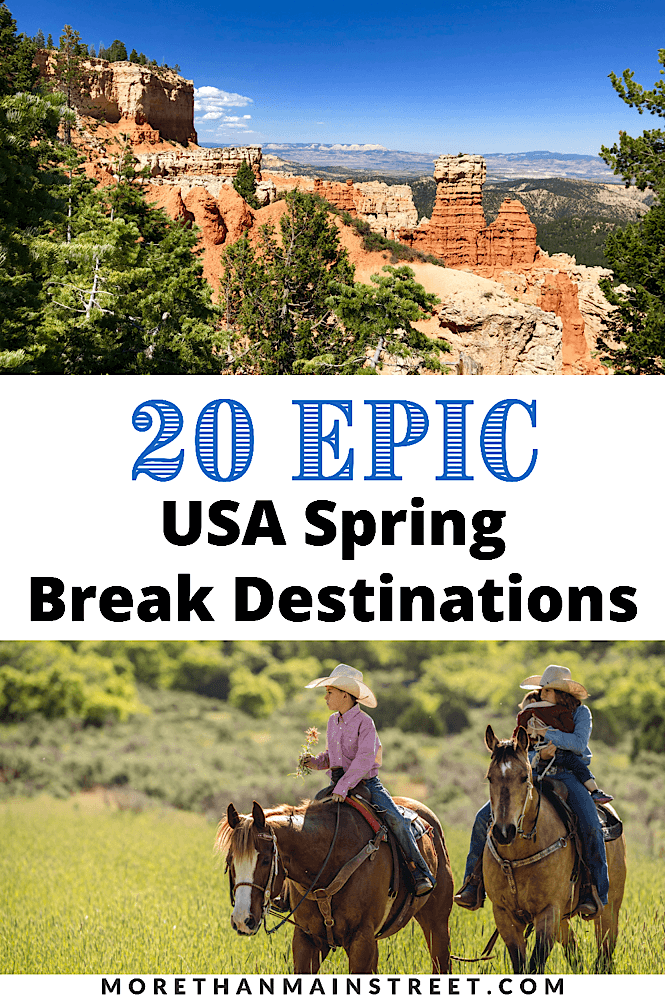 SAVE THESE 20 EPIC SPRING BREAK DESTINATIONS FOR FAMILIES FOR FUTURE PLANNING!
Happy Travels Friends!