So…you're looking for an adrenaline rush?
Or, maybe not? Maybe you're just interested in trying something new, pushing yourself outside of your comfort zone, or ideas for your adventurous bucket list? Whatever the reason…I have good news! Because today I am sharing with you 25 exciting adrenaline adventures for all types of thrill seekers.
Adrenaline rush activities are a subjective experience. Something that might be completely thrilling to me might be boring to you. And even simply trying something on this list might cause the biggest adrenaline rush for you while it may instill fear in me. And that's totally OK! You do you!
If you've been here before, you know that I believe adventure is a mindset. I believe that adventures come in all shapes and sizes. So…c'mon! Get out of your comfort zone by trying something new!
Trying Something New
Confession Time. I am not athletic. I am not outdoorsy. And I am certainly not an adrenaline junkie or thrill seeker.
I AM however a fan of trying new things and pushing myself out of my comfort zone.
But, I haven't always been that way. I used to be scared of everything…full of fear and anxiety. But after a bout with Bells Palsy and some other life changing events, I realized that life is short and I needed to make the most of it.
(If you're interested, read more of my story and journey to living more intentionally.)
Anyhow, funny enough, I have tried a little over half of this list of adrenaline adventures to date. Some of the rest of these thrill seeking activities are on my personal bucket list, while I have no interest in others. Some of these activities I would do again in a heartbeat, while for others, once was enough!
And that's all OK. Adventure is not one size fits all.
What I'm trying to say is that whether you're a thrill seeker or dare devil or just someone looking to push a little outside of your comfort zone, there is something on this list for everyone. What I love most is that whether you're just a beginner or a seasoned adrenaline junkie is the sense of pride you feel when you've accomplished one of these activities. Celebrate your wins- both big and small!!
Not quite ready for these crazy adrenaline rush activities? No worries…start small with these 50 different ideas for adventure for everyone!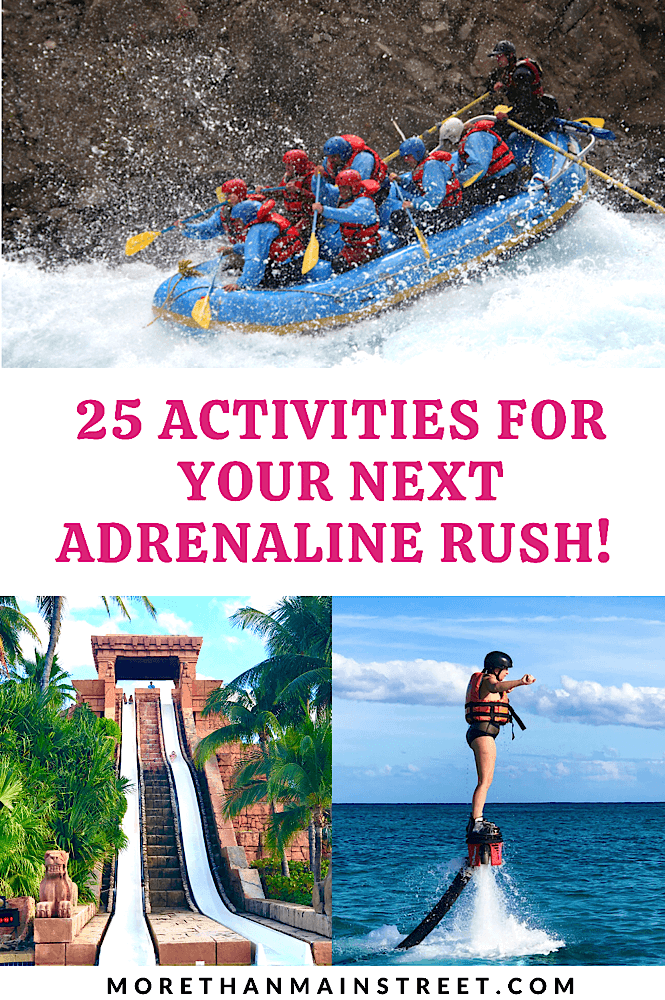 Be sure to pin these ideas for adrenaline adventures for when you're looking for a little inspiration!!
Adrenaline Adventures: Water Activities
Love the water? Our family sure does! Here are some crazy bucket list ideas of thrill seeking activities involving water:
White water rafting
White water rafting is taking a raft through white water sections of a river or other body of water. There are six different levels or classes of rapids with one being the easiest and six being the most difficult and possibly dangerous. White water rafting is a great adrenaline activity since you can increase the difficulty and have a different experience almost every time you go.
Know Before You Go: Do your research- If you go with a reputable company, have the proper gear, and take necessary safety precautions, white water rafting can be a great family adventure!
I was terrified to go white water rafting for the first time. My daughter (who was only ten at the time) loves adrenaline activities and was begging to go. We had not prepared ahead of time at all Luckily the company we went with provided everything we needed. It was a totally spontaneous decision that turned out to be a perfect beginner adventure for our whole family!
Read about our experience white water rafting on our Yellowstone road trip.
Snorkeling & Scuba diving
Snorkeling and scuba diving are both recreational underwater activities that can be quite a thrilling adventure. Depending on your level of experience you may get quite an adrenaline rush just from snorkeling in a new place. Snorkeling is a perfect beginner adventure for all ages and one that our family loves!
If snorkeling is fun but not quite the adrenaline pumping activity you're looking for, then try scuba diving. SCUBA is an acronym that stands for "self contained underwater breathing apparatus". Scuba diving requires personal safety training and certification before you're able to explore the depths of the underwater world. This extreme sport often earns its spot on adrenaline junkie bucket lists.
Read about our trip to Aruba where my kids learned to snorkel!
Looking for something even more extreme? Put cage diving with sharks on your crazy bucket list!
Surfing
Surfing is a sport where you ride a breaking wave while standing on a surfboard.
My children both love surfing. I think surfing is a unique activity because part of the activity is quite relaxing while catching a wave can be one of the most adrenaline inducing activities out there. The conditions of the water and the height of the waves will greatly influence the level of this adrenaline adventure!
If you're not quite ready for surfing, try kayaking or stand up paddle boarding for a fun mini adventure!
Read more about Carolina Beach, NC where my kids learned to surf!!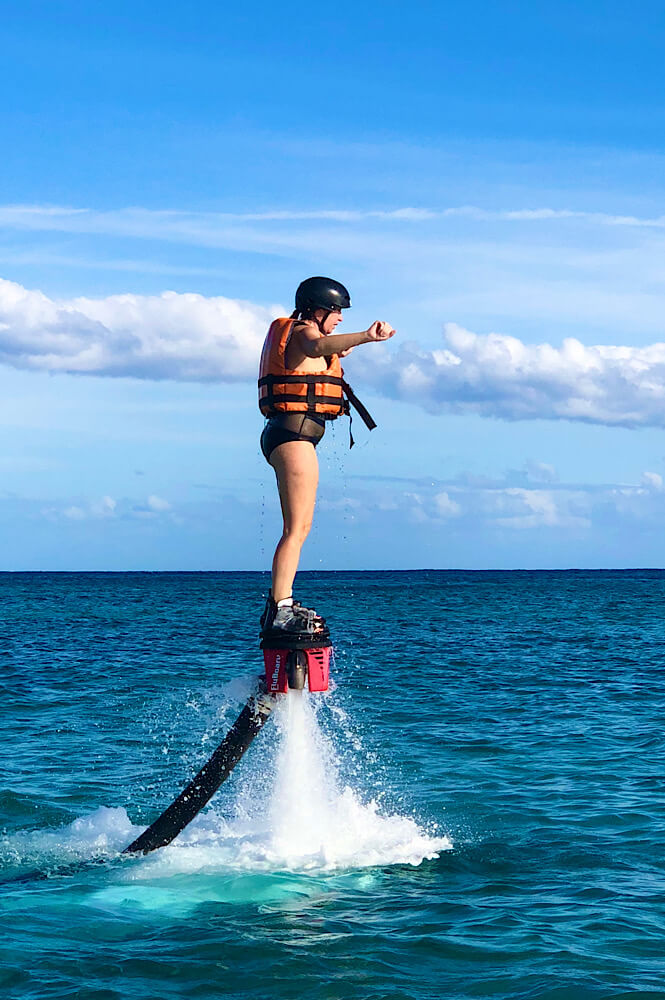 Flyboarding
Have you ever heard of fly boarding? It's basically where you strap your feet to a jet pack and fly above the water! I have to say this was pretty much one of the craziest things I've ever done! I mean, talk about an adrenaline rush!
Read all about my experience flyboarding in Mexico (there's even a short video if you need a good laugh!)
Kite surfing
Kite surfing is a wind powered sport using a board and kite to move across the water.
While I don't have much interest in doing it myself, I could spend endless hours watching! Some popular kite surfing spots include the Outer Banks, Martha's Vineyard, and Puerto Rico. I think kite surfing definitely earns it spot on your crazy and adventurous bucket list!
Is one of your goals to travel more? Try using these powerful travel affirmations!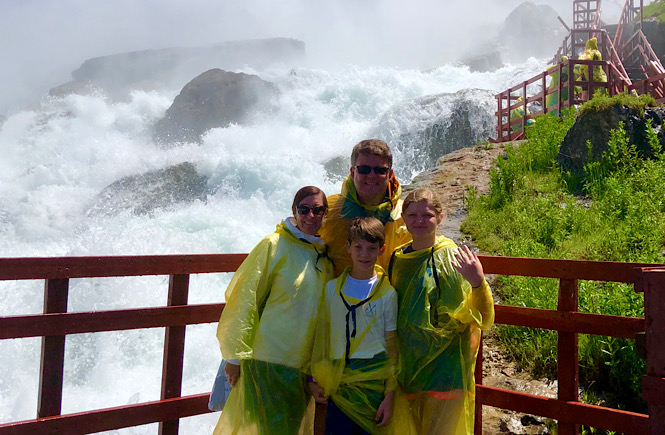 Waterfalls
Now, you may be wondering how waterfalls falls into an adrenaline rush activity? Well…if you've ever stood under a waterfall or been on a boat riding up to the edge of a waterfall or swimming in a waterfall, you will know that waterfalls can be a very thrilling activity!
There are waterfalls all over the world offering a variety of ways to get an adrenaline rush. Our personal favorite to date has definitely been during our road trip to Niagara Falls!
I have to say I'm a little obsessed with waterfalls. I get awestruck every single time. Never gets old.
I always love seeing others adventures on Instagram!! Grab our best adventure captions to share on Insta! You never know who you might inspire!! (Feel free to come say Hi or tag me too!!)
Adrenaline Adventures: Activities in the Air
If you're looking for more adrenaline things to do, then heights and being up in the air, is where it's at. Here are a bunch of thrill seeking activities sure to provide your next adrenaline rush!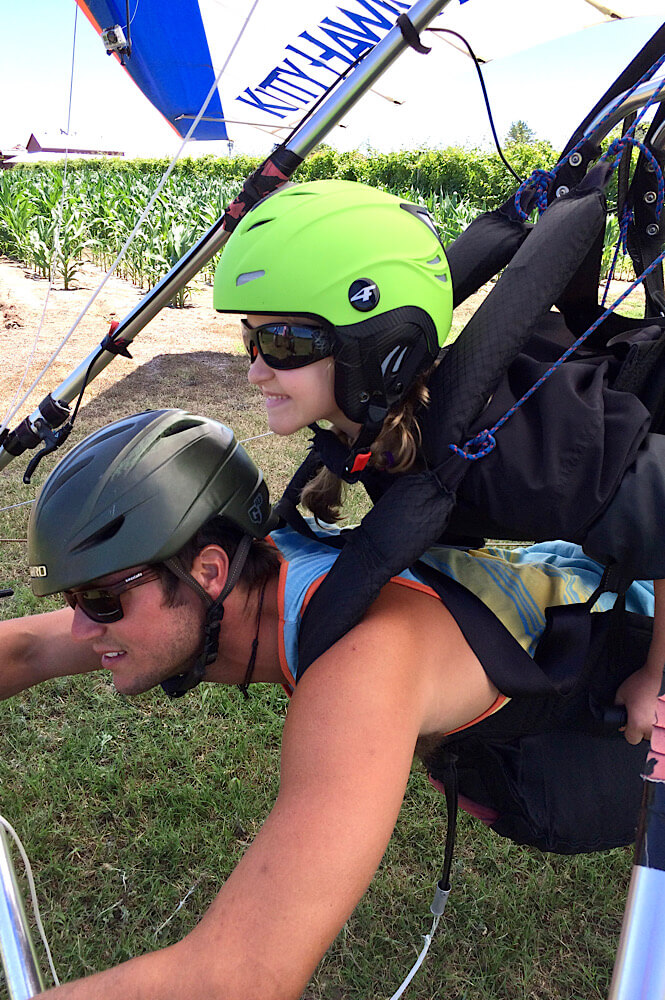 Hang gliding
Hang gliding is a fun recreational adventure where a pilot guides a non motorized aircraft. You can go tandem (like we did) and literally do nothing but take in the views. Or you can learn to be the pilot yourself! Either way, it's sure to be an epic experience!
Jockey's Ridge in the Outer Banks is famous for hang gliding lessons. Learn to fly right where the Wright Brother's learned to fly!
Helicopter Ride
Our first experience in a helicopter was literally a ride for about 3 minutes. We got up off the ground, did a circle of the immediate area, and landed. My kids were four and six years old. They loved it. We all loved it. It was very exciting.
Breathtaking views usually abound during a ride in a helicopter. Whether you're over a glacier in Alaska, discovering a volcano in Hawaii, or taking in the majestic Grand Canyon, a helicopter ride is a thrilling activity that belongs on every bucket list!
Want even more high adrenaline activities like this? Try riding in a sea plane, heli-skiing, or wing walking!
Hot air balloon
Hot air balloons are a type of aircraft that raise you up into the sky with hot air (usually heated by fire). Passengers ride in some sort of wicker basket or gondola with a licensed balloon pilot.
Every experience is different which I'm sure is part of what makes hot air ballooning so thrilling. It is something I haven't personally done yet, but it is high on my bucket list! I'd love to both ride in a hot air balloon and attend the Albuquerque Balloon Festival one day!
UPDATE! I did it! I rode in a hot air balloon! And it was just as magical as I thought it would be! Read all about my experience in Statesville, NC!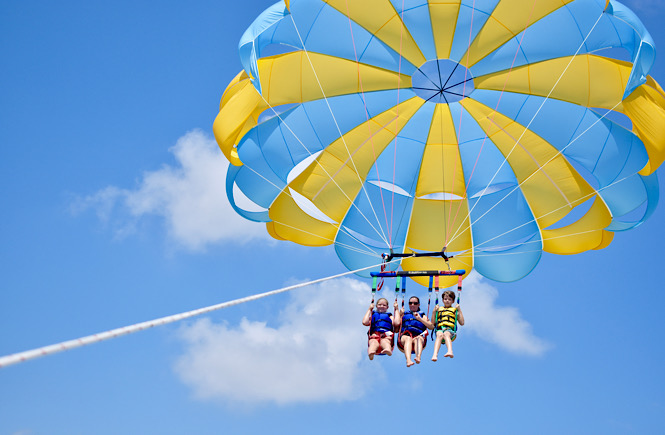 Parasailing
Parasailing is a recreational activity where you are pulled by a boat while attached to a sort of parachute especially designed for parasailing. A harness keeps you strapped in securely while you fly in the air behind the boat. The adrenaline kicks in while going up, coming down, and of course if you are attempting to conquer a fear of heights. Sometimes you'll get a little bonus if your guide decides to "dip" you in the water.
I personally think that parasailing is one of the most peaceful yet adrenaline pumping activities. Weird how an activity can be both!!
It is also great fun for people of all ages. From my seven year old son to my 70 year old mother in law, it is an adrenaline adventure for anyone that wants to feel like they are flying.
Roller coasters/ Water slides
Roller coasters and water slides: you either love that adrenaline rush or hate it. Some people find whirling around a track at fast speeds thrilling while others find it down right terrifying. The best part about amusement parks is there are generally a wide variety of rides for all different levels for thrill seekers looking for adrenaline pumping activities and those of us who like a little tamer ride.
The craziest waterslide we've ever seen was at The Atlantis Resort in the Bahamas. Of course, my daughter did it!
Zip lining
Interested in zipping through the air at 20 to 50 miles per hour? Try out a zip line or canopy tour.
What I love about zip lining is that there are so many different levels of difficulty and adventure. You can easily start out with a short zip line and work your way up to a more thrilling adventure. We've zip lined through snow covered forest in Canada to over tropical waters in Aruba. There are zip lining locations all over the world across many different environments.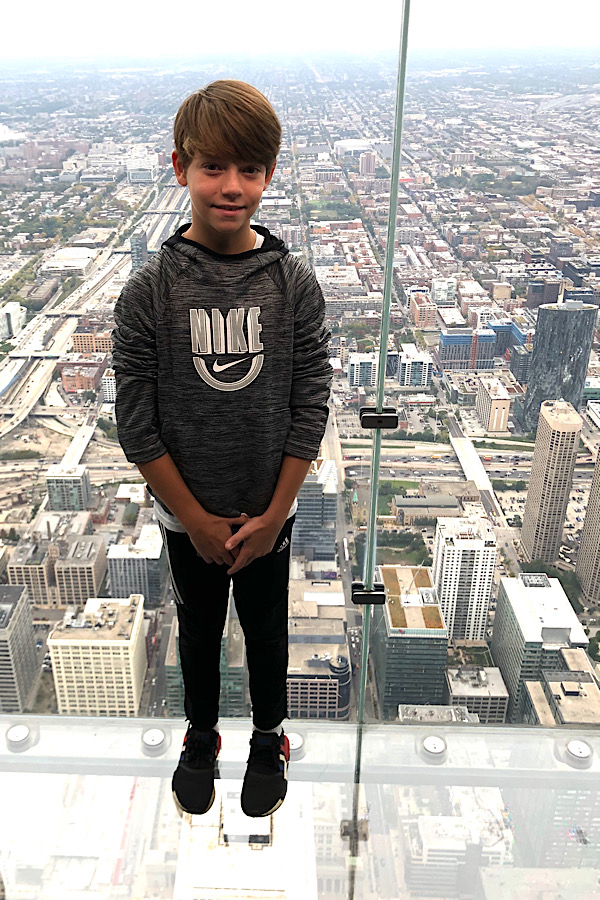 Heights
Even if you don't have a fear of heights, these activities have a way of getting your adrenaline pumping:
Standing on a glass floor like at the Skydeck Ledge in Chicago, the Space Needle in Seattle, or at the Grand Canyon.
Riding a gondola to the top of a mountain like at Snowbird Ski Resort in Utah.
Edgewalks – Try walking on a five foot ledge over 1000 feet up in the air like the CN Tower in Toronto.
Try the Bridge Walk at New River Gorge National Park.
Walk over a suspension bridge like the Mile High Swinging Bridge at Grandfather Mountain, NC.
Ride an epic ferris wheel like the Sky Wheel in Myrtle Beach.
Bungee Jumping or Sky Diving
You won't find me doing with one of these crazy adrenaline pumping activities but I know a lot of people who absolutely LOVE them!! If you crave that stomach dropping feeling of jumping into the unknown from a high place with a giant elastic band around your ankles…then bungee jumping might be for you. If you're into jumping out of an airplane with only a parachute to keep you from hitting the ground, then sky diving might be just up your alley.
A great intro to sky diving for someone who might be a little hesitant would be to try out an indoor sky diving simulator experience. I'd be willing to give that a try!
Adrenaline Adventures: Activities on Land
There are so many fun adrenaline adventures available on land for you to try!
Hiking
Many people hike for relaxation and time in nature. Others hike for the thrill of it. Going to remote areas, seeing views from the highest peaks, or completing a challenging hike can all be high adrenaline activities.
Whether you're looking for beginner hikes with your family or something more advances, we have some truly incredible National Parks in the USA with hikes for all ages and levels.
Our most exciting hike to date has definitely been hiking the Narrows at Zion National Park– highly recommend!!
Rock climbing or Rappelling
Rock climbing is a great activity with a wide range of difficulty from beginning in a climbing gym to bouldering to sport climbing. There are a lot of terms and techniques that you need to know before you go- make sure to get the appropriate training before heading out on your own.
Rapelling, also known as abseiling, is a high adrenaline activity that involves descending down the side of a mountain or other man made structure using a rope system.
Obviously both rock climbing and rappelling can be quite dangerous activities. Be sure to have the necessary gear, and take appropriate safety precautions beforehand. This is definitely not the best activity to do alone and requires a lot of training to become proficient. Both activities can be quite thrilling even when done with a guide.
Want even more crazy ideas for your adrenaline junkie bucket list? What about ice climbing, base jumping, or or canyoning?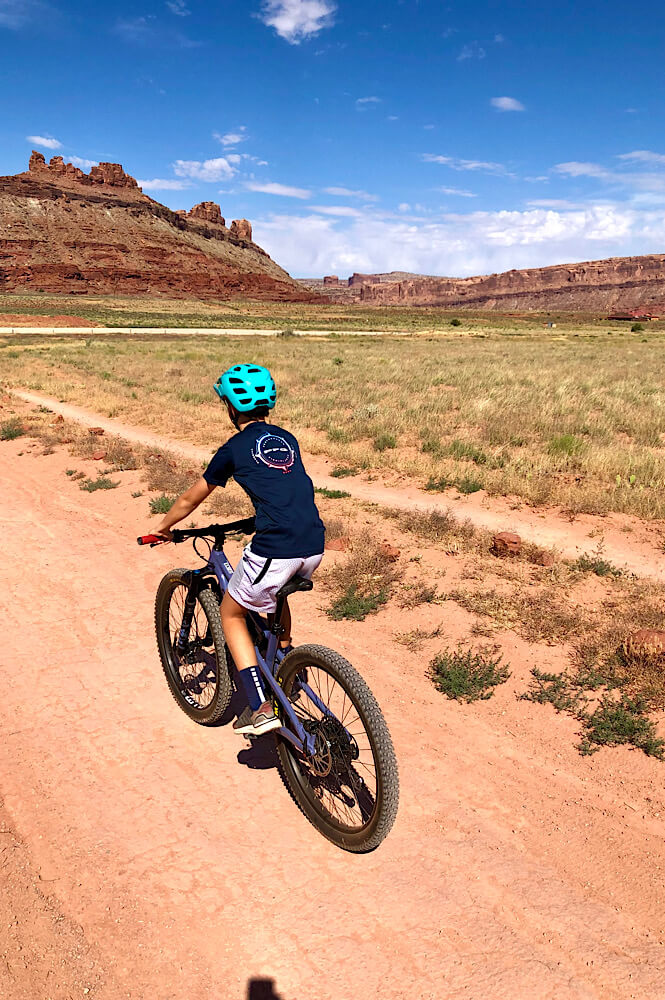 Mountain biking
Looking for a fun thrill seeking activity for the whole family? Try mountain biking. Mountain biking is another fun adrenaline adventure where there is a wide range of levels from easy to difficult. Going off road over, over rough terrain, is fun but more difficult than you might imagine. Consider going with an experienced tour guide if you're a beginner. Learn some of the basics before you head out to avoid injury. Mountain biking is a great way to get some exercise, get that adrenaline pumping, and be in nature all at the same time.
Mountain biking was way harder than I ever imagined! Read about our experience mountain biking in Moab during our Utah – Arizona road trip!
Ropes course
A ropes course might be a boring activity for some. But for those with a fear of heights, a rope course can be quite an adrenaline pumping activity.
Ropes courses are often a combination of high and low obstacles that require a lot of focus and determination to complete. There are many different elements that can be used in ropes courses. Zip lines, cargo nets, climbing walls, burma loops, swings, bridges, and more can create epic courses for all levels. Adrenaline can kick in before getting ready to complete the course, during, or after depending on YOU and your tolerance of each activity. You will often find ropes courses at adventure parks and have become popular team building activities too.
This is a great way to make memories together as a family! Add a ropes course challenge to your family bucket list!!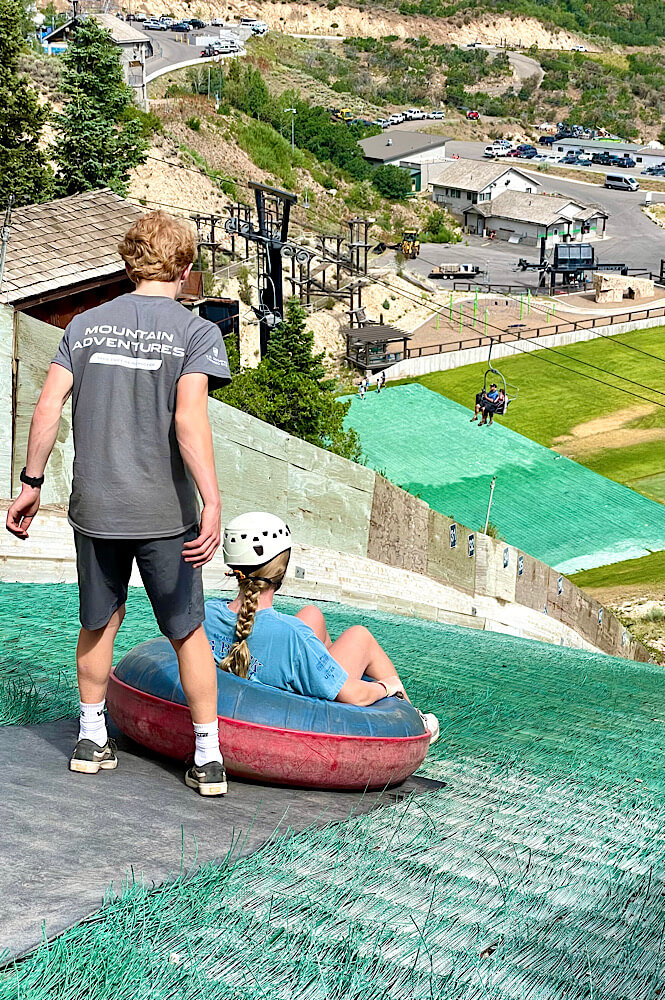 Tubing
From tubing behind a boat to tubing in the snow, tubing is so much fun!! A great and fun way to get a little adrenaline pumping activity for younger family members, tubing can start out slow and get more and more thrilling depending on the rider.
I have to say, the Extreme Tubing at the Olympic Park in Park City, Utah is literally the fastest, most exhilarating tubing we've ever done. It was intense!!
Wakeboarding and water skiing are also fun adrenaline rush activities for older kids, teens, and adults.
Go off roading
Whether you're driving your own four wheel drive vehicle or renting an ATV, going off roading is super fun! We recently took our four wheel drive onto the beach in Carolina Beach, NC and had the most fun! Just be careful not to get stuck!
Skiing or Snowboarding
Ever dreamt of flying down a snow covered mountain on skis or a snowboard? If you're looking for an adrenaline inducing activity that is easy to break into, try skiing or snowboarding. Fun for all ages, all you need is a mountain and the right gear and equipment.
Know Before You Go: If you are a beginner and have never tried skiing or snowboarding before, I highly recommend taking a lesson. Learning the basics from a pro will make your experience SO MUCH BETTER. Trust me.
Looking for a great winter destination for skiing or snowboarding? We love Snowshoe, West Virginia!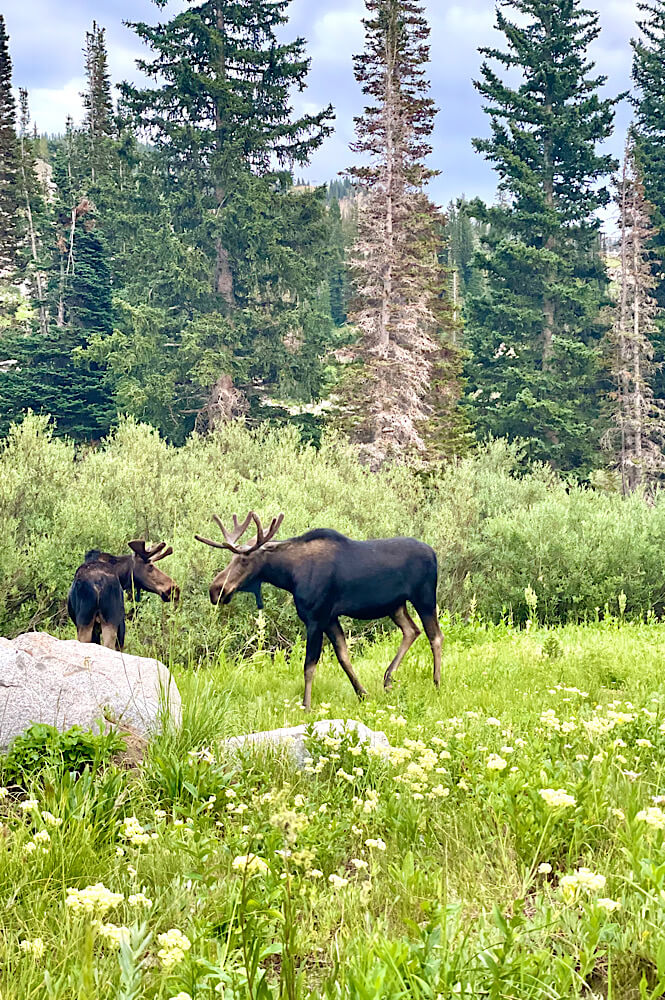 Animal Encounters
There are a lot of different animal encounter activities out there. Seeing animals up close and personal can be one of the most thrilling activities out there. Some encounters are ethical, while many are not. I highly encourage you to do your research before participating. I'm not judging.
Sand Boarding
Sand boarding or sand surfing is an extreme sport, similar to snowboarding, where you ride a board down sand dunes. It's kind of a mix between surfing, skate boarding, and snow boarding only in the sand. An easier version of the sport, yet still a fun adrenaline activity, is sledding down the sand dunes or going on a board or mat on your belly.
Know Before You Go: Look into rentals and permits beforehand or go with a guided tour. Also, consider the season and time of day as often the temperature of the sand can be important.
Want to up the thrill factor? Volcano boarding is a similar extreme sport only on the side of a volcano! Definitely one of the coolest high adrenaline activities out there!
High Speed Experiences
What better way to get that adrenaline pumping that by going fast!!
Here are several adrenaline junkie experiences to look into:
Race car experience (we love gifting experiences and gave this to my father in law one year for Christmas at the NASCAR race track in Charlotte! He loved it!)
Hit the test track at the BMW Performance Center in Greenville SC
Try a speedboat adventure
Sign up for an extreme flight- Top Gun style
Get out on the water on a jet ski
Thrill Seeking Activities
I'm far from an expert. However, here are my top tips before you try any new thrill seeking activity or adrenaline adventure:
Do your research.
Use property safety precautions.
Go with a reputable guide or tour company.
Have the proper gear.
Be prepared to pay. Many of these adrenaline rush activities can be rather pricey. It's always better to know what you're getting into beforehand.
Only do adrenaline activities that YOU want to do! Don't let others pressure you into something that you don't really want to do. But ask yourself: will I regret not doing this activity.
Adventure is out there friends!!
What adrenaline activities do you want to try first?
Pin these 25 thrill seeking activities and adventures for your next adrenaline rush.