A Day in Chicago
Only have one day in Chicago? No worries! We can help!
Chicago is a super fun city deserving of a spot on your USA bucket list! There are so many fun things to do and see in Chicago but sometimes we can only fit one day into our travel plans. I get it. We can relate. One day is better than none!
My best advice if you only have a day in Chicago? Spoiler alert: It's pretty much my same advice for visiting any city or destination. Plan as much as possible and then enjoy the experience. Be present and grateful for the amazing opportunity to explore somewhere new! Don't stress or worry that you didn't make it to see everything. Hey…that gives you a reason to go back, right?
This post contains affiliate links which means I could earn a small commission, if you make a purchase, at no additional cost to you. As an Amazon Associate, I earn from qualifying purchases. For more information, read my full Disclosure HERE.
How to get to Chicago
Chicago has two major airports: Chicago O'Hare International (ORD) and Chicago Midway Airport (MDW). Both airports are conveniently located with easy access to the city. Bus service, taxi, Uber, Lyft, and rental cars are all available from both airports.
How to get around Chicago
Our preferred way to get around Chicago is by Uber or just walking. We have found Uber is just so affordable and easy to use in cities. During our last visit we did have a rental car. Finding parking was doable but difficult since we had a large SUV that did not fit the height clearance in many of the public garages. While we did finally find an open air parking lot, it was not cheap, and not necessarily convenient to the attractions you want to see.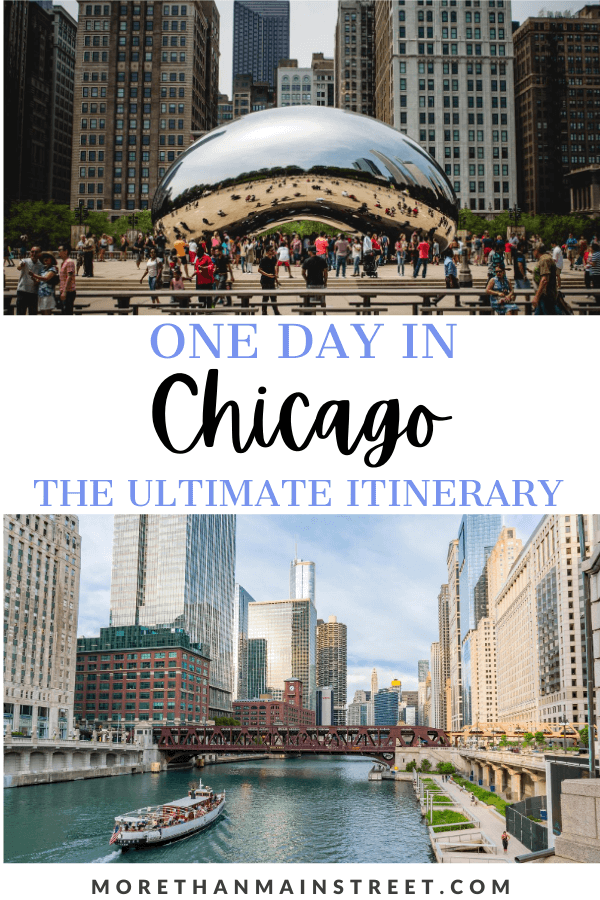 One Day Chicago Itinerary
It's always so hard to choose what to do when you only have one day…here's what we suggest for Chicago in 24 hours:
The Magnificent Mile
The Bean (AKA Cloudgate) & Millennium Park
The Chicago Arhcitechure Foundation Center River Cruise
The Skydeck Ledge at Willis Tower
Eat! Food is such a fun part of visiting a city…so indulge yourself and try all the classic Chicago foods.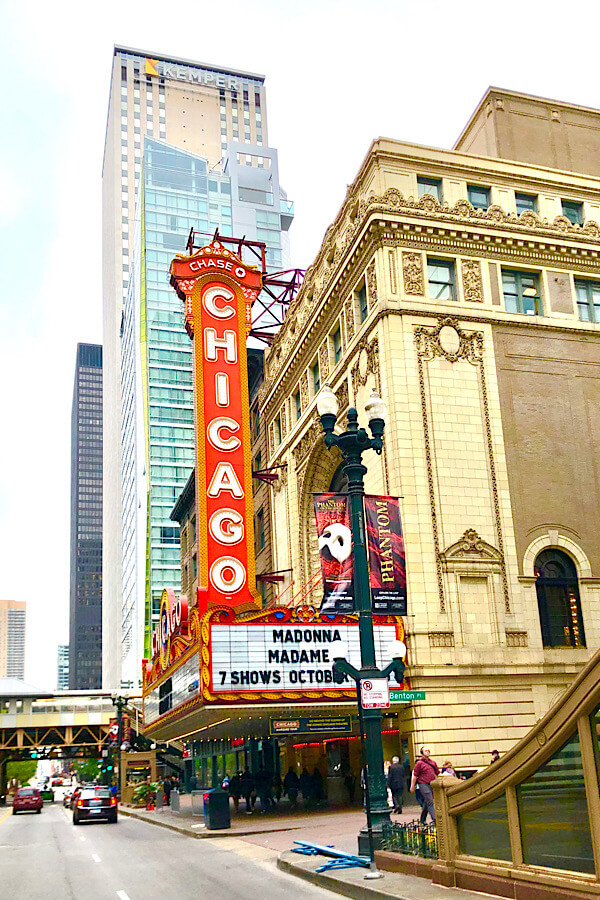 The Magnificent Mile
The Magnificent Mile is the 13 block stretch of Michigan Ave and the "center of it all" in Chicago. While many would consider this touristy, I still feel like it's a must to do at least once. Peruse the over 400 stores from the high end big name brands to the small super cute boutiques, stroll, and just soak up the city.
Trying to decide where to stay in Chicago? We loved our stay at the Fairfield Inn & Suites Chicago Downtown/ Magnificent Mile. This was possibly the nicest, most modern Fairfield Inn we've ever stayed in PLUS it's the best location right near the Magnificent Mile.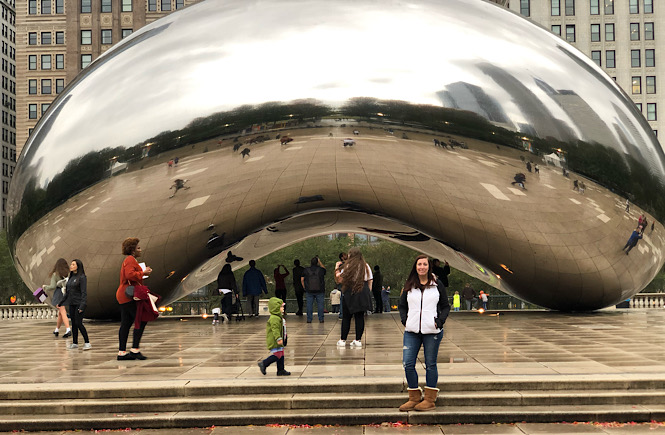 The Bean & Millennium Park
Start your day walking the Magnificent Mile down to Millennium Park. Take time to check out the Bean (Cloudgate), one of Chicago's most popular and recognizable tourist attractions in Millennium Park. Another must see in Chicago is the Crown Fountain. Two giant 50 foot LED screens display changing faces of Chicago residents. It's fascinating to say the least!
Next up explore Millennium Park, the BP Pedestrian Bridge, and Maggie Daley Park. Make sure if you're visiting Chicago with kids you plan extra time here as they won't want to leave Maggie Daley Park! Best part of your day so far…these are all free things to do in Chicago!! Woot woot!
ProTip: The Bean can get super crowded so plan accordingly. Even in my photo above there were quite a few people there and it was raining!!
The Architectural River Cruise
Next on your agenda is The Chicago Architecture Foundation Center River Cruise on Chicago's First Lady. Now, I was a bit hesitant about doing this to be honest. I mean I can't say architecture or history are of huge interest to me. But everyone we talked to said how fantastic it was and it was a must do activity in Chicago. Well…everyone was right!! My husband and I both agreed, it was fantastic. We loved the 90 minute river cruise and now we recommend it to everyone we know!
The do have snacks, drinks, and cocktails available, but I'd recommend grabbing lunch after your cruise before you head over to the Skydeck Ledge!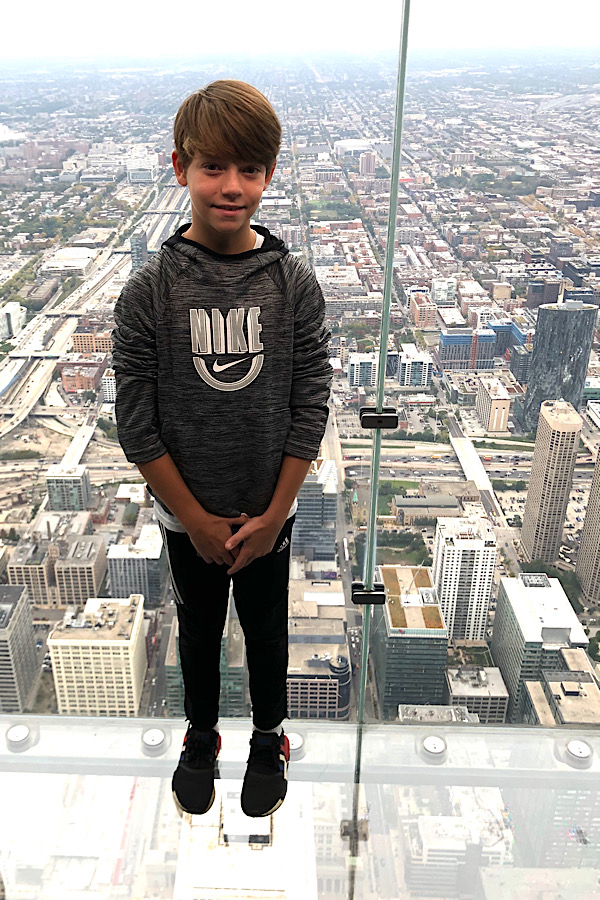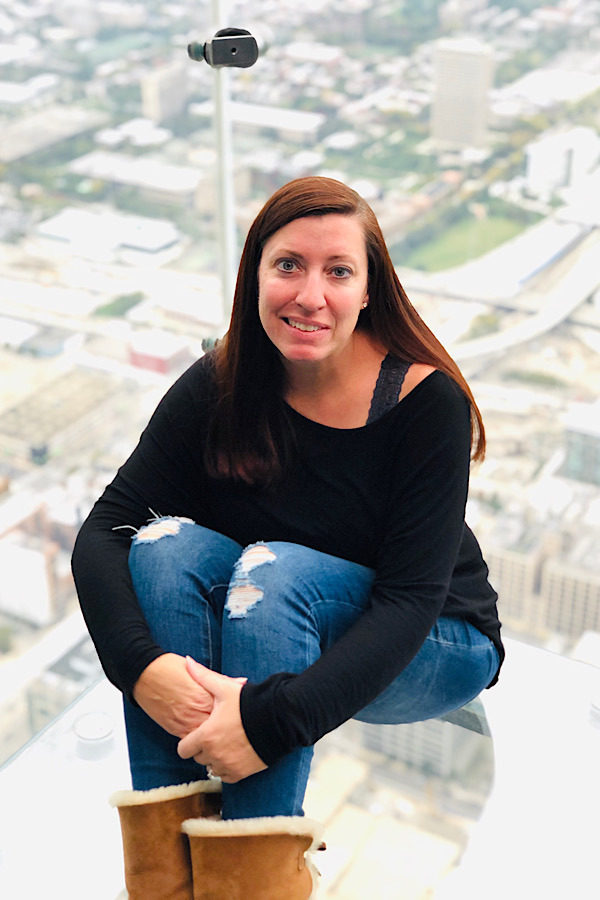 The Skydeck Ledge at Willis Tower
Visiting Chicago with teens? One of the best things to do in Chicago with teens and tweens is visit the Skydeck Ledge at Willis Tower. This is the ONLY thing my teen asked to do during our visit to Chicago. (Doing it for the gram!!) But in all honesty, our whole family enjoyed the experience. The views of the city are amazing and the Ledge is kinda cool and kinda scary at the same time.
Know Before You Go: Visiting the tallest building in the western hemisphere is cool and all but I always like to manage expectations. There will be a line although it does move pretty fast. But they literally give you 60 seconds on the actual ledge if you're a group of three or less and 90 seconds if you're a group of four or more. The set a timer and everything. So you have to be quick. They let our family of four have the entire space but if you were only a group of two you had to share the space with another couple. They of course have a photographer to sell you a photo but you are allowed to take your own photos. Expect one to two hours here.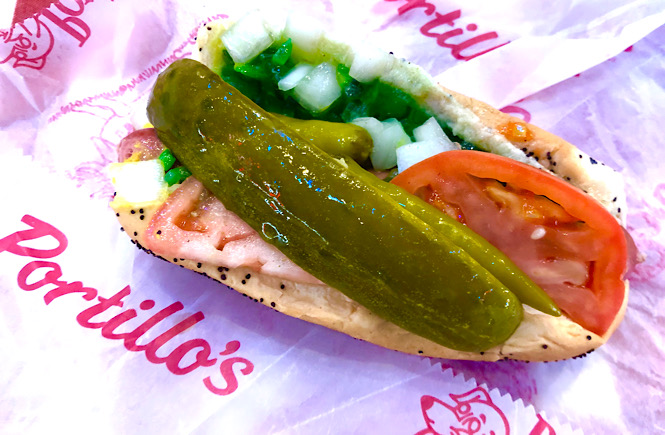 EAT! Indulge all your foodie desires in Chicago!
There are just certain foods you HAVE to try when you visit Chicago. While you may love or hate them, you have to try them. Here are our top picks to round out your Chicago itinerary:
Have Two Days in Chicago or More?
If you happen to have two days in Chicago or more, here are our top suggestions for more fun things to do in the city:
Visit Navy Pier– this is always a hit with the kids! Don't miss the Centennial Wheel.
Go to a Cubs game at Wrigley Field! You can't get a more authentic "Chicago" experience than this! We got lucky and were able to see a playoff game during one of our visits.
Chicago's Lakefront Trail- PRO TIP: Wear good walking shoes (unlike me!) to explore this beautiful 18 mile paved trail along Lake Michigan!
Take a Big Bus tour.
Catch a comedy show. Did you know Chicago is known for comedy? We were able to grab last minute tickets to see an improv show at Second City, which was worth every penny.
Plan date night at The Aviary. Ok…so only add this to the Chicago itinerary if you're visiting without kids. But this may be the swankiest thing we've ever done! Legit…you have to book reservations and they make alcohol an experience to remember. (Just be careful- the drink are strong and this isn't a cheap affair!)
Get inspired by a visit to Chicago's #1 museum: The Art Institute.
Say Hi to the beluga whales a the Shedd Aquarium.
Want more views? Check out 360 Chicago.
What to See in Chicago
Whether you're visiting Chicago with kids, your partner, or solo, no doubt you will be able to find more than enough to fill your day! I hope this helps give you an idea of some of the must see attractions so you can tailor your Chicago itinerary to meet your needs!
Have you been to Chicago? What would you list as absolute must do activities if you only have one day in Chicago? Let me know in the comments below!