Visiting Pinehurst NC
Need the lowdown on the best things to do in Pinehurst North Carolina? Don't worry…I've got you covered!
Think Pinehurst NC is just for golfers? Think again!! We just returned from a family weekend getaway to Pinehurst and to be honest…we were blown away! The perfect mix of luxury, fun, and relaxation, our entire family loved every second in Pinehurst and would go back in a heartbeat. It was that good!
Where is Pinehurst NC?
Located a little over an hour southwest of Raleigh, Pinehurst is the perfect day trip from Raleigh or North Carolina weekend getaway for the entire family. The cities of Pinehurst, Southern Pines, and Aberdeen make up the area also known as the Sandhills of NC.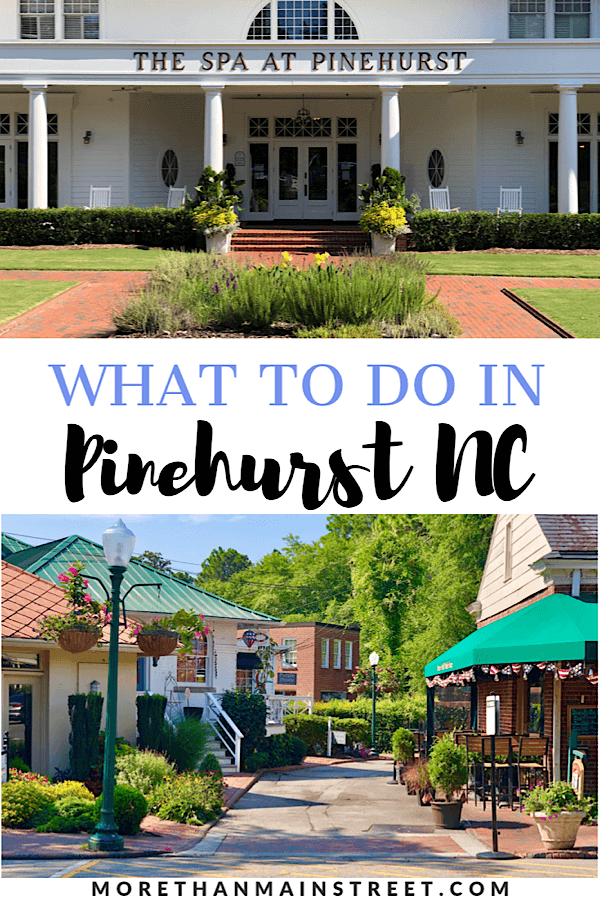 Best Things to Do In Pinehurst NC
We love gifting vacations and experiences in our family. But with current travel restrictions, we felt a little limited on where we could go for my son's upcoming birthday. We decided on a family vacation to the Pinehurst Resort since it is only two hours drive from our home, my guys love to golf, and it's somewhere we had never been before.
I can honestly say, we made a great decision!! Not that it wasn't our first choice in a travel destination, it just honestly had not been on our radar for a family vacation. Guys weekend, sure. But…golf resort for the family?? Well, let me tell you right now…we left the Pinehurst Resort literally thinking, why did we wait so long to come here!!
Again, I was reminded that it's not the destination that truly matters, it's the experience!
The Pinehurst Resort: More than Just Golf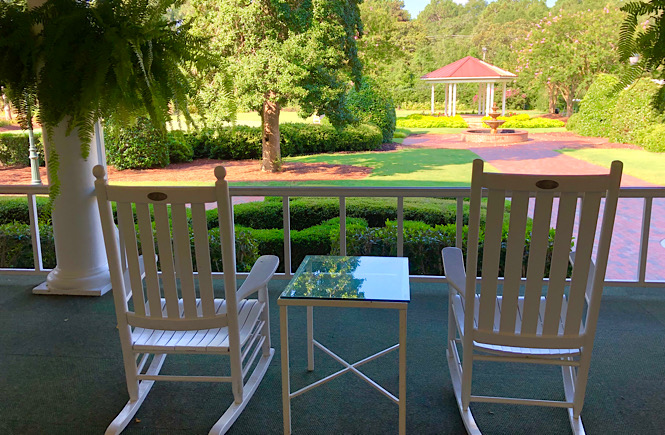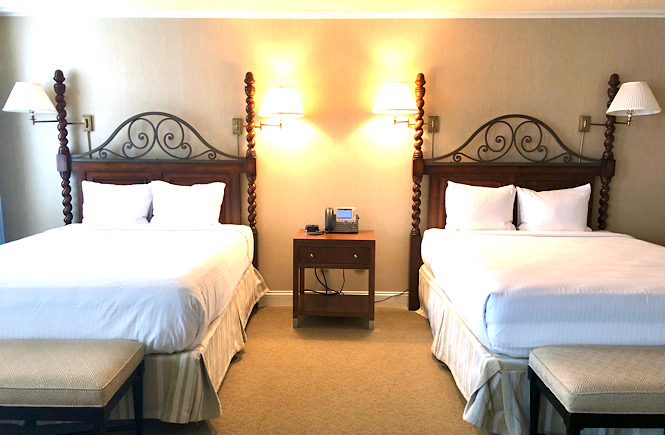 STAY AT THE CAROLINA HOTEL
We literally cannot say enough good things about the Carolina Hotel at the Pinehurst Resort. My husband and I drove to the resort separately since their tee time was earlier in the day. His text to me upon arrival literally said, "We've only been here 20 minutes and we've been treated like kings."
The Carolina Hotel is a mix of old school charm and modern luxury…that's family friendly too! The 4 Diamond rooms at the Carolina Inn are clean, spacious, and have everything you need. Each room had a safe, small refrigerator, coffee maker, toiletries, and more. As a family of four, it was very nice to have such a large room to spread out. The bathroom was updated and beautiful as well. The beds were luxurious and more importantly, comfortable!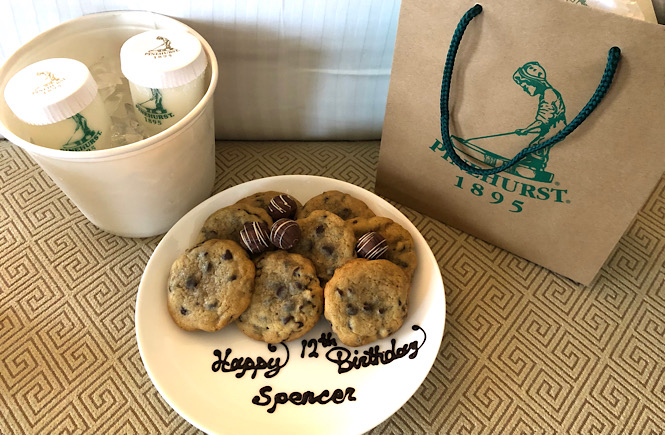 My husband had mentioned while checking in that we were there celebrating my son's birthday. Not long after getting settled in our room, milk, lemonade, and cookies were delivered to our room along with a little gift. (This alone was such a treat but they also took into account our son's food allergy to ensure his treat was safe for him to eat. Y'all, that kind of thing makes me cry. That child misses out on so many treats due to his food allergy…this totally made his day!) To say the Pinehurst Resort went above and beyond would be an understatement. They totally made our trip!
There are three other accommodation options on the Pinehurst Resort: The Holly Inn, The Manor, and The Carolina Villas. We just had such a great experience at the Carolina Hotel, we highly recommend staying there!
Side Note: Like I mentioned before, we traveled during a time where there were pretty strict safety mandates in North Carolina, The Pinehurst Resort was clearly on top of things, following all required protocols plus some. They even provided each guest with hand sanitizer and cleaning wipes in each room!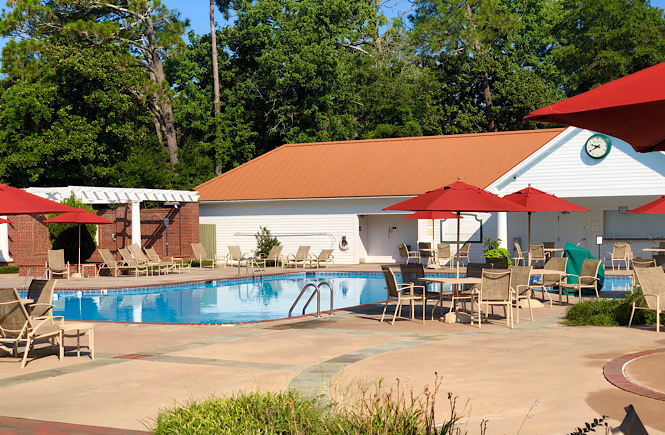 PLAY AT THE CAROLINA HOTEL
The Carolina Hotel at the Pinehurst Resort was first class! Whether you're looking for a weekend of play or relaxation, there are so many fun things to do at the hotel itself. The Carolina Hotel has two restaurants on site, a coffee shop, and they serve afternoon tea each day. You can sip your morning coffee in the rocking chairs on the veranda, warm up for your day of golf at the on site putting green, or play a round of cornhole with friends or family. We also discovered an outdoor ping pong table, playground, and other lawn games for guests to enjoy.
And finally there's the pool! With a splash pad and baby pool for your little ones, large pool area for everyone plus cabanas and concessions. I don't know about you, but we love to be able to order food and drinks poolside!
BONUS: At the Pinehurst Resort, there is regular shuttle service that will take you anywhere on property. You can literally park your car upon arrival and not touch it again until you're ready to go home.
Personally I think a stay at The Carolina Hotel belongs on every family bucket list! I loved it that much!!
INDULGE YOURSELF AT THE FAMOUS CAROLINA DINING ROOM BREAKFAST BUFFET
What can I say…our family loves a breakfast buffet!! And the famous breakfast at the Carolina Dining Room did not disappoint. Comfortable luxury and fabulous food is always a winning combo in my book. And maybe it's just me, but there is just something about live piano that makes things feel so fancy! Omelettes to order, fresh fruit, meats, and sweets, there is something to satisfy every palette. The staff were also very helpful and knowledgeable concerning our food allergy as well.
BEST PLACES TO EAT IN PINEHURST NC
Good food is an essential for a good trip. Am I right??
Every meal we had at the Pinehurst Resort was fantastic. We highly recommend:
Pinehurst Brewing Company– they have a huge outdoor patio, bar, and indoor dining along with some fun lawn games to play if you have to wait. Plus the food was outstanding- best beef brisket we've ever had. This would be my top recommendation on where to eat in Pinehurst NC!
The Deuce and The 91st Lounge at the Clubhouse were both great lunch options.
The Ryder Cup Lounge at the Carolina Hotel was super convenient after a very long day of golf and the food was great! We all agreed we'd go back.
There are several other restaurants within the Pinehurst Resort and at The Village Shops to choose from. Since we had our kids with us we chose to eat at the more casual restaurants, but there are two fine dining options for dinner: The Carolina Dining Room at The Carolina Hotel and the 1895 Grille at The Holly Inn. Both require advance reservations and have dress codes for dining.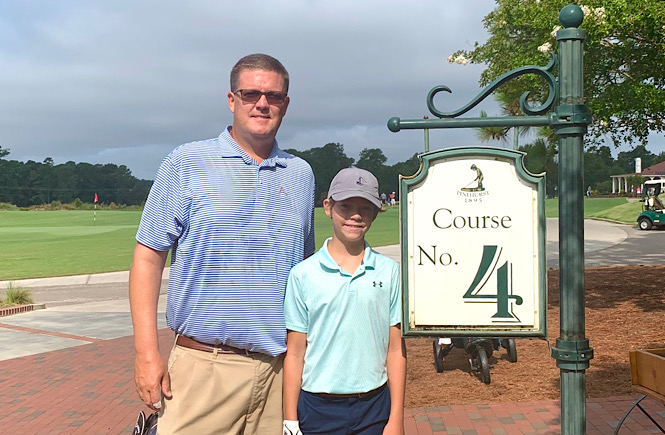 GOLF IN PINEHURST NC
How is it that golf in Pinehurst is number 5 on my list?? Anyhow…
If you're a golfer, then Pinehurst is probably on your bucket list. And it should be. It's pretty special. With nine different courses to choose from, there is plenty to keep you busy. In addition there are incredible practice facilities, and 18 hole putting course, and a really fun Par 3 course called The Cradle.
Golf at the Pinehurst Resort is actually very family friendly too! For my guys, The Cradle was by far their favorite experience. It is so relaxed and low key. Their minds were totally blown when they saw people playing without their shoes and socks! I even walked a few holes with them one afternoon.
Side Note: My husband's two cents on golf in Pinehurst: he recommends playing courses 1-5 first. That will give you that true world class golf experience you're looking for!
GET ACTIVE IN PINEHURST (BEYOND GOLF!)
There are several other things to do in Pinehurst North Carolina beyond golf! There are bikes available for use at the Carolina Hotel, tennis, and even a huge croquet court. Plus the Pinehurst Resort is extremely walkable if you just want to explore on foot.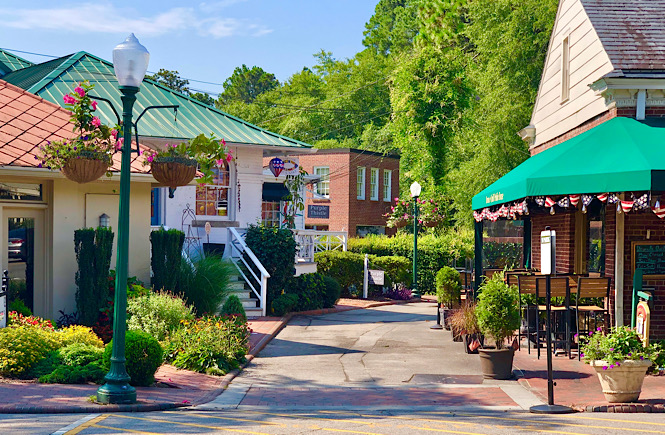 SHOPPING IN PINEHURST
The Pinehurst Village Shops are simply the cutest! My daughter and I had the best day popping in and out of the adorable boutique shops, enjoying lunch outside at Village Deli, and even splurged on a cupcake from C Cups Cupcakery.
A couple of shops we loved:
Purple Thistle Kitchen & Co.
If you are visiting April through September, there is a weekly farmer's market in the Village each Wednesday and Saturday with local fare.
Don't have time to make it to the Village for shopping? Not to worry, the Carolina Hotel also had two shops onsite and the Clubhouse has a large pro shop for more all the Pinehurst garb!
Consider adding Pinehurst to your next NC road trip or southeast USA road trip!
RECHARGE AT THE SPA AT PINEHURST
We do love a spa! But because this was a family trip, I did not get the opportunity to experience the spa at Pinehurst. I do have friends who only have rave reviews. And since everything else we did was first class, I would expect no different from the spa.
TAKE A CARRIAGE RIDE
A carriage ride is a unique way to see Pinehurst. Plus kids will love it!! Although we did not have time to arrange a carriage ride, it's certainly on our list for our next visit. Rides are by appointment only through Carriage Tours of Pinehurst and can be made by calling 910-690-4580.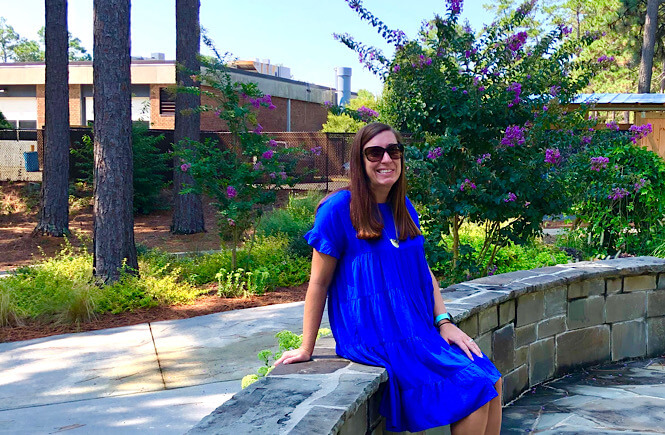 EXPLORE THE NEARBY SANDHILLS AREA
Check out the many fun things to do in Southern Pines NC:
If you're up for a little bit of a drive, Seagrove Potters around 45 minutes away is a very unique and fun stop while you're in the area.
Best Places to Visit in North Carolina
Have I convinced you to visit Pinehurst? We were just so pleasantly surprised by all the fun things to do in Pinehurst North Carolina. We often love to go and experience as much as possible when we travel. We also love a low key relaxing vacation as well. This visit to the Pinehurst Resort was the perfect mix of low key for myself and my daughter (just what I needed!) and full on fun for my guys (just what they wanted!).
Pinehurst NC is a perfect day trip from Raleigh but even better it's a perfect NC family weekend destination. So what do you think? Would you be down for a Pinehurst getaway?