Planning a Trip to North Carolina?
Sweet!! You're going to love NC! We sure do! Follow our ultimate North Carolina road trip itinerary to see the best of what NC has to offer!
There are seriously so many family friendly things to do in North Carolina! North Carolina is a state known for it's pristine beaches, lighthouses, NASCAR, waterfalls, the Blue Ridge Parkway, and more! But to be totally honest, North Carolina is a pretty difficult state to road trip all in one fell swoop. While you can drive north to south in approximately three hours, driving across the state west to east will take you upwards of at least eight hours.
But in an effort to showcase all the cool cities in North Carolina, I've put together this ultimate North Carolina road trip itinerary for your family. But, because I'm also a realist, I've split up this itinerary into two seven day itineraries for those of you who can't swing a two week trip. If you can do it all at once, rock on. If you only have one week of vacation, choose the eastern 7 day North Carolina itinerary one year for a summer vacation and choose the western 7 day itinerary the following year for a fall vacation.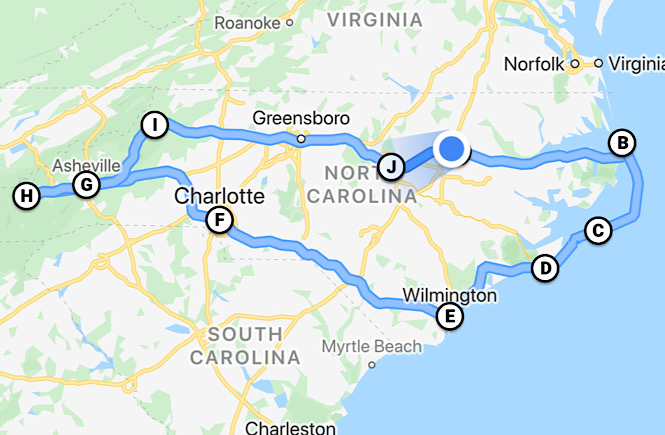 Ultimate North Carolina Road Trip Itinerary
So…without further ado, here is my ultimate North Carolina road trip itinerary including my top 10 picks of cool cities to visit in NC:
Day 1: Raleigh
Day 2: Rocky Mount
Day 3: Outer Banks: Kill Devil Hills
Day 4: Outer Banks: Nags Head
Day 5: Outer Banks: Ocracoke
Day 6: Wilmington
Day 7: Wilmington
Day 1: Charlotte
Day 2: Charlotte
Day 3: Asheville
Day 4: Asheville, Cherokee
Day 5: Asheville
Day 6: Boone
Day 7: Boone, Depart for Home
If you've always wanted to visit the Outer Banks, soak up some sun along our amazing National seashore, see epic North Carolina waterfalls, or have been planning a road trip to the Biltmore Estate or scenic Blue Ridge Parkway, then we have got you covered!! We're hitting all the best things to do in North Carolina in one ultimate road trip!
Ready? Let's get this road trip party started!
Road tripping is the perfect family vacation!! Need help planning? Don't forget these road trip essentials or simply grab our free printable worksheets below!
This post contains affiliate links which means I could earn a small commission, if you make a purchase, at no additional cost to you. As an Amazon Associate, I earn from qualifying purchases. For more information, read my full Disclosure HERE.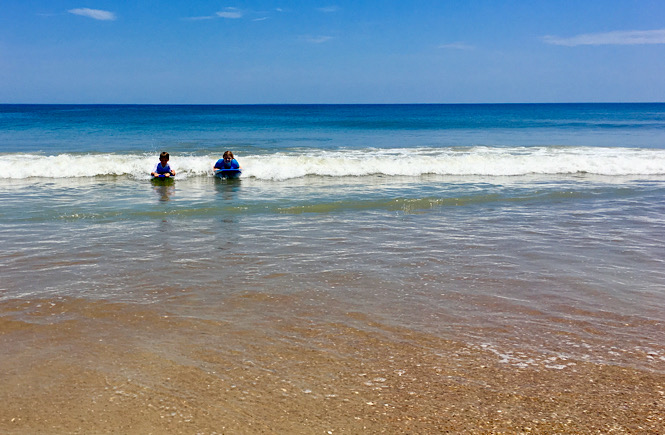 Best Cities to Visit in North Carolina
We'll be highlighting some popular cities in NC but also some of the best small towns along the way!
We're kicking off this road trip in Raleigh or Charlotte. Why? Well, because if you're flying into the area, you're likely to start your road trip from one of our major international airports: RDU in Raleigh or CLT in Charlotte.
Raleigh, NC
Welcome to the state capitol, Raleigh, North Carolina! Head downtown to check out the shopping and art scene, Fayetteville Street, museums, and Marbles Kids Museum. Want to get outside? Check out Pullen Park, Umstead Park, or the NC Farmers Market. If you have time, be sure to catch a Hurricanes hockey game or one of our epic college sports match ups!
Raleigh is an up and coming foodie destination! Wondering what to eat and drink in Raleigh? We recommend:
(If you're road tripping with kids here are a few more ideas of things to do in Raleigh with kids and family friendly restaurants.)
Rocky Mount, NC
Rocky Mount, NC is the perfect stop for any road trip through North Carolina! Situated conveniently at the intersection of Interstate 95 and Highway 64 there are a ton of fun things to do in Rocky Mount! Since you only have one day, you cannot miss visiting the Rocky Mount Mills, a restored cotton mill now housing five craft breweries, three restaurants, and the cutest coffee shop you ever did see! There's also a ton of room for kids to run and play to get out some of that energy. Love the outdoors? Spend some time exploring the trails at Battle Park. For a completely unique experience, make sure to spend the night stay at River & Twine, the world's largest tiny house hotel!
Want more details? Read more in my family friendly guide of things to do in Rocky Mount, NC , extensive guide to the Rocky Mount Mills, and find out our top choices of where to eat in Rocky Mount.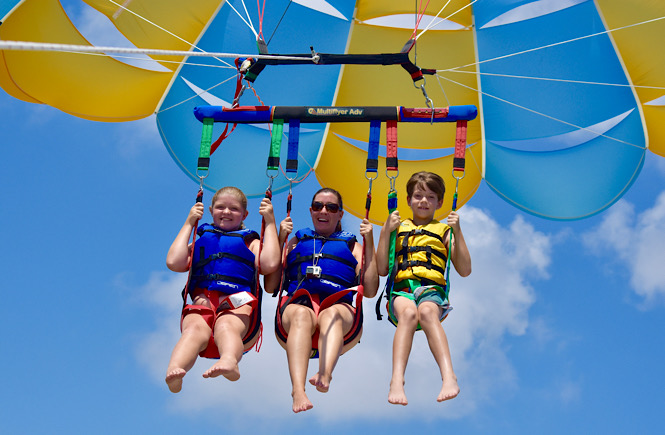 NC's Outer Banks: Kill Devil Hills, Nags, Head, & Ocracoke
Pack up the car, it's time to head 2.5 hours to the OBX! With over 200 miles of coastline, you'll never cover the entire Outer Banks in just a few days, but you can certainly see some of the highlights. We recommend staying in the centrally located Kill Devil Hills or Nags Head so that you can make the most of your visit. In just two days your family can visit the Wright Brother's National Memorial, Jockey's Ridge State Park (the tallest active dune system on the east coast of the USA), Bodie Island Lighthouse, and spend some time on the beach. If you're up for a little more driving, head north an hour to Corolla to see the wild horses, an absolutely unforgettable experience!
Need more ideas of what to do in the Outer Banks? Read my family friendly guide to the Outer Banks and Corolla.
OBX: What does OBX mean? OBX is simply a local abbreviation for the Outer Banks. From hang gliding, to history, to getting your foodie fix there are endless options in the Outer Banks!
Last on our Outer Banks tour, you're going to head south to Ocracoke. Make sure to set your alarm as you'll have to catch the ferry to get to this picturesque North Carolina destination. Ocracoke definitely belongs on any NC bucket list. Slow down and savor this tiny island's pristine beaches, cute shops, and friendly locals. But if slowing down really isn't your thing, don't worry. You can also choose to spend your day surfing, paddle boarding, kitesurfing, fishing, or kayaking. The village wide speed limit is 20 mph and you'll see most people walking, biking, or using a golf cart to get around!
KNOW BEFORE YOU GO: Make your ferry reservation in advance during the busy summer months so you don't miss out on precious time on the island!
Looking for somewhere to stay? Check out these awesome family friendly AirBnB's in the Outer Banks and our family favorite place to stay: The Saturday House.
Wilmington, NC
Get up bright and early because today will consist a lot of travel time! The ferry to Cedar Island from Ocracoke takes around two hours. Enjoy your time on the ferry soaking in the beautiful views because you'll have another three hours in the car driving the rest of the way to Wilmington. Not to worry though, you'll have plenty of options for small cute NC towns to stop for food, to stretch your legs and find some fun things to do!
Once you've arrived in Cedar Island, we recommend driving one more hour to Beaufort, NC for some lunch. Spend some time wandering this absolutely adorable small NC town! It will steal your heart, I promise! Already been to Beaufort? Try stopping in one of these other unique small towns in NC on your way to Wilmington: Morehead City, Surf City, or Topsail Beach.
Since you'll be arriving in Wilmington later in the day, we'd go straight downtown to explore the Riverwalk area, maybe take a carriage tour, and grab dinner. Fill your second day in Wilmington with a visit to the Battleship North Carolina, historical Fort Fisher, Carolina Beach State Park, more water sports, or just lounging on the beautiful beaches.
Need more ideas of fun things to do? Read our family friendly guide to Wilmington, NC and Carolina Beach, NC!
Trying to decide where to eat in Wilmington? Our top recommendations:
Need somewhere to stay? We recommend the Courtyard Carolina Beach Oceanfront and the Courtyard Wilmington Downtown.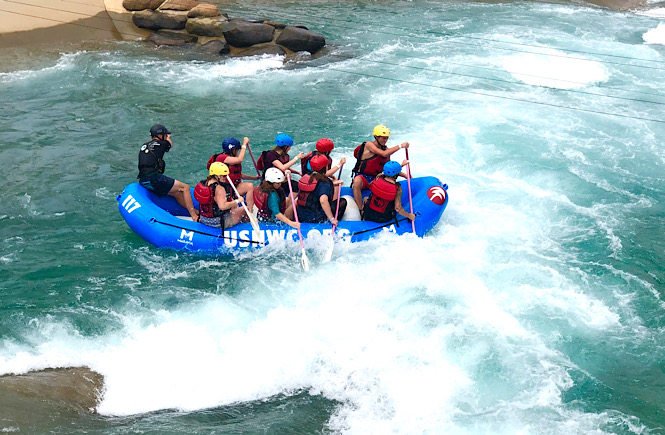 Charlotte, NC
On the road again…drive 3.5 hours to Charlotte, NC! Here are some fun things to do in Charlotte depending on the time of year you are visiting:
US National Whitewater Center – check out the whitewater rafting, ropes course, or the many mountain biking trails.
Visit the NASCAR Hall of Fame or catch an actual race!
Love a theme park? Spend the day at Carowinds.
Get your art on at The Mint Museum.
Find some family fun and learn something too at Discovery Place.
Soak up the beauty of Daniel Stowe Botanical Gardens.
Catch a pro football game at the Bank of America stadium, a show at the Blumenthal Performing Arts Center, or even a concert at the Spectrum Center.
Need somewhere to stay? We really love the AC Hotel by Marriott if we're looking to stay downtown and the Courtyard Charlotte Concord if we're staying near the racetrack.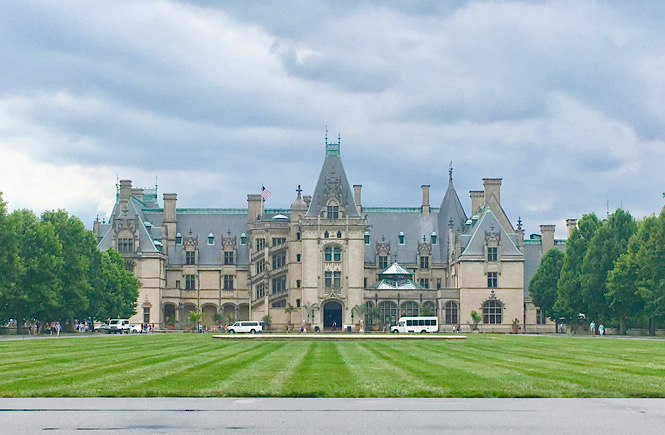 Pro-Tip: If you're into fall foliage…then these next three stops are where it's at! But make your plans in advance, this area gets super busy in October for peek leaf peeping!
Asheville, NC
Hop into the car for your two hour drive this morning to Asheville, NC! Asheville is one of the coolest cities in NC with a ton of unique things to do! Don't miss a visit to The Biltmore Estate, Chimney Rock State Park, Sliding Rock, and diving head first into the amazing food and beer scene! If you've been planning a road trip to the Biltmore Estate or wanting to see some North Carolina waterfalls, here is your chance!
There are a ton of unique places this area of the state like fun mountain cabins and these cool North Carolina treehouses. If you're looking to stay in downtown Asheville, we highly recommend the Renaissance Asheville Hotel.
Need more details? Check out our guides to visiting Asheville and The Biltmore Estate.
Cherokee, NC
Although we recommend staying in the Asheville area as your home base for this North Carolina road trip (to minimize switching accommodations every night) a day trip to Cherokee, NC is a must! Cherokee is your gateway to Great Smoky Mountains National Park. Here you can spend your time hiking, biking, or swimming and learn about the Cherokee Indians! And if gambling is your thing, then make sure to check out one of the best casinos in the Southeast: Harrah's Cherokee Casino Resort.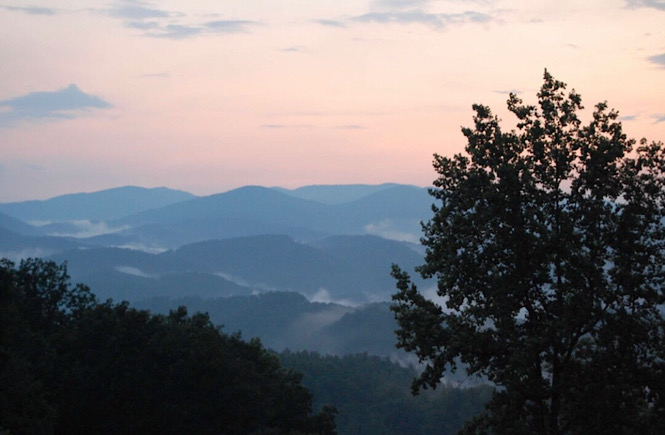 Boone, NC
This morning's scenic drive is about an hour and a half to get to Grandfather Mountain. Spend the morning here before driving on a half an hour to Boone, North Carolina! Check out the views on the Blue Ridge Parkway, enjoy some serious family fun at Tweetsie Railroad, go gem mining, and check out the adorable town of Blowing Rock! Fit in a trip to Linville Gorge and Linville Falls your final morning before heading back home.
Insider Tip: Visit to the Mast General Store and the Daniel Boone Inn for a unique North Carolina experience!
What is the best time of year to travel to North Carolina?
North Carolina is beautiful year round, however there are pros and cons to each area and travel season.
SUMMER in NC: We love to recommend travel to NC in the spring and fall but if you're really looking to enjoy our amazing beaches, you may want to travel during the summer. But beware! Most of the state gets very hot and humid throughout the summer. Our beaches are insanely popular during the summer so make sure to plan in advance so you don't miss out!
FALL in NC: If you're looking for incredible fall foliage and more mild beach weather, then consider traveling in autumn. But beware! We are smack dab in the middle of hurricane alley. There is always a chance of a hurricane in late summer, early fall. The mountains are also very popular this time of year so book early to guarantee you get a reservation.
WINTER in NC: Winter is generally very mild in NC but you may have a chance of snow in the western half of the state. Pack a warm coat and you should be just fine.
SPRING in NC: Finally spring is lovely time to travel the entire state as long as you can handle the pollen! The temperatures are warming up, the flowers are blooming, but you the ocean may be a little too cold still for swimming.
Bonus 10 Day NC Road Trip Itinerary
IF you've been around a while, you'll know our family loves a ten day vacation. For some reason that amount of time works for us. So…I put together a fun 10 day NC itinerary. You won't see as much of the coast but you can still see many of the highlights.
Day 1: Rocky Mount
Day 2: NC's Outer Banks
Day 3: NC's Outer Banks
Day 4: New Bern, Wilmington
Day 5: Wilmington
Day 6: Charlotte
Day 7: Asheville
Day 8: Asheville
Day 9: Boone
Day 10: Raleigh
Fun Things to Do in North Carolina
So… have we provided enough ideas for you to figure out what to do in North Carolina?? We're proud to call NC home and love exploring our state. We're always discovering new and fun things to do! Are you ready to start planning your ultimate North Carolina road trip itinerary? We love trip planning and are happy to help create an itinerary that fits your travel needs and wants. Feel free to reach out by leaving a comment below or DM me on Instagram with questions.
What's the first thing you're going to do during your trip to North Carolina?
Pin this Ultimate North Carolina Road Trip Itinerary!