Rocky Mount Mills
Where can you find the most fun in Rocky Mount for the entire family? The Rocky Mount Mills!
Whether you're a Rocky Mount local or you're visiting for the day, the Rocky Mount Mills is going to become your go-to spot from here on out!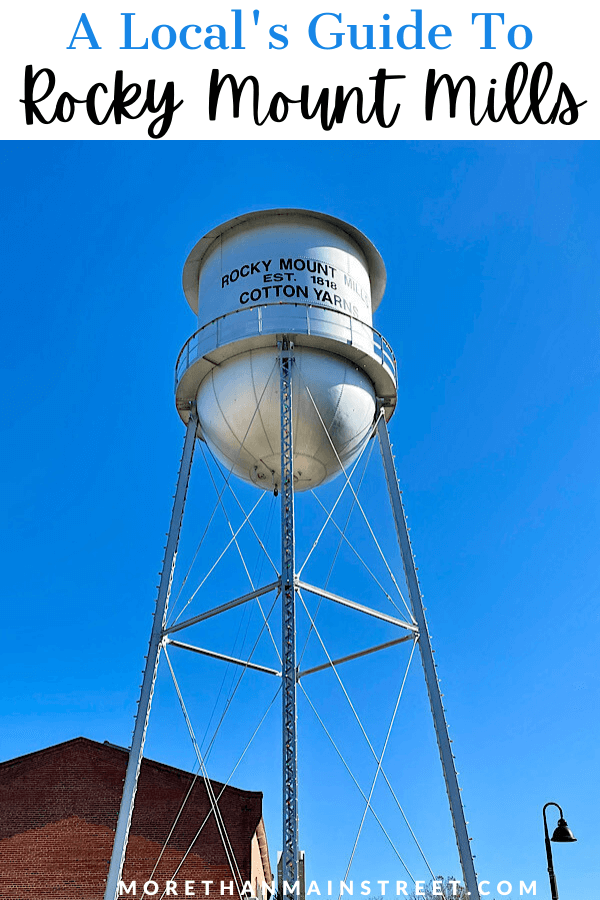 What is Rocky Mount Mills?
Rocky Mount, North Carolina is located about an hour east of Raleigh at the intersection of Interstate 95 and Highway 64 and home to Rocky Mount Mills. It is the perfect stop on any east coast road trip, day trip from Raleigh, or NC weekend getaway.
The Rocky Mount Mills is an 82 acre campus comprised of three restaurants, four breweries, a coffee house, beer incubator, bottle shop, business offices, private residences, tiny house hotel, and event space. Located on a restored cotton mill and along the banks of the Tar River, Rocky Mount Mills is a true treasure in this small southern town.
Rocky Mount Mills is best known for their craft breweries, but did you know that it's actually very family friendly too? There are a ton of things to do with kids at Rocky Mount Mills that the entire family can enjoy.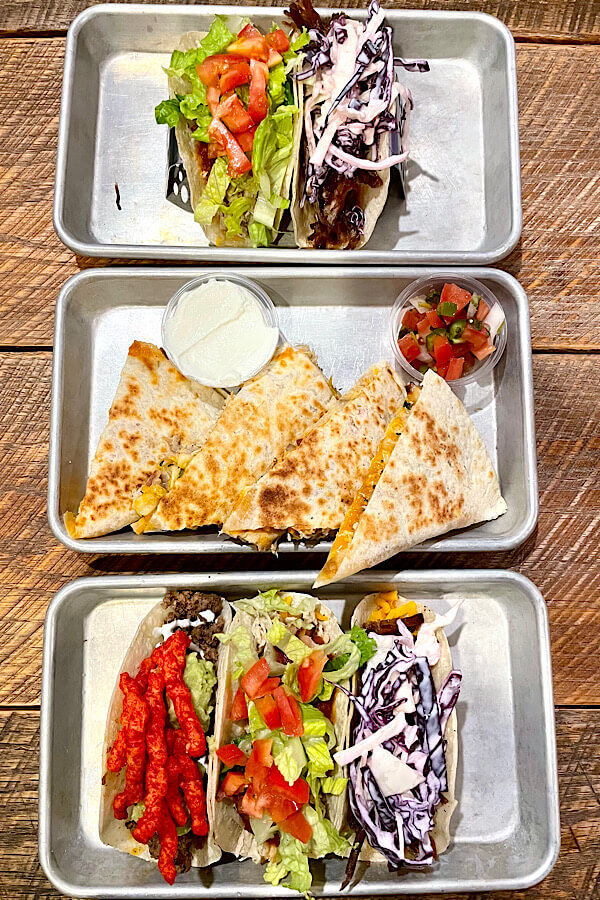 Rocky Mount Mills Restaurants
There are three restaurants on site at the Rocky Mount Mills. One of the best features of the restaurants here is the ability to eat outside. While each restaurant does provide indoor dining options too, when weather permits, it's fun to eat outside! Our family loves each of these restaurants for different reasons:
Tipsy Tomato – It's official!! We hereby declare Tipsy Tomato the best pizza in Rocky Mount!! Y'all it's sooooo good!! If you like your pizza elevated, wood fired, yet casual at the same time, then you'll love this pizza place too! (Insider Tip: this restaurant is tiny with only a few indoor tables, so order to-go or plan to eat at one of their tables outside.)
TBC West: Tacos & Taproom – open Wednesday through Sunday lunch and dinner hours, we love our TBC! The homemade chips and dip are to die for and kids will love running around playing while you wait for your food. A super friendly and casual atmosphere make this one of our favorite family hangouts. These aren't your run of the mill tacos and beer either. Creative taco combinations will leave you wanting to try them all, but our personal favorite is the brisket taco paired with the amazing small batch brews.
Tap at 1918 – Open for dinner Wednesday through Sunday, this is the spot if you're looking for a more upscale dining experience in Rocky Mount. We do recommend going early if you're dining as a family. There is no official kids menu, but our kids are still happy with a chicken sandwich, burger, or real homemade corn dogs. Homemade rolls and bacon wrapped pretzels are always a crowd pleaser too.
Prime Smokehouse- Brand new to Rocky Mount Mills…the Prime Smokehouse is the place to go if you're looking for good barbecue, brisket, or even collard greens! The perfect spot whether you're craving some comfort food or looking for somewhere for date night in Rocky Mount!
Still hungry? Read our guide on all the best places to eat in Rocky Mount!
What is there to do with kids at The Mills?
The Mills is a super family friendly destination! Check out all the amazing activities you can do with kids here: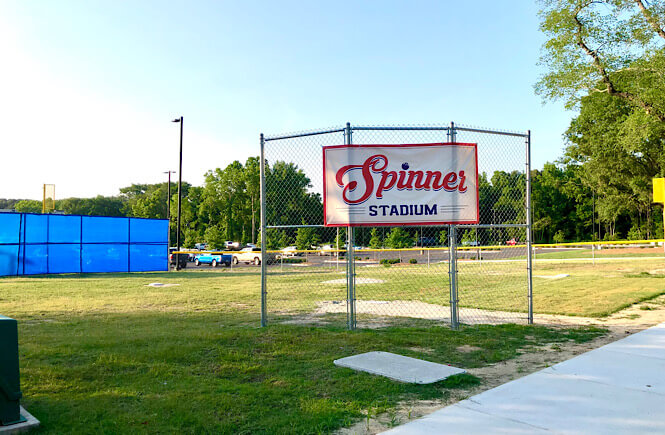 Play Whiffle Ball
Located right next to Tipsy Tomato, grab your friends and family for a game or two of whiffle ball. Bring your A game because my family gets super competitive. This is a super fun activity for ALL ages!!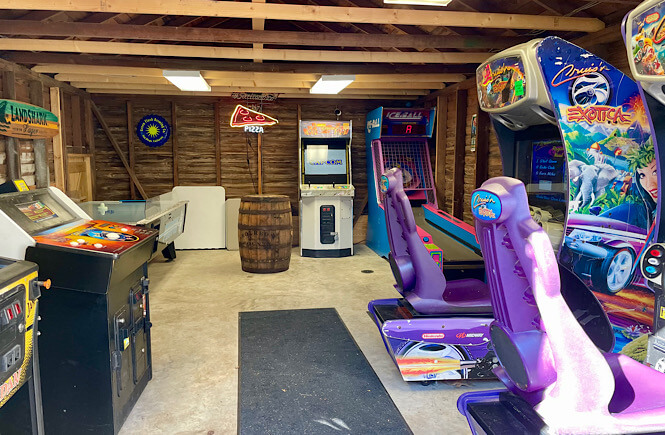 Win Big at the Arcade
What kid doesn't love an arcade? I mean, honestly, most adults do too! Also located right next to Tipsy Tomato, this is a fun addition to Rocky Mount Mills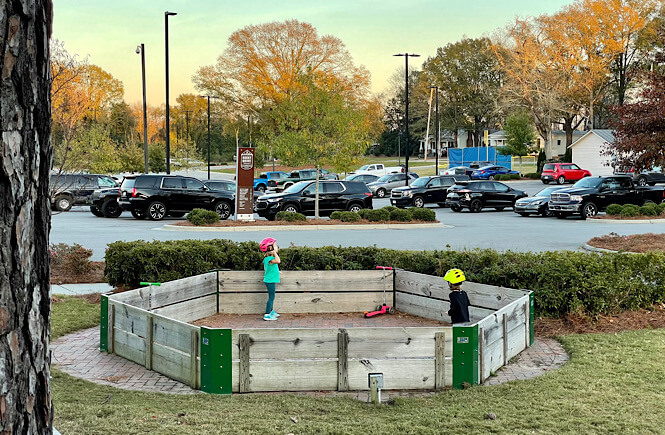 Learn to Play Gaga Ball
Ever heard of gaga ball?? Well, if you're not familiar with it, you're not alone. My kids had to explain it to me! Sort of a milder version of dodgeball played in an octagonal pit, all I know is that kids love it! And kids of all ages too! Located directly in front of TBC West, this is a great way for kids to burn some energy.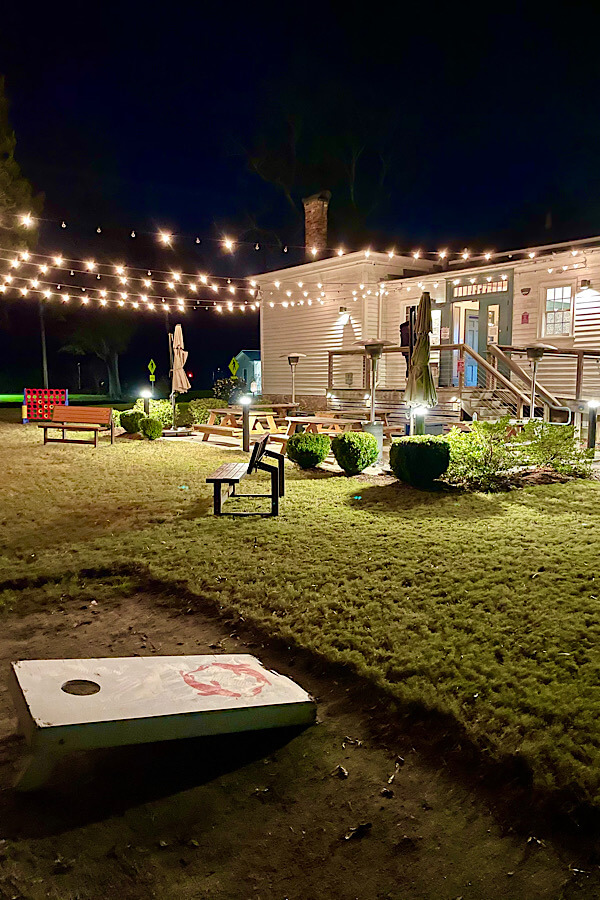 Get Competitive with Cornhole
Don't you just love a brewery that is kid friendly? Well, we certainly do! Koi Pond Brewing Company is the perfect spot to spend the afternoon or evening with the family. Grab one of their fantastic craft beers, play a friendly round of cornhole or giant connect four, and relax at the Pond. Visiting on a rainy day? Check out their awesome array of board games inside. Be sure to check their Facebook page before you go as they often have live music!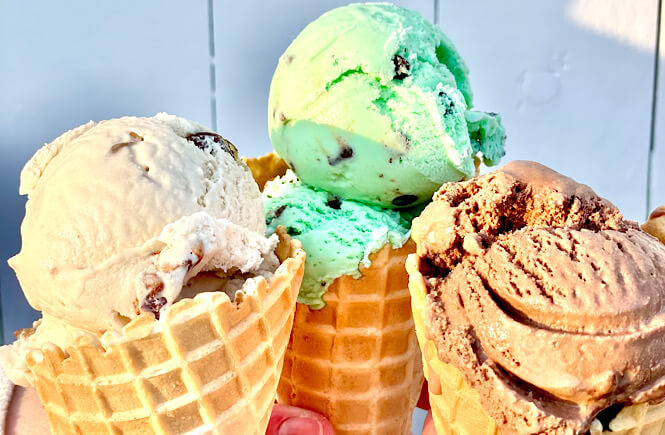 Treat Yourself with Coffee & Ice Cream
Coffee or ice cream? That's a hard decision for this mama!
If you're looking for a treat during your visit to Rocky Mount Mills, make sure to pop into Books and Beans. Locally owned by New York Times best selling author Etaf Rum, this adorable coffee shop serves breakfast, lunch, Hershey's ice cream, baked goods, and of course coffee! You'll instantly feel the charm of this beautiful space designed for family and friends to get together. Pick up a book or two during your visit and join their virtual book club on Instagram.
Insider Tip: Go on Friday mornings to grab up Winde Jackson's famous cinnamon rolls! Goes perfectly with their vanilla lattes! The best in town!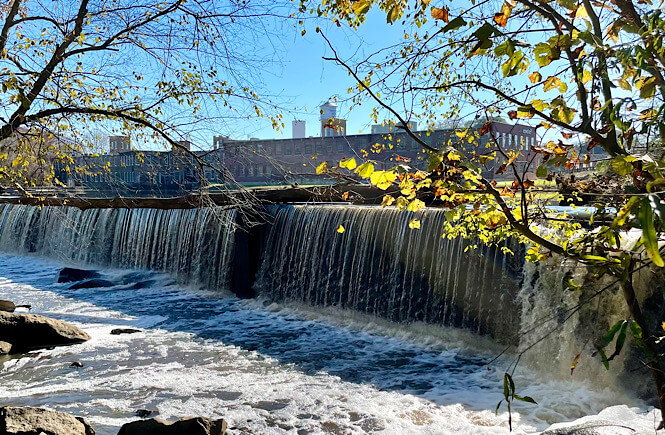 Get Active at Battle Park & The Tar River Trail
Although Battle Park and the Tar River Trail are not technically part of the Rocky Mount Mills, you can easily walk to them. Take the kids and explore the paved trail along the river and down to Sunset Park. If you're feeling a little more adventurous, hop off the path and climb amongst the rocks along the river. Battle Park is one of our favorite ways to get outside and get active with our kids!
Bonus: Battle Park, the Tar River Trail, and Rocky Mount Mills are all pet friendly too- just remember to have your dog on a leash at all times and clean up after them!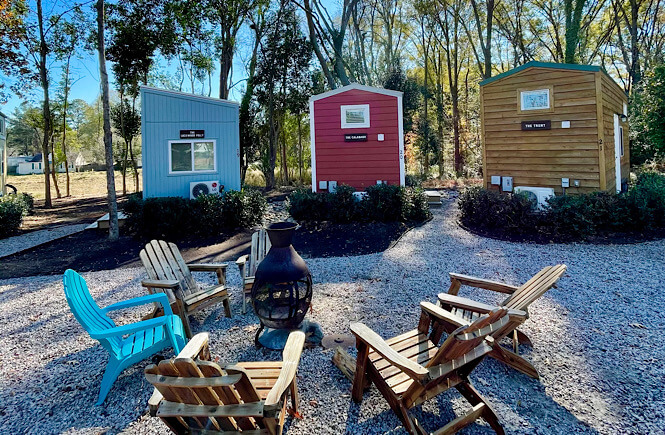 Stay at River & Twine: Tiny House Hotel at Rocky Mount Mills
Need somewhere to stay in Rocky Mount?
If you love a unique place to stay like we do, consider a stay at River & Twine. This collection of 20 tiny houses is an experience in an of itself and one you won't forget! These custom tiny houses can accommodate either two or four people and have everything you'd find in a hotel room- just tiny!
You'll love the convenience of walking to the Mills for some fun or a bite to eat, but there are a ton of fun things to do at River & Twine itself! This tiny house hotel has fire pits for guests to enjoy, plenty of room to throw a football or frisbee, hammocks, and even a slackline to try!
Read our full review of our stay at River & Twine!
Visit Rocky Mount
Rocky Mount Mills is the place to be in Rocky Mount!
Happen to be visiting without kids? Be sure to check out the beer garden, Goat Island Bottle Shop, and Hopfly Brewing Co. while you're here. Although there are no special events, food trucks, or concerts currently planned due to COVID-19, make sure to check the Rocky Mount Mills Facebook page for updates as to when they will resume!
(Know Before You Go: Rocky Mount Mills is doing a great job following COVID-19 protocols and NC mandates. At the time of publication, masks are required on campus.)
So what do you think? Sound like you and the family would enjoy a day at The Mills?
If you're looking to spend more time in the area, be sure to check out my guide on more fun things to do in Rocky Mount!