What to Do in Rocky Mount NC
Wondering if there are any fun things to do in Rocky Mount NC?
Well…let me help you out! There are a ton of fun things to do in Rocky Mount NC!! And I bet that once you discover all the fun, you might even want to stop and stay awhile!
We love visiting and exploring small towns all over the USA. You can find so many unique and fun things to do. They often are quite affordable and offer a more laid back vibe than big cities.
At first glance, there may not seem to be a whole lot to do in the quiet little town of Rocky Mount, North Carolina. But, with a little guidance, you can find all sorts of adventures in this charming NC town. Situated at the intersection of Interstate 95 and Highway 64 in North Carolina, you may find Rocky Mount a perfect stop during your travels up and down the east coast of the USA! Rocky Mount is also an easy day trip from Raleigh, NC.
My Rocky Mount History
You see…I'm not actually from Rocky Mount. Heck, I'm not even from North Carolina. But…I have lived in Rocky Mount longer than I've ever lived anywhere else in my entire life! (Almost 20 years!) I guess that's the blessing/ curse of being a military brat.
So…to me, Rocky Mount is home.
When I first moved here, I had no idea what to do in Rocky Mount, NC. Over the years, I have learned to love my small town in Eastern North Carolina and have found plenty of things to do to occupy my days. It has grown and changed so much over the last 15 years. Whether you're visiting, passing through, or just a bored local, there are some very exciting (and fun) things happening in Rocky Mount!
Best Things to Do in Rocky Mount NC
1. The Rocky Mount Mills
The Rocky Mount Mill is the place to be!! With three restaurants, seven different breweries, brand new apartments, meeting and event spaces, a whiffle ball field, and arcade there is literally something for everyone. We even have the world's largest tiny house hotel called River and Twine and a brand new coffee shop!
What I love about the Mill is that it is the perfect spot to get together with family and friends. Whether you're there for one of their outdoor concerts, to taste some local brew, or to just let the kids run free and get some energy out, the Mill is a huge asset to Rocky Mount.
Want more details? Read my complete family friendly guide to the Rocky Mount Mills and River and Twine!
2. Imperial Centre for Arts & Sciences
Technically called the Rocky Mount Imperial Centre for Arts and Sciences, this destination provides something to do in Rocky Mount NC on a daily basis! The Imperial Centre houses a children's museum with rotating exhibits, a planetarium, an arts center, and a theatre! They hold monthly classes and year round events. This was a staple when my children were younger and we still love to visit often!
They also hold a summer concert series- find out the latest HERE.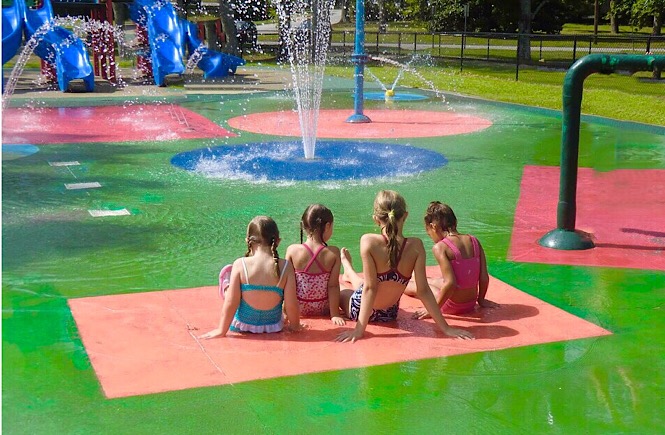 3. Sunset Park
Sunset Park is such a wonderful outdoor destination in Rocky Mount. During the summer, you can enjoy the splash park, train, carousel and kids bug ride. Year round you can enjoy playgrounds, basketball courts, tennis courts, and even a skate park! Perfect for birthday parties or picnics, this has always been a family favorite for us!
BONUS TIP: Looking for something to do with your older kids? Check out Rocky Mount's Ultimate Backyard Warrior!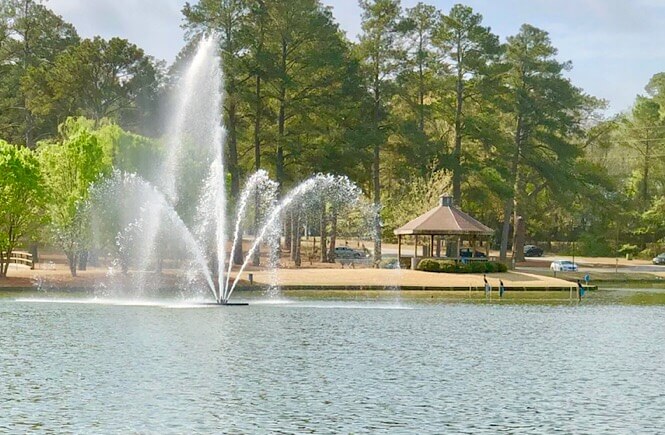 4. Battle Park & City Lake
Battle Park and City Lake are two wonderful outdoor areas in Rocky Mount. Our favorite thing to do in Battle Park is to ride our bikes (or the kids rode their scooters when they were younger) and just explore the paved trails a bit. It's a great way to get outside especially on a spring day!
City Lake is practically a landmark in Rocky Mount! It's a great place for a picnic or to walk it's half mile loop a few times for some exercise.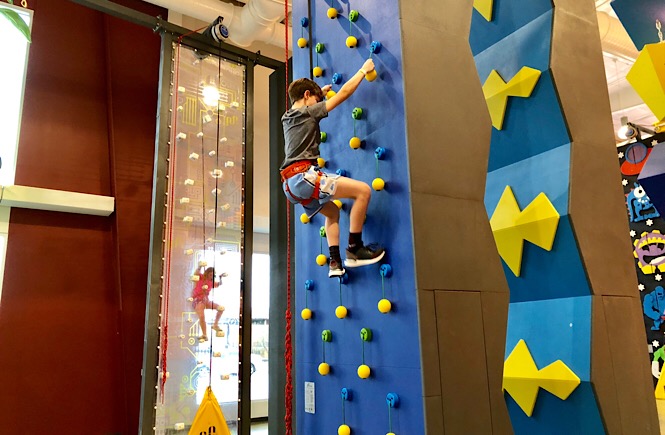 5. Rocky Mount Event Center
The Event Center is new on the Rocky Mount scene but it is a seriously impressive venue! Their calendar is full of concerts and sporting events, but the Rocky Mount Event Center also has a huge kids play area. Climbing walls, a ropes course, arcade, and kids area will entertain kids of all ages for hours. My kids at 10 and 13 had a blast! And to top it all off, I think it's a pretty affordable option! This has also become a very popular birthday party location.
You Might Also Like: Restaurants in Rocky Mount- The Ultimate Guide on Where to Eat in RMT!
6. Stone Wall Manor
Stonewall Manor is listed on the National Register of Historic Places and is maintained by a local non profit. It was once the center of a large antebellum plantation and is a prime example of planter's life in Eastern North Carolina. You can see it from Highway 64, but is also available to rent for private funtions or guided tours by appointment.
7. The Rocky Mount Farmer's Market
Our farmers market may be small but she is mighty. They seriously have fantastic options and is definitely worth the visit. They are open Saturday from 8 a.m. to 1 p.m. April through November. I don't know about you, but I love being able to actually talk to the person growing my food! Not to mention, what's healthier and tastier than food that is fresh and in season?
8. Disc Golf in Rocky Mount NC
The City of Rocky Mount maintains four (4!!!) different disc golf courses. That is pretty impressive for our small town if I don't say so myself. What a unique asset to our town. There is also a local disc golf club putting on events throughout the year. We also happen to have three pretty fantastic traditional golf courses in the area.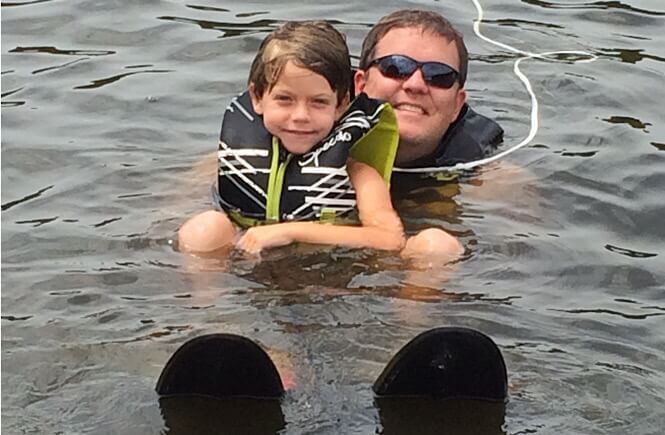 9. The Rocky Mount Reservoir & Tar River Trail
The Tar River Trail is a 3.9 mile trail for walking, running, or biking from Sunset Park to Battle Park in Rocky Mount. Along the trail you can stop to see several historic landmarks. In addition, the Tar River Paddle Trail allows access to 20 miles of the Tar River and Stony Creek for kayaking or canoeing. The Rocky Mount Reservoir is a fantastic place for locals to indulge in boating, water sports, or fishing. My son learned to ski here!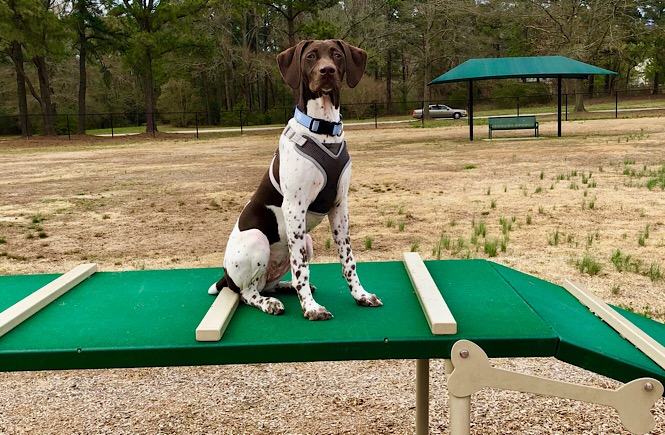 10. Best Friend's Dog Park
Y'all. Seriously, we have the best dog park! We're huge fans. With so much room to run, this is the perfect place to let your furry friends get some exercise. There are three different sections: big dogs, little dogs, and an agility section. We've visited dog parks all over the state and Best Friends Dog Park in Rocky Mount, NC is one of the most spacious and well maintained. One important note- they do turn off the water in the winter, so bring some water along for your four legged bestie.
11. Visit Downtown Rocky Mount
Downtown is alive and well! We have so many new additions to the Rocky Mount scene. Station Square has an adorable new wine bar called Bin & Barrel, a lovely little coffee shop called Trax, and even a vinyl record store. You can check out local art and a brand new yoga studio at the recently renovated Bel Air Artisan's Center. Our local library is also a fantastic resource!
Rocky Mount NC Attractions
As you can see there are plenty of attractions in Rocky Mount NC to keep you busy! And you all also already know, I'm a huge advocate for getting out of the house and exploring as much as possible.
Need a mini vacay? Check out these ten affordable weekend getaway destinations from Rocky Mount!
Rocky Mount, NC is a great place to get outside and enjoy time with friends and family. Have you visited Rocky Mount before? Whether you're on a road trip down I-95, brand new to the area, or just visiting, I hope this list of things to do in Rocky Mount gives you some ideas on how to spend your days!
If you are on a road trip heading south on I-95, Whirligig Park in Wilson is an unique roadside attraction only 30 minutes down the road. If you're road tripping north on I-95, there are a ton of fun things to do in Richmond Virginia which is only two hours up the road.
If you're in town, reach out and say "Hey!" or you can always follow our local and out of town adventures over on Instagram!
Save & Pin for Later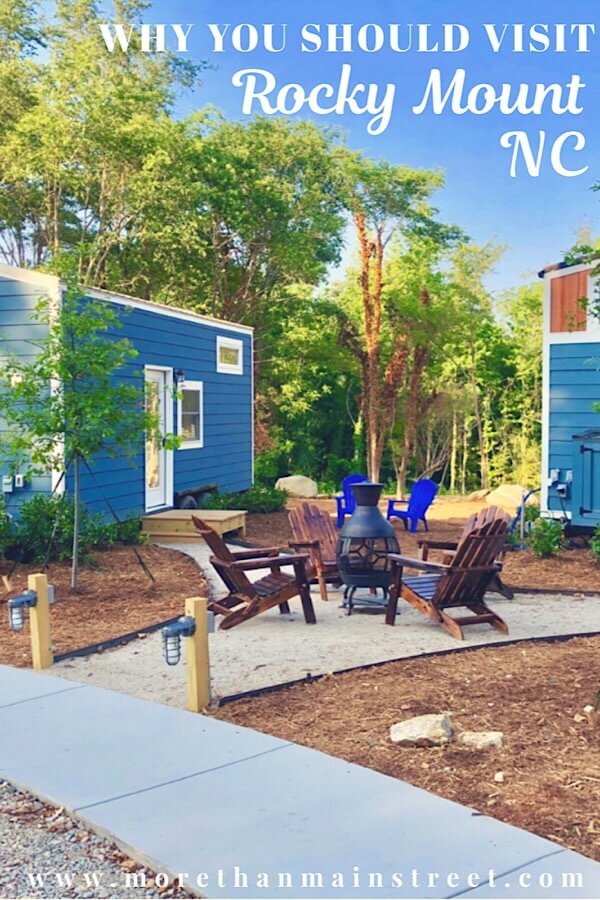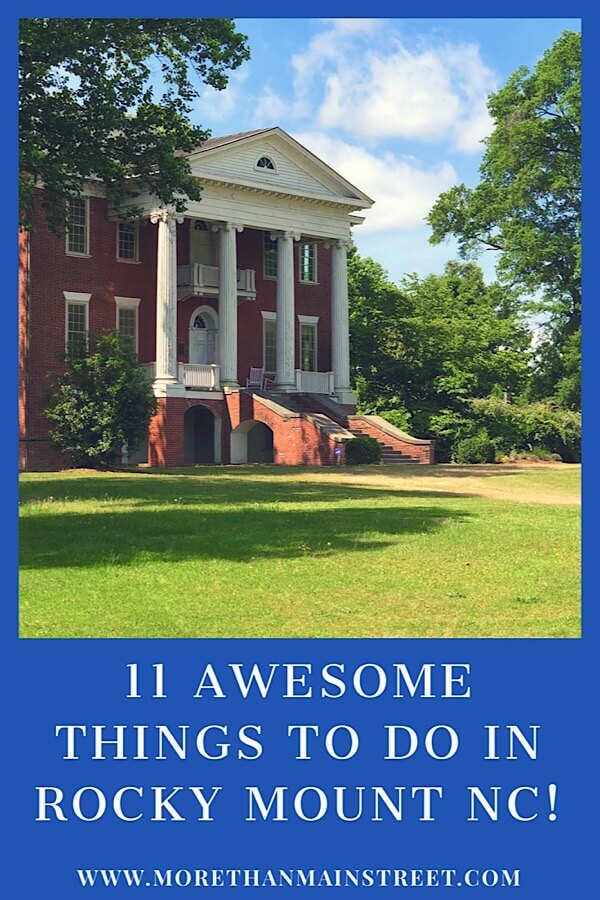 If you have a minute and found this post helpful, please consider sharing it on social media, with a friend, or hop on over to read another post! Every little bit helps keep this blog running! Thanks so much friends!