Affirmations are a proven self help strategy for many people. Try these travel affirmations if you've been dreaming of a life full of travel.
Powerful Affirmations for Travel
You're scrolling Instagram seeing photo after photo of your friends in epic destinations. And you feel major FOMO. All you dream about day after day is a life full of travel.
All you want to do is make that your reality…
Whether you've been into affirmations for awhile, or maybe you are are new to the concept, travel affirmations are one way to start living the life of your dreams.
I have to admit, I'm kind of new to the whole affirmations, manifesting, law of attraction stuff. I was hesitant that it was all Woo Woo at first, but I was wrong. Affirmations are actually quite powerful!
What are affirmations?
Affirmations are short statements meant to positively influence your thoughts. Research has shown that a majority of our thoughts each day are negative. Affirmations are a robust technique that you can use to train your brain to be more positive.
What are travel affirmations?
Travel affirmations can be used if you:
lack the confidence to travel
have felt hesitant to travel or that it might be dangerous
feel FOMO watching other people travel
feel guilty traveling
feel like you'll never have enough money to travel
feel like travel is just too much work
have a lot of travel anxiety
We tell ourselves a lot of negative things on the regular. Don't feel bad, we all do it. With a little time and practice with these awesome travel affirmations, you can get yourself on the right road to travel more! What have you got to lose!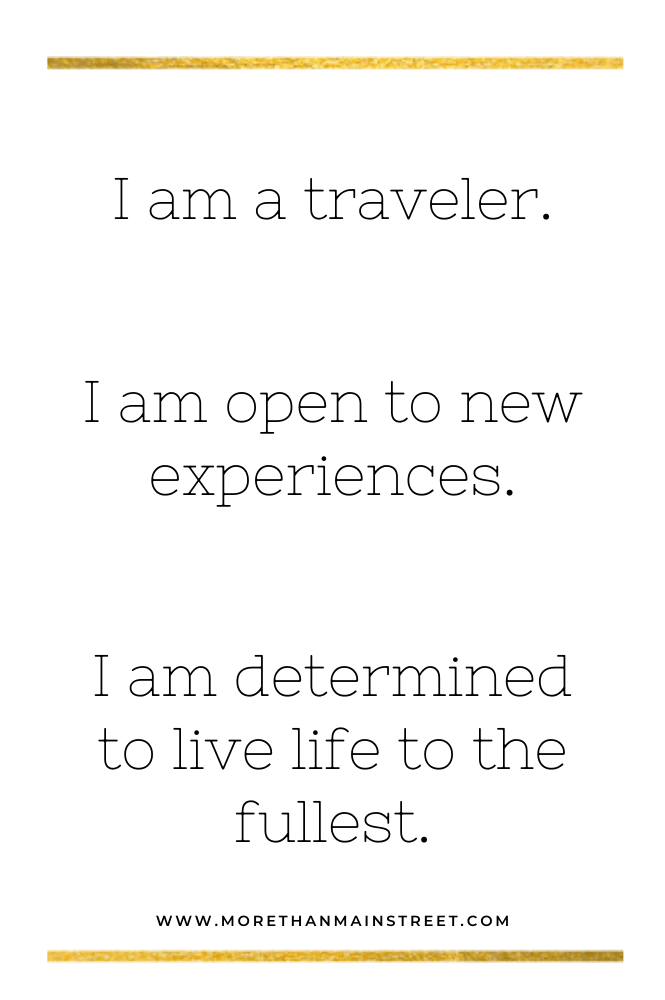 SAVE THESE POWERFUL AFFIRMATIONS FOR TRAVEL TO PINTEREST!
Travel Affirmations
So how exactly should you use these travel affirmations? There are a few different ways to use affirmations. My best advice is to choose just a few affirmations to start. Maybe pick three to five that most resonated with you. Write them down in your journal, repeat them out loud several times a day, or save them as the wallpaper on your phone. The key to affirmations is consistency. So, if you're tired of feeling FOMO seeing all these other people traveling far and wide, start manifesting that into your own life!!
Go on…give these travel affirmations a try!
I am a traveler.
I am open to new experiences.
I am able to face any challenges that may come up.
I am adventurous.
I am grateful for the ability to travel.
I travel safely at all times.
I am courageous.
I am happy, healthy, and ready to travel.
I make good decisions.
I am happy when traveling.
I take time to relax and refresh while traveling.
I am fully present in each moment.
I find joy in the simple things.
I am capable and confident.
I take things one step at a time.
I am nourishing my body and soul during this time.
I maintain a positive outlook and an open mind.
I release fear and anxiety surrounding my travels.
I am overflowing with joy, love, and gratitude.
I am open to new people and cultures.
I am determined to live life to the fullest.
I choose to enjoy the journey.
I find travel to be peaceful and rewarding.
I am on the adventure of a lifetime.
I focus on what I can control.
I am spontaneous.
I am here for a reason.
I believe in myself.
I am resilient.
I am ready to experience great adventures.
I am an explorer.
I move through the world with ease.
I am grateful for each new day.
I allow my soul to shine each and every day.
I am thankful for the opportunity to grow through travel.
Adventure & Travel Affirmations
If you're like me, you might feel a little bit guilty spending all your free time and hard earned money traveling. These affirmations for travel remind you of the benefits of travel and how they tie into your values. When you incorporate these positive affirmations into your routine, you will be more aligned with your values and lose that guilt!
Travel allows me to grow.
Travel allows me to tap into my inner strength
Travel allows me to continue learning.
Travel allows me to connect with nature.
Travel allows me to connect with new people.
Travel allows me to connect with something bigger than myself.
Travel allows me to be proud of myself.
Travel allows me to challenge myself.
Travel allows me to experience new things.
Travel allows me to rest and renew.
Travel allows me to be joyful.
Travel is a regular part of my life.
Travel inspires me.
Travel lights a fire inside of me.
Travel frees my spirit.
Travel opens my mind.
Travel makes me a better person.
Travel is a gift.
Travel is an investment in myself.
Travel fulfills me.
Affirmations are a great tool to use for self care! Learn how to create a self care routine that really works!!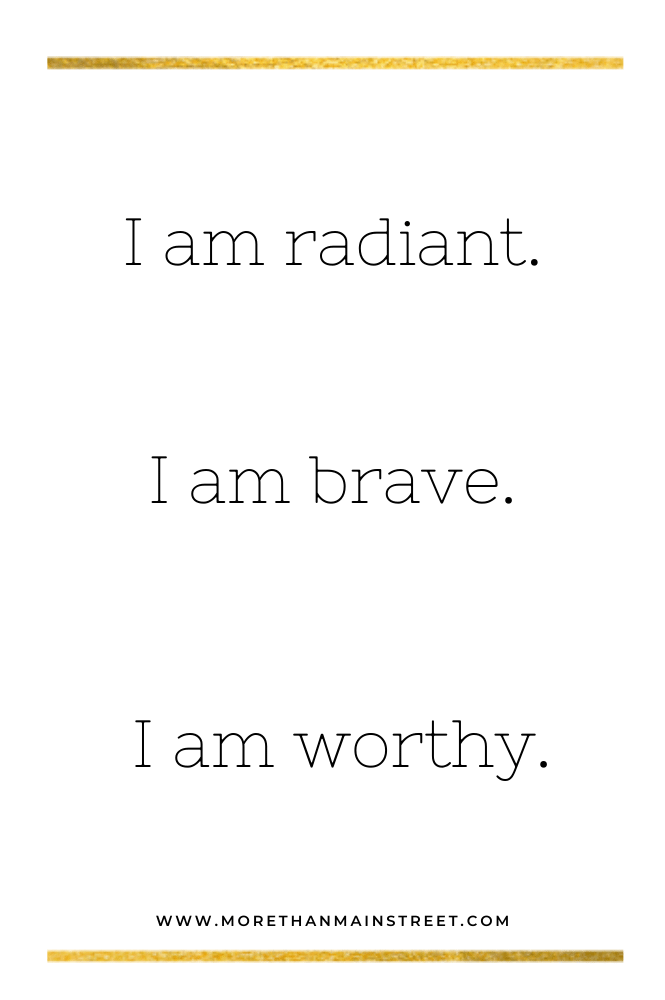 SAVE THESE POWERFUL TRAVEL AFFIRMATIONS TO PINTEREST!
Positive Affirmations for Travel
These powerful positive affirmations can apply to just about everyone, including those of us who want more travel in our lives! Use these positive affirmations when you need a little confidence boost!
I am powerful.
I am strong.
I am brave.
I am capable.
I am worthy.
I am protected.
I am radiant.
I am grateful.
I am smart.
I am enough.
Want more inspirational and positive affirmations? Check out my favorite self love affirmations!
Travel Affirmations for Anxiety
Travel anxiety is real! Whether you have anxiety over planning, flying, safety, and more, these travel affirmations can help!
I am not my anxiety.
I trust myself.
I choose positive thoughts.
I am safe.
I will be OK.
I look forward to a fun travel experience.
I am aware of my triggers and can calm myself in situations of high anxiety.
I am present and living in the moment.
I am deserving of happiness.
I breathe in confidence and exhale fear.
I have all my travel documents in order.
I am excited to make travel plans.
Booking travel is fun and exciting.
I have packed everything I need.
I have prepared for this trip enough.
I will go with the flow when things don't go as planned.
I have created a perfect itinerary for me.
My accommodations are just right for me.
I trust my transportation will get me to my destination safely.
I ask for help when I need it.
Health Affirmations
If you're worried about staying healthy before or during your travels, try these affirmations for health:
I am happy and healthy.
My health is in my control.
I nourish my body with healthy foods.
I am aware of what my body needs.
I sleep well.
I stay hydrated.
I have abundant energy.
My body is perfect, just as it is.
I prioritize rest and recovery.
I have everything I need to be healthy.
Affirmations make great Instagram captions! Check out my favorite self love captions, motivational captions, nature captions, and adventure captions for those epic pics you're going to get during your travels!!
While you're at it, come say Hi over on Instagram!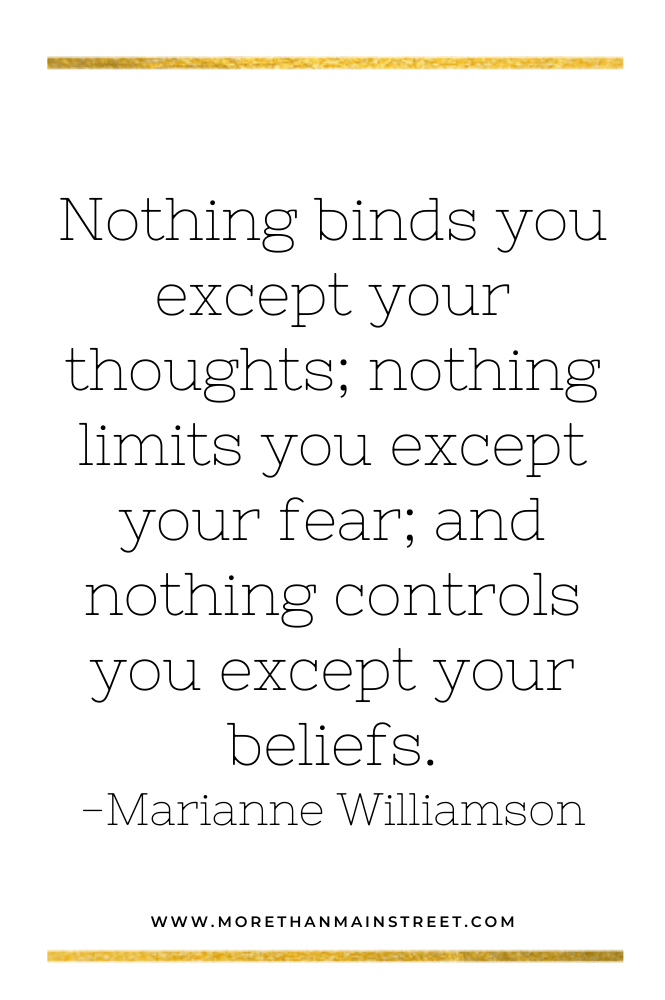 SAVE THESE POWERFUL TRAVEL AFFIRMATIONS TO PINTEREST!
Knowledge Affirmations for Travel
Ever suffered from imposter syndrome? I know I have! These knowledge affirmations are a huge asset to any affirmation practice.
Travel allows me to expand my knowledge and understanding.
I seek new learning opportunities during my travels.
I am well informed.
Essential information is available to me.
I am resourceful and intelligent.
I improve my skills each and every day.
I live each day with an open mind and grateful heart.
I am eager to learn during my travels.
I am easily able to gain new knowledge and wisdom from the world around me.
I can do anything I set my mind to.
Financial Affirmations for Travelers
Money is a big deal when it comes to travel. So, if finances are a concern, try these financial affirmations:
I make smart financial decisions.
I make saving for travel part of my budget.
I have enough money to travel.
Money is a tool that helps me create a life I love.
Money can expand my opportunities in life.
I am financially free.
I have a good relationship with money.
My life is full beyond how much money I have.
My income has unlimited potential.
I believe in my ability to earn more money.
Which of these travel affirmations resonate most with you?
Are you ready to book your next trip??
Might I suggest one of these USA road trips? The Outer Banks? Maybe a trip to Aruba or the Bahamas? Not sure where to start? Check out my favorites in my USA bucket list!
SAVE THESE POWERFUL TRAVEL AFFIRMATIONS TO PINTEREST!