20 Adventurous Road Trips Across America
Raise your hand if you need a vacation! Want to explore more of America? Then pack your bags and get ready, it's time for an USA road trip!!
If you've been here awhile, you know we love a good road trip. And the United States is practically made for road tripping! We also love a good adventure. For us, adventure is all about trying something new and getting out of your comfort zone. Each of these road trips are packed full of adventurous activities, of all shapes and sizes, no matter how much experience you might have. Whether you're hiking for the very first time or a total adrenaline junkie, there's something here for everyone!
So, are you ready for an adventure? Then let's start planning! Let's road trip the USA!
What are good road trip destinations in the US?
We believe every family bucket list needs to include an epic road trip. We personally have done a bunch of road tripping in the USA. But because the US is so large, I've gotten together with some of my fellow travel bloggers to bring you 20 of the best USA road trip ideas and itineraries across America. All of these trips are jam packed full of road trip adventures for families, couples, and even solo travelers. So…where to next?
Outer Banks of North Carolina
Maine
Vermont
New England: Rhode Island, Massachusetts, New Hampshire
Orlando, Florida to Savannah, Georgia
Florida: Miami to Key West
Texas
National Parks: Yellowstone, Grand Teton, Glacier
Las Vegas to Zion and Bryce Canyon National Parks
Moab, Utah
Black Hills South Dakota
Arizona: Phoenix to Grand Canyon National Park
Arizona: Phoenix to Monument Valley
Extraterrestrial Highway, Nevada
Oregon Coast
Northern California: Pacific Coast Highway- San Francisco to Oregon
California's Highway 1: San Francisco to Los Angeles
Eastern California
Hawaii: Maui
Hawaii: Big Island
Any good road trip involves some prep work. Before you go, read our full list of road trip packing list or grab a printable version below!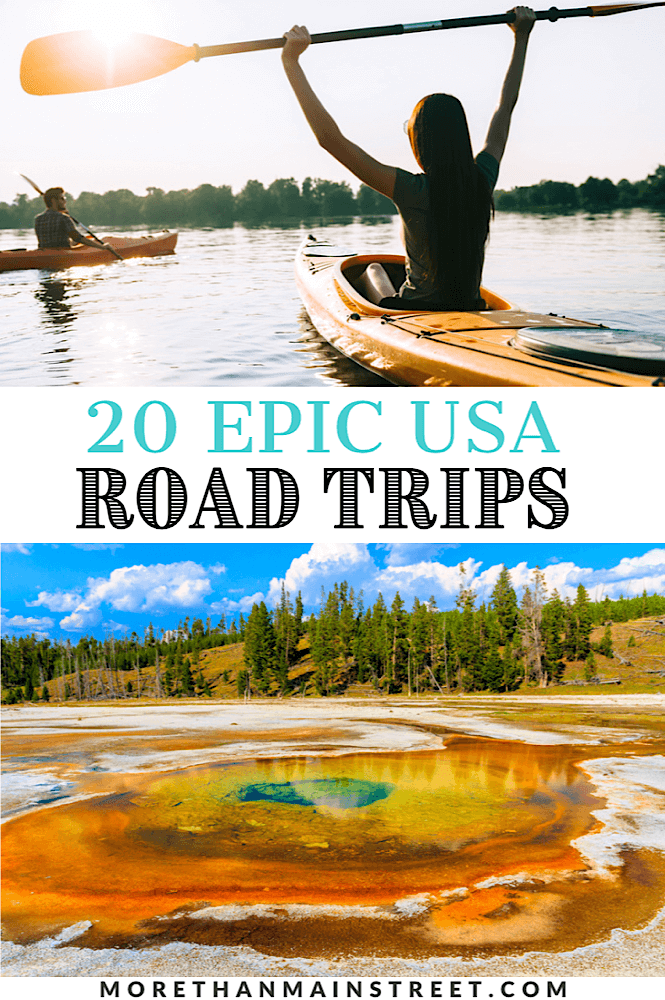 This post contains affiliate links which means I could earn a small commission, if you make a purchase, at no additional cost to you. As an Amazon Associate, I earn from qualifying purchases. For more information, read my full Disclosure HERE.
East Coast Road Trips
From hiking to biking, kayaking to surfing, the east coast of the USA delivers tons of options for adventurous road trips. Often the east coast is overshadowed by some other more alluring destinations across the country, but I'm here to tell you that you won't want to miss these road trip routes in the US!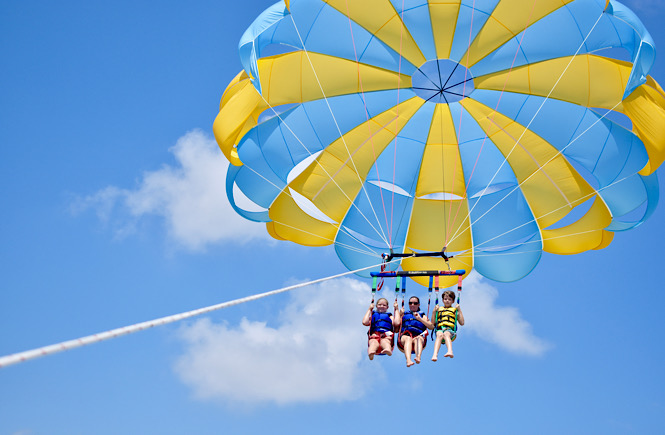 Beach Road Trip: Explore the Outer Banks of North Carolina
With over 175 miles of coastline, you can easily spend a week road tripping the Outer Banks of North Carolina. This is the perfect road trip for any time of year, but the shoulder season is the best time to avoid the crowds yet still enjoy warmer weather. Don't forget to pack your beach bag! All along this road trip make sure to set aside time at some of the best beaches on the East Coast. We personally can never get enough time to just play in the surf, sand, and soak up the sun.
Days 1-2: Start your road trip exploring the absolutely charming towns of Corolla and Duck. If you love a water adventure, try a surfing lesson, stand up paddle boarding, or kayak tour with Kitty Hawk Kites. You also cannot miss an excursion to see the Wild Colonial Spanish Mustangs. If you have a 4 wheel drive vehicle, you can drive onto the beaches of Corolla and Carova yourself to seek out the wild horses but a tour almost always guarantees you'll get to see some of these majestic creatures. Finally take to the skies with one of our favorite adventures: parasailing. From my 70 year old mother in law to my nine year old son, this is fun for everyone! (Know before you go: minimum age to fly is five years old.)
Days 3-5: Head south to check out Kitty Hawk, Kill Devil Hills, and Nags Head. Visit the Wright Brother's Memorial, go lighthouse hunting, and visit Jockey's Ridge State Park (the east coast's tallest living sand dune system!). Take a hang gliding lessons at Jockey's Ridge, do a little hiking here, or get in a little fishing or crabbing! Deep sea fishing on your bucket list? This is the place to give it a shot! If you have time, head to Manteo to visit the NC Aquarium and see The Lost Colony. And if you're traveling with kids, don't miss the Pirate Adventure!
Days 5-6: Your last days will be in the southernmost Outer Banks. Hit the road towards Hatteras with a stop at the Pea Island National Wildlife Refuge, home to over 360 species of birds and wildlife. Stop at the Hatteras Lighthouse before taking the ferry over to Ocracoke. Rent a golf cart for your final day and enjoy the slower paced island life!
We may be partial, but we think the Outer Banks is one of the best family road trip adventures out there!
North Carolina is more than just beaches! Read more in our ultimate NC road trip guide and NC weekend getaways!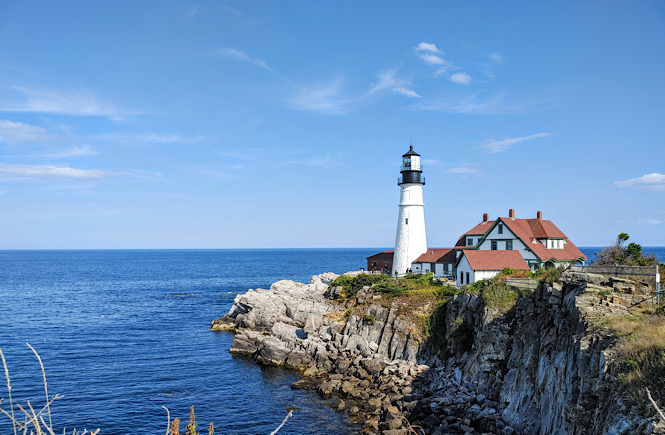 Road Trip Maine
The coast of Maine is one of the most scenic and jaw dropping road trips in the United States that is filled with lighthouses, rocky coastlines, mouth watering dishes, and plenty of opportunities for adventure or relaxation! We recommend one week for this classic American road trip.
Begin the trip in Oqunquit where you can stroll the streets of Perkins Cove, a small fishing village, walk the 1.25 mile long coastal Marginal Way path, or spend some time relaxing at Oqunquit Beach. Next you will want to continue to Kennebunkport where you can explore the Seashore Trolley Museum, try a lobster roll at The Clam Shack, go kayaking on the Kennebunk River, or shop in Dock Square.
Cape Elizabeth is the next stop and the perfect destination for lighthouse hunting. Visit Fort Williams Park, home to one of Maine's most popular lighthouses-The Portland Head Light, view the Cape Elizabeth Lighthouse, and visit Two Lights State Park. Next you can make a stop in Portland, Maine before continuing to the final step. In Portland, take a walking tour of the Old Port, grab a bite to eat at one of Commercial Street's cafes, and visit the Portland Observatory.
The road trip concludes in Bar Harbor and Acadia National Park. You will want to save at least 2-3 days for this area as there is so much to see! Begin your visit to Acadia National Park with a drive around Park Loop Drive, hear the roar at Thunder Hole, relax on the summit of Cadillac Mountain, and enjoy several hikes of varying difficulty levels. Some of the more difficult hikes, such as the hike to Cadillac Mountain, come with the most adventure!
In Bar Harbor you can take a Lighthouse and Seal cruise, stroll the streets of Bar Harbor for shopping and delicious dining options, and relax on the Village Green. For a little more adventure you can kayak out to the lighthouses in the harbor, such as the Petit Manan Lighthouse. Whatever activities you choose to experience during your Maine coast road trip you will surely enjoy a trip full of adventure and beautiful sights that the whole family can enjoy!
Contributed by Melissa from Navigation Junkie
This is definitely one of the best family road trips! Make sure to check out our guide on the best things to do in the car with kids, tweens, and teens before you go!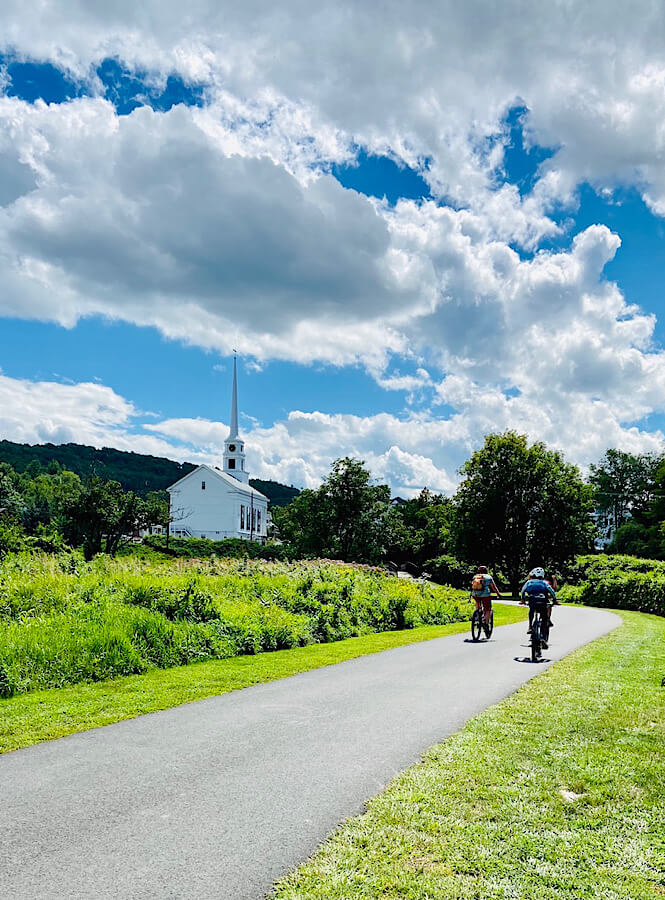 Is one of your goals to travel more? Try using these powerful travel affirmations!
Outdoor Adventures in Vermont
A road trip the length of Vermont with stops for hiking, paddling, and biking is fun for the whole family. We recommend a minimum of five days for this road trip adventure.
Day one is reserved for paddling with a trip on the Batten Kill River near Manchester. This beautiful family-friendly trip by canoe or kayak travels past farm fields, mountain views, and under a covered bridge.
Next is a drive north on Route 100, described as the most scenic route in New England. Short hikes on the Appalachian Trail to South Kent Pond near Killington and to Moss Glen Falls in Granville will break up the drive with outdoor adventures. Overnight on day two at the iconic Vermont village of Stowe.
Day three in Stowe has many adventure choices. A bike ride on the Stowe Recreation Path starts the day. This five-mile paved trail winds past a fun corn maze, views of the Green Mountains, and beside a flashing rocky river. For serious mountain bikers, the Trapp Family Lodge has a world-class network of trails.  Hikers can climb Mt. Mansfield, the highest peak in Vermont. Less strenuous hikes to Bingham Falls or the Stowe Pinnacle might appeal as well.
The vibrant city of Burlington is your day four destination. Rent a bike to peddle along the Island Line Trail. The highlight of this 14-mile rail trail is the causeway that crosses the width of Lake Champlain. For a relaxing afternoon, take a cruise on the Spirit of Ethan Allen with narration about the history and nature of the Lake Champlain Valley.
Wrap up your road trip with a day on the Champlain Islands. Search for the mysterious miniature stone castle of South Hero Island. Enjoy the bucolic views and the agrotourism throughout the islands. While there are many more adventures in Vermont, this road trip hits the highpoints that will thrill outdoor enthusiasts of all kinds.
Contributed by Karen from Outdoor Adventure Sampler
An epic road trip belongs on every family bucket list! Where will you choose to take your family next?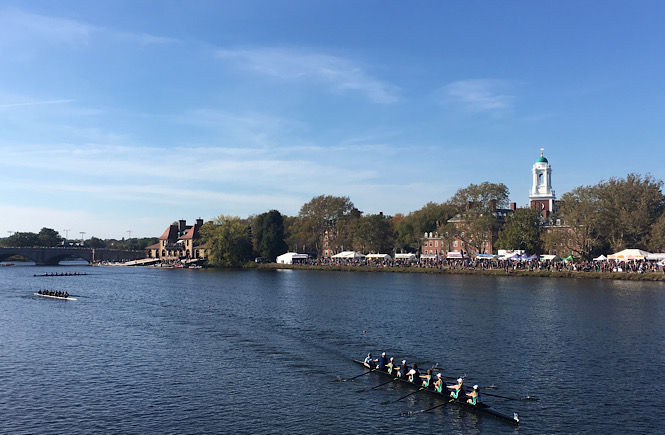 Road Trip New England: Rhode Island, Massachusetts and New Hampshire
If you're looking for a New England road trip that is historic and quaint, with breathtaking coastal views, consider exploring from Rhode Island to New Hampshire along Interstate-95. There is an abundance of things to do a short detour from the interstate, and the small size of New England's states makes this an eminently doable and customizable trip depending on how much time you have. This trip is great for couples, families, or groups of friends, and is a great way to discover everything coastal New England has to offer. We recommend five to seven days for this New England road trip.
Begin your first day in Newport, Rhode Island, exploring the Gilded Age mansions, biking Ocean Drive, and kayaking or sailing around Narragansett Bay. Drive up to Providence to explore iconic college campuses at Brown and Rhode Island School of Design, as well as RISD's fabulous museum and a walk around downtown. Don't miss Andean fusion cuisine at Los Andes.
On your second day, drive up to Boston and take in everything it has to offer. History buffs should absolutely prioritize walking the full Freedom Trail and foodies should make a beeline for the North End's variety of world-famous Italian cuisine or Chinatown's delicious dim sum offerings. Boston has a wealth of activities, parks, museums, and sporting events, and you should spend between one and three days here, depending on how much time you have. You can squeeze Boston's top sights, such as Copley Square, the Prudential Center, the Seaport, and Harvard, into one day, but more time is better. 
Next, depart Boston and stop in the nearby historic towns of Plymouth, home to the Plymouth Rock and the first landing spot of the Pilgrims; Salem, where the infamous Salem Witch Trials took place; and other beachy towns of your choosing, such as Newburyport, Rockport, and Ipswich, which have beautiful First Period architecture. Ipswich in particular is home to the Crane Estate, a historic property with lots of architecture and trails to explore, and Crane Beach, which are well worth a visit. 
The next day, you can cross into New Hampshire, nearing the end of your road trip. You can take a detour to its capital, Concord, to see its Capitol dome, or continue north to Portsmouth, one of the state's most beautiful cities. Don't miss the historic architecture at Strawbery Banke Museum and grabbing a bite to eat or a snack in central Market Square. New Hampshire is also an amazing place for hiking, with options at all activity levels. New Hampshire has 48 "4000-footer" mountains that you can hike, but there are also lower elevation hiking options with gorgeous views, such as Mt. Major, that can be done in a few hours.
If you have time and want to extend your road trip into Maine, you should absolutely do so! Maine has all sorts of outdoor splendor to enjoy, as well as fantastic state parks like Baxter State Park, and of course Acadia National Park.
Contributed by Tegan & Alex from Why Not Walk
Want to explore more of New England? Read all about our road trip from Boston to Niagara Falls or our trip to Martha's Vineyard!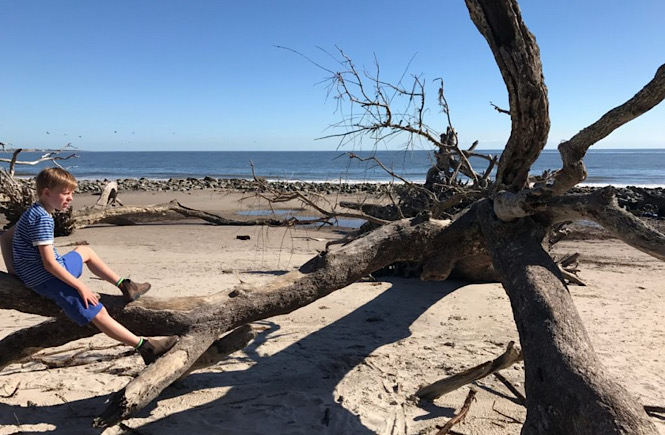 Southern USA Road Trip: Orlando to Savannah
Orlando to Savannah is a perfect road trip, it's family friendly and full of diverse sights and attractions along the way. You'll need a week or more to fully explore this southern road trip!
Day 1: Start in Orlando and the thrills of all the theme parks, there's so much to do here you can easily extend any time you have for longer in this wonderful city.
Day 2: Drive north around two hours to Amelia Island. This picturesque island is perfect to really relax in after the fast pace of Orlando. Some of the best family resorts in Florida are here on Amelia Island so it's perfect for a break, to take in the beaches and the fantastic national park.
Day 3: Spend more time on Amelia Island, visit the state's oldest lighthouse which is based here and explore some of the great museums.
Day 4: Time to head further north, this time over the border into Georgia and to the evocatively named Jekyll Island.
Day 5: Spend time on Jekyll Island, hire bikes to cycle around it and don't miss stopping off at Driftwood Beach, covered with fallen trees making it both an eery and beautiful sight.
Day 6: On now to another of Georgia's great island, Saint Simons Island. This has more going on than Jekyll and it's a great place to enjoy the little boutiques or if you're visiting with kids then head to the playground on the beach.
Day 7: Spend another day enjoying the sights of Saint Simons Islands. Try kayaking, stand up paddle boarding, fishing, horseback riding, or enjoy a day at the beach.
Day 8: Head now to the final stop of Savannah, the beautiful Georgian city with so much going on. Enjoy the parks and museums (including SCADstory and Pin Point Heritage Museum) and lose yourself in the picturesque streets. It's the perfect, pretty end to a road trip filled with diversity and adventure at every stop
Contributed by Nichola from Family Hotel Expert
Of course, don't skip Disney if you have time! Make sure to read all of our best tips for Disney World before you go!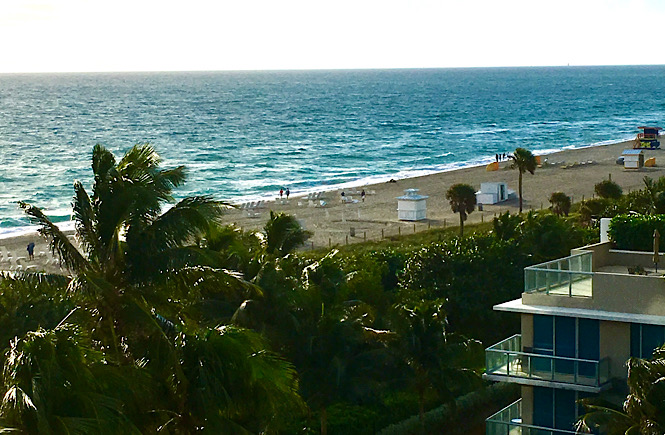 Road Trips in Florida: Miami to Key West
Depending on traffic, and how often you stop on A1A from Miami to Key West, Florida, the 166-mile road trip from Miami to Key West will take you around 3 – 4 hours. Without question, this is one of the most famous — and fun — Florida road trips you can do. The best part is you can do this trip at any time of year. The milder winter months are ideal, but when summer arrives, it's hot, but don't let that stop you. Islamorada and Marathon are about half-way to Key West and great places to spend a night or two.
Day 1: Miami to Islamorada:  Scuba divers, you'll want to overnight here. Just off of Key Largo is the John Pennekamp Coral Reef State Park, the only underwater park in the country. Also, the Key Largo National Marine Sanctuary, a protected environment, is perfect for diving. The warm calm water offers great visibility for divers and snorkelers alike.
Day 2: Islamorada Day Trip: Take your time and enjoy the salty Keys bars and unique attractions. If you love to fish, Islamorada is the Sport Fishing Capital of the World. Rent a boat or charter one to fish, snorkel or scuba dive. Afterwards stop at Robbie's to hand-feed the resident tarpon. 
Day 3: Marathon: Continue the adventure to Marathon and visit The Turtle Hospital to see conservation in action and interact with injured turtles that are being cared for.
Day 4: Key West bound: Drive across the Seven Mile Bridge into the lower keys. Your next stop is Key West. Take a snorkeling excursion out to the pristine reef on a sailing catamaran or maybe go parasailing. A road trip from Miami to Key West is always a great idea: we recommend a minimum of four days but you should absolutely consider making this a week long vacation!
Contributed by Lori Sorrentino from TravelinMad
Want more inspo? Check out these fun Southeast USA road trip itineraries.
Road Trip America
How do you choose where to road trip in America? With so many options, you have to decide which is the best road trip route for you! Are you traveling solo? As a couple? With the whole family? How much time do you have for your road trip? We personally love the flexibility a road trip allows- you can go at your own pace and pack in as much adventure or relaxation as you choose!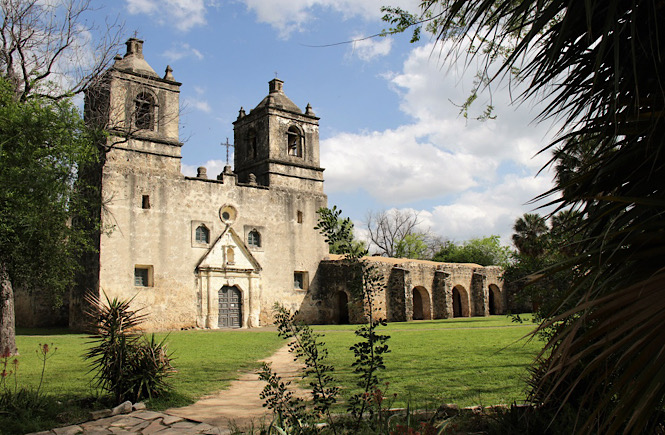 Road Trip Texas
While there are many awesome road trips in Texas that you can take, one of the best is the Austin to San Antonio loop. This fun road trip will give you a taste of the big city life as well as some small town charm courtesy of the great state of Texas.  Although the two cities are technically only a couple of hours apart, we recommend planning a minimum of four or five days for this trip if possible. 
Begin your road trip in the fun, but quirky city of Austin.  Austin is famous for live music and a fabulous food scene.   Plan to spend a couple of days exploring Austin.  This will allow you to enjoy touring the state capital building, explore some of the many museums in the city, and catch some great nightlife.
After leaving Austin, plan to spend a night in the fun little town of Wimberley, TX. Wimberley is an art community, and this is apparent throughout the town.  Here you will find several art studios and galleries to explore.  If you are visiting in the summer months, you don't want to miss cooling off in the famous Jacob's Well or the Blue Hole.  Wimberley is also home to some great wineries and distilleries, so be sure to add those to your list also. 
Plan to spend your final nights in the fun city of San Antonio.  Explore San Antonio's famous River Walk and the El Mercado area to find some amazing food and shopping. Don't miss San Antonio's famous mission trail that allows you to explore the original mission settlements of this area, including the infamous Alamo.
As you can see, we have only scratched the surface on the great state of Texas, making it a great addition to your list of the best USA road trips.
Contributed by Michelle from That Texas Couple
Visiting San Antonio with kids? For a fun family friendly adventure, visit the Natural Bridge Caverns!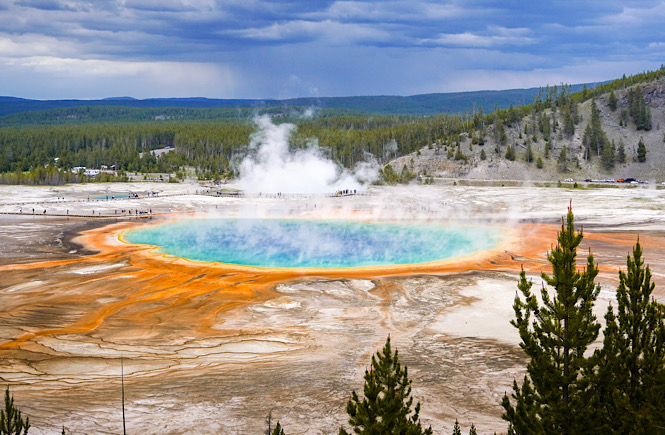 National Parks Road Trip: Yellowstone, Grand Teton, & Glacier National Park
For an epic road trip through the gorgeous Western United States, consider hitting three of the most spectacular U.S. National Parks- Grand Teton, Yellowstone, and Glacier. You'll want to plan a minimum of six days for this National Parks road trip.
Start off the trip in Grand Teton National Park, located in Jackson, Wyoming. Plan to spend at least two days exploring the park. Consider on your first day, hiking to Taggart Lake, a 4.1 mile loop to a stunning alpine lake and in the afternoon, on to String Lake, a 4.4. mile loop trail around a gorgeous lake with clear, green waters (be sure to pack your swimsuit!). On your second day in Grand Teton, you can start the day off by hiking Delta Lake, a steep (but worth it!) 8.1 mile out-and-back trail to the robin's egg blue waters of yet another alpine lake. Take it easy in the afternoon by exploring some of the park's beautiful scenic overlooks of the Teton Mountain range, like Blacktail Ponds Overlook, Glacier View Turnout, or Teton Point Turnout. Be sure to explore the adorable town of Jackson at night for yummy cocktails, some fabulous pizza, and some serious Wild West vibes.
On the third day, make the two hour drive to Yellowstone National Park– with the remainder of your day, you can check off some of the park's major attractions, like viewing an eruption at the Old Faithful geyser, gawking at the colorful Grand Prismatic Spring, and exploring the travertine terraces of Mammoth Hot Springs. Spend the night in West Yellowstone and, on the fourth day of your trip, plan on hitting the park's popular attractions that you missed the previous day, like spotting bison and other wildlife in the Lamer and Hayden Valleys or hiking around the epic Grand Canyon of Yellowstone.
On the fifth day, make the six-hour drive to Glacier National Park– if you leave Yellowstone early enough, you should be able to get to the park in time to relax by Lake McDonald to watch the sunset. Spend your final two days exploring the grand landscapes of Glacier's magnificent valleys and mountains. Some stand-out spots include the hiking the 12 mile Highline Loop, which provides panoramic views of the Rockies; Cracker Lake, a 12-mile hike to a dazzling turquoise lake; and of course, driving the famed Going-to-the-Sun Road, arguably one of the most scenic drives in the world that will take you up and along Glacier's spectacular peaks. This road trip will offer you incredible scenery, excellent wild-life viewing opportunities, and adventures of a lifetime!
Contributed by Jessica Schmit from Uprooted Traveler
Read all about our road trip to Yellowstone National Park including our first experience white water rafting!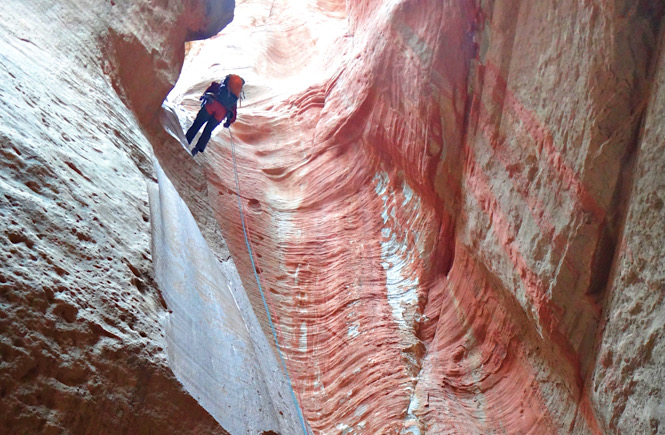 Road Trip from Las Vegas to Zion and Bryce National Park
An awesome road trip for adventure lovers is the loop from Las Vegas via Bryce Canyon and Zion National Parks. To fully cover this area, you should plan on a nine day road trip although it could be done in less.
Day 1: set off on this southwest adventure from Las Vegas.  Make a side trip to Valley of Fire State Park, about 45 minutes north of Vegas.  The red rocks in this area are stunning.  A one-way 13-mile scenic drive passes through the state park, with ample opportunities for scenic views and short hikes along the way.  
In the afternoon, continue on to Bryce Canyon National Park.  Complete your driving day by heading out to Rainbow Point at the far end of the canyon, then stopping off at the scenic overlooks on the way back.
Day 2 -3: Spend at least a couple of days at Bryce Canyon.  Enjoy the sunrise from the rim, overlooking the stunning hoodoos (stone pillars) in Bryce Amphitheater.  Then, after breakfast, hit the trails and hike down into the canyon.  The Queens Garden-Navajo Loop Trail is popular.  If you are up for an even longer hike, extend it with the Peekaboo Loop.  The whole family can do all of these hikes, if everyone is reasonably fit.
Day 3: Either hike the Fairyland Loop in the opposite direction or go ATV riding and/ or horseback riding from Ruby's, just outside the park's entrance.  You could also rent a mountain bike and bike some of the trails.
Day 4: hop back in the car for the 1.5-hour drive to Zion National Park.  Admire the views of the canyon before you descend through a long tunnel to the canyon floor.  Stay in Springdale, where you can easily arrange your adventure activities. Take the park shuttle and get an orientation of the canyon, doing some short hikes such at the Watchman's Trail to help you get acquainted with the park.
Days 5-6: There are several epic adventure hikes to do in Zion National Park, including The Narrows (a slot canyon where you hike in a river) and Angel's Landing, which involves a section with chains to hold on to and steep drop offs. These are not suitable for very young children.
Day 7: Go rappelling.  There are dozens of narrow slot canyons surrounding the park that are perfect for rappelling down a series of steep drop offs.  This is an incredible experience, but again, best not for very young kids.
Day 8: Take a 2- hour tubing trip down the Virgin River (May-July).  This requires active participation and is not just flat water floating, so is only suitable for kids over 12.  In the afternoon, rent a bike and cycle around parts of the park.
Day 9: Hop back in the car to Las Vegas and the conclusion of your adventure trip.
Contributed by James from Parks Collecting
Read all about our family's experience hiking The Narrows at Zion National Park– one of the coolest things we have ever done!!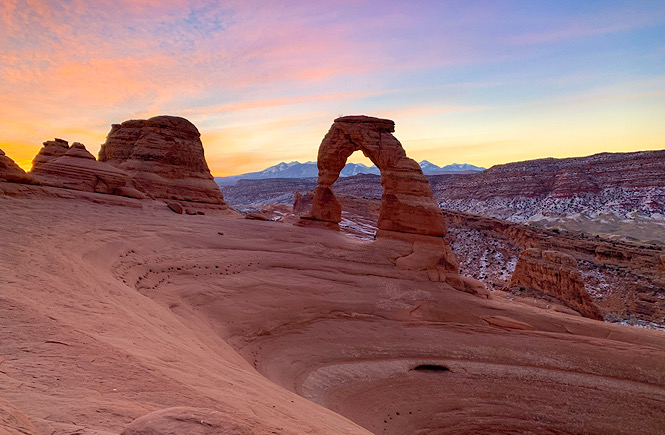 Explore More in Moab, Utah
Moab is one of the most beautiful places in the USA if desert magic is what you're after. With two national park and a state park, there's plenty to do in Moab if you're up for the road trip of a lifetime. Plan on at least four days for this Utah road trip!
Day 1: Arches National Park– Start in Moab and head to Arches National Park for an epic sunrise at Delicate Arch. Next, you can opt to spend the day hiking to see some of the arches that call this national park their home (Landscape Arch is a must!) or explore the park using your car by driving the Arches Scenic Road to hit some of the main viewpoints in the park.
Day 2-3: Canyonlands National Park– It's time to get more adventurous and head to the ever-alluring Canyonlands National Park. Canyonlands is divided into sections, one of them being Island in the Sky where you can find easy hiking trails and some of the best viewpoints in the park (this section is family-friendly). If you're a bit more intrepid, however, head to The Needles section, where you'll find some of the best hikes in Moab for seasoned hikers, off-road drives, and backpacking adventures if you're up for spending more than a day exploring on your road trip.
Day 4: Dead Horse Point State Park– Time to relax and go a little easier and spend the day exploring Dead Horse Point State Park. Despite its beauty, this park is often outshined by Canyonlands and Arches National Parks, but it's still worth a visit and the perfect place to finalize your Moab road trip with some easier hiking and mountain trails.
Contributed by Meg from Fox in the Forest
Read more about our trip here and why Arches National Park is one of our favorite parks!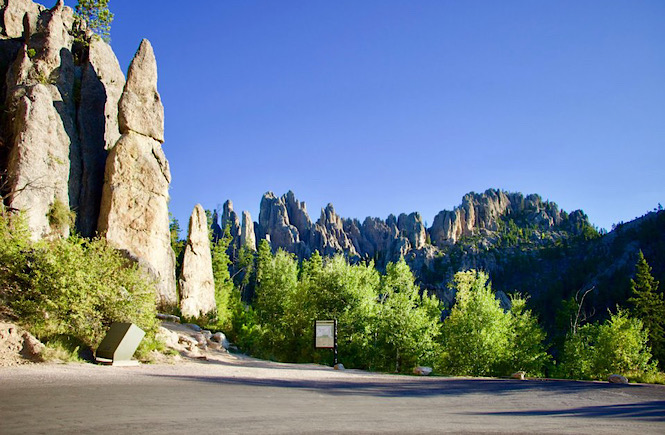 Road Trip to the Black Hills of South Dakota
The Black Hills of South Dakota are perfect for an adventure-filled road trip.  From discovering the old mining towns, to hiking and scenic drives, the Black Hills are a captivating road trip destination in the USA. You'll need a minimum of four days for this great American road trip!
South Dakota is unimaginably beautiful, and there is plenty to fill your days.  Start your Black Hills road trip in Deadwood.  This historic mining town is full of saloons, wild-west theatrics and gambling establishments.  Check out Mount Moriah Cemetery to discover where Wild Bill Hickok and Calamity Jane are buried.
Hiking at Pactola Lake is one adventure you can't miss while you are in the Black Hills area.  The Osprey Hiking Trail that starts at the Pactola Reservoir Campground has trails that are both child and pet friendly, so you can explore with the whole family.
Head south to Keystone to explore the famous Mount Rushmore, and drive the scenic Needles Highway.  Take half a day to explore the incredible rock formations of the Needles scenic drive between Sunday Gulch and Iron Mountain.  Enjoy the views of Mount Rushmore from this area.  Be careful to check your vehicle dimensions, Needles Eye tunnel is a tight squeeze.
Round off your road trip with a visit to Custer State Park and Wind Cave National Park.  Custer provides amazing bison viewing opportunities and other wildlife encounters too.  Wind Cave National Park has vast prairie landscapes and one of the world's longest cave systems.
Contributed by Hannah from Hannah Henderson Travel
Want more inspo? Check out these fun Midwest USA road trip itineraries!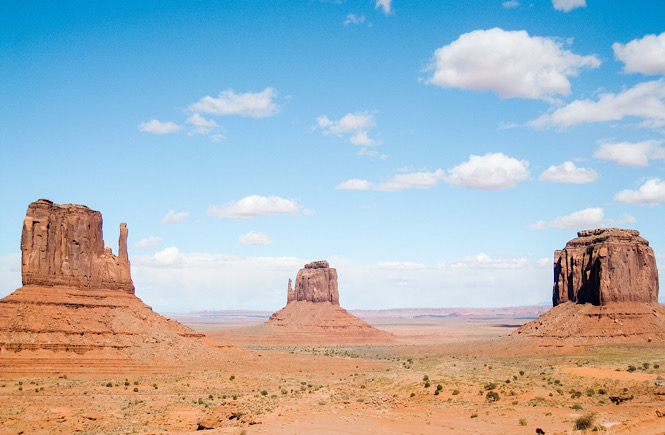 Phoenix to Canyon de Chelly and Monument Valley
Arizona has some truly breathtaking places to visit. Start this road trip in the capital city, where there's an international airport so it's easy to access. We recommend between five and seven days for this road trip. There are a lot of fun things to do in Phoenix, so you should plan to spend a few days there to explore the mountains, luxury hotels and spas, museums, street art, and more. It's a great city for solo trips, couple excursions, and families.
Your first day on this road trip will be driving to the stunningly beautiful Canyon de Chelly. It's in the northeastern part of the state and though it's smaller than the Grand Canyon, it's every bit as beautiful.
On your way north, there are a number of fun stops if you have a day or two to explore. Sedona is a stunning red rock oasis where you can hike gorgeous buttes. Flagstaff is a quaint small city with a historic downtown or stop in the Petrified Forest National Park for its unique views.
Next drive to the small town of Chinle located on Native American lands. Drive the loop around the canyon and stop at the lookouts for incredible views of Spider Rock and the canyon. Hike to Sliding House Overlook and The White House Native American Ruins. Don't miss a trek with a local into the canyon.
Your last stop is Monument Valley, on the Navajo Nation Reservation. A permit is required to visit. Drive the 17-mile dirt loop and stop for some scenic hikes on the way. Some parts of Monument Valley are also only accessible with a Navajo guide. 
Arizona offers some breathtaking scenic landscapes, even the less-traveled ones like Canyon de Chelly and Monument Valley. It's a road trip in the USA that's fun for anyone of any age who loves the outdoors and wants to see a very different landscape from most of the rest of the country.
Contributed by Sam from My Flying Leap
Have an extra day? Consider adding Page Arizona to your road trip itinerary- you will not regret visiting Antelope Canyon and Horseshoe Bend!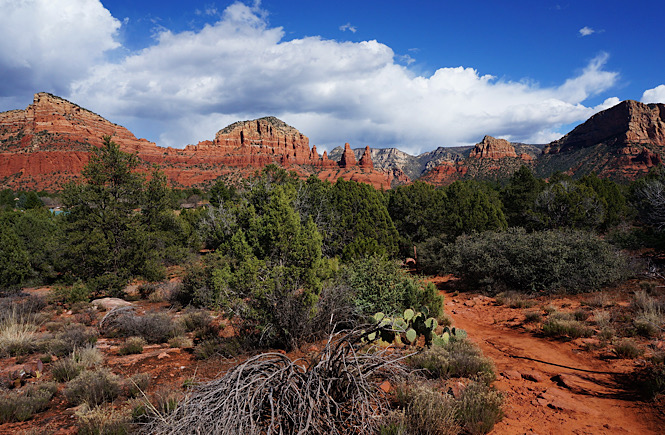 Road Trip from Phoenix to the Grand Canyon
Even though the Grand Canyon is only four hours away from Phoenix, there is so much to see in-between that is is deserving of it's very own road trip! Plan on a minimum of six days for this Arizona road trip!
Day 1: Being the capital of Arizona, having one of the biggest populations in the United States, and offering 300 days of sunshine each year, Phoenix has a lot of adventure opportunities to offer. Start the day hiking the iconic Camelback Mountain (not young kid friendly) and in the afternoon wander the shops of downtown Scottsdale.
Day 2: A great stop on the way to Sedona is Tonto Natural Bridge, near Payson. There are several hiking trails in the area of varying difficulty levels. Another stop you do not want to miss is the Montezuma Castle National Monument, one of the best preserved cliff dwellings in North America. The castle was built over 700 years ago and the legacy of the Sinauga people continues to inspire future generations.
Day 3- 4: Sedona is a paradise for outdoor enthusiasts. There is so much to explore that you'll want at least two days to see the best-of Sedona. Known as Mother Nature's red rock country, Sedona features majestic sandstone scenery and towering cliffs, making a phenomenal backdrop for all the outdoor adventure you'll get into.
There are several hiking trails that allow you to get closer to the stunning red rock formations. Devil's Bridge (4 miles) is one of the most impressive geologic formations in Sedona.  If you would like some shorter hikes, Bell Rock (1 mile) gives fantastic views of Courthouse Butte and Bell Rock. Sedona View Trail (1.2 miles) has incredible views of Chimney Rock, Coffee Pot Rock and Thunder Mountain. The above trails are family friendly.
On day 4, take a break from hiking and drive the Red Rock Scenic Byway, go off-roading on an adventure jeep tour, or take a scenic hot air balloon ride. If you have time after the thrills, even adventurers need some time to relax. Luckily, Sedona is well known for its world-renowned spas.

Day 5- 6: Your drive from Sedona to the South Rim of the Grand Canyon will take about two hours. The Grand Canyon is considered one of the seven natural wonders of the world, and is a spectacular place to witness the power of nature. Most first-timers that visit the Grand Canyon drive around the South Rim and stop at all the impressive viewpoints. While you can see the Grand Canyon in a day, take time to enjoy the scenery over two days and add in some hiking, to see the Grand Canyon from a different scale. One of the easier and shorter trails is the Kaibab Trail to Cedar Ridge (3 miles roundtrip).
If you decide to extend your exploration of the Grand Canyon, keep in mind that you should pre-book lodging as it fills up well in advance.
Contributed by Debbie from World Adventurists
Read more about our epic adventure and get our full 2 week Arizona and Utah itinerary! This U.S. family road trip was one of our all time favorites!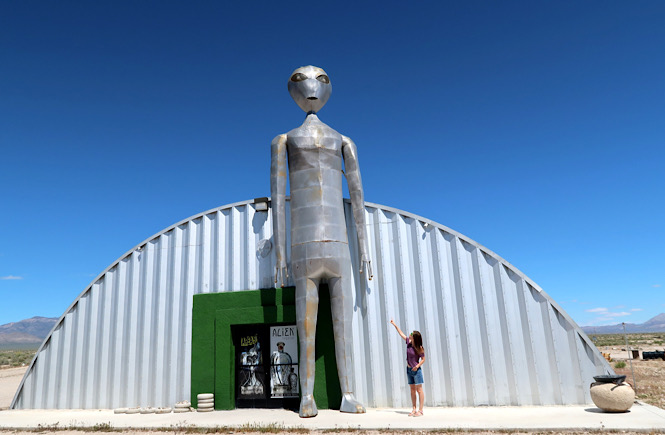 Road Trip Nevada: The Extraterrestrial Highway
To many drivers, State Route 375 may seem like an ordinary road, but for those who believe in alien life, driving the Extraterrestrial Highway is akin to a pilgrimage!
Located in south-central Nevada, State Route 375 spans a total of 98 miles and stretches between the towns of Warm Springs and Crystal Springs. The ET Highway can easily be driven in one day and it's a journey punctuated by vast desert landscapes, empty roads, and a few quirky attractions worth a visit. This is a perfect day trip from Las Vegas.
Some places not to miss along the way include a shop called ET Fresh Jerky where you can pick up alien-themed snacks, the Extraterrestrial Highway Sign where intrepid alien-seekers have plastered their stickers, and the Alien Research Center where you can uncover all sorts of alien tales if you dare. You will also want to check out the Black Mailbox where travelers have left mementoes and the Little A'le'inn which is a motel and restaurant featuring a UFO-towing pick-up truck. 
If your kids enjoy road trips and aren't too spooked by aliens, this could be a very fun and unique road trip adventure. 
Contributed by Audrey from That Backpacker
Pro Tip: Yes, this is where the infamous Area 51 is located. But, don't be tempted to visit- it's illegal and could totally ruin a perfectly good road trip!
Plan on sharing your travels on social media? Make life simple and use one of these fun adventure captions for Instagram!
West Coast USA Road Trips
No road trip of America would be complete without exploring some of the west coast. With some of the most beautiful coastline in the country, don't be surprised if you can't fit everything into just one trip. Here are some epic road trip itineraries to get you started.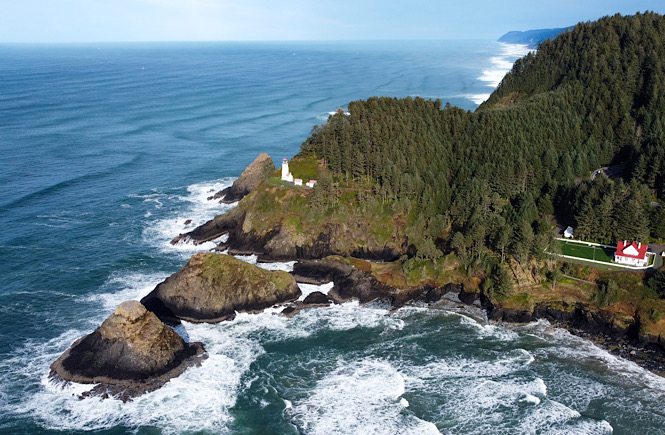 Oregon Coast Road Trip
The Oregon Coast is one of the best road trip destinations in the United States. Along its entire 300+ mile expanse, it showcases sweeping sandy beaches, quaint waterside towns, rugged hiking trails, and rolling dunes. 
The spectacular coastline can be divided roughly into three sections: the northern coast from Astoria to Lincoln City, the central coast from Lincoln City to Coos Bay, and the southern coast from Coos Bay to Brookings. 
Though it is technically possible to drive the entire coastline in a day, you'll need at least three full days to explore the area's offerings. Five to seven would be ideal.
The northern part of Oregon's coastline is by far the most visited section due to its proximity to Portland. It is home to some of Oregon's most beloved landmarks—-including Ecola State Park, Cannon Beach, and the Tillamook Cheese Factory.
As Highway 101 continues southward, its quaint towns and iconic sea stacks give way to soaring cliffs, lonely lighthouses, and wildlife-rich tidepools. The central Oregon coast is an adventurer's dream. It boasts a patchwork of rolling dunes, freshwater lakes, and verdant spruce forests. Top places of interest include Thor's Well and the Oregon Dunes National Recreation Area. Kids will especially love the sand boarding and swimming opportunities at Honeyman State Park. 
South of Coos Bay, the road trip takes an even more dramatic turn. Along the undeveloped coastline, jaw-dropping vistas accompany every bend in the road. Roadside hiking trails and viewpoints reveal a wonderland of secret beaches, secluded coves, and offshore rock islands. 
The southern Oregon coast is home to a handful of parks that offer opportunities for hiking, photographing, and wildlife-viewing. Must-see destinations include Shore Acres State Park and the Samuel H Boardman Scenic Corridor. 
The Oregon Coast is a dramatic and wild adventure destination. With diverse scenery and plenty of untouched waterfront, its sprawling natural areas are perfect for dune-bashing, hiking, kayaking, and sand boarding. 
Contributed by Erika from Erika's Travels
The Oregon Coast tops my personal bucket list for our next road trip in the USA!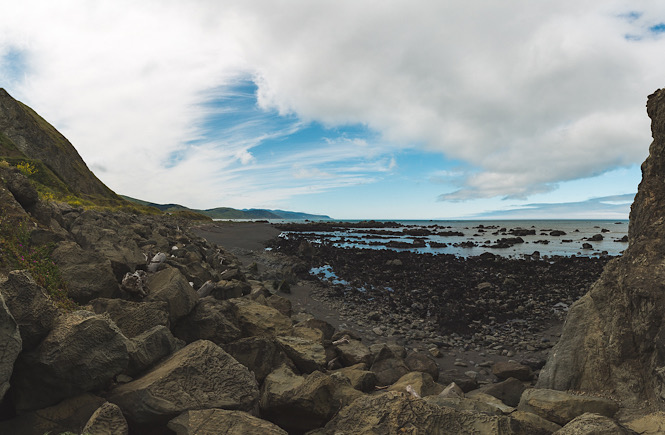 Pacific Coast Highway Road Trip: San Francisco to Oregon
The Pacific Coast Highway is one of the most popular scenic drives in the USA. But most travelers choose to only drive the section from San Diego to San Francisco. What they miss are the less crowded coastal views and breathtaking redwoods found between San Francisco and Oregon.
The scenic Pacific Coast Highway drive from San Francisco to Crescent City is a must for adventure seekers and families alike. This California road trip is best done as a three day one-way trip.
Start your road trip in San Francisco, leaving the city across the Golden Gate Bridge and heading into the mountainous coastline. Don't miss the views from East Peak in Mount Tamalpais State Park and hiking to Alamere Falls in Point Reyes National Seashore. End your first day along the northern Pacific Coast Highway with a night in Sea Ranch or Mendocino.
The scenic drive continues up the Pacific Coast Highway, also called Highway 1. On the second day, you can explore Avenue of the Giants, perfect for spotting redwoods with the family. Those looking to escape the crowds can explore the Lost Coast, driving to Shelter Cove and Mattole Beach along Mattole Road. Don't miss the quaint towns of Ferndale and Eureka.
End your trip along Northern California's coast by exploring Redwood National Park on your third day. Don't miss Tall Trees Grove, Fern Canyon, and Enderts Beach! End your last day by exploring California's northernmost cities, like Crescent City.
After the road trip, you can explore the Oregon coast, spend more time in Northern California's national parks, or head back to San Francisco. A Northern California road trip may not get all the fame and glory but it is still one of the best road trips in the USA.
Contributed by Julia from Well Planned Journey
We love California! Read all about our 10 day California road trip from San Francisco to Yosemite National Park and Napa Valley!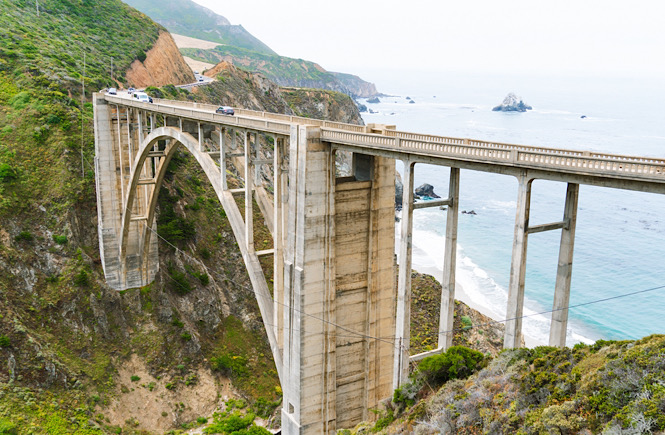 Highway 1- San Fran to Los Angeles
Highway 1 is one of the best California road trips and a fantastic USA road trip for adventure and families. This windy road offers amazing views of the California Coast and will be a journey like no other. There is plenty to explore along the way and great hiking opportunities. Give yourself a minimum of four days for this iconic west coast road trip!
Start your journey in San Francisco. If you have time, make sure to spend a few days exploring what the city has to offer. Check out Alcatraz, walk or bike across the Golden Gate Bridge, drive down Lombard Street, and check out the incredible street art in the Mission District.
Day 1: San Francisco-Santa Cruz-Monterey- After exploring San Francisco, head south to Santa Cruz and then Monterey. You will get some amazing coastal views and have plenty of photo opportunities. Natural Bridges State Beach and the Boardwalk are great places to stop and stretch your legs. In Pebble Beach, make sure to drive along the 17-mile drive and check out Cannery Row in Monterey. 
Day 2: Monterey-Big Sur-Morro Bay- From Monterey, continue heading south for the most picturesque of Highway 1: Big Sur. Stop at the Bixby Creek Bridge for a photo opp. Other great stops along the way include McWay Falls, Julia Pfeiffer Burns State Park, and Pfeiffer Beach. Continue heading down the picturesque coast to Morro Bay. 
Day 3: Morro Bay-Santa Barbara- On Day 3, make your way to Santa Barabara. You can stop at Morro Rock or Morro Bay State Park. This area also has a ton of wineries if you like to wine taste! Spear Winery is a great stop to stretch your legs. Walk around downtown Santa Barbara for some good eats 
Day 4: Santa Barbara-Los Angeles- After Santa Barbara, head to Los Angeles. There are so many adventures you can have in LA, from visiting film studios to hiking the Hollywood sign. Make sure to check out all of the gorgeous beaches and museums as well.
Contributed by Francesca from Homeroom Travel
Have extra time on your first day leaving San Francisco? Stop to see the majestic redwoods in Big Basin Redwoods State Park.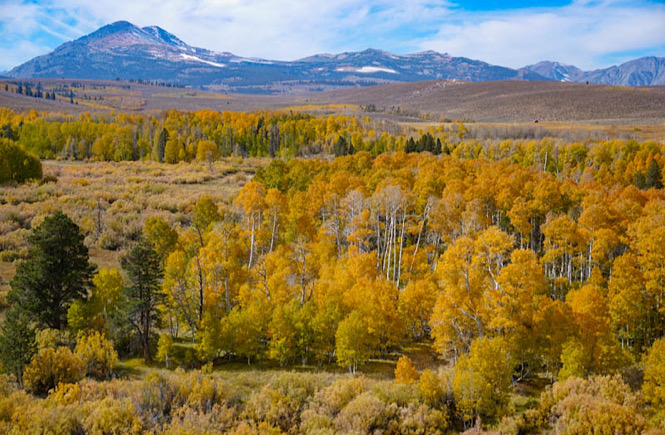 Road Trip Eastern California
A Highway 395 road trip through the Eastern Sierra should be on the itinerary of every visitor to the Golden State. Running parallel to the Pacific Coast Highway, but through the eastern part of California, the road trip features stunning scenery and lots of things to see and do along the way. You'll easily want five to seven days for this US road trip.
Arriving from the south, your first stop on is Lone Pine, where you can visit the beautiful Alabama Hills and drive up Whitney Portal Road for spectacular views. You can hike in both places.
On day two, visit Bishop and the surrounding areas, which feature numerous beautiful lakes. You can go boating, hiking, fishing, and rock climbing in Bishop. Bishop is known for its bouldering locations. You can also enjoy a soak in one of the hot springs in the area.
On the following day, drive to Mammoth Lakes, where you can visit Devils Postpile National Monument and hike to Rainbow Falls (they are open to vehicular traffic only in the summer). Mammoth Lakes is also known for the many beautiful lakes surrounding the town, and there are plenty of hikes for active visitors.
On day four, drive the beautiful June Lake Loop north of Mammoth Lakes. You can boat or fish or hike, or just enjoy the scenic drive. Further north, explore the unique Mono Lake, which is famous for its limestone tufas, and sleep in Lee Vining.
On the final leg of your trip, drive north to South Lake Tahoe, where you can spend the day enjoying the many things to do in Lake Tahoe, from hiking to cruising the lake to kayaking.
On the following morning, depart from Reno, which is a short drive north of Lake Tahoe. While this road trip is lovely any time from late spring until fall, the best time to do it is the fall, when leaf colors light up the route. Without a doubt, this eastern California route is a hidden gem amongst American road trips.
Contributed by Dhara from Roadtripping California
Want more inspo? Check out these Southwest USA road trip ideas and itineraries!
Road Trip Hawaii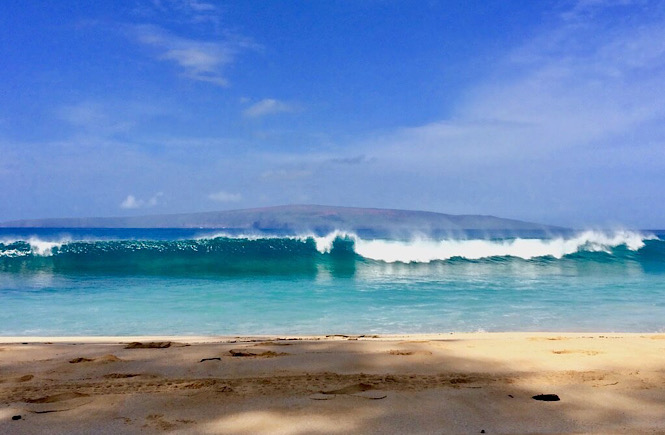 Is one of your goals to travel more? Try using these powerful travel affirmations!
Road Trip Maui
The best Maui itinerary for a road trip is seven days, split between the sugary beaches on the west side of the island and the lush rain forested east side of Maui.
Begin Day 1 exploring South Maui Beaches. Makena Landing makes the perfect spot for siting Hawaiian green sea turtles. (Be cautious not to disturb them though. It's illegal.) If you base in Kihei for several days, it will be easy to explore both South Maui and West Maui.
Day 2, head to west Maui, window shopping the boutiques in colorful Lahaina (made famous by Loggins & Messina's song of the same name) and enjoy a luau after dark. It's the perfect event for the whole family.
Spend Day 3 on a boat tour, snorkeling incredible Molokini Crater just offshore. (You'll feel like you're swimming in an aquarium.)
On Day 4, hike Haleakala National Park. This can be done as a day trip from Kihei or cut down drive time with a one night stay here in upcountry. Reserve Day 5 and 6 for driving the famous Road to Hana, one of the most scenic drives in the U.S. on the east side of the island. This drive is about the journey, not the arrival in Hana so allow a full day minimum or, ideally overnight in Hana itself. On Day 7, wrap up your fabulous road trip with a helicopter tour. It's the best way to get a glimpse of "real Hawaii" courtesy of locals.
Contributed by Chris from Explore Now or Never
Hawaii is a total bucket list trip! Find what else made the cut for our USA BUCKET LIST!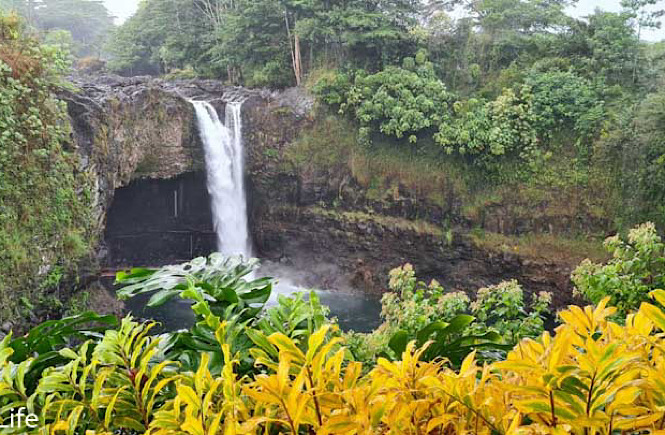 Road Tripping the Big Island of Hawaii
If you are looking for a fun road trip to do in Hawaii, then consider the Big Island. There's so much to explore: you could actually fit all the other islands into the Big Island. It's so much more interesting to discover all the various parts of the island with the unique landscape ranging from hills to mountains with snow, miles of raw lava rock like the moon, to lush forested areas. There's even an active volcano that you can see the lava eruption happening constantly at Volcanoes National Park.
When you visit the island, there are two main cities on opposite sides that you can base yourself in, Kona is on the west side and Hilo is on the east side. Most of the resorts and gorgeous beaches are on the west and Hilo is more of the regional capital and where most locals live. You'll want a minimum of three days to road trip the Big Island.
A road trip can be done on a circle loop around the island to hit the most impressive can't miss stops. From Kona you will drive past the cutest little towns, coffee farms, and then to open and wild country. This will take you to the Southern point of the island, the large black sand beach at Punalu'u and then to Volcanoes National Park.
When you go northeast towards Hilo, you'll past lush rainforests, farms and more little villages tucked into the forest area until you hit the busy outskirts of the city. There are so many cool attractions and fun things to see and do in Hilo. 
The drive past Hilo will take you to the gorgeous cliffs, grassy farm areas, and botanical gardens of the Hamakua coasts. If you love chasing waterfalls, this is the best road trip destination for you! There's so much more in store when you do a circle road trip around the Big Island, so plan on visiting a few days to even longer if you can.
Contributed by Noel Morata from This Hawaii Life
Really want a once in a lifetime Hawaiian experience on the Big Island? Book a helicopter tour, whale watching excursion, scuba diving, snorkeling, or manta ray night dive! Hawaii is the perfect place for thrill seeking activities!
Road Trip USA!
So are you excited to start planning your next USA road trip? Which destination will you choose for your next adventure?
Share your adventure on Instagram!! Use one of my favorite adventure captions, nature captions, or motivational captions and make life simple. Come say Hi and tag me while you're at it!!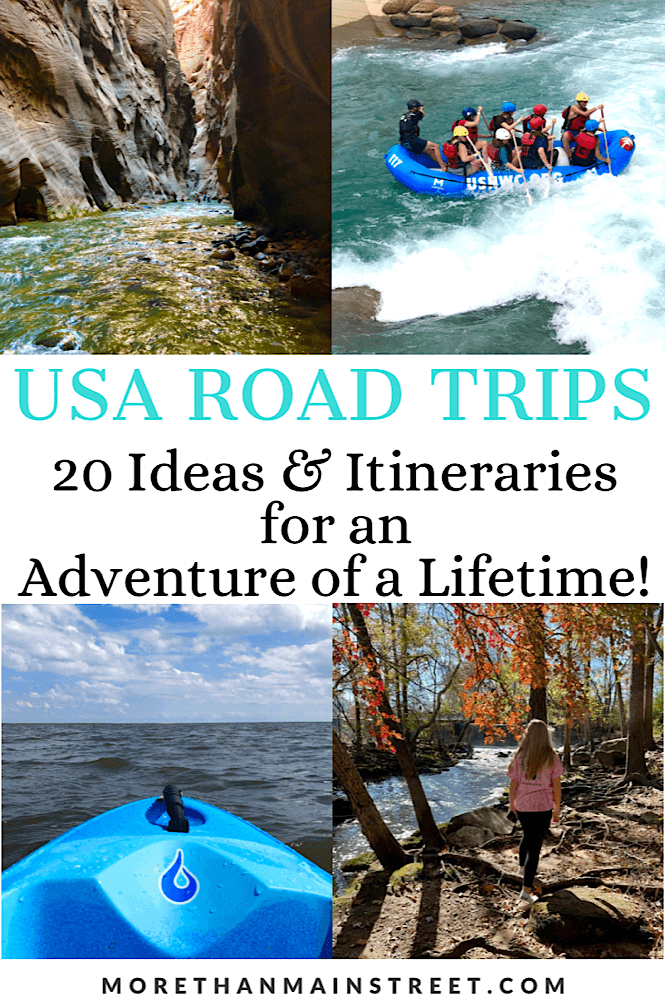 Pin this post for your next USA Road Trip!