Our Utah Arizona Road Trip: A Trip of a Lifetime!
2 Weeks.
2 States.
4 National Parks.
Over 1500 miles.
Meaningful memories to last a lifetime!
If you haven't noticed by now, we love a road trip! We have family in Utah, so we've done a few different road trips from Salt Lake City. This summer we decided to do an epic full two-week Utah Arizona road trip!
Visiting National Parks in Utah was high on my bucket list. But I wanted more than just a southern Utah road trip…I wanted to see so many places in Arizona too!
So… this road trip itinerary was born.
Utah and Arizona National Parks Road Trip Map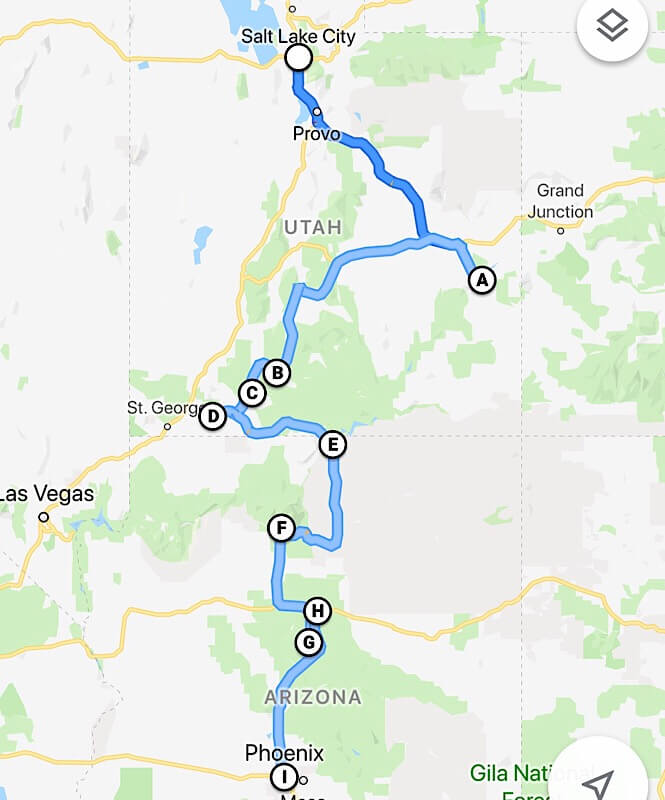 Our Southwest Road Trip Itinerary
Day 1: Salt Lake City, Utah
Day 2: Salt Lake City
Day 3: Moab, Arches National Park
Day 4: Moab
Day 5: Bryce Canyon National Park
Day 6: Zion National Park
Day 7: Zion National Park
Day 8: Page, Arizona
Day 9: Grand Canyon National Park
Day 10: Sedona
Day 11: Flagstaff
Day 12: Phoenix
Day 13: Phoenix
Day 14: Travel Day Home
Planning a road trip? Make sure to read my road trip essentials checklist!
This post contains affiliate links which means I could earn a small commission, if you make a purchase, at no additional cost to you. As an Amazon Associate, I earn from qualifying purchases. For more information, read my full Disclosure HERE.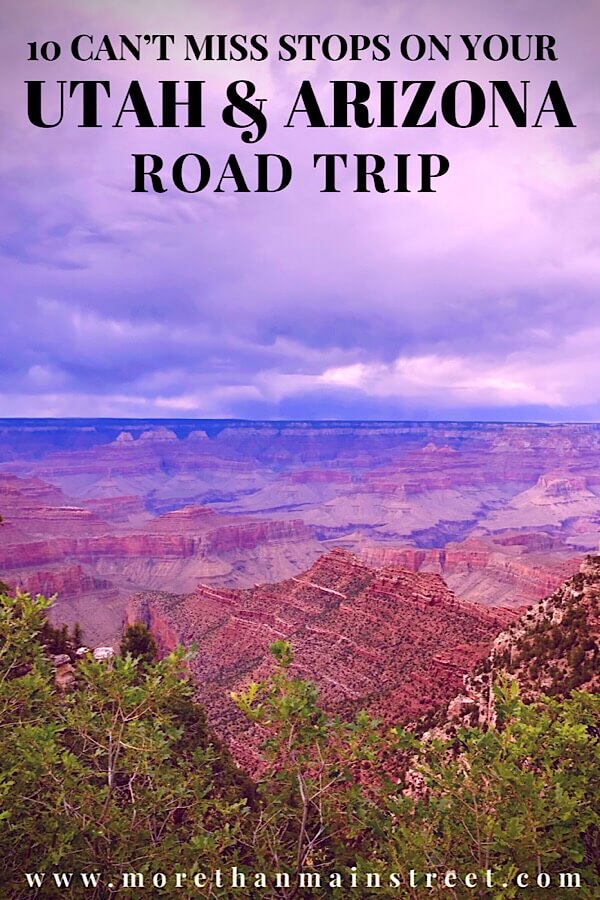 Highlights of our Arizona and Utah Road Trip!
The top 10 CANNOT miss things to do on an Arizona Utah road trip. (For more details about a specific stop or activity, feel free to just click on a link below!)
Stand in awe at Arches National Park.
See the epic Hoodoo's of Bryce Canyon National Park.
Visit the unbelievable Zion National Park.
Catch the sunset at Horseshoe Bend.
Go off roading with a Pink Jeep Tour.
It was truly a trip to remember!
Week One: Utah Road Trip
Days 1-2: Arrive in Salt Lake City, Utah. We picked up the rental car and went to visit family. We chose to go to Snowbird Ski Resort to enjoy some of their summer activities. But you can decide if you want to explore the city or head up to the mountains. Our personal favorite things to do are visit Snowbird, Park City, and Utah Olympic Park.
Day 3: Time to hit the road! The drive to Moab, Utah took us about 3 ½ hours. Once we arrived in Moab, we grabbed some lunch, check into The Fairfield Inn, and then headed into Arches National Park. (This is one of the nicest Fairfield Inn's we've ever stayed in…the pool were amazing!)
*Know Before You Go Tip: You will need to plan if you will return to Moab for dinner before heading to the park as there are no restaurants inside Arches. We picked up sandwiches from Sweet Cravings Bakery & Bistro and had a picnic dinner in the park. Also make sure to fill up your water bottles. There are a few water refill stations inside Arches, but not as many as we found at other national parks.
We always get our rental cars from Travelocity– they always seem to have the best rates!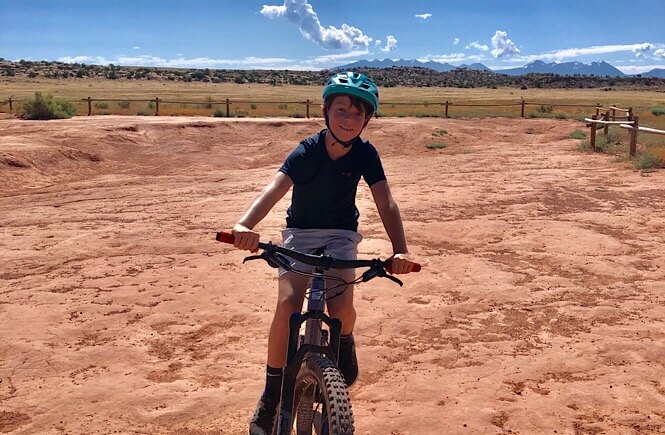 Day 4: Moab is known as a mountain biking mecca of the world! So…of course we decided we needed to give it a try! My son was really excited for this adventure. The rest of us were a little more anxious. It turned out to be quite a challenge but very fun at the same time. The exercise at that elevation was a little more than I personally bargained for but I'm still glad we did it. My son is totally hooked and wants to do a lot more mountain biking!
Unfortunately, my daughter did have a bit of a mishap on the mountain bike which deterred our plans for the rest of the day. We had plenty of time to visit Canyonlands National Park but opted to rest by the pool for the afternoon followed by a sunset drive through Arches.
Want to book a mountain biking tour for your family? Check current rates HERE!
Day 5: We were up bright and early for our longest drive of our Utah road trip. The drive from Arches National Park to Bryce Canyon National Park took us about 4 hours. It a beautiful scenic drive through southern Utah but it is also pretty much in the middle of nowhere.
*Know Before You Go Tip: There were a few rest stops (the bathrooms were awful- not going to sugar coat that) but not many places to stop for food, gas, or restrooms. Also, no cell service- prepare ahead of time with directions and maps!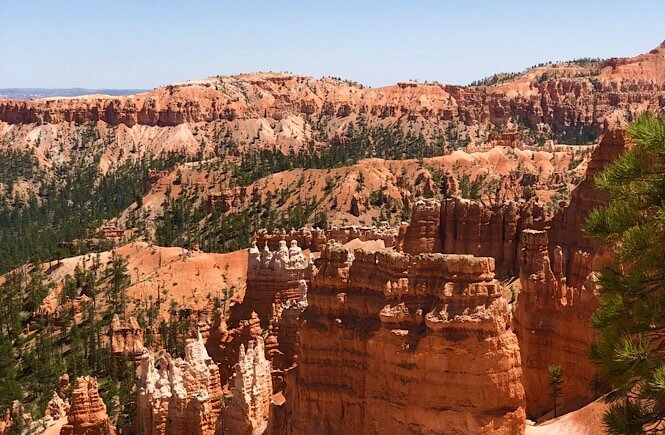 We arrived at Bryce Canyon National Park by lunch and had a fantastic meal at Bryce Canyon Pines restaurant just a few minutes outside of the park. Bellies full…we headed into the park. We stopped at Sunrise Point for a small hike to see the famous hoodoos! They were breathtaking. We then drove the length of the park and stopped at most of the different scenic overlooks.
*Know Before You Go Tip: Most of the scenic overlooks look very much the same. Consider stopping at just one or two and choose to spend your time on a short hike instead.
All in all, we only spent a couple of hours in the park as we wanted to make it to our accommodations by dinner. We stayed in hotels the entire trip with one exception: this night we stayed in a covered wagon! This was by far the most memorable stay of the entire trip. Read all about our experience glamping in Utah!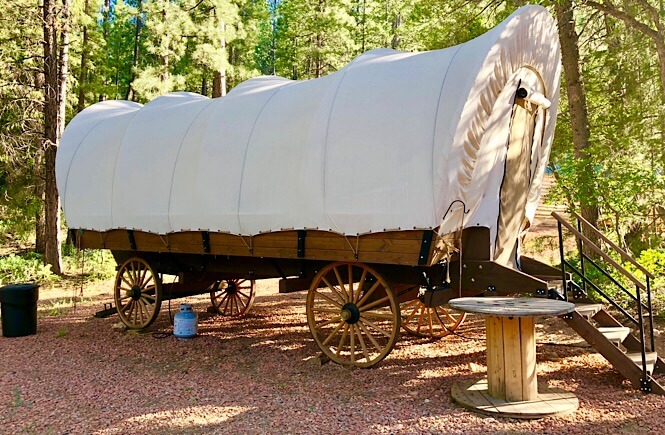 Day 6: Today was all about hiking The Narrows in Zion National Park. It took us about an hour from our stay at Whispering Pines Glamping Resort to get to the Visitor's Center at Zion. Since we entered the park through the east entrance, we decided not to go into the town of Springdale to save time. We had originally planned to have a big meal and rent hiking poles in town, but quickly changed plans when we saw how busy the park was. We ate lunch at the lodge and headed up to hike The Narrows.
*Know Before You Go Tip: You have to take the shuttle through Zion during most of the busy summer months. We were lucky to find parking at the Visitor's Center but it does fill up. You can park in the town of Springdale- the shuttle has several pick up spots in town too!
Plan to get off the shuttle at the last stop and take the mile-long Riverside Walk to get to the entrance of the Narrows. Needless to say, hiking The Narrows was a truly unforgettable experience!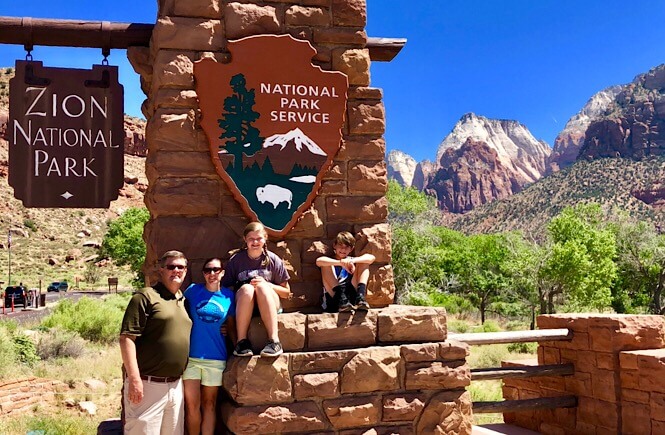 Day 7: We stayed at the Fairfield Inn and Suites Virgin Zion National Park (our room had TWO kind size beds!) outside of Zion National Park so that we could have a leisurely morning. Hiking The Narrows kinda wore us out to be honest. We had a late breakfast and went back into the park for three more hikes, a visit to the museum, and gift shop. By late afternoon it was again time to hit the road to make it to Horseshoe Bend in Page, Arizona by sunset. This drive took us about two hours. We grabbed a quick dinner in Page at The Birdhouse and checked into the La Quinta Inn & Suites.
*Know Before You Go Tip: Arizona does not have daylight savings time. If you are arriving from Utah, be sure to ask someone local what time it is!! Our cell phones did not change immediately to the correct time and we would've missed sunset if we had not checked the time with the hotel front desk. Luckily, we made it on time and Horseshoe Bend didn't disappoint!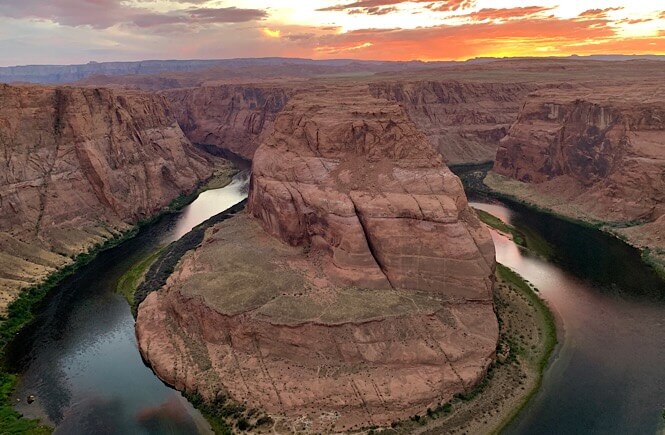 Week Two: Arizona Road Trip
Day 8: Today's agenda in Page, Arizona was our tour of Upper Antelope Canyon. A major bucket list item for me, I loved every minute of my time in Antelope Canyon! There are quite a few people doing tours all at the same time, but it was still beautiful!
*Know Before You Go Tip: You can only visit this amazing slot canyon through a tour company- we used Antelope Slot Canyon Tours and would definitely recommend them! We rode in a closed, air-conditioned van to the canyon versus an open-air jeep. This may not matter to you, but it was a really nice perk for us!
In retrospect, I would have planned the rest of the day a little differently. We should have spent two nights in Page allowing us to spend the afternoon on Lake Powell. However, hindsight is 20/20 and instead we headed on to the Grand Canyon as planned. We arrived at Grand Canyon National Park midafternoon after about a two-hour drive. At this point in the trip, we were all in need of a little break. We took in the views at the first stop and visited the tower at the Grand Canyon and then headed on to our hotel.
There are quite a few options on where to stay near the Grand Canyon. We stayed at The Grand Hotel in Tusayan, Arizona which is the closest place to stay outside of the actual park. By doing this, we avoided adding more drive time to our 2 week national park roadtrip.
Day 9: After a late start, we went to Grand Canyon National Park! We walked a bit of the South Rim hike, visited the museum and watched the informational movie on the Grand Canyon. Although our initial plan was to do some hiking in the Grand Canyon, we decided we just weren't up for it and we would return for sunset. Travel FAIL…it ended up raining so no sunset. Oh well…just another reason to return!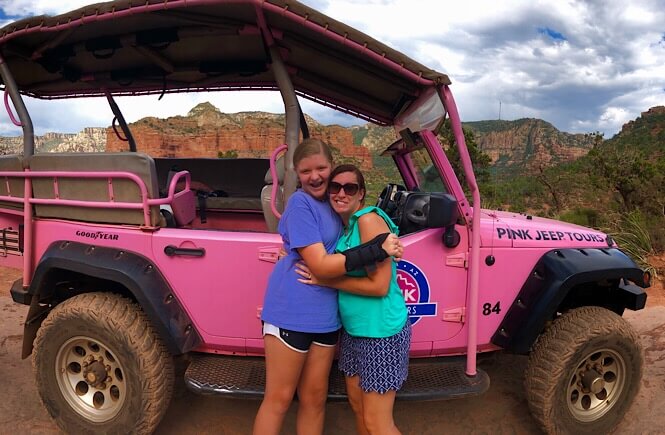 Day 10: Leaving the Grand Canyon, our Arizona road trip took us through Williams, a few historic Route 66 stops, and onto Sedona, Arizona. Today we had scheduled our Pink Jeep Tour. I had heard so much about these tours and was afraid it wouldn't live up to the hype. Let me tell you…it was one of our favorite activities! The Broken Arrow tour takes you off roading in a jeep across the famous red rocks and it is exhilarating! Definitely worth it!
Pro Tip: If you have an extra day, be sure to check out one of these incredible hikes in Sedona!
Day 11: We backtracked a bit (about 45 minutes) to Flagstaff, Arizona. Why? Well I waited too late to book the Pink Jeep tour. So…it wasn't available today when it would've made a lot more sense. We also had originally planned to visit Slide Rock State Park too, but since my daughter was injured, we didn't want to risk her re-injuring her arm. So, we explored downtown Flagstaff, did a bit of shopping, and visited some of the local breweries! Still a fun day!
*Know Before You Go Tip: If you do plan to visit Slide Rock State Park, plan to arrive EARLY! We drove by and there were people parking on the side of the road for miles because the parking lots were full. It was one of the craziest things we've ever seen!
Day 12: Our last drive of the trip took us two hours to Phoenix for today's agenda: street art in downtown Phoenix, lunch at the classic Sugar Bowl in Scottsdale, then onto our resort.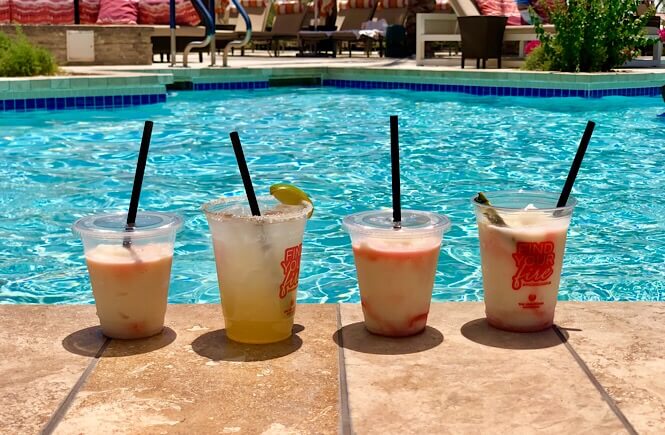 Day 13: The final day of our epic adventure was all about rest and relaxation at the Phoenician Resort in Scottsdale. We purposefully planned a day at this resort to do nothing but lay by the pool and relax.
Day 14: Travel Day! Exhausted, hearts full, and ready to sleep in our own beds, it was time to head home!
What We Would Do Differently in our Utah Arizona Road Trip:
Utah is known for its national parks. If you're looking to hit the Big 5 Utah National Parks, then this is the road trip for you! We only made it to three of the Mighty 5: Zion, Bryce, and Arches National Parks. But you could easily adjust this road trip to include the other two: Capitol Reef National Park and Canyonlands National Park. (We missed Capitol Reef due to time and Canyonlands due to injury.) In retrospect, we would make time for both of these National Parks.
We decided to rent our car from Salt Lake City, Utah and return it in Phoenix, Arizona. There was an extra cost to this one-way rental and I'm not sure we'd do the trip 100% the same if we were to do it again. We'd probably recommend breaking it up into two separate road trips: a one-week Utah road trip and one-week Arizona road trip. Or you could start and end in Las Vegas, Nevada or Phoenix, Arizona. There are a bunch of options to turn the trip into a loop so you can return your rental car at the same place you picked it up (and save a lot of money!!).
Finally we'd definitely recommend a little more down time. When you're on the go for so many days, you tend to wear down and need a little recovery time! I sometimes get caught up in doing #allthethings and forget to plan rest days and they are important!
You live and learn, right?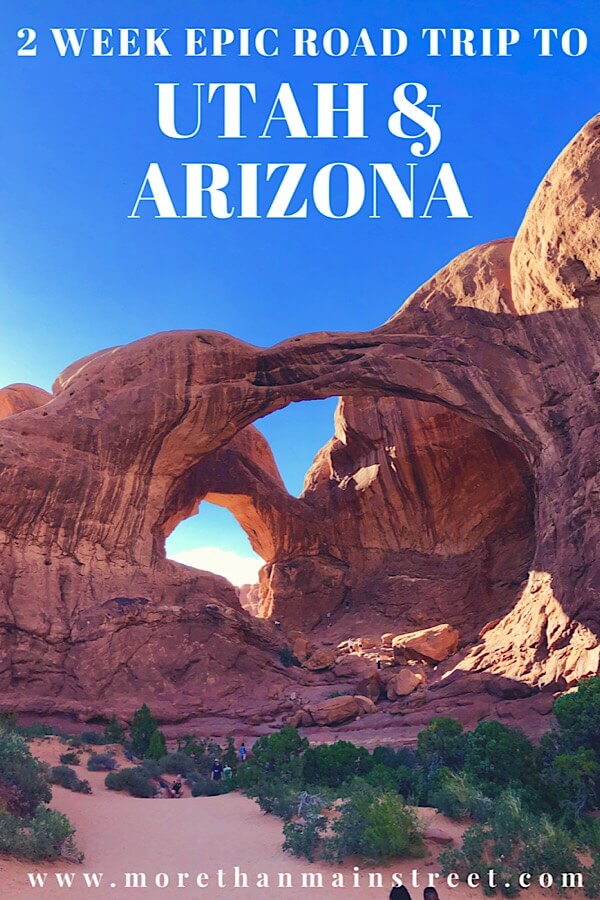 Do you love a road trip too? Already check off this Utah Arizona road trip? Then be sure to check out these other awesome road trips! We think these are some of the best road trips in the USA!
Road Trip to Jackson Hole and Yellowstone National Park
6 Spectacular Southwest USA road Itineraries
5 Fabulous Southeast USA Road Trip Ideas
4 Fabulous Midwest Road Trip Itineraries