Planning a Southwestern road trip in the USA?
This week's USA road trip series brings us to the southwestern corner of the United States to California, Utah, Nevada, Arizona, and Colorado! Fellow travel bloggers and I share some seriously awesome Southwest USA road trip ideas from weekend getaways to 7 day itineraries. In our opinion, these are some of the best places to visit in the USA!
Love national parks, hiking, or just the outdoors in general?
Love big city energy?
Love traveling with kids, your partner, or solo?
We've got you covered!
In this post you will find 6 spectacular Southwest road trip ideas:
East Coast California: 5 Day Road Trip Itinerary
San Francisco to Los Angeles Drive: 5 Day California Itinerary
Southern California Weekend Getaway
7 Day Arizona Road Trip
5 Day Colorado Road Trip
Las Vegas to Utah National Parks Road Trip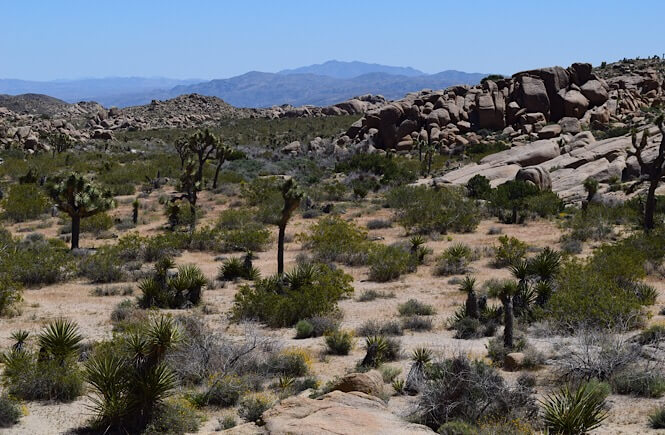 5 Day East Coast California Road Trip from Curiously Erin
Day 1: Depart from Los Angeles or San Diego, Joshua Tree National Park
Day 2: Death Valley National Park
Day 3: Mammoth Lakes
Day 4: Lake Tahoe
Day 5: Sacramento or Reno
I've done quite a few US road trips over the years and one that stands out as memorable has been up the eastern part of California. While most tourists will stick to the coast there is something special about quieter inland highways. On the following road trip you will pass through national parks, mountains, deserts and unique scenery. To make it especially memorable you can follow these tips on planning a US road trip.
Day 1: Arrive in LA or San Diego. Drive to Joshua Tree National Park. This should take between 2.5 and 3 hours. Spend the rest of the day exploring the park. If you have camping gear you can stay inside otherwise there are motels and Airbnbs on the outskirts.
Day 2: Death Valley National Park. Drive 4 hours north until you reach Death Valley, known as America's lowest, hottest, and driest national park. A few hours will be more than enough time here. You can even drive along highway 190 through the park to continue your road trip to Bishop where we will spend the night.
Day 3: Mammoth Lakes. Between Bishop and Mammoth Lakes there are plenty of natural hot springs. The best way to find these is to ask a local how to get to one. After spending some time in the hot springs head to Mammoth Lakes for the night. This drive is only 45 minutes so you have plenty of time to do some hiking, enjoy the brewery and wander the town.
Day 4: Lake Tahoe. 3 hours north is Lake Tahoe. This beautiful lake is a perfect place for hiking, biking, and other outdoor activities. You'll also find regular nightlife, concerts and festivals.
Day 5: Depart Sacramento or Reno.
* This is a great 5 day southwest road trip, but f you have the time I would recommend spending a couple of nights in each place to make this California itinerary 7 days.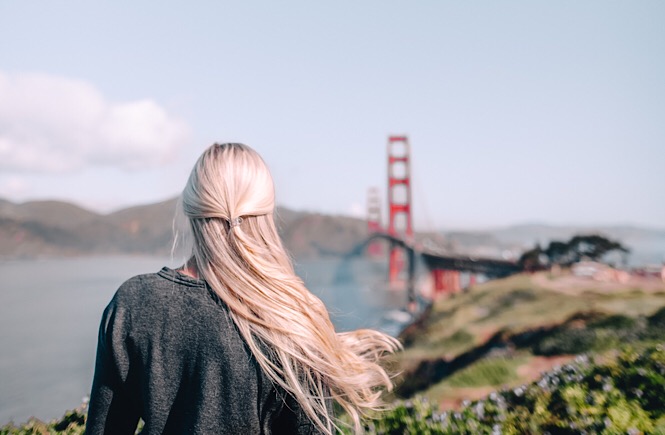 5 Day California Road Trip: San Francisco to Los Angeles Drive from Live.Love.Run.Travel
California is made for road trips. One popular route is to take the Pacific Coast Highway from San Francisco to Los Angeles. While this west coast road trip itinerary can take as little as six hours, take the scenic route and enjoy stunning views as you go. We highly recommend making this a 5 day southwest road trip.
Day 1: San Francisco
Day 2: San Francisco, Half Moon Bay
Day 3: Santa Cruz, Monterrey, Carmel by the Sea
Day 4: Santa Barbara
Day 5: Los Angeles
Day 1: San Francisco can easily take up more than a couple of days, but if you only have a day or two to start your trip, there are some things you can't miss. The famous icon of San Francisco, the Golden Gate Bridge, is visible from many viewpoints. However, the best ones are the Golden Gate Overlook, Baker Beach, and the road leading to Fort Point. From there, make sure to see the Painted Ladies, Lombard Street, the street art in the Mission District, and the Palace of Fine Arts. If you are looking for the swing overlooking San Francisco, make the climb at Bernal Heights Park to the top of the park.
Day 2: From San Francisco, head out and down the coast. If you leave in the afternoon or evening, stop along the way at the Moss Beach Distillery for an ocean view with an incredible meal. Half Moon Bay is a great next stop for sunset. Watch from the tops of the cliffs or from the beach below as the sun sinks below the horizon. Santa Cruz makes a great base for that evening.
Day 3: The next morning, you can make the climb down to Shark Fin Cove, but make sure to wear shoes with good grips. Next, head to Monterrey and Carmel by the Sea. Point Lobos State Park Preserve gives you a chance to view wildlife including baby seals during pupping season in late March, April, and May. There are quite a few hiking trails here, and this area makes for another great stop for the night.
Day 4: Once you hit the road the next day, stop for a quick photo op at Bixby Bridge and enjoy the views along Big Sur. Point Sur Park and Pheiffer Beach in Pheiffer Big Sur State Park are two popular and scenic stops along the way. Further south you can tour Hearst Castle or enjoy an Elephant Seal Rookery. Even if you don't stop, you are likely to see plenty of elephant seals along here from the road.
An area growing in popularity is Solvang, a city known for its Dutch architecture. Stop and wander the streets before continuing to Santa Barbara for the night.
Day 5: The next morning, enjoy the drive along the coast of Malibu, taking in the massive beach homes and mansions overlooking the water. Continue all the way to the Santa Monica Pier to enter the LA area and stay to enjoy the sunset there.
Los Angeles could easily be a week-long trip on its own, but with the time you have left, check out some of the main attractions like the Hollywood Walk of Fame and the Grauman's (now TCL) Chinese Theater or hike some of the trails like Runyon Canyon or up to the Hollywood sign. Make sure to take in a sunrise or sunset at Griffith Observatory and drive through Beverly Hills or head out to some of the beach towns like Venice for a more relaxed vibe.
Plan to spend at least five days exploring this west coast America road trip. You can easily find more stops to stretch this California coast road trip out to a couple of weeks with lots of stops, hikes, and views along the way. Add on a few days in San Francisco or Los Angeles at the beginning or the end to make this a seven day California itinerary. And of course you can do this road trip in reverse making it a 5 day road southwest road trip from Los Angeles.
Have extra time? Stop to see the giant redwoods after leaving San Francisco in Big Basin Redwoods State Park!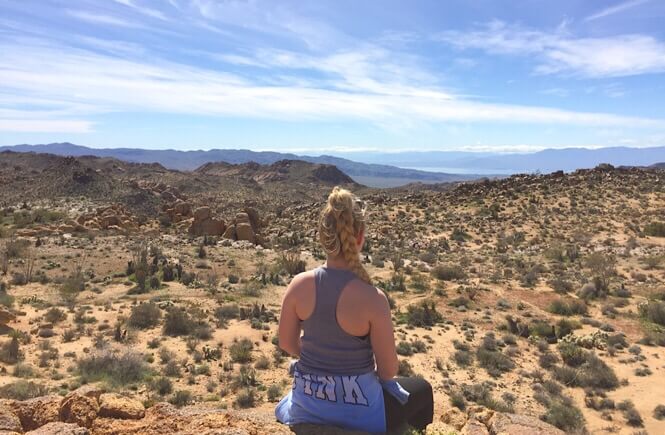 Southern California Desert Road Trip from Trees and Tents
A desert road trip is the perfect spring, fall, or winter getaway in California. While the rest of the state is drenched in rain or buried under snow you can still catch some sweet, warm rays in California's eternally sunny desert. This west coast road trip itinerary is the perfect weekend getaway!
Day 1: San Diego, Anza Borrega Desert State Park
Day 2:  Joshua Tree National Park
Day 3: Palm Springs, San Diego
Day 1: San Diego to Joshua Tree National Park. Fill-up the gas tank and pack your sense of adventure, because today's drive is all about big views and rugged terrain. Before arriving at Joshua Tree you'll drive through California's largest state park and explore a sea that was never meant to be.
Driving through Anza Borrego Desert State Park you'll see flat washes, dramatic canyons, and mazes of wind-swept caves. Stop at the Cactus Loop Nature Trail for a 0.75-mile hike to see desert cacti before stopping at the Borrego Badlands Overlook to hunt for fossils in the eroded canyons.
You'll get your first peek of the Salton Sea from the desert. The sand at the Salton Sea is made of bits of crushed barnacles, as deep as 6 feet in some spots, so walking on this beach feels as if you're walking through snow.
End your day stargazing and swapping stories around the campfire at the Cottonwood Campground in Joshua Tree National Park.
Day 2: Joshua Tree National Park to Palm Springs. Spend the day exploring Joshua Tree National Park as you drive from the park's South Entrance to the West Entrance. Visit popular sites like arch rock, the cholla cactus garden, and skeleton rock. Check out my guide to one day in Joshua Tree National Park for more details. In the evening enjoy a meal or sip a cocktail alfresco at one of Palm Springs' outdoor restaurants.
Day 3: Palm Springs to San Diego. Before heading back to San Diego enjoy a leisurely brunch and stroll along Palm Canyon Drive or take the aerial tram to the top of San Jacinto Mountain. If you're a fan of old-school kitsch make a quick stop to see the dinosaurs of Cabazon.
If you have extra time, definitely consider exploring the incredible city of San Diego, California and make this into a 5 day Southwest road trip!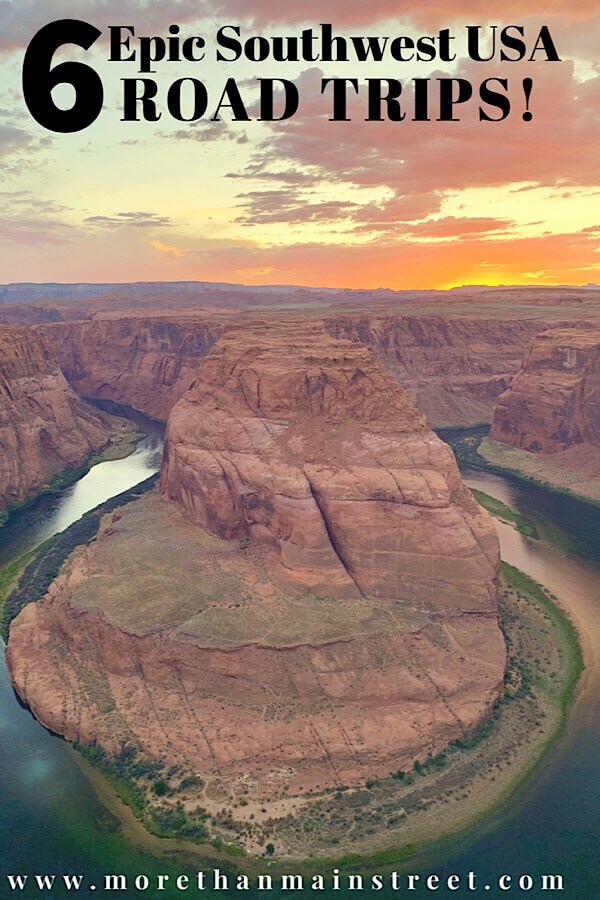 7 Day Arizona Road Trip Itinerary
Day 1: Phoenix
Day 2: Page
Day 3: Grand Canyon National Park
Day 4: Grand Canyon National Park/ Flagstaff
Day 5: Sedona
Day 6: Phoenix
Day 7: Phoenix
Day 1: Arrive in Phoenix, grab your rental car and head north to Page, Arizona. It should take you about four and a half hours. This will be your longest drive of the entire road trip. Make sure to arrive in Page to see sunset at Horseshoe Bend. There is a half mile hike/walk to get to the viewing area so make sure to factor that into your planning.
Day 2: Do a tour of Antelope Canyon. If you are really into it, you can visit the upper and lower canyons, but one or the other is sufficient for most visitors. Spend the afternoon kayaking, paddle boarding, or just relaxing on Lake Powell.
Day 3: Get up early and head two hours to Grand Canyon National Park. You will enter the park from the east entrance so your first stop will naturally be the Watch Tower. Take in the majestic views and then continue your drive through the park to the main Visitor's Center. You can visit several different view points or walk the South Rim Trail and definitely don't miss the sunset!
Day 4: This is where you'll need to make a decision. If you're into hiking, then spend much of the day at the Grand Canyon. If you've seen enough the previous day, continue on down through Williams and Flagstaff and see some of Historic Route 66. Make your way to Sedona for the night.
Day 5: Explore the super cute little town of Sedona…indulge in a spa experience, do some world-famous hiking among the red rocks, and be sure to take a Pink Jeep tour! We think the Broken Arrow tour is well worth the money!
Day 6: Today make your way back down to the Phoenix area. Visit Old Towne Scottsdale for some art, shopping, and serious foodie finds! Depending on what time of year you are visiting, you can always do some more hiking, check out the Phoenix Botanical Gardens, the incredible street art on Roosevelt Row, or just hang by the pool! It gets really hot in the summer!!
Day 7: Head home!
Want to know the exact itinerary of our Southwest USA road trip? Read all the details of our Utah- Arizona road trip!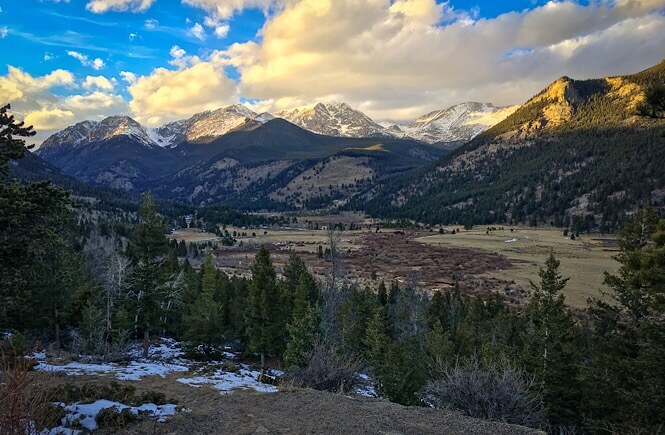 Day 1: Boulder, Colorado
Day 2: Boulder, Colorado & Rocky Mountain National Park
Day 3: Rocky Mountain National Park
Day 4: Denver, Colorado
Day 5: Denver, Colorado
As a resident of the Centennial Sate, one of my favorite US road trips focuses on a couple awesome cities and Colorado's largest National Park. Namely, your three home bases will be Boulder, Denver, and Rocky Mountain National Park. 
Days 1-2: Let's start in the hippie haven mixed with start-up central, Boulder. You've gotta spend a few hours walking around Pearl Street, Boulder's iconic pedestrian strip. Colorado pride is on full display in its many local shops. There are many local breweries to choose from on Pearl, but Oskar Blue is one of my favorites. For other Boulder-based activities, I recommend the Celestial Seasonings tea factory tour, Coors brewery tour, and hiking around the Boulder Flatirons in Chautauqua Park. There are many great lodging options in Boulder (Hotel Boulderado is a pretty, historic option). 
Days 2-4: After a day and a half exploring Boulder, head to nearby Rocky Mountain National Park. It's absolutely mind blowing to me that such majestic nature, full of elk, moose, bear, and more, is so close to so many cities. You can stay in the cute if touristy town of Estes Park (the hotel from The Shining is here, though it's spendy), one of the many awesome mountain cabins in the area, or camp in the National Park itself! Don't have camping gear? You can rent it in Boulder or Estes. I recommend spending at least one full day in the Rockies, hiking in the park (I love the Chasm Lake trail) and strolling around Estes Park. Here are my tips on the 20 best hikes in Rocky Mountain National Park.
Days 4-5: Follow all that nature up with a dash of Colorado's biggest city, Denver. The Denver Museum of Nature & Science, Denver Art Museum, and the Molly Brown House (she was a Titanic survivor) are all excellent. Besides, the museums, the Denver Botanic Gardens are freakin' spectacular. If you want to just stroll around and take in the city, hit up Larimer Square and 16th Street Mall. Denver is kind of like Boulder on steroids, with just as many breweries and cool local shops to explore. 
There you have it! Obviously, the more time you have, the better, but this itinerary requires at least 5 days and 4 nights. If you have more time, add an extra day to whichever spot sounds coolest to you, or even head down to Colorado Springs to check out the red rocks in the Garden of the Gods.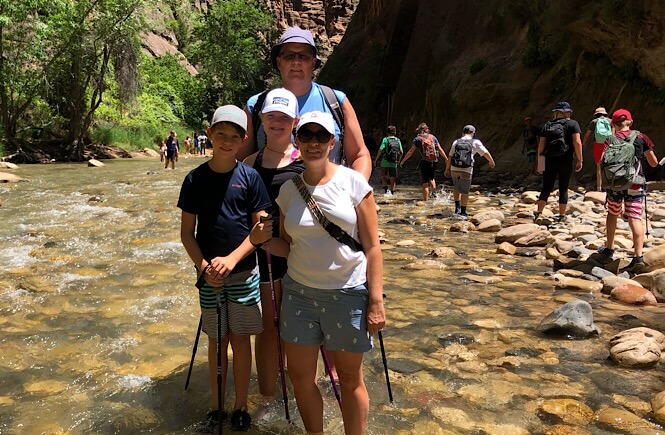 Las Vegas & Utah National Parks Road Trip
Day 1: Las Vegas, Nevada
Day 2: Zion National Park, Utah
Day 3: Zion National Park, Utah
Day 4: Bryce Canyon National Park, Utah
Day 5: Las Vegas, Nevada
Day 6: Las Vegas, Nevada
Day 7: Head home

Day 1: Arrive in Las Vegas, grab your rental car and head about 3 hours to Zion National Park. If you don't choose to stay inside the park, the little town on Springdale has plenty of hotels and restaurants. Get a good night's sleep because you'll need it for the next two days!

Days 2-3: Spend two fun filled days in Zion National Park! Hike the world-famous Narrows and Angel's Landing. If you've still got some energy, hike to Weeping Rock, the Emerald Pools trails, or visit the onsite museum! We've visited quite a few National Parks and Zion is one of our favorites!! With scenery and hiking unlike any other destination, this is a park perfect for people of all abilities!

Day 4: Get up early and drive approximately 2 hours to Bryce Canyon National Park. See the unique landscape and hike the hoodoos! Check out the Sunset and Sunrise Points in the Bryce Amphitheater. If you have time, Drive the entire scenic drive in the park. Our favorite stops were The Natural Bridge and Rainbow Point. Stay the night in or right outside of the park.

Day 5-6: Head back to Las Vegas!! (This drive will take about four hours) Vegas isn't just for gambling!! There are so many fun things to do in Vegas! From the epic shows and nightlife, to the food, the shopping, and people watching…two days might not be enough!

Day 7: Travel Day! If you do happen to have more time, consider a rest day between national parks, a trip to Page, Arizona, or Arches National Park!

This road trip will deliver the best of Vegas excitement and some of the most beautiful scenery in the Southwest USA! This is guaranteed to be one of the best road trips in the USA!
Want more epic vacations like this? Check out these bucket list worthy USA trips!
Southwest USA Road Trip Ideas
So there you have it!
Six spectacular road trip ideas for the southwestern USA! We love a road trip and the southwest is the perfect destination for an adventure. If you have more than a week in California, be sure to check out our Ultimate 10 day California Itinerary! I'm hopeful you'll find the best southwest itinerary out there!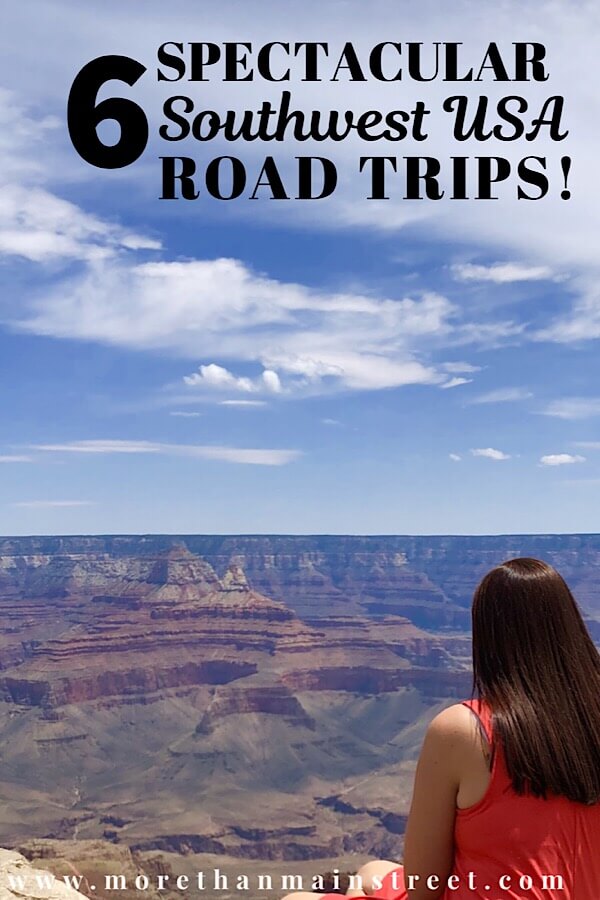 USA Road Trip Ideas & Itineraries
I hope you've enjoyed our USA road trip series. Road trips should be a part of everyone's bucket list! They're perfect for allowing you to see a lot yet go at your own pace!
If you are planning a road trip to other parts of the country, be sure to check out the other posts in the series!
Still looking for more inspo? Read our epic list of 20 more road trips across America!