The Best 2 Things to Do in Page Arizona!
If you're planning a southwestern USA trip, you simply cannot miss these two things to do in Page Arizona.! In my opinion, a visit to Antelope Canyon and Horseshoe Bend should be on every USA bucket list!
These two wonders of nature are absolutely breathtaking. Period.
Truth time: I discovered Antelope Canyon and Horseshoe Bend on Instagram. And so has half the rest of the world!
Seriously. Insta tourism is real!
Over 4 million tourists flock to Page, Arizona each year now to see these two incredible sites. The stunning warm wavy walls of Antelope Canyon are like nothing I've ever seen. Carved out by water, the canyon seems almost other worldly.
And Horseshoe Bend, also carved by the water of the Colorado River, is just as gorgeous! Peering over the edge of a cliff to see where the river has literally carved a perfect horseshoe of emerald green water is a very special experience. Tie that in with a perfect sunrise or sunset and I'm not sure it gets much better!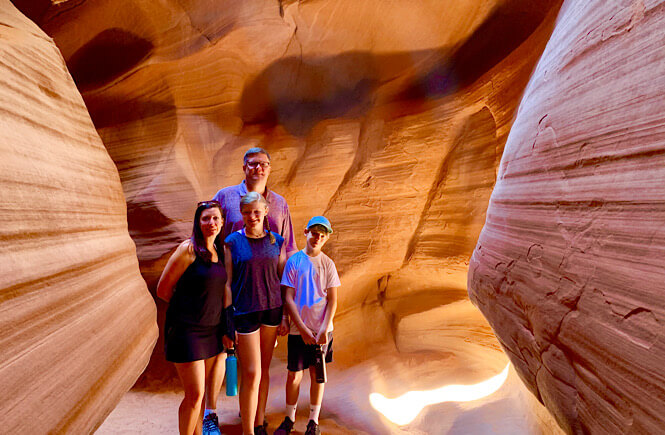 Planning a Trip to Antelope Canyon & Horseshoe Bend
How to get to Antelope Canyon and Horseshoe Bend?
Road trip!
While there are several small airports closer to Page, Arizona, your best two options for large international airports are Las Vegas, Nevada (LAS) or Phoenix, Arizona (PHX). We incorporated our visit to Page during our two week road trip from Salt Lake City, Utah to Phoenix, Arizona. This is a perfect side trip to incorporate into any Utah National Parks road trip, day trip from Las Vegas, or an add on to your Grand Canyon vacation.
From Page, Arizona to Las Vegas drive time is about 4.5 hours.
From Page, Arizona to Phoenix drive time is a little over 4 hours.
From Page, Arizona to Zion National Park drive time is about 2 hours.
From Page, Arizona to Grand Canyon National Park drive time is about 2.5 hours.
Where to stay in Page, Arizona?
While we are normally very loyal Marriott Bonvoy members, we stayed at the La Quinta Inn & Suites during our visit to Page. Our family of four needs a room with at least two queen beds and the Marriott property in town only has two doubles. So we tried something new and were not disappointed in the slightest! The hotel was great. Not only was it clean and had everything we needed, it was also conveniently located to both Horseshoe Bend and our Antelope Canyon tour office.
What time is it in Page,Arizona?
I know you're probably thinking why on earth is she mentioning the time…Arizona goes by US Pacific Daylight Time. As in they don't do Daylight Savings. So…if you are coming into Page from Utah your phone may be picking up time from Utah. Our phones were wrong when we first arrived– we actually had to shut them down and restart them to get them to get on the correct time. Why does this matter? Well, if you've scheduled tours of any kind, I know you don't want to miss them! We actually called down to the front desk of our hotel to make sure we had the right time. Phew!
Where to eat in Page, Arizona?
Page, Arizona isn't exactly a foodie destination. In fact, their tourism has seriously boomed in the last few years due to the popularity of Antelope Canyon and Horseshoe Bend on Instagram. So…I'm not so sure they've really been able to keep up with the growth. We ate a super cute little local restaurant upon arrival- The Birdhouse. The food was fantastic but it was extremely hot in the restaurant. Their little window air conditioning units were not keeping up at all with the 100 degree temperatures outside! We ate a a local Mexican restaurant the following day and while it was fine, it wasn't really memorable either.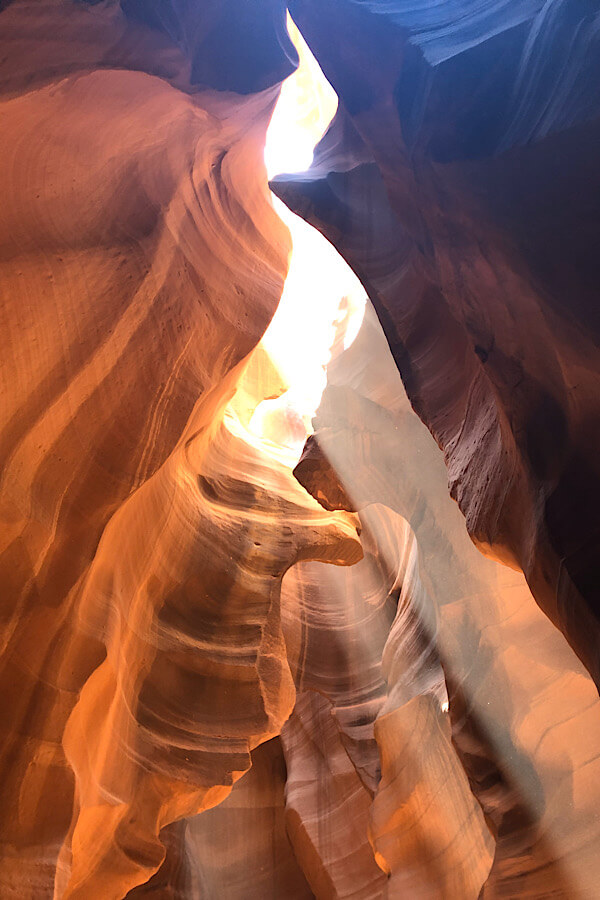 Visiting Antelope Canyon
In order to see Upper or Lower Antelope Canyon, you must take a tour. Because of it's location on Navajo land, a tour is required and I would absolutely recommend booking your Antelope Canyon tour reservation as far in advance as possible!
When is the best time to visit Antelope Canyon?
You can tour the canyons year round, but the famous light beams are only visible during the summer months. The famous light beams are more plentiful during specific hours: between 10:30 am and 1 pm. Now while this wasn't super important to us, we figured this was likely only something we'd do once in our lives, so we decided to go when it was optimal viewing! We booked an 11 am tour!
(Side Note: I truly believe you can still have an incredible experience at Antelope Canyon without the light beams- so I'd definitely still go in the off season!)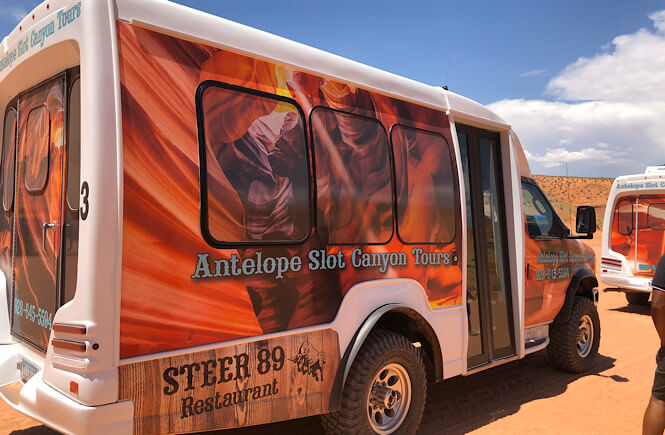 Which Antelope Canyon tour company should I choose?
Most of the tour company prices were very comparable: we paid around $60 USD per adult and $51 USD for our kids for prime time.
There are plenty of Antelope Canyon tour companies to choose from, however we did our tour through Antelope Slot Canyon Tours. I read a lot of reviews and most of the FAQs before making a decision. There were several reasons I chose this company. First of all, we visited Antelope Canyon in July. It was extremely hot! So the fact that this company offered closed air conditioned vans to shuttle you to and from the canyon was a huge plus.
Also, many of the tour companies seemed super strict. There are a lot of rules listed on their websites. I mean, I totally get it. They want to protect this beautiful canyon and that should be their first priority! But, rules about backpacks, purses, baby carriers, water bottles, and more…the company I chose seemed to be a little less intense. Just make sure whatever tour company you choose, you know all the rules BEFORE you show up for your tour!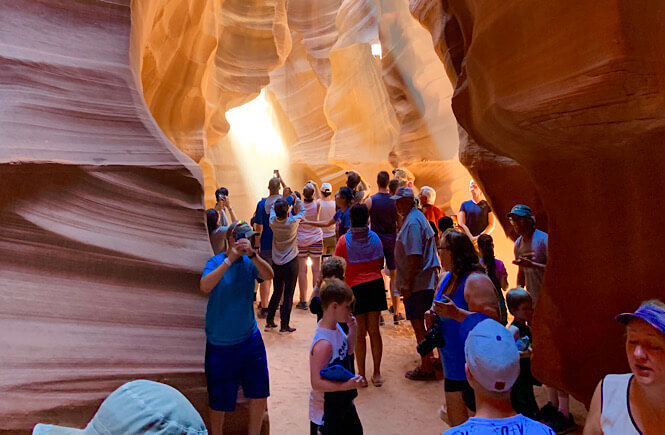 What to expect when you visit Upper Antelope Canyon:
I went round and round trying to decide whether to visit Upper vs Lower Antelope Canyon. I read all the articles and did a lot of research and finally decided on Upper. While Upper Antelope Canyon is more popular, my understanding is that both are incredibly beautiful. Lower Antelope is just a little more difficult to enter the canyon via some stairs/ ladder. This turned out to be a great decision for our family since my daughter broke her arm a few days prior to our visit. I think Upper is probably a better choice for elderly or anyone with physically limitations.
For our visit to Antelope Canyon we met at the tour office in the town of Page. You ride around 20 minutes to get to the entrance of the canyon. The tour is basically an in and out walk and it's extremely easy. Believe it or not it wasn't too hot inside the canyon since you area mostly in the shade.
The guides give you more time on the way into the canyon but rushes you on the way out. They want you to take all of your photos on the way in and ask you not to take anymore once you turn back towards the exit. This could be a little disconcerting to some people if you aren't expecting it. I will say our tour guide was fantastic at allowing us time to take photos, took photos of our family for us, and actually took my phone and took a few photos for me (since he knew all the good angles).
If you are specifically interested in photography in the canyons, there are separate tours available just for photographers.
Despite the crowds, I felt it is still 100% worth the visit! The experience is like nothing else I've ever done and I'm so glad we went. I loved every second of it!
I do not know first hand, but I understand there is another far less crowded canyon similar to Antelope Canyon called Secret Canyon. You do still have to take a tour, but it is supposed to be very beautiful, minus the crowds.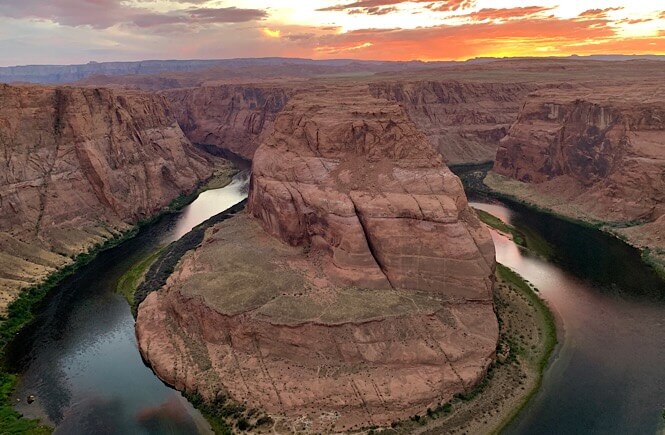 Visiting Horseshoe Bend
Located about ten minutes outside of Page, visiting Horseshoe Bend is actually quite easy. There is a $10 fee to park and then a little over a half mile walk/hike to get to the viewpoint. The total hike roundtrip is 1.5 miles and uphill with sandy terrain. It can get very hot during the summer months- bring plenty of water! (There was a lot of construction going on during our visit- it appears the city of Page is making some improvements to visiting Horseshoe Bend including a visitors center and making the trail wheelchair accessible! Stay tuned!)
Shocker: there are a lot of people there!
But the view over the canyon's edge is oh so worth it!
We chose to visit during sunset…as you can see we got lucky with an incredible sky that night! Many people choose to visit during sunrise, but since we had scheduled our Antelope Canyon tour for the next morning, we didn't want to push our luck. Although we didn't visit during the day, my understanding is that there a lot of shadows to contend with. This may or may not matter to you, but if you're there for the photography, you will likely want to visit during sunset or sunrise.
Pro Tip: Don't forget to check you have the correct time before you go! We almost missed sunset since our clocks were wrong! Also, we entered Horseshoe Bend into our GPS which started taking us to the wrong place! I'm sure that will be corrected soon, but until then here's a little help on getting to Horseshoe Bend:
Take Route 89 South from Page, Arizona.
After driving about five miles, you will see a sign that says "Horseshoe Bend Overlook", turn right and there you will find the entrance station and parking lot.
The path to the overlook is not paved and is a partially uphill. It wouldn't have been difficult except we were practically running as to not miss the sunset. Once you arrive at the overlook, there are basically two sections: the area with a railing and the area without. My understanding is that the railing is actually quite new, and with recent falls and even deaths, I wasn't going anywhere near the edge. But, there were a lot of people pushing the limits getting very close to the edge in my opinion. It really made me nervous for them!
As you can see, we were able to get beautiful pictures from BEHIND the railing. Life is more than the perfect Instagram shot people!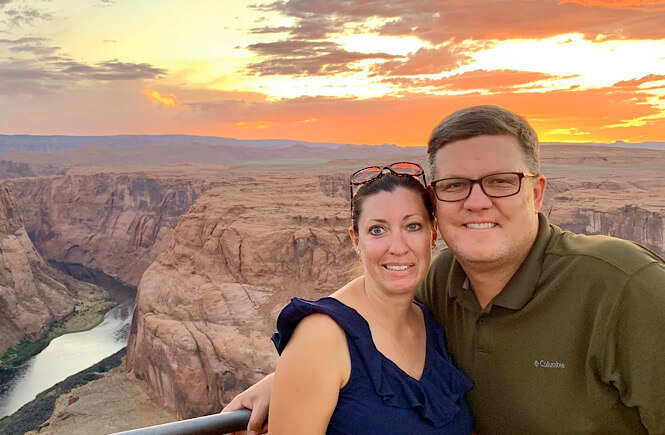 While we did not do any of this particular tour, this tour company provides a tour of Secret Canyon (an alternative to Antelope Canyon) and a private viewing area of Horseshoe Bend.
What to See in Page, Arizona
Ok, so you've checked Antelope Canyon and Horseshoe Bend off your list of things to do in Page, Arizona. What else is there is see during your visit to Page?
Lake Powell- do a boat tour, hang out on one of the beaches…or even better, stay on a houseboat! Side Note: This is one thing my teenager wanted to do- apparently it's all the rage with the You-Tubers they watch!
Visit Glen Canyon Dam and it's Visitor's Center
Check out the Grand Escalante National Monument- about 30 minutes outside of Page.
Navajo Village Heritage Center
Vermillion Cliff National Monument- about an hour's drive away.
Your USA Bucket List
So have I convinced you to add Antelope Canyon and Horseshoe Bend to your USA bucket list yet? To me…they are absolutely breathtaking and definitely earned a spot on my bucket list!
What's on your list? Need more inspo? Check out more USA adventures or my bucket list inspiration post and grab you free template to get started on creating your own!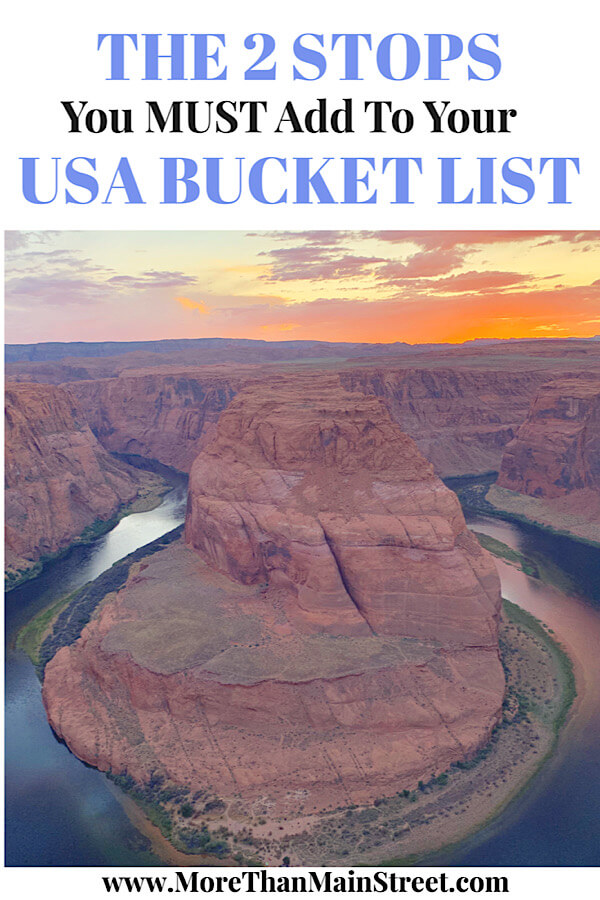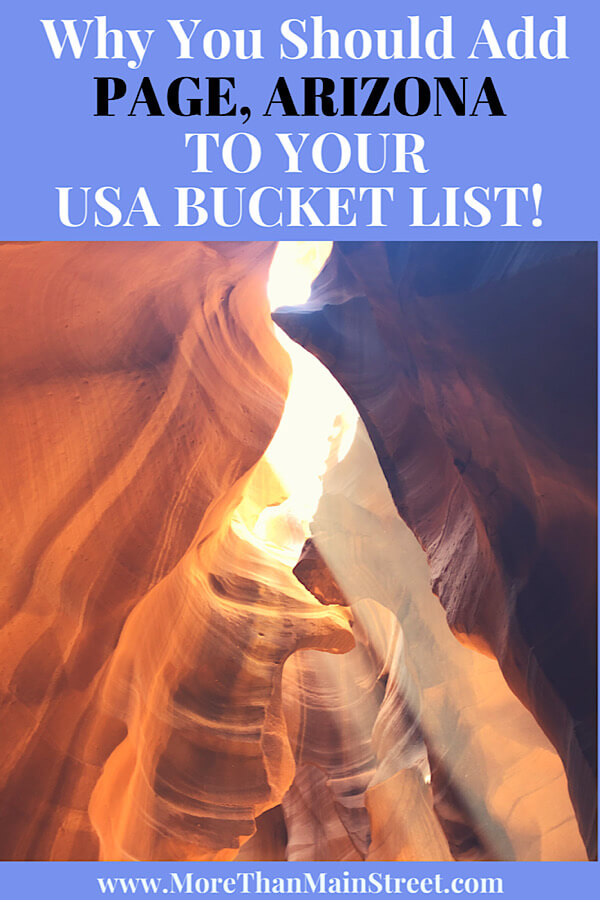 If you found this post help, please consider saving it to Pinterest or sharing it with a friend! You're the best!!