Best Restaurants in Rocky Mount NC
Hungry? Well…good news! I've got you!
Whether you're local to the area or passing through and looking for restaurants in Rocky Mount near I 95, I've compiled this comprehensive list to satisfy your hunger!
Rocky Mount is a small town of around 55,000 people in Eastern North Carolina. While we may not have a huge foodie scene, we do have some exciting things happening and some great food in Rocky Mount!
We've got all your options covered from southern cuisine to brunch to barbecue. And no…barbecue in Eastern NC isn't cooking outside on a grill. BBQ is it's very own food group here and we do it a bit different than you're probably used to!
We've lived in Rocky Mount for close to twenty years so we know all the best spots to eat no matter what you're craving!
Since we are Rocky Mount locals…this post will be updated frequently as restaurants come and go!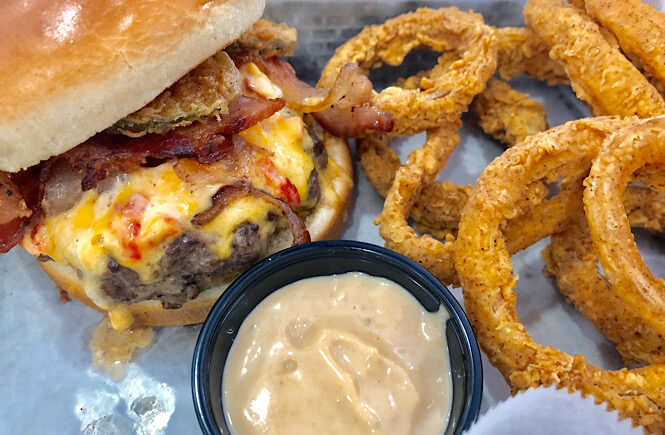 Our Personal Go-To Places to Eat in Rocky Mount NC
Ok, I'll admit it, we eat out a lot. So we've pretty much eaten everywhere Rocky Mount has to offer. These are our current favorites:
Barley & Burger
Barley & Burger is a newer addition to our little town and it's fantastic! Not only do they have great burgers, but you can get a variety of other options like chicken, wings, nachos, or even a veggie burger! We personally love their onion rings too! This is a great lunch or dinner option with fresh food and friendly staff! Oh and a huge beer selection too!
Lou Reda's – An American Table
Lou's is sort of our go-to restaurant if we're celebrating a birthday or have guests in town. They have a wide variety on their menu including burgers, salads, brisket, ribs, steak, and seafood. Our absolute must try items are the ribeye steak, sweet potato fries and their skillet cookie…YUM! I'm also a huge fan of their blackberry margarita! A great choice for lunch or dinner, they also have a wonderful Sunday brunch. (Know Before You Go: They do not have a kids menu. We've always been able to order meals to split with our kids or find something they like, but it's important to note!)
The Prime Smokehouse
If you're looking for a more authentic eastern North Carolina experience, I suggest you try The Prime Smokehouse! Their ribs, pulled pork, and brisket are amazing…oh and I can never pass up their mac-n-cheese! (Pro Tip– they are not known for fast service…this is a great choice if you're looking for romantic restaurants in Rocky Mount, NC or have enough time for a leisurely meal.) Bonus- They often have live jazz music and they do take reservations! UPDATE: The Prime Smokehouse has just moved to the Rocky Mount Mills!
The Rocky Mount Mills
The Rocky Mount Mills is our latest and greatest addition to Rocky Mount. To be honest, it's just a fun place to be and I love the family friendly vibe. The campus is home to eight different breweries and four different restaurants: Tipsy Tomato (pizza), TBC West (tacos and craft beer), The Tap at 1918 (American with a twist), and Books and Beans (a coffee shop/ bookstore serving breakfast and lunch). The Mill also hosts different events throughout the year and will often have a variety of food trucks too! If you're looking for outdoor dining, this is the perfect choice for good food in Rocky Mount! We love each of these restaurants for different occasions! Be sure to check their website before you go as each restaurant is open different days and hours.
YOU MIGHT ALSO LIKE: Our guide to fun things to do in Rocky Mount, NC!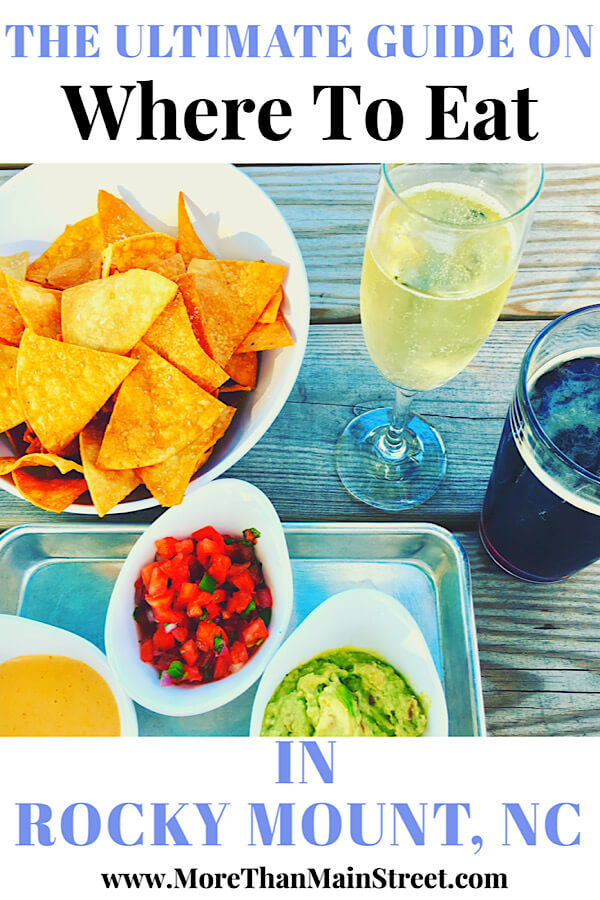 More Restaurants in Rocky Mount NC
Nabs– another new addition to downtown Rocky Mount! Located right next to the Event Center, Nabs is a combination coffee shop and sandwich shop all in one.
Central Cafe– Central is that place that has literally been around as long as you can remember. You know, that place that tastes like home? Located downtown Rocky Mount, they are known for their burgers, hot dogs with chili and slaw, and sweet tea. The best part is…you can literally eat for a couple dollars. (Pro Tip: they only take cash!)
Smith's– only open for breakfast and lunch- this is southern cooking at it's best! Huge homemade portions for an absolute steal. If you're looking for a unique North Carolina experience, you should definitely stop in to eat at Smith's. I think it's safe to call us regulars here for breakfast! (Pro Tip: they're super busy Saturday mornings!)
Ichiban– pretty solid as far as Japanese steakhouses go…just be prepared to wait. Oh and this is a favorite for you sushi fans!
Chew-N-Chat– another country style hole in the wall. Our recommendation is the fried green tomatoes!
The Main Course at Belmont– perfect for lunch after a round of golf or a romantic dinner! UPDATE: CLOSED.
Brian's Cheesesteaks– a good lunch or dinner choice for standard American fare.
Moe & D's– a new restaurant downtown with wings, burgers, and homestyle cooking.
Saku Sushi – a new addition to the Rocky Mount food scene. I don't personally eat sushi but my friends tell me it's some of the best sushi they've ever had!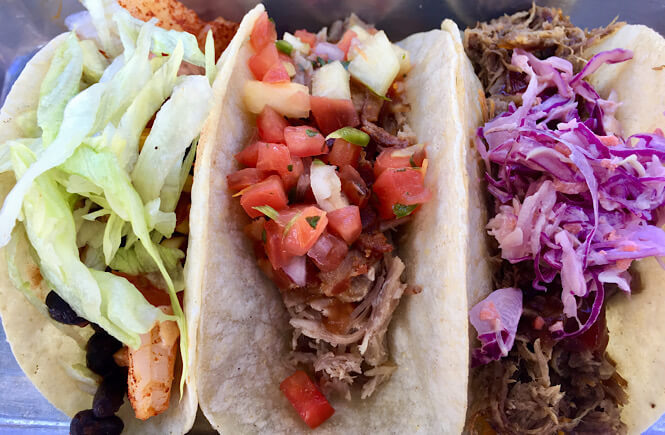 Mexican Restaurants in Rocky Mount NC
** Disclaimer- I love mexican food. It's basically my love language.**
Chico's– We love the pollo tacos, the fajita quesadilla, and they seriously have the best fried ice cream in town!
TBC West– everything's made from scratch- from the chips to the guacamole to the brisket. They have a smaller menu but everything's delish! (Just a heads up- they serve street style tacos.)
El Tapatio– a pretty solid choice for mexican.
El Jimador– we're pretty much regulars here. Our top choices are the fajitas, table side guacamole, and polla de crema.
Where to Find Pizza in Rocky Mount NC
Tipsy Tomato– wood fired pizza to order! YUM!
Mama's Pizza Italian Restaurant– this place is not fancy, but the food is so good! We personally love the Mama's special.
Mario's Italian Restaurant– serving up great pizza and other authentic Italian dishes. Besides pizza, we love their stromboli, cheese steaks, and chicken parmigiana too!
We have all the normal take out pizza options too- Pizza Hut, Papa John's, Little Caesars, and Domino's Pizza.
Buffet Options
Grandson's– if you're into buffets and looking for southern cooking you may like Grandson's. (temporarily closed)
Pizza Inn– this is my kid's favorite choice- I mean who can resist dessert pizza.
Hunter Hill Cafe– another country style buffet.
Gardner's Barbecue– if you want to try eastern style BBQ, give Gardner's a try!
Restaurants in Rocky Mount Near I 95
Rocky Mount is located at the intersection of Interstate 95 and Highway 64 in North Carolina making it a perfect stop for travelers. While most restaurants in Rocky Mount aren't out of the way, if you're looking for the most convenient restaurants off I 95, I would recommend:
Smith's
Outback
Texas Steakhouse
Cracker Barrel
Lou Reda's
Mario's
Westridge Grill
Our Favorite Treats in Rocky Mount NC- To Eat & Drink!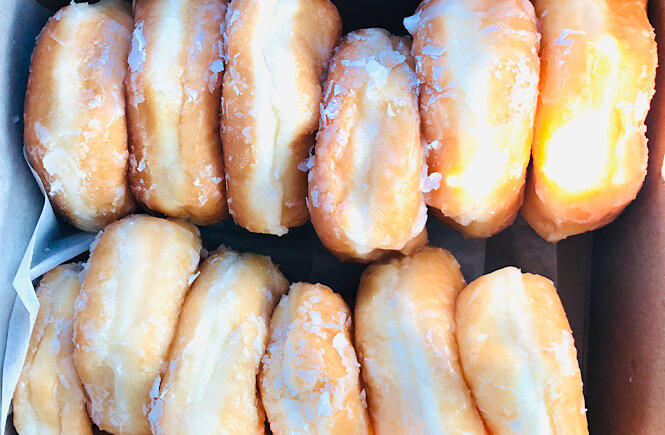 Where to Find Dessert & Sweet Treats in Rocky Mount NC
Anne's Donuts– these donuts are AMAZING!! It's not unusual for them to sell out daily, so go early. They also have pastries, cupcakes, and other goodies!
Winde Jackson Cakes– the place to go for baked goodies or take out lunch! (online orders only!)
Pit Stop Shoppe– locally owned frozen yogurt with all the toppings you could ask for!
Dairy Queen
Dunkin Donuts
Krispy Kreme Donuts
Wildflower Nutrition – the place to go if you like specialty teas, smoothies, and juice bar.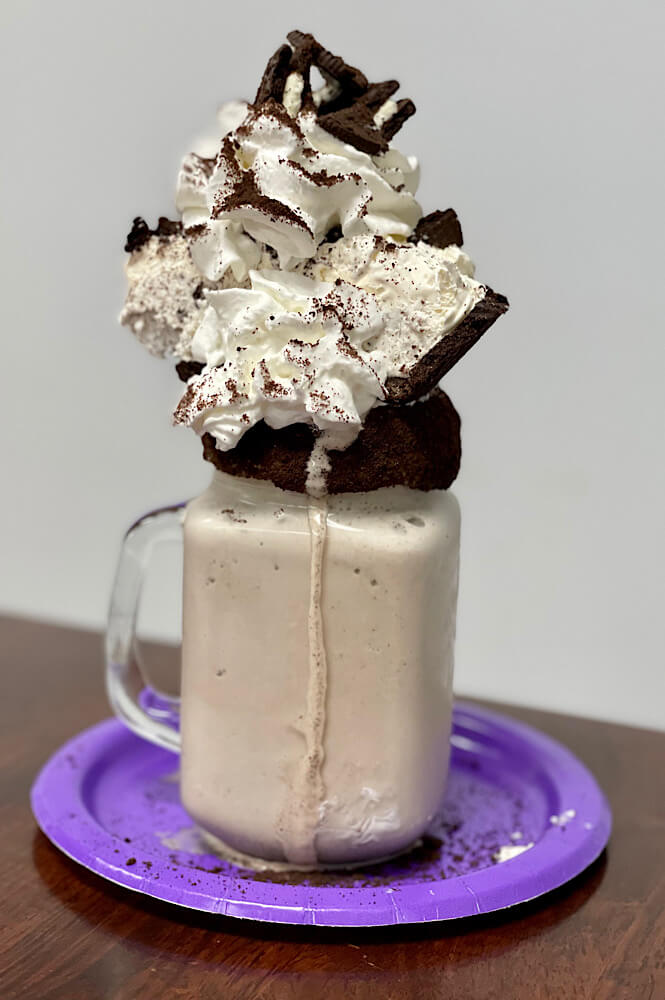 Bonus! Just down the road about 15 minutes away in Nashville, NC is a place called Corner Coffee Cafe. If you're looking for a special treat- pop in and try one of their epic milkshakes!! You won't be disappointed!
Where to Find Coffee in Rocky Mount NC
We have a ton of options for coffee in Rocky Mount now!
Larema Coffee House– the cutest little coffee shop in downtown Rocky Mount…grab yourself a latte and hang out awhile!
Morning Addiction– a tiny little hole in the wall serving up a great cup of coffee.
Trax Coffee Bar– another downtown location near the train station also carrying ice cream and smoothies!
Nabs– right next to the Rocky Mount Event Center- they have great specialty coffees and their muffins are to die for!
Books & Beans– our latest addition to the Rocky Mount Mills! Insider Tip: Go on Fridays and grab one of Winde Jackson's homemade cinnamon rolls!!
Starbucks
Dunkin Donuts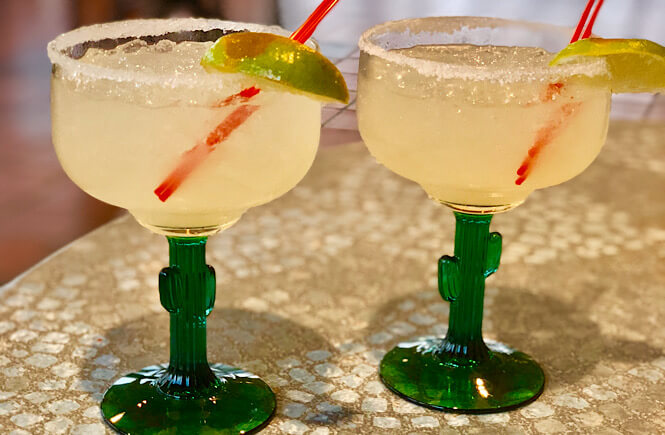 Places to Drink in Rocky Mount NC
Bin & Barrel– the cutest little wine shop in Station Square serving beer and wine…check their facebook page or website for wine tasting and events!
The Rocky Mount Mills– if you're into craft beer this is the place for you! With eight different brewers, there is something for everyone…and don't worry, there are plenty of non-beer options as well.
Westridge Grill– more of "locals" place, they have a large menu to go along with your beverage of choice. In addition, they have a great Thursday night outdoor concert series all summer long.
Chico's– They can have a pretty good crowd in the bar on the weekends.
Lou Reda's– A great place to grab a cocktail.
Chain Restaurants in Rocky Mount NC
We've got most of the standard chain restaurants to choose from in Rocky Mount. We almost always choose local over chains, but I get it…sometimes you have a craving for something specific. These are not recommendations for but rather a listing of most of the chain restaurants in Rocky Mount, NC (although when we do go, we typically choose one of the top four).
Olive Garden
Cracker Barrel
Buffalo Wild Wings
Outback
Texas Steakhouse
Chili's
Red Lobster
Waffle House
IHOP
Golden Corral
Applebee's
Highway 55
Fast Food Restaurants in Rocky Mount NC
If you're in a hurry, we've got most of your normal fast food selections. If we have to eat one, we'd choose from the top five:
Chick-fil-A
Bojangles
Sonic
Smithfield's Chicken & BBQ
Jersey Mikes
Zaxby's
McDonalds
Taco Bell
Hardee's
Burger King
Panera
Honeybaked Ham
Subway
Which Wich
Wendy's
Arby's
Cookout
Kentucky Fried Chicken
Popeyes
Freddy's Frozen Custard & Steakburgers
Where to Find Good Food in Rocky Mount NC?
I'm hoping now you now have plenty of choices of where to eat in Rocky Mount, NC no matter what you're craving! You're most likely to see me at one of the locally owned spots…and if you do, say Hello!
If you're looking for a more upscale restaurants near Rocky Mount but still within a 30 minute drive, we suggest On the Square in Tarboro or The Hen and the Hog in Enfield. They are both fantastic!
Have you eaten at any of these Rocky Mount restaurants? Drop me a comment and let me know which one is your favorite!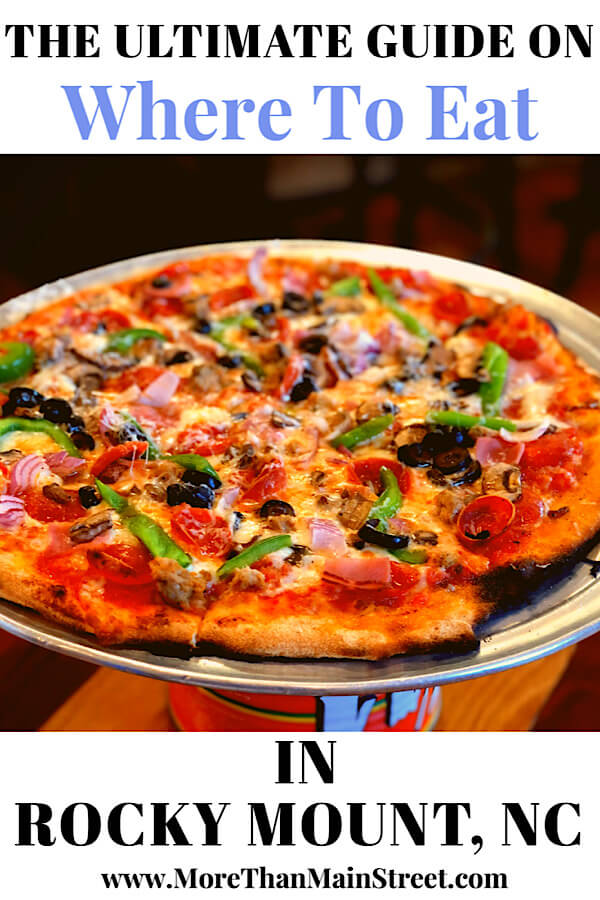 *Disclaimer- I do make mistakes, if there is a restaurant missing, it's either because I've totally spaced out and forgotten it or I really truly do not recommend it. While not all of these restaurants are my first choice, our family has eaten at every single one of these locations.