Travel Kids Tell All
So I'm going to try something new!
Starting this month, I'm going to start sharing a new ongoing section of the blog called Travel Kids Tell All.
Why, you ask?
Well…I feel as though you can find numerous different guides on what to do and where to eat in a city, but can you find out what kids really thought about a destination? Basically, I want to share kid's world travel perspectives.  See and hear what little travelers thought about a destination they have visited and what they took away from that trip. If you are interested in interviewing your kids and being featured on More than Main Street, please contact me or leave a comment below!
So the first destination featured on Travel Kids Tell All is Paris!
We went to Paris in November of last year over our Thanksgiving break. We actually spent four days in Barcelona followed by three days in Paris. While the weather was chilly, it was actually quite tolerable with a jacket. Our original travel plans were to spend the entire time in Spain, but our children wanted to see Paris. And since flights within Europe were fairly cheap, we agreed to satisfy their curiosity.
I mean seriously…Paris is always a good idea!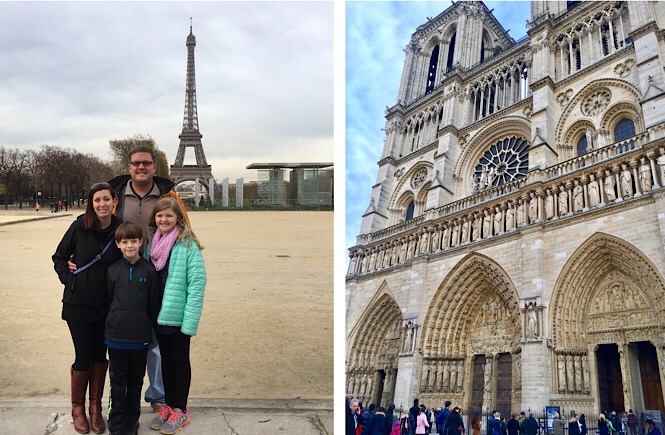 Our Paris Itinerary
Day One: Arrived mid afternoon, checked into our VRBO in the Saint Germain District, walked to Le Bon Marche (which is basically a luxury department store), explored our local neighborhood and picked up a few groceries.
Day Two: Eiffel Tower, River Seine hop on/hop off cruise, Notre Dame, Champs Elysees, and the Arc de Triomphe.
Day Three: The Louvre, Angelina for hot chocolate, and shopping.
If you have more time and have already hit all the major attractions, consider adding these fun off the beaten path Paris spots to your itinerary!
Travel Kids Tell All: Paris Edition
On our flight leaving Paris, I asked my kids a few questions.
(My daughter, Greyson, was ten years old at the time and my son, Spencer, was eight years old.)
What was your favorite thing about Paris?
Definitely the Eiffel Tower. It was somewhere we have always wanted to go. It was so cool to go up to the top, but seeing it sparkle from the Arc de Triomphe was even cooler. Especially since we didn't know it was going to happen…that was an exciting surprise!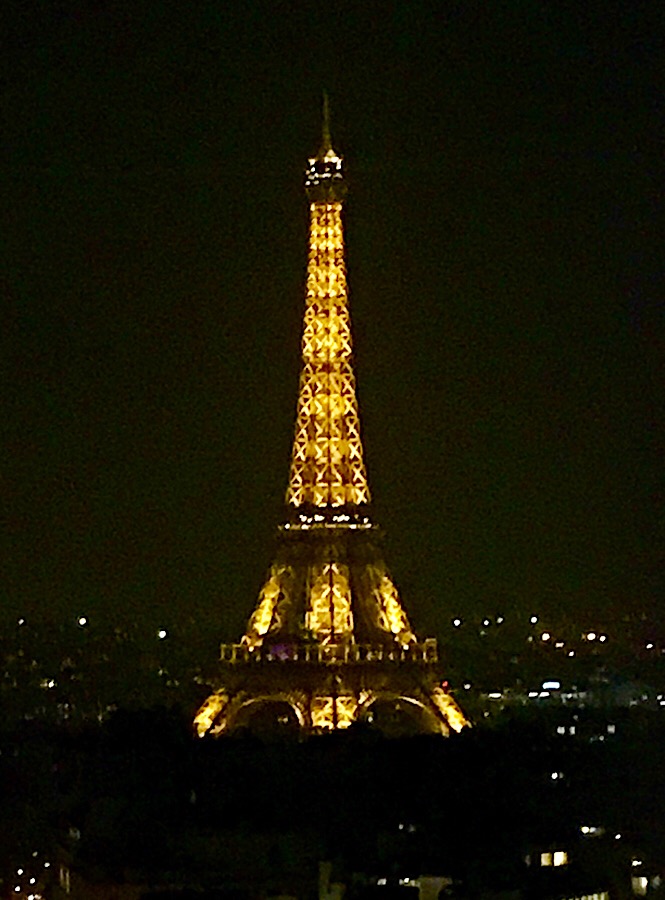 Can you share your least favorite thing about Paris?
All the smoking. And the homeless families…that was really sad. There were even kids sleeping on mattresses in the streets with their parents. We also didn't like that the policemen in the airports had really big guns- that kind of scared us.
What was the weirdest thing about Paris?
A lot of the paintings and sculptures in the Louvre were pretty weird. And a lot of art has naked people in it. We liked seeing the Mona Lisa since it's so famous and worth a ton of money, but it was really small. The giant paintings were pretty amazing…I don't think I've ever seen art that big before!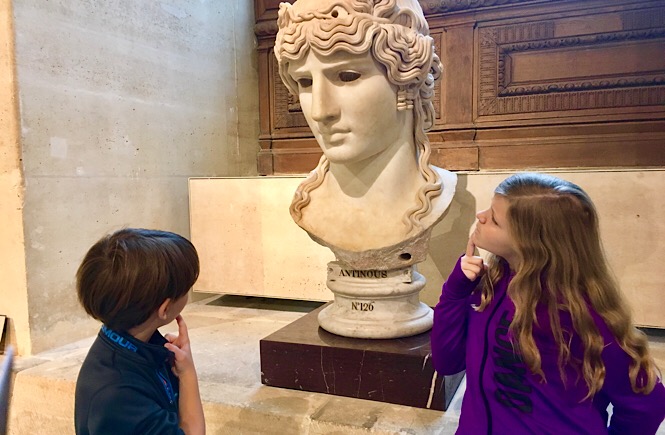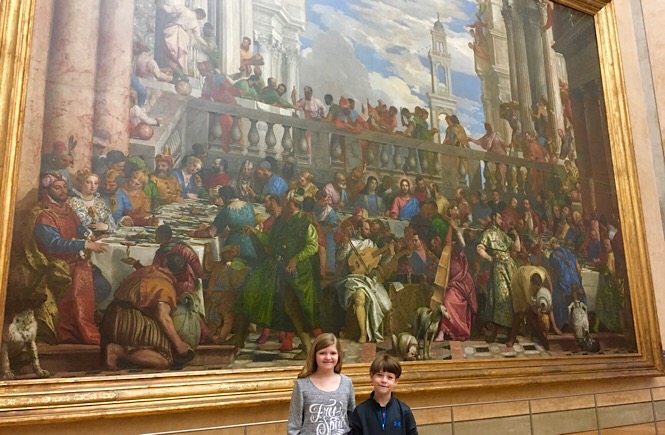 What was your favorite food we ate in Paris?
The crepes!! (Both kids turned their noses up when offered crepes from a street vendor after visiting Notre Dame. Then they sampled MY warm buttery cinnamon-sugar snack…needless to say we went back and ordered two more!) Greyson also loved the Nutella waffles, chocolate ice cream, and legendary hot chocolate from Angelina (my daughter has a sweet tooth like me).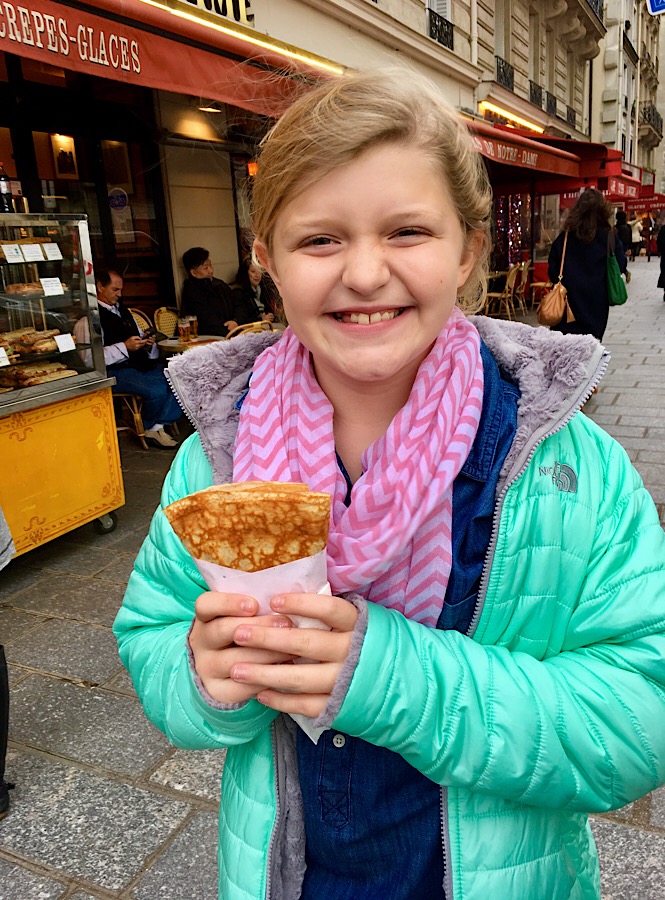 Tell me one thing you learned while we were in Paris?
We learned about pickpockets. There were all these signs in the elevators and around the Eiffel Tower which warn you about them. We asked Mom to hold our IPods while we were there except when we were taking pictures. We also thought the torch lit for the unknown soldier under the Arc de Triomphe was pretty interesting to learn about.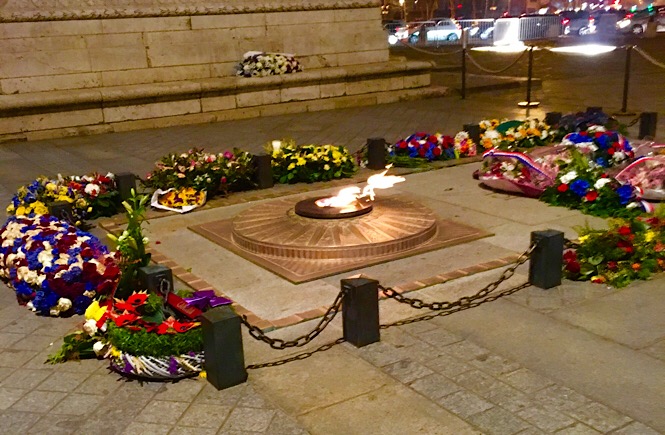 What would you recommend to other families traveling to Paris with kids?
Take the boat ride from the Eiffel Tower on the River Seine. We liked getting on and off at different stops like Notre Dame. Going right before Christmastime was neat because we could walk through the Christmas Market on the Champs-Elysees and everything was decorated so beautifully!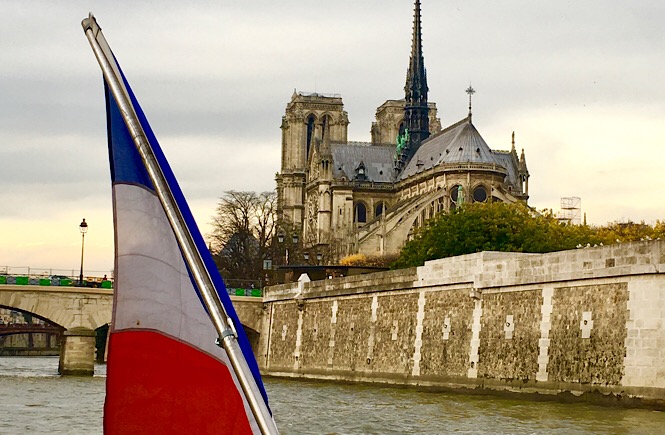 Would you like to go back to Paris?
Greyson- Yes! Definitely.
Spencer- Maybe…if we were in France again, but I'd rather go to cities I've never been to before.
Mom's Two Cents
My children have traveled a lot within the United States, but this was one of their first major trips outside of the country. I think they were a bit intimidated by all the people (it is such a huge city!) and the language barrier. But overall, we found almost everyone we encountered to be friendly and helpful. It was a great introduction to international travel. For  more tips read this post on traveling internationally with school aged kids.
Although we didn't make it during this trip, Disney is definitely on our radar for the next visit. Read this awesome post for what you need to know before you go to Disneyland Paris.
Again, if you would like to take part in my Travel Kids Tell All Series, please contact me via email Julie at morethanmainstreet dot com, or just leave a comment with your email address! I'd love to hear about your children's travel experiences!
Have you been to Paris, France? Have you been with kids? Let me know what y'all think!