Must See Raleigh NC Murals
Searching for the best Raleigh NC murals? Whether you're looking for the best street art, the best Instagram spots, or just love public art like me…you definitely should check out the art scene in Raleigh, North Carolina!
More and more murals have begun to pop up all over Raleigh! And while it's difficult to choose the top ten Raleigh NC murals, I'm going to do my best to share with you some of my favorite picks. Of course "the best" is subjective, so just know there are more murals throughout the city that are beautiful and special too!
So are you ready? Let's take a Raleigh mural tour!
Downtown Raleigh Murals
Searching for street art is such a fun activity in Raleigh and one of the most unique things to do in North Carolina! You can find a bunch of street art in downtown Raleigh and while you can find quite a few of the murals within walking distance of each other, it may be difficult to find all of them on walking tour. I've noted which ones are within walking distance of each other.
BONUS: I love randomly finding different beautiful pieces of street art…but you can easily turn mural hunting into a fun scavenger hunt too! Simply subscribe below if you'd like a printable PDF scavenger hunt for the downtown Raleigh murals you can find within walking distance of one another!
UPDATE! There are so many new Raleigh wall murals popping up all over town! So I've added a bunch more photographs of Raleigh street art here! I mean who needs a top ten list anyways!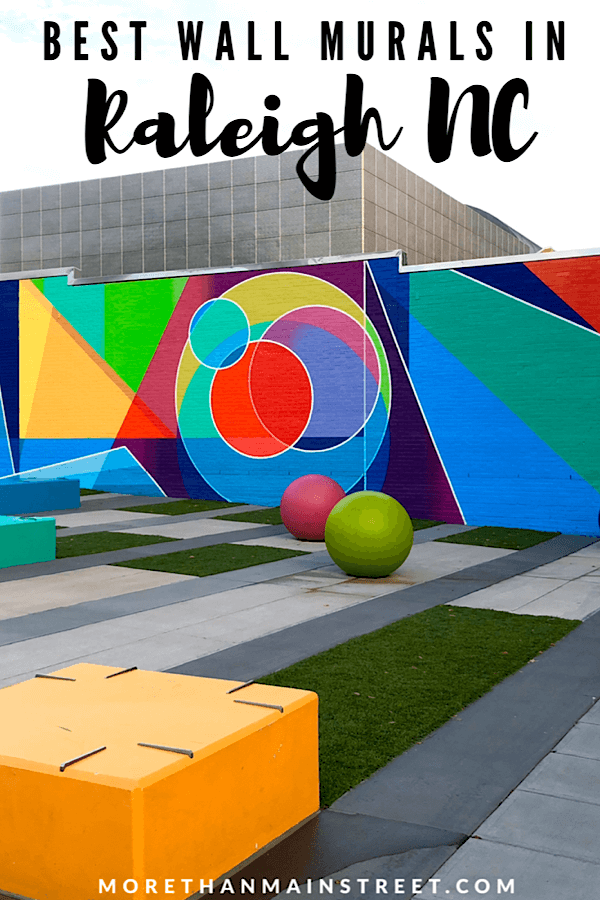 I love anything bright and colorful! So "Color Pop Corner" is one of my all time favorites! It's so happy and cheerful and you just can't walk past it without smiling. Location: 101 S. Blount St. This mural is located on the backside of Marbles Kids Museum and if you are visiting Raleigh with children then Marbles should be top of your list of fun things to do!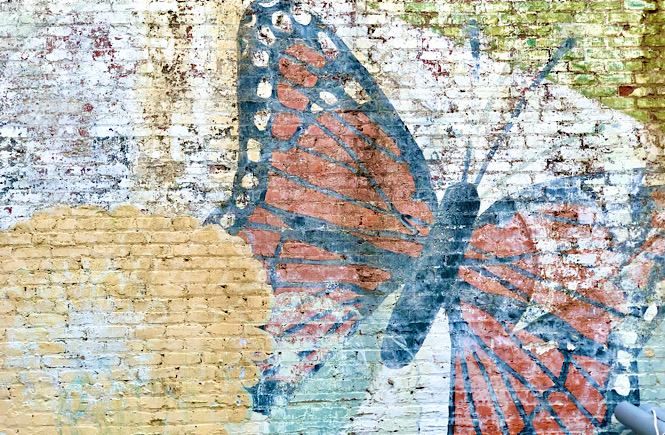 This butterfly mural is also right by Marbles Kids Museum, so you can easily walk to both murals within a matter of minutes. The butterfly mural has faded over the years but it's still a beauty and makes my favorites list! Location: 126 S. Blount St. I mean who doesn't love butterflies??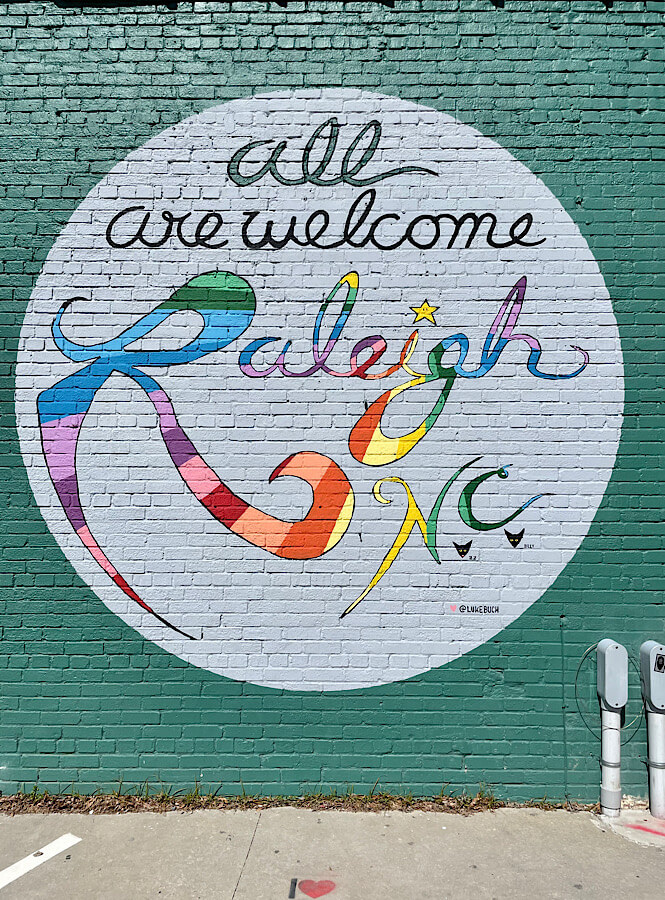 The "All are Welcome" mural has recently received a face lift. Although it has the same message it looks just a tad different. Either way, I love it and its message. Location: 432 S. McDowell St. On the side of the Poolside Pies building (right near the Raleigh Convention Center and Red Hat Amphitheater).
Another recent addition right next to the "All are welcome" mural in Raleigh is this lovely piece…I mean Raleigh is "The City of Oaks."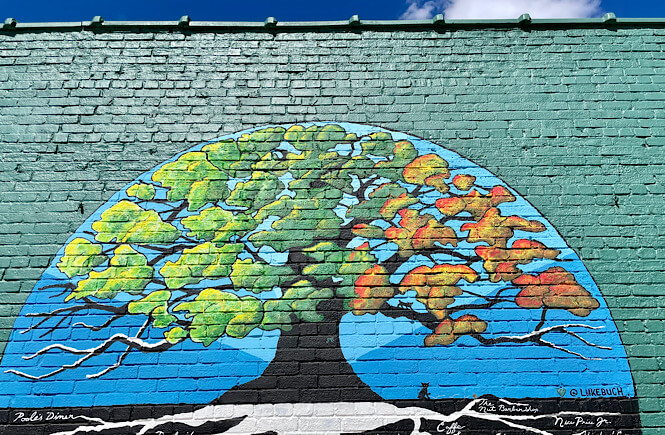 You can easily walk to the next mural, it's only five minutes away!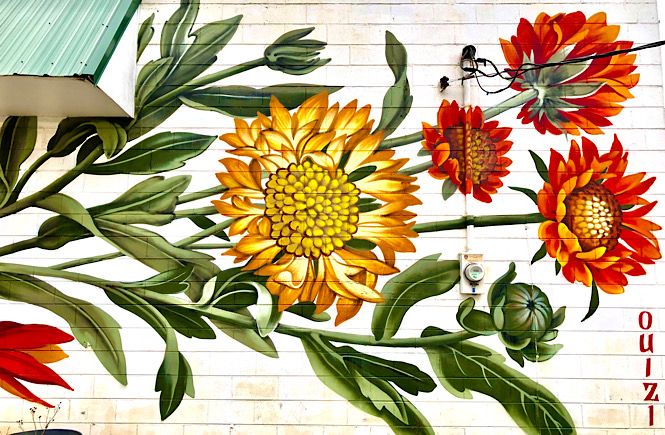 I'm a big fan of flowers so it totally makes sense that I'm obsessed with all murals by Ouizi (Louise Jones). And Raleigh is super lucky to have not one but two of her murals! This one called Indian summer is located downtown while her other piece is at the NC Museum of Art. Location: 227 W. Davie St. (right next to Benchmark Autoworks).
INSIDER TIP: While you're in the area of the two murals above, grab a meal from Poole'side Pies or the Pit Authentic Barbecue.
It's only a three minute walk to the next mural!!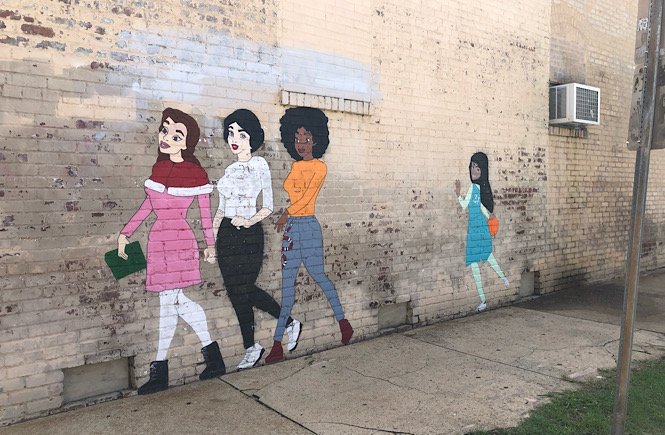 These modern Disney princesses are always a huge hit with the Instagram seekers! I love them too and think they definitely belong on a list of best Raleigh NC murals. While you're in the area pop in to see what's going on at the Contemporary Museum of Art Raleigh. Location: 409 W. Martin St. Heads up…walk just five minutes to the next mural!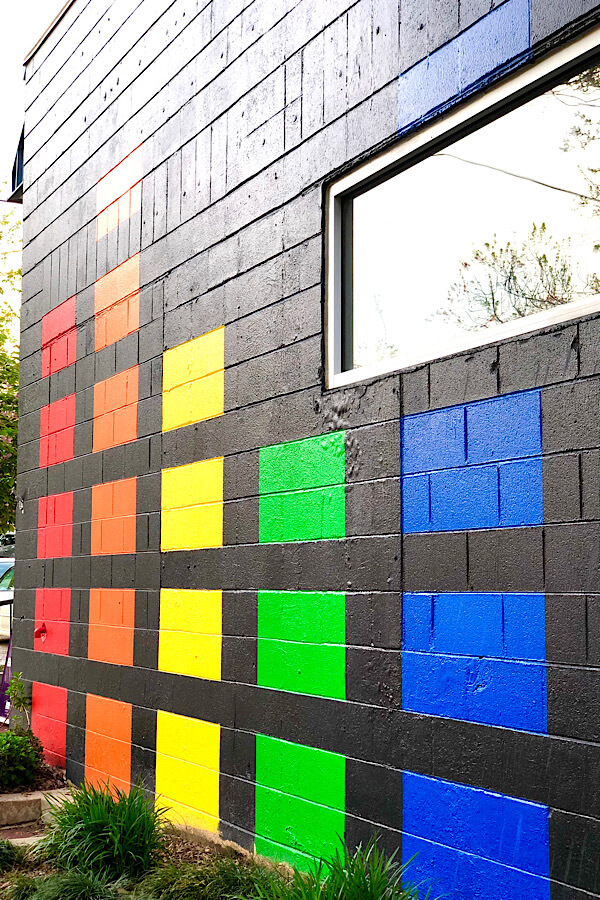 This color block wall is super simple yet super fun! Location: 119 S. Harrington St. While you're in the area grab some seriously good food from Morgan Street Food Hall and pop into one of my all time favorite boutiques, The Flourish Market. The next mural is still walkable but it's a bit further than the previous murals. If you're up for it, Sprinkles is about .7 miles walking distance.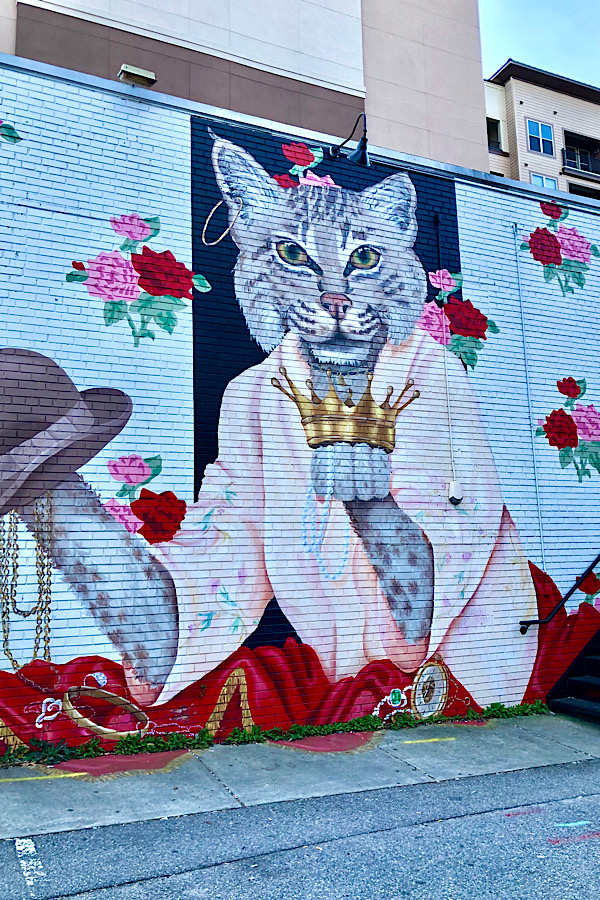 I would be remiss by not mentioning the iconic "Sprinkle the Bobcat" in the Glenwood South District of Raleigh by Lisa Gaither. Location: 407 Glenwood Ave. Hit up the very popular and fun Raleigh Beer Garden while you're in the area (they're kid and pet friendly)!
Two more awesome murals literally on the same building and a three minute walk further down Glenwood Ave are the "Peacock" and the "I Love NC" murals on the Drink building. I mean how gorgeous are these two pieces of street art? Location: 215 S. Glenwood Ave.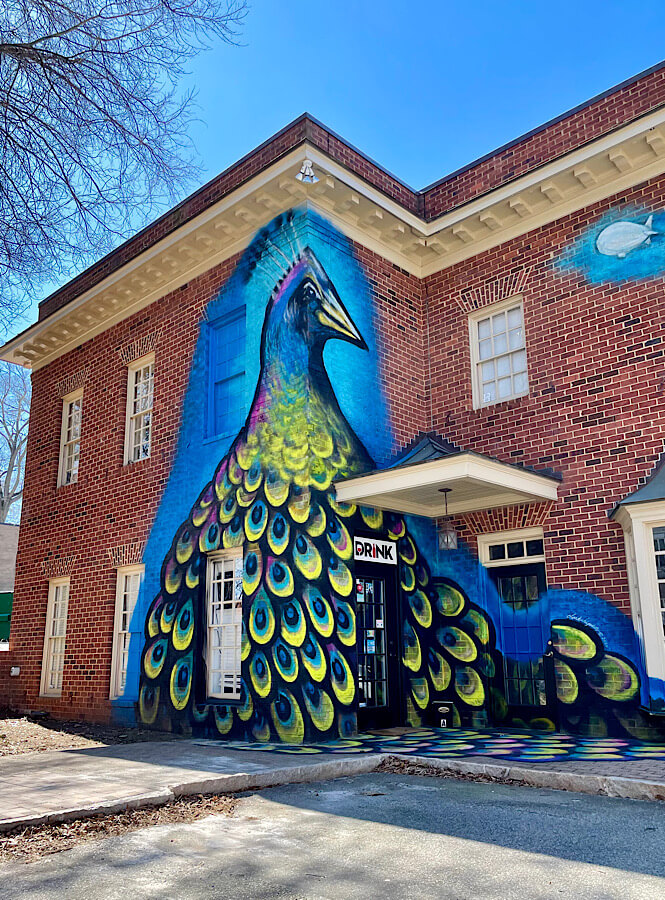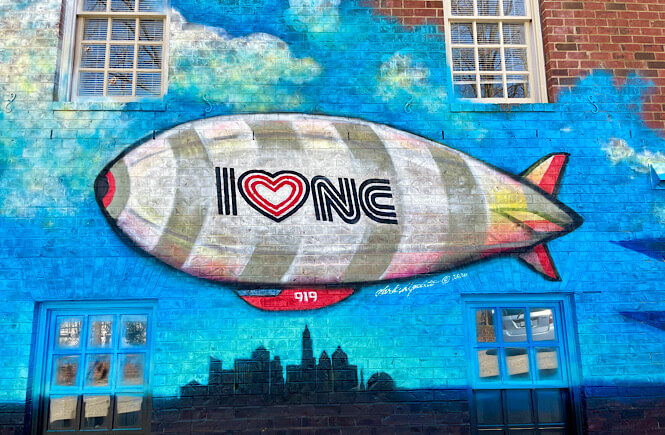 Murals Beyond Downtown Raleigh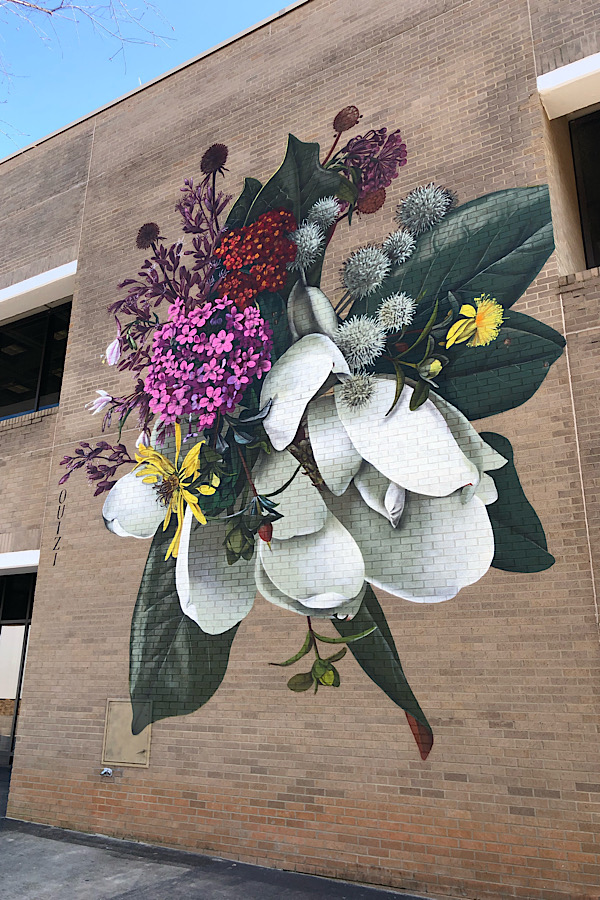 This second Ouizi mural is located at the NC Museum of Art. Commissioned during the George O'Keefe exhibit, it's another stunning and classic Ouizi piece. Of course, while you're at the museum, you should definitely take advantage of the inside and outside art! The NC Museum of Art is unique in that in addition to the inside exhibits, there are also many trails for walking, running, and biking. Location: 2210 Blue Ridge Rd.
North Hills Raleigh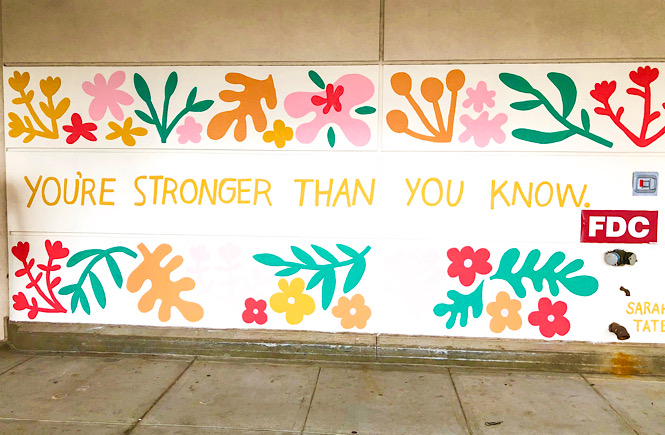 The "You're stronger than you know" mural is probably one of my all time favorites just because I love a positive message. This and the "Enjoy Raleigh" featured in the very beginning of this post are right near each other in the North Hills shopping center specifically right near Sur La Table. Location: 4421 Six Forks Rd.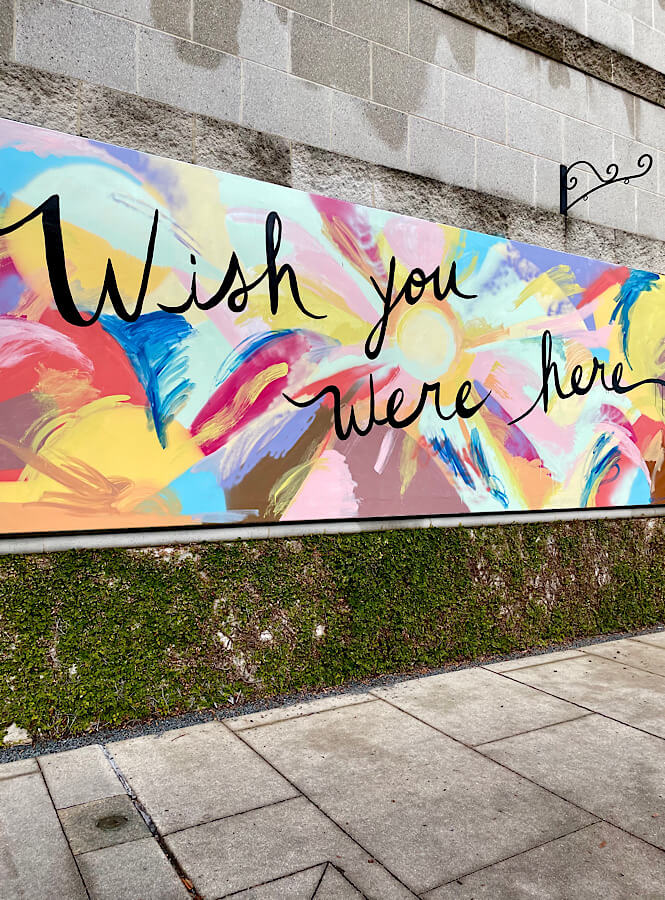 The "Wish you were here" mural is located right next to Charlotte's and Firebirds in North Hills.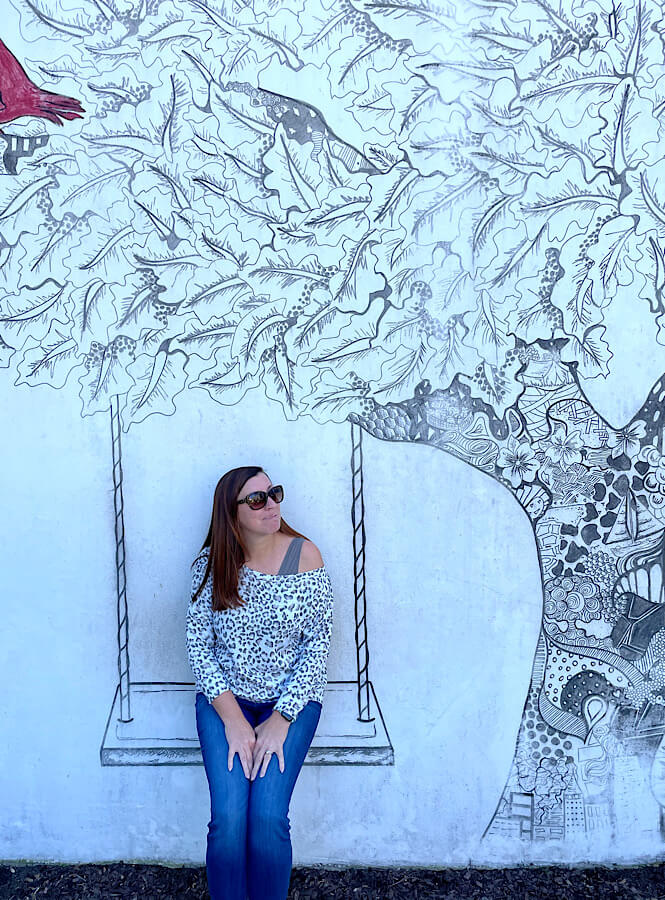 Kelsey Montague is one of my favorite street artist- you might know her from her "What lifts you" murals all over the country but most famously in Nashville Tennessee.
INSIDER TIP: North Hills is one of the best areas in Raleigh for food and shopping!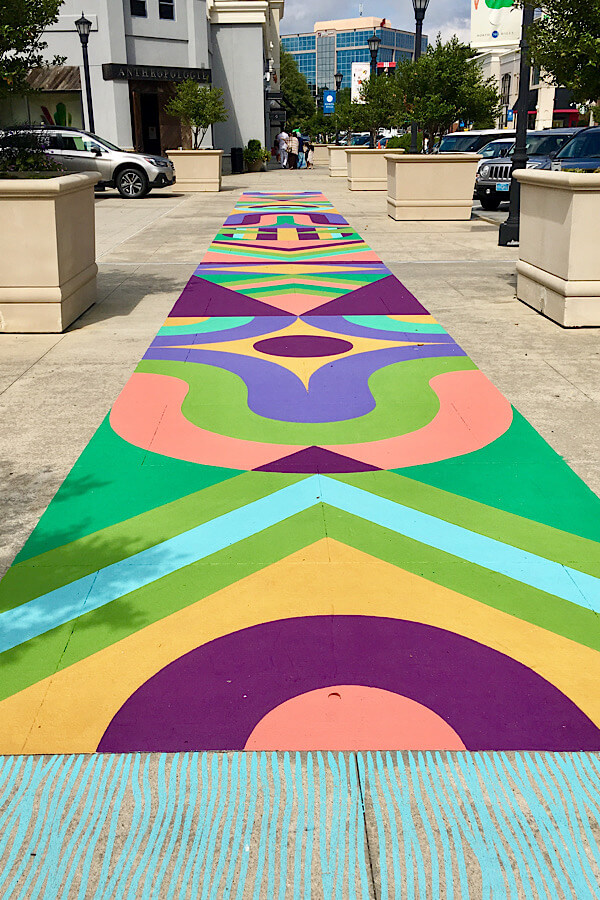 More Murals in Raleigh
These last few murals are all really new additions to Cameron Village. Cameron Village has just been renamed to Village District, but it might be awhile before locals start remembering it's new name. I absolutely love the positive messages and vibrant colors they've added to this area. This is another favorite place in Raleigh to eat and shop!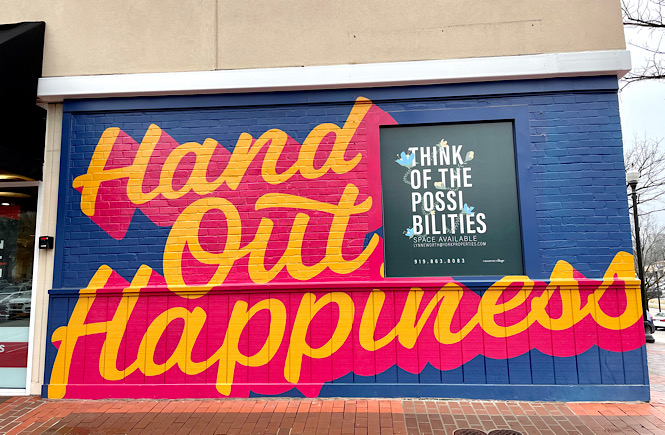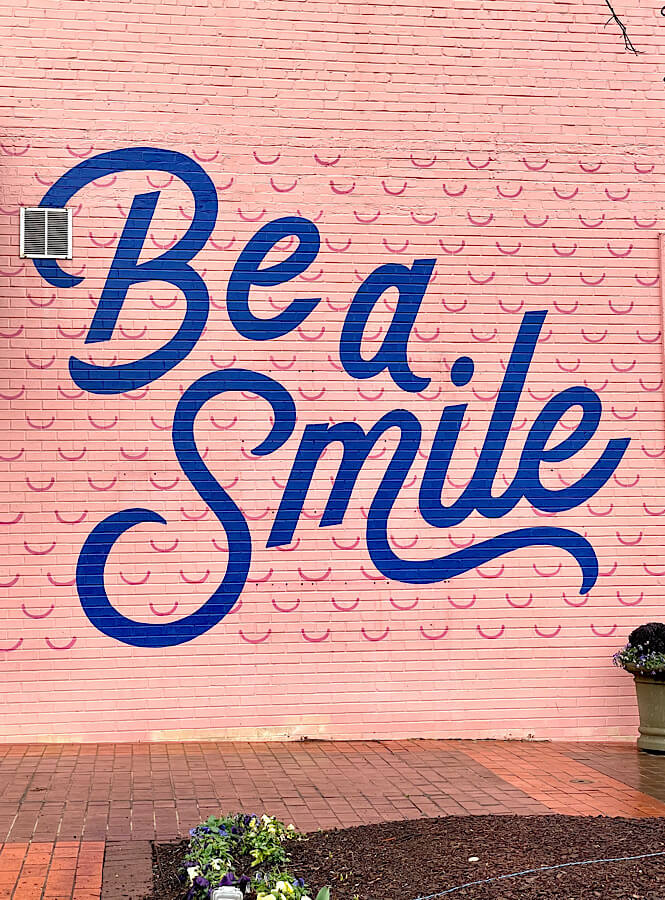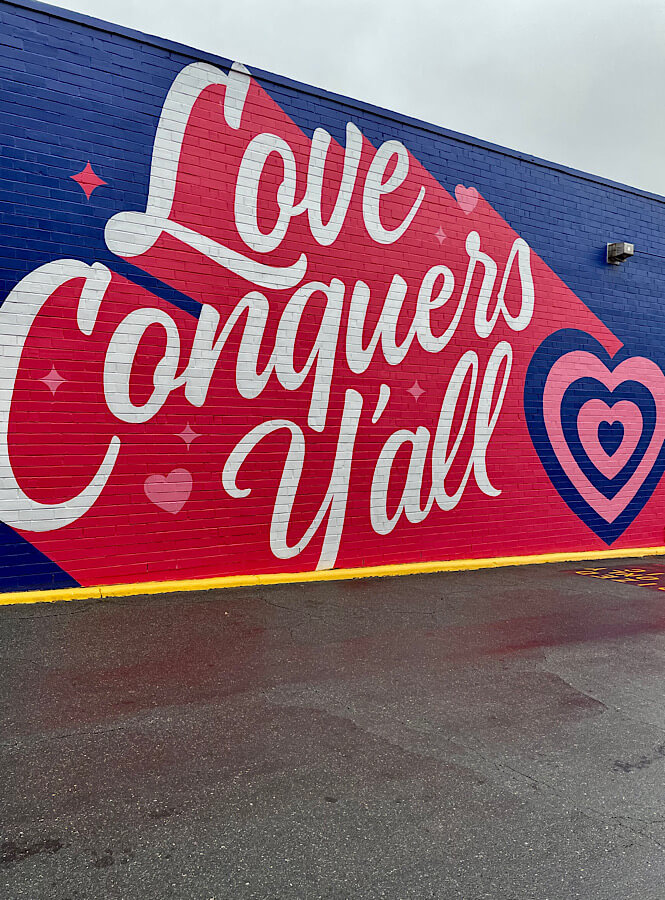 Last but not least…two more amazing murals in NC!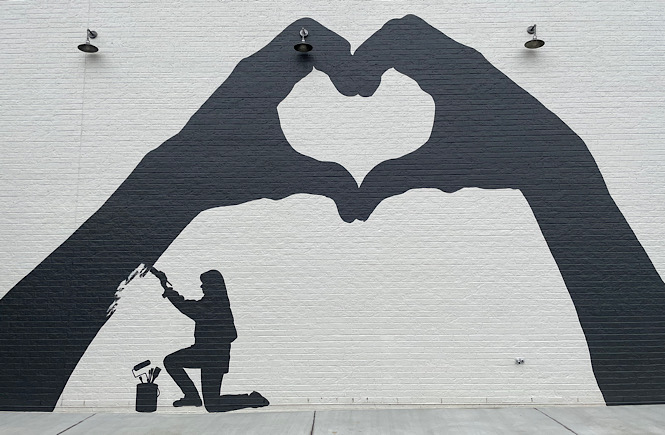 Location: 2920 Sherman Oak Pl Suite 100, Raleigh, NC on the side of the Crumble Cookies (Have you had these by the way?? They are so freaking good! I'm addicted.)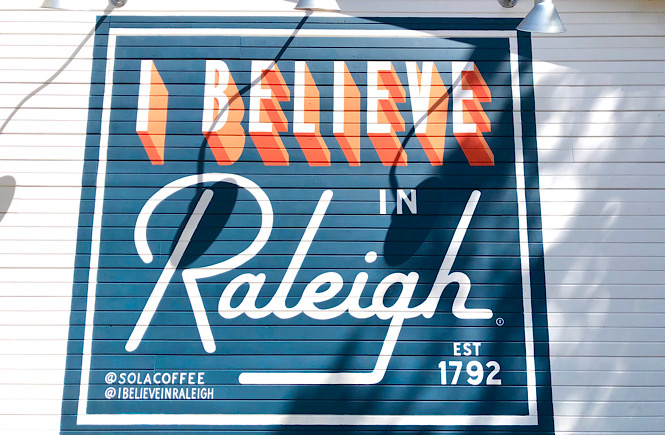 Last, but certainly not least, is the "I Believe in Raleigh" wall mural at Sola Coffee Cafe in North Raleigh. I LOVE this coffee shop and it's not just me because they're typically pretty busy! INSIDER TIP: Try the avocado toast, a vanilla latte, and their mini donuts. You won't regret it!
Visiting Raleigh, North Carolina
Raleigh is one of the best cities to visit in North Carolina! After you've checked off these amazing Raleigh NC murals, here are a few other ideas of fun things to do:
Want more Triangle street art? Check out my guide to all the amazing murals in Durham NC!
So what do you think? Do you agree with my favorite picks? Like I said previously, picking a top ten is really hard, but this will give you a start if you're searching for street art. Which mural will you check out first?