Things To Do with Family in San Francisco
We love California.
We love it so much, we even named our dog after the state! #truestory
And San Francisco is absolutely one of our favorite cities in California! It is such a fun family friendly city with so much to see and do! But more importantly, it is so totally different from the small southern town where we live. It has a wonderful way of opening your eyes to different lifestyles and provides an amazing learning experience for kids (and sometimes grown ups too)!
We've found San Francisco's International Airport (SFO) to be easy to get in and out of and we can usually find very affordable flights year round. We don't typically rent a car while we are in the city as parking can be very difficult to find and parking costs at hotels is insanely expensive! Public transportation, cable cars, and Uber or Lyft have suited us just fine.
This post was originally published in May 2017 and updated in Sept 2019.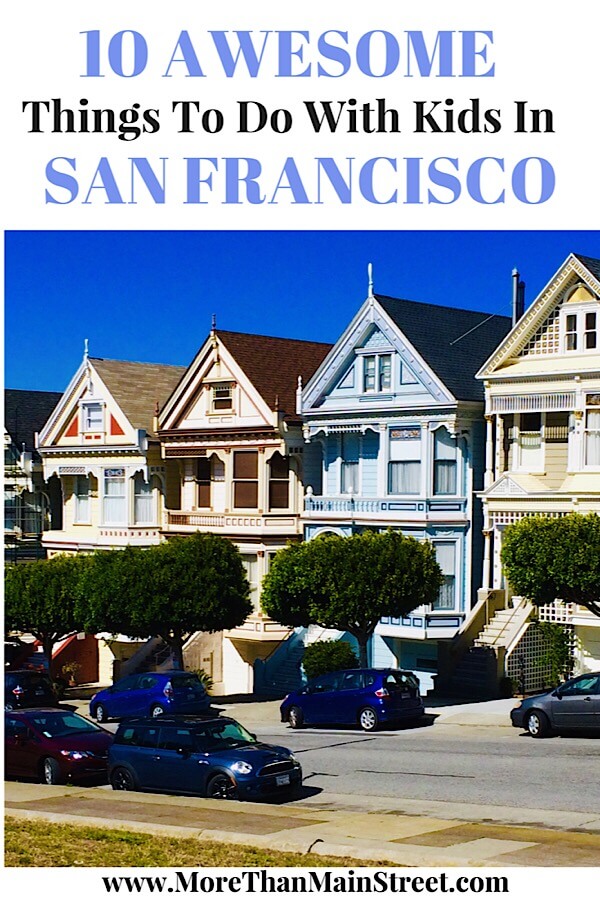 What To Do in San Francisco with Family
So, we've put together a list of our top things to do on a family trip to San Francisco. While there are many more options, these were our family favorites! We've also been to sporting events, concerts, shows, and museums in the area so be sure to see what's happening specifically when you will be in the Bay Area- it's a happening place!
This may seem like an obvious choice but neither my husband nor I are history buffs and I truly didn't know if the kids were old enough to enjoy it. But at 7 and 9 years old, they loved it. Definitely get the audio tour- it really brings Alcatraz to life! The kids made it about ¾ of the way through the audio tour before moving on, but overall it was definitely worthwhile. Another unique option is the Alcatraz night tour; we've got that on tap for our next visit to San Francisco! PROTIP: Make sure to buy your tickets ahead of time, they sell out months in advance!
Know Before You Go: Make sure you check the weather forecast…we went in July and it was chilly (in my opinion) especially on the ferry over to Alcatraz!
Visit The Painted Ladies in San Francisco
You may not think of the Painted Ladies (you know…the Full House townhouse) as a San Francisco attraction for kids. And in reality, we went for a picture and to see what the hype was about. But, the best part for the kids was the fabulous neighborhood playground across the street! SCORE! Happy kids, happy parents.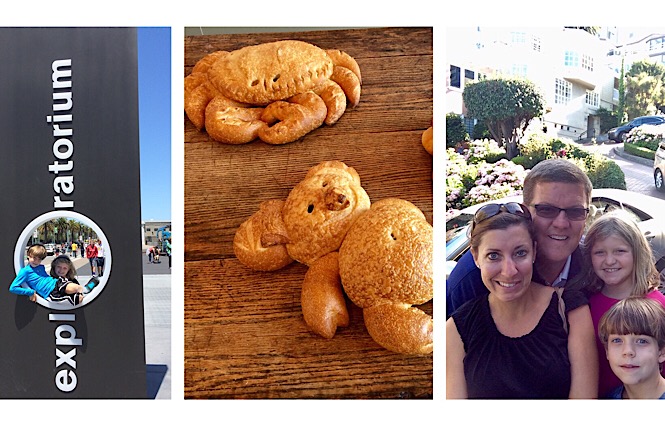 I honestly thought this was just another kid's museum. Y'all, I was so wrong! This hands-on museum is one of the best in the country in my opinion. The Exploratorium in San Francisco describes themselves as a public learning laboratory dedicated to learning about science, art, and human perception. I wish all kids could learn this way and we (the adults) loved it too! My biggest regret was not having more time to spend here!
Fisherman's Wharf & The Boudin Bread Museum
We stopped at The Boudin Bakery because a) we were starving and b) they're known for their sourdough bread. We travel for food, y'all! What I didn't know was how much my kids would love this museum and watching the bread being made.
I'm not a huge fan of the wharf area only because its super touristy but it still should be your San Francisco to do list! We did visit Pier 39 and got to see a few of the famous sea lions. The sea lions are why Pier 39 has become a top attraction in San Francisco! BUT PROTIP: The sea lions are not there all year long. When we visited in July there were only a handful of seals on the docks because in June and July they typically leave for breeding season. So…the best time of year to see the sea lions in San Francisco is late July through mid May.
Visit Lombard Street
If you're in San Francisco, a visit to the crookedest street in the world is a must! We not only walked down this famous street but our lovely Uber driver drove us down it too. The kids thought this was fantastic! Beware: there are a million people standing in the middle of the road taking pictures so be safe!
Know Before You Go: We walked a lot in San Francisco. And I mean a lot. The hills are no joke. One day we logged over 13 miles and 60 floors of walking. Our kids were total troopers!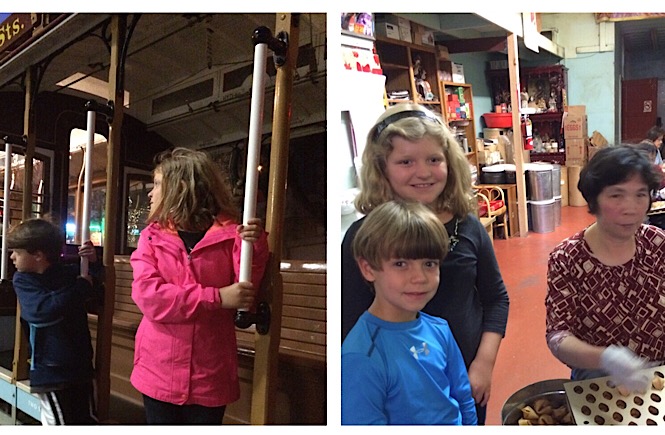 Ride a Cable Car in San Francisco!
The lines for the cable cars can be really long. So my best tip is instead of stressing about it, just pick a random stop to get on and off. No destination. Just do it for the experience. We ended up getting on a few blocks from or hotel and riding to Union Square, getting off and walking around a bit, and then riding back to our hotel. This way is was far less stressful than being on a timeline and WAY MORE FUN!
San Francisco China Town with Kids!
Not only is it cool to walk the streets in China Town and see the different markets but, you can visit the original fortune cookie factory. This is a super fun kids activity in San Francisco! They will let you write your own fortune on a little slip of paper and then they insert it into your own freshly made cookie. This is a really fun thing to do for just a couple of dollars. Its really interesting to watch the ladies creating hundreds of these little cookies in assembly line style.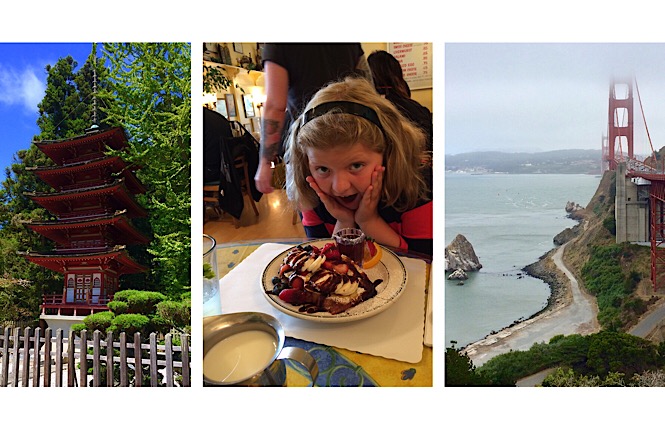 Japanese Tea Garden
I just loved this place. The Japanese Tea Garden, located within Golden Gate Park, is the oldest public Japenese Garden in the United States. I so wish we had had more time for us to participate in one of the traditional tea ceremonies, but it's definitely on the list for the next visit. This place was a great destination for the kids to wander, climb, get some of that energy out…and even learn a little something too!
Know Before You Go: You could actually spend an entire day in Golden Gate Park. Besides the Japanese Tea Garden, you will find a playground, carousel, Golden Gate Park Aquarium, the Arboretum, Strawberry Hill. segway tours, windmills, tulips, buffalo, and the California Academy of Sciences.
The Golden Gate Bridge
This is also a pretty obvious choice on things to do with family in San Francisco. But it was on our bucket list, and I'm guessing it might be on yours too? I wish we had rented bikes and biked the bridge. But I just wasn't sure if my kids could would be up to the task. (They totally could have, hindsight is 20/20.) So instead we took an Uber over the bridge. Our fabulous driver took us to two different overlooks and even took our picture for us! If you're on your own, here is a fantastic guide to the best spots to view the Golden Gate Bridge.
Know Before You Go: The weather doesn't always cooperate with your desires to see/ photograph the Golden Gate Bridge. It was very windy at both overlooks and pretty foggy as well. If possible, plan two different times in your San Francisco itinerary to visit the Golden Gate Bridge.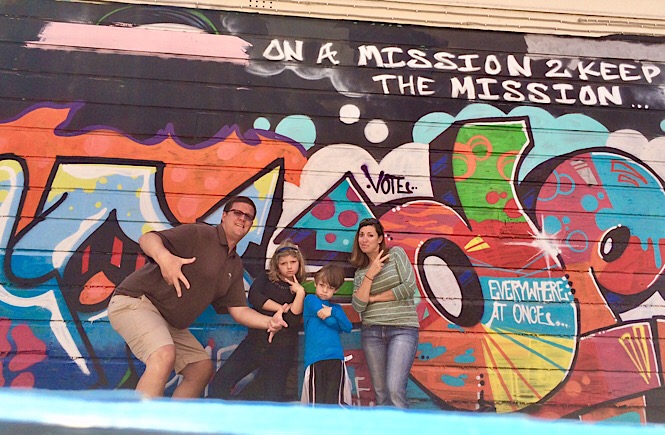 The Mission District in San Francisco
This may not be the top of your list but this was my most favorite stop! You must go for three things: a burrito, an agua fresca, and to see the murals. My kids still talk about that agua fresca to this day!! And our family had the most fun wandering the streets taking in the murals and posing for pics. Embrace the selfie stick friends!
Read more about my love of street art and the Mission District.
Bonus!
Eat! No, seriously eating should totally be on your list of things to do in San Francisco. There are a ton of family friendly restaurants in San Francisco and San Fran is known for brunch for a reason…because it's amazing!!! I love using my trusty Yelp app to avoid going to the tourist traps and to get a more authentic experience. Gah, I'm drooling just thinking about all the deliciousness! Mama's in Washington Square is a bit of a tourist stop, however, in our opinion it lived up to the hype. Go early: the day we went the line started forming an hour before the restaurant even opened.
Bay Area Attractions for Family
So have I convinced you to visit San Francisco?
There really are a ton of family activities in San Francisco. Although I have no doubt that this would be an amazing couples getaway or solo vacation too. It truly is one of my favorite cities in the USA!
If you're considering a longer trip to the Bay Area, check out some thing these awesome road/ day trips from San Francisco:
What would you add to this list of things to do with kids in San Francisco? Let me know in the comments below! And if you liked this post, please consider saving it to Pinterest or sharing it with a friend! Thanks so much!