Napa Valley Kids Activities!
Napa isn't for kids… Napa is just for adults right?
Think again, friends!
There are a ton of fun things to do in Napa with kids!
Don't get me wrong. Napa Valley is certainly on top of my "I'd like to go back without my kids" list. Because, well…wine.
But, it is totally possible to have a fantastic time in Napa with kids!
I promise.
Our day in Napa was jam packed to the brim full of fun activities for both the kids and adults to enjoy. Napa was on the tail end of our epic California road trip and I honestly thought when I was planning our day in Napa that the kids would be miserable. I actually scheduled the following day at Six Flags amusement park because I was trying to make up for dragging them through wine country.
But, boy was I wrong!
We arrived in Napa after visiting Yosemite National Park and followed up our day going on back to San Francisco. Napa is an easy day trip from San Francisco and the perfect California weekend getaway!
Napa with Kids
I would absolutely recommend a Napa Valley family vacation! There are so many fun things to do in Napa with kids!
The Jelly Belly Factory Tour
We started our day at the Jelly Belly Factory. They offer FREE self guided tours starting every ten minutes. We arrived early, but still had to wait about fifteen minutes. We weren't the only ones excited about jelly beans! In the meantime, we admired all the Jelly Belly art and got our trusty (required) hats ready for action.
Did you know it takes 7-14 days to make a Jelly Belly bean? We all thoroughly enjoyed learning about the Jelly Belly bean life cycle but maybe enjoyed the free samples a bit more! Yum!
(Side note for any allergy-friends out there: Jelly Belly are gluten free, dairy free, peanut free, and vegetarian friendly.  Certified kosher. Yay!)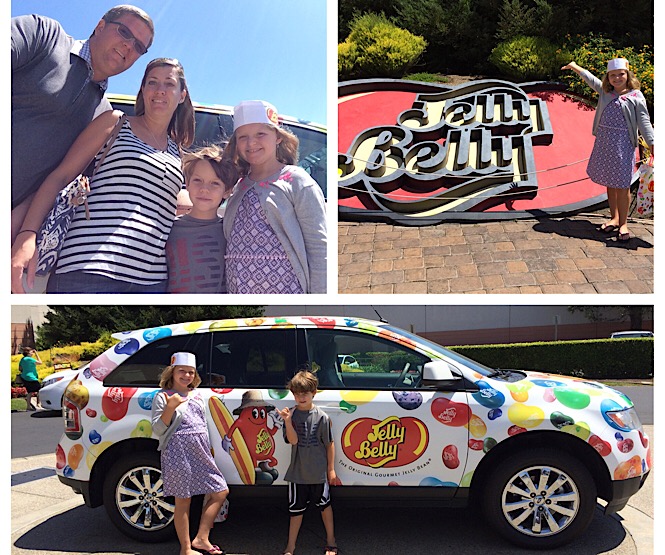 The Napa Riverfront
Next up on the agenda was the Napa Riverfront. We strolled through the super cute little shopping area and stopped at Lucero for an olive oil and balsamic vinegar tasting. Not all tastings in Napa have to be wine tastings!! And believe it or not, the kids really enjoyed sampling all the different flavors. We even purchased a few and had them shipped home.
Since fine dining wasn't an option with kids, we just walked past the acclaimed French Laundry restaurant before grabbing a quick sandwich and some sweet treats from Bouchon Bakery. We ate alfresco in the attached courtyard which was a perfect compromise with the kids.
Sadly we didn't have time to explore the Oxbow Public Market which I've heard is fantastic! It's definitely on my must-do list for the next visit!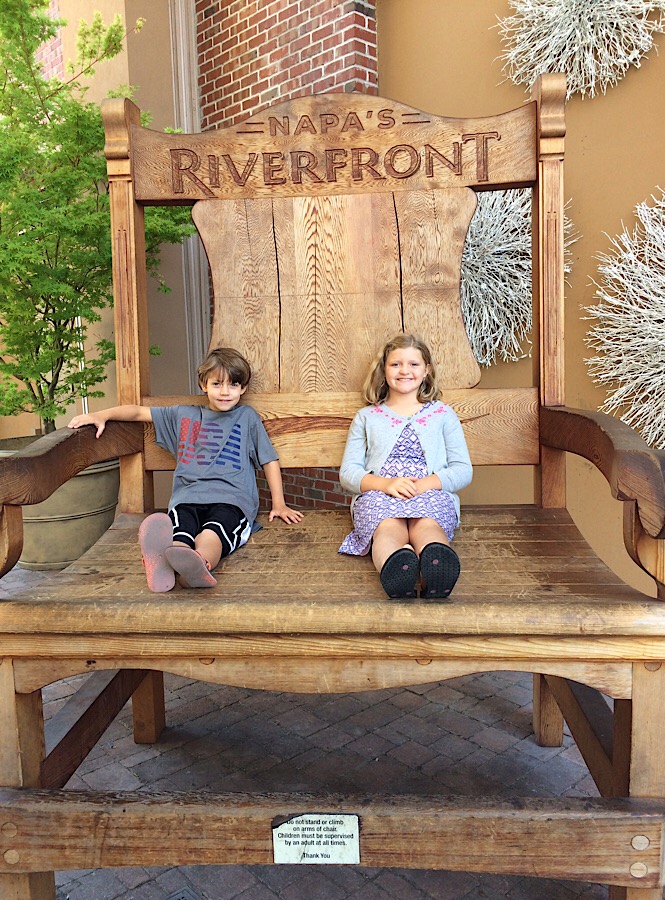 Napa Valley Kid Friendly Wineries
Wineries in Napa Valley with kids??
Yep! No problem! We had two wineries in mind that during my research appeared to be kid-friendly. Our decision was made for us since Sterling Vineyards' aerial tram was closed for maintenance the day we were in town.
Castello di Amorosa was the destination!
Y'all…it's a castle…a full fledged Tuscan style castle smack dab in the middle of Napa Valley. And it's beautiful. You can roam the grounds for free but to go inside you have to pay…there are several different options depending on which type of wine tasting or tour you prefer, but we just did the basic general admission ticket. We had access to two floors, sampled five wines, and the grounds.
You do also have to buy a minor ticket for children, but it includes a grape juice tasting which my daughter thought was the coolest thing ever!! We weren't the only ones with kids there either, so we didn't feel out of place or anything.
Know Before You Go Tip: They do not allow strollers inside the castle so make sure to plan accordingly.
The castle was very busy. This isn't the place to go for an intimate romantic date. This particular day, they were setting up for a private event later that evening so there was a full orchestra practicing…it was pretty cool! But that was even more entertaining for the kids, well…actually us too.
Oh and the wines were quite lovely. We are far from wine experts. It was more about the experience for us. We did order a bottle or two (or a case) to be shipped home!
See friends…Napa Valley with kids is possible! And fun!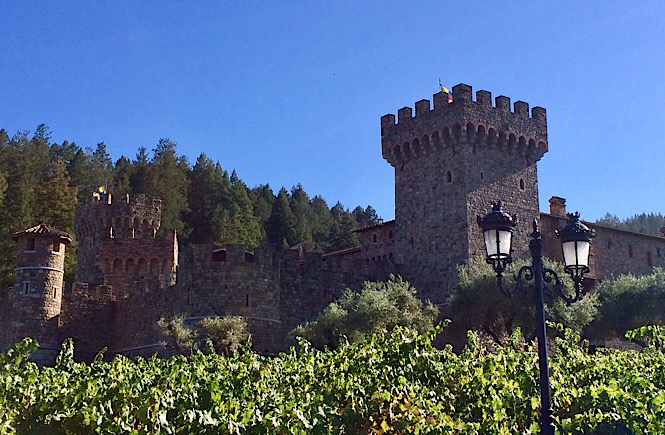 Worth Mentioning
We also stopped by Stags' Leap Vineyard. We had wanted to purchase a special gift for my father in law and knew he was a fan of their wine. This is definitely a more upscale winery and not so much for the kids. BUT, they were so kind and patient with our children as we talked, sampled, and made our purchase. They even brought the kids water in wine glasses while they were waiting. Kindness goes a long way people!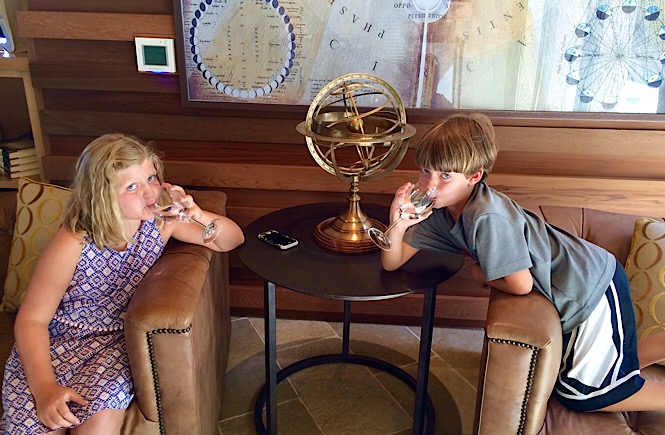 Old Faithful Geyser in California
There's an Old Faithful in California? Say what?
Yep. Apparently there are three geysers in the world with the Old Faithful designation. Who knew, right?
We rolled up to Old Faithful in Calistoga, California in the early evening catching the tail end of her eruption. She goes off about every 30-40 minutes for around two-six minutes. And she's incredible. You most likely have heard so much more about Old Faithful in Yellowstone National Park in Wyoming, but in my opinion…this one is better.
Why?
There was one other couple there. That's it. And we actually hung around after the first eruption and watched again…
ALL BY OURSELVES!!
It was very cool. We hung around the 40 minutes or so and played bocce ball, read about the geyser, meandered the gift shop, and hung out with the goats and llamas. Yep! It was the most peaceful evening. If only I had packed us a picnic dinner too.
Yes, Yellowstone does shoot higher and may seem mightier, but there are huge crowds. HUGE! There are so many people there and you have to stand back really far from the geyser and may have people standing directly in front of you. In Calistoga, you were right up close and personal with Old Faithful. It was just a different experience all together. One that I will remember for a very long time and would highly recommend.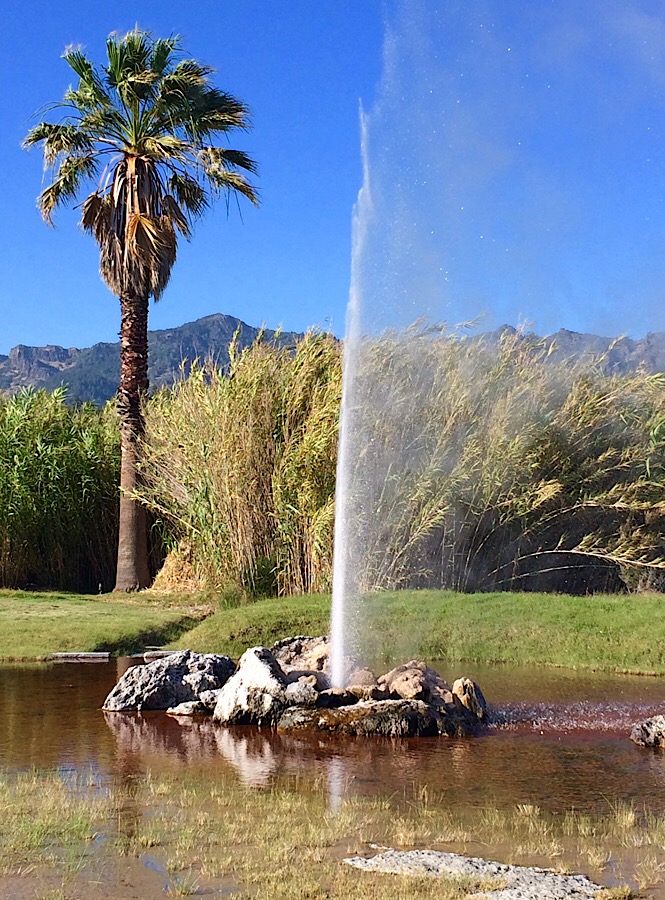 I most definitely think an adult trip to Napa would be amazing. But, when you're in the area, there's absolutely no reason you can't do Napa Valley with kids…and ENJOY it! I didn't even need that silly day at Six Flags after all.
I am so glad we made time for Napa on our epic California road trip. It was a stop we all loved and I would take my kids again for a family vacation in a heartbeat!
Have you been to Napa? Did you find Napa Valley kid friendly? Let me know what y'all think!
Save & Pin for Later!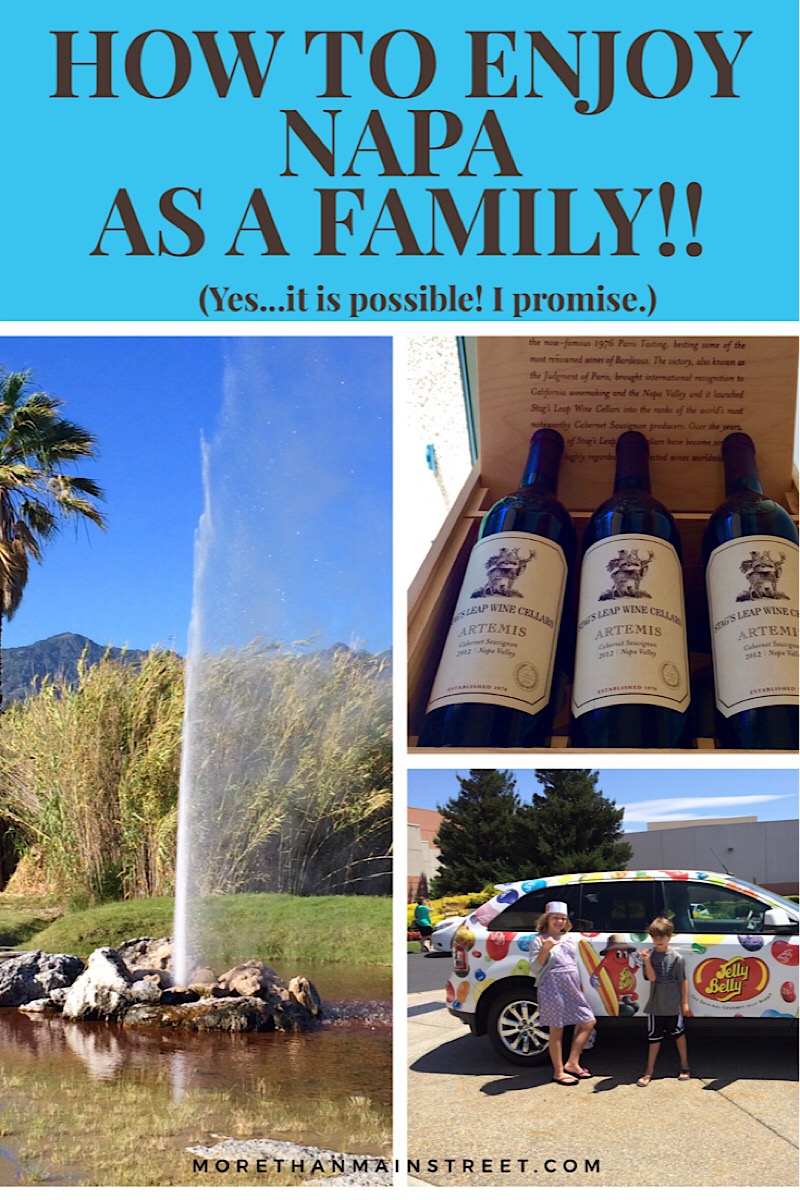 Linking up this week with #TheWeeklyPostcard and Two Traveling Texans…be sure to check them out too!