What To Get Someone Who Has Everything?
A puppy.
Ha! Just kidding.
We all have those people in our lives…you know the person who is soooo hard to shop for. The person who already has everything they could possibly need!!
Whether your're trying to figure out what to get your mother for her birthday, your in laws for Christmas, or your boyfriend for your anniversary…the best gift ideas for the person who has everything are Experience Gifts!
Simple as that.
Y'all already know by now that I'm a big believer in choosing experiences over things. So I'm guessing these recommendations will come as no big suprise to you!
It's not that I don't believe in or like material things. Everyone has certain material things they need and things they love. It's just that experiences provide us with opportunities to learn, to create memories, and even to increase happiness. I've been gifting experiences and travel for well over twenty years and it is hands down one of my favorite gifts to give and receive!
What is an experiential gift?
Simply put, an experiential gift is a gift of something to do. Instead of a physical item, an experience gift allows you to experience something and it's the perfect answer to the dreaded question…what to get someone who has everything???
This post contains affiliate links which means I could earn a small commission, if you make a purchase, at no additional cost to you. As an Amazon Associate, I earn from qualifying purchases. For more information, read my full Disclosure HERE.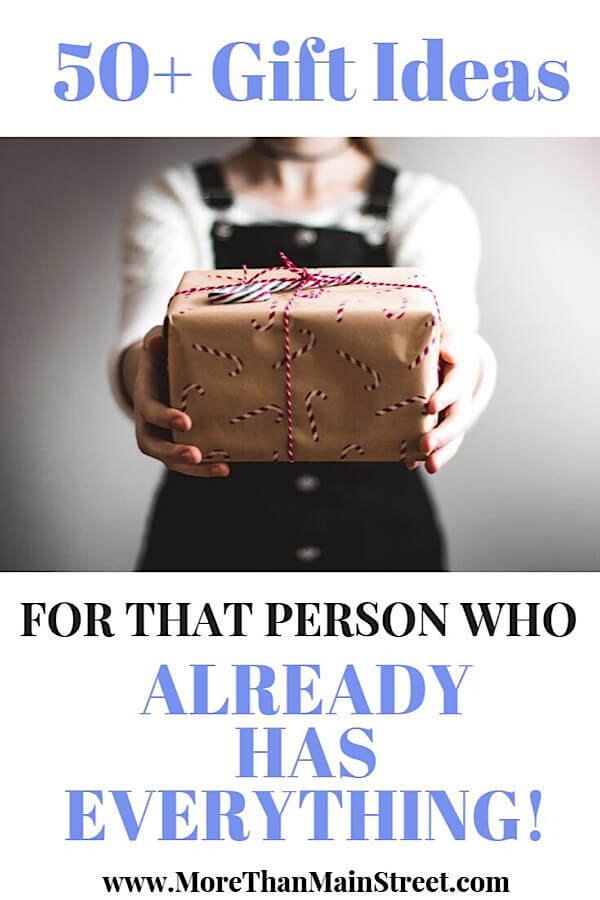 50+ Experience Gift Ideas
Although I've divided up these unique experience gift ideas into categories, many of these ideas can cross genres and apply to everyone depending on their interests.
One of my favorite parts of gifting experiences is thinking up cute and different ways to wrap them! For instance, last year we gifted a trip to Aruba to our family as their Christmas present. So of course, I had to wrap up their clues in flamingo wrapping paper! I love to make my kids guess where we're going! I'll provide a few more examples below of how I've wrapped up some of these fun experience gift ideas!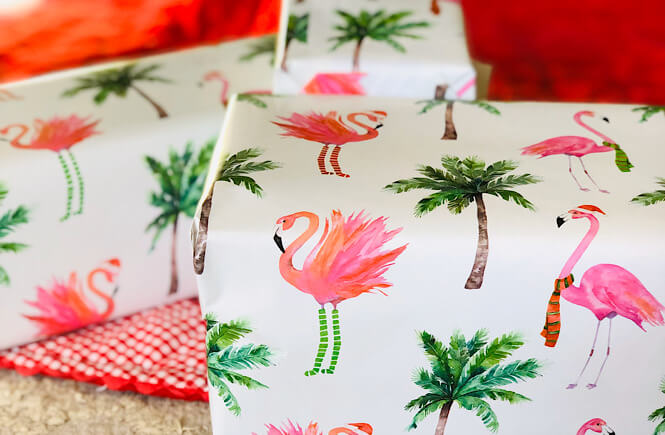 Experience Gift Ideas for Her
Tickets to a play or musical
A day at the spa
A picnic date (plan the entire thing for her and put all the necessities in a cute picnic basket!)
Cake decorating class
Wine tasting (present this in a pair of new wine glasses)
Ride in a hot air balloon
A day out hiking
Yoga passes
Cooking classes (wrap this up in a mason jar with a few kitchen utensils)
Dance lessons
Gym membership
Family photo shoot (wrap this up in a cute frame like this!)
Season tickets the local symphony or theater
Memberships to the nearest botanical garden or art museum
Hand lettering classes
Gift an adrenaline rush: hang gliding, bungee jumping, or skiing.
Tickets to a personal development conference!
A mom-cation (give her a day away ALL BY HERSELF!)
Experience Gift Ideas for Him
Sporting event tickets
Concert tickets
Comedy show tickets
Golf lessons or set up a tee time at his favorite golf course
Brewery tour (wrap up with a some personalized pilsner glasses!)
Kayaking or stand up paddle boarding tour
Skydiving- indoors or out!
Race experience- We bought this through Groupon last year for my father in law. He got to drive a Ferrari and loved it!
Escape room
Improv class- see how funny he really is!! LOL
Photography lessons (I mean you could pair this with a brand new camera!!)
Gifts for Active Kids
Membership to your local children's museum
Membership to other local museums
Bowling
Ice skating
Your local fun zone or arcade
Lessons: What are your kids into? Would they like to learn to surf, play the drums, or paint? (Wrap this up with needed supplies for the lesson!)
Rock climbing: sign them up for a tour or hours at the local rock climbing gym.
Mini golf
Zip lining/ Outdoor adventure center
Trampoline park
Summer camp session
YouTube conference (this is what my kids have been asking for!)
Paintball
Horseback riding lessons
National Parks Memberships – really a gift for the whole family!
No matter who you are buying for, one of our favorite gifts to give and receive are tickets. Our go-to for tickets are Ticketmaster or StubHub. We've used them time and again with no issues!
We are also HUGE Groupon fans! Groupon is an inexpensive way to find cool local experience gifts! Check out: Things to Do: Raleigh! If you're trying to figure our what to get someone who has everything, Groupon always has great ideas!

Have a hard to buy for teenager in your life? Read our guide to experience gifts for teens!
Now I realize most of us can't gift someone a trip. As much as we might love to, gifting a vacation typically isn't in the budget! LOL. But, you can certainly still gift a travel lover in many ways!
Know your loved one is planning an upcoming vacation? Gift them an Airline gift card! Did you know you can gift points or miles? Yep!
Restaurant Gift Cards- Everyone has to eat!
Know someone has an upcoming road trip? Get them a gas gift card. While you're at it, print out my road trip essentials packing list and wrap it all up in one gift!
An experience while they are on vacation- someone you know traveling to Yellowstone National Park? Set them up with whitewater rafting or a guided hiking tour. Go with the theme of their planned vacation.
Someone you know going to Disney? Get them Disney gift cards…we asked grandparents to gift these before our last trip so each of our kids had money to spend on a souvenir or extra of their choice. Trust me this will be very well received by both parents and children! And make sure to read our Disney tips before you go!
If you do plan on gifting travel, some of our suggestions would be a trip to San Francisco or Riviera Maya, Mexico!
Unique Experience Gifts For Someone Who Has Everything
Date Night!
Coffee Date
Ice Cream Date
Movie Tickets (my favorite way to wrap this is in a box full of popcorn!)
Red Box Date
Afternoon Tea (this is a super fun mommy-daughter date!)
Non-Material/ Non-Experience/ 100% Awesome Gift Ideas
If you still don't know what to get for that person who has everything but don't want to go for an experience gift, here are a few non-material gifts that are sure to be a hit!
Themed Baskets
Game Night Basket: Get all the things needed for a family game night!
Beach Basket: Put together everything you need for a day trip to the beach!
Camping Basket: Whether you're spending the night in your backyard or at a nearby campground, put together some absolute necessary camping supplies!
Gardening Basket: For those with a green thumb, put together some supplies to give them an afternoon in the garden!
Services/ Memberships/ Subscriptions
House Cleaning Services: I am going to tell you that many many moms out there would be super excited to receive this as a gift!!
Meal Delivery Gift Card (something like Blue Apron)
Monthly Subscription: Think Stitch Fix, Cause Box, or Birchbox.
Amazon Prime Membership: I mean we all have it and I'd sure love someone else to pay for it! Wink Wink!
Kindle Unlimited for the book lover in your life!
Boat owner- gift them a Sea Tow membership!
Lawn Care
Gifts for Someone Who Has Everything List
I hope this list provides a few ideas for what to get someone who has everything!! There are endless experience ideas to gift if you put a little thought and planning into it!
Tell me which experience gift you're hoping for this year!! And if you like these ideas, please share them with a friend! Many, many thanks as always!