Planning a Trip to Denver CO? Our recent 3 day Denver Itinerary was jam packed full of fun! From Downtown Denver to Red Rocks Amphitheater to an incredible art scene, there is literally something for everyone.
We flew into Denver International Airport (DEN) on a Friday and flew home on a Monday. We've found flights are usually quite reasonably priced and the airport to be very easy to use. We did not rent a car during our visit as we found it quite easy to get around via public transportation, a shuttle, and Uber.
We were able to fit almost all of these things into our 3 Day Denver itinerary. I've added in just a few extra tried and true Denver vacation ideas to provide you with a few more options. There is a wide range of things to do whether you are traveling solo, in Denver with kids, or spending a weekend getaway with your love!
This post contains affiliate links which means I could earn a small commission, if you make a purchase, at no additional cost to you. As an Amazon Associate, I earn from qualifying purchases. For more information, read my full Disclosure HERE.
Denver Itinerary: Top 15 Things to Do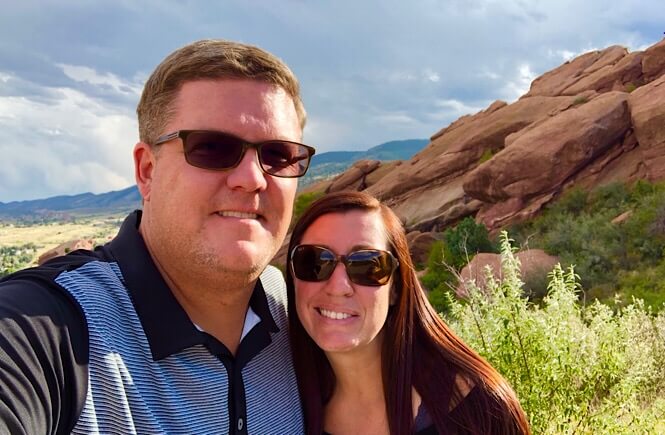 Red Rocks Amphitheater
Red Rocks was the main attraction for us and the reason for our trip to Denver, Colorado. Red Rocks Amphitheater is the only naturally occurring, acoustically perfect outdoor amphitheater in the world. It is truly one of a kind! So when one of your favorite bands is slated to play Red Rocks, you book a ticket! Also known for it's hiking and biking trails and those who choose to run the stairs inside the amphitheater, Red Rocks is a must for every Denver trip!
Know Before You Go to Red Rock Amphitheater:
Through a good ole Google search, we found several companies offer shuttle service to and from Red Rocks. Red Rocks Amphitheater is actually located in Morrison, Colorado, 15 miles outside of Denver. We hate to wait in the Uber/ Lyft line after a concert to get home, so we booked shuttle service through CID. And…it was a breeze. We highly recommend it!
16th Street Mall
The 16th Street Mall is probably what most locals consider the "touristy area" of town. However, we thoroughly enjoyed this mile long promenade in the center of downtown Denver mainly due to it's central location. The mall has tons of area attractions, shopping, and restaurants AND a free shuttle running from Union Station to Civic Center Station. We loved staying in the Courtyard Marriott on the 16th Street Mall! My favorite thing about the 16h Street Mall was the hand painted pianos scattered about open for public use- so cool!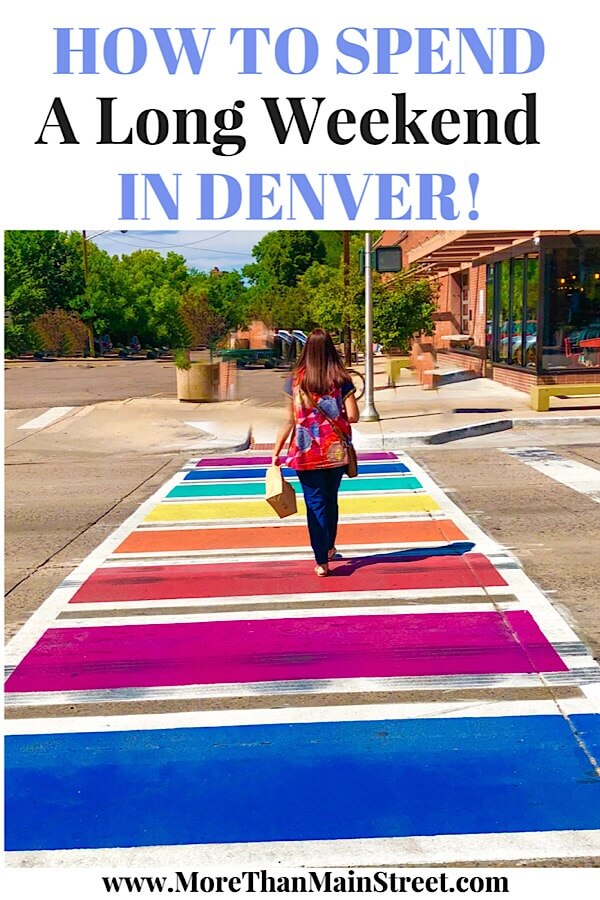 Explore Denver's Art Scene
Whether you're into street art, museums, or art galleries, there is a thriving arts scene in Denver! If art museums are your thing check out Denver Art Museum or the Museum of Contemporary Art. Or you can look into the Denver Center for the Performing Arts to see what's happening during your 3 days in Denver.
Another awesome place to explore is the RiNo Art District. If you're really into street art (like me) check out this guide to street art in Denver.
**The rainbow sidewalk featured above is on South Broadway near Punch Bowl Social and Voodoo Doughnuts.**
Punch Bowl Social
Punch Bowl Social actually has locations all over the United States. But since we discovered this amazing fun zone in Denver, it goes on our Denver itinerary! The best way I can describe this place is it is an upscale version of an adult Chuck-E-Cheese. Entertainment paired with hand crafted cocktails and food makes for a great night out! Virtual reality, larger than life Jenga and Scrabble, bowling, shuffleboard, pool, and karaoke are just a few of the ways you can crush your competition (AKA my husband! LOL.). PROTIP: If you happen to be in Denver with kids, just visit during the day time hours before it gets too crazy.
Denver's Larimer Square
Larimer Square is one of the oldest and most historic blocks in Denver. We thoroughly enjoyed strolling this super hip area's trendy boutiques. If we had had more time, we would have loved to try some of the restaurants in the area too- the nightlife is supposed to be pretty incredible too!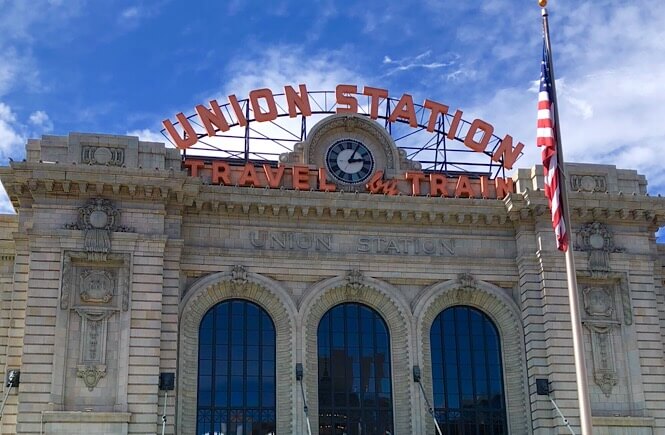 The Iconic Union Station
In the heart of LoDo, or Lower Downtown Denver, Union Station has recently been through a huge renovation and restoration. The bustling transportation hub is a must visit for good food, shopping, and entertainment!
Tattered Cover Bookstore
I love books. And I adore a bookstore. I could spend hours perusing the shelves of this super cool indie bookstore and cafe. But, the coolest part is all of the author meet and greets hosted by the Tattered Cover. Be sure to check their event calendar before you go to see what author is in town during your Denver vacation!
See the Big Blue Bear
On the corner of 14th Street and California Street, this sculpture is 40 feet tall! This might be something you skip unless you are already near the Colorado Convention Center. But since we were in the area, we had to snap a photo of Big Blue!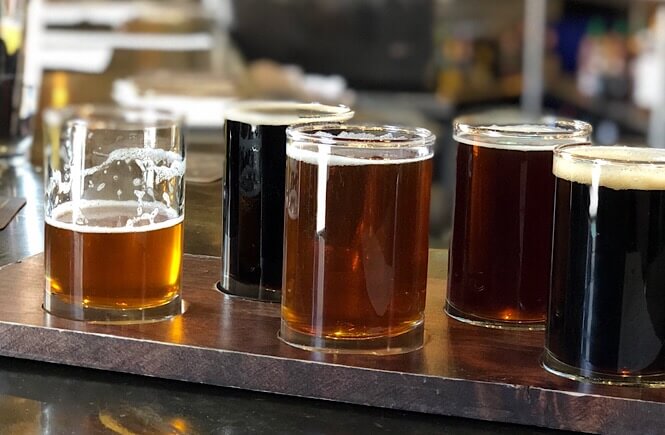 Visit a Brewery in Denver CO
Did you know that Denver has been dubbed the "Napa of Beer"? I've never heard that before either, but it totally makes sense considering Denver has more than 60 breweries in Denver proper and over 100 in the metro area. So, if you are in the area for a Denver weekend trip and you like beer, then you have to visit one of their many breweries. Due to it's convenient location across from Union Station, we visited Wynkoop Brewery which also happened to be founded by the former Governor of Colorado! Cool, huh? But, check out this guide on the Denver Beer Trail if you're looking for a specific brewery or style beer!
US Mint/ Money Museum
Denver is one of six US Mint locations in the country. They offer free daily guided tours explaining the history and production of billions of coins each year.
We tried to visit the US Mint in Denver. #travelfail
It's OK. We did walk down to the Mint only to find that all the tours were already booked.
Know Before You Go to the US Mint Museum:
Make sure you visit the US Mint website and follow all the rules to get the most out of your visit! Tickets are sold daily and no advance tickets are available. The tours are free to the public to adults and children over the age of seven years old. There are a ton of rules and restrictions, including prohibiting bringing a purse or bag in.
Have you ever seen 30 million dollars? Well, you can! At the Denver Money Museum! The Money Museum was directly across from our hotel on the 16th Street Mall so it was a perfect alternative to our lack of planning for the Mint. It's a short stop where you can learn about the Federal Reserve and the nation's financial system. You can also take home a bag of shredded money as a souvenir.
PROTIP: If you pack said souvenir in your carry on luggage, security will likely stop and go through your bag!!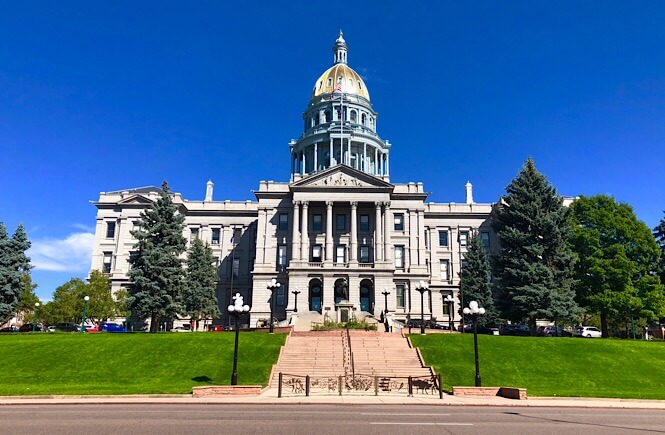 Denver's Capitol Building
#truestory The reason we went to the Capitol is because if you stand on the 13th step on the east side of the Capitol you are exactly one mile above sea level. You know…Denver is "the mile high city." LOL we like to do random things like this. Tell me we're not the only ones??
The Denver Capitol building is a beautiful structure modeled after the US Capitol in Washington DC and the dome on top is made of real gold! They also offer free public tours weekdays hourly from 10 am- 3 pm.
Visit a Museum in Denver CO
While we did not have time to visit any of these museums or attractions, Denver has quite a few to choose from: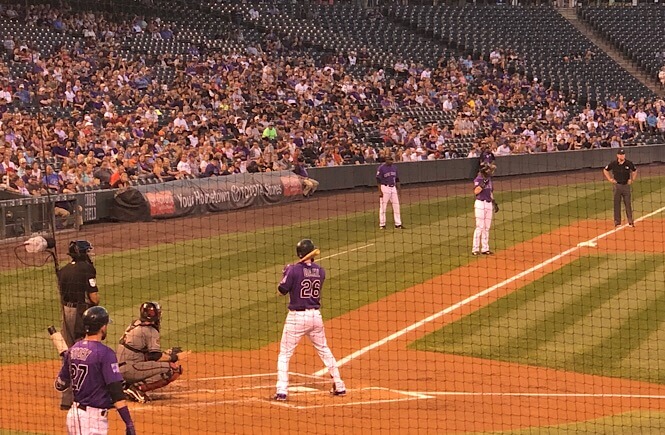 Attend a Sporting Event
We love to attend sporting events in the cities we visit. There's something about the energy of the local fans that we love. While we were in Denver, the Colorado Rockies just happened to be playing at home, but you could also look into Denver's other professional sports teams (The Denver Broncos- football or The Denver Nuggets- basketball). Our go to for last minute tickets is almost always StubHub.
Little Man Ice Cream
For a real treat, Little Man Ice Cream is the place to go! A local and tourist favorite, this is a go to for unique flavors and quality ice cream! And I'm a fan of any business who is also dedicated to giving back! They give a scoop of rice, beans, or other essentials to communities in need for every scoop they sell. Now, how cool is that?
Get Outdoors
Denver is an outdoor lovers paradise! There are so many nearby parks, areas for hiking, biking, or maybe even a picnic! Some popular areas are: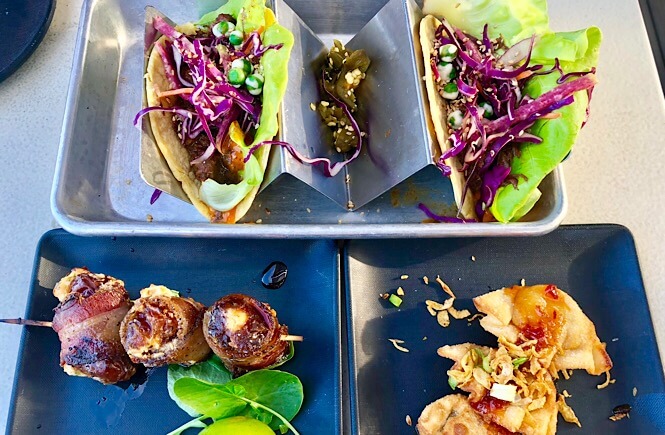 Denver Itinerary: Where to Eat
We had some REALLY good food while we were in Denver! Here are some of our favorite places to eat in Denver:
Take a Day Trip From Denver
If you do decide to rent a car and have the time, you should definitely consider taking a day trip from Denver! Some popular nearby options include:
Plan your very own Denver Itinerary!
So are you ready to plan your vacation to Denver??
What are your absolute must do's for your Denver itinerary? Whether you have one day in Denver or can complete our three days in Denver, the list of things to do is long and diverse!
Save & Pin this Denver Itinerary for Later!