Where Is The Best Place To Go For Phoenix Street Art?
There are seriously so many fun things to do in Phoenix, Arizona and it's surrounding areas, but with limited time for this visit, I knew I had to look into their street art scene!
When we visit any city, I love to search for street art.
What is street art? Any form of visual art in a public space. There are many types of street art from sculptures to graffiti to even flash mobs. But my personal favorite is wall murals. Recently many cities have intentionally started recruiting artists to beautify their public areas.
And let me tell you… I AM HERE FOR IT!
The best case scenario for me personally is always a neighborhood, street, or area with a lot of street art within a few blocks of one another!! I love being able to discover several murals all within a short period of time! In downtown Phoenix that area is Roosevelt Row.
SCORE!
What is Roosevelt Row?
Roosevelt Row is a walkable arts district in downtown Phoenix headed up by a local non-profit dedicated to the arts. You can find beautiful murals, locally owned business, award winning galleries, cute boutiques, fabulous food, and a variety of cultural events- all in one area!
First Fridays are a big thing in downtown Phoenix, but actually there's something going on most Fridays in Roosevelt Row! If you're able to make it to one of downtown Phoenix's First Fridays, you're in for a treat! As one the country's largest self guided art walks, you can grab a free shuttle from the Phoenix Art Museum to get around the area and visit the Roosevelt Row murals. Visit Phoenix has a lot more info on things to do in Roosevelt Row.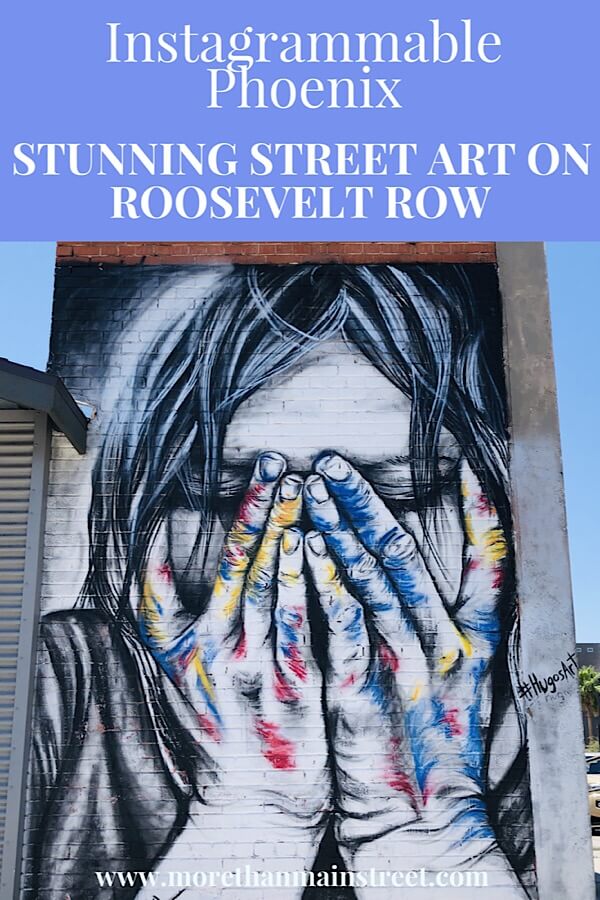 Roosevelt Row Murals: Incredible Street Art in Phoenix!
We visited Phoenix this past summer on a Monday in July. And boy was it HOT! And since our visit didn't match up with the First Friday Phoenix mural tour, I went in search for some street art on my own. It wasn't difficult at all to find. I just put First Friday Roosevelt Row into my Google Maps and JACKPOT! Everywhere I turned, there was another stunning Roosevelt Row mural!
One after another after another.
The Phoenix Art District didn't disappoint. The only problem was when to stop and call it quits. I could've wandered the area seeking out more murals in Phoenix, but an hour in the heat was about all I could handle! I even saw a mural being created which was definitely a highlight!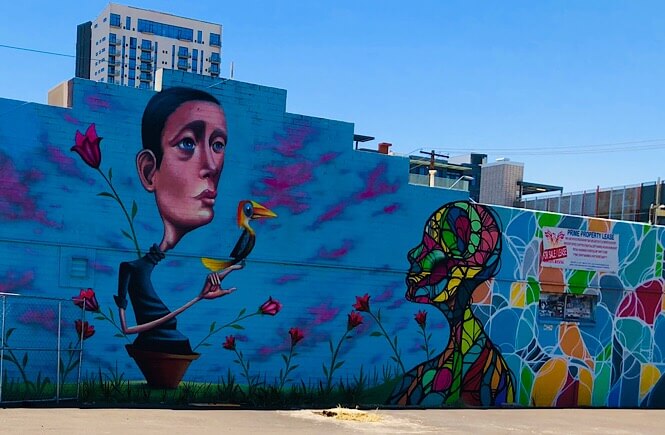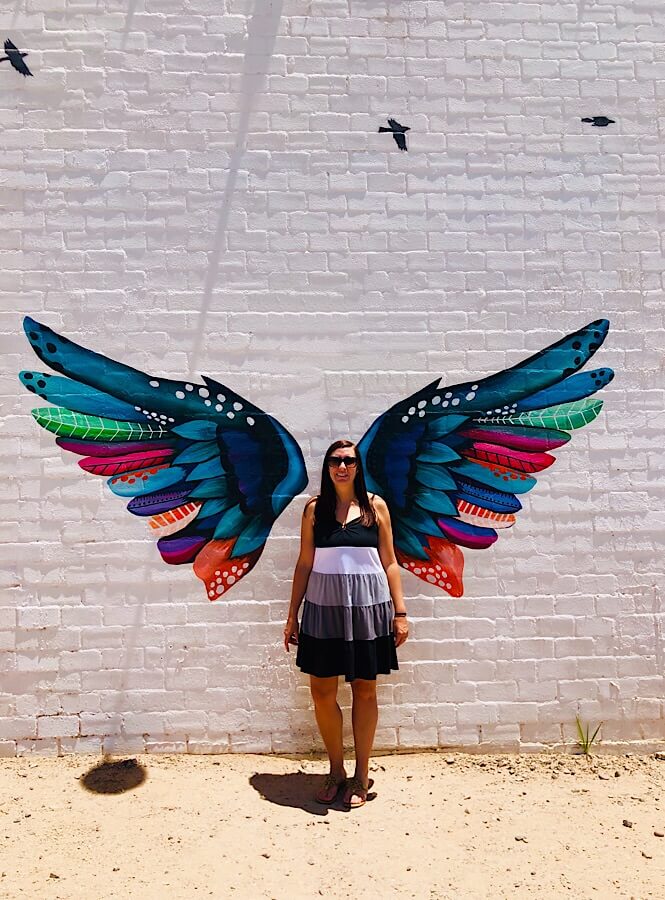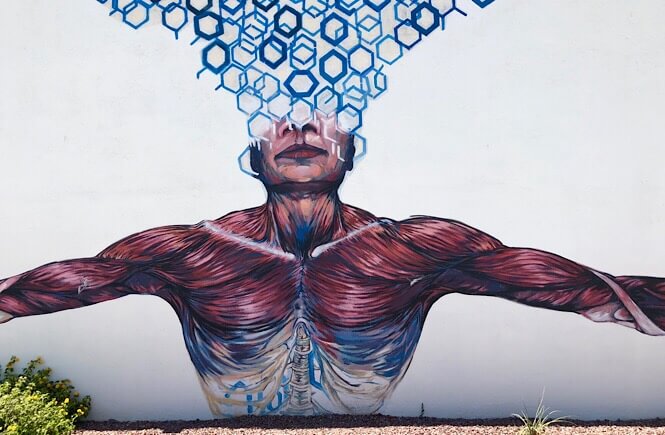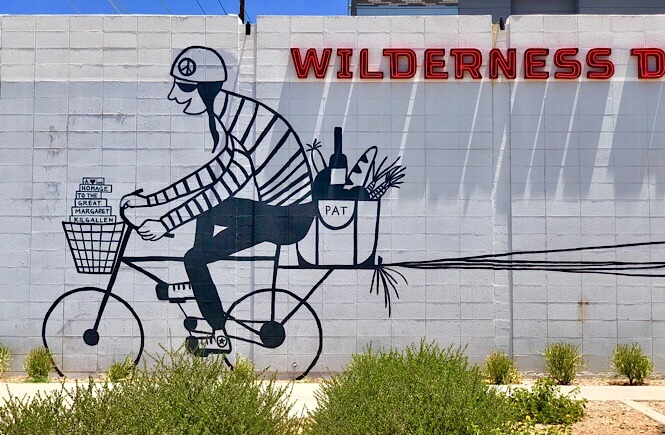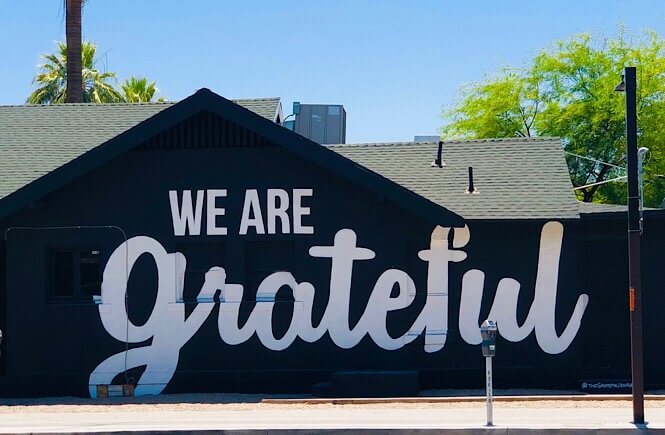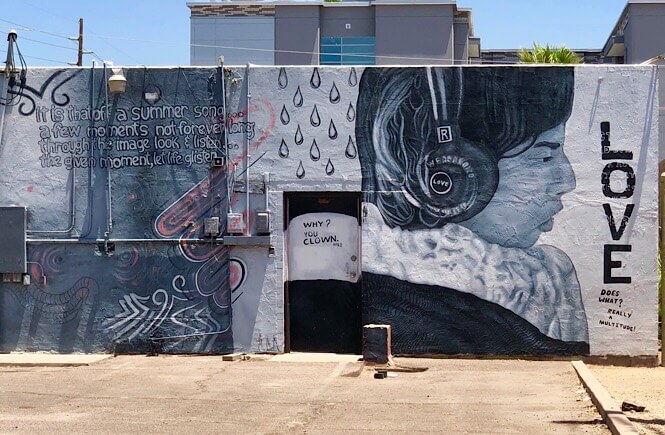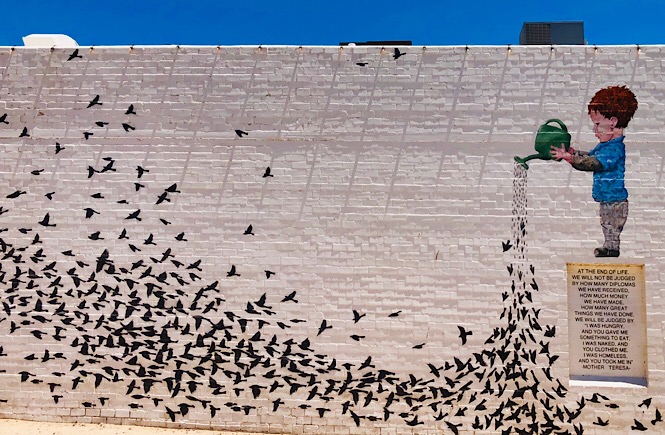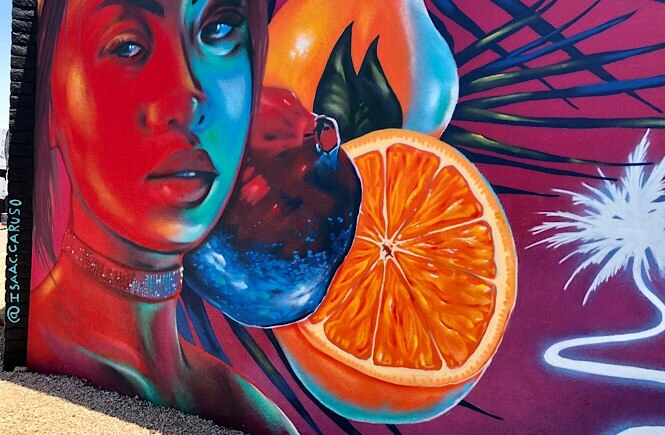 Wall Murals in Phoenix
I thoroughly enjoyed my mini Roosevelt Row art walk and even though I didn't make it to the entire area, I feel like I got to see some spectacular pieces.
It's funny because I can't say that I love an art museum. But if you put up some art outside on a grand scale just like these Roosevelt Row murals, I'm in heaven!
What about you? Do you enjoy street art or do you prefer an indoor art museum? I think I may need to explore a more indoor art museums before making a final decision.
We've discovered some incredible street art in San Francisco's Mission District, Alberta Street in Portland, and in Nashville's 12 South neighborhood.
Can you think of other neighborhoods or areas in the USA with fabulous street art? Let me know in the comments below!