Portland Wall Murals and Street Art
Portland OR is an absolute treasure trove if you're into wall murals or street art! It's a super artsy city with murals aplenty!
The weather can be tricky for taking photos so just remember to take that into account. If the forecast is calling for a rain free morning…make sure to take advantage!
Street art is one of my favorite things to look for when traveling these days, so Portland was a perfect destination for me!
Problem is: I'm not a solo traveler.
I'm usually with my family or at least my husband. And while they are onboard for checking out the street art we pass by, they don't want to spend an entire day searching for some wall mural I found on Instagram or Pinterest! (If you're not following me already…check me out!)
And I don't know about you, but I hate putting an address in my GPS for a specific wall mural and then the next one is on the complete other side of town. And unless you actually take a street art tour, I usually feel completely lost on how to see the most street art in a short amount of time.
Which leads me to why I am writing this post.
You can find a ton of art within two areas relatively quickly in Portland. The Alberta Arts district is about a mile walk down ONE street…did you hear me?? One street!! All kinds of art in one place…no car required! Also downtown Portland has several wall murals within a few blocks radius. Again no car required. WooHoo!
Portland Wall Murals & Street Art: Alberta Arts District
During our trip to Portland, we lucked out to have approximately one rain free hour in the Alberta Arts District. The weather Gods were looking out for me because the clouds parted and gave me glorious sunshine before the deluge for the rest of our stay.
We went to Alberta Street for FOOD!! I mean, Hello, do you know me at all? This is another reason I travel…to EAT!
LOL.
Anyhow, we took an Uber to Tin Shed Garden Café on Alberta Street and put our name on the list. It was an hour and a half wait. I told the fam I knew there was another restaurant nearby that was supposed to be fantastic and let's walk down to see how long their wait was. (I had an ulterior motive…but they didn't have to know that I was on the hunt for street art too!)
So we ended up eating at Pine State Biscuits…which, by the way, was AMAZING!!! Holy cow, the food was awesome. Oh and we found the jackpot of street art!
If you walk from Tin Shed Garden Café towards Pine State Biscuits to Clary Sage Herbarium (0.7 miles), you will see street art galore! There are many more murals than I've included below, these were just some of my favorite finds: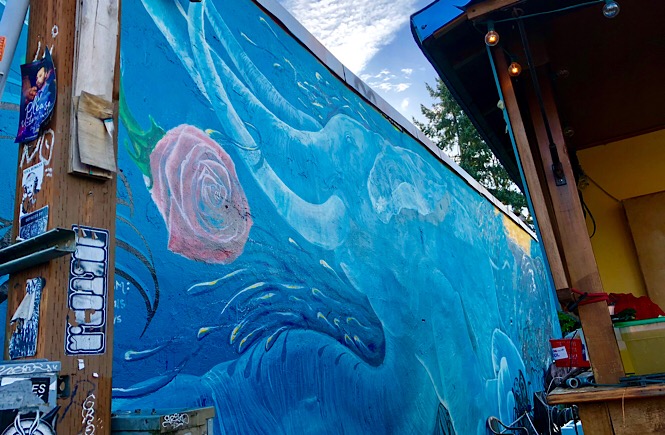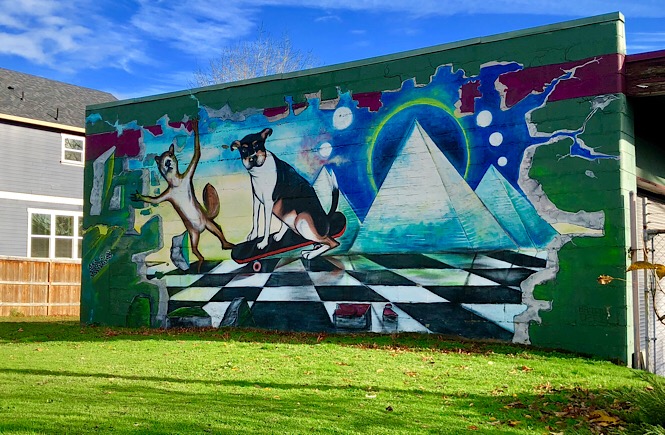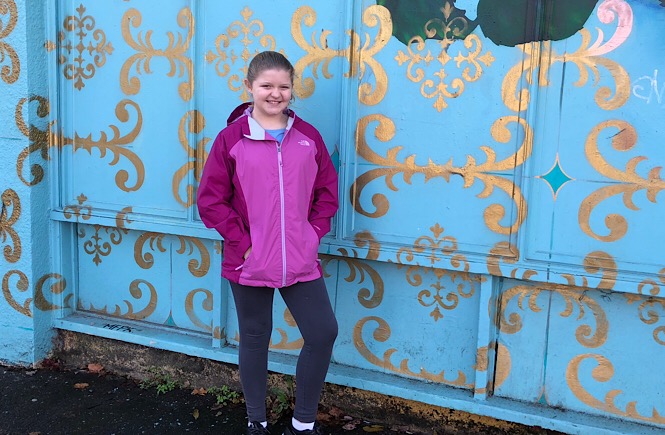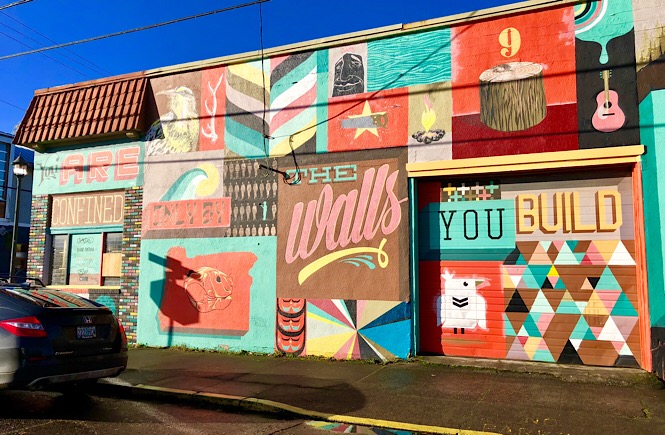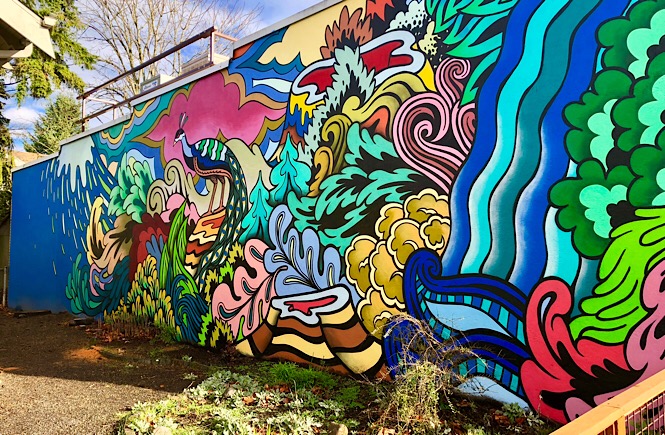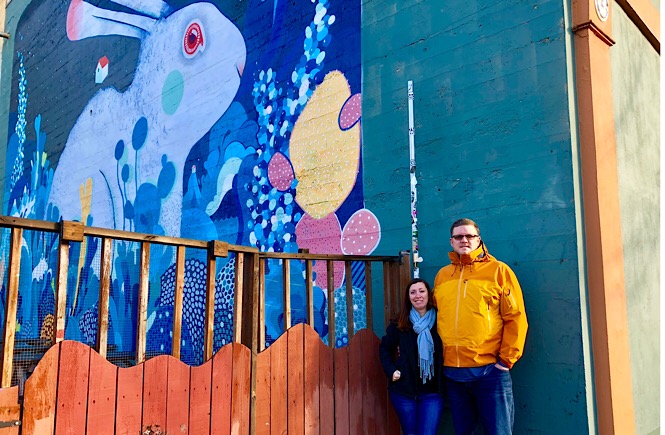 Wall Murals & Street Art in Downtown Portland
Downtown Portland also has some fabulous street art within a mile or so radius. We actually stayed in downtown Portland and discovered all these fun wall murals while we were walking around.
If Powell's Books is on your destination list while in Portland (and it should be, it is the world's largest independent bookstore), this is a good starting point to find these murals. Two other good starting points are Mother's Bistro & Bar or Tasty N Alder…and while you're at it…you should eat at these restaurants! They may have a long wait, but trust me, they are totally worth it!
Here are some of my favorite wall murals in the Portland downtown area: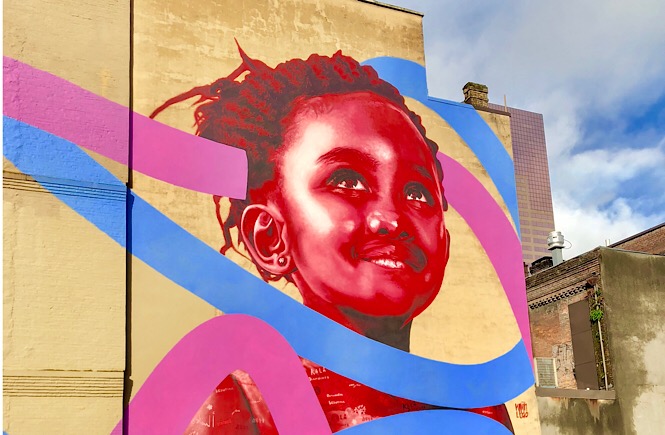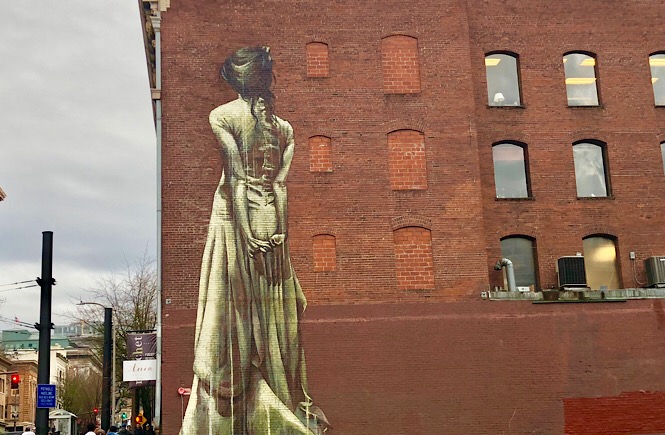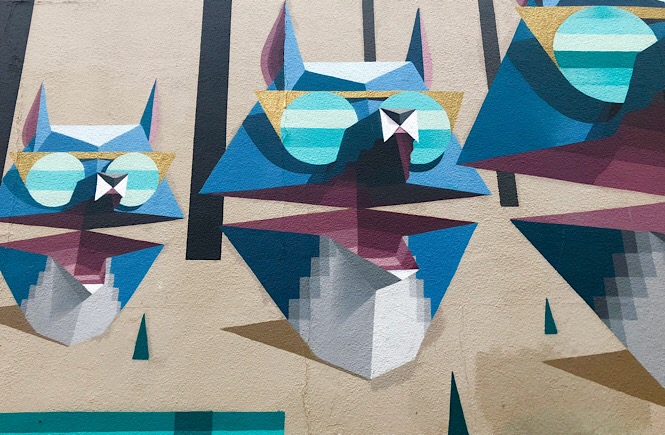 There are a ton of really fun things to do in Portland and you should definitely include street art on your itinerary.
Trust me, you won't be disappointed.
Street art is also a great introduction to art and culture for kids. I've truly found my children to be more interested in outside wall murals than indoor art museums. Read more in this post all about where and when I fell in love with street art.
More Fun Things to Do in Portland Oregon
While you're in Portland, here are some more ideas of fun things to do:
Have you had the chance to see any of Portland wall murals or street art?
Let me know what y'all think!
Save & Pin this Portland Wall Murals & Street Art Guide for Later!