What is Flyboarding?
A flyboard is this weird water jet pack thingy that makes you look and feel like you're flying over the water!
What?
That didn't explain it very well?
Okay… it's a device, powered by water propelled through a hose, attached to a jet-ski. It's a super fun adventure and way outside my comfort zone!
Flyboarding is rapidly becoming a popular activity offered by resorts and adventure companies to let you experience the thrill of flying. They strap you into some boots, throw a helmet on you, and give you a quick 5 minute lesson before sending you up in the air! Well, I didn't fly right away. It took me two or three…ok maybe like five times before I got up. But still, it was quite a thrill!
Does that make more sense? Check out my pictures and video of my crazy flyboarding adventure and hopefully that will explain it a little more.
Watch my Best Flyboarding Effort here:
Is Flyboarding Hard?
(My totally non-expert advice.)
So this is how my story goes…
My husband and I are walking down the beach at this fabulous resort in Mexico (my review of the Barceló HERE)…
Me: "Wow look at that person shooting up out of the water!"
My husband: "That's really cool."
Me: "I wonder what that is even called."
My husband: "You should try it."
Me: "Are you kidding? I'd never get up."
My husband: "I'll be right back."
Me: "Okay."
…ten minutes later.
My husband: "You need to go in and fill out some paperwork. You're signed up for 3:30 today."
Me: Picking my jaw up off the floor, "What the…"
And after sitting and watching and interviewing every innocent rider before me, I thought to myself, What's the worst thing that could happen? Well, the worst thing is that I could get hurt or not get up at all which would all be terribly embarrassing. But, in the end, the real worst thing that could happen is that I would regret not trying.
I decided to give this crazy flyboarding adventure a try!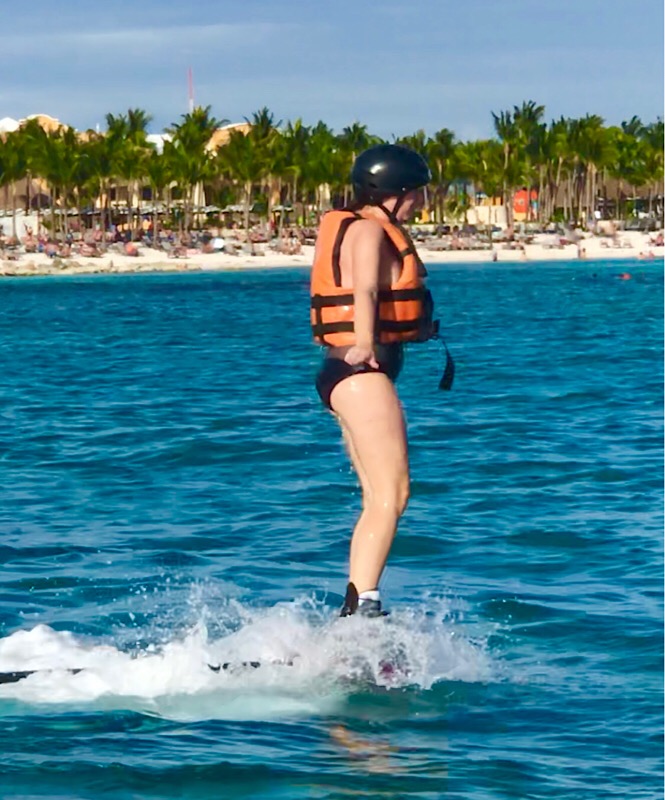 So… to answer the question; is flyboarding hard?
Yes, it is. But it isn't impossible. And if you're wondering if you could do it, trust me…if I can do it…you can do it!
Nobody would describe me as athletic, or super in shape, or even a thrill seeker. But something happened to me during the year of a major milestone birthday (cough cough, let's not mention specifics). I started looking at life from a different perspective. I put more emphasis on trying new things. Even things that scared me.
And boy oh boy was I terrified! I can snow ski, water ski, and have rode both a hoverboard and a Segway…so maybe this would be sorta like that? I was about to find out.
Is flyboarding difficult, YES. But, whether you get up or not, it is 100% worth trying! What's the worst thing that could happen??
How hard is flyboarding? My Top 11 Flyboarding Tips
Don't overthink it (like me!!) Relax.
Listen to the instructor…so you don't miss important info while freaking out.
Do not wear a strapless bathing suit (thank goodness for the life jacket).
Be prepared to swallow a gallon or two of seawater.
Wear your helmet and tight and snug…you will fall…a lot.
If you start on the beach like I did, you will have to "superman" your way out to the area where you can flyboard safely. You put your arms and legs out like superman and pull the jetski out (it loses propulsion when the flyboard is hooked up). Keep your mouth and eyes shut and try to gain your bearings once you stop.
You actually straighten your legs and "stand up" UNDER the water first…this was kind of an abstract concept to me for some reason.
Balance is key…I used my arms a lot to help.
Your instructor has all control of how high you go…remember that.
If at all possible fall as though you're diving…it hurts a lot less.
Have confidence in yourself!! THIS IS THE MOST IMPORTANT TIP!! If you don't believe you can do it, then you won't.
I was fortunate to have the most fabulous instructor who was so positive the entire time. He said over and over, "Come on Julie, you can do it!" And truthfully, that helped. I was able to stand up, do a 360 turn, and dive like a dolphin. In my mind, I totally could picture myself diving up and down like a dolphin. The pictures are a little less impressive (ok maybe a lot less), but in my head I was totally killing it.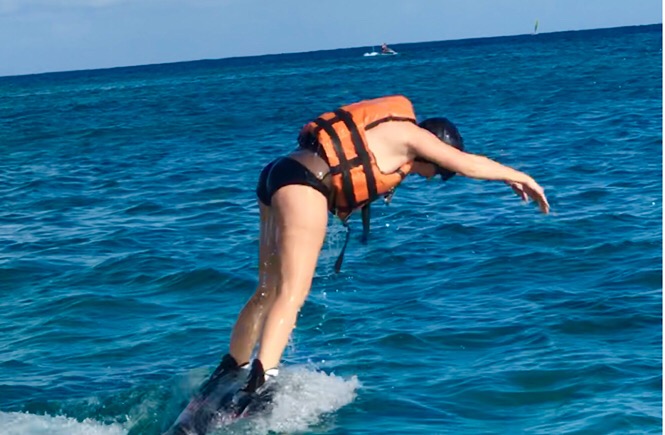 In the end, I was so very proud of myself. And that was worth every single penny.
Flyboarding was definitely one of the most adrenaline pumping activities I've ever done.
It is definitely not a cheap endeavor. We didn't choose to do any other excursions on this trip so we were able to justify spending the money. You also can choose a 15 or 30 minute lesson. While I signed up for 15 minutes, I was definitely out there closer to 30 minutes. You may think that this isn't nearly enough time and it probably wouldn't be for an experienced rider. It was plenty and it was absolutely exhausting! You don't really get any time to rest or catch your breath in between attempts, so my time was more than adequate.
TRY NEW THINGS!
If you come across flyboarding and think oh I'd love to try that but are doubting yourself…I'm here to encourage you to give it a try!! If I can do it, you can do it!
If you're looking for inspiration or ideas of places to go or new things to try, read my bucket list post and grab my free template HERE. Try something new everyday. It doesn't have to be something huge like flyboarding, it can be something as simple as reading a book, or trying a new recipe, or maybe rock climbing. My friend Susan at Taylored Adventures is in the middle of her 40 before 40 bucket list journey…she has some awesome ideas you can check out HERE.
After my disbelief that my crazy husband had signed me up to do this crazy thing, he said to me, "Amazing happens outside your comfort zone." And that really resonated with my sappy, inspiration seeking, quote-loving self.
Because it's so true.
"AMAZING HAPPENS OUTSIDE YOUR COMFORT ZONE."
What's the craziest thing you've tried? Were you successful? Let me know what y'all think!
border-width: 0px;
border-color: transparent;
border-radius: 4px;
border-style: solid;
box-sizing: border-box;
display: inline-block !important;
margin: 0;
padding: 0;
position: relative;
}
#mlb2-1256402.ml-form-embedContainer .ml-form-embedWrapper.embedPopup,
#mlb2-1256402.ml-form-embedContainer .ml-form-embedWrapper.embedDefault { width: 400px; }
#mlb2-1256402.ml-form-embedContainer .ml-form-embedWrapper.embedForm { max-width: 400px; width: 100%; }
#mlb2-1256402.ml-form-embedContainer .ml-form-align-left { text-align: left; }
#mlb2-1256402.ml-form-embedContainer .ml-form-align-center { text-align: center; }
#mlb2-1256402.ml-form-embedContainer .ml-form-align-default { display: table-cell !important; vertical-align: middle !important; text-align: center !important; }
#mlb2-1256402.ml-form-embedContainer .ml-form-align-right { text-align: right; }
#mlb2-1256402.ml-form-embedContainer .ml-form-embedWrapper .ml-form-embedHeader img {
border-top-left-radius: 4px;
border-top-right-radius: 4px;
height: auto;
margin-top: 0 !important;
margin-bottom: 0 !important;
max-width: 400px!important;
width: 100%;
}
#mlb2-1256402.ml-form-embedContainer .ml-form-embedWrapper .ml-form-embedBody,
#mlb2-1256402.ml-form-embedContainer .ml-form-embedWrapper .ml-form-successBody {
padding: 20px 20px 0 20px;
}
#mlb2-1256402.ml-form-embedContainer .ml-form-embedWrapper .ml-form-embedBody.ml-form-embedBodyHorizontal {
padding-bottom: 0;
}
#mlb2-1256402.ml-form-embedContainer .ml-form-embedWrapper .ml-form-embedBody .ml-form-embedContent,
#mlb2-1256402.ml-form-embedContainer .ml-form-embedWrapper .ml-form-successBody .ml-form-successContent {
margin: 0 0 20px 0;
}
#mlb2-1256402.ml-form-embedContainer .ml-form-embedWrapper .ml-form-embedBody .ml-form-embedContent h4,
#mlb2-1256402.ml-form-embedContainer .ml-form-embedWrapper .ml-form-successBody .ml-form-successContent h4 {
color: #000000;
font-family: 'Open Sans', Arial, Helvetica, sans-serif;
font-size: 30px;
font-weight: 400;
margin: 0 0 10px 0;
text-align: center;
word-break: break-word;
}
#mlb2-1256402.ml-form-embedContainer .ml-form-embedWrapper .ml-form-embedBody .ml-form-embedContent p,
#mlb2-1256402.ml-form-embedContainer .ml-form-embedWrapper .ml-form-successBody .ml-form-successContent p {
color: #000000;
font-family: 'Open Sans', Arial, Helvetica, sans-serif;
font-size: 14px;
font-weight: 400;
line-height: 20px;
margin: 0 0 10px 0;
text-align: center;
}
#mlb2-1256402.ml-form-embedContainer .ml-form-embedWrapper .ml-form-embedBody .ml-form-embedContent ul,
#mlb2-1256402.ml-form-embedContainer .ml-form-embedWrapper .ml-form-embedBody .ml-form-embedContent ol,
#mlb2-1256402.ml-form-embedContainer .ml-form-embedWrapper .ml-form-successBody .ml-form-successContent ul,
#mlb2-1256402.ml-form-embedContainer .ml-form-embedWrapper .ml-form-successBody .ml-form-successContent ol {
color: #000000;
font-family: 'Open Sans', Arial, Helvetica, sans-serif;
font-size: 14px;
}
#mlb2-1256402.ml-form-embedContainer .ml-form-embedWrapper .ml-form-embedBody .ml-form-embedContent p a,
#mlb2-1256402.ml-form-embedContainer .ml-form-embedWrapper .ml-form-successBody .ml-form-successContent p a {
color: #000000;
text-decoration: underline;
}
#mlb2-1256402.ml-form-embedContainer .ml-form-embedWrapper .ml-form-embedBody .ml-form-embedContent p:last-child,
#mlb2-1256402.ml-form-embedContainer .ml-form-embedWrapper .ml-form-successBody .ml-form-successContent p:last-child {
margin: 0;
}
#mlb2-1256402.ml-form-embedContainer .ml-form-embedWrapper .ml-form-embedBody form {
margin: 0;
width: 100%;
}
#mlb2-1256402.ml-form-embedContainer .ml-form-embedWrapper .ml-form-embedBody .ml-form-formContent,
#mlb2-1256402.ml-form-embedContainer .ml-form-embedWrapper .ml-form-embedBody .ml-form-checkboxRow {
margin: 0 0 20px 0;
width: 100%;
}
#mlb2-1256402.ml-form-embedContainer .ml-form-embedWrapper .ml-form-embedBody .ml-form-formContent.horozintalForm {
margin: 0;
padding: 0 0 20px 0;
}
#mlb2-1256402.ml-form-embedContainer .ml-form-embedWrapper .ml-form-embedBody .ml-form-fieldRow {
margin: 0 0 10px 0;
width: 100%;
}
#mlb2-1256402.ml-form-embedContainer .ml-form-embedWrapper .ml-form-embedBody .ml-form-fieldRow.ml-last-item {
margin: 0;
}
#mlb2-1256402.ml-form-embedContainer .ml-form-embedWrapper .ml-form-embedBody .ml-form-fieldRow.ml-formfieldHorizintal {
margin: 0;
}
#mlb2-1256402.ml-form-embedContainer .ml-form-embedWrapper .ml-form-embedBody .ml-form-fieldRow input {
background-color: #ffffff !important;
color: #333333 !important;
border-color: #cccccc !important;
border-radius: 4px !important;
border-style: solid !important;
border-width: 1px !important;
font-size: 14px !important;
height: 40px;
line-height: 20px !important;
margin-bottom: 0;
margin-top: 0;
padding: 10px 10px !important;
width: 100% !important;
box-sizing: border-box !important;
max-width: 100% !important;
}
#mlb2-1256402.ml-form-embedContainer .ml-form-embedWrapper .ml-form-embedBody .ml-form-fieldRow input::-webkit-input-placeholder,
#mlb2-1256402.ml-form-embedContainer .ml-form-embedWrapper .ml-form-embedBody .ml-form-horizontalRow input::-webkit-input-placeholder { color: #333333; }
#mlb2-1256402.ml-form-embedContainer .ml-form-embedWrapper .ml-form-embedBody .ml-form-fieldRow input::-moz-placeholder,
#mlb2-1256402.ml-form-embedContainer .ml-form-embedWrapper .ml-form-embedBody .ml-form-horizontalRow input::-moz-placeholder { color: #333333; }
#mlb2-1256402.ml-form-embedContainer .ml-form-embedWrapper .ml-form-embedBody .ml-form-fieldRow input:-ms-input-placeholder,
#mlb2-1256402.ml-form-embedContainer .ml-form-embedWrapper .ml-form-embedBody .ml-form-horizontalRow input:-ms-input-placeholder { color: #333333; }
#mlb2-1256402.ml-form-embedContainer .ml-form-embedWrapper .ml-form-embedBody .ml-form-fieldRow input:-moz-placeholder,
#mlb2-1256402.ml-form-embedContainer .ml-form-embedWrapper .ml-form-embedBody .ml-form-horizontalRow input:-moz-placeholder { color: #333333; }
#mlb2-1256402.ml-form-embedContainer .ml-form-embedWrapper .ml-form-embedBody .ml-form-horizontalRow {
height: 42px;
}
.ml-form-formContent.horozintalForm .ml-form-horizontalRow .ml-input-horizontal { width: 70%; float: left; }
.ml-form-formContent.horozintalForm .ml-form-horizontalRow .ml-button-horizontal { width: 30%; float: left; }
.ml-form-formContent.horozintalForm .ml-form-horizontalRow .horizontal-fields { box-sizing: border-box; float: left; padding-right: 10px; }
#mlb2-1256402.ml-form-embedContainer .ml-form-embedWrapper .ml-form-embedBody .ml-form-horizontalRow input {
background-color: #ffffff;
color: #333333;
border-color: #cccccc;
border-radius: 4px;
border-style: solid;
border-width: 1px;
font-size: 14px;
line-height: 20px;
margin-bottom: 0;
margin-top: 0;
padding: 10px 10px;
width: 100%;
box-sizing: border-box;
overflow-y: initial;
}
#mlb2-1256402.ml-form-embedContainer .ml-form-embedWrapper .ml-form-embedBody .ml-form-horizontalRow button {
background-color: #000000 !important;
border-color: #000000;
border-style: solid;
border-width: 1px;
border-radius: 4px;
box-shadow: none;
color: #ffffff !important;
font-family: 'Open Sans', Arial, Helvetica, sans-serif;
font-size: 14px !important;
font-weight: 700;
line-height: 20px;
margin: 0 !important;
padding: 10px !important;
width: 100%;
}
#mlb2-1256402.ml-form-embedContainer .ml-form-embedWrapper .ml-form-embedBody .ml-form-horizontalRow button:hover {
background-color: #333333 !important;
border-color: #333333 !important;
}
#mlb2-1256402.ml-form-embedContainer .ml-form-embedWrapper .ml-form-embedBody .ml-form-checkboxRow input[type="checkbox"] {
display: inline-block;
float: left;
margin: 1px 0 0 0;
left: 0;
top: 0;
opacity: 1;
visibility: visible;
appearance: checkbox !important;
-moz-appearance: checkbox !important;
-webkit-appearance: checkbox !important;
position: relative;
height: 14px;
width: 14px;
}
#mlb2-1256402.ml-form-embedContainer .ml-form-embedWrapper .ml-form-embedBody .ml-form-checkboxRow .label-description {
color: #000000;
display: block;
font-family: 'Open Sans', Arial, Helvetica, sans-serif;
font-size: 12px;
text-align: left;
padding-left: 25px;
}
#mlb2-1256402.ml-form-embedContainer .ml-form-embedWrapper .ml-form-embedBody .ml-form-checkboxRow label {
font-weight: normal;
margin: 0;
padding: 0;
}
#mlb2-1256402.ml-form-embedContainer .ml-form-embedWrapper .ml-form-embedBody .ml-form-checkboxRow label a {
color: #000000;
text-decoration: underline;
}
#mlb2-1256402.ml-form-embedContainer .ml-form-embedWrapper .ml-form-embedBody .ml-form-checkboxRow label p {
color: #000000 !important;
font-family: 'Open Sans', Arial, Helvetica, sans-serif !important;
font-size: 12px !important;
font-weight: normal !important;
line-height: 18px !important;
padding: 0 !important;
margin: 0 5px 0 0 !important;
}
#mlb2-1256402.ml-form-embedContainer .ml-form-embedWrapper .ml-form-embedBody .ml-form-checkboxRow label p:last-child {
margin: 0;
}
#mlb2-1256402.ml-form-embedContainer .ml-form-embedWrapper .ml-form-embedBody .ml-form-embedSubmit {
margin: 0 0 20px 0;
}
#mlb2-1256402.ml-form-embedContainer .ml-form-embedWrapper .ml-form-embedBody .ml-form-embedSubmit button {
background-color: #000000 !important;
border: none !important;
border-radius: 4px !important;
box-shadow: none !important;
color: #ffffff !important;
font-family: 'Open Sans', Arial, Helvetica, sans-serif !important;
font-size: 14px !important;
font-weight: 700 !important;
line-height: 20px !important;
height: 40px;
padding: 10px !important;
width: 100% !important;
box-sizing: border-box !important;
}
#mlb2-1256402.ml-form-embedContainer .ml-form-embedWrapper .ml-form-embedBody .ml-form-embedSubmit button.loading {
display: none;
}
#mlb2-1256402.ml-form-embedContainer .ml-form-embedWrapper .ml-form-embedBody .ml-form-embedSubmit button:hover {
background-color: #333333 !important;
}
.ml-subscribe-close {
width: 30px;
height: 30px;
background: url(https://bucket.mlcdn.com/images/default/modal_close.png) no-repeat;
background-size: 30px;
cursor: pointer;
margin-top: -10px;
margin-right: -10px;
position: absolute;
top: 0;
right: 0;
}
.ml-error input {
background: url(https://bucket.mlcdn.com/images/default/error-icon.png) 98% center no-repeat #ffffff !important;
background-size: 24px 24px !important;
}
.ml-error .label-description {
color: #ff0000 !important;
}
.ml-error .label-description p,
.ml-error .label-description p a {
color: #ff0000 !important;
}
#mlb2-1256402.ml-form-embedContainer .ml-form-embedWrapper .ml-form-embedBody .ml-form-checkboxRow.ml-error .label-description p,
#mlb2-1256402.ml-form-embedContainer .ml-form-embedWrapper .ml-form-embedBody .ml-form-checkboxRow.ml-error .label-description p:first-letter {
color: #ff0000 !important;
}
@media only screen and (max-width: 400px){
.ml-form-embedWrapper.embedDefault, .ml-form-embedWrapper.embedPopup { width: 100%!important; }
.ml-form-formContent.horozintalForm { float: left!important; }
.ml-form-formContent.horozintalForm .ml-form-horizontalRow { height: auto!important; width: 100%!important; float: left!important; }
.ml-form-formContent.horozintalForm .ml-form-horizontalRow .ml-input-horizontal { width: 100%!important; }
.ml-form-formContent.horozintalForm .ml-form-horizontalRow .ml-input-horizontal > div { padding-right: 0px!important; padding-bottom: 10px; }
.ml-form-formContent.horozintalForm .ml-button-horizontal { width: 100%!important; }
.ml-form-embedHeader { display: none !important; }
}

Pin this What is Flyboarding Post & Save for Later