River & Twine Tiny House Hotel in Rocky Mount NC
Stay small y'all.
If that isn't the cutest slogan ever, I don't know what is. And River and Twine tiny house hotel in Rocky Mount, North Carolina is easily the cutest place I've ever stayed. But it's way more than just cute!
If you're into unique places to stay, then my friends, you simply must check out River and Twine! River and Twine tiny house hotel is located in Rocky Mount, NC at the Rocky Mount Mills. You may or may not have ever heard of Rocky Mount NC before, but most people know it because there's a huge sign on Interstate 95 that's pretty hard to miss. It's also a great half way point between New York and Florida on the east coast.
Regardless if you've ever been here before, you should consider adding Rocky Mount to your road trip itinerary. There are a ton of fun things to do in Rocky Mount! It's also a great day trip from Raleigh or perfect NC weekend getaway. For us, staying at River and Twine was a staycation. And it is one I highly recommend!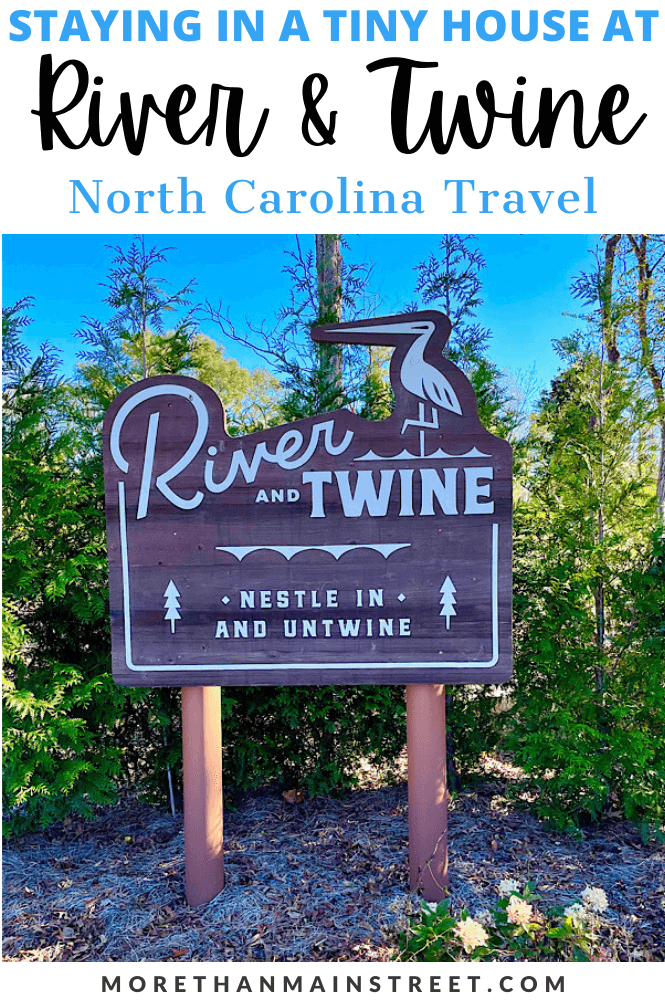 The Tiny Houses at River and Twine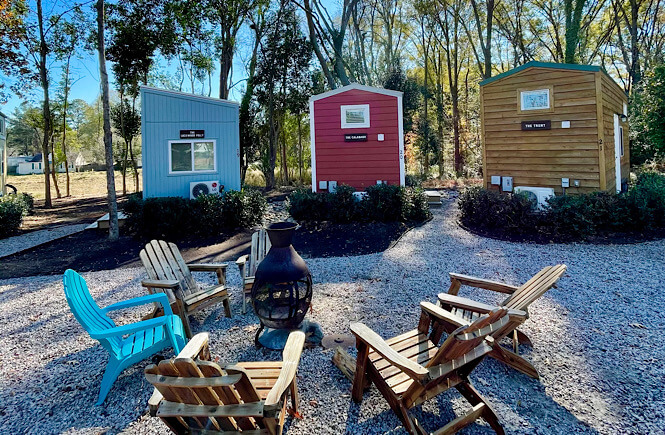 Have you ever wondered what it is like to stay in a tiny house?
Will you like it? Is it for you? Well…hopefully we can help you decide!
River and Twine is comprised of 20 boutique tiny homes for guests to stay in on the Rocky Mount Mills campus. Each unique tiny home has everything you would have in a hotel room including bedding, towels, kitchenette, dining area plus full size bathroom. But beyond a hotel room, you get a fun experience too!
FUN FACT: Each of the tiny homes at River & Twine are named after a North Carolina river!
There is a driveway for loading and unloading directly by the tiny homes and parking is directly across the street. This gives a fun small town vibe to the area and less of a hotel feel. They offer contactless check in (which is so nice in the era of COVID) and you are able to easily message management throughout your stay if needed.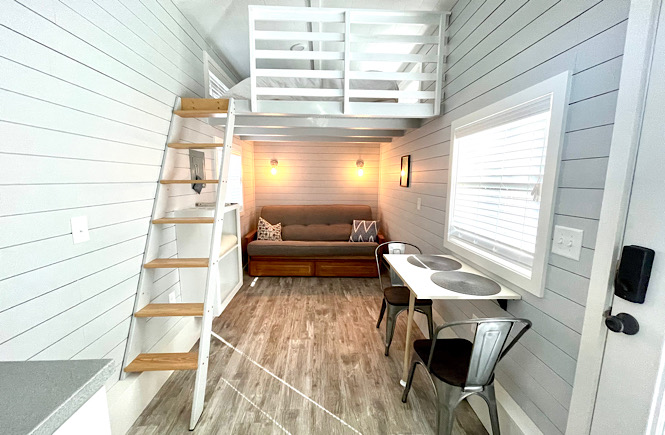 Each of the tiny homes at River and Twine are different. Our family stayed in "The Cashie" which easily accommodated our family of four. Some of the tiny homes are even pet friendly!
The tiny homes at River & Twine are super affordable too- Check current prices HERE!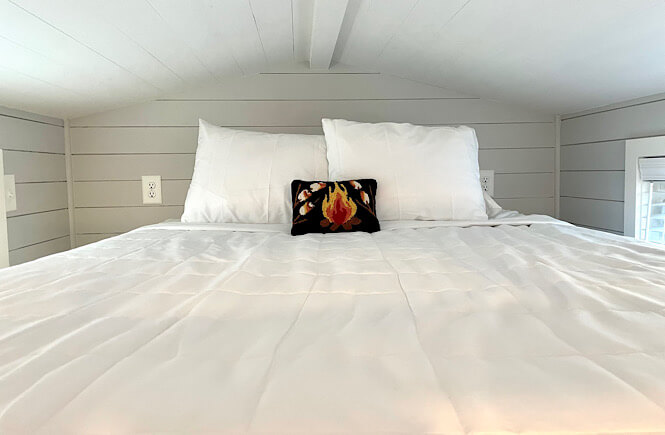 The queen size bed in the loft was super comfy during our stay. The stairs are steep but totally manageable. If you don't want to sleep in the loft and deal with the stairs, look for a tiny home with a futon or sleeping set up on the main floor.
Insider Tip: There are outlets in the loft which is super convenient for charging your phone overnight!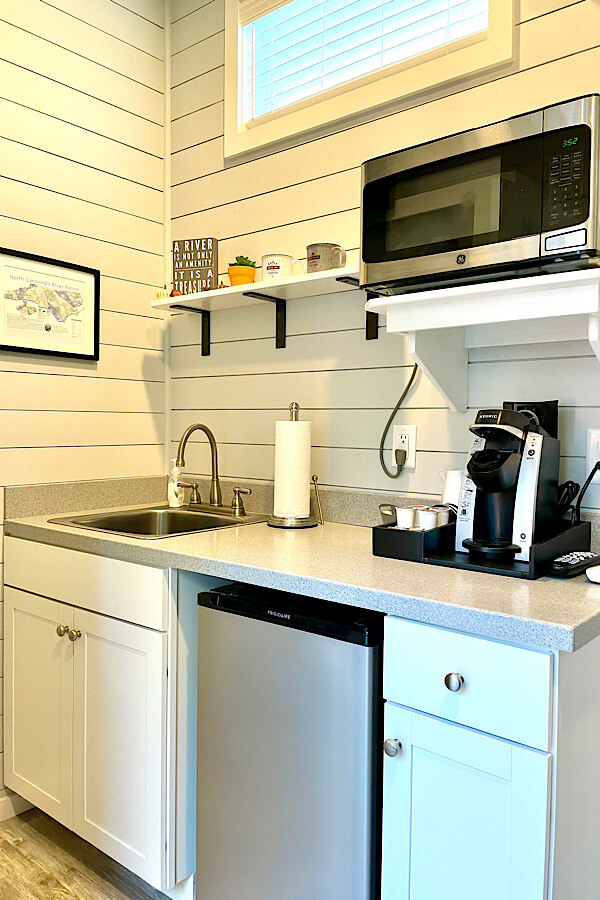 If you've read any of my reviews before, I just love a place with a Keurig. Since I'm the only coffee drinker in the family it's perfect for just one cup. The full size kitchenette had everything we needed for a weekend stay. But I also highly recommend walking over to Books and Beans at the Rocky Mount Mills for breakfast and coffee- everything there is delish!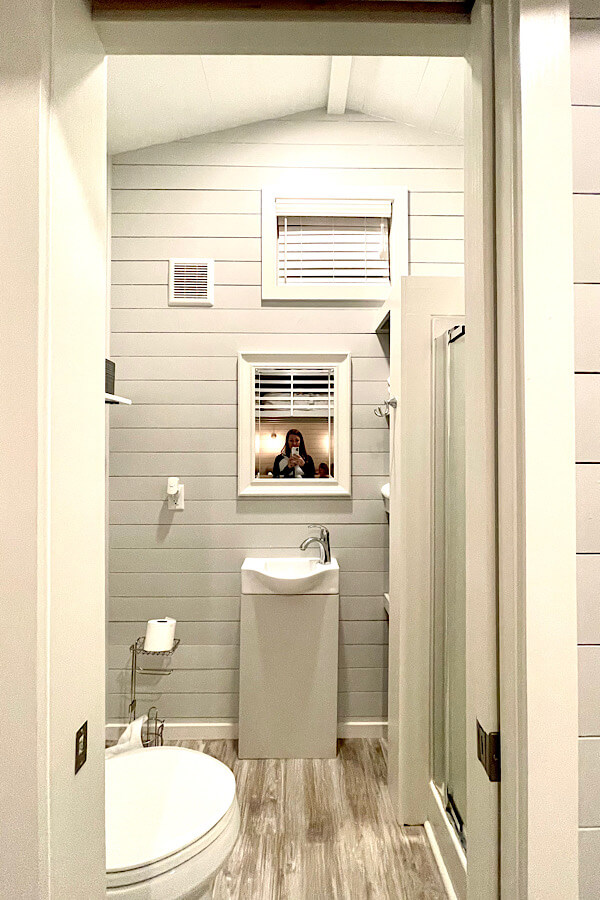 Y'all will not believe how big the bathroom was in this tiny house! To be honest, I was super impressed. The sink in the bathroom is teeny tiny but we just used the huge kitchen sink most of the time anyways. There is an open closet area across from the kitchen which was perfect for hanging clothes, jackets, and leaving our bags.
Of course, all of the tiny homes have heat and air conditioning, a television, and WiFi too.
You'll also find a booklet with information on all the restaurants, breweries, and other fun things to do at the Rocky Mount Mills inside your tiny home. We've put together a great family friendly guide to the Rocky Mount Mills if you want a sneak peak now! Make sure to look up each restaurant's hours before your arrival, especially if you are staying during the week days.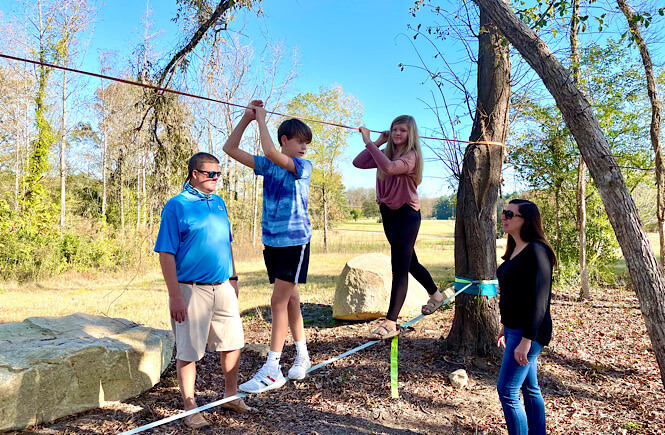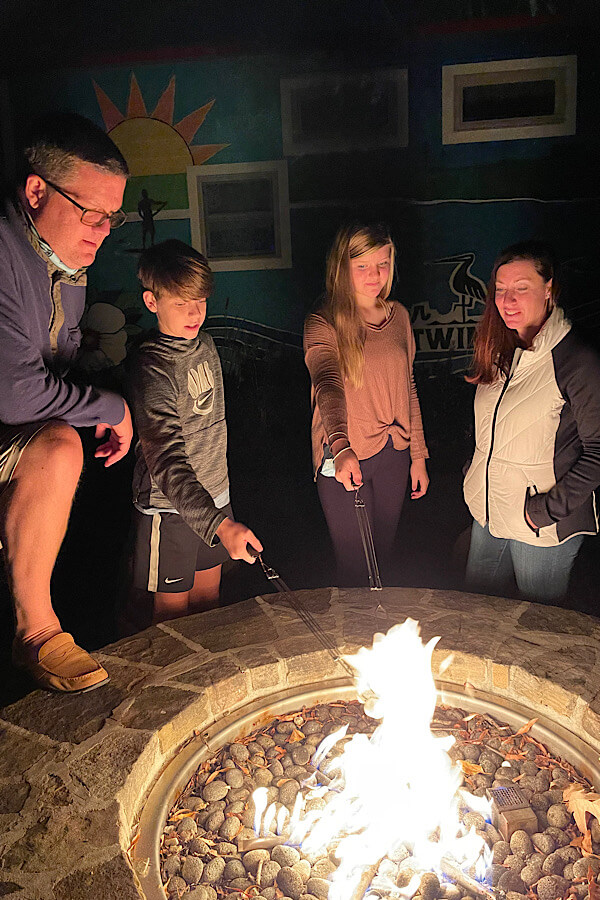 The tiny houses are…well, tiny. But that's part of the fun of it! And it's one of the reasons the outdoor communal space becomes so appealing at River and Twine. With several firepits available, grills and picnic tables there's plenty of room to hang out outside of your tiny home during your stay. We loved playing frisbee, trying out the slack line, and making s'mores during our stay.
ProTip: In non-covidy times they usually have Eno hammocks available for guests to relax in too!
Although we visited River and Twine as a family, this would make a super fun mommy daughter weekend, couples getaway, or unique birthday experience!
Rocky Mount Mills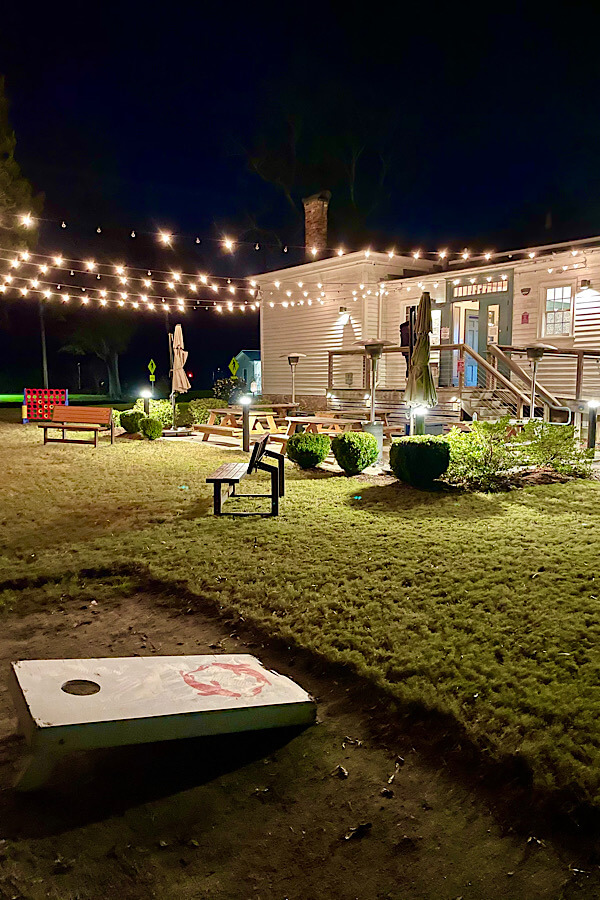 River and Twine is tucked away in the corner of the Rocky Mount Mills campus. It's perfected situated where you can walk to all the fun and food, but also have a little privacy when you're ready to settle down. With several breweries, a bottle shop, coffee shop, and three different restaurants on site you can be in the middle of it all within minutes.
Some of our favorite spots are Tipsy Tomato, TBC West, Koi Pond Brewing, and Battle Park. At Rocky Mount Mills you also have easy access to fun activities along the Tar River like hiking, biking, or paddling!
Make sure to check out my complete guide for all the details on what to do at Rocky Mount Mills.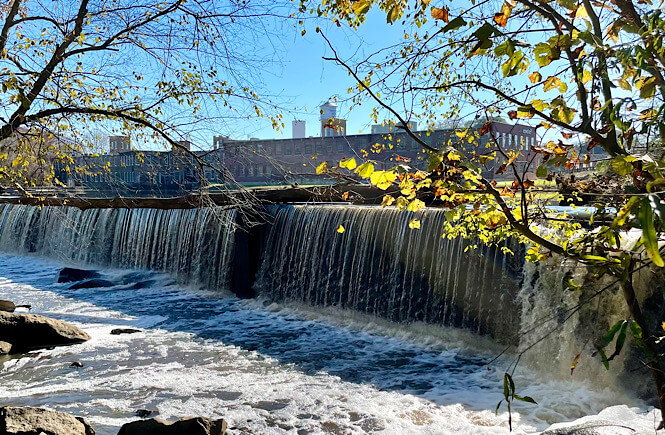 Visit Rocky Mount NC
Needless to say our family loves Rocky Mount and had the best time staying at River and Twine. And although you may have never considered a stop in Rocky Mount NC before, I sure hope I've convinced you to come and visit!
Thank you to River and Twine and Rocky Mount Mills for hosting our family. As always, all opinions are my own.