Hungry? Our Top Picks for Best Family Friendly Restaurants in Raleigh NC!
As I'm sure y'all know by now, we live about an hour east of Raleigh, North Carolina in Rocky Mount. We aren't locals, but we spend a lot of time in the Triangle area (Raleigh-Durham-Chapel Hill).
And I'm sure y'all also know by now that we love to eat! There's no shame in my game! LOL.
One of our favorite things to do in Raleigh is try new restaurants. But, we don't always love to try somewhere new when we have the kids with us. And I don't know about you, but when I'm away from home, I am NOT eating fast food or the same boring places that I can find at home. We're looking for restaurants that have something different to please the parents AND will make even the pickiest children happy too! And, let me tell you…Raleigh has a lot of awesome restaurants to tempt your inner foodie!
The Top 5 Kid Friendly Restaurants in Raleigh NC You Need to Try!
So we've compiled a list of the best family friendly restaurants in Raleigh NC that we return to time and time again to satisfy all our foodie desires AND our picky children!
Be forewarned: this is the South y'all!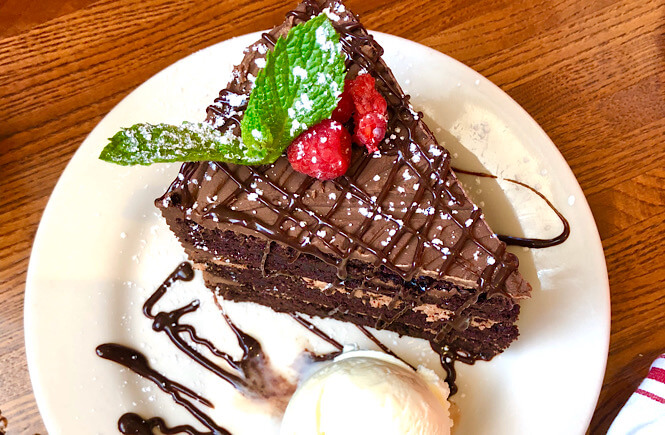 North Carolina is known for barbecue, which is why The Pit is our top recommendation for this famous southern fare and when looking for kid friendly restaurants in Raleigh. We love this place! With some very basic options like chicken tenders and french fries, our kids are happy…and we're happy too. Pro Tip: They can get busy- make a reservation in advance! Vegetarians don't be scared off…there are plenty of options here for you too!
Our top menu picks:
seasonal cornbread with homemade butter (just OMG).
fried chicken – the best I've ever had.
pimento cheese balls with spiced pepper jelly – seriously delicious.
BBQ, brisket, and BBQ chicken are my husband's usual.
fried okra and mac & cheese – our go to side dishes.
dessert- all of them are amazing! Seriously.
Insider Tip: When you're done eating at the Pit, walk across the street to the Videri Chocolate Factory!
Cowfish is my number one pick for fun places for kids to eat in Raleigh that parents will love too! Cowfish isn't unique to Raleigh…they actually have three other locations in the US, but the food is fantastic and the atmosphere will keep kids entertained for the entire meal. Design your own burger from beef to grilled chicken to lamb, try their top notch sushi or sashimi bowls, or opt for BOTH and try their "burgushi" a combination of both! But don't despair if you're not feeling burgers or sushi, they also have a variety of fun appetizers, salads, and really yummy hand-spun milkshakes too! A kids menu, vegetarian, and gluten free options are available as well.
Insider Tip: Kids will LOVE the giant fish tank in the center of the restaurant featuring real cowfish. Cornhole and other games outside too! After you're done eating, go across the street for some fantastic shopping at North Hills.
If you're looking for that true southern experience, this is it! I mean…c'mon, their website is realbiscuits.com!! For real!
Attached to the NC State Farmer's Market, you can enjoy local, fresh, and authentic southern food daily until 3 pm. Featuring many "Got to be NC" products, kids will be delighted by the farm style decor perfect for playing I Spy, the overalls clad servers, and the huge kid friendly menu. Be sure to save time to wander through the farmer's market when you're finished with your meal!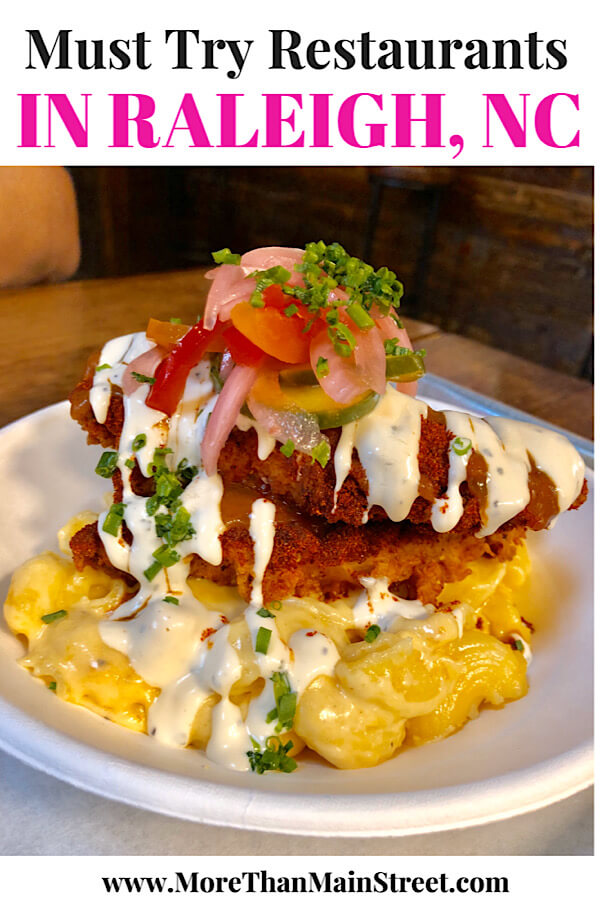 Morgan Street Food Hall is one of the best family restaurants in Raleigh for two reasons: 1. there's literally something for everyone since there are actually over 20 restaurant options here and 2. they're super fast which is always good for kids. Vegan, vegetarian, gluten free, and dairy free options are available at specific vendors. (Insider Tip: Don't call this a food court…they're real funny about that!)
Some highlights include:
Ilya's Southern Kitchen (our fave!)
MKG (vietnamese- our second fave!)
Cousins Maine Lobster
Bella's Wood Fired Pizza & Tapas
Wicked Taco
The Bowls
Cowbar Burger & Fries
Morgan Street Food Hall is open Sunday- Thursday 8 am to 10 pm and Friday & Saturday 8 am to 12 am (individual vendor hours vary).
Pro Tip: I would not recommend going here on a Friday or Saturday night with children, it's definitely a more adult atmosphere with a lot of drinking and dancing during those hours.
Big Ed's is like going to grandma's house for breakfast. I mean… their slogan is "country cookin' at its best" for a reason! Huge portions of delicious home-style cooking on their signature red and white checked table cloths are sure to please the entire family. Big Ed's original location is downtown and is only open for breakfast and lunch…but now you can enjoy their southern hospitality and dinner too at their other two Raleigh area locations. Be sure to try a hot cake…similar to a pancake but twice the size!
Insider Tip: Follow up your meal with a visit to Marbles Kids Museum or catch a movie at the IMAX- they're less than a quarter of a mile walk from Big Ed's.
BONUS: More Kid Friendly Restaurants in Raleigh NC
If you've already sampled all our favorite fun restaurants for kids in Raleigh…here are a few more options we love:
Hopefully this gives you some ideas for great fun restaurants for kids in Raleigh that parents will enjoy too!
Drop me a comment if you've tried any of these kid friendly restaurants in Raleigh NC or if you think I've left anything off the list!