Your Ultimate Guide to Visiting Bald Head Island
Ready to experience a true North Carolina hidden gem?
Planning a trip to Bald Head Island, North Carolina? We have got your covered whether you're planning a day trip, weekend getaway, or entire vacation with the best things to do on Bald Head Island!
I have been dying to visit Bald Head Island for years. I went as a child but just had not made it back until recently. And let me tell you, it does not disappoint!
There's just something about Bald Head Island. The remoteness, the wild beauty, and the quaintness of it all just pull you in. I can see why people go back year after year. It is a true North Carolina hidden gem!
Where is Bald Head Island NC?
Located where the Cape Fear River and the Atlantic Ocean meet, Bald Head Island is the southernmost of North Carolina's cape islands. Just a few miles across the river from Southport NC, Bald Head Island is a lovely little island retreat that is a perfect mix of relaxation and adventure. Bald Head Island is an easy day trip from Wilmington, Carolina Beach, or Myrtle Beach and the perfect weekend getaway from Raleigh.
This post contains affiliate links which means I could earn a small commission, if you make a purchase, at no additional cost to you. As an Amazon Associate, I earn from qualifying purchases. For more information, read my full Disclosure HERE.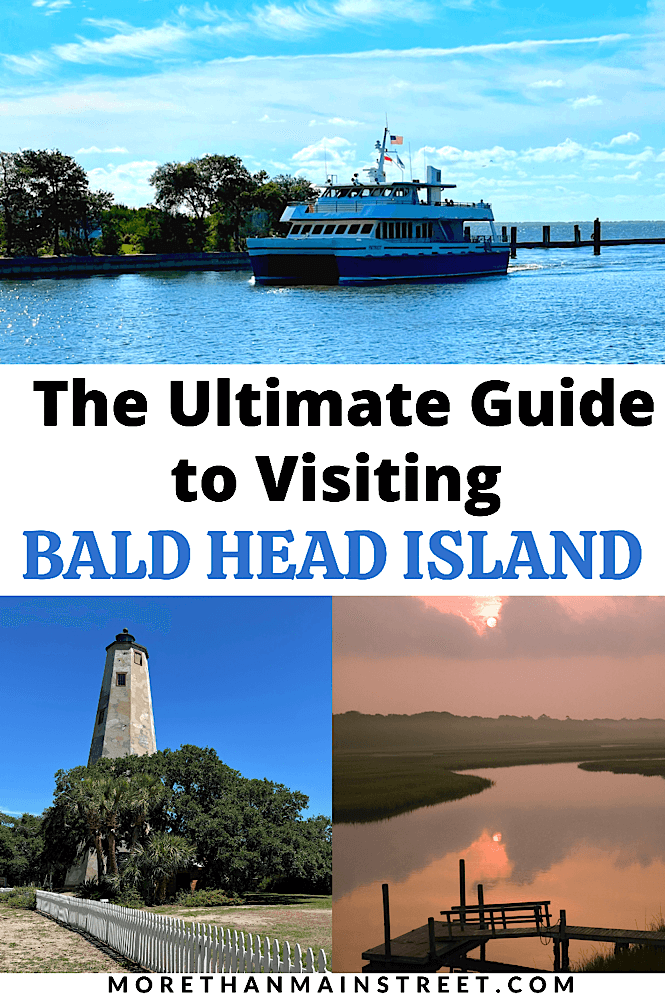 How to get to BHI? Take the Bald Head Island Ferry!
Trying to figure out how to get to Bald Head Island? You'll have to take the ferry from Southport or hire a private vessel. But taking the ferry to Bald Head Island takes a little more planning than just showing up and buying your tickets. Here's what you need to know:
Whether it's your first visit to to the island or your tenth, keep reading to find out some of our favorite things to do on Bald Head Island.
What to Pack for Bald Head Island
Obviously this will differ greatly depending on how long you are planning to stay. There is a full service grocery store and hardware store on the island as well as many retail stores and restaurants. There is also baby equipment, beach, bicycle, and adventure equipment rentals available on the island. You can easily get fishing gear, ice, and snacks too!
What to Bring for a Day Trip to Bald Head Island:
Know Before You Go: Prices can be a lot higher on the island. If possible, consider bringing as much as possible with you in your luggage and in tote boxes.
Want a complete list? Grab our ultimate beach day packing list now!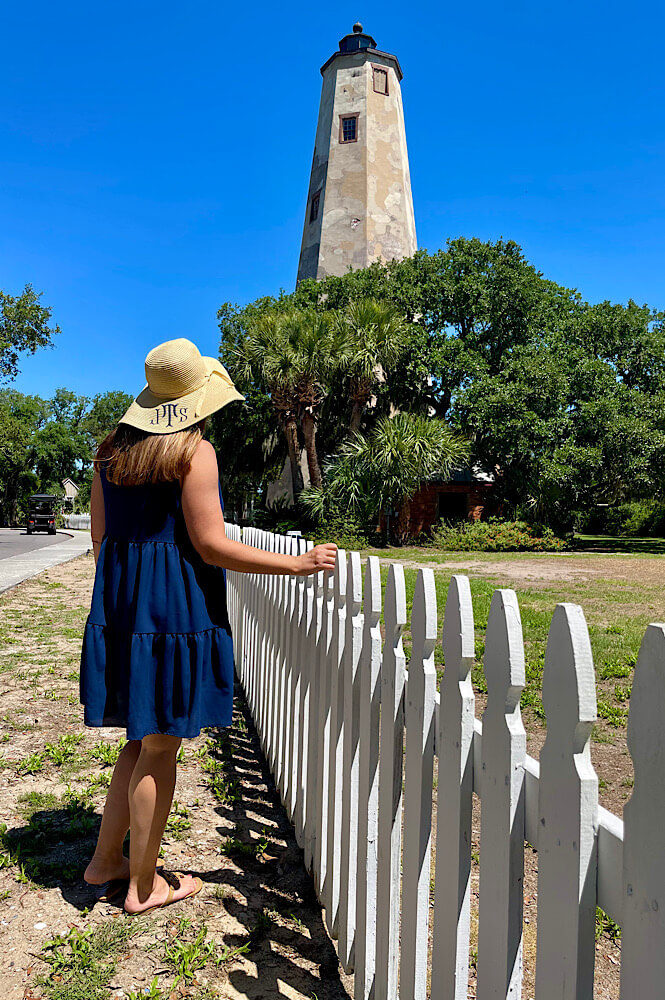 Best Things to Do on Bald Head Island
We truly believe that BHI is one of the best hidden gem vacation destinations on the east coast. So, if you're ready to leave city life behind and spend a day, weekend or perhaps even longer on island time…then let's go! Find out what to do on Bald Head Island once you've left your car behind.
1. Fuel up for the day!
Once you've arrived on the island, grab a coffee or breakfast at Sandpiper Coffee & Ice Cream, grab a map of Bald Head Island if you don't already have one, and find your transportation. If you realize you've forgotten something, pop into the Dockmaster Convenience Store. Then head to your rental home, make a plan if you're only there for a day trip, or just be spontaneous. Either way, you're guaranteed to have some fun!
2. Rent a golf cart or bicycle to get around!
No cars?? What?!
Yep, you heard that right, there are no cars allowed on Bald Head Island. Well, there are a few work vehicles, but none for the visitors! One of the coolest thing about the island is how you get around. You're going to need to plan on renting a bicycle or golf cart to get around. Of course you can bring your own and many of the vacation rentals come with either or both included! Arrange for your transportation in advance- you certainly don't want to get stuck without a way to get around once you arrive!
Here are a couple of rental companies to look into before your arrival: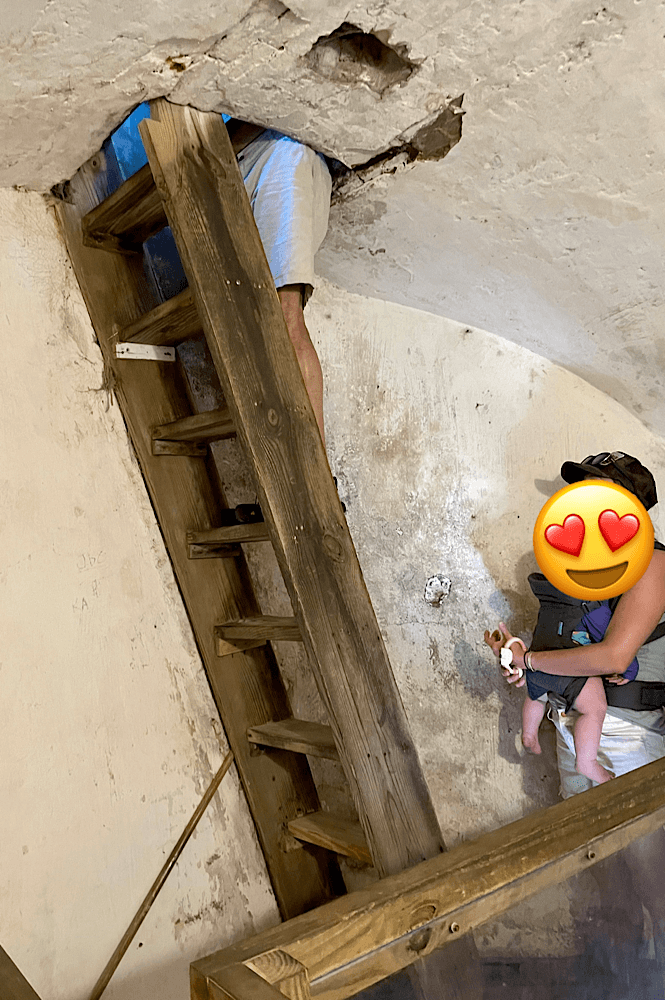 3. Bald Head Island Lighthouse
Visiting Old Baldy is one of the most popular Bald Head Island activities! And for good reason.
You can easily walk to the the Bald Head Island Lighthouse from the ferry terminal if you haven't been able to get another form of transportation. Admission to the Lighthouse also includes access to the Smith Island Museum of History, which is a small but well done lesson on the island's history. Self guided audio tours are available. 108 steps takes your to the top of Old Baldy for unparalleled views of the entire island. You can see from Southport to the Atlantic in the small observation tower.
Know Before You Go: Do NOT make this mistake!! I wear sundresses all summer long. I never even considered that wearing a sundress to climb the lighthouse would be an issue. Well…big mistake! The last few steps to the observation tower of the Bald Head Island are a LADDER! As you can see in the picture above, there is only a small opening to get to the top of the lighthouse. And yes, that mama you see in the photo did go up with her baby in that front pack!! (Rocking it!) Anyhow, as for me, I went for it anyways. I waited until there was nobody else waiting to go up and climbed the ladder. As soon as I got to the opening, a huge updraft blew my dress practically over my head. So, I flashed the three people who were already up there. MAJOR FAIL. Oh well…you live and you learn, right!
Old Baldy tickets cost $8 for adults, $5 for children ages 3-12, and free for children under 3 years old. Hours change seasonally but closes at 4:30 pm everyday, so be sure to visit early if you want to climb the Bald Head Lighthouse.
4. Take a tour
One of the most fun ways to get a true feel for an area is through a tour. Consider a kayak, fishing, or standup paddleboard tour while you're on the island! There's something for every age and ability. Check out these fun tour options:
If you are staying on Bald Head Island for the week, consider taking a day trip to Southport, Wilmington or Carolina and Kure Beach!
5. Go shopping
I was surprised to find there are a ton of really cute shops on Bald Head Island! Perusing the shops is a great activity when you need a break from the sun. From an art gallery to home decor, clothing and more, there are a ton of options. Some of my personal favorites were Room Service, Bald Head Blues, and of course kids always love the sweets shop! Turtle Central also had some super cute finds!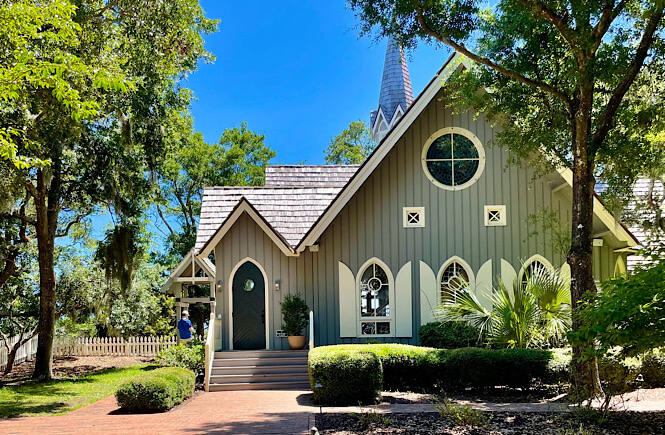 6. Visit the Village Chapel of Bald Head Island
Right next to Old Baldy is the Village Chapel is the cutest little chapel you ever did see! If you are charmed by quaint little churches, then you'll definitely want to pop by and explore the beautiful church grounds. This is an active church so please be respectful of services and functions.
7. Indulge your sweet tooth at Nye's Ice Cream
Satisfy your sweet tooth with a treat from Maritime Market- inside you can buy the world famous Nye's ice cream sandwiches or grab an ice cream cone from the counter window in the outside courtyard. Either way, you need to try this local treat. Featured on Oprah, Martha Stewart, and The Today Show, if you don't have time to stop by then be sure to order online when you get home!
8. Check out Bald Head Island Conservancy
One of the best things to do on Bald Head Island is visit Bald Head Island Conservancy. With educational tours and talks for all ages, you will fall in love with the island even more after your visit. Get connected to the local ecology and learn why it is ever so important to preserve natural treasures like these. Bald Head Island Conservancy offers turtle walks, island cleanup events, kayaking tours, fishing school, night surf fishing, kids camps, and more!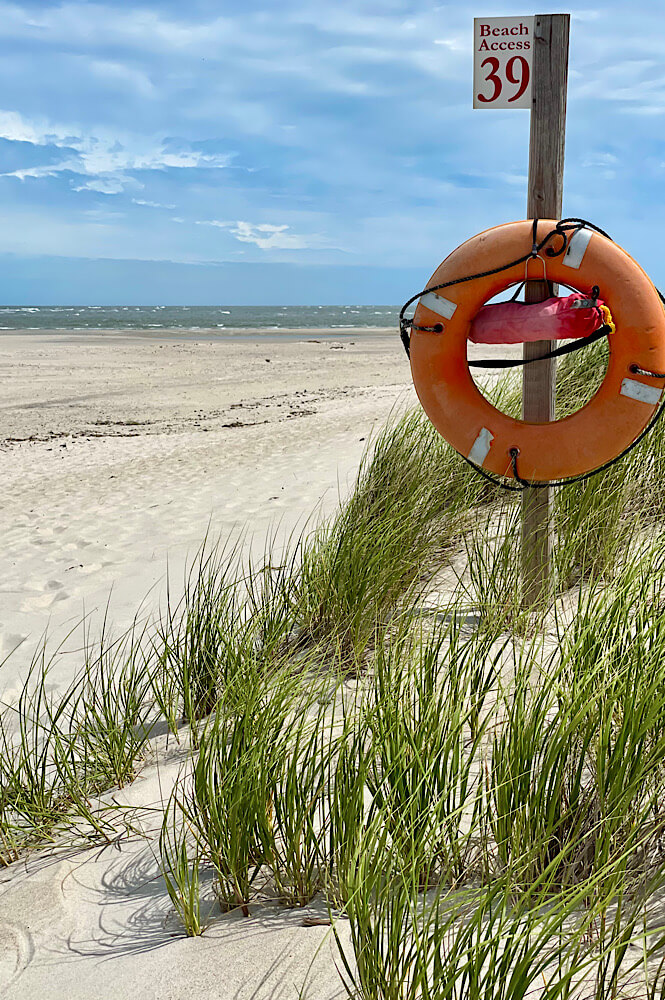 9. Go to the beach!
Everything's better at the beach! Well, I think so at least!
The beaches on Bald Head Island are absolutely gorgeous. There are three different beaches on Bald Head Island. East Beach tends to be the most popular as the waves are bigger and best for boogie boarding and surfing. It can be very windy as well which can be a good and bad thing. This is also a great spot for kite surfing. South Beach is best for shelling, strolling, and just relaxing. West Beach is perfect for watching the ferry come and go and playing in the shallow and usually more calm surf.
There are no lifeguards on the public beaches so be sure to exercise caution when swimming. Without a doubt, the beaches are a huge Bald Head Island attraction.
We love the beach!! Check out some other amazing family friendly beaches on the east coast you are guaranteed to love!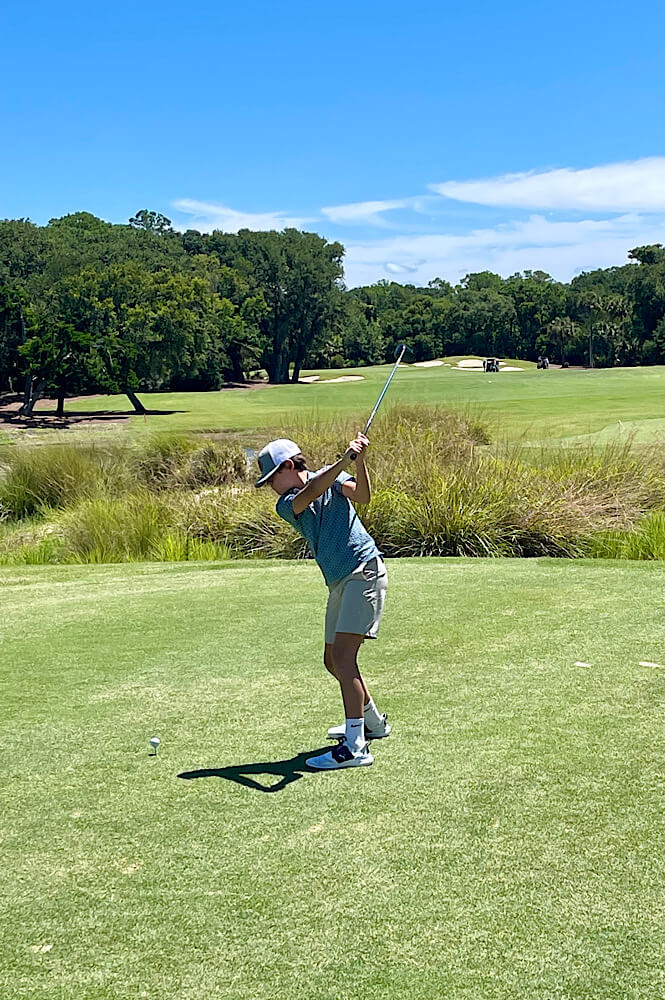 10. Play all day at the Bald Head Island Club or the Shoals Club
If you're into golf, then look into playing the Bald Head Island Golf Club. Named one of the best courses in North Carolina, this recently renovated 18 hole course is only available to members and guests of members. BUT, you can often get a week pass included in your weekly vacation rental on Bald Head Island or purchase one separately. Not only can you take advantage of the golf course, but there are amazing restaurants, pool area with waterslides, tennis courts, croquet court and more!
The Shoals Club is on the opposite end of the island and offers direct beach access, swimming pools, fitness center, and more dining options.
Both options will be extra but are definitely worth considering if you are staying a week on Bald Head Island!
Insider Tip: Keep your eyes open for alligators hanging out around the island! My husband and son saw several during their round of golf!
Is one of your goals to travel more? Try using these powerful travel affirmations!
Bald Head Island Restaurants
There are plenty of really good places to eat on Bald Head Island! Check out these restaurants:
Places to Stay on Bald Head Island
Staying on Bald Head Island is certainly a unique experience! Be very careful when searching for a vacation rental- many search results will show you hotels and properties that are NOT on the island! There are some AirBnb and VRBO options out there. I suggest searching by neighborhood.
Check rates HERE for places to stay on Bald Head Island.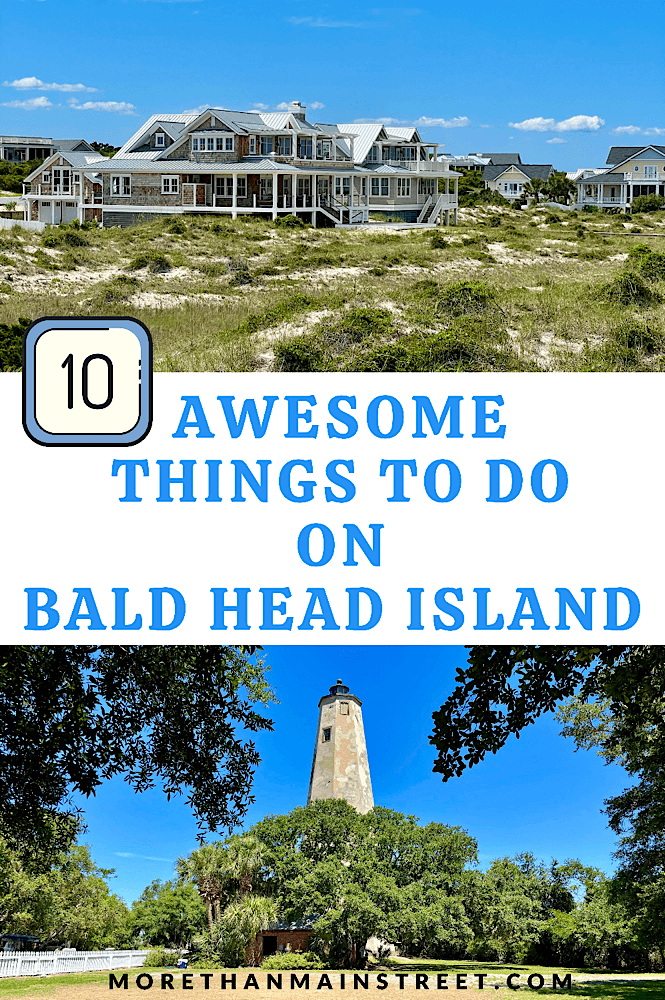 So what do you think? Have enough options for what to do on Bald Head Island? You can certainly check off quite a bit if you're just planning a day trip to Bald Head Island, but I would highly recommend at least a weekend getaway!
Tell me in the comments below your favorite things to do on Bald Head Island or be sure to add Bald Head Island to your family bucket list!!