Your Family Bucket List
You want to know one of my pet peeves?
When people complain about bucket lists. Like it's just a list to check off. Do people really do that? I don't get it. I mean just because you made a list doesn't mean you don't value the experience!
Personally, I love a bucket list! It's one of my favorite ways to dream and challenge myself to try new things. I think everyone should have a bucket list. But there's no reason why you can't have more than one. You can have a personal bucket list, a travel bucket list, a food bucket list, a family bucket list…and MORE! And it doesn't have to be finite. It can be an ever changing document, ebbing and flowing as life changes.
So this week we're going to create a bucket list for families! Because honestly, for us, life is all about creating memorable and meaningful experiences together with our loved ones.
I'm hoping to inspire you with this bucket list for families. Everything on this list is meant to get you thinking about things you'd like to add to YOUR families bucket list. And that is the beauty of a bucket list- every one is different. Just because I think it would be cool to visit all fifty states as a family doesn't mean that's of any interest to you.
So when you're ready, get the family together and sit down and create your own list together. Come up with ideas of fun things to do as a family and places you want to go! Take everyone's opinions into account and write it down. Set a time goal…but be realistic. Get creative. Don't stress out about it if everything on your family bucket list doesn't get done…because life happens!
Need a little more help creating your family bucket list? Grab our free bucket list template (and some other cool freebies) by subscribing below!
This post contains affiliate links which means I could earn a small commission, if you make a purchase, at no additional cost to you. As an Amazon Associate, I earn from qualifying purchases. For more information, read my full Disclosure HERE.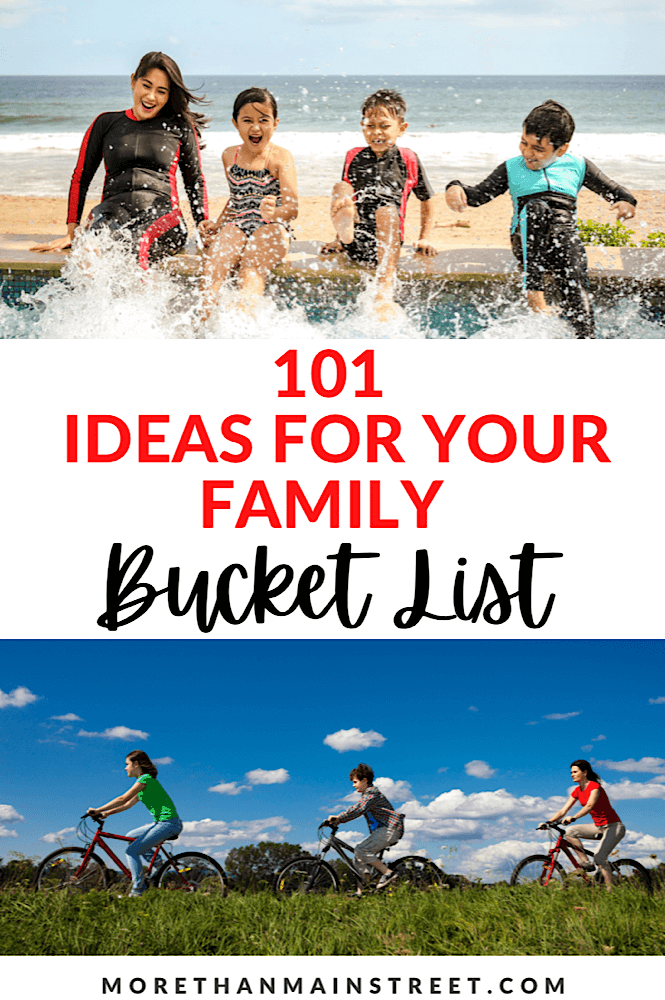 PIN THIS BUCKET LIST FOR FAMILIES POST TO REFERENCE WHEN CREATIING YOUR OWN LIST!
Simple Bucket List Ideas: Things to Do With Family at Home
If you've been around here awhile, you've heard me say this once (or a hundred times), but we believe "Adventure is a Mindset". What does that mean exactly? It means that all adventures don't have to be crazy adrenaline pumping activities to be and adventure. Not all bucket list ideas have to be grandiose and crazy either. You can add the most simple things to your family bucket list and create the most precious and meaningful moments along the way.
And to be honest, that's all that really matters.
So, here are some simple bucket list ideas for your family to do together right from the comfort of your own home! The key is that you do them TOGETHER!
Plant a garden. Flowers, fruit, vegetables…whatever floats your boat!
Camp in your living room or backyard.
Catch fireflies.
Get crafty- make a scrapbook, family vision board, or family tree.
Create a family tradition! Whether it's a family game night, pizza Fridays, or walks every night after dinner. Choose one tradition and stick with it!
Play in the sprinklers! Or better yet…get a slip and slide for the whole family!
Set up a lemonade stand.
Have a water balloon fight.
Play in the rain.
Make s'mores.
Go on a family bike ride.
Fly a kite.
Have a picnic.
Make tie die t-shirts.
Build a snowman.
Have a baking extravaganza. Let the kids choose what you're going to make!
Set up a fun scavenger hunt. Check out these fun at home scavenger hunt ideas.
Host a party! Have an ice cream sundae bar, a costume party, or outdoor barbecue.
Put together a puzzle. Everyone has to participate!
Have a karaoke night!
Bonus Idea: Make a specific list for each season. It can have five or 25 items on it, but you can easily come up with some fun seasonal activities. Need some more inspo? Check out my teenager's summer bucket list and our family's winter bucket list!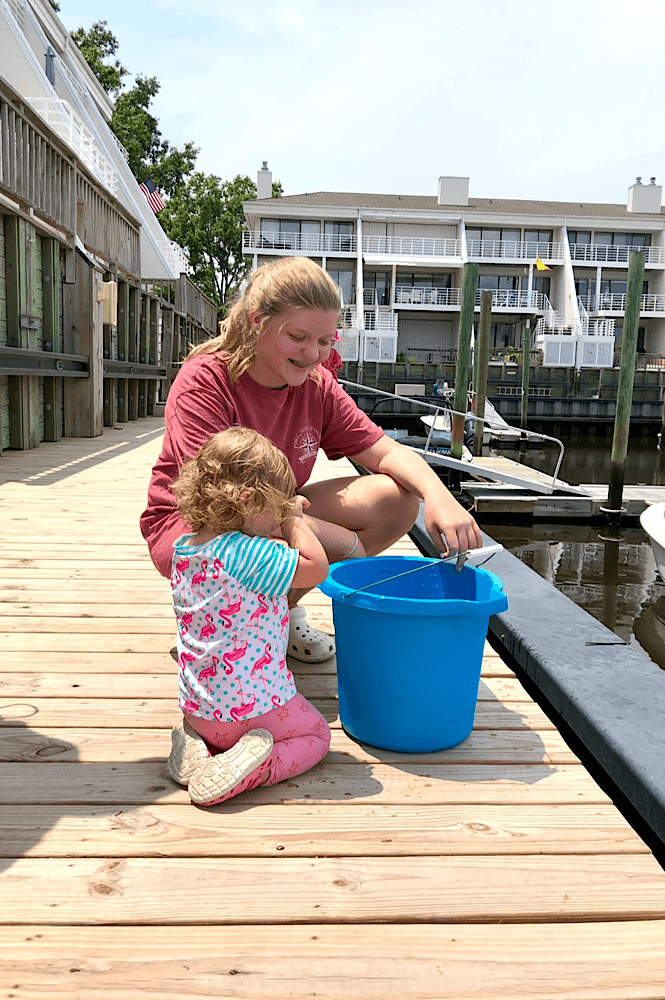 Bucket List for Family: Ideas with Babies, Toddlers, & Kids
When coming up with this bucket list for families, I tried to come up with fun activities for the family at all ages and stages. Lots of these ideas can cross age ranges, but here are some ideas for when your kids are little:
Have a beach day. Swim in the ocean, collect seashells, and build sandcastles.
Go to a farm- collect eggs, milk cows, try horseback riding, or pick fruit.
Go hiking. Teach your children to love and respect the outdoors. Explore everywhere from your local state parks to the most famous National Parks.
Go tide pooling. Investigate and identify all the plants and creatures you can find!
Take a trip to a farmer's market. Sample what's in season and learn from your local farmers.
Go ice skating!
Visit the zoo, aquarium, and museums.
Go to a drive in movie.
Do a family mud run, color run, or 5K.
Visit a candy factory.
Go whale watching.
Visit a flower field. Bonus points if you get to pick them yourself!
Take a carriage tour together.
Try fishing or crabbing.
Visit the pumpkin patch.
Go gem mining or geocaching
Go underground. Visit caves and caverns.
Watch fireworks together- or try setting off some of your own fireworks- just make sure it's legal!
Go camping.
Go bowling.
Bonus Bucket List for Family Idea: Kids grow so fast! Do a fun photo session, planned or not, at some of these fun locations!
Bucket List for Teens and Tweens
Teens and tweens can be more difficult to get on board with days out with the family. My best advice is to get their opinion. Let them be part of the planning process and take their interests into account. Do all the adventure things together.
Ride in a hot air balloon!
Try all the water sports: kayaking, stand up paddle boarding, wake boarding, surfing, and more!
Do a food tour. Expand your foodie horizons!
Visit an escape room, theme park, or water park.
Take to the skies. Try parasailing, hang gliding, or sky diving.
Try all the winter sports: skiing, snow boarding, or even snow shoeing.
Go to a concert together.
Watch the sunrise and sunset in one day. Then go stargazing.
Watch your favorite team play at a live sporting event.
Learn a new skill or language. We highly recommend MasterClass and Skillshare.
Try snorkeling or scuba diving.
Go zip lining.
Do a hop on/ hop off tour. Bonus points if it's a double decker bus!
Try white water rafting, jet skiing, or flyboarding.
Have a friendly competition of axe throwing or archery.
Order room service.
Rent ATV's and go off roading.
Ride in a gondola (preferably in Venice, Italy!)
Go on an airboat tour.
Swim in a cenote.
Bonus Bucket List for Families Idea: Gratitude plays a huge role in family's core values. Learn how to foster a more grateful heart and do a 30 day gratitude challenge as a family!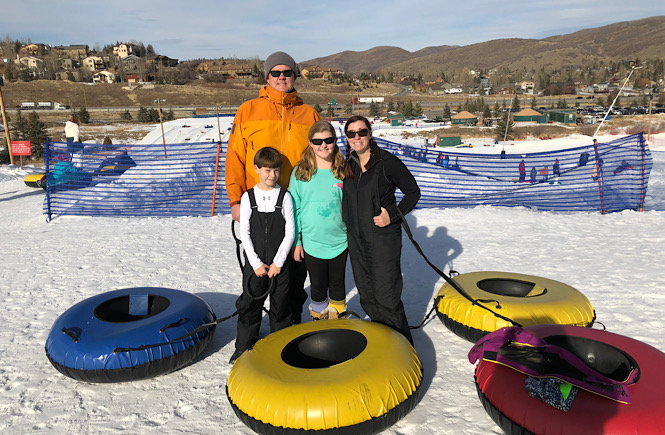 Travel Bucket List: 20 Places to Visit Before Your Kids Turn 18
This is hard one for me. I could list one hundred different places for a travel bucket list. But let's just use this as a starting point for bucket list vacations, ok?
National Parks – You could literally create a National Parks bucket list because they're pretty much all incredible. Our personal favorites are Zion National Park, Arches National Park, and Yellowstone National Park!
New York City – Visit the Statue of Liberty, pay your respects at the 9/11 Museum, and see a show on Broadway!
Somewhere with crystal clear water – There's something magical about a tropical destination with that dreamy clear blue water. But, there's a huge range of choices in destination depending on your budget. Our personal favorite: Aruba – beautiful, budget friendly, and it has some of the best beaches in the world!
Somewhere in Europe – Again, you could literally just create a Europe bucket list all on it's own. Instead, to start with, I'd encourage you to research cities that YOUR family would love. Consider the language, food, and culture before you go. Our family favorites so far are Paris and Barcelona.
Somewhere you can stay with unique accommodations – From staying in a conestoga wagon to a weekend in a tiny house, this is all about the experience of staying somewhere unique!
Witness the power and magic of waterfalls. Our favorite is definitely Niagara Falls but second place goes to Ruby Falls in Chattanooga, Tennessee. I mean how often do you get to see an underground waterfall?
Washington DC – tour the White House, visit all the Smithsonian museums, and you can't miss the National Zoo!
Disney World – But really any Disney property will do. Everyone should experience Disney at least once in their lifetime but it's super special as a child!
Somewhere with incredible wildlife – Whether you're budget allows your family to take an African safari, trip to the Galapagos, or a swim with the manatees, an experience with wildlife is an opportunity to teach your children about ethical animal encounters. If you don't teach them, they won't know what's ok and what's not ok! We swam with the dolphins at the Atlantis in the Bahamas. In retrospect, I wouldn't do that again. But it was a teaching moment and we live and we learn! PS: We saw some of the coolest wildlife at Yellowstone National Park!
Somewhere totally out of your comfort zone – this could be anywhere from a big city like New York City, a country that speaks a different language, or somewhere remote like Montana. The key here is to try something new and push your family, together, a little bit outside your comfort zone.
Alaska – This would also be a perfect destination if you're interested in cruising!
Take an epic road trip! Our family loves a road trip. Long or short, we love the flexibility to stop and go as we please! From a deep south road trip to a cross country road trip, get creative and find a road trip that fits your style of travel and budget!
Visit a hot springs or black sand beach.
Hawaii – I don't know about you, but this one tops my USA bucket list!
An all inclusive resort– I love an all inclusive. There's no shame in my game. Do you get all the culture and experiences you might get in other destinations? Nope. But sometimes it's nice to just relax and feel a little pampered from time to time. So, go for it. Indulge and book that all inclusive. No judgement from me!
Visit a winter wonderland – whether you love or hate the cold weather, you should experience a snowy destination together at least once! Our personal favorites are Park City, Utah and Snowshoe, West Virginia. But a trip to Lapland would be the ultimate. Am I right??
Explore California from top to bottom. It's just one of those states we can't get enough of!
Arizona – Arizona really has so much to offer! Check out the Grand Canyon, the slot canyons in Page, Arizona, the famous red rocks of Sedona, Phoenix, Havasupai Falls, and more!
Experience true southern charm. There is just something about the south! Good food, plenty of history, beautiful beaches, and tons of family friendly things to do. I highly recommend Charleston, Savannah, or Wilmington to start!
Visit all 50 states!
Bonus Bucket list for Family Idea: Make a list of "all the ___ in ____" list. For example: go to all the state parks in North Carolina, or all the craft breweries in your state, or all the best beaches on the east coast. Get creative with your vacation bucket list!
Is one of your goals to travel more? Try using these powerful travel affirmations!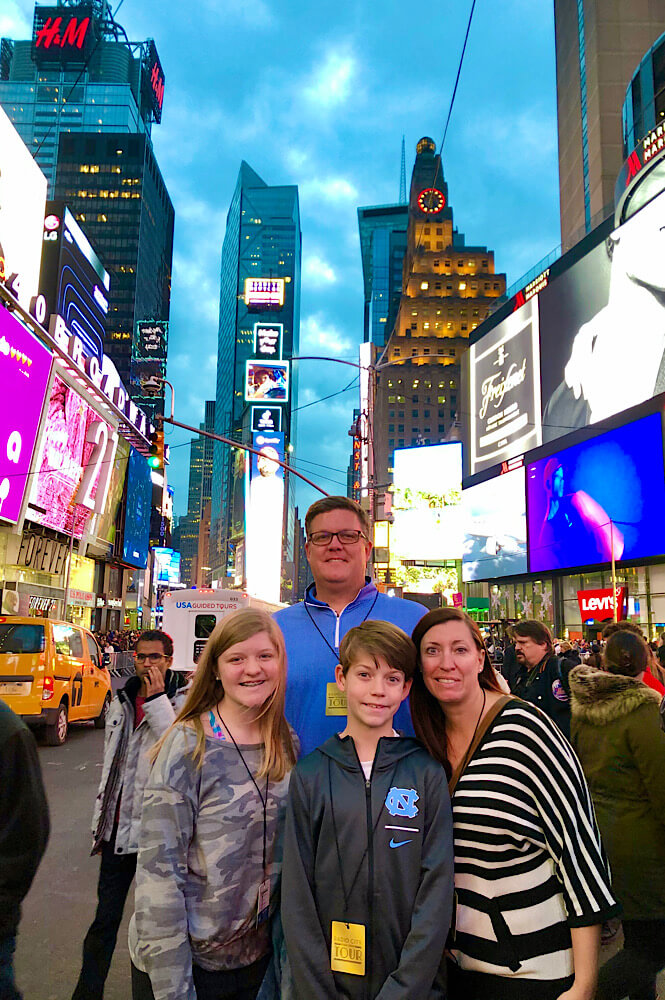 Ideas When Your Children are Grown
So your kids have grown up and left home…what now? Keep those family bonds strong by continuing your family bucket list! Try to get together each year to create meaningful and memorable experiences even as your children begin their own families. There's no reason you can't keep traditions alive and continue making memories together!
See the Northern lights.
Visit somewhere that is tied to your heritage.
Go to the Kentucky Derby, attend a Super Bowl, or PGA Tour event.
Charter a yacht.
Attend a traditional luau.
Bet big in Las Vegas, see the shows, and chow down at the famous buffets.
Rent a private island.
Get pampered with a Spa weekend.
See the Blue Man group together.
Attend an Olympics.
Fly private.
Do an epic wine tasting tour in Napa Valley
Release baby turtles.
Volunteer together.
See an active volcano from a helicopter.
Order one of everything on the menu.
Go on an African safari.
Do an extended family photo session. Better yet, recreate a photo from the past.
Watch the ball drop in New York City on New Year's Eve.
Attend a live TED talk.
Many of these ideas are also awesome gift options! We love to give experience gifts in our family!!
Bucket List for Family
So what do you think? Have enough ideas to get started? The important part is that you come up with a bucket list for family together. The list doesn't have to be long. It can just have ten items on it or 100. It can change. Add and subtract to your list as your family sees fit. The choice is yours! Make it fun!
What else should I add to this bucket list for families?
PIN THIS BUCKET LIST FOR FAMILY AND GET STARTED MAKING YOUR OWN!