Winter Bucket List Ideas
Why do you need a winter bucket list? I'll be honest, winter is not my favorite season. And y'all already know how much I love a bucket list. A bucket list always keeping me dreaming of new and fun things to do. So what better way to get through the season than with a list of fun winter activities!
Don't get me wrong, I love a snow day. And I love Christmas too. But the extended period of colder weather can get me down. And listen, I know not everyone has snowy weather during winter and not everyone celebrates Christmas or the holidays in the same way. So these fun things to do during winter are organized into five categories to help you get through the winter with a smile:
Things to do inside this winter
Outdoor winter activities for snowy weather days
Ideas for your Christmas bucket list
Winter activities in the kitchen
Ways to give back during the holiday season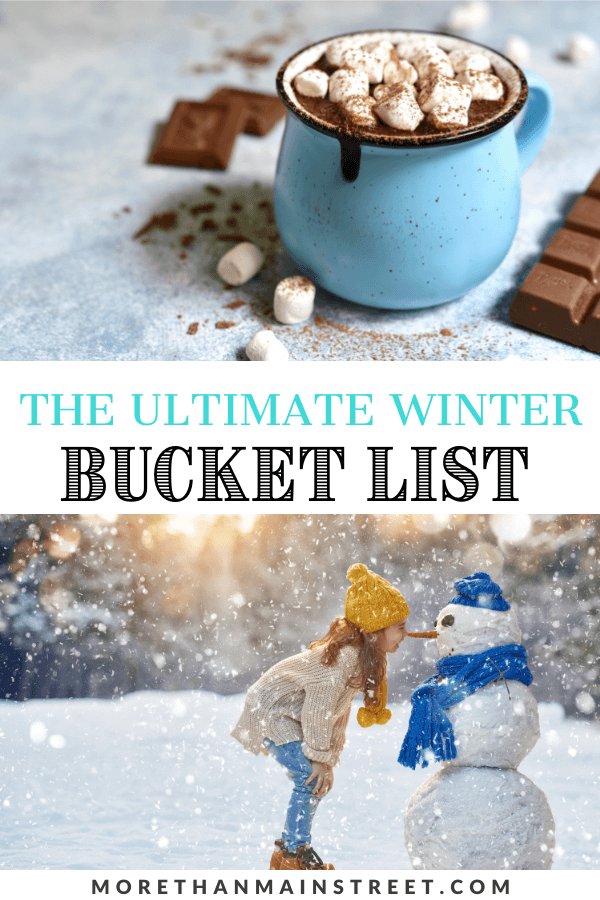 Fun Things to Do in the Winter Inside
Whether you're looking for something to do solo, with kids, or with your partner, here are some ideas for just about anyone this winter:
Have a holiday movie marathon or binge watch an entire series.
Wear pajamas for an entire day. Do a fun holiday photo shoot!
Rest and relax by the fire. Don't have a fireplace? Maybe do a bonfire instead.
Start a gratitude journal.
Have a family game night. Play holiday music to get everyone in the mood!
Have an indoor picnic!
Learn a new skill- try knitting, hand lettering, or maybe playing the guitar.
Do Tiktoks with your kids or make a YouTube video to remember the season!
Have a holiday dance party!
Make a bucket list for the new year! Need more inspo? Check out my top tips on creating your own bucket list! Start dreaming big!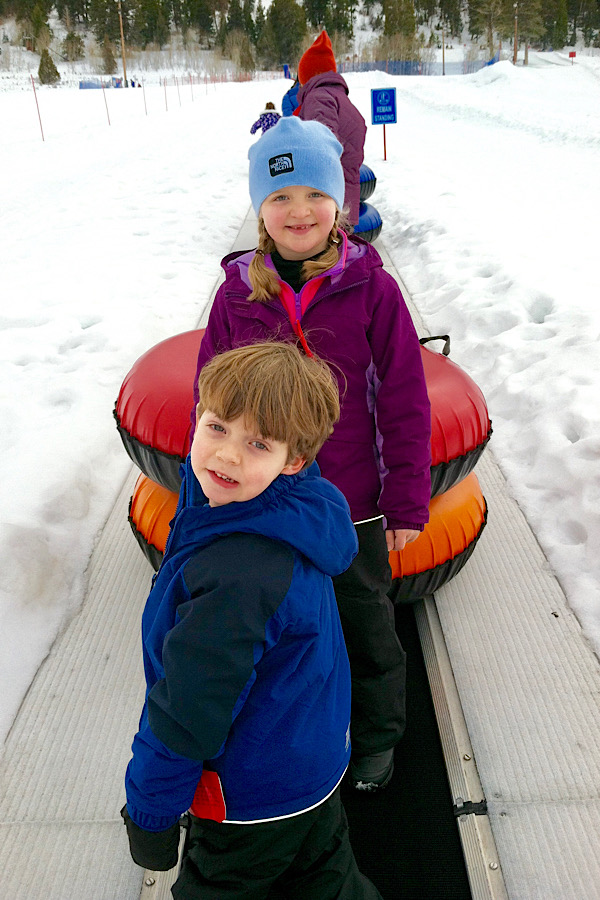 Go Outside & Play in the Snow!
Where we live, we're lucky to get one or maybe two snow days each year. So, when it snows, we try to pack in as many snow day activities as possible. Here are some fun outdoor activities to check off your winter bucket list this year:
Get active: trying skiing, snow tubing, snow shoeing, sledding, or more!
Build a snowman or make snow angels.
Have a good old fashioned snow ball fight.
Take a carriage ride! Fun for the whole family or super romantic idea for couples in the winter.
Catch snowflakes on your tongue.
Make snow cream. Is this just a southern thing? Anyhow, it's a favorite snow tradition around here. Mix snow, vanilla, milk, and sweetened condensed milk and voila!
Shovel your neighbor's driveway.
Take a blowing snow photo kisses for the gram! Don't know what I'm talking about? Search #blowingsnowkisses on Instagram.
Take a walk in the snow and take in beauty of the season.
Try ice skating!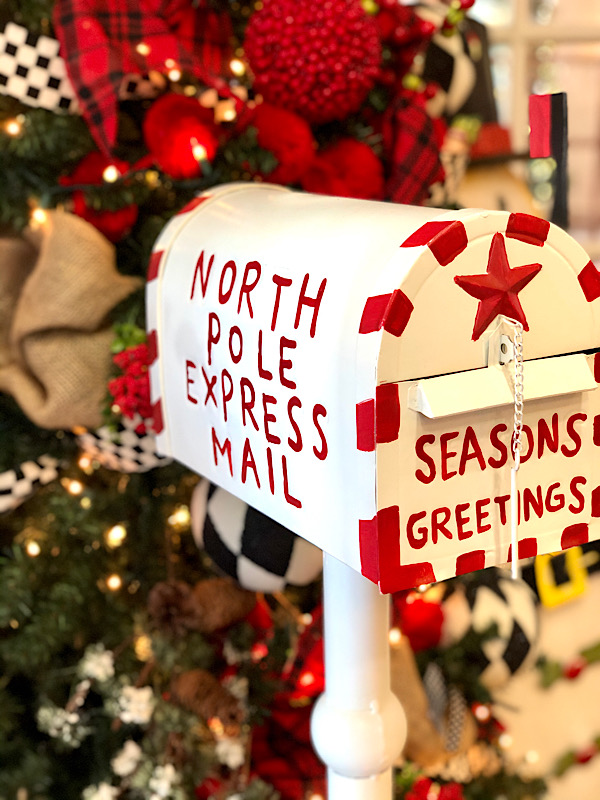 Ideas for Your Christmas Bucket List
Everyone celebrates the holidays differently. No matter how you celebrate, make a plan so that you have time to enjoy the season rather than let it cause stress. Here are some fun Christmas traditions we enjoy:
Write a letter to Santa and make sure to track him on Christmas Eve!
Camp out one night by the Christmas tree and read all your favorite Christmas stories.
Make homemade Christmas stockings or ornaments.
Visit a tree farm. Don't do a live tree? Buy a wreath or garland for your mantle instead!
Go on a hunt for the best Christmas lights display. (Last year we drove over an hour to see Christmas lights!)
Indulge your kids with a month of Elf on the Shelf!
Take a photo with Santa no matter what your age!
Do an advent calendar.
Host a Christmas gathering with family or friends.
And of course we can't forget all the decorating, shopping, and wrapping fun that comes along with Christmas.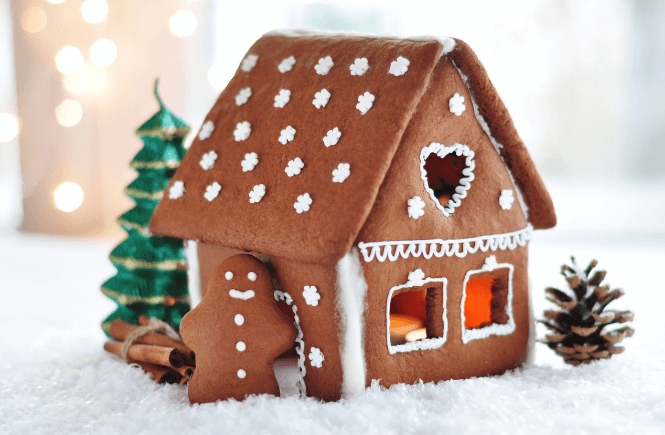 Get Creative in the Kitchen!
Getting creative in the kitchen is one of my favorite things to do in the winter. Here are some ideas to get you started:
Have a baking extravaganza! Make cookies, pies, fudge, or whatever your heart desires! Celebrating Jesus' birth? Make him a birthday cake!
Create a festive charcuterie board.
Drink hot cocoa by the fire. Feeling fancy? Make homemade marshmallows!
Learn to make homemade soup or chili. Make it an annual tradition to try a new recipe each year.
Craft a signature holiday cocktail. With or without alcohol- up to you!
Make popcorn and cranberry garland for the Christmas tree.
Decorate gingerbread houses.
Plan an epic Christmas morning brunch.
Learn about Christmas around the world and have an international themed dinner. Find out who traditionally eats fried chicken, panettone, latkes, tamales and more!
Make reindeer food. Sprinkle it throughout your front yard on Christmas Eve.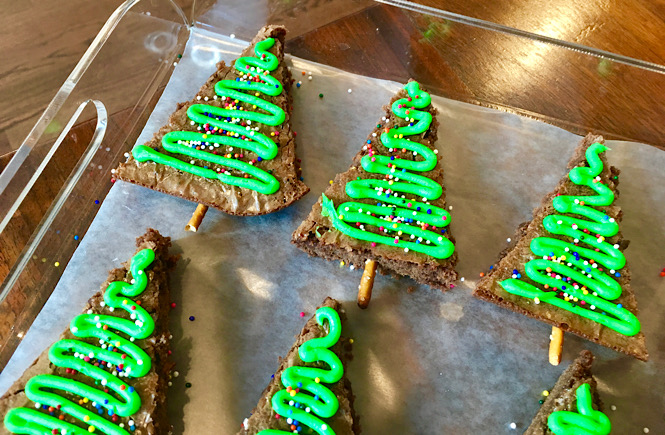 Give Back
Winter is the perfect time of year to give back. From simple random acts of kindness to big grand gestures, everything and anything is needed!
Donate old toys, books, and clothes.
Volunteer at your local soup kitchen.
Deliver homemade treats to your neighbors.
Random acts of kindness- try setting a schedule to keep yourself accountable! Something as simple as Facetiming a friend or family member can make a difference this holiday season.
Sign up to go caroling at a local nursing home or in your neighborhood!
Volunteer to ring the Salvation Army Bell.
Give a donation to your favorite charity as a gift this year!
Send a letter to a soldier.
Shop with purpose. Support local businesses. Choose businesses that give back or are doing good within the community!
Donate to your local food pantry, animal shelter, or toy drive.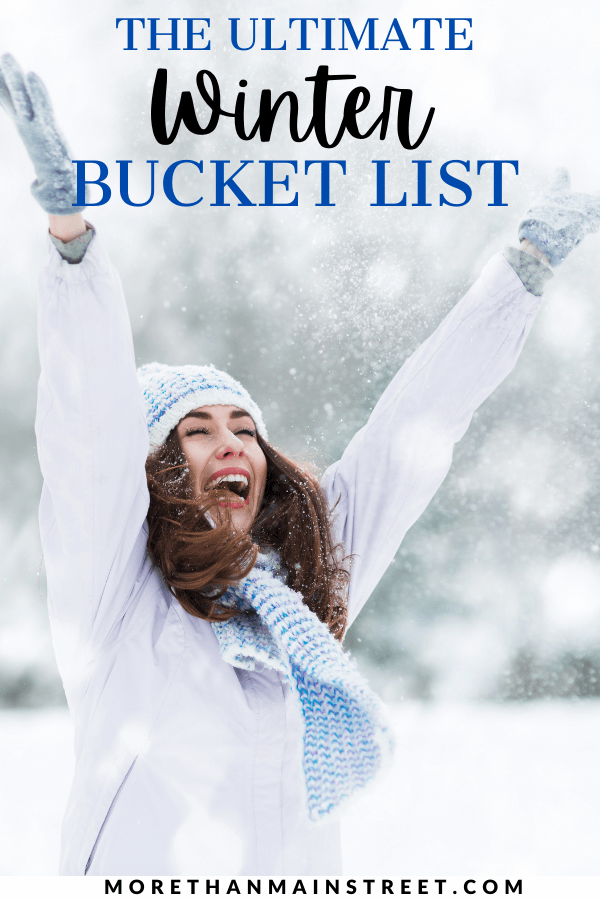 Bonus Christmas & Winter Activities!
A few bonus ideas for winter fun activities:
Read the story of Jesus' birth and attend a Christmas Eve service.
Send Christmas cards.
Go to a musical or play.
Watch a tree lighting ceremony.
Kiss under the mistletoe.
Wear ugly Christmas sweaters.
Adopt a family in need.
Build a fort!
Create a self care routine.
Go on a winter getaway!
So…what's on your winter bucket list? What will you do first? What should I add to the list? Get creative, drop me a comment, or share with me on social! I love hanging out over on Instagram and Facebook!
Save this Winter Bucket List & Christmas Bucket List for Later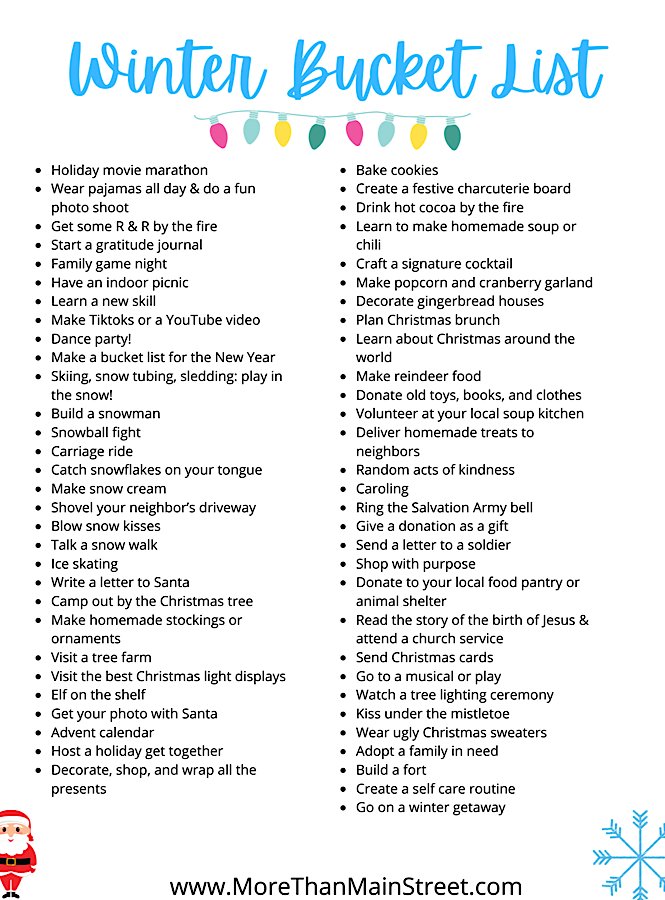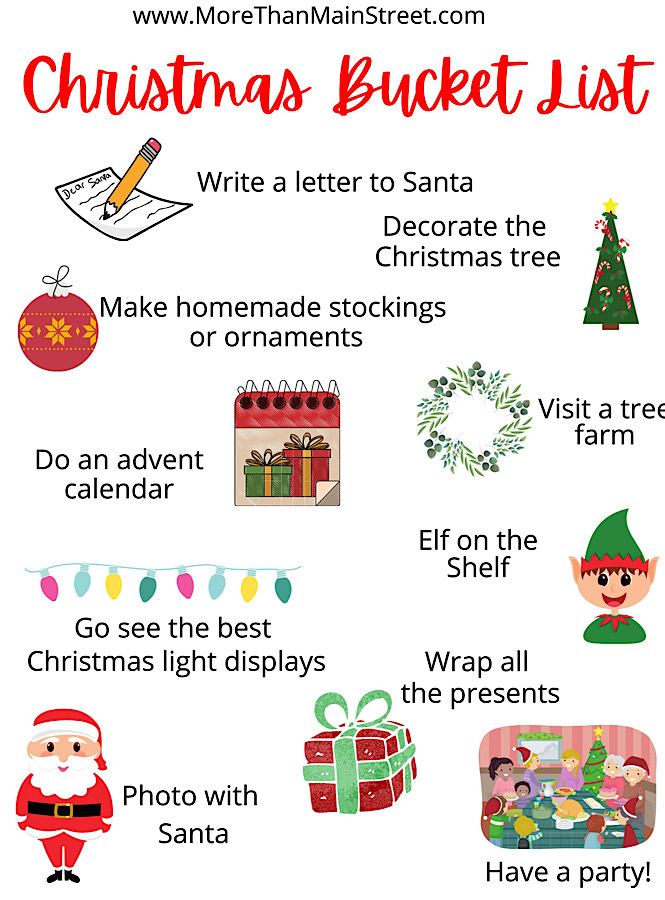 Simply screenshot the above images or download these free PDFs by subscribing below: